Here is my curated list of Santorini Instagram captions and quotes about Santorini when this place just leaves you speechless during your visit. 
This is one of the many Greek Islands that has breathtaking sunsets and views making it one of the top destinations visited in the world. 
When this island takes the words from your mouth, these Santorini captions for Instagram you can use to capture the moment in all your photos. 
Without further ado, let's proceed to our quotes about Santorini. 
This article may contain affiliate / compensated links. For full information, please see our disclosure here.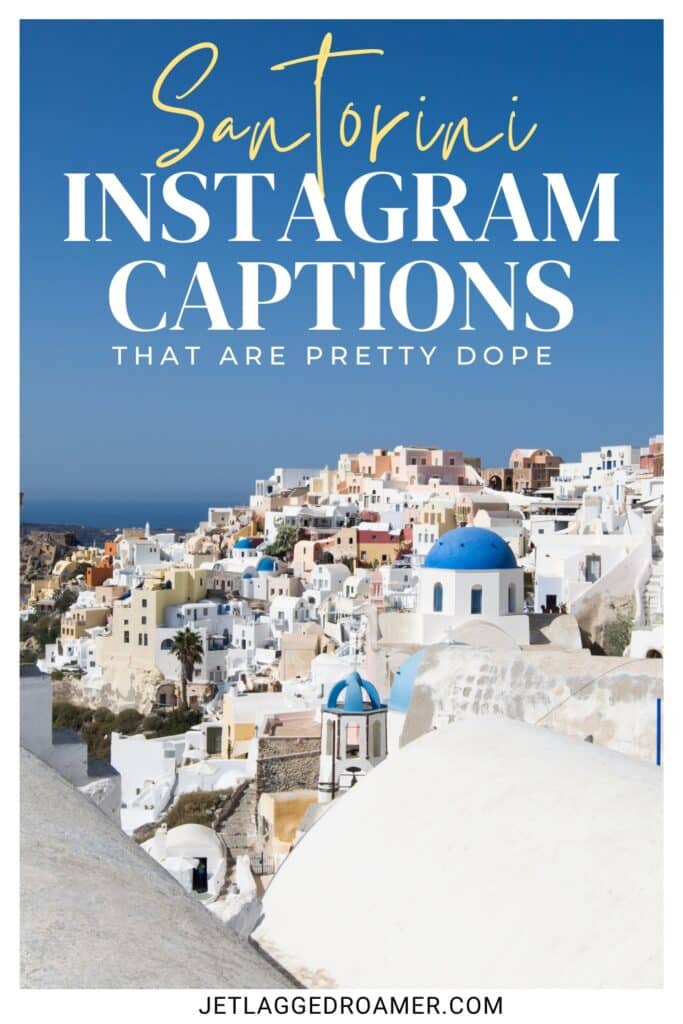 Looking for more Greece inspiration? Check out these related posts:
Santorini Instagram Captions 
The stunning cliffs and sunsets will blow your mind away on this island. Be sure to use these Santorini Instagram captions for your photos.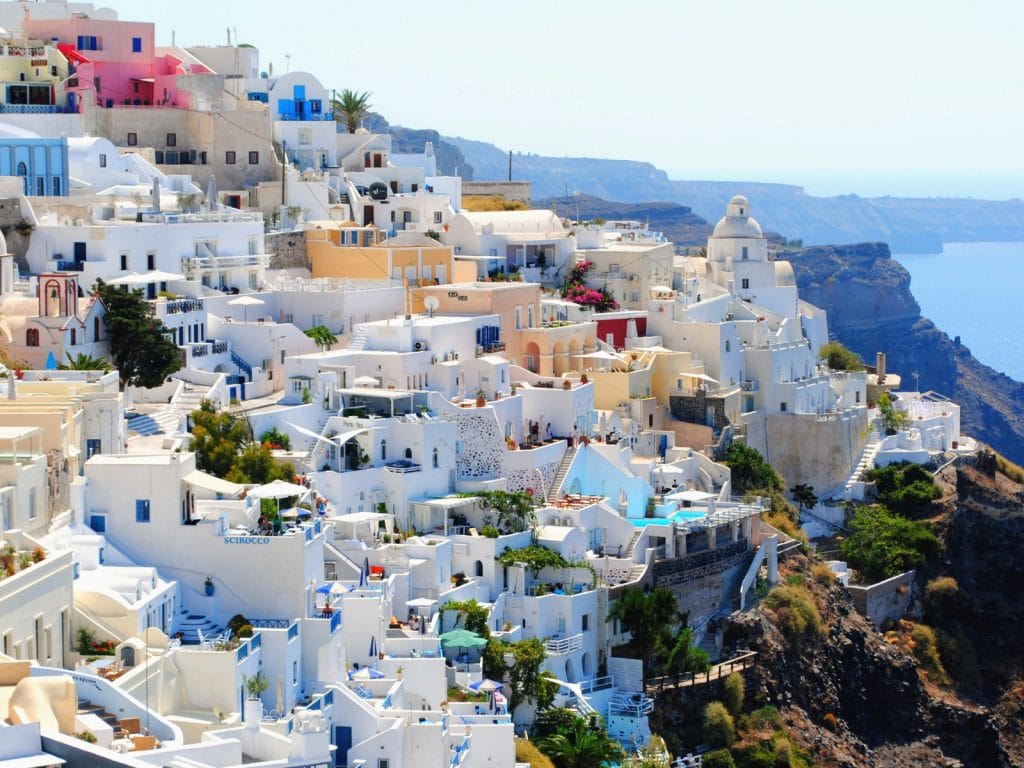 Santorini – Bucket list item check! 
Morning views in Santorini don't make me blue. 
50 Shades of Blue. 50 Shades of White. 
Soaking up the sun and the history in Santorini. 
A little slice of heaven on earth. 
The colors of Santorini are like nothing else I've ever seen. 
Santorini is a photographer's dream come true! 
Living the sweet life in Santorini. 
Santorini is waiting for you! 
Once upon a time in Santorini. 
Heaven is a place on earth, possibly Greece. 
Short Santorini Instagram Captions 
These are the sunsets we live for. 
Greetings from Greece. 
Feeling the blues in Santorini. 
Santorini, you stole my heart! 
When words fail, pictures speak.
Nostalgia in every step. 
Sunsets are better in Santorini. 
Greetings from Santorini. 
Santorini sunsets. 
Related post: Quotes About Greece
Funny Santorini Captions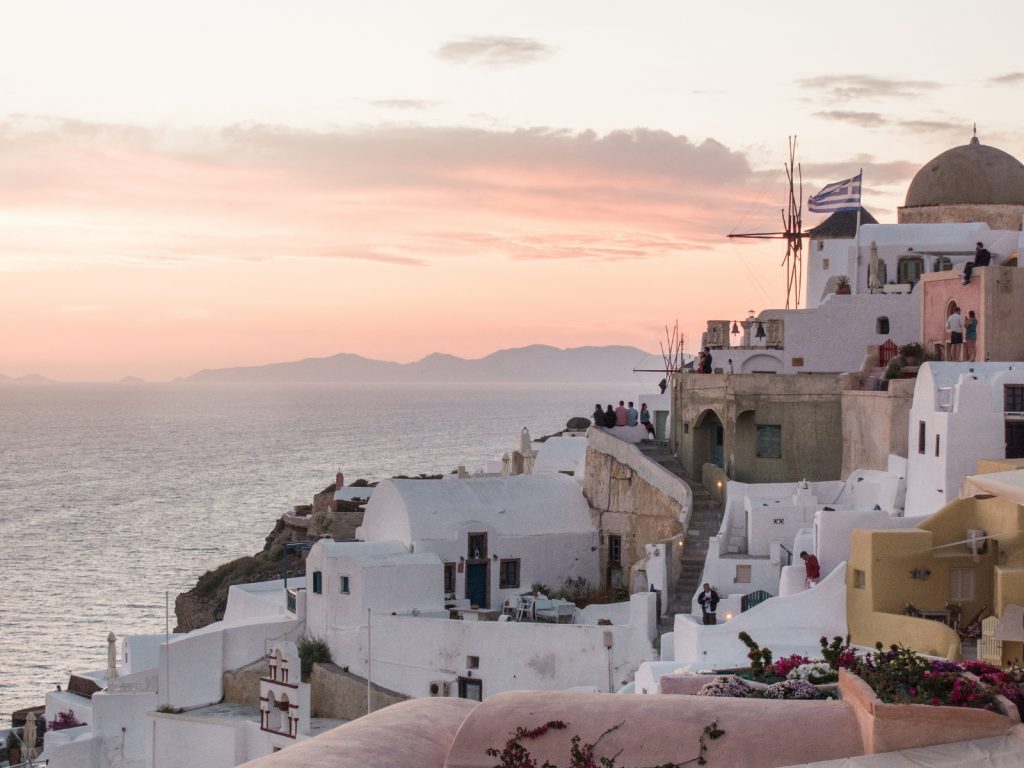 I'm Greeking out over these amazing views!
I followed my heart and it led me to Greece. 
BRB, checking Santorini off my bucket list. 
I've never met an island I didn't like. 
Meanwhile, in Santorini…
It's no secret I belong in Greece.
But first, let's go to Santorini. 
If I can't go to heaven, let me go to Santorini. 
I followed my heart and it led me to Santorini. 
Pretending I'm in 'Mamma Mia' everywhere I go. 
Canceling my plane ticket home and staying in Santorini forever. 
Santorini Puns 
You Odyssey this view. 
There's no time to be blue in Santorini. 
It's all going in one Oia and out of the other! 
This island just ouzos with charm. 
Santorini, you've taken a Greece of my heart! 
Greece-y hair, don't care. 
Feta late than never. 
Santorini – So blue-tiful! 
So near, so Fira!
Santorini Captions For Instagram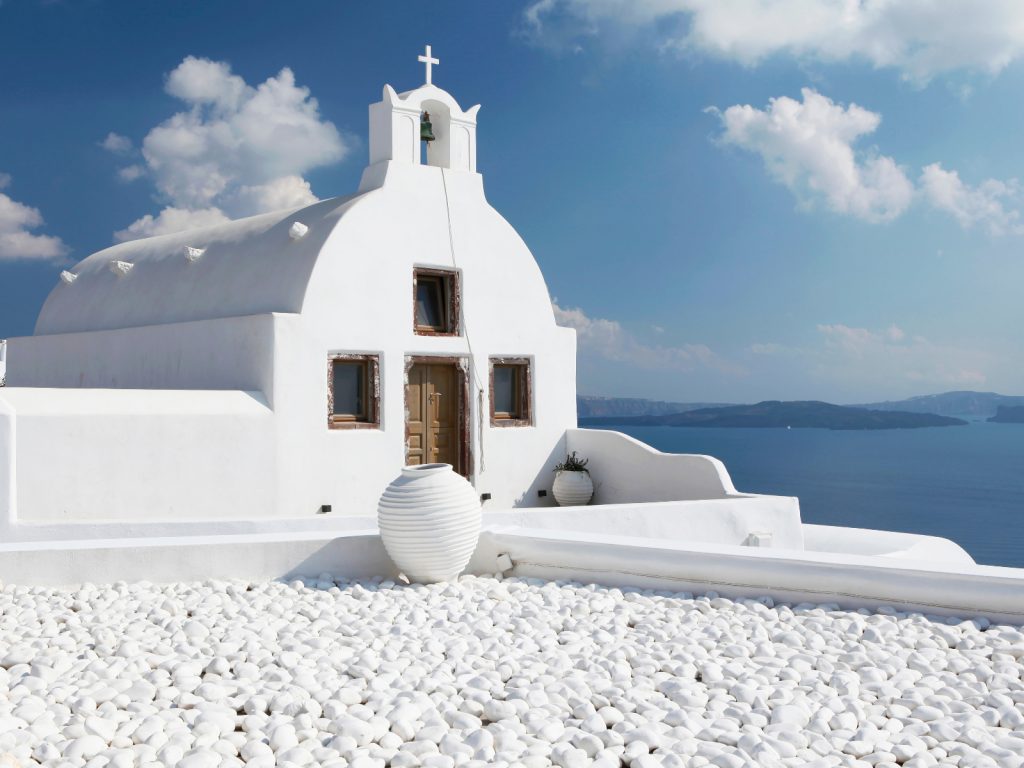 Life is a journey, not a destination. 
Santorini, you stole my heart! 
I am in love with this place.
I want a little bit of Santorini. 
Santorini is calling and I must go. 
Woke up in the dreamiest place. 
The view from my porch in Oia. 
I can't believe how lucky I am to have visited Santorini!
Happiness is a choice we make. I choose Santorini. 
Related post: What To Do In Athens
Beautiful Santorini Captions 
Stunning sunsets and breathtaking views.
Came for the sights, stayed for the sunsets. 
Santorini is the most beautiful place I've ever seen! 
There's no time to be bored in a world as beautiful as this. 
The views from Oia are absolutely stunning! 
I wish some nights lasted forever. 
I'm in love with the white buildings and blue roofs of Santorini! 
Life isn't black and white in Santorini. It's blue and white!
I just need some time in a beautiful place to clear my head. 
Quotes About Santorini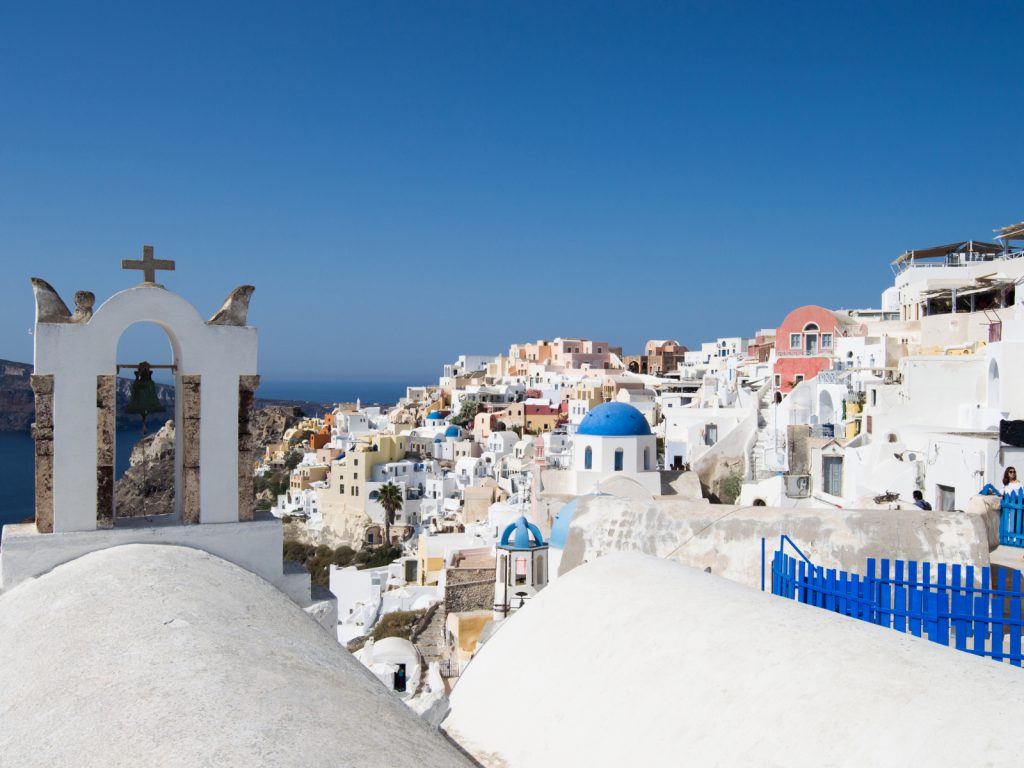 "It takes a lifetime for someone to discover Greece, but it only takes an instant to fall in love with her." – Henry Miller 
"Off the Santorini cliff on a dark, starless night, I tossed a message in a bottle and love found me washed up on the black lava sand of the Aegean shore. As with my previous loves, volcanic in nature. Almost destructive before it started."- Melody Lee 
"We descended from the chariot and walked across the volcanic island in the Cyclades group of Greek islands. A fear did wake me like the active Santorini. I felt, anytime my mind outbreaks with the real passion of words. But I maintained my mind with silent revenge, which was active, secretly in my inward cavity."–Nithin Purple
 "…even God cannot match the cruelty of his creation. For every Santorini, there are a hundred massacres of innocents. And that is the work of man–more particularly, the work of politics, of groups of men organized to gain and exercise power." –Charles Krauthammer
Santorini Greece Quotes
 "Greece is the most magical place on Earth." – Kylie Bax
"Of all the people, the Greeks have dreamt the dream of a life best." Johann Wolfgang Von Goethe
 "Santorini's boutique hotels and fine dining make it one of the classier (and pricier) Greek islands, but this is balanced by the down-to-earth hospitality and tradition for which Greece is renowned." -Mike Gerrard 
"Arthur tried to hold her hand to steady her and reassure her, but she wouldn't let him. He held on to his airline hold-all with its tin of Greek olive oil, its towel, its crumpled postcards of Santorini and its other odds and ends. He steadied and reassured that instead." –Douglas Adams
 "Happy is the man, I thought, who, before dying, has the good fortune to sail the Aegean sea."– Nikos Kazantzakis, Zorba the Greek
"According to some theories, the legendary Atlantis said to have sunk beneath the sea in a great cataclysm, is in actuality the Greek Island of Santorini."–Laura Brooks  
"Lena studied the faces of the girls on the sidelines. She could tell that Kostos owned the lust of what few local teenage girls there were in Oia, but instead, he chose to dance with all the grandmothers, all the women who had raised him, who had poured into him the love they couldn't spend on their own absent children and grandchildren." –Ann Brashares
Santorini Quotes For Instagram Captions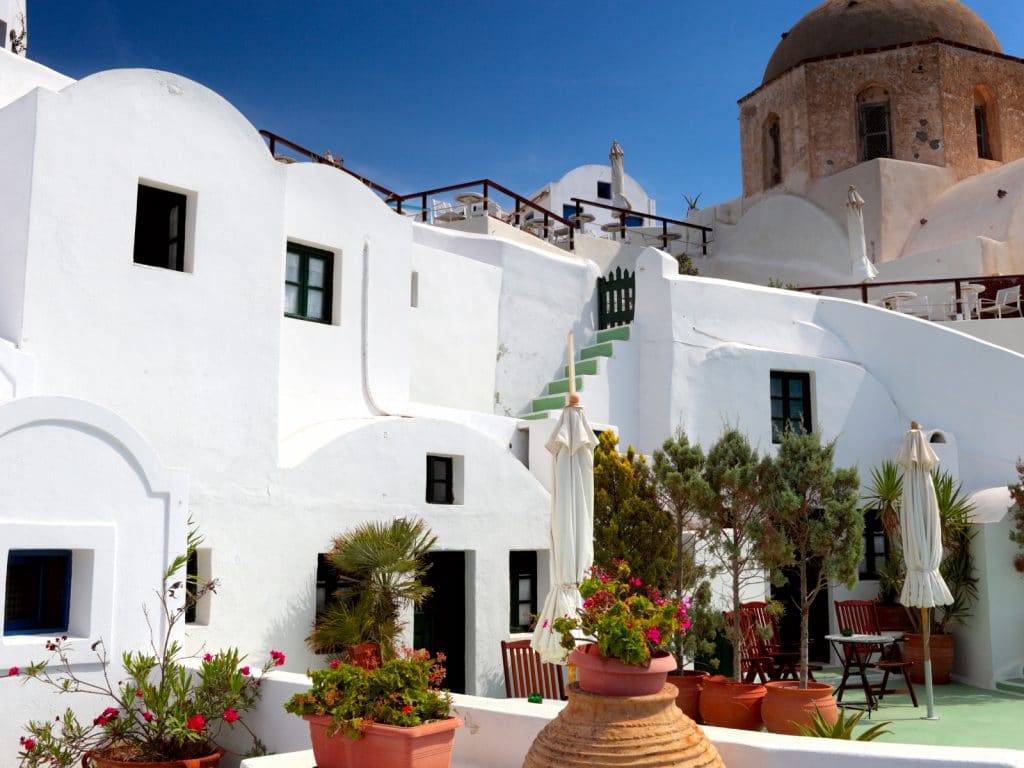 "The biggest adventure you can ever take is to live the life of your dreams!" – Oprah Winfrey 
"I want to have an 'Eat, Pray, Love' experience where I drop off the face of the planet and move to Greece" – Jennifer Hyman 
"The light of Greece opened my eyes, penetrated my pores, expanded my whole being." – Henry Miller 
"And then you go to a place that stops you in your tracks and makes you wonder how you got so lucky just to be there. As our ship entered the foggy caldera and I caught my first glimpses of Santorini, I knew it would be one of those places." –Alex in Wanderland 
"Santorini Island, Greece. Greeks are like the current, They push you over and then. Try to suck you in." – Beryl Div
"Everything in Oia seems perfectly in place. There are no jarring advertising banners, no unsightly internet cafes, no skies full of ugly power lines, no piles of garbage to pull you out of the fantasy. Instead, there are amazing mosaics of colored roofs, an endless labyrinth of curving streets, and the most dramatic vistas across the caldera." –Alex in Wanderland
Related post: Things To Do In Zakynthos
Santorini Hashtags For Instagram
#santorini #instagreece #greece #greecestagram #greekislands #ig_greece #greekisland #oia #greek #athens #visitgreece #cyclades #travel_greece #fira #greecelover_gr #wu_greece #grecia #crete #mykonos #athensvoice #ilovegreece #santorinigreece #instalifo #thessaloniki #igers_greece #island #thira #team_greece #loves_greece #греция
Santorini Instagram Captions Wrap Up
Hope you enjoyed this list of Santorini Instagram captions. Use these in your captions for your Santorini photo captions. Which one of these Santorini quotes or Santorini Instagram captions were your favorite? Would love to know so leave your favorite caption or quote in the comments below. 
Enjoyed these Santorini quotes for Instagram? Check out these other related posts: 
Like these Santorini Instagram captions? Share it with others or pin it for later!