Beautiful sunny Florida is waiting for you! Whether you have just bought a plane ticket or are thinking of going on vacation, this Florida packing list will come in handy. 
Basics are everything, and when going on vacation it can be stressful figuring out what to pack. Having a Florida packing list like this one from a Floridian myself,  you will be prepared for any time of the year you plan to visit. This Florida vacation packing list has all the essentials whether rain or sunshine on your trip. 
So, grab your bug repellant and sunscreen!  I have all the Florida vacation essentials for what to bring, what to leave, and what to expect for your trip to Florida!
This article may contain affiliate / compensated links. For full information, please see our disclosure here.
Other posts on Florida: 
Packing For Florida
Planning a trip is already stressful, add clothes to the mix and it becomes a complete disaster. You can close all of your search tabs on the internet "what to wear in Florida," "things to pack for a trip to Florida," and "Florida vacation essentials." I've got you covered. In this article, I talk about women's and men's clothing, toiletries, beach, and a Florida road trip packing list with all the essentials for your trip to Florida.
Let's proceed with this Florida packing list. 
Woman's Clothes Packing Checklist For Florida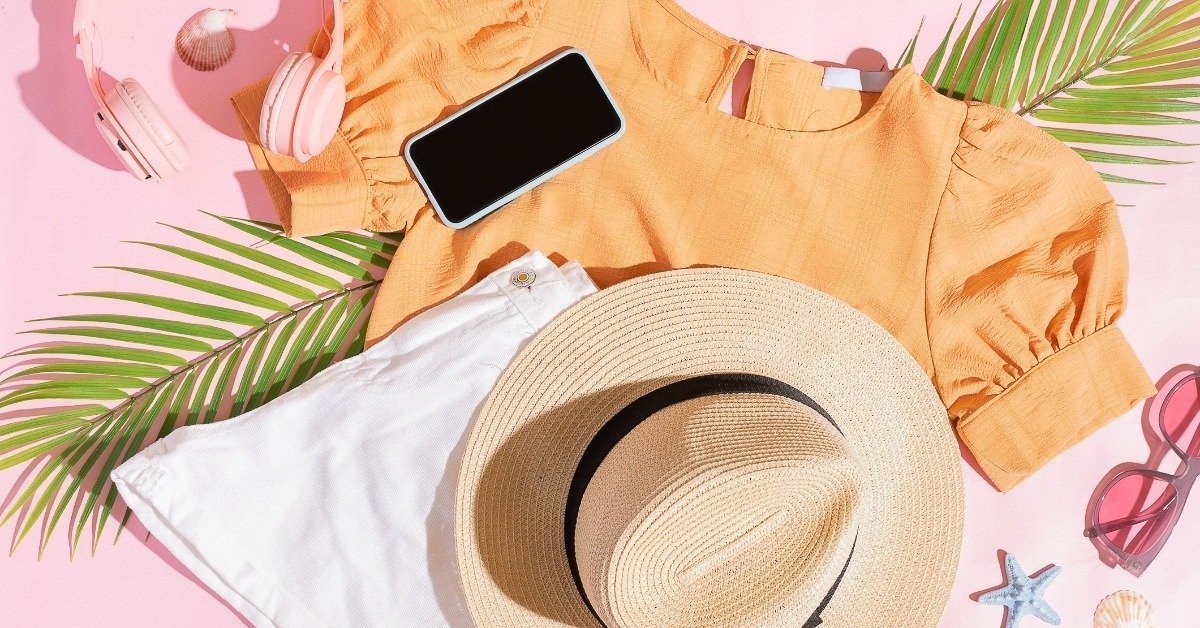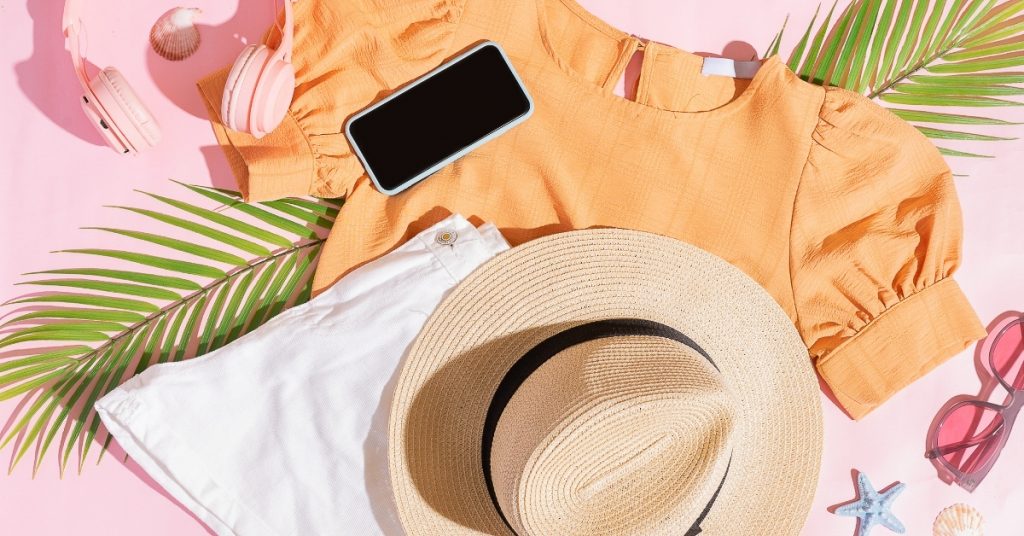 Sun hat
Shoes (sandals, flip flops, sneakers)
T-shirt
Shorts
Tank Tops
Yoga Pants/Leggings
Dresses (casual, dressy)
Underwear
Pajamas
Socks
Basics are everything, and when you're stressed about packing for your vacation, some things can slip your mind. These Florida packing list essentials have all the women's clothing to pack for your trip to Florida.
If you're looking for what to wear in Florida, you should pack a few cute t-shirts, shorts, tank tops, and yoga pants or leggings. Add a variety of dresses too just in case you decide to visit some of the nice restaurants or plan to visit any of the nightclubs. 
You may visit the beach during your trip to Florida, pack a few swimsuit cover-ups and swimsuits. Also, the sun is intense here year-round, so be sure to pack a sunhat to protect your face from the sun. 
Vacation is synonymous with walking a lot, so make sure you have appropriate shoes for some occasions such as the beach (flip flops, water shoes), lounging around (sneakers), and going out (sandals, heels). 
You can't forget about the very basics like underwear, socks, and pajamas too. Be sure to load up your suitcase with these, you can never pack too many socks and underwear.
Men's Florida Packing List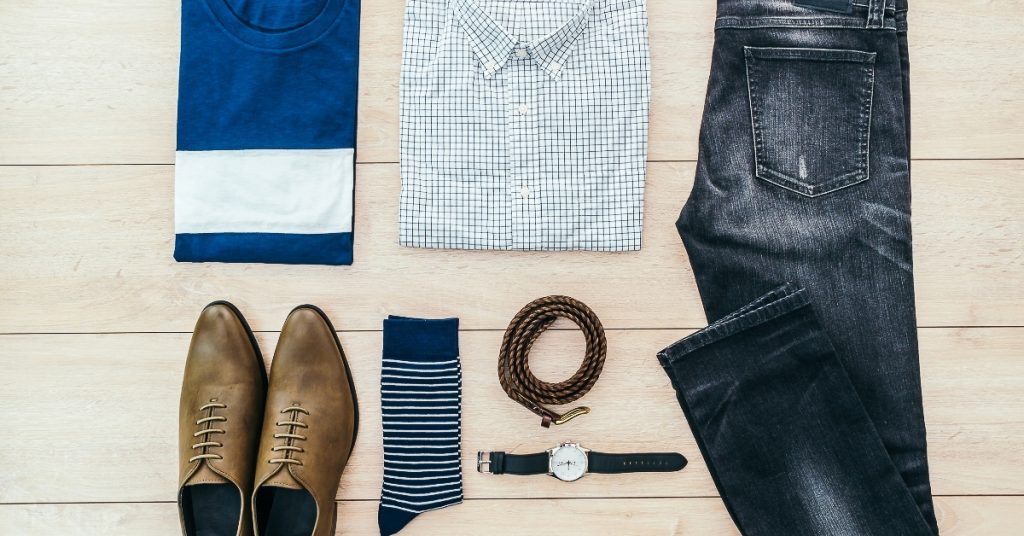 T-Shirts
Tank Tops
Light Weight Button Downs
Shorts
Casual Pants
Swim Trunks
Shoes (sandals, flip flops, sneakers)
Underwear
Pajamas
Socks
Similar to women, men should pack their suitcases with the basics too. Add to your luggage t-shirts, tank tops, and shorts are essentials included in the Florida packing list because they are clothing you can wear every day here. 
Depending on where you're visiting in Florida, in some restaurants and nightclubs shorts, flip-flops, or even tennis shoes are not allowed. So if you're wondering what you should wear here in Florida, just be sure to throw in a nice button-down shirt and pants to have with you.
Swim trunks obviously and some flip flops and water shoes for the beach are some other Florida packing list items that are essential. 
Be sure to pack some sneakers and sandals too in your suitcase. Along with plenty of underwear, socks, and pajamas.
Florida Packing List For Toiletries
Feminine Products
Brush and Comb
Soap
Hair Tools
Lip Balm
Medications
Razor
Toiletries are another category of essentials for your Florida packing list. 
Shampoo and conditioner are very important, and for those who wear specific brands or components for stronger and healthier hair, forgetting them can equal death. 
Anti-frizz leave-in conditioner and anti-frizz hairspray come in the second most important place to tame your hair with Florida's humidity. Also, being under the sun all the time while swimming in salty water can seriously damage your hair, make sure to pack these two products to protect your precious hair. 
Lip balm is on the list of things to pack for Florida as well. Sun exposure can cause chapped lips, so make sure you keep them moisturized during your visit. 
Toothbrush and toothpaste shouldn't even be on the list because they are a must, but just to make sure we include them for those who tend to forget. Brush and combs, soap, a razor, hair tools, and medications should also be included in a little bag.
Packing List For Florida Beach Vacation
Sunglasses
Something To Read
Conditioner And Comb
Who doesn't love the beach? As a frequent beach-goer myself, I included all the beach essentials for your Florida packing list. 
Inside your beach bag, be sure to toss in some sunscreen. Sunburns are a real thing and unpleasant to deal with on vacation.  Please take care of yourself and know your sun tolerance. I suggest packing aloe as well, in case of sunburn it helps with the pain and inflammation.
The sun is intense so don't forget to bring your favorite sunglasses as well. 
 Not all beaches in Florida have small convenient stores or stands that sell food and beverages. Be sure to take a reusable insulated water bottle so you can stay hydrated while sunbathing and playing in the water.
A sand-proof towel is non-negotiable here as well as a chilly pad and a cooling towel. Especially, during the summer months, you will thank me for the cooling towel. 
As a local, I  also advise travelers to carry a mini portable fan everywhere because the Florida heat can be hard to handle if you're not used to high temperatures and humidity. 
Be sure to protect your hair. Bring a small bottle of conditioner and a comb to the beach too, most places have open showers so you can quickly rinse and comb your hair to prevent damage.
No Florida packing list for the beach would be complete without a cooler to keep your beverages, cold cuts, and fruits cold.  
For entertainment while on the beach pack some portable speakers and something to read when you're not taking a dip in the ocean. 
Florida Packing List Visiting Theme Parks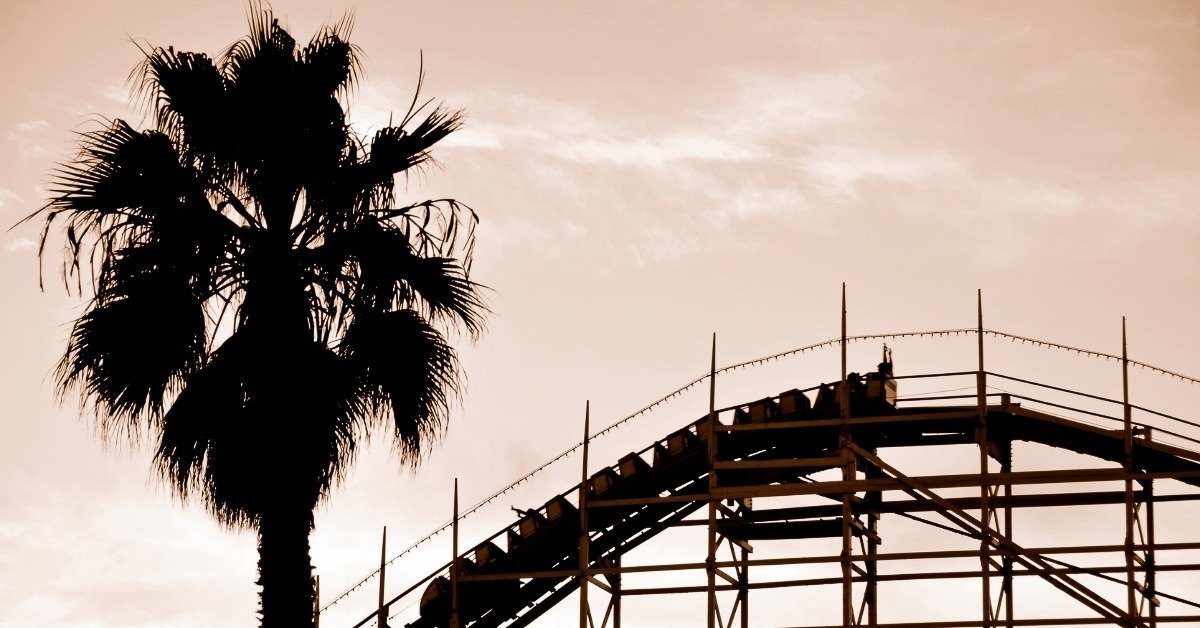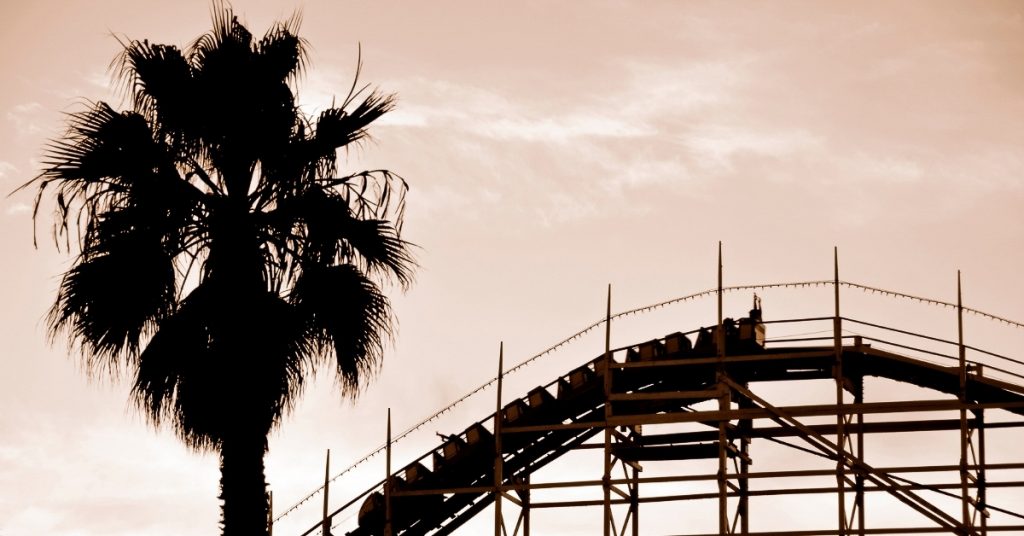 Sunglasses
Hat
Comfortable Shoes
Did someone say theme parks? There's nothing more satisfying and cool than visiting one of the Florida theme parks. Use this packing list for Universal Studios Orlando or any other theme park in Florida so you're prepared. 
Inside your backpack, be sure to pack sunscreen, sunglasses, a hat, and your insulated reusable water bottle. Again, don't underestimate Florida's heat. 
Comfortable shoes are also a must. Wearing platforms or very thin flip-flops to a theme park (where you have to walk a lot) will only become a nightmare that could have been avoided. Be sure to enjoy all the romantic things to do at Universal Orlando with your lover and wear some good shoes.
Due to Florida's unpredictable rain showers during the summer months, be sure to carry a poncho or umbrella so you can stay dry. During rainy season these items are non-negotiable and are essential in this packing list for Florida.
Florida Road Trip Packing List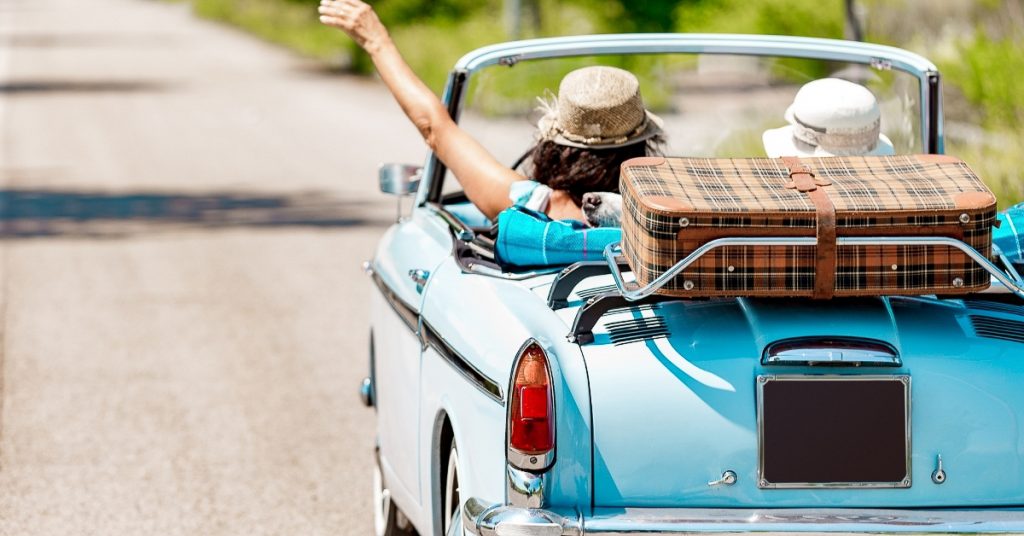 License & Registration
Insurance
Navigation (map, Waze, or Google Maps)
Let's dive into a list of things to pack for Florida if you plan on taking a road trip. Meet the basics: (also known as the non-negotiables) license and registration, insurance, and navigation. 
Having a car mount to prop your mobile will help you keep your eyes on the road, which is necessary with Florida drivers.
Florida traffic stays congested, especially in Southern Florida. I do suggest you purchase a Sunpass to drive in the express lanes to avoid being a sitting duck in traffic. It is also great to have for all the tolls and avoid a bill being sent to you from the Florida Department of Transportation or your car rental company. 
Portable chargers are another essential for your Florida road trip packing list. Nothing worse than your phone battery dying on you and not knowing where you are. 
Florida Packing List Extras To Pack
Insect repellent is one of the most important things to pack for Florida. Trust me, you don't want to put a damper on your vacation itching from multiple mosquito bites!
Also, pack a light jacket as well. During the winter months, the nights tend to be cooler. 
Using packing cubes will help you have an organized and clean suitcase for your Florida packing list essentials.
Unfortunately, the weather here can be unpredictable sometimes. So please don't forget to pack an umbrella, rain jacket, or poncho. 
Keep your phone safe and bring a waterproof phone case (you can thank me later) for the beach, pool, or getting caught in a rainstorm.  
Most importantly, pack a waterproof dry bag to store your wet clothes from your day of sand and surf. 
How To Get Around Florida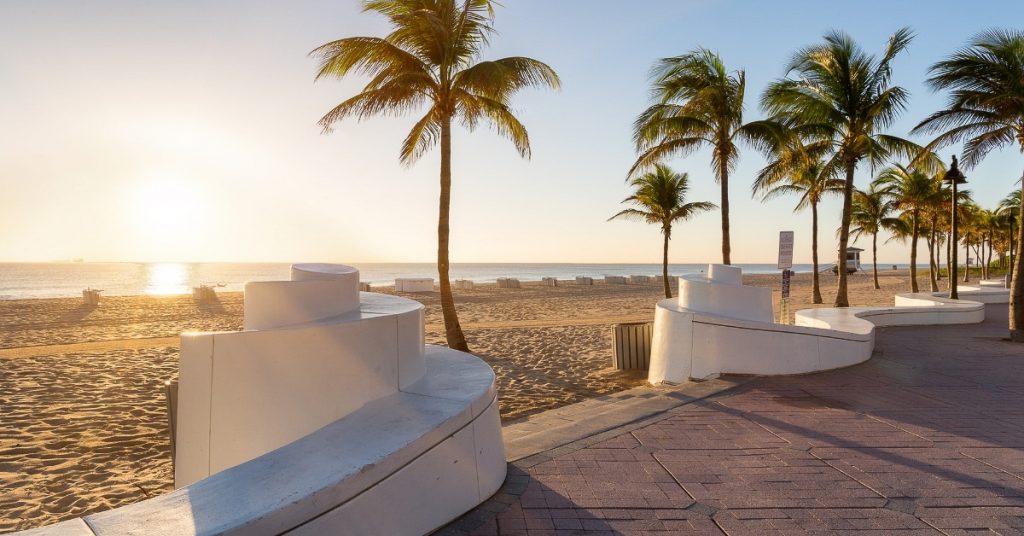 Florida's public transportation options vary by city, as each has its own infrastructure and transportation businesses, but here are some general suggestions:
Rental Car: There are a variety of agencies with competitive prices and packages. One of the most popular options is in-airport rentals. Though convenient, airport car rentals can be pricey depending on the season, so it's worth looking off-premise.
Most companies provide free shuttle services, making it easy to get to and from the airport. 
Public transportation: For short trips within the town, try the bus or trolley. Google Transit can help you map out a route.
Bicycle: A handful of cities, including Punta Gorda and Miami Beach, offer bike-sharing programs.
Shuttle service: Florida Shuttle Transportation offers service between most major cities.
CVBs: Call the local convention and visitors bureau for advice from the folks who know the city best.
How To Get To Florida 
If you live in a state nearby you can consider a road trip to the destination, if you don't want to spend money on a flight. For those far away from car access or the ones who don't want to spend eternal hours sitting in a car, some websites and airlines offer cheap tickets to Florida. 
Also, three Amtrak routes travel to Florida: Auto Train (which only stops in Sanford, Florida, and Virginia), Silver Star, and Silver Meteor. All routes travel on the east coast, with direct service from cities including New York City, Philadelphia, Baltimore, Washington D.C., Raleigh, and Charleston, SC.
Things To Pack For Florida Conclusion
In this packing list for Florida, I covered everything you need to spend a beautiful and relaxing trip in Florida. From clothing to toiletries, passing through car essentials and beach basics, we can't forget about theme park essentials when packing for Florida. 
I hope you use this guide and be sure to download your printable packing list for Florida vacation right here. For your trip use these Florida captions for all the photos you will take and post on your Instagram.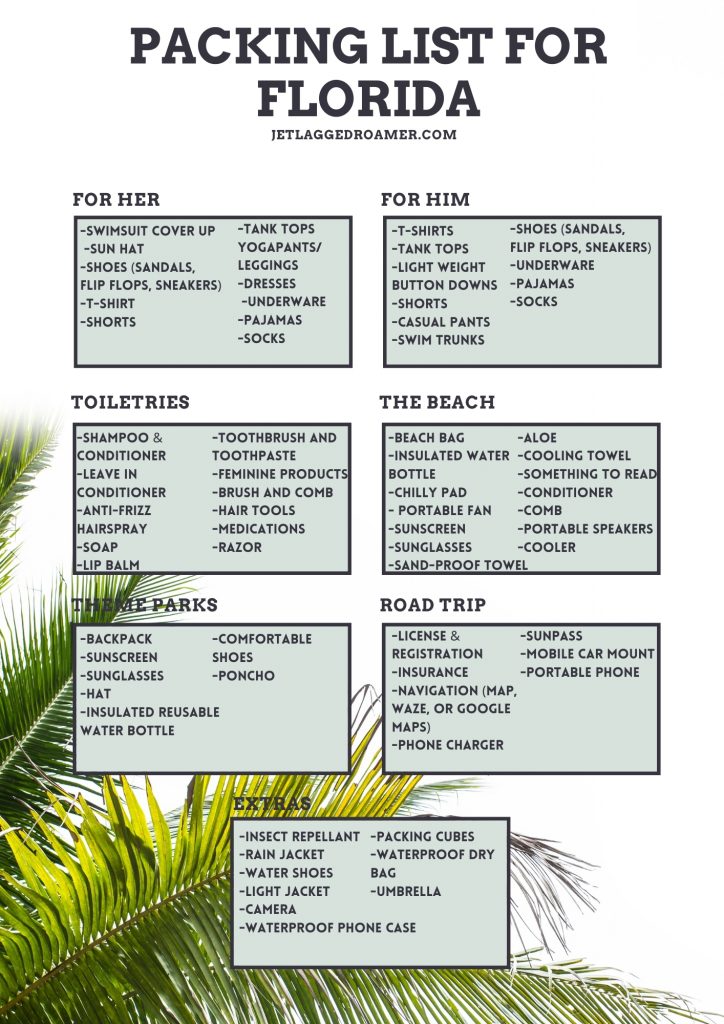 Check out my Florida posts for some amazing cities to visit in the Sunshine State: 
Like this Florida packing list post? Share it with others or pin it for later in your Florida travel board!