Do you dread long plane rides like me? Long flights are usually uncomfortable, but they don't have to be! If you know what to pack in your carry-on for long flights you can have a smooth landing.
From my journeys, I learned from experience the travel essentials that are a must in your carry-on. So I will help you prepare for whatever may occur. Avoid the mistakes I made and find out the 30 essentials to pack in your carry-on for long flights. They are life-saving!
This article may contain affiliate / compensated links. For full information, please see our disclosure here.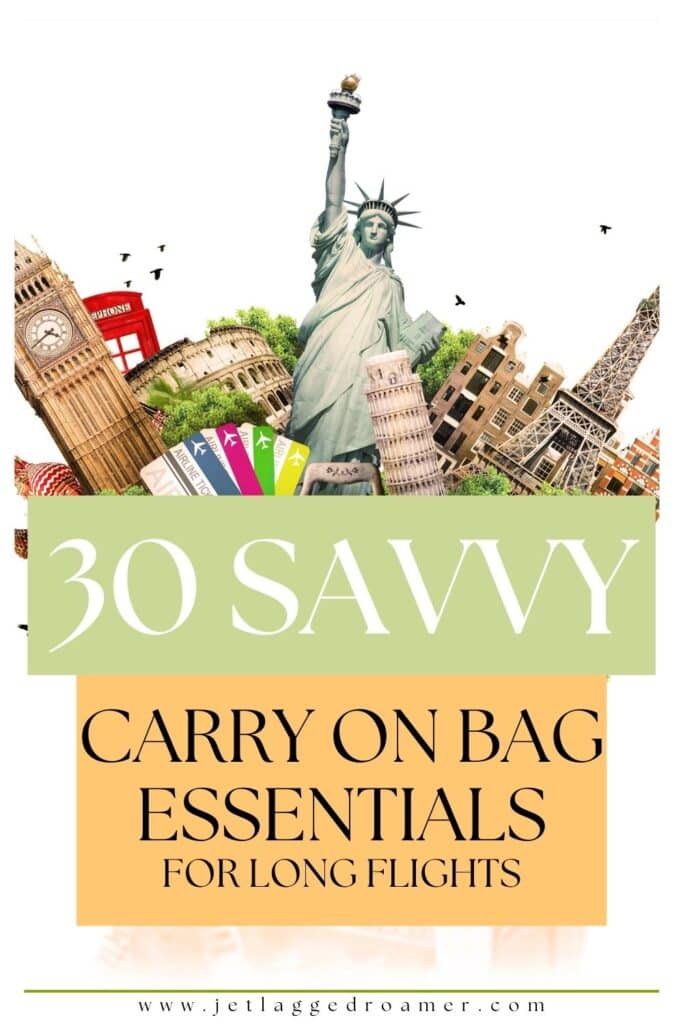 Related posts:
Essentials To Pack In Your Carry-On For Long Flights
If you're not sure what to pack for long flights, this post has you covered. Don't board that plane without tossing these life-saving long-flight carry-on essentials into your bag.
Clothing To Pack In Your Carry-On For Long Flights
Panties
Packing some extra panties in your bag is a must in your carry-on for long flights. If you're going to pack anything, pack extra undies!
You never know with short or long flights if you're going to have an unexpected layover or get your luggage lost. At least now you got some clean underwear in your carry-on to stay fresh, especially for a sudden overnight stopover.
Also, I like swapping my panties between long-haul flights. Before hopping on the next plane, I do a quick change at the airport and it makes me feel like a whole new person.
Just remember to pack a little baggie to keep them in so your dirty undies aren't touching your other carry-on items.
Leggings
No need to impress anyone for long-haul flights so dress comfortably. Wearing comfortable clothing for long plane rides is a must. For comfy outfits, I prefer to wear leggings or yoga pants, a comfortable t-shirt, a sweater, and some slip-on shoes.
Don't forget when packing your carry-on for long flights to throw in an extra pair of leggings or yoga pants. Besides clean undies, it's nice to feel fresh everywhere. My favorite yoga pants to wear are from Amazon. They are thick, sturdy, and comfortable for long flights.
Socks
Packing extra socks was a carry-on essential lesson I had to learn. If you're like me and book long layovers to your destination is always nice to change your socks. Especially, if you've been in transit for a day.
While spending a cold layover in Paris, all the walking caused my feet to sweat and my socks became wet. After wearing them for 10 hours I was thrilled to get to the airport and buy a dry pair of socks. They really don't take much room, just stuff an extra pair in your carry-on.
Shoes
Nothing like getting settled in your seat and immediately taking off your shoes. If you're not one of those people, remember to wear shoes that can easily be removed and slip right back on your feet. Having easy shoes to put on makes it so much easier just in case you need to stretch or go to the restroom.
RELATED POST: Essential Tips To Survive Long Flights
Sleeping Carry-On Essentials For Long Flights
Neck Pillow
I get so jealous when I see other passengers sleeping with their heads on the tray. If you are one of those people, just know I envy you! A neck pillow is a non-negotiable in my carry-on for long flights. With a neck pillow, I have somewhere to rest my head to ensure I get some sleep.
Blanket
Airplanes always tend to be a little chilly, more like freezing. Packing a small foldable blanket with you in your carry-on for those long-haul flights helps keep you warm and cozy.
However, airline blankets are typically thin and small and really don't serve their purpose. So I always pack with me and know it's clean too.
Eye Mask
Eye masks are a necessity for me not just on the plane, but also at home. It's something I cannot live without when trying to get sleep for long flights. Eye masks are cheap and you can just keep one in your carry-on that you only use for traveling. They will always be packed and ready to go.
My favorite eye mask has built-in headphones to block out white noise. This super soft eye mask blocks out all the light so you can rest peacefully. Having an eye mask is one major carry-on essential for long flights that I never leave without!
Melatonin
If it wasn't for melatonin, I could honestly stay up the entire flight watching foreign films My adrenaline is usually pumping from excitement to arrival, and falling asleep can be difficult.
By popping melatonin I'm knocked out in 15 minutes. I wake up refreshed and ready to get the adventures started.
Toiletries Essentials To Pack In Your Carry-On For Long Flights
Essence
Planes have a dry environment and cause extreme damage to the skin. It's crucial to keep your skin hydrated throughout the flight. I do this by spraying lots of facial essence, and it helps prevent breakouts from the stale airplane air.
My favorite and super affordable essence is from Mario Badescu Skincare. They have a variety of light and clean scents you can choose! Rose will always be my number one!
Essence is not just for the plane, it's a great refresher for your face throughout the day.
Sheet Mask
I will proudly whip out a sheet mask during a flight. Sheet masks are a total game changer keeping the skin hydrated for long flights.
Plane air can make your face look deflated, and using a sheet mask will keep you looking hydrated and dewy.
Andalou are my favorite sheet masks that I use religiously cause the do the job! They target all skincare concerns. For your trip, I suggest packing a few so you can give yourself a refresher at the hotel.
RELATED POST: Take Care Of Your Skin While Traveling
Face Wipes
Stepping off the plane I use facial wipes to remove that recycled airplane air from my face. They are easy to pack and help your skin feel refreshed from international flights.
One of my favorites to clean my skin are from Yes. You get so many wipes for your buck to have throughout your trip too and use when needed.
Moisturizer
It can't be stressed enough to keep your skin hydrated when flying. Altitude, travel time, and cabin pressure are all factors battling your skin. The holy-grail moisturizer that I use religiously is from Belif-Aqua Bomb.
Toothbrush & Toothpaste
International flights are long and our breath is going to get funky. Brush your teeth so you don't have stinky breath! Packing a toothbrush and toothpaste in your carry-on luggage so you can freshen your breath before leaving the airport.
This is a very important carry-on essential for long flights, plus you will feel so much better with minty fresh breath.
Deodorant
Avoid stinky armpits and pack a mini deodorant with you. A few sprays are great for a little awakening boost!
Chapstick
Besides keeping your face hydrated, your lips need some attention too when flying. Laneige Lip Sleeping Mask is the best for keeping my lipss moisturized.
This is a miracle worker for hydrated lips. One jar will last you over a year so it is definitely worth the investment!
Body Splash
I always feel stinky stepping off the plane from a long flight. I can give myself a little refresher by packing a soft scent in my carry-on.
Do avoid overpowering scents if you're going to do a few sprays on the plane.
Hand Sanitizer
Keep hand sanitizer handy in your carry-on for long flights. Being on a large plane with many people there will be coughing, sneezing, and who knows where their hands have been.
Hand sanitizer is a nice carry-on essential in case you decide to step outside the airport for a layover.
RELATED POST: What's In My Travel Makeup Bag
Hand Lotion
My hands tend to get a little dry on the plane. Massaging moisturizer on them keeps them nice and smooth. One of my favorite and deliciously-smelling lotion is from Sol de Janeiro Bum Bum Cream.
I have seriously developed an obsession with this scent and its texture. This lotion is super thick, and creamy. Leaves my hands feeling amazing!
Dry Shampoo
If your hair tends to get greasy and oily on international flights, like mine then I suggest packing a small bottle of dry shampoo. So you can fake a fresh hairdo by doing a couple of sprays to keep your hair looking newly washed. My favorite dry shampoo is from Psssst! order from Amazon here.
RELATED POST: How To Survive Long Flights In Economy
Electronics to Pack In Carry-On For Long Flights
Headphones
Airlines do provide headphones for international flights; however, I personally prefer to bring my own. Headphones are useful to listen to your favorite tunes and/or cancel out noise.
If you need complete silence to sleep, then I suggest purchasing noise-canceling headphones or earplugs. My favorite noise-canceling headphones have good battery life and will ensure you have no interruptions.
Phone
Honestly, we are all attached to our phones these days. It's an essential you will take with you.
Laptop
Not often do I take my laptop with me on my trips, but it is always in my carry-on if I do. NEVER put expensive items in your checked bag, only in your carry-on for long flights or any flight!
Book
Take a book, audiobook, or Kindle you have been dying to finish, which can help quickly pass time on international flights.
Food Essentials To Pack In Your Carry-On For Long Flights
Snacks
Snacks and meals are distributed at specific times during long flights, so pack a few small things to eat in case you get hungry before.
Nuts such as pistachios have always been my absolute favorite. They are filling and easy to stash in a small bag. Other snacks that are great for packing in your carry-on and delicious are beef jerky and granola bars.
Reusable Water Bottle
Be sure to drink lots of water on the plane. When you finish drink more to avoid being dehydrated. Drinking lots of water helps you avoid arriving with fatigue, nausea, or other unwanted side effects of flying. Also, help out the planet with a reusable water bottle!
Other Carry-On Essentials For Long Flights
Passport
Don't forget your passport! I am sure you have it if you made it on the plane!
Money
Always carry a few bucks of your country's money and the local currency. Some places may not take a credit or debit card and you don't want to be stranded for anything you may need.
Credit/Debit Card
Just in case you become short on cash, you should have a backup with your card. I suggest using the American Express Platinum Credit Card. It's my favorite credit card for traveling.
Pen
You need a pen to complete those entry forms. Keep one handy so you don't have to ask anyone!
Keys
Don't forget your keys so you can get back into your house when you return home! Or, maybe you don't want to return home…
Just a friendly reminder to make sure all your carry-on essentials are travel size and fit TSA requirements. I typically pack my carry-on essentials in a mid-sized backpack just in case I leave the airport during flights. It is easy to store in case there are not any lockers available.
What Do You Pack In Your Carry-On For Long Flights
Since you know what essentials to pack in your carry-on for long flights your next trip will be easy peasy. Try them out for your next long flight. I hope they help you as they do me. Is there something you must have in your carry-on?
Don't forget to subscribe to receive your own FREE printable carry-on packing checklist!
Need Additional Travel Tips? Check Out These Other Related Posts!
Like this post about essentials to pack in your carry-on for long flights? Share it with others or pin it for later.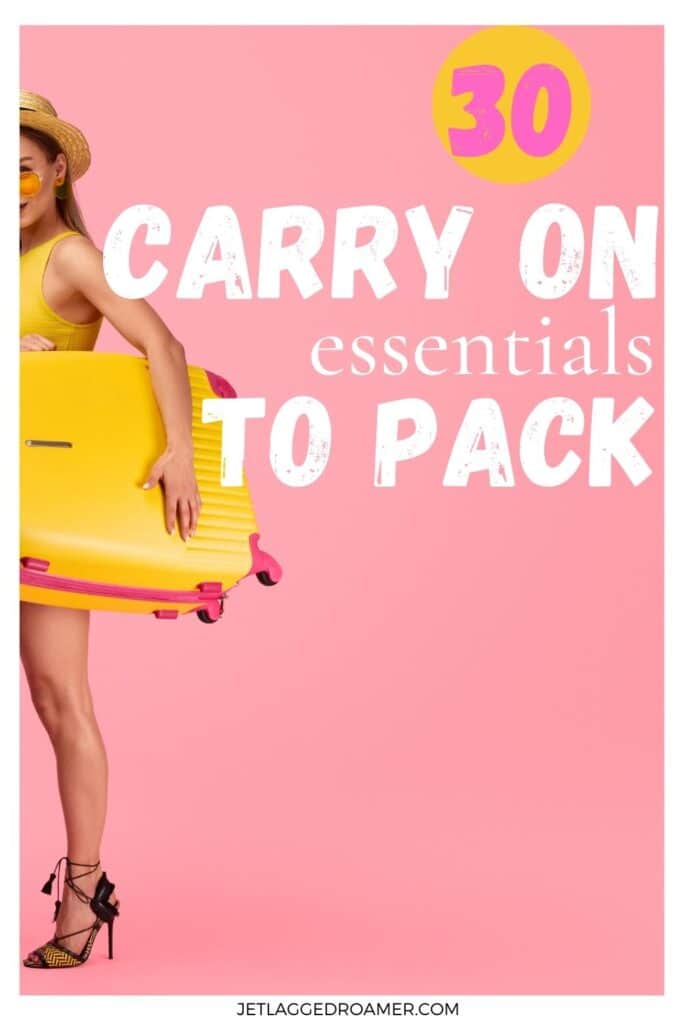 Jetlagged Roamer is a participant in the Amazon Services LLC Associates Program, an affiliate advertising program designed to provide a means for sites to earn advertising fees by advertising and linking to amazon.com, amazon.co.uk, amazon.ca. Amazon and the Amazon logo are trademarks of Amazon.com, Inc. or its affiliates.