Ready for the 4-1-1, the low down, and all the juicy details for the best places to take pictures in Miami, you know the 305? Trust me these Instagrammable places in Miami are coming from a local.
Miami is the perfect backdrop for any photo to add to your Instagram grid. Lush palm trees, dreamy blue skies, and sparkling turquoise water. Before you limit yourself to taking pictures of South Beach, there are more Insta-worthy places in the city that will make you say "Ay papi!" 
Shall we proceed to these Instagrammable spots in Miami that are múy calienté!
This article may contain affiliate / compensated links. For full information, please see our disclosure here.
Check out my other Miami posts for your visit:
Best Places To Take Pictures In Miami Map
So here I have the most Insta-worthy places to take pictures. Be sure to save this map in your Google Maps app. You can have all these best places to take pictures in Miami handy with you on your phone.
Instagrammable Places In Miami
Now, let's begin with these pretty places for a photoshoot in Miami.
Miami Selfie Museum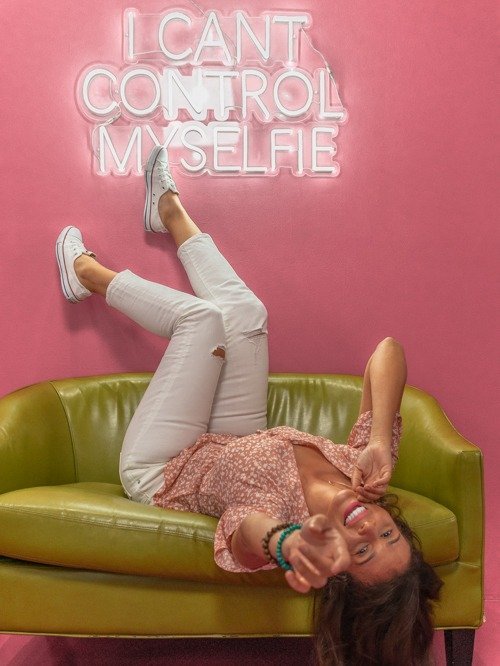 179 NW 25th St, Miami, FL 33127
The Miami Selfie Museum, located in Wynwood has many colorful art installations for a variety of fun backdrops. It's a super Instagrammable museum and one of the fun places to take pictures in Miami.
From interactive rooms, donut walls, a bathtub with plastic bubbles, and much more it will make your Instagram feed super unique.
WHEN TO VISIT:  Visit when doors open since Wynwood gets crowded around noon. Beating the crowd you will be able to get through all the exhibits without waiting.
HOURS OPEN: Monday-Thursday 11 AM-8 PM and Fridays until 9 PM, Saturday 10 AM-10 PM, and Sunday 10 AM-8 PM.
ADMISSION: Monday-Friday $29, Saturday & Sunday $34.
Wall Of Club Space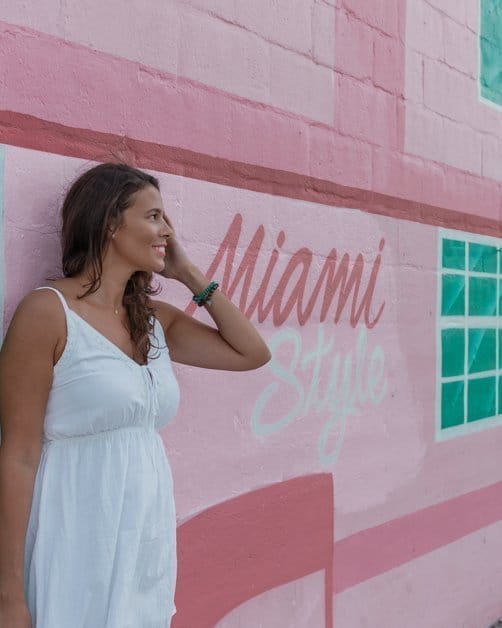 Location: Corner of NE 1st Ave & NE 11th Street
Outside of Club Space is a pink graffitied wall splashed with pink and turquoise making it one of the top Miami Instagram spots. You can't get more Miami than this part of town.
WHEN TO VISIT: Any time of day besides rush-hour traffic would be good to snap photos. You will have to step onto the road and will have to wait for cars to pass.
HOURS OPEN: 24/7
ADMISSION: Free
Little Havana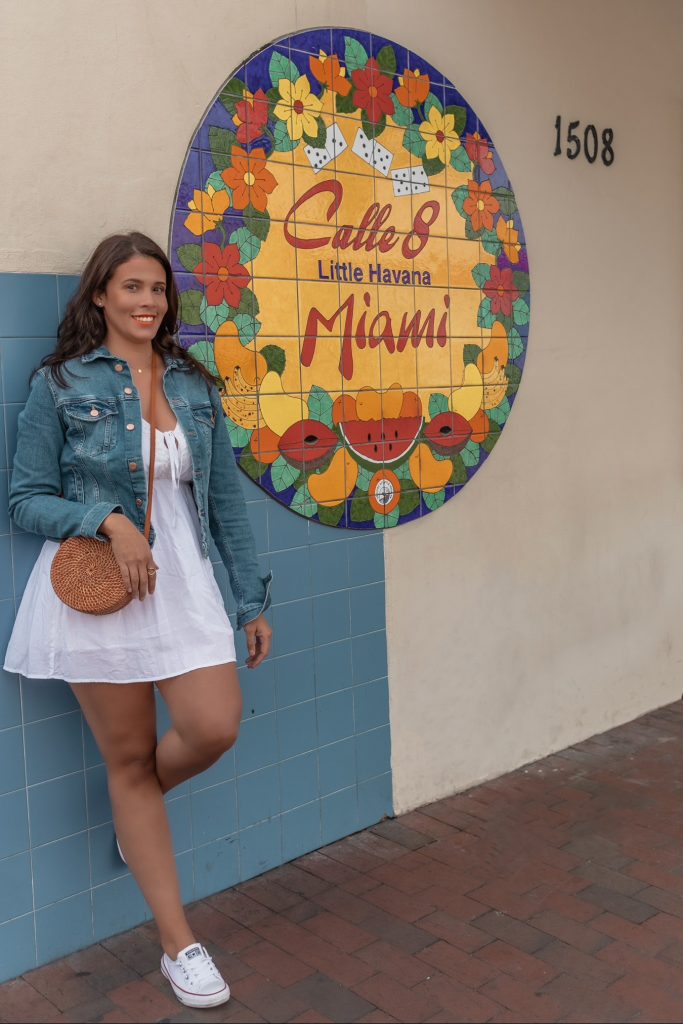 Location: 1513 SW 8th St, Miami, FL 33135
A trip to Miami without visiting Little Havana's Calle Ocho street would be a sin. This colorful neighborhood screams Cuban culture.
Besides the local markets and good food, there are many graffitied walls and buildings that make this district one of the best photo spots in Miami to take photos.
WHEN TO VISIT:  Best time to visit Little Havana is early since this street gets super busy with locals and tour groups.
HOURS OPEN: 24/7
ADMISSION: Free!
Broken Shaker At Freehand Miami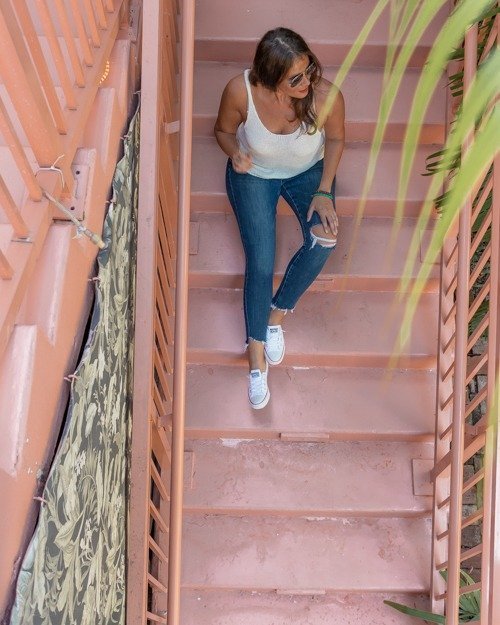 Location: 2727 Indian Creek Dr, Miami Beach, FL 33140
Broken Shaker is a tropical oasis in the heart of South Beach. Located inside the adorable Freehand Miami Hostel the decor makes it one of the most adorable Miami photo spots. It's perfect for those who love pink like me!
Mismatched patio decor, bright yellow umbrellas, and colorful furniture make the perfect setup for a super bohemian photo op.
WHEN TO VISIT:  If you plan on enjoying a happy hour after photos arrive early before doors open. The lighting is still perfect in Miami to snap some great pictures.
HOURS OPEN: 5 PM-12 AM
ADMISSION: Free, unless you buy drinks and snacks.
Related Post: Quotes About Miami
Casa Florida Miami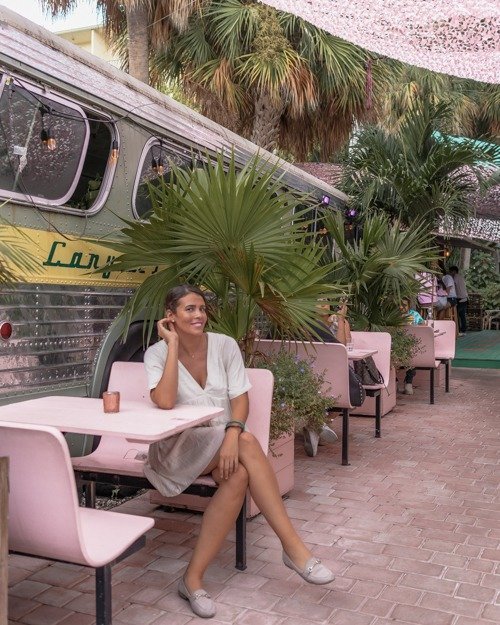 Location: 437 SW 2nd St, Miami, FL 33130
For a super stylish bar saturated in pink visit Casa Florida Miami, also located in Little Havana.
The patio outside has pink tables that resemble an old diner, hanging nets, and just all things that are super cute. There is even an old 70's bus that you can even go inside, it's super Insta-worthy!
WHEN TO VISIT:  If you plan on visiting for brunch, which you should, go when they open. This is a popular spot for the locals since their food is yummy! Don't forget to make reservations though if you want a table!
HOURS OPEN: Thursday 5 PM-11 PM, Friday 5 PM-12 AM, Saturday 12 PM-12 AM, Sunday 12 AM-11 PM, other days the restaurant is closed.
ADMISSION: Depending on what entree you order.
The Bass Museum Of Art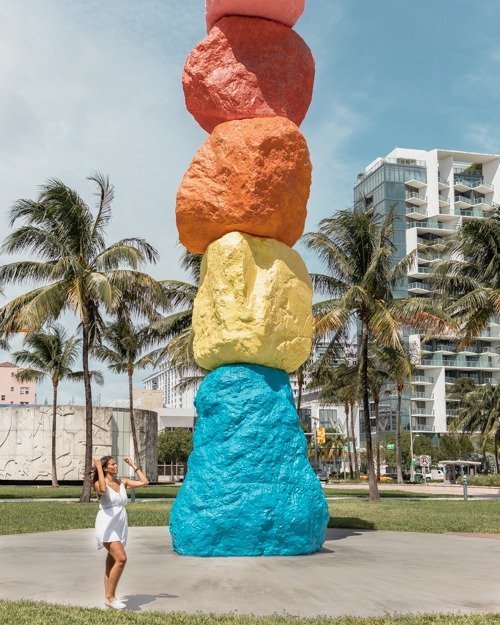 Location: 2100 Collins Ave, Miami Beach, FL 33139
Get a taste of Vegas outside The Bass Museum Of Art with the colorful ascending rock display. You can truly catch Miami's sunny skies and palm trees here along with this colorful rock formation.
WHEN TO VISIT:  You can view the towering rocks any time of day. If you plan on taking photos inside the museum arrive early.
HOURS OPEN: Wednesday through Sunday 12 PM-5 PM if you plan on going inside the museum. The Rock exhibit is outside and can be seen 24/7.
ADMISSION: General admission is $15 if you plan to visit the museum. The towering rocks are outside the museum and free to visit.
Faena Hotel
Location:  3201 Collins Ave, Miami Beach, FL 33140 Entrance Fee: Free
Faena is one swanky hotel located in South Beach and has become a pretty popular Instagram-worthy place in Miami. This hotel has one ridiculously expensive 24-karat gold-covered woolly mammoth display outside that everyone wants to catch a snap. You can find this sparkly fella out the back doors! 

Besides the golden-plated fossil, Faena has another Insta-worthy spot too on the South side of the hotel. Faena is written in these colossal gold letters that are absolutely stunning. This Mid-Century modern-themed nook makes it one of the coolest places to take pictures in Miami! 
WHEN TO VISIT:  Sunrise to 10 am should get you good uninterrupted shots and plenty of good lighting at both places any day of the week.
HOURS OPEN: Faena is a hotel, so it is open all day, and so is Faena Bazaar (outside only).
ADMISSION: Free!
Vizcaya Museum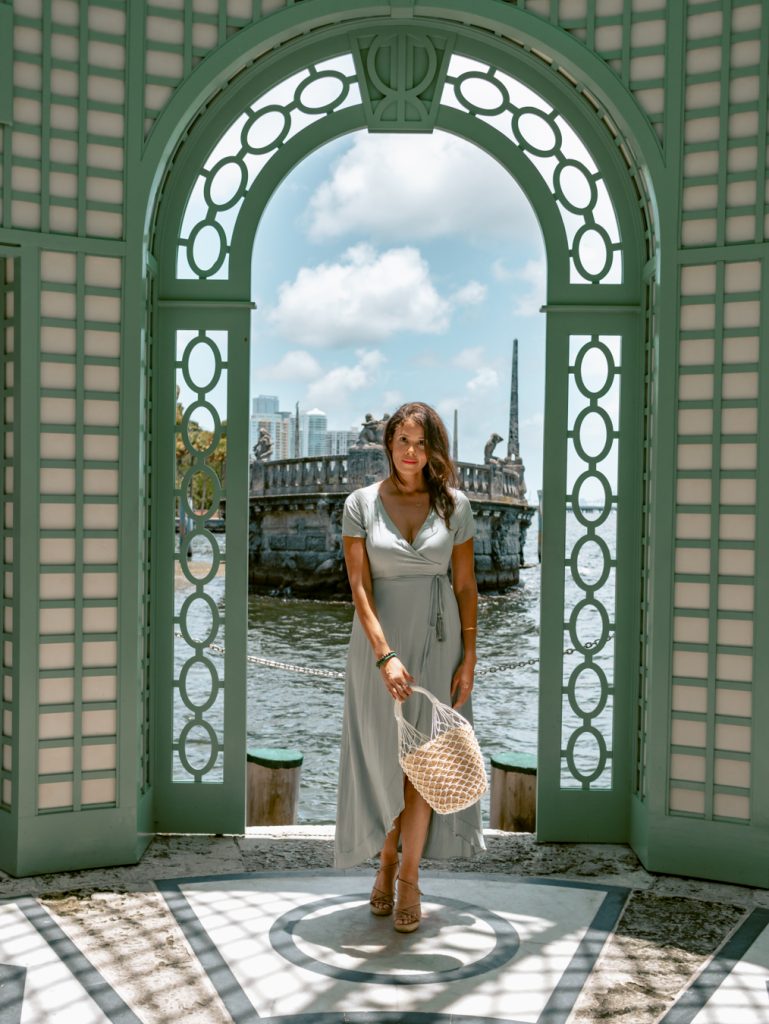 Location:  3251 S Miami Ave, Miami, FL 33129
Vizcaya Museum and Gardens in my opinion one of the best places to take pictures in Miami, the scenery is so European. The Mediterranean-influenced architecture in this mansion will make you swoon. Vizcaya was once the winter home to a filthy rich bachelor named James Deering. Now it is open to entertaining the public.
Inside there are plenty of Insta-worthy shots such as a winding staircase, whimsical hallways, and 54 ornately decorated rooms.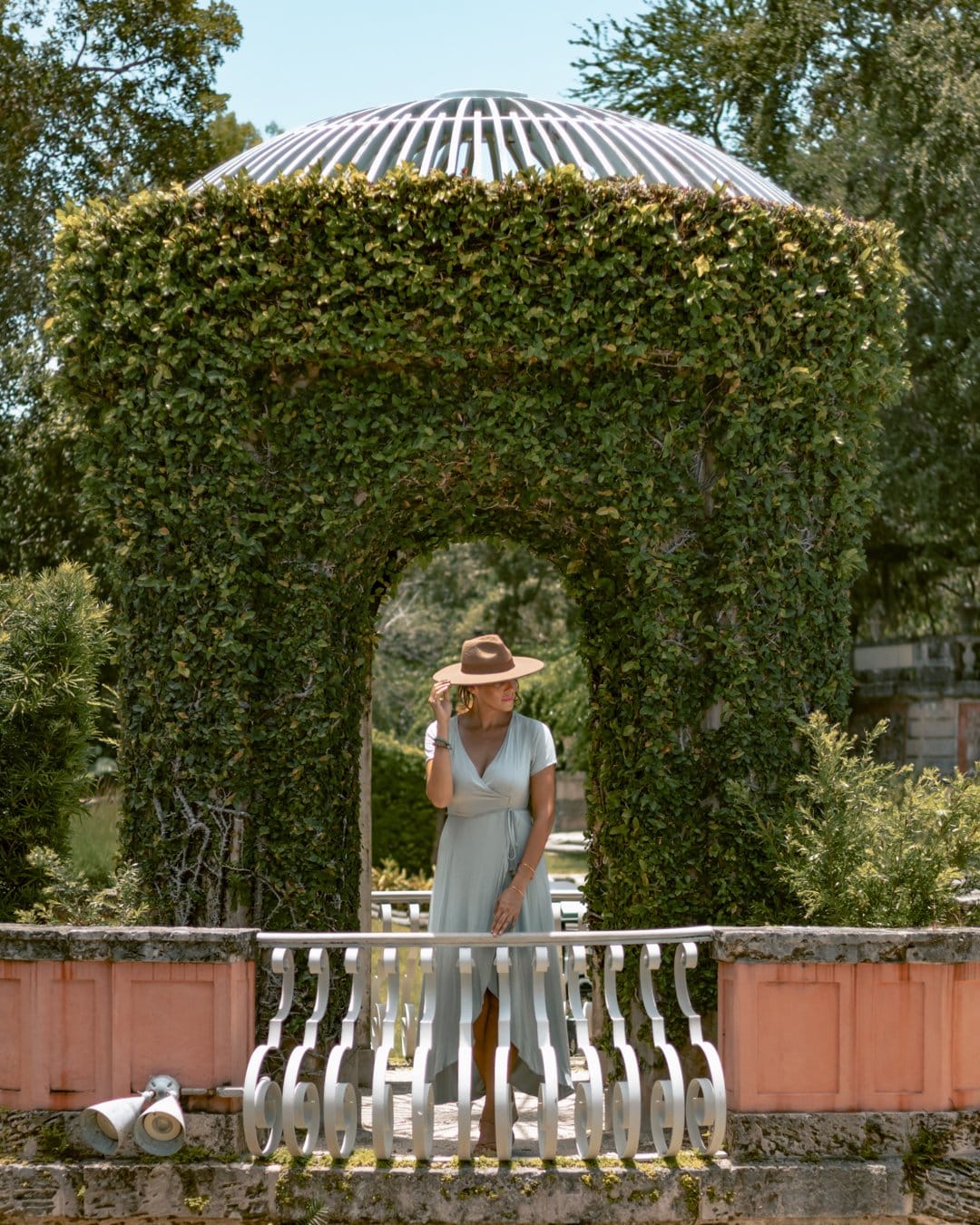 The outside is well-deserving of your visit as well! Once you step out the back doors you're immediately greeted by the bay, which totally has Venetian vibes all in the gardens and gazebo too.
WHEN TO VISIT: Best time to arrive is at 9:30 am when doors open. You can catch decent light and avoid the crowds to snap a great shot. 
HOURS OPEN: Vizcaya is open every day from 9:30 AM-4:30 PM EXCEPT on Tuesday, the museum is unfortunately closed. Check online or call for hours if you're visiting during the holidays.
ADMISSION FEE: Heads up there is a $22 entrance fee for adults.
Related Post: Things To Do In Miami Beach
Miami Design District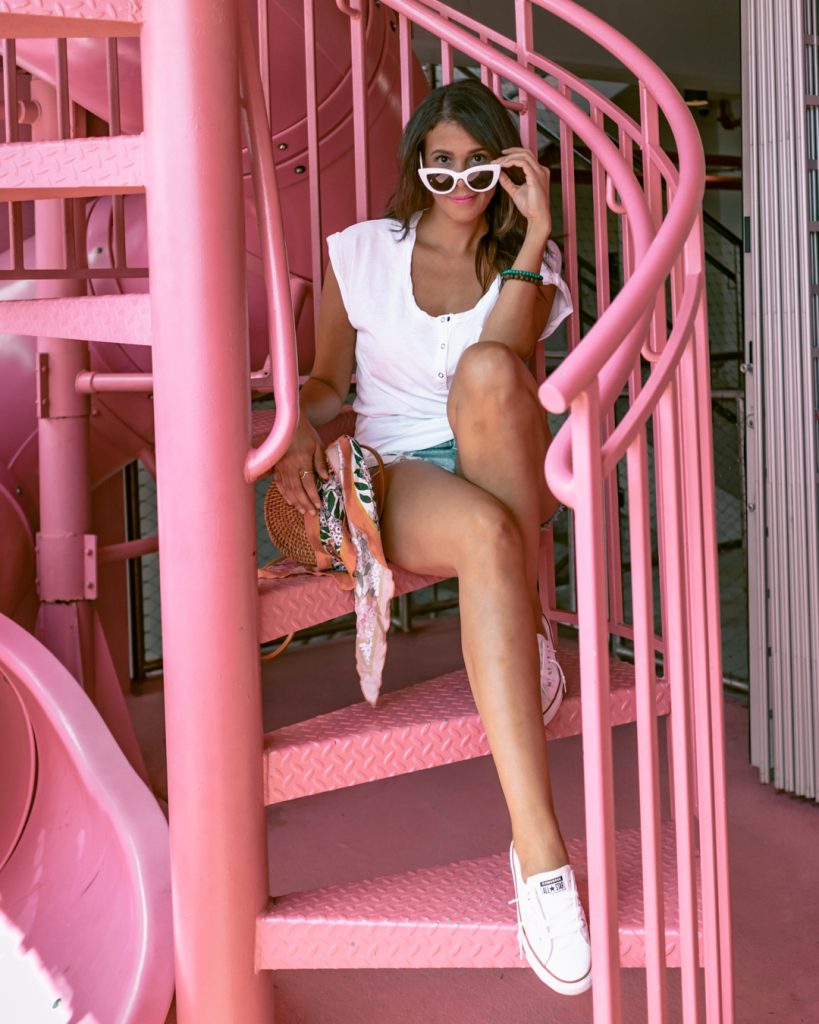 Location:  Enter on 41st street (between NE 2nd Ave and NE 1st Ave)
The location I listed is a generic address, but I promise it will get you to the Miami Design District Plaza.
You can really spice up that Instagram feed with the eclectic art around this trendy and expensive neighborhood. From graffiti on the walls, large brightly colored columns, and a piece of art that looks like a giant bubble.
You are bound to find something here to strike a pose with. While you're in the Miami Design District, make sure to snap photos at the parking garage. It's not your typical garage.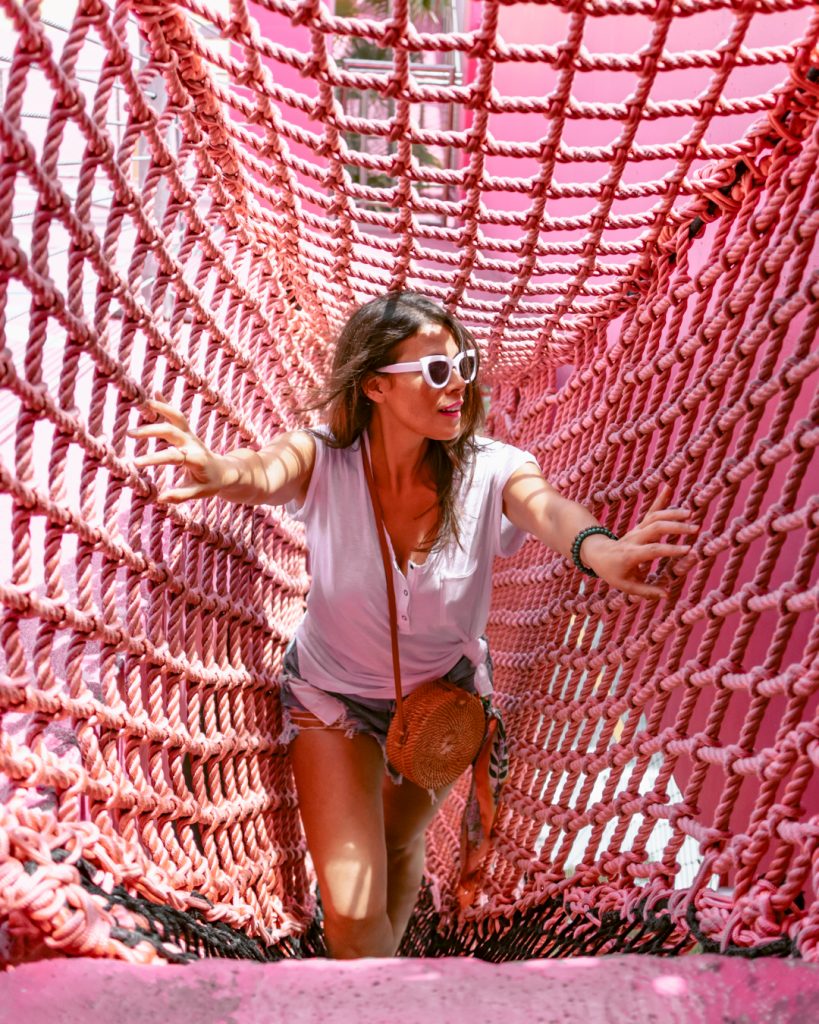 Another unique place in Miami Design District for a photoshoot in Miami is a secret, but I will tell you anyways.
Location:  191 NE 40th St, Miami, FL 33137
The Moore Building (pictured above) is one unique building and personally my favorite. The stunning piece of art 'Elastika' is simply amazing! It is one of the top places to take pictures in Miami.
WHEN TO VISIT: Best time to arrive for some beautiful Instagram-worthy photos will be early morning. Especially on the weekends, it gets pretty busy in Miami Design District.
HOURS OPEN: You can go any time of the day to this part of town. Since it is an outdoor plaza you can visit any hour.
ADMISSION FEE: No charge to walk around Miami Design District, but if you do some shopping you better have a thick wallet.
Brickell
Location:  1250 S Miami Ave, Miami, FL 33130
Brickell is an urban neighborhood-centered smack dab in the middle of Downtown Miami. It is swarming with skyscrapers, upscale boutiques, and trendy restaurants.
Rosa Sky, is located on the 22nd floor of the Element Miami Brickell and is one of the beautiful places to take pictures in Brickell. You can capture the waterways and skyscrapers from here.
Go early when they open when it's less crowded or pretty much empty.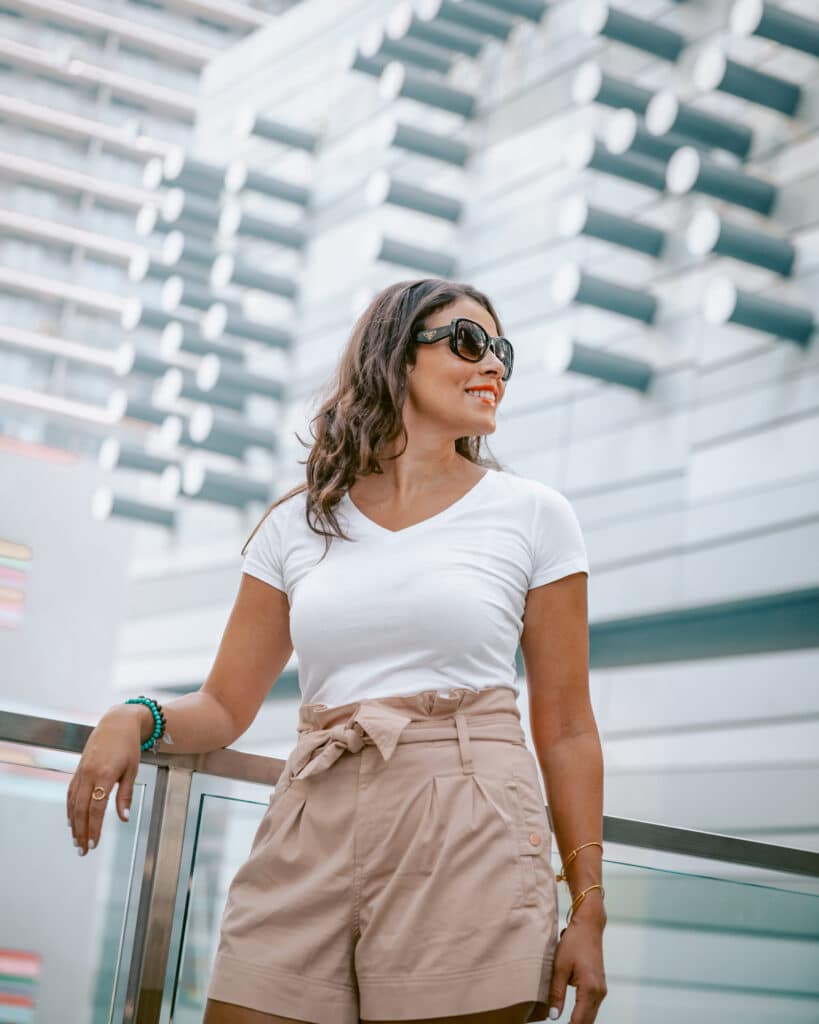 Other spots in Brickell for that Insta-worth shot include Brickell City Centre which is a 3-level outdoor mall and perfect for a photo backdrop filled with skyscrapers.
Pop on over to Sugar if you are inside the mall, which is another stunning rooftop bar on the 40th floor with a view of Brickell and Brickell Key.
WHEN TO VISIT: Early morning is the best time to arrive and catch good lighting. Also, you can avoid crowds.
HOURS OPEN: Brickell City Center opens at 10 AM. During opening hours, photo shoots are not allowed inside the mall. Security will inform you politely if seen. Avoid this inconvenience and just go early. If you're not an early riser, skip taking photos at the mall and just get some snaps in around the neighborhood.
ADMISSION FEE: Brickell is free to walk around.
South Beach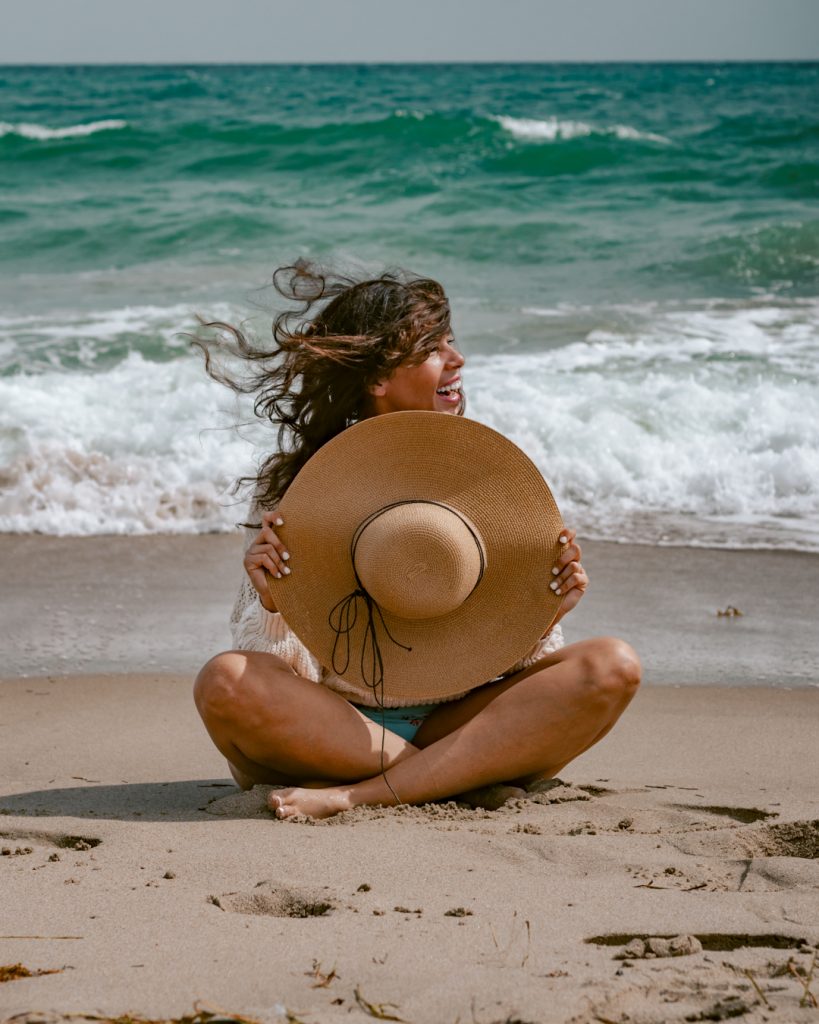 Location:1 Washington Ave, Miami Beach, FL 33139
More than likely will be staying on the beach if you're visiting Miami. If you are looking for the perfect Instagram-worthy hotel, check out my post on hotels in South Beach.
I don't mean to brag, but Miami has some pretty gorgeous beaches which make South Beach one of the best places to take pictures in Miami.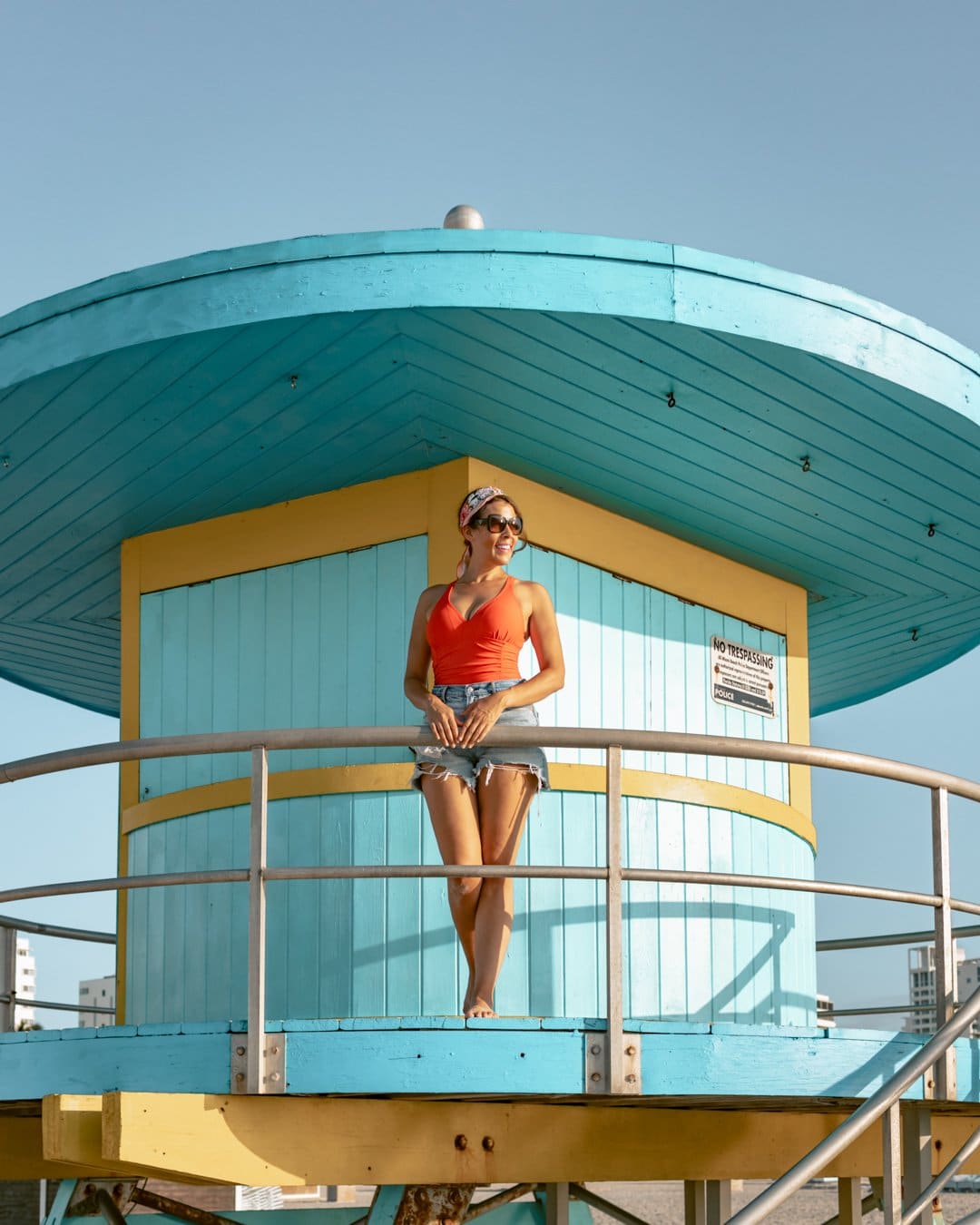 Miami is known for its iconic multicolored lifeguard towers that begin near South Pointe Park, which is the most Southern part of South Beach.
The lifeguard towers expand all the way up to 72nd Street. So just walk down the beach until you find one that catches your eye or goes with your swimmy. These lifeguard towers are some of the best places to take pictures in Miami Beach.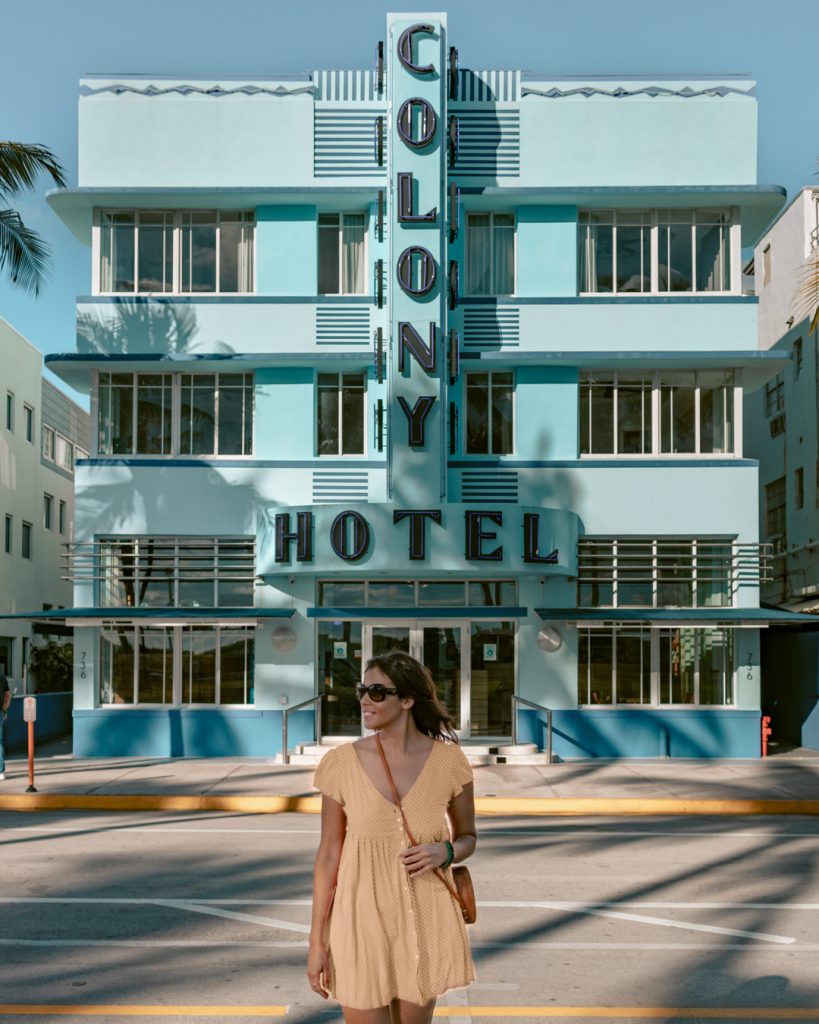 Make sure to visit Ocean Drive after for some playful snaps with the Art Deco architecture Miami is famous for. The Avalon Hotel is a perfect spot; you can always find a vintage car parked outside.
WHEN TO VISIT: Like anywhere you want to take photos, arrive early. Especially for the boardwalk. But, you still may have to pause in between shoots for those morning exercisers.
HOURS OPEN: You can go any time of the day! So no rush if you prefer to sleep in.
ADMISSION FEE: No admission fee to walk around South Beach or the boardwalk.
Bill Baggs Cape Florida State Park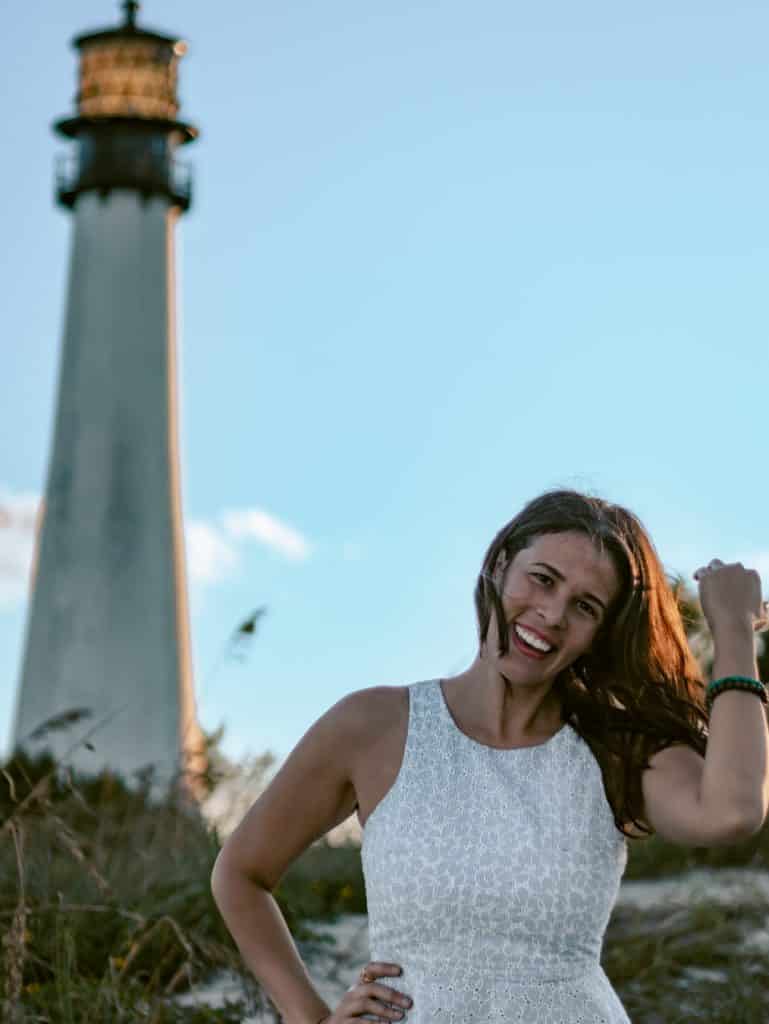 Location:  1200 Crandon Blvd, Key Biscayne, FL 33149
Bill Baggs Cape Florida State Park is located on Key Biscayne, which is about a short 10-minute drive from Brickell. It makes a perfect spot to catch some views of the Atlantic Ocean and Biscayne Bay.
Put on your cute little sundress or bikini and snap some photos with the lighthouse as a backdrop, it is the oldest structure in Dade Country. Just walk to the southernmost end of the park.
While you wait for Bill Baggs to open, stop by Crandon Park which is on the way during sunrise. After you can hop on over to the park snap some photos and do some sunbathing.
WHEN TO VISIT: Go early as it tends to get busy with locals.
HOURS OPEN: Bill Baggs opens from 8 AM to sundown.
ADMISSION FEE: Entrance into the park is $8 per vehicle. If you happen to be biking or walking there, admittance is $2 per person.
Related Post: Romantic Things To Do In Miami
Dreamer Café Miami
Location:  1225 20th St Ste1, Miami Beach, FL 33139
Dreamer is a café on the non-touristy side of South Beach. It serves matcha lattes and açaí bowls, yummy!  What makes Dreamer one of the most Instagrammable places in Miami is the bright pink flamingo wallpaper and boho chic decor. 
WHEN TO VISIT: Dreamer does get congested during the work week. I suggest waiting when the lunch crowd heads back to the office. You can pretty much have the cafe to yourself after. Forget about weekends, I already made my attempt, and won't happen for you.
HOURS OPEN: Hours are from 7 AM-9 PM Monday thru Saturday. On Sundays, opening hours are 7:30 AM to 8:30 PM. 
ADMISSION FEE: Admission is free, but do buy a smoothie or bowl if you're going to be snapping some photos. You know to be polite and it's a nice prop too!
Wynwood Walls
Location: 2520 NW 2nd Ave, Miami, FL 33127
There is no doubt in my mind that you haven't already heard about Wynwood. If not, Wynwood is a lively and vibrant neighborhood right off the causeway from South Beach.
You will find unique wall murals created by some of the world's most talented artists. Wall art in this district is constantly changing which makes this place so extraordinary and one of the best places to take pictures in Miami.
Check out the Wynwood Walls for a variety of wall art and galleries to add pops of color to your feed. Or,  walk around the streets and you are bound to find some art that flips your fancy.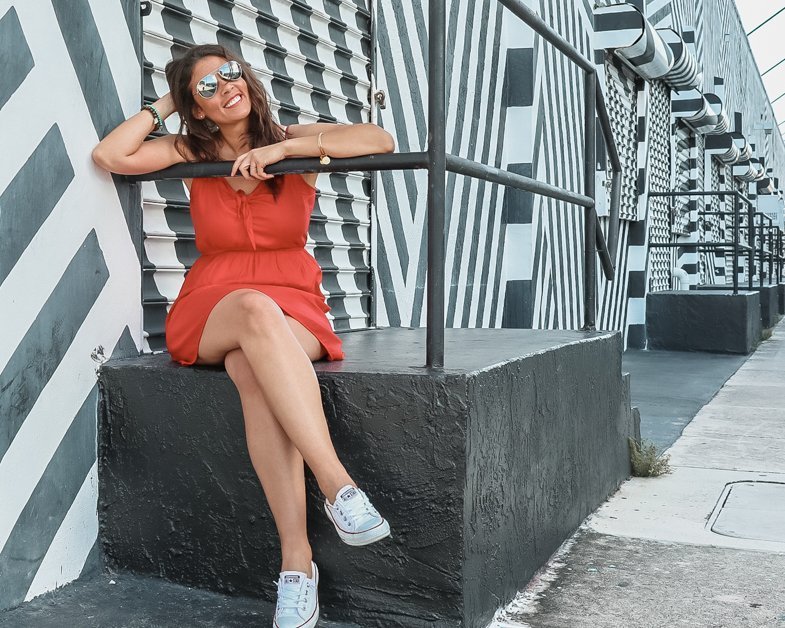 My favorite building in Wynwood is The Wynwood Building. The black-and-white striped warehouse will make any red, blue, or yellow outfit pop.
Astra is a vibrant and funky rooftop bar and restaurant in this neighborhood and one of the cool places in Miami to take pictures.
WHEN TO VISIT: Wynwood typically does not get crowded until noon. This is the Sunshine State though be cognizant of lighting. Hold off from taking photos when the sunlight is poppin. Don't let bad lighting be the death of your photo. 
HOURS OPEN: Don't be in a rush, the streets don't close. But, if you do plan on seeing the Wynwood Walls, opening hours are every day from 10:30 AM-11:30 PM.  
ADMISSION FEE: Hold on to your cash. Wynwood is free to enter any of the galleries or walk the streets.
Lincoln Road Mall
Location: Lincoln Road, Miami Beach, FL 33139 (You can't miss it!)
Lincoln Road Mall is an iconic street in South Beach that is always swarming with tourists and locals. This pedestrian-only street is a mile long and has everything from shopping, to restaurants, and cafes. 
My favorite place on Lincoln Road to snap a photo is the Colony Theater. It's a fun theater with Art Deco architecture.

WHEN TO VISIT: Beat the crowds and arrive before the shops and restaurants open for photos.
HOURS OPEN: For shopping, stores are open 9 AM-10 PM. Feel free to take photos any hour of the day though, the street doesn't close.
ADMISSION FEE: Lincoln Road Mall is totally free!
Midtown Garden Center
Location:  2600 NE 2nd Ave, Miami, FL 33137
Midtown Garden Center is a vintage oasis in the heart of Midtown that has an overload of Boho chicness. This place is so darn stinking cute! Cacti, orchids, and colorful planting pots are perfect props for a killer Instagram photo.
There is a super fresh juice bar and taco stand on the property if you're feeling thirsty or need some grub. Both places are perfect for an Instagram photo. 
WHEN TO VISIT: Honestly, there isn't one, this place is always busy. Just go and expect to wait and be prepared to work quickly.
HOURS OPEN: Midtown Garden Center is open Monday-Saturday from 9 AM-7 PM and Sundays door are open 10 AM to 7 PM. 
ADMISSION FEE: You can visit the garden for free, but if you plan on a full-blown photo shoot…they charge! Cost? I am not sure, but you can call and find out the fee.
The Berry Farms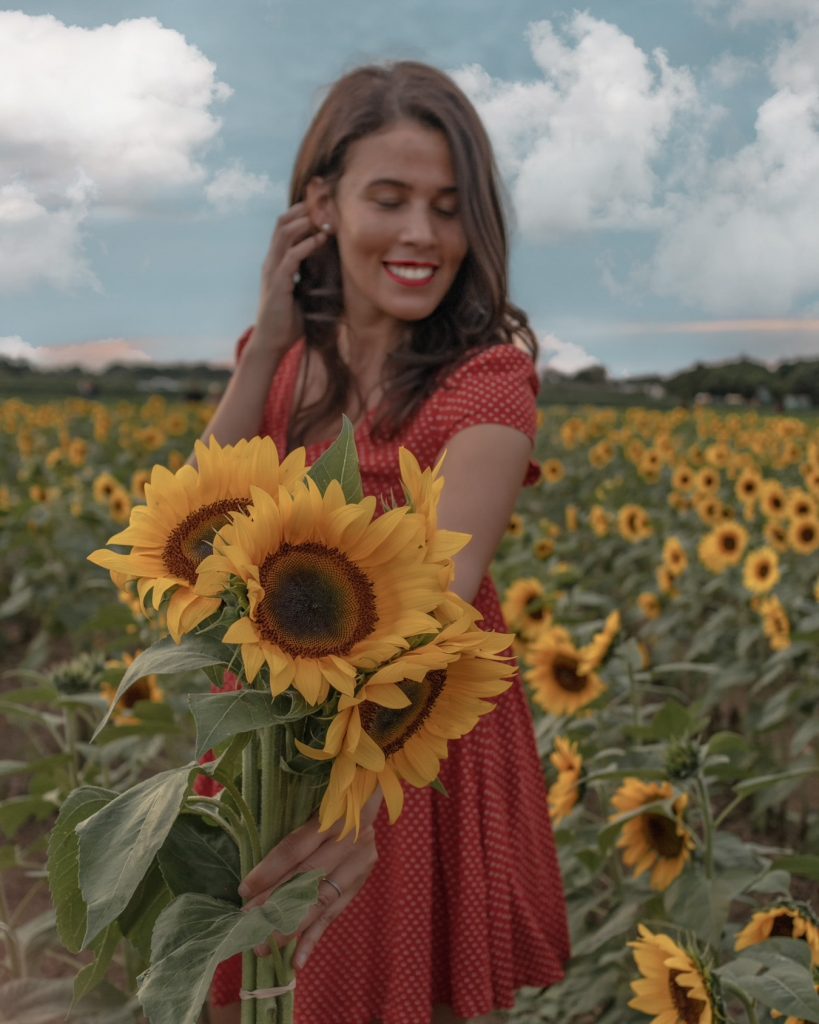 Location: 13720 SW 216th St, Miami, FL 33170
If you're feeling adventurous check out The Berry Farms, an adorable farmer's market. It's located in the Redlands and about a 45-minute drive if traffic is good and worth the trip.
The Berry Farms has a sunflower field and one of the beautiful places to take pictures in Miami for your Instagram. You can even purchase sunflowers for $1 each for a prop.
WHEN TO VISIT: Anytime would be great to visit, just watch out for early morning because of harsh lighting.
HOURS OPEN: Monday to Thursday 10 AM-6 PM, Friday and Saturday 9 AM-10 PM, Sunday 9 AM-6 PM.
ADMISSION FEE: $5 to enter!
The Goodtime Hotel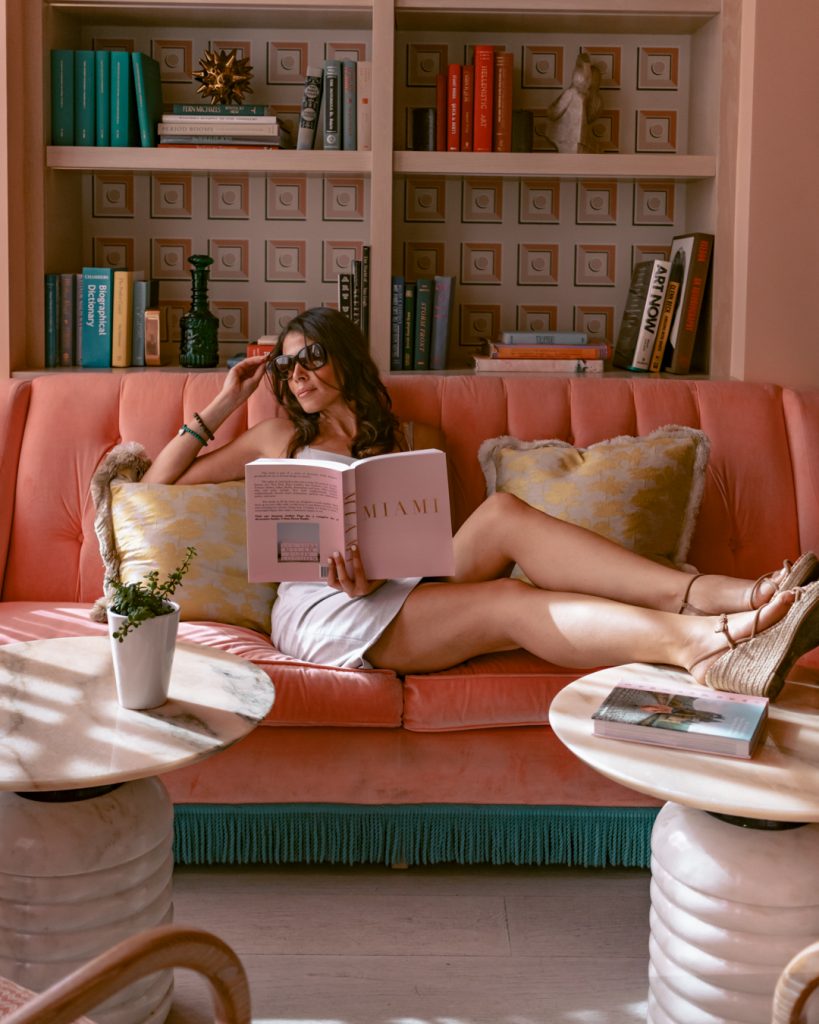 Location: 601 Washington Ave, Miami Beach, FL 33139
If you're a lover of pink venture off to The Goodtime Hotel in South Beach, co-owned by Pharrel. Every nook and cranny is super Instagrammable.
Be sure when there to capture one of the best places to take pictures in Miami by their pool and restaurant Strawberry Moon.
WHEN TO VISIT: Make sure to arrive early to avoid hotel traffic from people.
HOURS OPEN: 24/7
ADMISSION FEE: Free
The Egg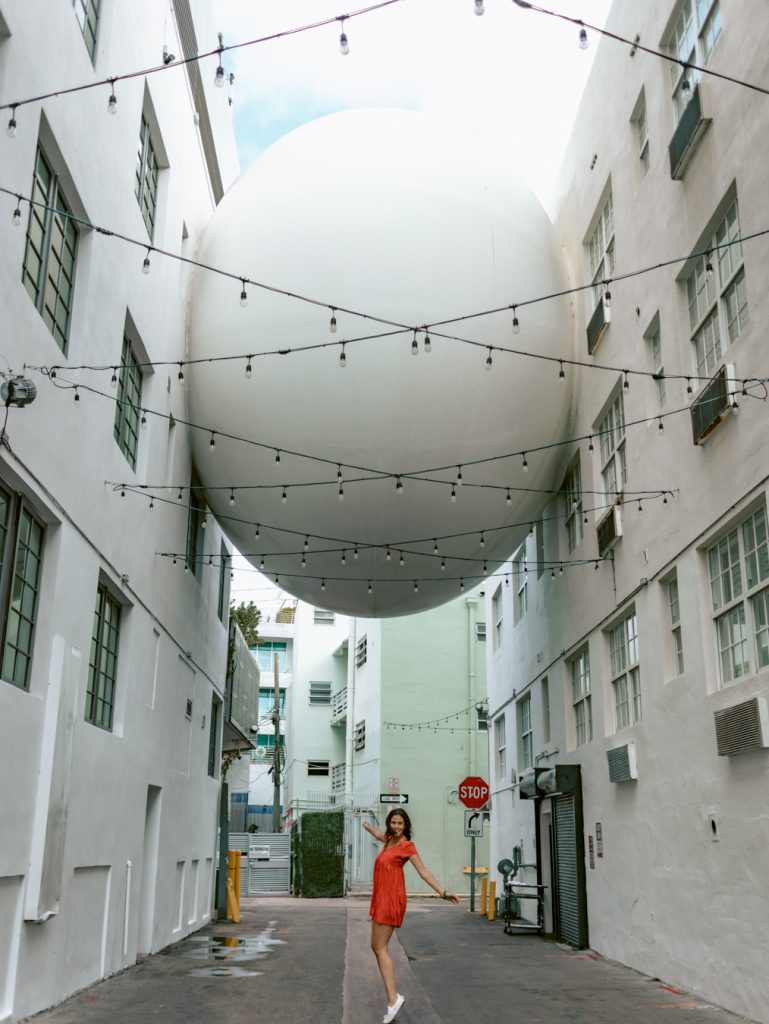 Location: Alley behind 1440 Ocean Dr, Miami Beach, FL 33139
If you're looking for one of the most unique places to take pictures in Miami, look no further head to The Egg.
Located behind The Betsy Hotel in South Beach. It is an egg-shaped sky bridge connecting two hotels.
WHEN TO VISIT: Make sure to arrive early to avoid walking traffic from people and hotel staff.
HOURS OPEN: 24/7
ADMISSION FEE: Free
Best Photo Spots In Miami Conclusion
Iell, now you got the rundown on the best places to take pictures in Miami. Snag my awesome list of Miami quotes to use for all your amazing clicks in these top Miami photo spots! Have you been to Miami before? Which was your favorite Instagrammable spot?
More Miami-Related Posts:
Fancy a day trip from Miami? I have some places listed below you may enjoy!
Like this post about the best places to take pictures in Miami for your Instagram? Share it with others or pin it for later in your Miami or Instagram Ideas Board.
Jetlagged Roamer is a participant in the Amazon Services LLC Associates Program, an affiliate advertising program designed to provide a means for sites to earn advertising fees by advertising and linking to amazon.com, amazon.co.uk, amazon.ca. Amazon and the Amazon logo are trademarks of Amazon.com, Inc. or its affiliates.