On the hunt for some of the best Tulum Instagram spots for your visit? It's no secret that this once-quiet fishing town is very aesthetically pleasing to the eye. From its bohemian-themed architecture,  white sugary sand beaches,  and pristine cenotes Tulum will make every photographer swoon. 
Keep reading this post and get the scoop on the best places in Tulum for beautiful photos!
This article may contain affiliate / compensated links. For full information, please see our disclosure here.
Visiting Tulum? Check out these other related posts for your trip:
Pretty Tulum Instagram Spots
1| Matcha Mama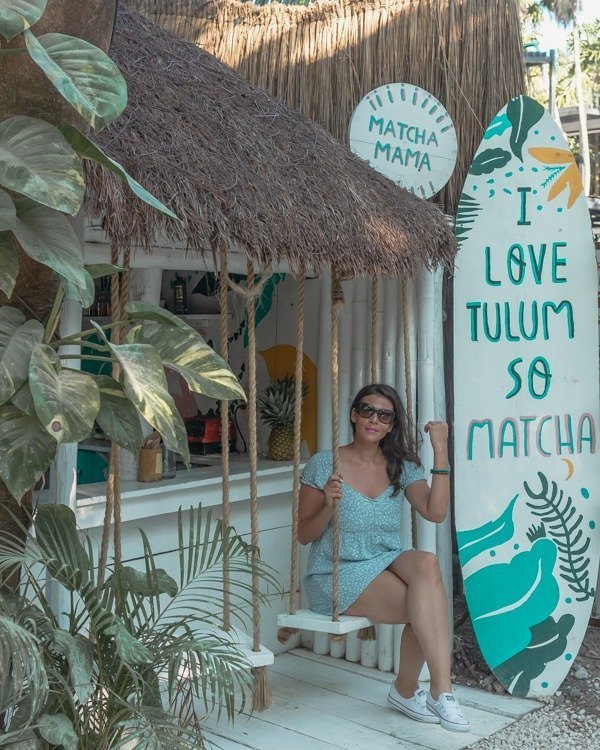 One of my favorite Tulum Instagram spots is Matcha Mama, an adorable colorful shack decorated with cute puns and rope swings. 
Matcha Mama is one of the most Instagrammable places in Tulum, so be sure to arrive early so you can snag a swing for a photo. If you're unable to arrive when they open there is another location in Tulum town that seemed less crowded. 
This little hut is one of the best restaurants in Tulum, so if you develop an appetite after taking your pictures they have some delicious healthy snacks. Matcha Mama has a delectable menu of plant-based and gluten-free entries such as smoothie bowls, kombucha, acai bowls, and fresh juices. 
Hours: Daily 8 AM-6 PM
Location: Quintana Roo 15 470 Zona Hotelera • 77780, Zona Hotelera, 77780 Tulum, Q.R.
Website: http://matchamama.com/
2| Beach Resorts And Clubs
Along the beach strip are some of the most exclusive resorts and boutique hotels that are some of the best places in Tulum to snap photos. 
I have listed some of the most Insta-worthy hotels to snap some shots. 
Casa Malca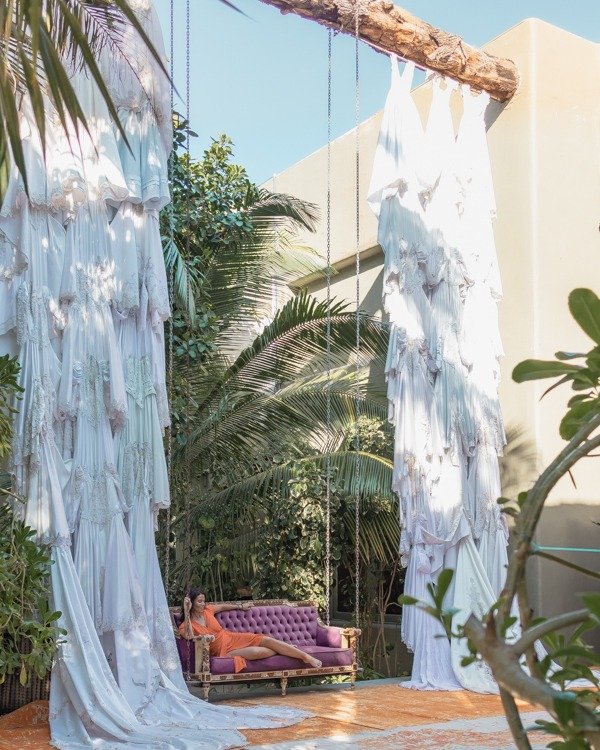 Casa Malca was the previous hideaway of Pablo Escobar, now its turned into a luxurious resort and one of the most Instagrammable places in Tulum. Around the property are various art and sculptures and some make stunning scenery for a photoshoot.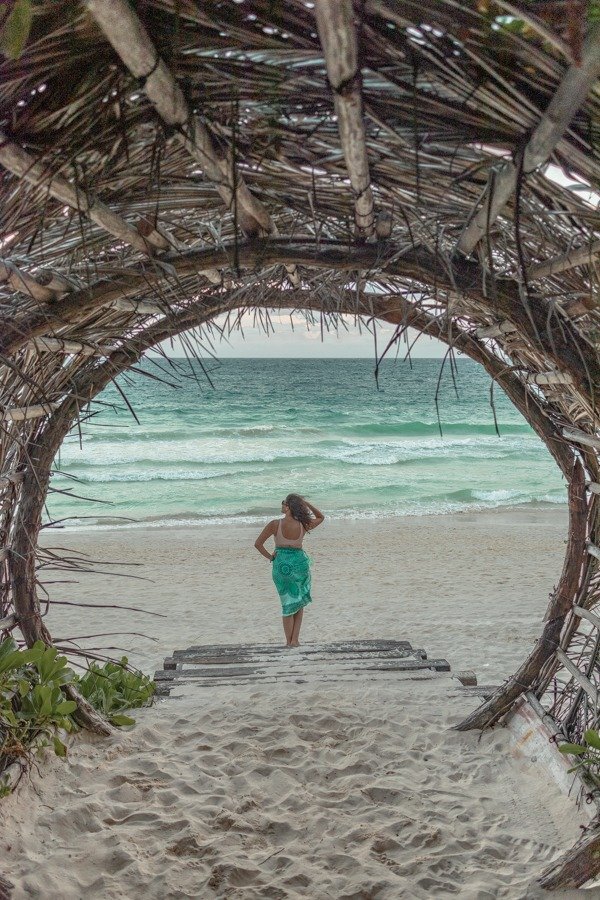 If you aren't staying at the resort you can purchase a day pass to hang out at their beach club. You're allowed to walk around the hotel for pictures, but some areas are only reserved for guests. 
Hours: Morning till 6 PM
Cost: 1000 pesos ($100 USD), 500 pesos credit goes toward food and drinks. 
Location: Carretera Fed, Av. Boca Paila km 9.5, 77780 Tulum, Q.R., Mexico
Website: https://www.casamalca.com/
Azulik Tulum
You have probably seen many pictures of this stunning resort on Instagram or Pinterest.  When you hear Tulum, Azulik might come to your mind, however, it is very difficult to get pictures at this location unless you're a guest. 
To get inside you can make reservations to dine at one of their restaurants, yoga classes, or art exhibits. However, this is one of the Tulum Instagram spots where taking photos is limited so people at the hotel won't have any interruptions during their stay. 
Azulik Tulum does have a beach club, but it's not always open to people who aren't staying at the hotel. 
Unfortunately, I wasn't able to visit, but if I make it back to Tulum  I will make another attempt. 
Hours: Restaurants open from 7:30 AM-11:30 PM
Cost: Entree and drinks
Location: Carretera Tulum – Punta Allen KM 5, Zona Hotelera, 77780 Tulum, Q.R., Mexico
Website: https://www.azulik.com/
Rosa del Viento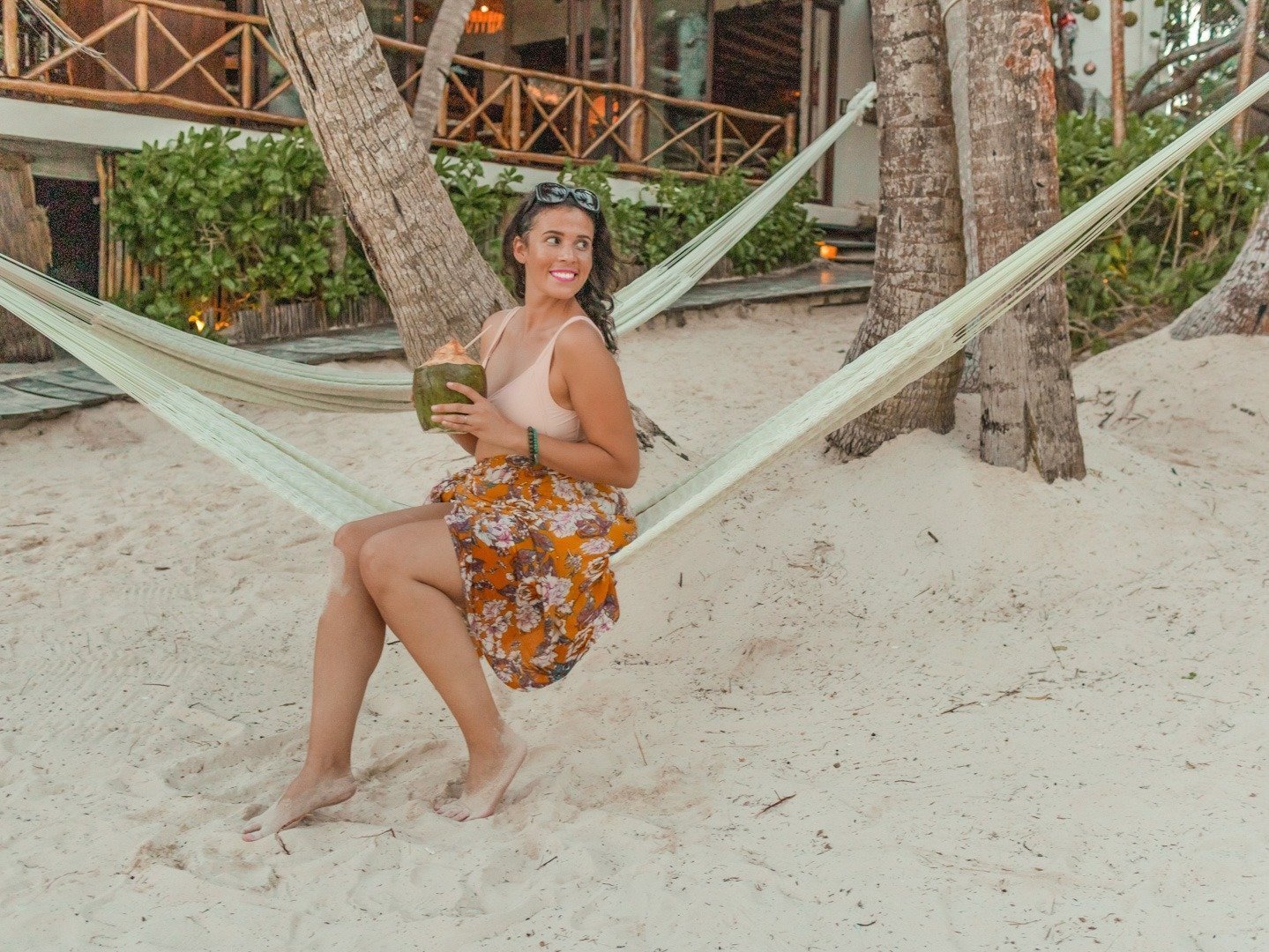 An affordable beach club that doesn't skimp on beauty for the price is Rosa del Viento. Around this resort, there is a nice beach hut, hammocks, and swings that make excellent props for your photos. 
Hours: Morning until 6 PM
Cost: Minimum spend of 400 pesos
Location: Carr. Tulum-Boca Paila Km 10, Tulum Beach, 77760 Tulum, Q.R., Mexico
Website: https://rosadelviento.com/
Coco Tulum 
Coco Tulum is decorated all white which pairs beautifully with the turquoise Caribbean waters. This is one of those popular Tulum Instagram spots you may have seen already on other's feeds. 
Hours: Morning until late, beach parties with DJs at night
Cost: Minimum spend is 500 pesos
Location: Carretera Tulum – Boca Paila Km 7.5, 77780 Tulum, Q.R., Mexico
Website: https://cocotulum.com/
Nômade  Tulum
The Moroccan-themed decor of Nômade makes this resort super Instagrammy. Although I didn't go to their beach club I was able to dine at their popular restaurant Mocando for dinner. Since it was late and really dark, unfortunately, I was unable to take pictures. But, if you're looking for Instagram spots in Tulum that are unique this is one. Go during daylight so you're able to snap a photo, cause at night it's nearly impossible. 
Hours: Morning until late, beach parties with DJs at night
Cost: Minimum spend is 1000 pesos
Location: Carretera Cancún – Tulum KM 10, 77880 Tulum, Q.R., Mexico
Website: https://www.nomadetulum.com
* Prices for beach clubs do change periodically, call hotels in advance to get the current price. 
Related post: How To Get To Tulum From Cancun
3| The Beach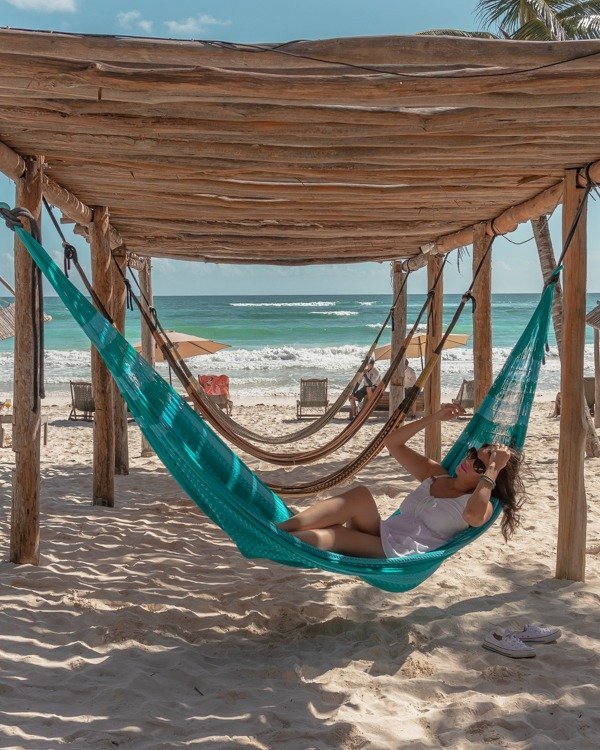 Tulum is home to some of the most beautiful beaches in the Yucatan Peninsula. All the beaches along the coast are stunning no matter which hotel or beach club you visit. 
White sand, check. Turquoise water, check. Coconut with a straw, check. Stunning sunset, check. What else could you possibly need for one perfect photo on your Instagram?
4| Tulum Cenotes
Some of the most Instagrammable places in Tulum are the cenotes. These natural sinkholes make for some of the most stunning Instagram photos. 
Below I listed some centoes that are super Insta-worthy. 
Dos Ojos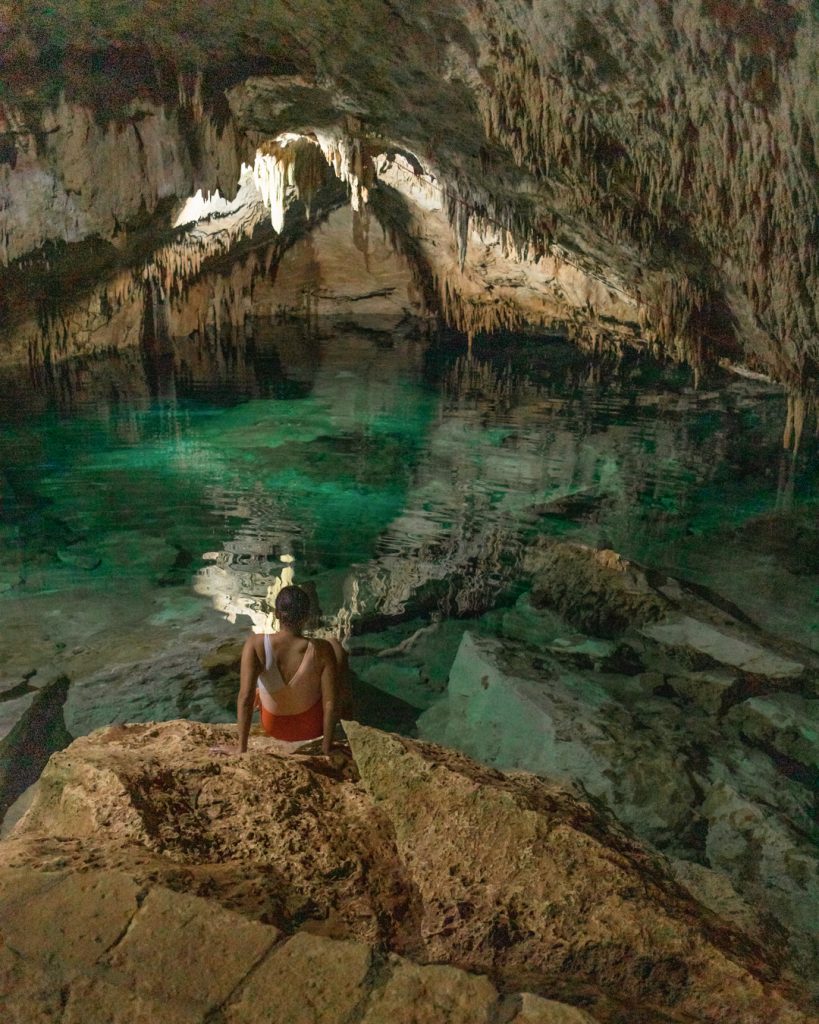 15-minutes outside of Tulum is Dos Ojos, which in Spanish mens two eyes. There are many sinkholes to choose from on this property. Dos Ojos is less crowded than some of the other popular centoes like Calavera and Gran Centoe which made it easier to enjoy and snap pictures. 
Hours: Daily 8 AM-5 PM
Cost: 350 pesos to swim, 380 for scuba divers
Location: 22km North on highway to Playa del Carmen, make a left on Centre Jaguar Road.
Website: N/A
Cenote Azul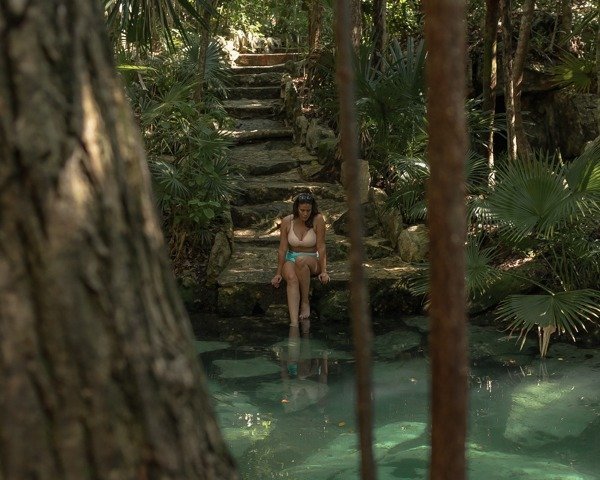 Cenote Azul is a little closer to Playa del Carmen, but it is a very Instagrammable spot. This above-ground cenote has super pristine water all around this location. Although it may be a drive,  it is a beautiful spot to get some great pictures. 
Hours:  Sunrise to 5 PM
Cost: 120 pesos
Location: 26km south of  Playa del Carmen
Website: N/A
Cenote Calavera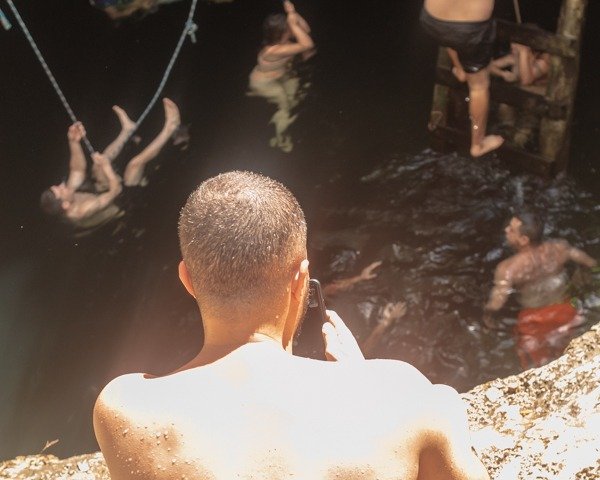 Calavera has 3 openings, two eyes, and a mouth that resembles a skull (skull in Spanish is calavera). This is one of the Tulum hot spots, which I am sure you have seen on your Instagram before. Since it is pretty popular, for obvious reasons expect a crowd. During my visit so many people were waiting in line to take photos on the ladder and swing inside the sinkhole, it honestly made it unenjoyable. 
Cenote Calavera is one awesome sinkhole and would make killer Instagram photos, so if you don't mind waiting in long lines I suggest you go. 
To take pictures at Cenote Calavera they have a 200-peso up-charge.
Hours:  Everyday 9 AM- 4 PM
Cost: 100 pesos, 250 pesos if scuba diver
Location: 3km from Tulum town off the highway to Coba
Website: N/A
Related post: Tulum Captions For Instagram
5| Follow That Dream Sign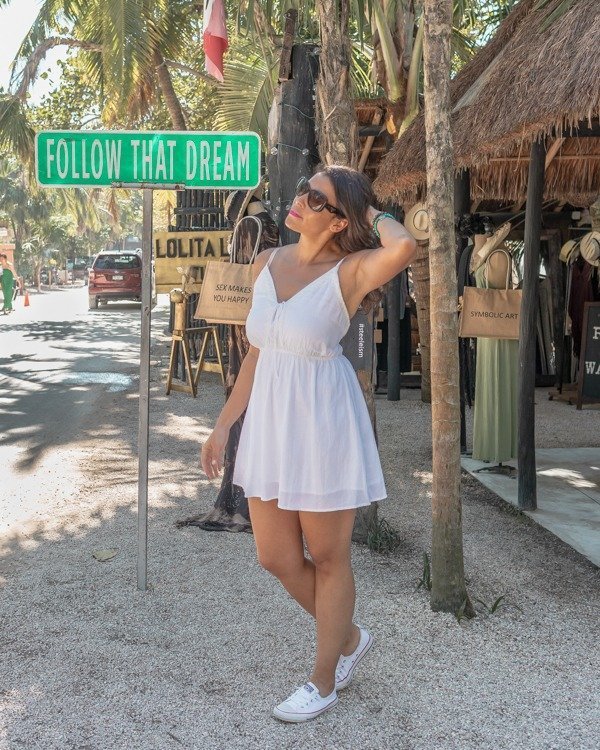 Follow That Dream sign is one of the most popular Instagram spots in Tulum. You can spot the sign outside of the Lolita & Lolita Shop off the beach strip. 
It does stay busy throughout the day with visitors pulling over on their bicycles walking by, but the line is bearable. 
Hours: 27/7
Cost: Free
Location: Carr. Tulum-Boca Paila km 8.5, Tulum Beach, Zona Hotelera, 77780 Tulum, Q.R., Mexico
Website: N/A
6| Ven A La Luz At Ahau Tulum Beach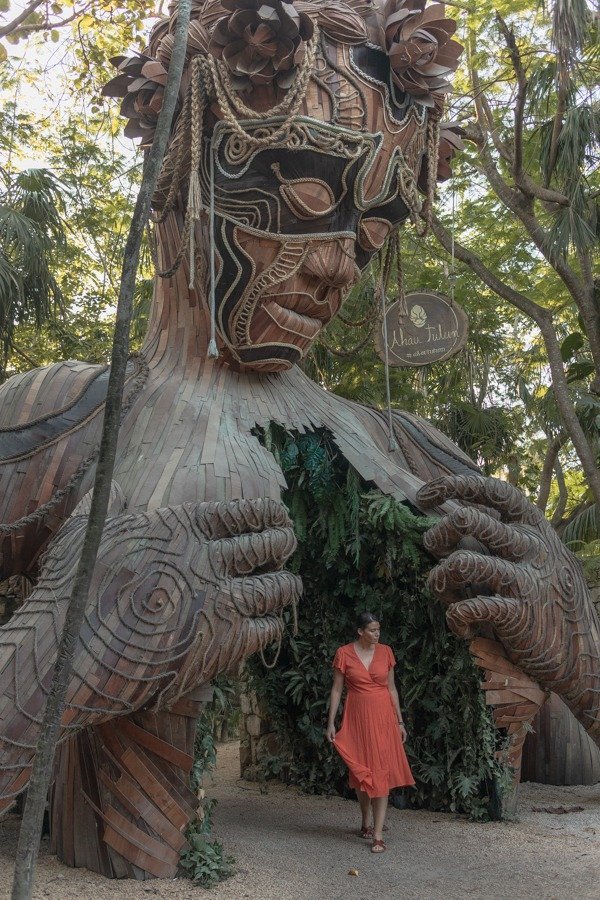 Ahau Tulum Beach Hotel's entrance has one of the best Instagram spots in Tulum. Ven a la Luz (come into the light) is a colossal size wooden sculpture that is photo worthy for a spectacular shot. 
Avoid the long lines and wait by arriving early morning. Traffic is less along the strip too, so it will be easier to step into the road to capture the whole artwork. 
Raw Love Tulum, is a vegan-based restaurant located inside Ahau, so if you get hungry after taking many pictures step inside and grab a bite to eat. I had the avocado toast and it was super yummy. 
Hours: 24/7
Cost: Free 
Location: Carr. Tulum a Boca Paila Km. 7.5 Zona Costera, 77760 Tulum, Q.R., Mexico
Website: N/A
Related post: Things To Do In Tulum
7| Tulum Ruins
The Tulum Ruins are another one of the well-known Tulum Instagram spots. Overlooking the turquoise Caribbean waters makes for one stunning photo backdrop. 
Hours: Everyday 9 AM-3 PM
Location: Carretera Federal, Cancun – Chetumal Km 230, 307, 77780 Tulum, Q.R., Mexico
Website: https://www.inah.gob.mx/zonas/99-zona-arqueologica-de-tulum
Best Instagram Spots In Tulum Conclusion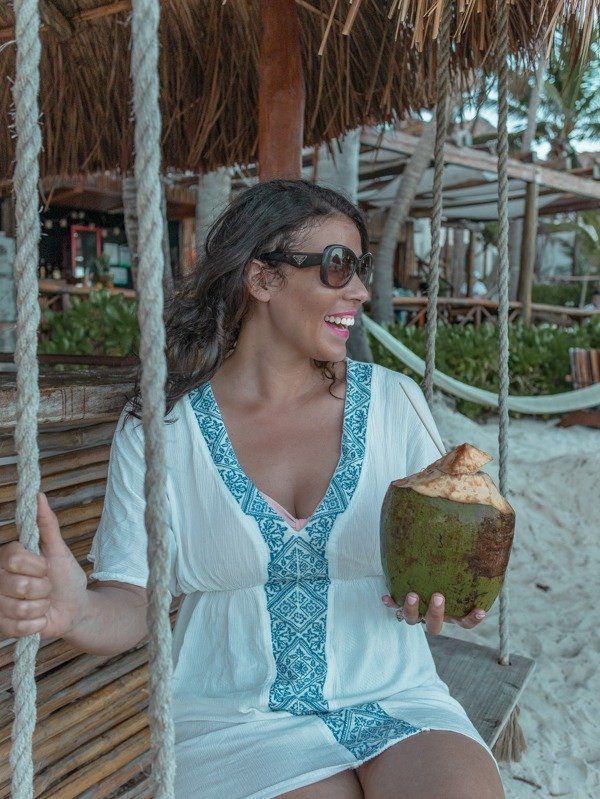 Matcha Mama
Beach Resorts & Clubs
The Beaches
Tulum Cenotes
Follow That Dream Sign Tulum
Ven a la Luz 
Tulum Ruins
Tulum Instagram Photo Locations Conclusion
Hope you found this post on incredible Tulum Instagram spots helpful and it gave you some ideas. Put all these Insta-worth places in your Google Maps trip planner so you have them handy with you on your trip. Which was your favorite place to take photos in Tulum?
Heading To Mexico? Check out these other posts:
To see videos and pictures from my trip to Tulum check out my stories on Instagram labeled Tulum. 
Like this post on these incredible Tulum Instagram spots? Share it with others or pin it for later!