We all know being stuck at the airport is no fun. But, as you eagerly await your next flight I have listed plenty of things to do at the airport to keep you entertained. Whether you have an unexpected layover, a delayed flight, or a quick layover there are many things in an airport to pass time.
This article may contain affiliate / compensated links. For full information, please see our disclosure here.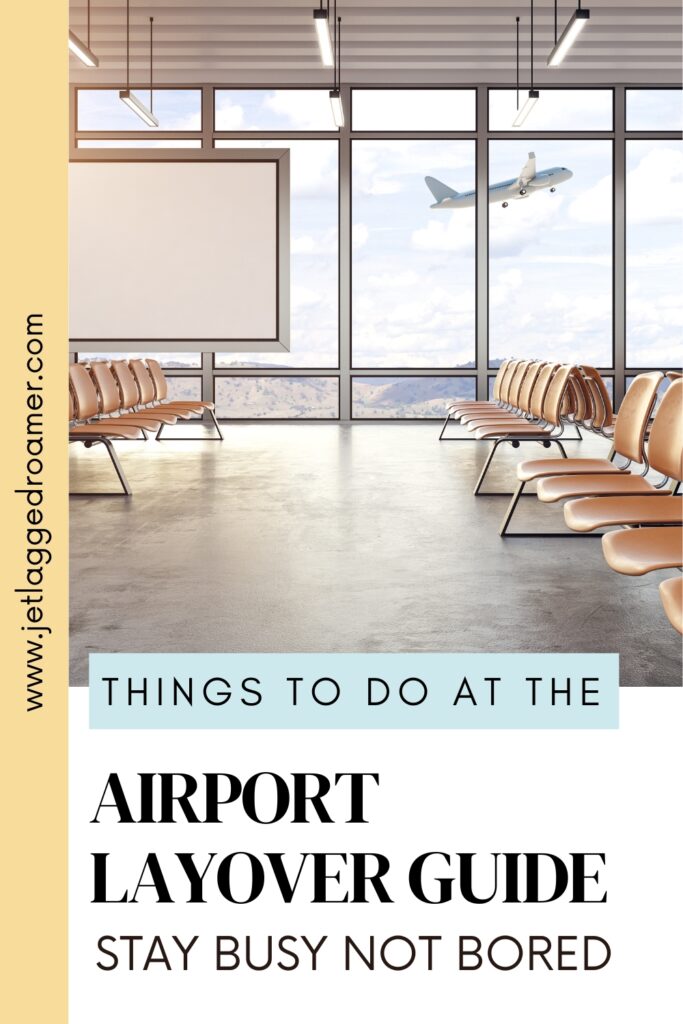 Enjoy travel hacks? Check out these other posts to help your travels have a smooth landing:
THINGS TO DO AT THE AIRPORT TO STAY OCCUPIED
No reason for you to be bored waiting to catch the next flight. Here is one awesome list I compiled for how to keep yourself entertained at the airport.
1| RESEARCH RESTAURANTS WHERE YOU ARE GOING
While you are waiting for a flight do some research and check out the grub where you are staying. This is a great way to kill time at an airport and super fun! Find all the local hotspots and where to dine on some true authentic cuisine. Might as well make some reservations too if able.
2| SLEEP
Um, I don't know about you, but since adulting, I could always catch up on some zzz's. Although, catching a nap by the gate isn't ideal or the most comfortable, most airports have a cozy spot to lay your head. Check the airport for lounges or Minute Suites you can book for an hour or two. Most of these places offer a bed or at least a sofa to stretch your legs. 
Just don't forget to set your alarm so you're not stuck at the airport longer than you need to be. 
3| READ A BOOK OR KINDLE
Another way to kill time at an airport is reading a book. Pack a book or Kindle in your carry-on. If our prefer not to pack one more thing with you the plane, there are plenty of free reading apps to download on your phone. 
Check out the few I have listed below:
4| ORGANIZE YOUR PLAYLIST
Another thing you can do when you are bored in an airport is organized your music playlist. I don't know about you all, but my playlist is a hot mess. Take this time to take care of the tedious tasks of organizing your playlist. Get some new tunes in there too!
5| CHAT WITH FRIENDS/FAMILY
Keep yourself entertained and call that nosey family member. You may have avoided their calls, but since you are waiting for a flight play catch up. That lengthy phone call will eliminate most of your time waiting at the airport. Not feeling so brave? I don't blame you pal. Give your friends a call and brag about everything you have planned for your upcoming trip. 
6| WATCH A MOVIE
Pull out the phone or laptop and watch a movie or two you have been dying to see but haven't had time.  
7| EXPLORE THE AIRPORT
Check out the airport and see how long it will take you to get from one end to the other. Have you ever noticed some terminals are a lot cooler than others?
8| GRAB A DRINK
Find a nice bar and sip on a cocktail. Go ahead and order your favorite, or two, or three!  While there, get chatty with your neighbor. Find out where they are going. If you're a bit timid, pull out a book and sip on your adult beverage.
9| EXERCISE
Take advantage of the time and stretch those legs before boarding the plane for a flight. Some airports have a gym so go squeeze in one last workout before vacation. 
10| DO SOME WORK
Tie up those loose ends with your job and reply to last-minute emails.
READ MORE: 66 Effortless Traveling Hacks
11| LEARN A NEW LANGUAGE
Keep yourself entertained at the airport and learn the language for where you are visiting. Some very common phrases to pick up and that are super helpful are thank you, excuse me, please, how are you, good morning/night, check please, hello, and bye. 
Locals tend to appreciate this kind gesture from tourists and are more eager to help. Check out some phone apps I used and absolutely love.  
12| GO FOR A MASSAGE
Splurge while you're at the airport and get a massage so you arrive to your destination recharged. It's also a great way to relax before hopping on your next flight. 
13| GO SHOPPING
Shopping at the airport can be a little pricey, but there are some stores that may appease your wallet. Browse the airport for stores that you wouldn't see back home. Don't forget to check out the duty-free stores and stock up on some goodies.
14| CHECK FOR AN UPGRADE
Hey hey, try and get an upgrade. Ask the agent for a different seat or vouchers to use on the plane or while waiting at the airport. 
15| UPDATE YOUR PHOTO ALBUM
Who else as a bazillion photos on their phone like me? Go through delete the ones you can live without and take up space.
16| FRESHEN UP
While waiting for your flight, go freshen yourself up a bit. Remove that cabin air from your flight and get all sexy again before heading to the bar. Check out my post on all the carry-on essentials you need for long flights to feel revived.
17| PEOPLE WATCH
Find a cozy little nook at the gate or a restaurant and people-watch. Try and guess what they are saying or where they are going.
18| PLAN YOUR TRIP
Check out additional activities for your trip. Book some super fun excursions such as dolphin watching, cooking classes, or walking tours. Some of my favorites to book from are Triple and Showaround. It's a great way to experience the city from a local.
19| LISTEN TO A PODCAST
Another fun thing to do at the airport to avoid boredom is to listen to your favorite podcasts. Browse new ones to get while waiting at the airport. 
20| CHECK THE WEATHER
Check the weather where you are going and where you live. Brag to your family and friends if you're heading to sunny skies, blue water, and palm trees.
READ MORE: How To Survive Dreaded Long Flights In Economy
21| PLAY GAMES ON YOUR PHONE
Play some of your favorite games on your phone.
22| RESPOND TO EMAILS
Check your emails and clean out your inbox. It's time to remove all those unread messages located on your mail app on your phone. 
23| LISTEN TO MUSIC
Just chill and listen to some of your favorite tunes. 
24| CLEAN YOUR PURSE OR WALLET
Take the time to clean out your purse or wallet. No one likes to do it, but it's a great way to time to kill at the airport. Of course, don't flaunt your money, just get rid of all those old receipts, old gum, or whatever else didn't think was still inside. 
25| CHECK OUT YOUR SOCIAL MEDIA
Get on your social media and engage with your friends. Check out their photos and show them some love.  
26| EDIT YOUR PHOTOS
Another fun thing to do while at the airport is to edit all those photos. 
27| GRAB A BITE TO EAT
Find a delicious restaurant in the airport and chow down on some grub. Don't go with something you're familiar with, try something new and different. Go for a restaurant with the local cuisine.  
28| CHAT IT UP AT THE BAR OR RESTAURANT
Strike up a conversation with other people at the airport. They are more than likely waiting for the plane like you. Get chatty with your neighbor at the bar. Find out where they are going or where they have been. It is a great way to connect with other like-minded people who may enjoy traveling like you. Who knows, you may end up meeting your best friend!
29| WRITE IN YOUR JOURNAL 
Documenting in your journal about your upcoming trip or anything fascinating that's happened in your life is one of the other things you can do at the airport. 
30| GET A MANI-PEDI
One of my favorite things to do at the airport is get a mani-pedi. I like to get my toes and nails all dazzled up if I didn't get time prior to my trip.
FINAL TIP FOR THINGS TO DO AT THE AIRPORT
If you're a frequent flyer, invest in an awesome travel credit card. With my American Express Platinum Credit Card layovers have become a breeze. Make sure your card has Priority Pass entry though. You will be able to visit lounges in 500+ cities. I have accessed lounges in Mauritius, Brussels, Zurich, Paris, Vienna, and many more. They have comfy couches, showers, WiFi, free food (and it is good), and unlimited alcoholic beverages for free!
This card has been a game-changer for me since traveling. TSA Pre-check is included which makes going through the security lines super quick. You don't need to take off your shoes and everything stays in your carry-on. What is even more amazing is the lines are ridiculously short. Global Entry is another added bonus with a good travel credit card. No more waiting in those long lines in customs.
WHAT ARE SOME OF THE THINGS AT THE AIRPORT YOU DO
Did I miss something on my list of things to do at the airport while waiting? Tell me in the comments below things you do at the airport to keep yourself entertained. 
READ MORE:
Also, if you added some more fun activities and places to see while waiting at the airport learn how to organize your trip using my step-by-step guide on how to use Google Maps planner.
Like this pin about Things To Do At The Airport? Share it with others or pin it for later.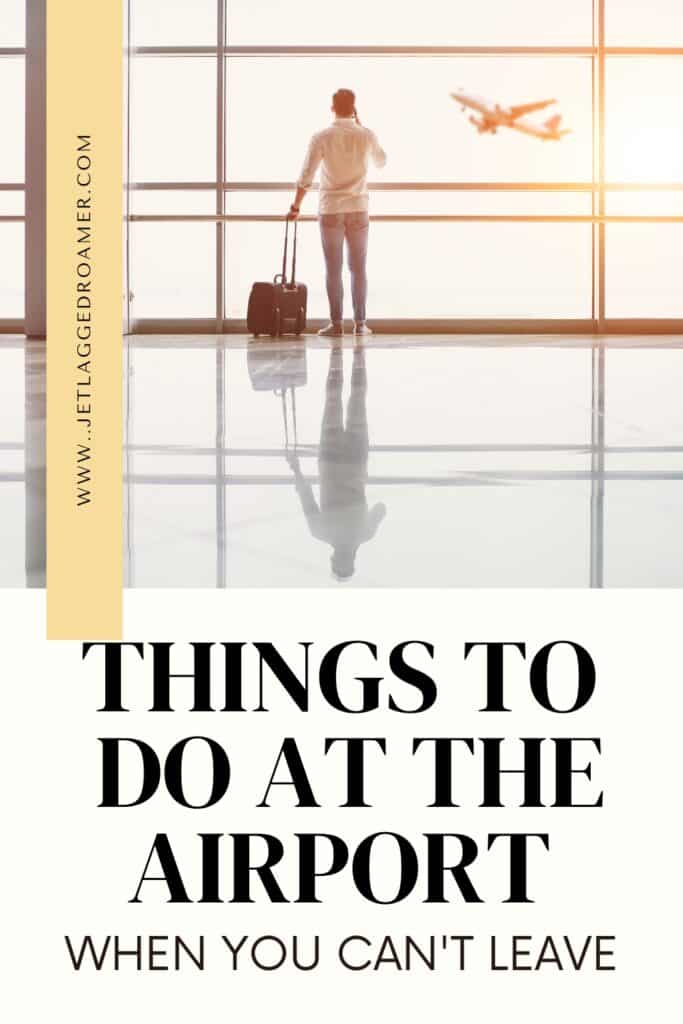 Jetlagged Roamer is a participant in the Amazon Services LLC Associates Program, an affiliate advertising program designed to provide a means for sites to earn advertising fees by advertising and linking to amazon.com, amazon.co.uk, amazon.ca. Amazon and the Amazon logo are trademarks of Amazon.com, Inc. or its affiliates.