Looking for the top restaurants in Miami to eat at? Besides being a city where the heat is on 24/7, Miami has a very eclectic culinary scene that will satisfy your palette during your visit. Here this local is going to introduce you to some of the best gems to get your grub on in Miami.
This article may contain affiliate / compensated links. For full information, please see our disclosure here.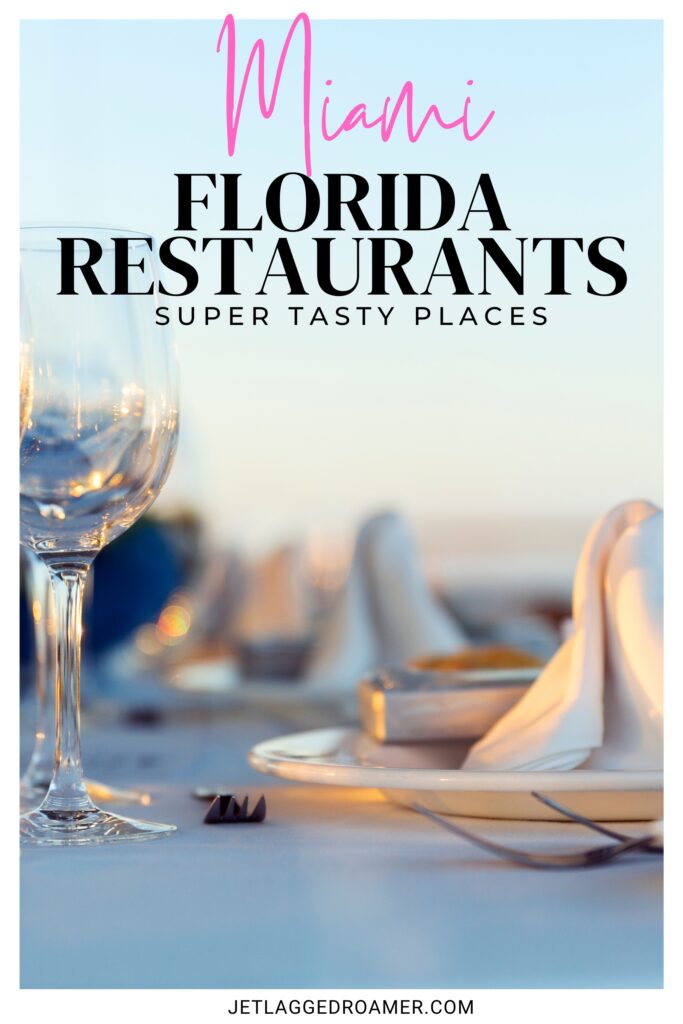 Visiting Miami? Check out these other guides to the city:
Top Restaurants In Miami To Satisfy Your Hunger
Grab your fork and knife and let's eat our way through the tip restaurants in Miami.
Restaurants In Downtown Miami
Alloy Bistro
Alloy Bistro is tucked away from the Miami chaos in a quiet alley Downtown. Inside is airy Mediterranean decor paired with a serene ambiance. I suggest you order a glass…or bottle (which I prefer) of wine from their very impressive collection. 
This bistro's menu has a modern twist on Italian cuisine and one of my favorite appetizers there is the Burrata accompanied with eggplant, spinach, pecans, and basil oil.
For gnocchi lovers, Alloy Bistro makes homemade gnocchi that's served with fresh gooey burrata cheese and juicy tomatoes. 
---
Restaurants In Miami Brickell
North Italia
PRICE| $$
ADDRESS| 900 S Miami Ave #111, Miami, FL 33130
WEBSITE | https://www.northitalia.com/
Vegetarian, vegan and gluten-free options available
North Italia is one of the top places where locals eat in Miami. This eatery is located in the bustling Brickell neighborhood. Reserve a table, North Italia is a favorite on this side of town and stays busy all day. If you have to wait order one or two of their signature cocktails until seated.
Arancini is always my go-to for an appetizer. It arrives nestled comfortably in garlicky marinara sauce.
Garlic lovers, I suggest you order the Strozzapreti, it has grilled chicken and the pasta is smothered in a cheesy parmesan sauce.
---
Mister 01
PRICE| $$
ADDRESS| 1000 S Miami Ave, Miami, FL 33130
WEBSITE | http://www.mistero1.com/
Vegetarian and vegan options available
Mister 01 is located in a couple of different neighborhoods in Miami, but I enjoy the Brickell location over the others.
This pizzeria has a variety of specialty pizzas where you wouldn't think the ingredients would ever blend together, like their Coffee Paolo Pizza. Gorgonzola, honey, coffee, and spicy salami are thrown on top of a chewy crust and the flavors are just mind-blowing.
My favorite to order at Mister 01 is the Star Luca. Mmmmm…. it has spicy salami, and mozzarella, and the crust is filled with fresh creamy ricotta cheese. Mister 01 is one of the best restaurants in Brickell, so be sure to stop by during your visit to Miami.
Restaurants In Miami Key Biscayne
Rusty Pelican
PRICE| $$$
ADDRESS| 3201 Rickenbacker Causeway, Key Biscayne, FL 33149
WEBSITE | https://www.therustypelican.com/
Vegetarian, vegan and gluten free options available
Catch a view of the Miami skyline at the iconic waterfront eatery Rusty Pelican. They have a delicious menu of seafood and American cuisine with a Latin twist.
If the weather is not too uncomfortably humid, grab a seat on the deck and order a cocktail. The view of Brickell is astonishing from the patio.
Rusty Pelican's brunch is popular with the locals and a favorite here in Miami. The top pick when at Rusty's is the Fruity Pebbles Pancakes, which are colossal light and fluffy cakes topped with a dollop of blueberry buttercream.
They do have a lunch and dinner menu available. During these times I mostly order appetizers and cocktails. The Short Rib Empanadas and Crab Cakes are my favorite.
RELATED POSTS: Top Things To Do In Miami
Restaurants In Midtown Miami
Blue Collar
Blue Collar is another favorite of mine and one of the top restaurants in Miami and Midtown area. This is not your typical mom-and-pop diner, it's more upscale with tasty entrees.  Blue Collar is always packed for brunch and dinner, so arrive early to snag a table.
My favorite for brunch is the Pulled Pork Benedict with jalapeño cornbread, a perfect kick to satiate your tastebuds. Another meal that will appease your palate is the Breakfast Sandwich. It consists of 2 over-easy eggs, latke, crisp bacon and cheese.
---
Andiamo
Previously a gas station now has transformed into one popular pizzeria, Andiamo is a local favorite for a cheesy pie!  There aren't hostesses so just grab an empty table if you can find one!
Andiamo has an extensive menu of specialty pizzas to choose from that are all equally tasty. But, my top favorites are the Sunday Pie, The Godfather, and New Yorker.
If you are wanting to taste a pizza that doesn't have the more traditional ingredients, try the Genovese. This pizza is coated in garlic, rosemary potatoes, pancetta, and caramelized onions. One bite is an explosion of flavors!
Cannot choose which pie you want to order? Andiamo allows you to order two of their pizzas and put them on one, 50/50.
---
Mandolin Aegean Bistro
Mandolin has the freshest Mediterranean cuisine in the city and has been serving locals since 2009, making it one of the top restaurants in Miami.
Transport yourself to the Greek Islands at Mandolin Aegean Bistro patio, which is a true oasis resembling the Aegean islands. Inside the restaurant, it is equally appeasing to the eye as well and resembles yiayia's kitchen.
Mandolin menu consists of both Greek and Turkish cuisine. Every entree on the menu is packed with simple, yet robust flavors. The Greek Sampler is the perfect starter to any meal paired with the Greek Village Salad. When visiting Mandolin try going with a large crowd and ordering several meals so you can sample quite a few things. Everything is so delicious!
Restaurants In Miami Wynwood
Wynwood Kitchen & Bar
Wynwood Kitchen and Bar has Latin cuisine and is one of the best restaurants in Wynwood and is a staple in the neighborhood. This area is a popular neighborhood with colorful wall murals, boutiques, and art galleries for several blocks.
Many locals come here for their brunch and dinner menu. A must-order is the guacamole as simple as it sounds it is delicious and comes with their freshly homemade tortilla chips. Another appetizer that is super yummy is the Ropa Vieja Empanadas filled with shredded chicken and cilantro crema.
Restaurants In Miami South Beach
Casa Tua
PRICE| $$$$
ADDRESS| 1700 James Ave, Miami Beach, FL 33139
WEBSITE | https://www.casatualife.com/
Vegetarian, vegan and gluten free options available
If you plan on splurging on one meal during your visit, have some Italian food at Casa Tua in South Beach. Cause Tua is expensive, but one of the best restaurants in Miami Beach for fine dining. Inside the decor is cozy and looks like a beach home in the Hamptons.
Sit outside and dine al fresco on their intimate patio if you can handle the humidity. It's a lush tropical oasis in the heart of South Beach surrounded by exotic trees and hanging lanterns
For starters I suggest ordering the Burrata, it's topped with fresh organic tomatoes and basil. For your main get the risotto, ingredients vary depending on the season.
If the prices are out of your budget, you can get a similar experience at their Brickell City Centre location.  Menu is much cheaper and it resembles Eataly in NYC.
RELATED POSTS: Awesome List Of Things To Do In Naples, Florida
Pubbelly
PRICE| $$-$$$
ADDRESS| 1424 20th St, Miami Beach, FL 33139
WEBSITE | http://pubbellyglobal.com/
Vegetarian, vegan and gluten free options available
Pubbelly is another one of the top restaurants in Miami. If you're a sushi lover then Pubbelly is deserving of your visit. There are several locations in South Florida; however,  the Pubbelly in South Beach is by far my favorite to visit. This venue has excellent outdoor dining and is a great spot tucked away on the quieter side of South Beach. 
Pubbelly's sushi has robust flavors that will have your tastebuds tingling for days. Their Tuna Tartare is perfectly blended with capers, shallots, and truffle oil which is just phenomenal. Not-to-miss rolls to order include the Yellowtail, Bigeye Tuna, and Rock Shrimp Tempura.
---
Via Emilia 9
PRICE| $$
ADDRESS| 1120 15th St, Miami Beach, FL 33139
WEBSITE | https://viaemilia9.com/
Vegetarian and gluten free options available
Italy or Miami? Well, it's pretty much the same thing when you dine at Via Emilia 9. Tucked away on the quieter and more residential side of South Beach, you're bound to feel like you're in Rome after one bite.
Don't expect to be served boxed pasta, all their pasta is homemade on-site! This gem was also voted in Miami New Times as the best homemade pasta.
For appetizers, I suggest the Burrata e Pomodorini the tomatoes just exploded in my mouth and the burrata was perfectly seasoned with olive oil. Also, the Polppette Pancetta e Piselli are meatballs braised with pork belly and served with green peas. It puts a whole new level on comfort food.
For your entree order the Tagliatelle al Ragú, which is homemade pasta in a delicious cream sauce, sausage, and mushrooms. Don't forget to save room for their Tiramisu!
Lucali
PRICE| $$-$$$
ADDRESS| 1930 Bay Rd, Miami Beach, FL 33139
WEBSITE | https://www.lucali.com/
Vegetarian and gluten free options available
Lucali is a pizzeria I frequent and a popular eatery where locals eat in Miami. Usually, there is always a wait any time you go, but it's worth it though! Inside is cozy and accompanied by dim lighting and glowing candles. 
Lucali's menu has fresh salads, calzones, and 20-inch pies. Pizza toppings include pepperoni, shallots, onions, mushrooms, or basil. To quench your thirst you can opt for wine or their selection of beer on tap. Pretty much any living here will tell you that Lucali is one of the best restaurants in Miami Beach. 
---
Joe's Stone Crab
No visit to Miami would be complete without a visit to Joe's Stone Crab, one of the top restaurants in Miami. Joe's has been open for over 100 years and is an iconic staple here. Doors are open from October 15 to May 15 only.
Florida Stone Crabs are the hit at this classic eatery and one of the foods Miami is famous for. You cannot leave Joe's without trying their signature creamy Key Lime Pie.
Joe's Stone Crab is known to have long waits so arrive early and reservations are not accepted.  You can always grab a seat at the bar (if available) and order a cocktail.
Abbalé Telavivian Kitchen
PRICE| $$
ADDRESS| 864 Commerce St, Miami Beach, FL 33139
WEBSITE | https://www.abbatlvkitchen.com/
Vegetarian, vegan and gluten free options available
Be prepared to have your tastebuds explode at this family-owned restaurant in South Pointe. This adorable pink house has some of the tastiest cuisines I have eaten in all of South Miami.
Here you can find the flavors of Isreal, Greece, Colombia, and Turkey all melted together to give you one exceptional dining experience. All ingredients are fresh and you will be able to tell.
I suggest you start with the Fire-Roasted Onion Tahini. You will want to bathe in this dip, so order one per person. For your entree, the Moroccan Spiced Local Fish will be a taste that you never experienced. Save room for dessert and order the Date and Feta Caramel Cake. All these unique ingredients blended together will have you booking your next reservation before you leave.
Restaurants In Miami Coconut Grove
Lokal
PRICE| $$
ADDRESS| 3190 Commodore Plaza, Miami, FL 33133
WEBSITE | https://www.lokalmiami.com/
Vegetarian, vegan and gluten free options available
The Grove offers plenty of restaurants to dine in this charming neighborhood. But if you are looking best burger in Miami Lokal is the place to go!
Lokal's burgers are all made in-house from Kobe-style cattle. The beef is free of hormones, antibiotics, and steroids and all pints are local craft brews.
Bring your pooch too, your furry family member can dine with you and choose from meatloaf or chicken with rice. The doggy can quench their thirst with a non-alcoholic beer made especially for your dog. 
RELATED POSTS: Incredible Hotels To Stay In Miami
Restaurants In Miami Coral Gables
The Eating House
The Eating House is located off of Miracle Mile in Coral Gables and they're known for their eclectic brunch and dinner menu.
Seating is limited so is available and reservations are usually booked out months in advance. If you wanna dine at this trendy hot spot, then plan in advance and reserve your table now! 
The Eating House is known for its brunch; however, I have only dined at this spot for dinner. The Crispy Brussel Sprouts are a great starter and coated with a nice layer of ginger, garlic, soy, and lime. The carbonara has a unique twist and is topped with black truffles and breadcrumbs. 
---
Caffe Vialetto
For an intimate atmosphere try Cafe Vialetto, it's a menu fused with both Italian and Latin flare. This spot has been a beloved hideaway in Miami for over 20 years. On weekends I suggest arriving early or making reservations. 
Cafe Vialetto specializes in risotto and they have many variations for this popular dish, but the short rib is my favorite. It's perfectly cooked risotto topped with mozzarella, spinach, shredded tender short ribs, and topped with a drizzle of truffle oil. 
---
Hillstone
PRICE| $$$
ADDRESS| 201 Miracle Mile, Coral Gables, FL 33134
Vegetarian and vegan options available
Hillstone is one of the most frequented spots where locals eat in Miami. This restaurant is sleek, sexy, and has tender meats and classic cocktails. Located in the heart of Coral Gables, it has enticed locals since its doors opened 15 years ago. 
Although it may be a chain no one in Miami can resist their American fare and handcrafted sushi rolls. For the carnivores out there, the steak is amazingly scrumptious. 
RELATED POSTS: Things To Do In Key West
Restaurants In Miami Little Havana
Cafe Versailles
Don't expect to visit Miami without visiting Little Havana, this neighborhood has true authentic Cuban culture. Open-air markets, cigar shops, and cafes align Miami's popular street Calle Ocho. One restaurant to get your Cuban fix on is Cafe Versailles which has been open since 1971. 
Ordering a mojito is a perfect choice of beverage pre-meal. One of the foods Miami is famous for is the Cuban sandwich, but skip it and order one of the traditional Cuban meals Vaca Frita De Pollo. This dish is moist-grilled shredded chicken and onions and accompanied by rice and plantains.
Restaurants In South Miami
Whisk Gourmet Kitchen
PRICE| $$
ADDRESS| 7382 SW 56th Ave, South Miami, FL 33143
WEBSITE | http://www.whiskgourmet.com/
Vegetarian, vegan, and gluten free options available
Whisk Gourmet is one ah-mazing American restaurant with hints of Southern flair hidden in South Miami. This open kitchen restaurant is a favorite with the locals. for their weekend brunch, so make reservations.
Skip the mimosas and go with their homemade sangria, it's super refreshing. Some of my favorites are the fried green tomatoes and their fluffy pancakes.
For those who prefer a more savory breakfast, the Pulled Pork Burrito is like a delicious treasure with rice, black beans, avocado salsa, and pepper jack cheese tucked inside a warm tortilla. When visiting South Florida, don't forget to check out this spot!
RELATED POSTS: Where To Take Pictures In Miami
Top Restaurants In Miami To Satisfy Your Sweet Tooth
Fireman Derek's
Fireman Derek's is a family-owned bakery that whips up some of the best desserts in the Miami area. It's hard to choose what to order when they have 50 exclusive flavors of brownies, pies, cheesecakes, cookies, and cakes. All treats are baked in-house with fresh local ingredients and the love can be tasted in every bite. 
---
The Salty Donut
You may be thinking why would I recommend a donut shop in Miami, but The Salty Donut is not your typical donut and is why it made it on my list for best local restaurants in Miami. Everyone who lives in Miami knows about Salty, an artisanal donut shop, and coffee bar. Everything is made in-house with the highest quality ingredients. 
The Salty Donut has a menu of craft donuts, unlike anything I have ever seen. They are chewy, soft, and pretty addicting. Some of my favorites are the Guava+Cheese and Brown Butter+Salt.
All coffee addicts need to try their Cinnamon Toast Crunch Latte to continue indulging in your sugar rush.
Doors close at 6 or when donuts are sold out and rarely have they stayed open until closing. Lines form before doors open and the donuts go fast so get there early. 
Top Restaurants in Miami For Drinks
Sugar
PRICE| $$$
ADDRESS| 788 Brickell Plaza #40, Miami, FL 33131
Catch a stunning panoramic view of the Miami skyline at the swanky bar Sugar, located inside East Miami on the 40th floor. Drinks are pricey, but one is worth the view of the city. On weekends, the nights do get busy and a line forms outside the door so arrive early. 
---
Broken Shaker
PRICE| $$
ADDRESS| 2727 Indian Creek Dr, Miami Beach, FL 33140
Broken shaker has been the go-to spot to grab a cocktail with Miami locals since they first opened.  It is tucked away inside a trendy boho hostel located in South Beach. It's a great spot to sip on your beverage in this tropical and lush oasis in Miami. 
---
Blackbird Ordinary
Stay up until the wee hours in the morning at Blackbird Ordinary a 50's styled lounge. DJs and bands play some fine tunes to keep you dancing on the back patio until the late hours. If you want a serious cocktail Blackbird Ordinary is your spot.
---
Barsecco
Barsecco has one awesome outdoor terrace and the best happy hour you can find in Miami. Menu after work hours is a sophisticated selection of White Fish Ceviche, Serrano Croquettes, Pizza Margherita, or even Truffle Parmesan Fries just to name a few items. Barsecco's prices are some of the most reasonably priced so for good food and a good time check out this popular spot.
---
Ball & Chain
You cannot visit Miami without salsa dancing at Ball & Chain located in Little Havana. Enjoy live music played on their outdoor stage shaped like a pineapple! It is a must-see while visiting Miami. 
---
Delano (Currently Closed)
The Delano was built in 1947 and was first utilized for military housing. Being the first boutique hotel in Miami it defines Miami's Art Deco vibes. There are two bars to hit up while there.
Grab a drink poolside in a cabana or grab a seat at the silver table submerged in the shallow end of the pool. 
For a swankier night out then check out the Rose Bar and order one of their signature cocktails, such as double-infused Old Fashion with bacon fat.  Drinks are expensive, but it makes for one memorable Miami experience. 
Top Restaurants In Miami Final Thoughts
Hope you enjoy your dining experience with these top restaurants in Miami. Add all these restaurants to your Google Maps trip planner so you have these places to eat handy with you. Have you eaten at any of these restaurants before? Tell me about your experience in the comments below! 
Heading to Miami? Check out these other posts for your visit:
If time permits take a day trip to one of these awesome places in the sunshine state:
Thanks for stopping by! Ciao! Get your map below of all the top restaurants in Miami!
Like this pin about the top restaurants In Miami? Share with others or pin it for later!
Jetlagged Roamer is a participant in the Amazon Services LLC Associates Program, an affiliate advertising program designed to provide a means for sites to earn advertising fees by advertising and linking to amazon.com, amazon.co.uk, amazon.ca. Amazon and the Amazon logo are trademarks of Amazon.com, Inc. or its affiliates.