Finding the perfect gift for a traveler can be quite challenging. Whether you're shopping for your BFF or a beloved family member I have compiled a list of some pretty awesome gifts for travel lovers to help you find the best present! 
Here you will find the best gift ideas for travelers ranging from the adventure thrill seeker or those who prefer a little R&R in luxury. 
Grab your credit card cause you're bound to make a few transactions with this irresistible list of gift ideas for travel lovers. 
This article may contain affiliate / compensated links. For full information, please see our disclosure here.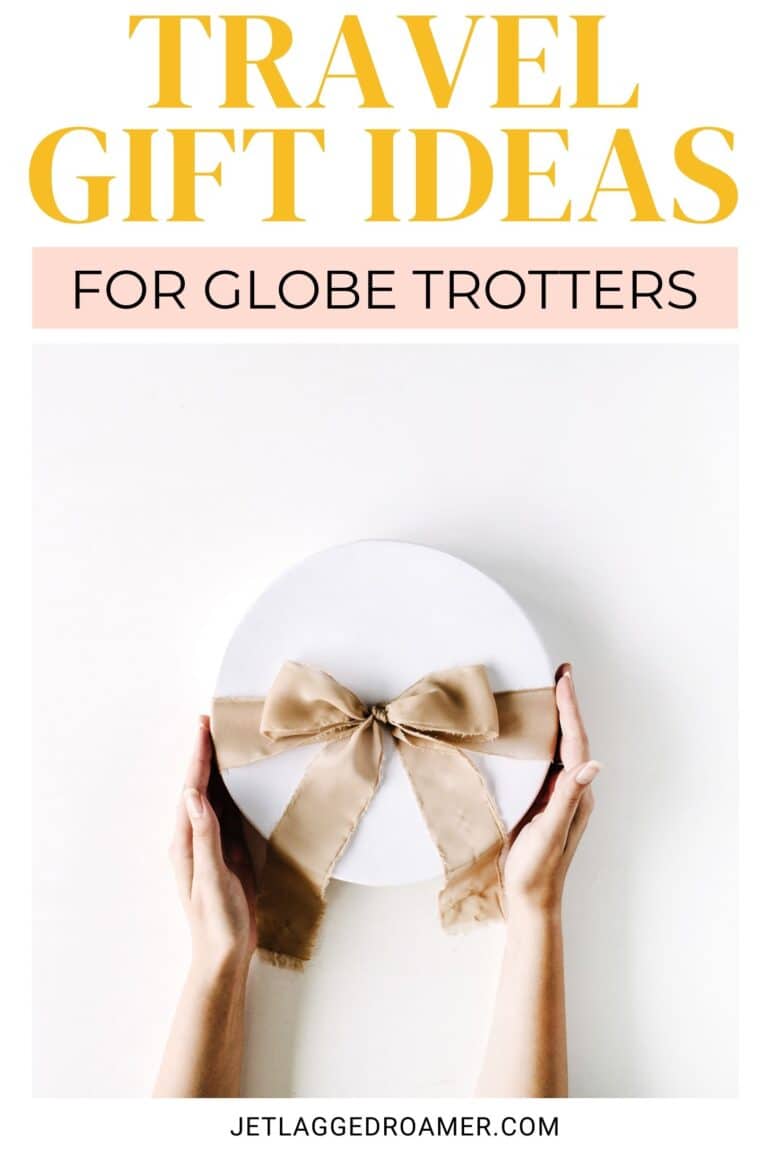 Best Gifts For Travel Lovers Under $100
Here is a list of gifts for travel lovers under a 100-bucks.
Noise Canceling Headphones
Long flights can be unpredictable with the amount of noise you will encounter. Catching some zzz's is essential before arriving at your destination. For light sleepers, these noise-canceling headphones will ensure peace for a night of proper sleep. 
Filtered Water Bottle 
Keep your favorite traveler buddy free from sickness during their overseas trips with a LifeStraw Filtered Water Bottle. 
This award-winning water bottle keeps travelers hydrated safely with its fiber membrane filter to remove 99.9% of bacteria from lakes and streams. Best of all there is no aftertaste!
Great for those who love hiking, camping, or just wanting to avoid getting thirsty toting around a new city. 
Portable Charger 
Traveling or not, losing battery power on your mobile can be quite a downer. Not having access to your phone can be a headache if you use it for navigation, translation, or even ticket confirmations. 
Make sure your favorite traveler can stay in touch with a portable charger. This one is lightweight and small so it will be easy to take into town. 
Digital Picture Frame
A great gift idea for a globe trotter is a digital picture frame. Travelers can keep their favorite moments in a frame and view at their daily pleasure. Makes a great conversation starter too! 
Bluetooth Speaker
Having a Bluetooth speaker traveling is perfect to listen to your favorite jams on the beach, watching movies, or throwing a party in your room with new friends you meet! 
This stylish waterproof speaker is wireless and guarantees 24 hours of continuous use. It's one of the top gifts for travel lovers!
Shampoo And Conditioner Bars 
Keep your locks luscious and luggage free from liquid spill mishaps with solid shampoo and conditioner bars. 
Also, besides being eco-friendly these bars are a great space saver in the suitcase. 
Packing Cubes
Packing cubes are ideal for the organized traveler who loves to pack smart or those who need a little assistance. 
This 6-piece set fits like a glove in all types and sizes of luggage. All various sizes will help keep items neat if country hopping. 
Portable Wifi Hot Spot
Staying connected is necessary for the world traveler. Portable hotspots are so essential to having access to the internet that is safe and reliable. 
Portable Coffee Kit
Having caffeine is necessary for beating that jet lag.
Gifts For Travel Lovers Under $25
Compression Socks
For long-haul flights, compression socks are a must. Limited movement on the plane slows down the circulation between your heart and legs. Ankles can be swollen and pain can develop walking when you finally get off the plane. 
Push Pin Travel Map
All travelers are obsessed with talking about all the exciting places they have explored. One of the perfect gifts for travel lovers to show you appreciate hearing about their adventures. 
Foldable Duffel Bag
Foldable duffel bags are great for packing all the extra souvenirs bought on a trip. They are perfect to avoid overstuffing a suitcase and weighing it down. 
Also, they have multipurpose use and can be used as a beach bag, for groceries, and much more! The use is limitless!
RFID Wallet
One of the top gifts for travel lovers is an RFID wallet to avoid being targeted by digital pickpockets. Help your favorite traveler avoid being scammed.
Leather Passport Holder
A great stocking stuffer for frequent flyers is a leather passport holder. Passports tend to get beat up trotting around the globe. This holder can provide enough protection without taking up too much space. 
They are also handy for holding cash, credit cards, and other documentation in one spot instead of frequently reaching in your wallet or purse. 
International Plug Adapter
Having an international plug adapter is a must when visiting a foreign country. Travelers can use this universal plug that's compatible with more than 200 countries. 
Portable Luggage Scale
Overweight bag fees can be a nuisance and pain. By having a portable luggage scale travelers can get an accurate reading and avoid extra fees. 
Notebook and Journal
A notebook or journal is a fabulous way for the traveler to document memorable adventures. 
This is a great way to flip through pages and reminisce about old discoveries and places explored. 
Stash It Hair Brush
A great tool to keep valuables hidden while traveling. 
Airplane Foot Hammock
Let's face it, sitting on an airplane is not comfortable, especially for long flights. However, it doesn't have to be that way.  Feel like you're sitting in a recliner along with getting support for your legs and lower back.
Luggage Locks
Luggage locks are great to avoid theft of items in your suitcase, for checked luggage, or staying in a hostel. Nothing is more disappointing than having something stolen while traveling. 
Cord Tacos
Nifty way to keep cords organized and under control during travels. Cords can be kept tangle-free whether in your purse, bag, or pocket. 
Toiletry Bottles
Adding products you already love and use into toiletry bottles is a life-saving travel hack for travelers.  They are great for saving cash that can be used on a trip instead of buying overpriced travel-sized products. 
This 16-pack of travel bottles is TSA-approved and leak-proof so they don't have to worry about mishaps in their luggage. Multiple containers allow easy packing for different products needed on the trip. 
Neck Pillow 
Having a neck pillow for long flights is a non-negotiable essential for travelers to stay comfortable. I never fly without out mine! 
Any traveler will be fully equipped with this set that includes a memory foam neck pillow, eye mask, and earplugs for a restful sleep on the plane. 
Fun And Unique Travel Gifts
USA Ice Cube Tray
This fun little gift idea is perfect for a conversation starter for a chit-chat on all the states everyone has visited. 
Carry On Cocktail Kit
Help your favorite traveller keep a cocktail handy. Cheers! 
Collapsible Water Bottle
Continuously spending money on water can become costly and is unnecessary. Having your own water bottle will save money and reduce plastic consumption. Save the planet!
Travel Themed Socks
Super creative stocking stuffer for the globe trotter to wear their love of travel. 
Travel Scrap Book
A fun way to keep photos, receipts, and ticket stubs organized from their adventures around the world.
Fun Luggage Tags
A good gift idea for travelers is fun luggage tags. So ditch boring, make it super easy to identify their suitcase on the baggage carousel. 
Travel Color Map Mugs
Travel-themed mugs are perfect for giving that morning inspiration for all the places they want to check off their bucket list!
Photo Presets
Presets are a great digital present for travelers to spruce up their travel photos to post on their Instagram. 
Check List
Nothing is worse than forgetting a travel essential you need. Having a list while packing is super handy to make sure you have everything before your trip. 
Scratch Off Map
Fun gift to scratch off all the places you have been around the world! 
Travel Drink Glasses
Maps on drink glasses are a perfect gift for travellers to reminisce about their past travel expeditions. 
Map Coasters
Keep the spirit of travel alive with this decorative home gift idea for travelers. 
Phone Case 
Traveled themed phone cases are great inexpensive gifts for the travel enthusiast. 
Playing Cards
Whether on the plane, airport, or hotel a good set of travel cards are the perfect gift idea for travelers to handy to stay busy. 
Travel Coloring Book
A fun gift to keep travel lovers occupied on those long plane rides is a travel-themed coloring book. Great for entertainment and inspiration for new places to explore. 
Crumpled Map
A unique gift idea for travelers is a crumbled map. Ditch paper maps that can easily tear and give them one that can withstand a beating. 
Luxury Travel Gift Ideas
Kindle
You can never pack too much entertainment to keep busy whether on the plane, train or in an automobile! It's one of the most unique travel gifts to stay occupied. 
Backpack
Backpacks are so versatile for travelers. They are great as a carry-on to keep valuables, tote for one-day trips, or venturing off during a layover instead of hauling around a roller suitcase. 
Travel Umbrella With Case
Weather is always unpredictable. Keep your traveler prepared if rainy weather hits! 
Travel Steamer
Clothes can get easily wrinkled from being tossed around or sitting in your luggage for a while. With just quick steam you can be wrinkly-free! 
New Luggage Set
A very welcoming gift idea for travelers is a new luggage set. Most trotters' baggage has probably suffered a little too much wear and tear. 
Map Watches
Make sure your travel buddy never misses a flight with this stylish watch with a map. 
Travel Gifts For Men
Solid Travel-Friendly Cologne 
Carrying solid cologne is more practical than toting around a liquid fragrance in a glass bottle that could potentially break. This mishap can be avoided by using a solid for your trip instead. 
Toiletry Kit For Traveling
An excellent travel gift for men to help with the organization is a toiletry kit. Keep all clippers, razors, and such in one compact bag. 
Fleece 
For unpredictable moments in weather when traveling or to stay warm on the plane, a fleece is one thoughtful gift for male travelers. 
Travel Gifts For Her She Will Love
Travel Jewelry Box
Nothing worse than trying to untangle necklaces or losing an earring. If you're looking for some useful traveling gift ideas this is a must for ladies!
Door Stop Alarm
For solo travelers who want an extra boost of comfort and safety for peace of mind. If anyone attempts to open the door an alarm will sound. 
Travel Blowdryer
I absolutely love my travel dryer. Not all dryers can dry my locks to my standards. This best gift idea for travelers who take their hair seriously. 
Makeup Case
Having a case will keep your makeup organized and free of mishaps such as palettes breaking.
Travel Skincare Essentials Kit
Keep your traveler glowing after their long flight. Cabin air is so damaging to the skin. Give them a kit to help keep their skin hydrated. 
Travel Scarf
This travel scarf is great to keep valuables near you and keep your pockets free when pickpockets are around. 
Solid Fragrance
Solids are easier to store and take less room. They are also better to pack than a glass bottle. 
Gifts For Adventure Lovers
Travel Hammock
For those adventure travellers who enjoy hiking, they can have a place to get some rest handy in their bag. 
Backpacking Towel
A lightweight towel to wipe the dirt on yourself or around your camping site are one of the best gifts for adventure lovers. 
Multitool
Great for outdoor adventure travelers to have this tool served for multipurpose. 
Headlamp
Perfect for night hikes or when campers need to see during evening hours. 
Outdoor Pocket Blanket
For cold nights an outdoor pocket blanket is an awesome gift idea for travellers who are adventurous. Super lightweight and easy to pack. 
Best Gifts For Travel Lovers Who Are Into Photography 
Tripod
Tripods are great to capture a picturesque photo for the solo traveler. Also one of the best travel gifts for couples who love to take adventures.
Camera Clip
One of the best gifts for travellers who love photography is a camera clip. Be hands-free when needed, but keeps the camera easily accessible when needed. 
Mirrorless Camera
Another perfect gift for travellers who are into photography or want to begin dabbling in it is a mirrorless camera. They are perfect for travelers since they are lightweight compared to the DSLR and take up less space to pack. 
Camera Bag
The camera bag is the perfect gift to keep all photography gear organized and together. 
Go Pro
Go pros are great for travelers trotting the world. Not only do they take high-quality photos, but they are light-weight, shockproof, and waterproof. 
Selfie Stick
For solo travelers, a selfie stick can capture a moment wherever you are without having to ask other tourists around to snap a photo. 
Phone Lens Kit
A great way to step up your game with photos without using a professional camera is a phone lens kit. Easy to snap on and add a boost to photos without the bulkiness of a camera. 
Gifts For Travellers
Hope you enjoyed these gift ideas for travelers. As a travel enthusiast myself I would personally adore each and every one of these items.  Your favorite globe trotter will be thrilled to receive one of these gift ideas for travel lovers. Happy shopping!
Like this post on gift ideas for travelers? Share it with others or pin it for later!