Flying far doesn't have to be so bad, even if you're sitting in a sardine can AKA "economy class." I have 11 essential tips for how to survive long flights in economy comfortably. So buckle up and get ready for your departure!
This article may contain affiliate / compensated links. For full information, please see our disclosure here.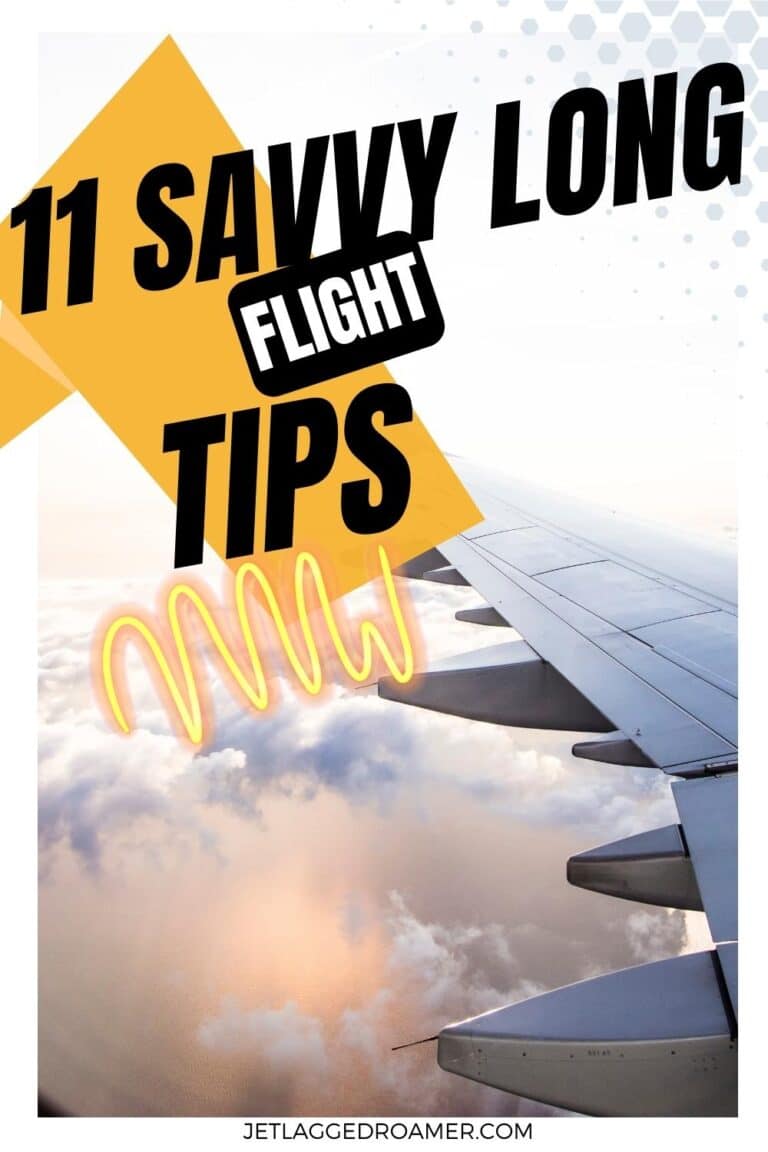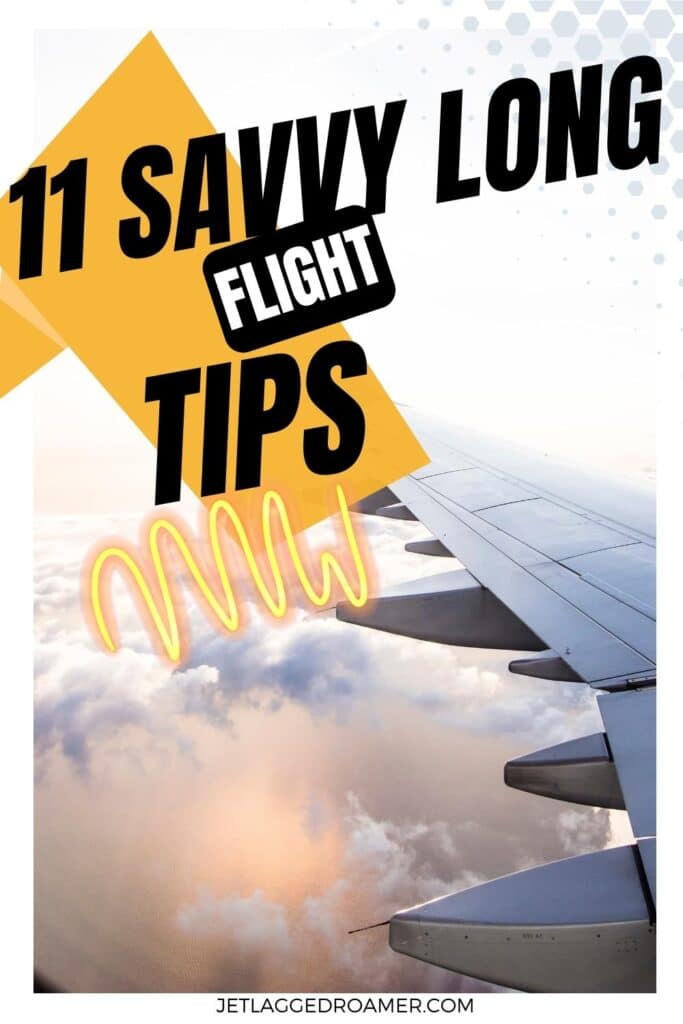 Love travel tips? Check out these other related posts:
How To Survive Long Flights In Economy
1| Invest In A Travel Card With Perks
The most important long-haul flight tip is to get yourself a good travel credit card. Do your research and find one that comes with a buttload of perks that flip your fancy.
Priority Pass access is one awesome benefit I receive with my travel credit card. During layovers, I skip sitting at the gate in those uncomfortable chairs.
With Priority Pass you are able to wait for your next flight in super comfy lounges. You have access to Wi-Fi, cocktails, snacks, and comfortable seating all for free! Some lounges even have showers!
There are over 1,300 lounges worldwide so you will pretty much find one wherever you go. Your friends can join you too. Once you experience Priority access, you will never go back!
2| Book A Flight With A Long Layover
My second crucial recommendation begins with booking your ticket. I have been on multiple long-haul flights that have exceeded 24 hours or more travel time.
If you are anything like me, then sitting on a plane for 6-plus hours, a break is definitely needed. I am not just talking about hanging out at the airport for a few hours during a layover. I need to leave the airport totally.
When booking your flight, browse for flights that have ridiculously long layovers that will give you time to explore another city.
Hang tight, I will get you some tips on what to do when exploring during a layover.
REPLATED POST: Things To Do At The Airport
3| Select Your Seat Immediately
Most international flights consist of 3-4 seats in each row. After booking your trip, select your seat immediately! If you are flying in the economy the right seat is absolutely everything to surviving long flights.
I also recommend being super nice to the flight attendant checking your bag! Ask how their day is going and give a compliment and politely ask if there are any seats available in an empty or exit row. Usually 85% of the time I receive a better seat than what I had before. So be nice boys and girls!
4| Exercise Prior To Boarding
So yay, today is the day of your departure! Help yourself unwind because I am pretty sure your adrenaline is pumping from all your excitement. Do yourself a favor and work out prior to heading to. the airport. You will be sitting in one uncomfortable seat for what will feel like the longest plane ride ever. Get your CrossFit, yoga, Karate, or whatever gets your mojo going before getting on that plane.
5| Pack Your Carry-On With The Right Essentials
Having the right carry-on essentials for long flights is so important to be comfortable in economy. Make sure you pack the right toiletries, electronics, items for sleeping, clothing, and so forth. I will not go into lengthy detail about what to take on a long flight you can read what you need to pack in your carry-on here.
RELATED POST: What To Pack In Your Cary On For Long Flights
6| Eat A Light Meal
Grab a light meal before departure at home or at the airport. It's recommended you check in for international flights at least 2-hours prior to taking off.
So, you may decide not to eat and stall for the meal to be served on the plane, but don't wait. Fill your belly up with something light, so you don't end up hungry which is never good for being comfortable on the plane.
7| Drink Lots Of Water
Airplanes have a dry environment and can quickly dehydrate you and your skin. (find out how to take care of your skin while traveling). Don't start your vacation dehydrated.
Bring your own reusable water bottle that you can easily fill it up at the airport before boarding. During flights, you can always ask the flight attendant for refills. Save your money and forget to purchase an overpriced bottle of water at the airport.
RELATED POST: How To Take Care Of Your Skin While Traveling
8| Dress Comfortable And Not To Impress
Comfortable clothes are the best clothes for long flights. For pants, what I typically like to wear on an international flight are leggings or yoga pants. I am obsessed with them equally since they are light and somewhat stylish. They go well with a cute pair of slip-on shoes.
Always wear shoes you can slip on/off easily in case you need to go to the restroom or get up and stretch. Also, wear a hoodie or light jacket for extra warmth. Nothing worse than trying to sleep on a plane when it is freezing cold. Read more tips on what to wear and bring for long flights here.
9| Set Your Watch To The Destination Time
Set your watch or phone to the destination time when you're seated on the plane. Presetting the time to your destination mentally prepares you for the schedule wherever you are going. Just remember to wait until you are on the plane so you don't miss your flight!
RELATED POST: Flying Captions
10| Bring Additional Entertainment
There is a limited amount of entertainment on the plane. All you can really do is sit, watch a movie, sleep, or get chatty with your neighbor. Which, can be done in the first 2-3 hours.
Prepare yourself by bringing additional entertainment to keep yourself busy. Some items I like to pack are books, magazines, crossword puzzles, cards, or additional movies.
11| Sleep If You Can
I am not one to really sleep on the plane. I get so envious of those who can sleep in an upright position. When I need some help going to bed, I pop in one of these delicious gummy sleeping aids. This fruity pill will knock you out super fast!
Gotta Layover? Here's What You Can Do!
Okay, so if you booked a long layover for long flights I have some tips on what to do. My all-time favorite is to book a quick tour. I love getting the most out of a city during the short amount of time I'm there. I have some recommendations of tours below that I personally used and enjoyed.
Triple
Triple is an awesome site that has tours given by locals. What I absolutely loved about Triple is you can select a tour that is customized to what you want to do and see during your quick visit!
Check out their site and you can find tours for museum walks, club-hopping, and even biking tours! The selections are endless.
During my trip to Amsterdam, I booked a food tour with Triple. My guide took me to the local's favorite spots for the best bitterballen, Dutch beer, Gouda, and fresh Stroop waffles in the city.
Tours typically last for 3 hours which gives you a chance to familiarize yourself with the city. The cost of this tour was 25-USD, then, of course, don't forget to tip. Tours can range from 15-USD and up and prices vary depending on the country you're visiting. Once you have made your purchase, you will be contacted by your guide to discuss further details.
I highly suggest purchasing a tour from Triple during a long layover. You get a full cultural experience from a local during your short visit.
RELATED POST: 66 Genius Traveling Hacks
Showaround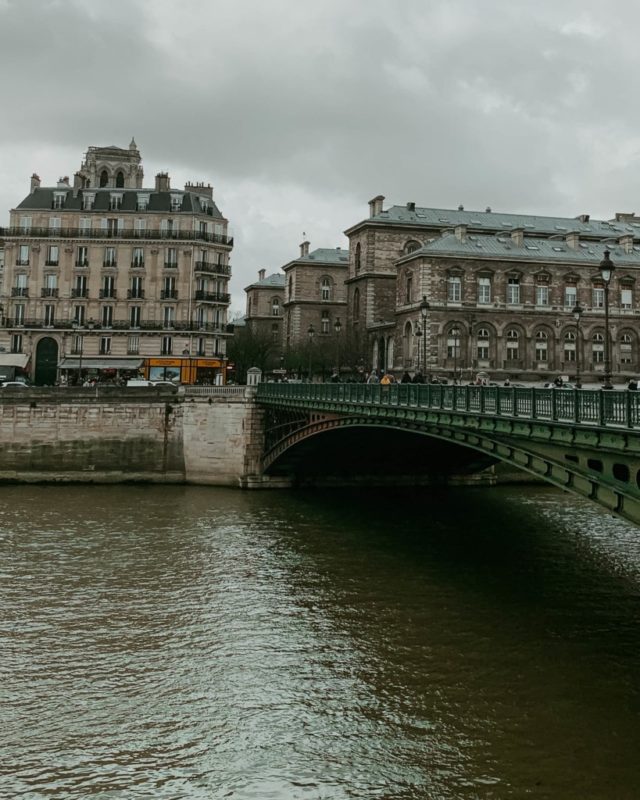 Another site I recommend is Showaround. On my flight to Mauritius, I selected a flight with a 24-hour layover in Paris. I had one amazing tour exploring Le Maris, which is a very Parisian neighborhood that not so many tourists know about.
My guide took me on a tour and we walked through the city for about 4 -hours. We chatted about the history, munched on macaroons and croissants, and sipped on multiple cappuccinos along the way.
After the tour, I had time to venture off and explore the Eiffel Tower, Louver, and Arc de Trump on my own.
They have a variety of tours just like Triple. Price ranges from free, yes free, and can go up to 60 USD.
Tips For Long Flights Quick Recap
Get one awesome travel rewards credit card that has perks like TSA pre-check and enjoying fancy airport lounges.
Book a flight with a long layover so you can stretch your legs in between flights.
Select your seat immediately after booking your flight. Get a seat you know you wouldn't mind bunkering down for a while.
Get your body moving and exercise the day before your flight.
Pack the right carry-on essentials to have with you on the plane.
Eat a light meal before boarding the plane at home or the airport.
Make sure to keep yourself hydrated and drink lots of water the day before, the day of, and on the flight!
Dress in comfy clothes for your flight and wear shoes that you can take on and off easily.
Set your watch to the time of your destination zone. Mentally prepare yourself to adjust to the time.
Pack plenty of entertainment that will keep you busy throughout your flight.
Get plenty of rest so you are ready when you get off the plane for your trip.
How To Survive Long Flights In Economy: Conclusion
I hope you found my tips for flying internationally in economy helpful. Are there any recommendations that you have on how to survive long flights in economy? Comment below for your suggestions!
Related Posts:
Before you go, I have some additional reads on how to survive those long flights in economy to make them painless as possible.
Like this post about how to survive long flights in economy? Share it with others or pin it for later.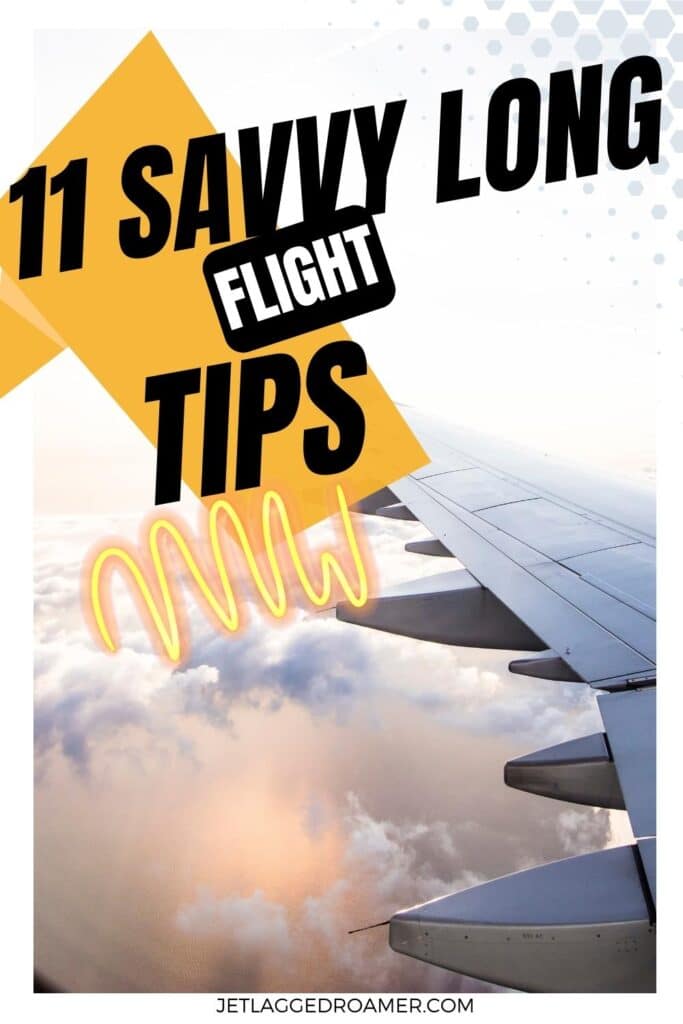 Jetlagged Roamer is a participant in the Amazon Services LLC Associates Program, an affiliate advertising program designed to provide a means for sites to earn advertising fees by advertising and linking to amazon.com, amazon.co.uk, amazon.ca. Amazon and the Amazon logo are trademarks of Amazon.com, Inc. or its affiliates.