Besides talking about traveling, nothing excites me more than anything and everything about beauty. When it comes to traveling I like to keep what's in my travel makeup bag to a bare minimum. All the products I mention here, I personally use daily and are some of the best travel makeup essentials to pack.
This article may contain affiliate / compensated links. For full information, please see our disclosure here.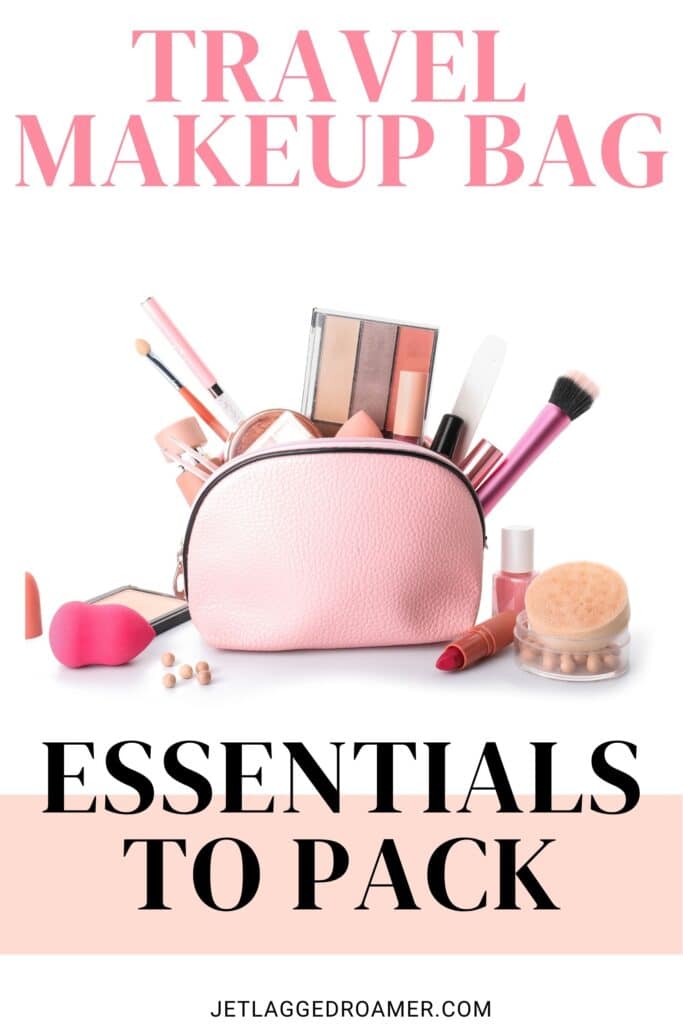 Enjoy beauty travel tips? Check out these other posts for your travels:
What To Pack In Your Travel Makeup Bag
Unfortunately, you can't just throw anything in your carry-on. There are some rules to follow! Before we go into what's in my travel makeup bag, let's discuss the rules.
What are the Rules For Packing Makeup
You have to follow some rules if you're only flying only with a carry-on. Honestly, I'm envious of those who can pack everything they need for their entire trip in one bag.
But, if you are one of those travelers all gels, liquids, creams, and aerosols have to be TSA approved. If they don't meet the requirements you not you will have the option to check them or toss them in the trash.
Liquid items must fit into small travel containers that don't exceed more than 100ml (3.4 ounces) and fit into a 1- quart-sized resealable bag. Most full-sized makeup products contain more than what is TSA-approved, so it's important to follow these guidelines.
However, if you have some favorite makeup essentials already, check if they have a travel size. What is leftover you can keep handy for your next trip.   If you travel often, don't toss the container when it's done. Save it so you can keep reusing it for all your trips.
Another option is buying reusable TSA-approved travel bottles and small travel containers. They are great for putting in a little product without having to spend extra money on travel-sized products. You can purchase one online here. I have a few myself.
What's In My Travel Makeup Bag For The Face
Now we got the rules down let's get to the details about what is in my cosmetic bag and all the makeup to pack for traveling. 
Primer
Milk Hydro Grip Primer has always been my go-to for priming my face before applying my foundation. It works so well it won Allure's Best of Beauty Award in 2019.
What I love the most about this product is it works well in all environments! My skin stays super hydrated and my foundation looks flawless all day.
Foundation
BareMinerals Complexion Rescue tinted moisturizer has a very light texture and doesn't feel heavy on my face. It works really well for light coverage since vacationing I like to avoid wearing a lot of makeup anyways and stay consistent with my skincare routine. This tinted moisturizer already has SPF 30 which is one less thing to pack for your trip.
This container is a plastic tube and not glass, which makes it easy and breezy for packing. Avoid packing the full-sized foundation bottles that are in glass containers with you checked or in your carry-on. Glass could possibly break during transit and you'll have a huge mess in your makeup bag.
Concealer 
We all party too hard, indulge in too many cocktails, and/or get fewer zzz's during vacation. Easily wipe away those dark circles under your eyes with Yves Saint Laurent Touche Éclat High Cover Radiant Concealer.
This concealer is the HOLY GRAIL of all under-eye problems and will keep you looking fresh for all the pictures you will be taking. This thin tube is very easy to slip into my travel makeup bag too!
Powder
One incredible translucent setting powder is Veil by Hourglass. It's a super fine powder that is great for setting foundation all day. You may need a few pats from blotting paper if you have an oily T-zone like me.
Bronzer 
My favorite bronzer is from Tarte's Park Avenue Princess Chisel Palette. It comes with both bronzing and highlighting powders. However, I prefer easy travel makeup and tend to steer clear of taking large palettes. Heaven forbid it breaks during transit or on vacation!
So, my go-to bronzer for travel is from the  Sephora Collection. It is travel size – so it's super easy to pack and does the trick of giving me a glow!
Blush
I love blush and have too many colors to choose from in my makeup bag for home.
My go-to's have always been from the Sephora Collection, they're cheap and I tend to splurge on other makeup essentials. However, one of my travel makeup hacks is to forget the blush and use lipstick. It is one less thing to worry about packing in my travel makeup bag.
Highlighter
I am a sucker for highlighters because I am obsessed with glowing. In my makeup bag, you can find quite a few to choose from. For vacation, I always pack one though.
I'm obsessed with glowing and have too many highlighters for home, so when traveling I choose one. My favorites are Fenty Beauty the Mean Money and Hustle Baby palette, Artist Couture Haute Damn, and Pat McGrath Labs Sublime Skin Highlighting Trio. I always go with the smallest palette for light packing. 
Setting Spray
I cannot live without MAC's Prep+ Prime Fix + sprays. This is the HOLY GRAIL for setting makeup. Fix + setting spray is perfect for traveling since you're pretty much out of the room all day and keeps your face in place! 
RELATED POSTS: How To Stay Looking Good While Traveling & The 6 Best Exfoliating Face Masks For Glowing Skin
Travel Makeup Essentials For The Eyes
Eye Primer
MAC's paint pot does wonders in keeping eyeshadow intact and from creasing. The container is glass, but it is so small and really hard, so it shouldn't break in your travel makeup bag.
Eyeshadow
As much as I love eyeshadows, I really do, but I leave them at home. To get some color on your lids, try using bronzer instead. You can get a darker shade for nights out by slightly moistening the eyeshadow brush, then adding a dab of bronzer. Voila! 
Brows
Benefit is an awesome brand for all your brow needs. Benefit's Browvo! Conditioning Primer keeps my brows in place for shaping with myPrecisely Brow Pencil. Both are small and easy to throw in your travel makeup bag. 
Lightly brushing your brows after shaping with Femme Couture Arch Brow Grooming Wax will keep all those eyebrow hairs in place.
Eyebrow Highlighter
The High Brow by Benefit works wonders in highlighting my brow bone and adding some brightness. It's great to make your eyes pop and look awake and not jet-lagged. Throw that one in your travel makeup bag too! 
Mascara
Okay, here is where I get a little bit stingy with packing. I want wispy lashes and for them to pop. These two little tubes Tarte's Opening Act Lash Primer and Kat Von D Go Big Or Go Home Volumizing Mascara helps give me the appearance of falsies.
What's In My Travel Makeup Bag For The Lips
Lip Primer
It is really important to keep your skin hydrated while traveling and your lips as well.  Adding Laneige Lip Sleeping Mask to my daily skincare routine my lips have stayed moist and free from chapping.
This lip primer is a miracle worker for succulent lips. I don't leave home without it, ever! 
Lipstick
Going to confess my lipstick obsession, they have a bag of their own from my caboodle.  I don't pack them all obviously, but I make sure to bring at least two either nude, coral, or red.
My favorite nude is Kiss from Anastasia and for a pop of color, Kat Von D's Malice delivers. Keep it simple and stick with two completely different colors. 
What's In My Travel Makeup Bag For Tools
 Beauty Blender
The Beauty Blender is my all-time favorite to pack in my cosmetic bag when traveling. It pretty much does the job for most of the tools that you can leave at home. 
Eyelash Curler
My favorite curler is from Kevin Aucoin and it is a travel essential in my travel makeup bag so I don't have flat lashes.
Bronzer Brush
Always pack a bronzing brush so you can get precision with your bronzer. My favorite is the Sephora Collection Pro Demi Fan #72 brush, unfortunately, it's not available anymore.
Highlighter
My highlighter brush go-to is from the Sephora Collection Ready To Roll Brush Set. It is very light and thin, and the brush tip isn't so bushy which is perfect for packing. 
Eyeshadow Brushes
For traveling, I take only two eyeshadow brushes. One is to set my primer with powder and if I decide to apply bronzer to my lids.
Sharpener
I always make sure my eyebrow wax and highlighter are sharpened, but you never know if a mishap will occur. The NARS pencil sharper is small and compact and easy to pack in your travel makeup bag.
TRAVEL BAG MAKEUP PACKING LIST
Well, that's what's in my travel makeup bag all the travel makeup essentials to pack for your next trip. Hopefully, these tips and makeup essentials will do you well on your journey. Have any travel makeup bag essentials you pack? Let me know in the comments below.
Checkout out these other beauty and travel posts:
Like this post about what's in my travel makeup bag? Share it with others or pin it for later!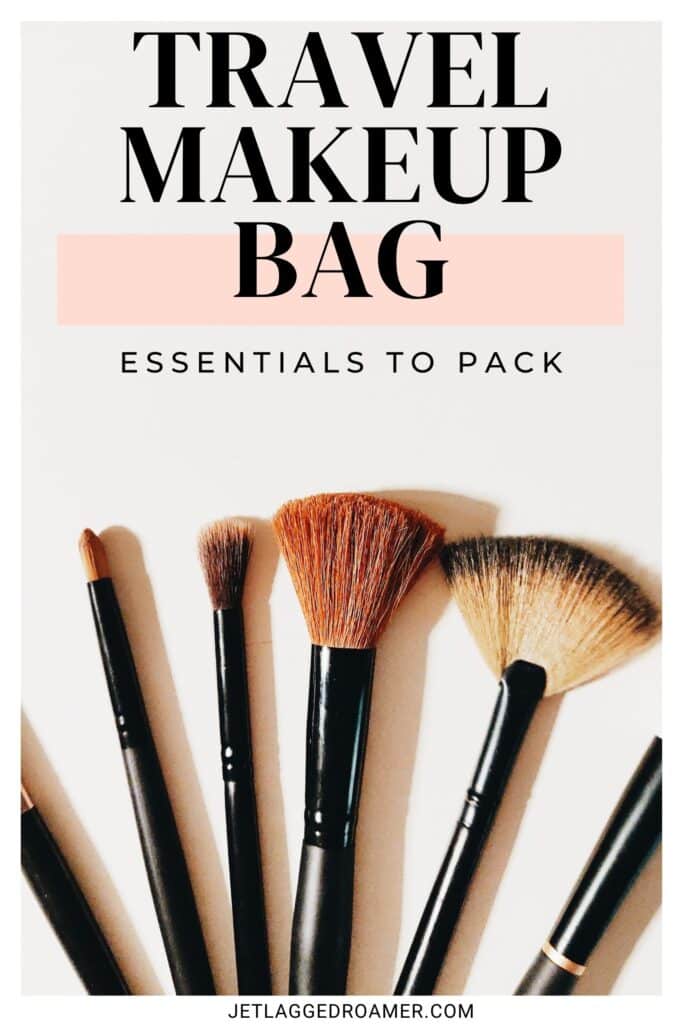 Jetlagged Roamer is a participant in the Amazon Services LLC Associates Program, an affiliate advertising program designed to provide a means for sites to earn advertising fees by advertising and linking to amazon.com, amazon.co.uk, amazon.ca. Amazon and the Amazon logo are trademarks of Amazon.com, Inc. or its affiliates.