If you're headed to St. John's, Newfoundland, you're in for a treat. This stunning Canadian city boasts breathtaking views of the Atlantic Ocean, colorful houses perched on rocky hills, and a lively culture rooted in fishing and history. 
With so much to see and do, deciding how to spend your time can be tough. Luckily, I've compiled a list of 13 things to do in St. John's, Newfoundland that will give you a taste of what this beloved city has to offer. Whether you're looking for outdoor adventures, cultural experiences, or the perfect pint of local beer, St. John's has something for everyone. Get ready to explore this charming city and create unforgettable memories.
Be sure to use these Canada Instagram captions during your visit for your photos!
This article may contain affiliate / compensated links. For full information, please see our disclosure here.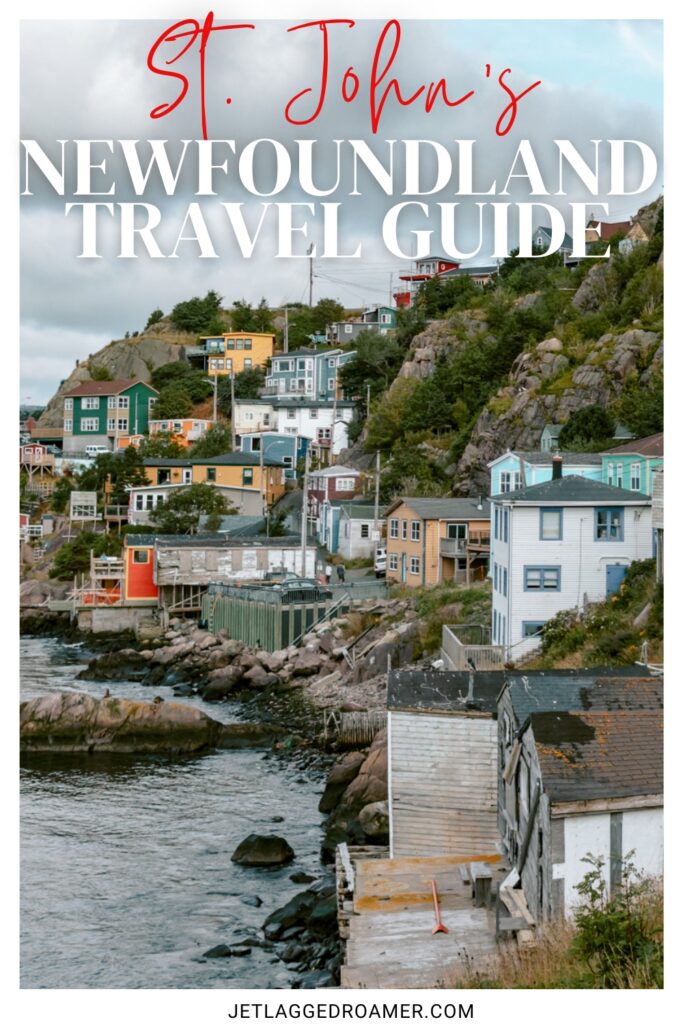 Check out these other North America destinations worth visiting:
Top 13 Things To Do In St. John's, Newfoundland
Hike To Signal Hill National Historic Site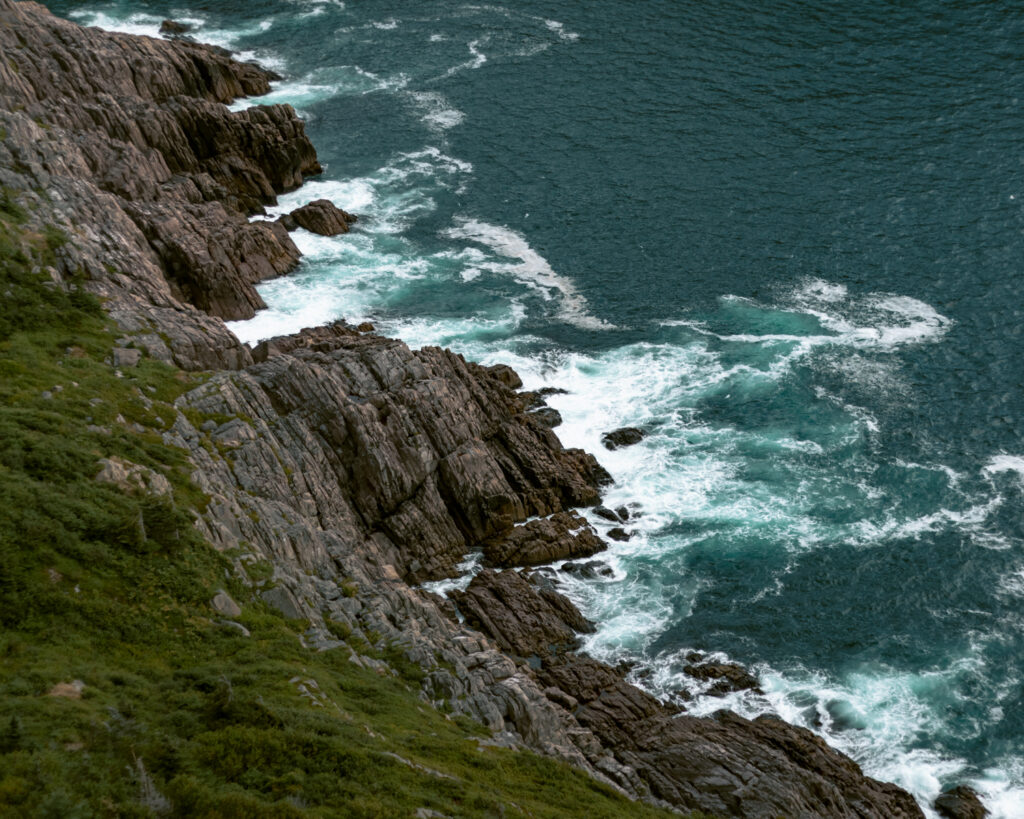 A hike to Signal Hill National Historic Site is one of the top things to do in St. John's, Newfoundland. The site is prominent in the city's history, famously known as where Marconi received the first wireless transatlantic signal in 1901. As you venture up the hill, you'll be greeted with sweeping views of St. John's harbor and the rugged Atlantic coastline, a sight that will take your breath away. 
The walking trail, known as "The North Head Trail," is not for the faint-hearted. Winding around the cliffs of Signal Hill, it offers a moderately strenuous hike that rewards unmatched panoramic views. Along the hike, informational plaques tell the story of the city's military history, and the iconic Cabot Tower at the summit provides a peek into the area's maritime history. This blend of history, adventure, and natural beauty makes the hike to Signal Hill an unforgettable experience.
Get Screeched In In St. John's
When in Newfoundland, getting "Screeched In" is an absolute must and one of the fun things to do in St. John's.. This fun-filled tradition involves a ceremony conducted in pubs across the city, where you'll take a shot of Screech (a type of Jamaican rum), kiss a cold dead codfish, and utter a local phrase, earning you the honorary title of a 'Newfoundlander'. 
This event is more than just a tourist attraction – it's a cherished local tradition that captures the spirit of Newfoundland's culture and hospitality. Visitors are treated as family, and the pleasant atmosphere will give you a memorable experience.  Getting "screeched" makes a unique story to take back home and to truly immerse yourself in the culture of St. John's! Getting 'Screeched In' is an experience and one of the unique things to do in St. John's, Newfoundland.
Hike The East Coast Trail
Embarking on the East Coast Trail is an essential adventure for outdoor enthusiasts visiting St. John's, Newfoundland. This extensive trail network spans over 300 kilometers along the province's scenic coastline, offering various terrains and vistas. The trails meander through dense forests, past rugged cliffs, and along serene beaches, providing hikers with breathtaking views of the North Atlantic Ocean, picturesque bays, and charming lighthouses.
 Along the way, you may encounter abundant wildlife, including seabirds, whales, and icebergs. Each path offers its own unique experience, ranging from strolls to challenging treks. The trail's proximity to St. John's makes it easily accessible for day hikes, while multiple entry and exit points allow you to customize your journey. Whether you're an avid hiker or a casual walker, the East Coast Trail offers a refreshing and invigorating experience, immersing you in Newfoundland's stunning natural beauty.
Enjoy A Walking Tour Of Downtown St. John's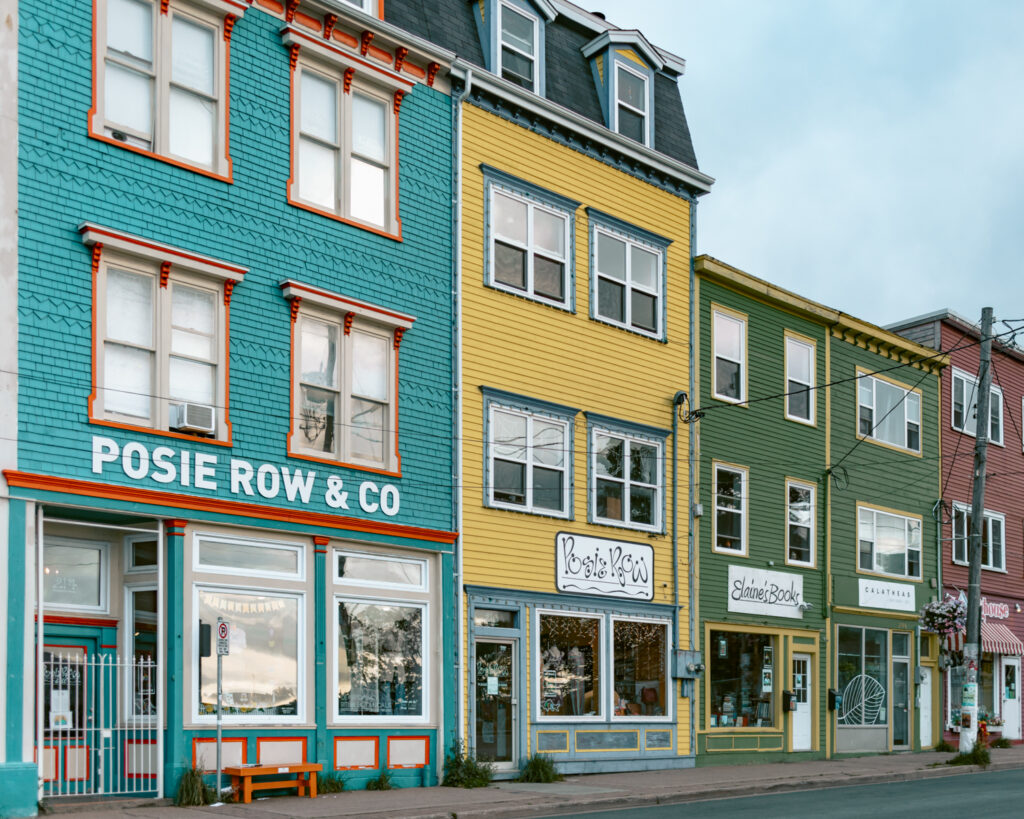 One of the fun activities in St. John's is taking a walking tour of downtown St. John's, a delightful way to get a feel for the city's energy and charm. Known for its brightly colored row houses, affectionately referred to as "Jellybean Row," the downtown area is a vibrant blend of history and modernity. As you stroll through the narrow, winding streets, you'll come across charming local boutiques, art galleries, and culinary hotspots. 
The downtown area is also home to several historic landmarks, including the Basilica of St. John the Baptist and the rooms, Newfoundland and Labrador's largest public cultural space. It's where friendly locals, unique architecture, and rich history come together, providing an immersive experience of everyday life in St. John's. A walking tour of downtown St. John's is not just a sightseeing activity but a journey into the heart and soul of this lively city.
Learn About St. John's On A Historical Walking Tour
St. John's is a city steeped in history, and a historical walking tour is a perfect way to uncover its past. Guided tours will take you through the city's historic landmarks, from the iconic Government House to the Basilica Cathedral of St. John the Baptist, each with stories that date back centuries.
 The tour guides, often locals with a deep love and knowledge of their city, bring history to life with compelling tales of the city's past. You'll learn about the city's beginnings as a fishing outpost, its strategic role in World War II, and its evolution into the flourishing cultural hub it is today. A historical walking tour is not just an educational experience; it's a journey through time that offers a deeper understanding and appreciation of St. John's, Newfoundland.
Take In The Nightlife On George Street
George Street is the heartbeat of St. John's nightlife, renowned for having the most bars and pubs per square foot of any street in North America. The street comes alive at night with live music, hearty laughter, and the cheerful clinking of glasses. From traditional Irish pubs where you can enjoy a pint of Guinness to the rhythmic beats of dance clubs that keep the party going until the early hours, there's something for everyone. 
Many bars host live performances by local musicians, offering a chance to experience Newfoundland's rich musical heritage. Annual events like the George Street Festival and Mardi Gras bring together locals and tourists in a grand celebration of music, food, and culture. Whether you're looking to dance the night away, enjoy local craft beers, or soak in the vibrant atmosphere, George Street offers an unforgettable nightlife experience in St. John's.
See Wildlife On A Boat Tour
A boat tour around the rugged coastline of St. John's offers an excellent opportunity to witness the abundant wildlife in its natural habitat. Newfoundland is famous for its icebergs, and a boat tour allows you to see these majestic structures up close. 
But the show's real stars are the diverse species of whales that migrate through these waters, including humpback, minke, and even massive blue whales. As you cruise along the coastline, you might also spot colonies of puffins nesting on the cliffs, adding a dash of color to the landscape.
 And if you're lucky, you might see bald eagles soaring overhead or seals basking on the rocks. Embarking on a wildlife boat tour in St. John's is a thrilling experience that combines the beauty of nature with the excitement of wildlife spotting, offering a unique perspective on the rich biodiversity of Newfoundland.
Experience St. John's Through Food
A visit to St. John's, Newfoundland, is complete with indulging in the local cuisine, particularly cod, which is as rich in flavor as it is in history. The city's culinary scene uniquely blends traditional Newfoundland dishes and contemporary gastronomy. 
The star of this culinary scene is undoubtedly the Atlantic cod. This fish has played a central role in Newfoundland's history and culture, and this heritage is reflected in the many ways it's prepared in St. John's. From the traditional fish and brewis – salted cod served with hard bread, scrunchions (fried pork fat), and a hearty helping of molasses, to the modern cod tacos you'll find in trendy downtown eateries.
The city's restaurants, pubs, and cafes take pride in serving fresh, locally sourced seafood, offering a farm-to-table experience. Cod fishing tours also allow visitors to catch their dinner, providing an authentic Newfoundlander experience. Sampling the local cuisine is an essential part of the cultural journey in St. John's, turning meals into memorable experiences that offer a taste of the city's history, its connection to the sea, and its vibrant present.
Visit The Johnson GEO Centre
The Johnson GEO Centre is an educational and entertaining attraction that offers a fascinating insight into the Earth's geological history and the unique geology of this province. 
Housed in an impressive glass and steel structure built into the ancient rock of Signal Hill, the center features interactive exhibits that take you on a journey through time, from the formation of our planet to the present day. You'll learn about the forces that shaped the Earth, the evolution of life, and the geology of Newfoundland, including its rich reserves of oil and natural gas. 
The center also boasts a state-of-the-art planetarium where visitors can observe the stars and learn about our universe. Whether you're a science enthusiast or just curious about our planet's history, visiting the Johnson GEO Centre is one of the top things to do in St. John's, Newfoundland.
See The Rooms
The Rooms, considered Newfoundland and Labrador's largest public cultural space, is a must-visit destination in St. John's. This architectural masterpiece houses a museum, art gallery, and provincial archives under one roof. Visitors have a stunning view of the city and harbor from its top floor. The museum section showcases the region's archaeological, historical, and natural artifacts, offering an in-depth look into the province's past. 
The art gallery illuminates the stories of Newfoundland and Labrador through visual arts, featuring works by local artists and hosting temporary exhibitions. Meanwhile, the archives provide a treasure trove of historical documents and records, further enriching visitors' understanding of the province's history. A trip to The Rooms offers an enriching and enlightening cultural experience, providing insights into the region's rich history, vibrant culture, and artistic talent.
Explore Quidi Vidi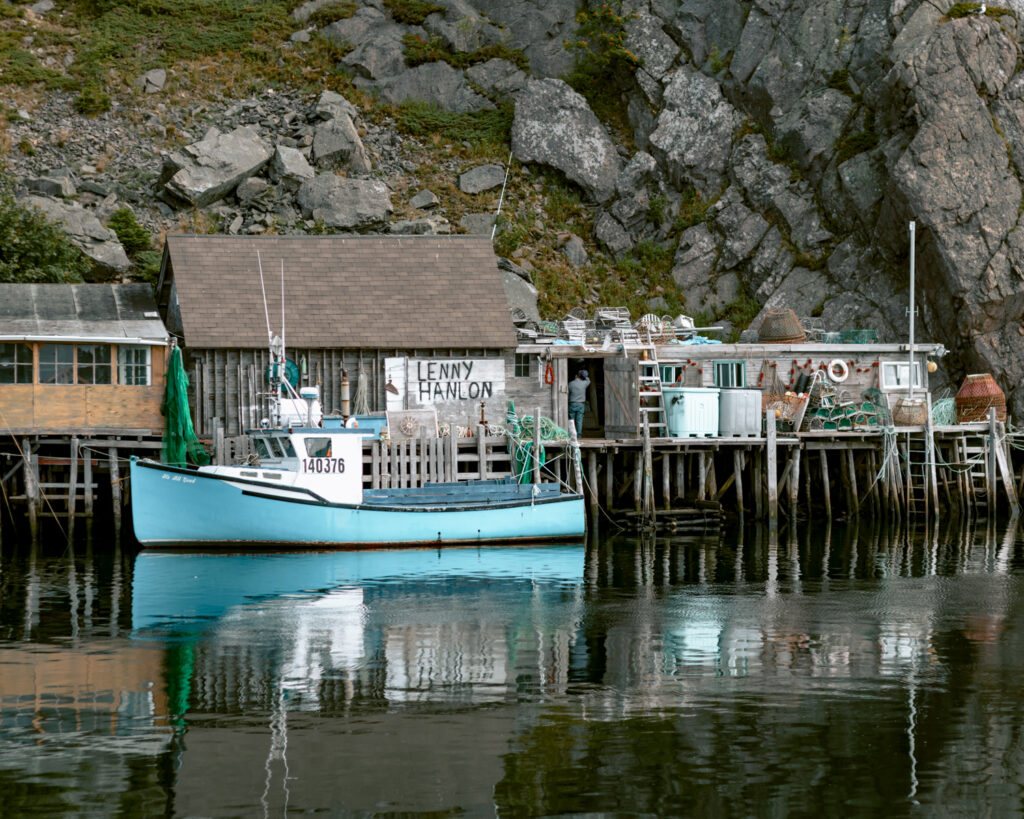 Quidi Vidi, often referred to as "The Gut", is a charming and picturesque fishing village within the city limits of St. John's. Its idyllic setting, with brightly colored houses, a tranquil harbor, and hilly landscapes, offers a respite from the city's bustling pace. 
The village is also known for the Quidi Vidi Brewery, which produces a range of craft beers using pure iceberg water – a unique Newfoundland ingredient. A brewery tour lets you taste these distinctive beers and learn about their brewing process. 
The village is also home to the Plantation, a hub for local artisans where you can discover a variety of handmade crafts and products. A hike to the nearby Sugarloaf Path of the East Coast Trail rewards you with stunning views of the village and the North Atlantic Ocean. Quidi Vidi perfectly encapsulates Newfoundland's beauty, charm, and rich heritage, making it a must-visit spot in St. John's.
Visit Cape Spear Lighthouse National Historic Site
The Cape Spear Lighthouse, located on the Easternmost tip of North America, is another must-visit landmark in St. John's, Newfoundland. As a National Historic Site, visitors can step back in time and learn about the life of 19th-century lighthouse keepers and their families. 
The original lighthouse was built in 1836, and you can tour the restored keeper's residence to experience how they lived. For a modern twist, the current lighthouse was built in the 1950s, still operational and maintained by the Canadian Coast Guard.
The panoramic views of the Atlantic Ocean are breathtaking, and on a clear day, you might even spot icebergs, whales, or seabirds. The surrounding landscape of Cape Spear is just as captivating, with walking trails that lead you through the region's unique flora and fauna. Whether you're a history buff, a nature lover, or simply seeking a scenic spot, the Cape Spear Lighthouse National Historic Site offers an enriching and unforgettable experience.
See The Harbor And Water Street
St. John's, Newfoundland, is renowned for its stunning harbor and historic Water Street. Overlooking the beautiful Atlantic Ocean, the harbor showcases a mesmerizing interplay of color and light, offering spectacular panoramic views. Ferry rides allow you to witness this spectacle from close quarters, with opportunities to spot marine wildlife. 
Adjacent to the harbor is Water Street, the oldest street in North America, known for its vibrant mix of historic architecture and trendy venues. Here, you'll find many specialty shops, art galleries, bars, and restaurants housed in charming, centuries-old buildings that narrate tales of the city's past. Walking down Water Street provides a perfect blend of history, culture, shopping, and gastronomy, making it an essential part of your St. John's experience.
Where To Stay In St. John's, Newfoundland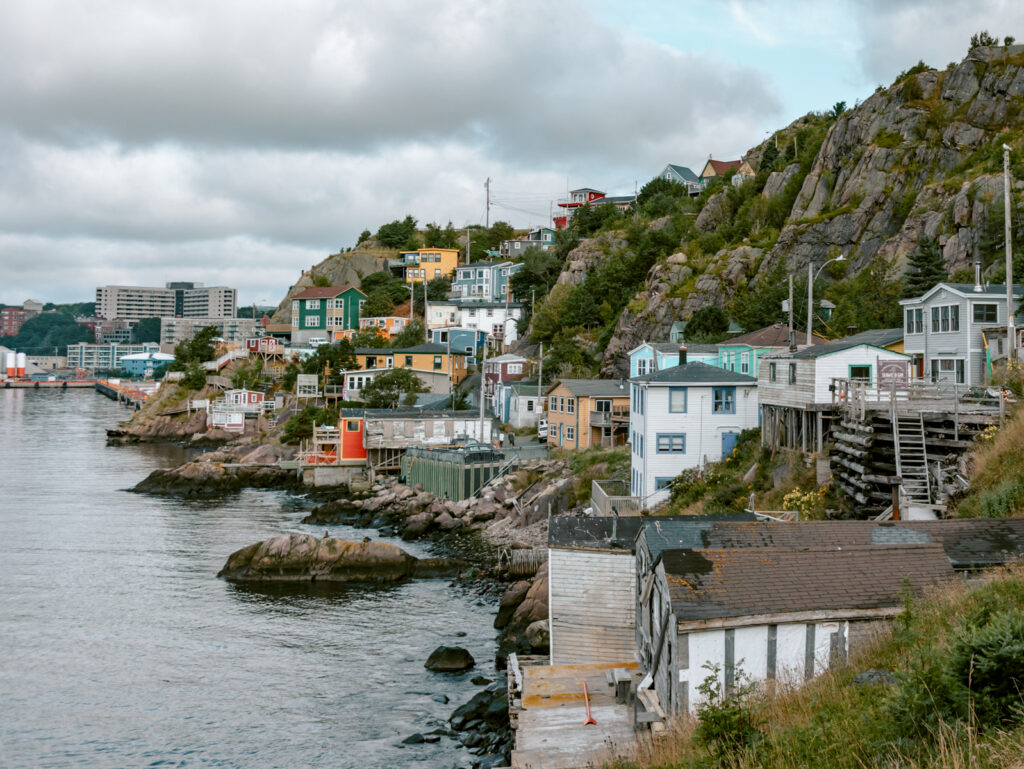 Sheraton Hotel Newfoundland
Positioned at 115 Cavendish Square, the Sheraton Hotel Newfoundland is brimming with history, located on the site where the old Fort William used to be, right at the base of Signal Hill. It flawlessly combines elegance with the vibrant spirit of one of North America's oldest cities. The hotel is conveniently located downtown and within easy reach of St. John's airport. It offers numerous amenities such as free Wi-Fi, exquisite dining options, a 24-hour fitness center, and an indoor pool.
DoubleTree by Hilton St. John's Harbourview
The DoubleTree by Hilton is located at 2 Hill O' Chips, offers stunning views of St. John's Harbour. It is a mere 15-minute stroll to the city's heart, George Street, and the convention center. The hotel houses Little Sparo, a restaurant that serves delectable Italian cuisine complemented by ocean views. Other amenities include free Wi-Fi, a fitness center, and the warm DoubleTree Chocolate Chip Cookie.
Cozy Pet-Friendly Home
Located at 104 Seaborn St, Cozy Pet-Friendly Home guesthouse prides itself on providing a comfortable and relaxing experience, living up to its name. It offers various room amenities, including a refrigerator, a workspace, and free Wi-Fi. Outdoor furniture is available for a leisurely time outdoors. If you're driving, you have access to free parking. It is within walking distance of the MUN Botanical Garden, making it a great choice for nature enthusiasts. The guesthouse is also conveniently located near popular seafood restaurants and local landmarks.
I use booking.com to book all my hotel accomodations when I travel. Explore more of the hotels in St. John's, Newfoundland that suits your budget.
Where To Eat In St. John's
Quidi Vidi Brewery
Situated in the historic Quidi Vidi Village, this brewery is a must-visit spot for beer enthusiasts. Here, you can sample various craft beers brewed on-site, each carrying Newfoundland's distinctive taste and character. Their Iceberg Beer is a local favorite made with 20,000-year-old iceberg water. The brewery offers guided tours that take you through their brewing process and the history of craft beer in Newfoundland. The on-site taproom also hosts live music and a rotating selection of food trucks.
Duke of Duckworth
Nestled in the heart of downtown St. John's, the Duke of Duckworth is a traditional English pub with a vibrant atmosphere and hearty food. Their menu also features a variety of British and Newfoundland classics alongside a comprehensive selection of beers and ales. However, this is where you can indulge yourself in the best fish and chips in St. John's. It was so delicious I had two servings!
Mallard Cottage
Located in the scenic surroundings of Quidi Vidi Village, Mallard Cottage showcases the rich culinary tradition of Newfoundland and Labrador. The restaurant is housed in a historic cottage, one of the oldest wooden buildings in North America, providing a charming, rustic setting for your meal. The menu changes daily, reflecting seasonal availability and featuring locally sourced produce, wild game, and seafood. Mallard Cottage offers a unique dining experience combining heritage, hospitality, and gourmet cuisine. Whether you're in for breakfast, lunch, or dinner, visiting Mallard Cottage is essential to your St. John's itinerary.
Getting To St. John's, Newfoundland
Getting to St. John's, Newfoundland, can be an adventure, allowing you to witness the breathtaking landscapes of Canada's easternmost province. Here are the most common ways to reach this vibrant city:
How To Get To St. John's By Car
Getting to St. John's by car can be enjoyable if you're up for a road trip. The city is well-connected to other parts of Newfoundland via the Trans-Canada Highway (Highway 1), which stretches across the island. The drive can be long, depending on where you're coming from. For instance, the journey can take approximately nine hours from Port aux Basques. Remember that driving conditions in Newfoundland can be challenging, especially in winter, due to weather changes and wildlife on the roads. Plan your route and check local weather and road conditions.
How To Get To St. John's By Plane
For those who prefer a quicker journey, flying is the most efficient way to reach St. John's. The city is served by St. John's International Airport (YYT), just 10 minutes drive from the city center. The airport offers regular direct flights from major cities in Canada, such as Toronto, Montreal, and Halifax. Several airlines operate here, including Air Canada, WestJet, and Porter Airlines. International travelers can also conveniently connect through these cities. Remember to check with airlines for baggage rules and flight schedules. Taxis, rental cars, and public transit are available from the airport to reach your destination in the city.
Best Time To Visit Newfoundland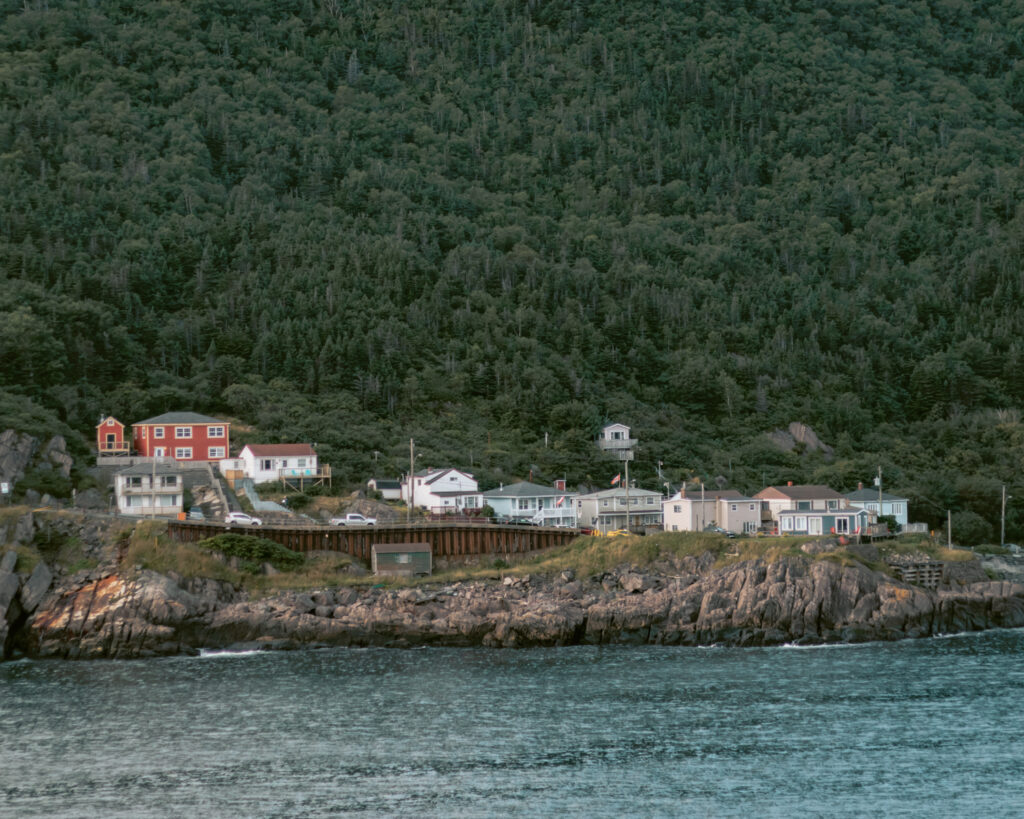 The best time to visit Newfoundland depends on what you want to see and do. If you're looking forward to basking in the summer sun's warmth, July and August are the warmest months, with temperatures averaging around 20°C (68°F). This is also when you can witness numerous festivals, including the Royal St. John's Regatta and the Newfoundland and Labrador Folk Festival. However, if iceberg viewing tops your list, the ideal time would be late spring or early summer, especially from April to June. A visit between May and September would be rewarding for those fond of wildlife, particularly whale watching and bird spotting.
How Many Days Do You Need In St. John's, Newfoundland?
The number of days you should spend in St. John's, Newfoundland, depends on your interest level and what you wish to explore. However, we recommend spending a minimum of 3 to 4 days to soak in the city's charm, explore its historic sites, savor the local cuisine, and indulge in the natural beauty surrounding it.
Things To Do In St. John's, Newfoundland Conclusion
St. John's, the vibrant capital of Newfoundland and Labrador, is a city that combines rich history with modern charm. With a unique blend of natural beauty, culinary delights, and cultural attractions, the city offers many experiences catering to various interests. This guide will explore the myriad things to do in St. John's, Newfoundland, providing insights into the city's top attractions, gastronomic hotspots, and travel tips to ensure your visit is as enjoyable and memorable as possible. 
Whether you're a history buff, an outdoor enthusiast, a foodie, or simply looking for a relaxing getaway, St. John's has something for everyone. So pack your bags and get ready to discover the beauty of this charming city on Canada's east coast!
Enjoy visiting North American destinations? Check out these other locations:
Like this list of things to do in St. John's, Newfoundland? Share it with others or pin it for later!