Bimini Islands is a blissful getaway surrounded by clear turquoise waters and soft sandy beaches. If you're planning your next vacation to the Bahamas, this is the Bimini travel guide you need.
After reading this Bimini travel guide, you will know how to get to the island, get around, where to stay, as well as things to do in Bimini.
Shall we begin with the ultimate getaway to Bimini Islands?  This is the ultimate Bimini travel guide for a flawless, incredible, and fun trip to Bimini Islands. Use these Bahamas captions for your trip!
This article may contain affiliate / compensated links. For full information, please see our disclosure here.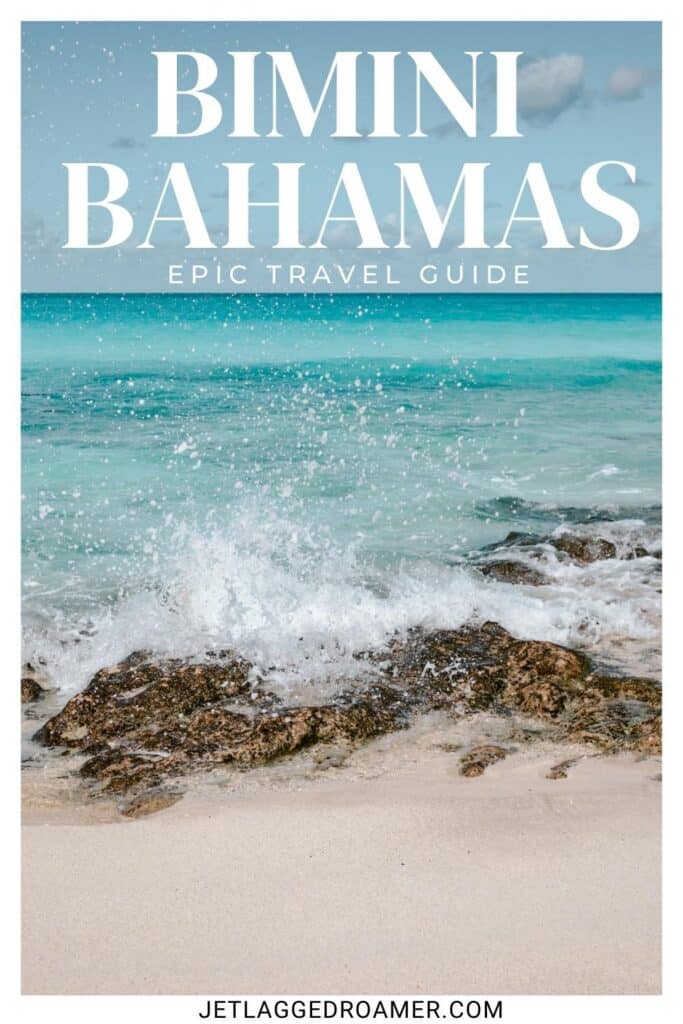 Related posts: 
About Bimini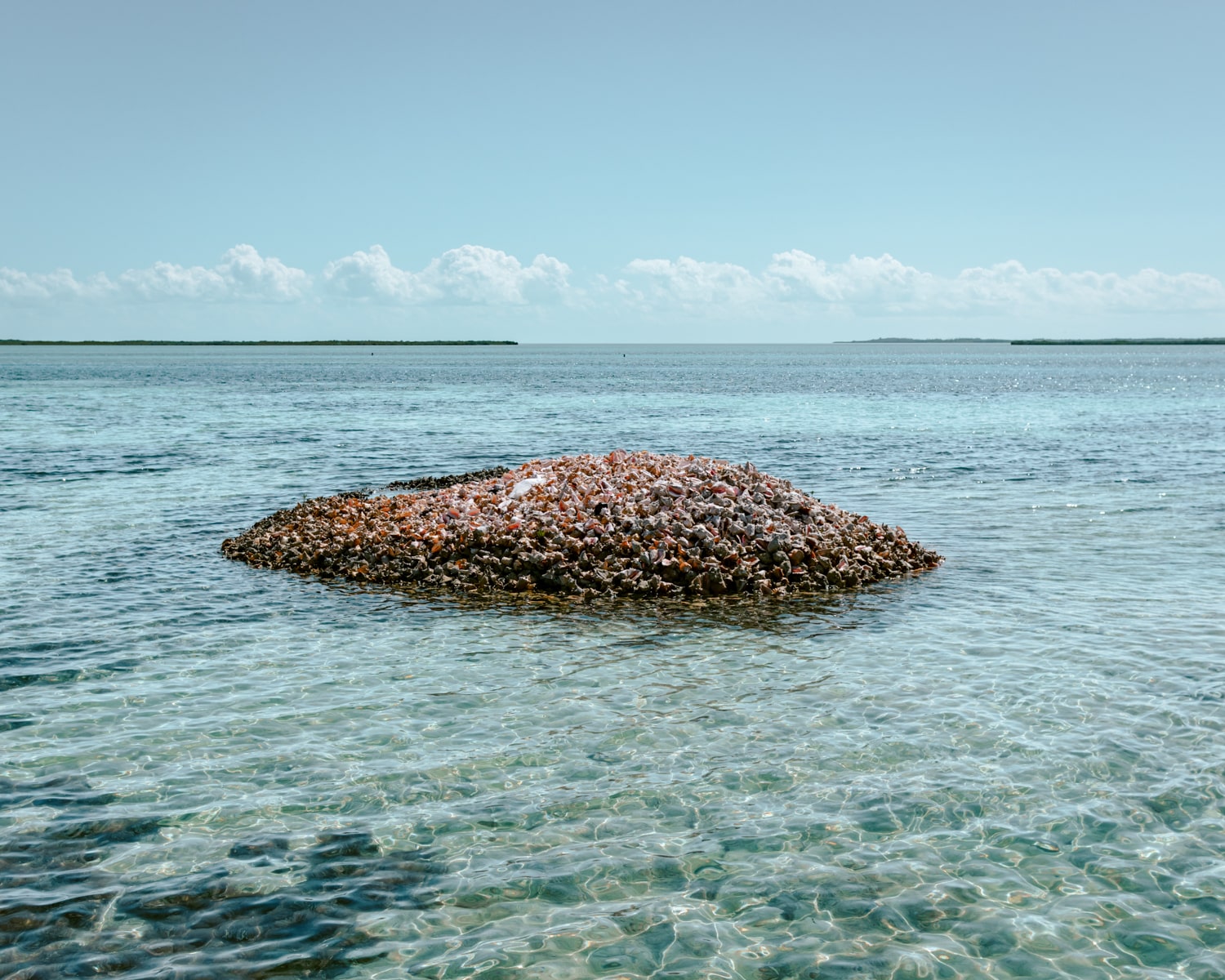 Before we get started with this Bimini travel guide, let's discuss some important things to know before you visit.
Language
Bahamian English is the native language, so you won't have trouble communicating during your visit.
Currency
The Bahamian dollar is the national currency, which has the exact same value as the American dollar. 
Some retailers and restaurants do accept debit and credit cards. You will mostly stumble upon places that don't. Furthermore, I highly advise carrying a good amount of cash to avoid any inconvenience. 
There is an ATM on the North island, however, it is not very reliable. 
When To Visit
The best time to visit Bimini, Bahamas is from mid-December to mid-April, during the peak season.
Plug Sockets
Power plugs and sockets in Bimini, Bahamas are type A and B. Voltage is 120v. If you have American plugs you will not need an adapter. 
Entry Requirements
When visiting Bimini, Bahamas, you will need your passport or a voter's registration card with a government-issued picture ID or an original birth certificate. Also, depending on where you are from, you may need a visa for entry. 
How To Get To Bimini Islands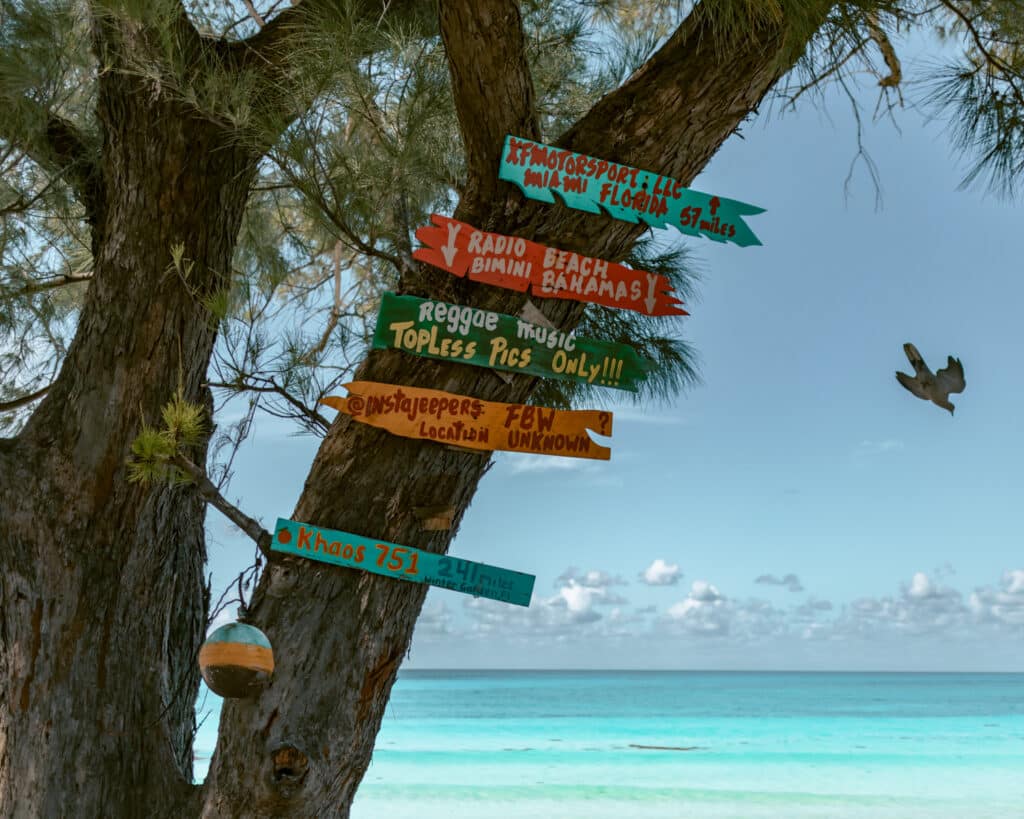 Getting to Bimini, Bahamas is really easy depending on where you are coming from. Below are the 3 best options to arrive quickly so you can be lounging on the beach in no time. 
Three ways to get to Bimini Islands:
Commercial airline: There are currently three airways that fly to Bimini, Bahamas directly and they are Silver Airways, Elite Airways, and Bahamas Air. More than likely if you arrive outside of Florida you will have a layover in Miami or Fort Lauderdale. 
Getting Around Bimini Islands
There are several ways to get around the island. This Bimini travel guide includes the best options for getting around Bimini, Bahamas.
Shuttle: Every day, there's a ferry boat service available that will take you from the north part of the island to the south and vice versa.
Bike:  If you want to exercise and enjoy the beautiful landscapes, you should definitely rent a bike to move around Bimini. There are plenty of locations around the island to rent from. 
Taxi: Bare in mind that Bimini, Bahamas has a limited number of cars due to the small size of the island, therefore the taxis available might be scarce. You can call a cab by telephone, spot one on the street, or call on the radio.
Golf cart: Bimini's main means of transportation are golf carts, at least in the northern part of the island. They tend to be available first thing in the morning before selling out. Prices range from $70 to $90 per day.
Prefer guided tours? Explore the North and South Bimini and sample some island treats.
Places To Stay In Bimini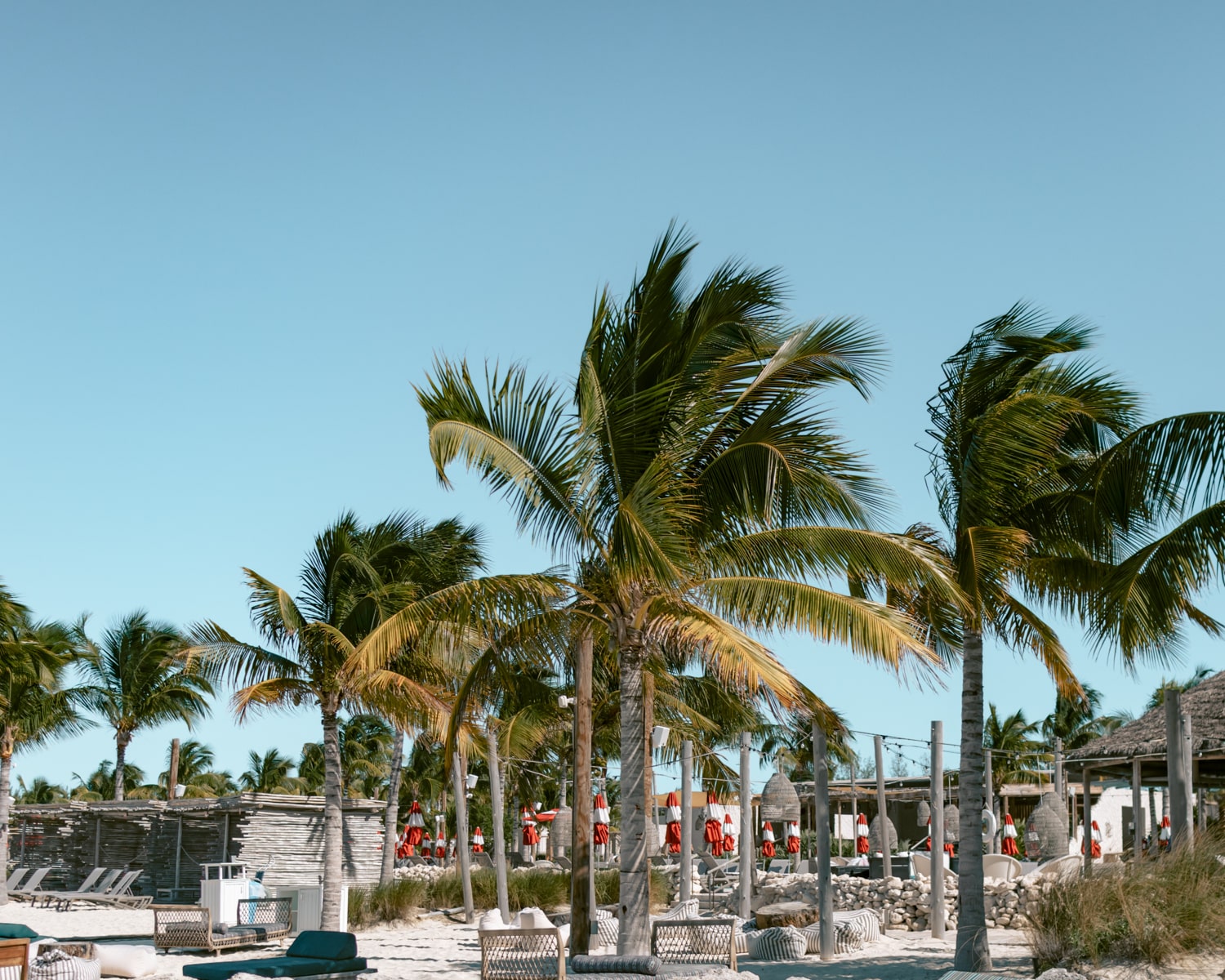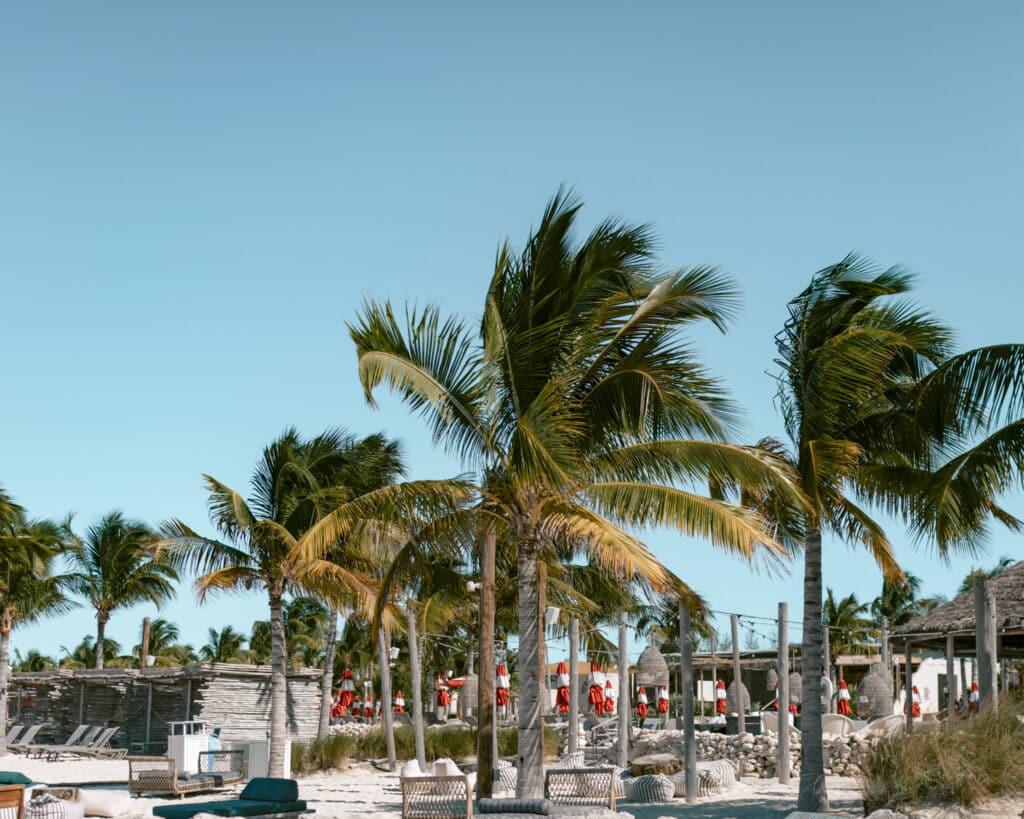 I've listed the best places to stay on the island in this Bimini travel guide possible. 
Resorts World Bimini
This pet-friendly hotel offers king and queen-sized beds depending on which room you choose. It has spacious contemporary bathrooms, floor-to-ceiling windows, and balconies to enjoy the amazing view.
It is located at Hilton At Resorts World Bimini North Bimini, Bahamas.
Bimini Big Game Club Resort And Marina
Bimini Big Game Club Resort offers comfortable rooms with flat TVs, ironing boards, hair dryers, alarm clocks, and basically everything you need for a perfect stay.
Many rooms are available so you can choose the one that suits your family and budget.
It is located at North Bimini, Alice Town, Bahamas.
Where To Eat In Bimini Islands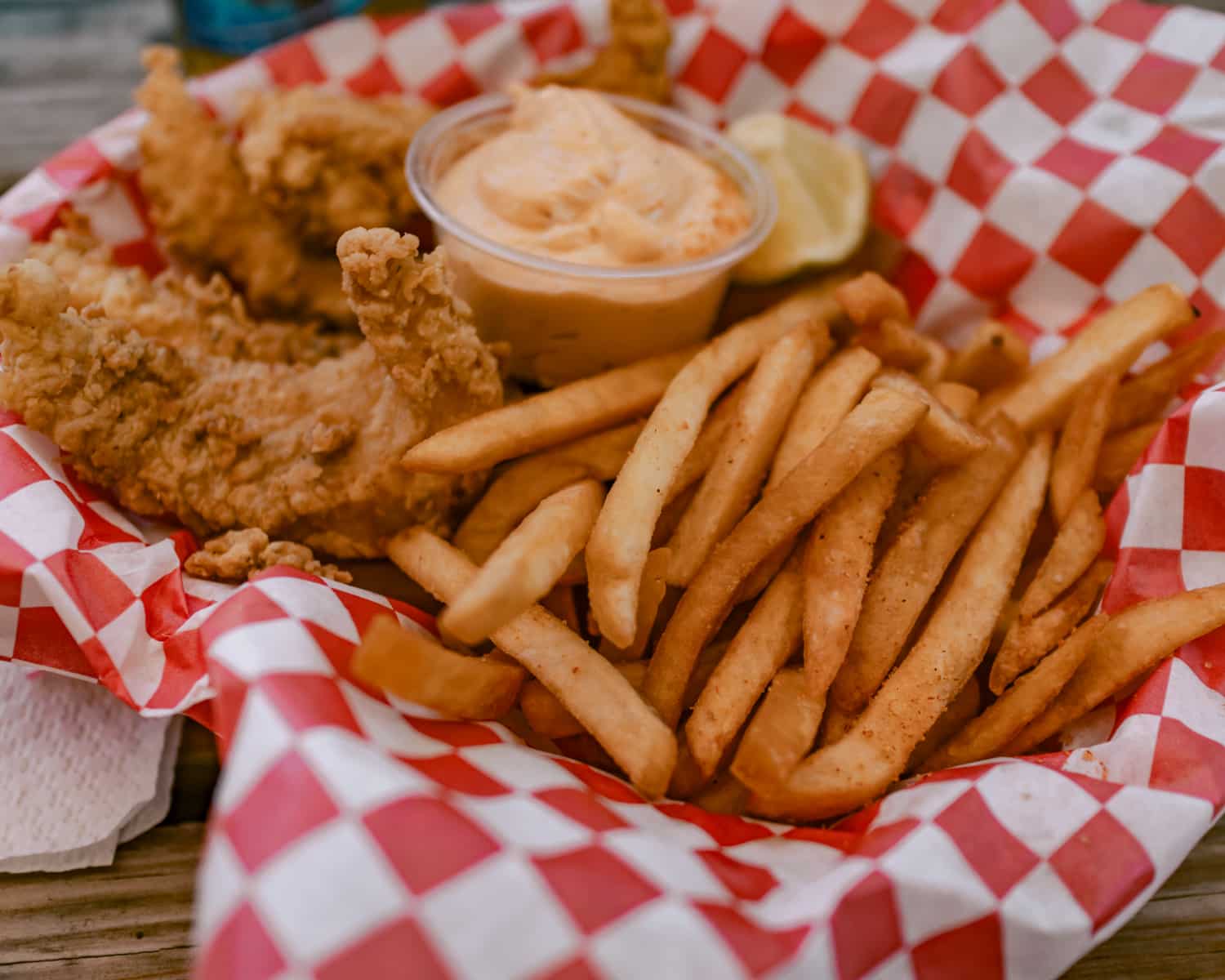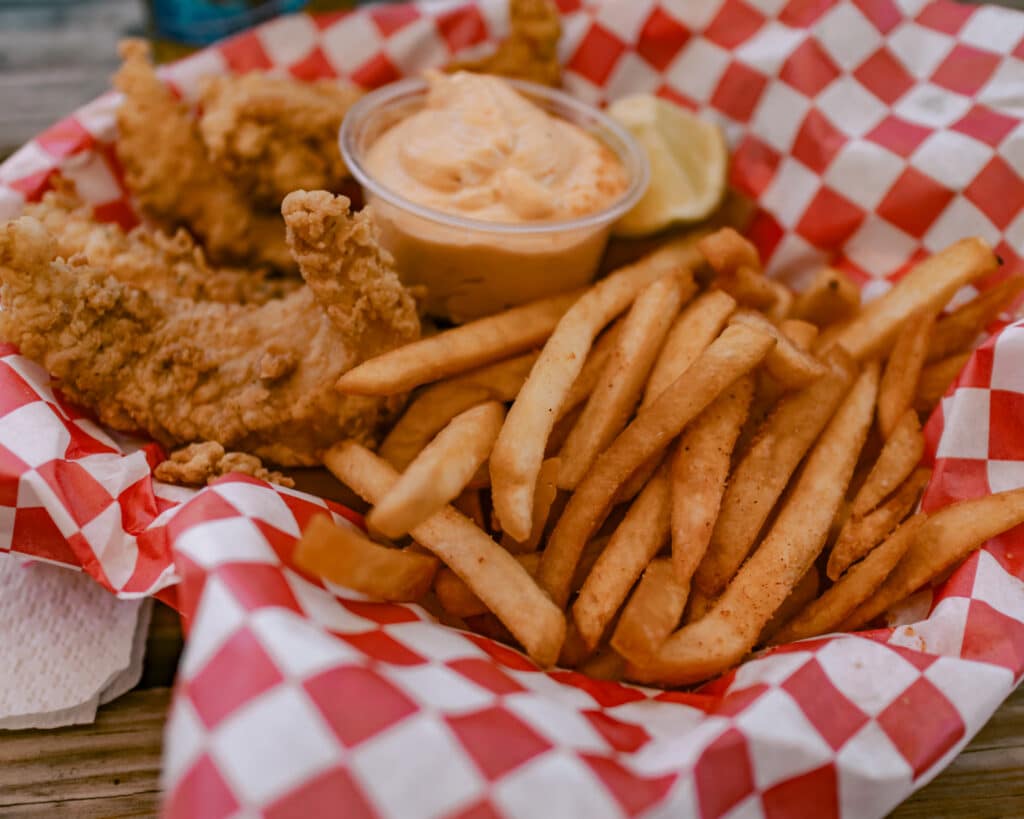 Of course, this Bimini travel guide wouldn't be complete without discussing food! These are the must-visit places to eat in Bimini, Bahamas.
Stuart's Conch Stand
Located in Bailey Town, Bahamas you can find Stuart's Conch Stand. It offers the best conch on the island and is recommended by many locals.  For conch lovers, this is a must when visiting Bimini, Bahamas. 
Edith's Pizza
Edith's pizza is not your typical pizza.  It has a wonderful Bimini bread crust with toppings such as cracked conch or lobster! 
Scants Jerk
Scants Jerk is another excellent place to visit for smoked meats and lobster. They also have tasty jerk chicken. 
Smitty's
Smitty's is a unique place to eat where you can admire the beautiful landscape. They have delicious fried fish served with a dipping sauce to die for! 
Big Mike's
Big Mikes is known to have the world's best conch salad. While you dine you can enjoy the incredible view of the ocean. 
Charlie's Bakery
Get to Bailey Town, Bahamas, to grab a loaf of Bimini bread. They have other unique desserts and the bakery is located inside a home. 
Download this map of these Bimini restaurants on your Google maps. Keep them handy on you!
What To Do In Bimini Islands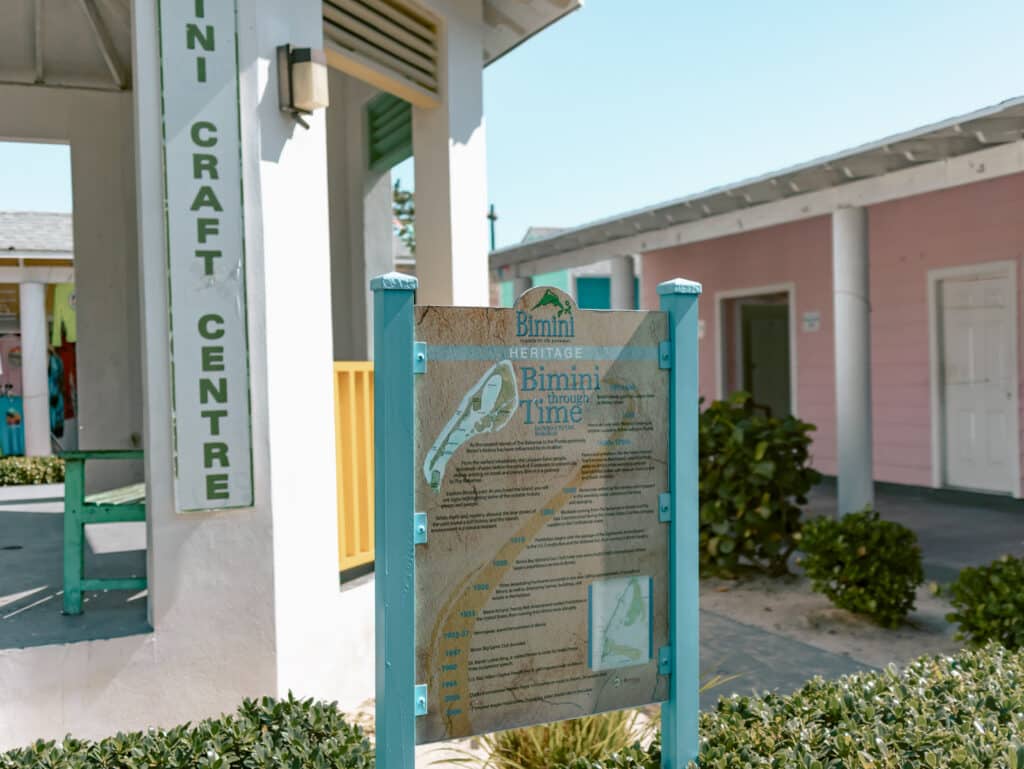 Next in this Bimini travel guide, I will give you the scoop on fun things to do in Bimini so you can have one awesome adventure! 
Snorkel With Sharks
Snorkel with sharks and explore marine life in the Bimini Islands. You can book your excursion here. 
Dive With Hammerheads
Hammerheads can be found all over Bimini. If you're a thrill seeker this is the adventure for you. Check out pricing and availability here. 
Go Sailing
For people who are looking for more relaxing activities, you should go sailing on the pristine and clear waters over Bimini Islands. 
Nature Walk
If you're a fan of walks, go for a short hike on the Bimini Nature Trail. It is less than a mile and takes less than 30-minutes to complete. This jungle path has a wide range of plants and wildlife. 
Relax On The Beach
When visiting Bimini, you must relax on the beach at least once during your visit. Resort World has a beach club that cost $40 per day if you're not staying on their property. They have a pool, bar, and restaurant. 
Indulge In Water Sports
Water sports are super accessible in Bimini, Bahamas, so make sure to take advantage of every opportunity you have. 
Visit Gallant Lady Shipwreck
If you love exploring, head down to the Gallant Lady Shipwreck, an incredible sunken ship brought to the surface.
Cruise Around In A Golf Cart
Explore the Bimini Islands by cruising around in a golf cart. Something to know if you're from the States, they drive on the opposite side of the road. 
Hang At The Beach Club
For ultimate relaxation visit the beach club. They have refreshing cocktails and tasty food, comfortable beach chairs, and the choice of hanging at the beach or pool. 
Shop At Bimini Craft Centre
Shopping is essential for every vacation! Therefore you can't miss out on the Bimini Craft Center for clothes and souvenirs. 
Bimini Travel Guide Conclusion
Visiting Bimini, Bahamas is truly an ocean lover's paradise. If you're thinking about taking a quick getaway here, this Bimini travel guide will surely help you out. Don't forget to use these Bahamas captions for all the photos you take on your trip!
Related posts:
Like this Bimini travel guide? Share it with others or pin it for later!