Ready for fun, sun, and some awesome things to do in Miami Beach? Miami's alluring Latin flare has millions of tourists flocking to this city annually to check it off their USA bucket list. Crystal clear waters, remarkable nightlife, scenic causeways, and exquisite cuisine are enough to visit despite the agonizing humidity.
Miami Beach may be known for the glitz and glam, but there are many activities here for every budget. Keep reading and get deets on the top things to do in Miami Beach from a local.
This article may contain affiliate / compensated links. For full information, please see our disclosure here.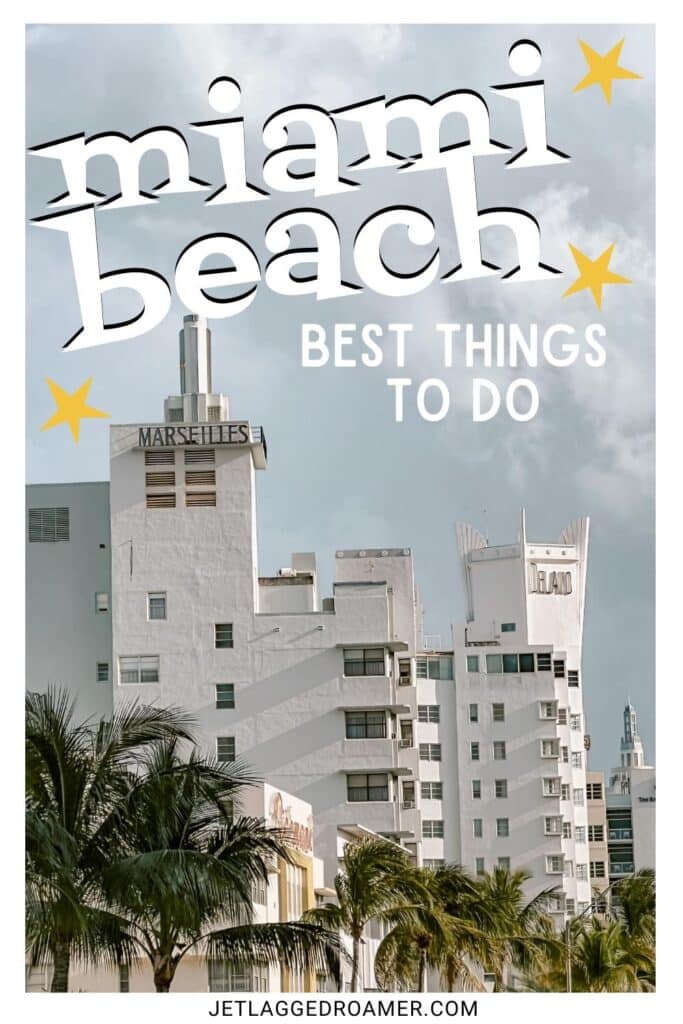 Ready for Miami Beach? Check out these other related posts for your visit:
27 Epic Things To Do In Miami Beach
1|  Take A Stroll On Ocean Drive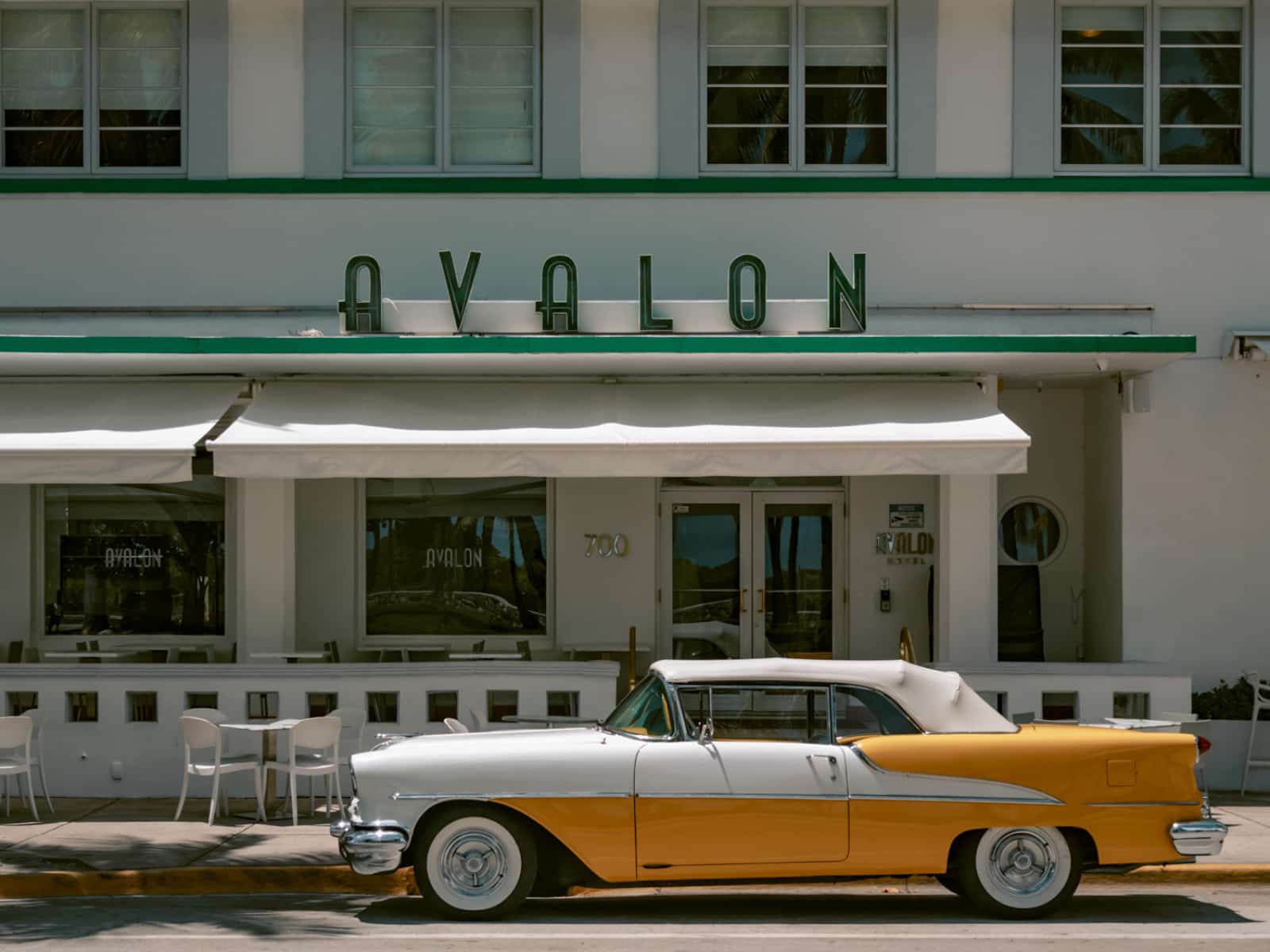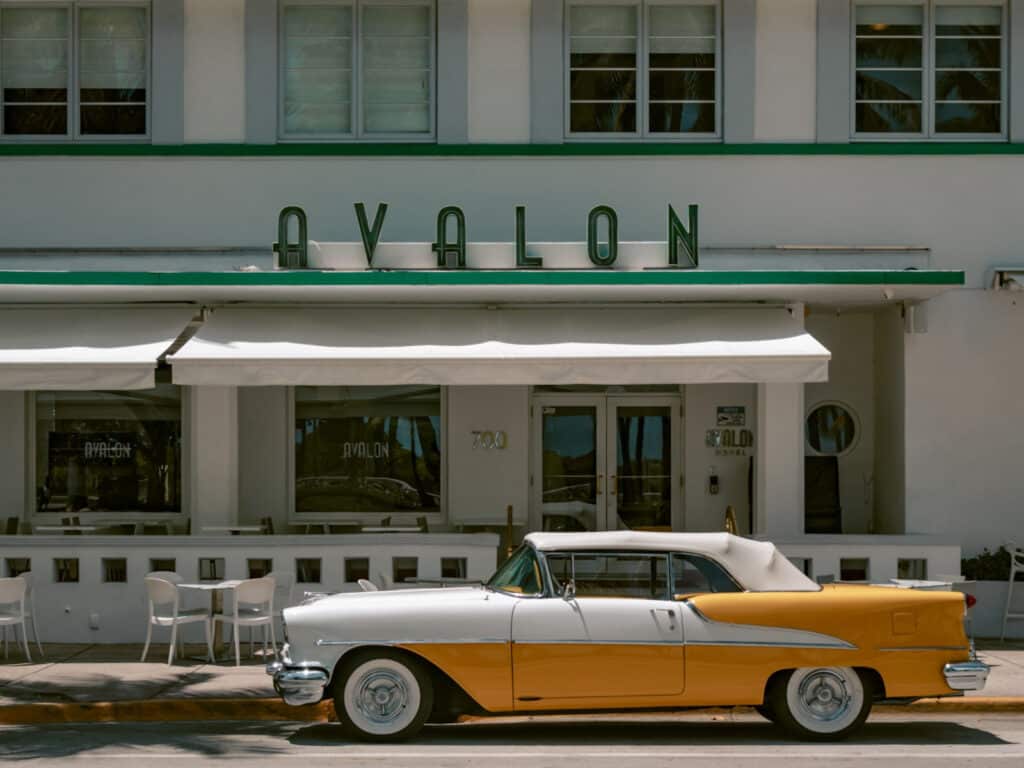 Although South Beach is known to be the playground for the wealthy and celebrities, it also continues to draw many tourists, who may not be high rollers. 
Ocean Drive is known for its electric blue sea, white sandy beaches, colorful lifeguard stands, and of course overpriced cars slowly cruising the street. 
Along the road are many renowned international restaurants. Eateries here can be extremely pricey, although, there are less expensive options available. If you do decide to eat on this side of town double-check your receipt, usually, the tip is included on your bill. 
Insider tip: Anywhere that advertises 2 for 1 is actually per person. Avoid my mistake and fall for this overly expensive trap of ordering cocktails. 
Besides being fun to walk, there are plenty of oceanfront hotels in South Beach worth staying in during your visit.
Address: Ocean Drive, Miami Beach, FL 33139
2| Check Out Some Really Cool Art Deco Architecture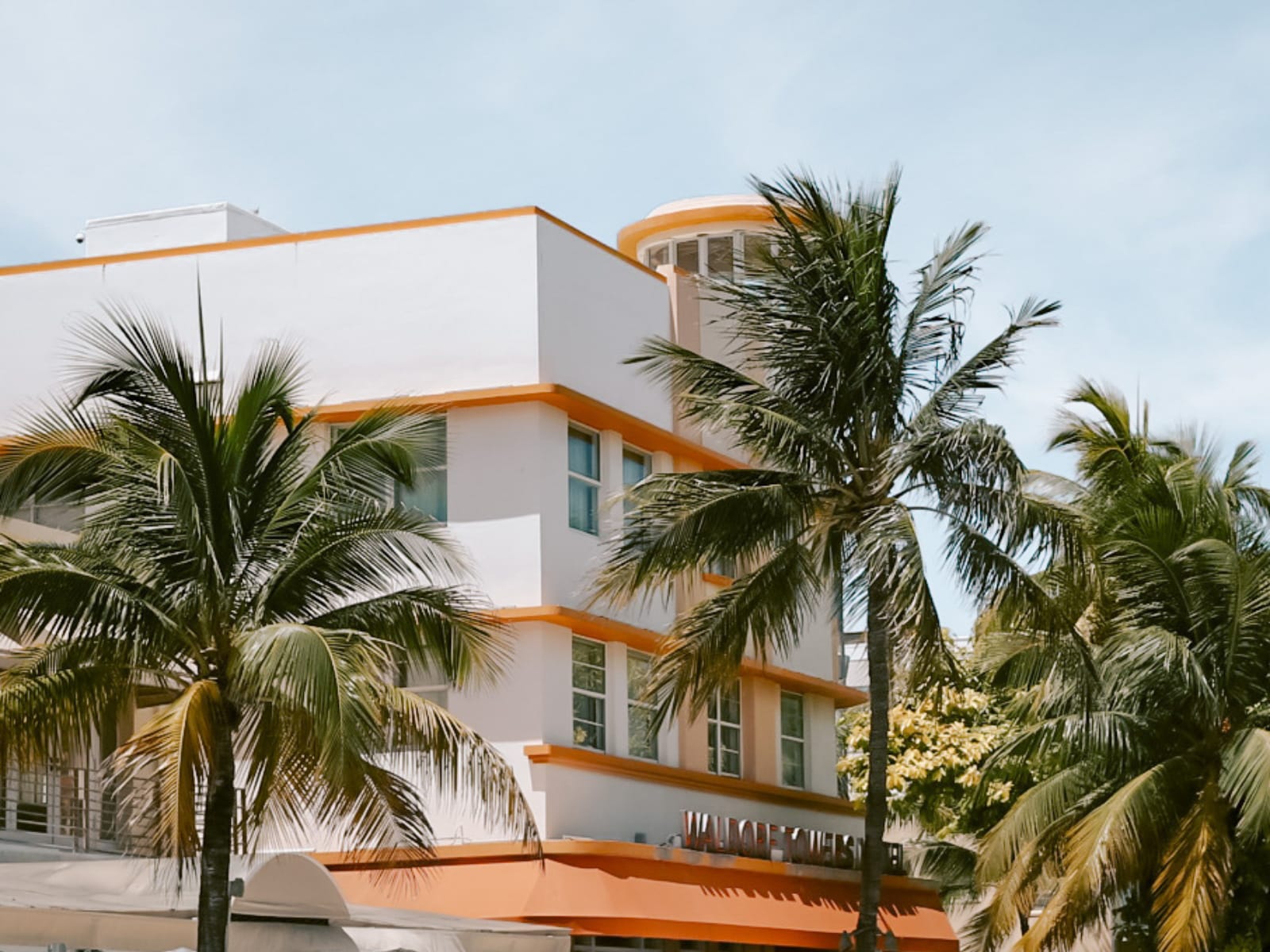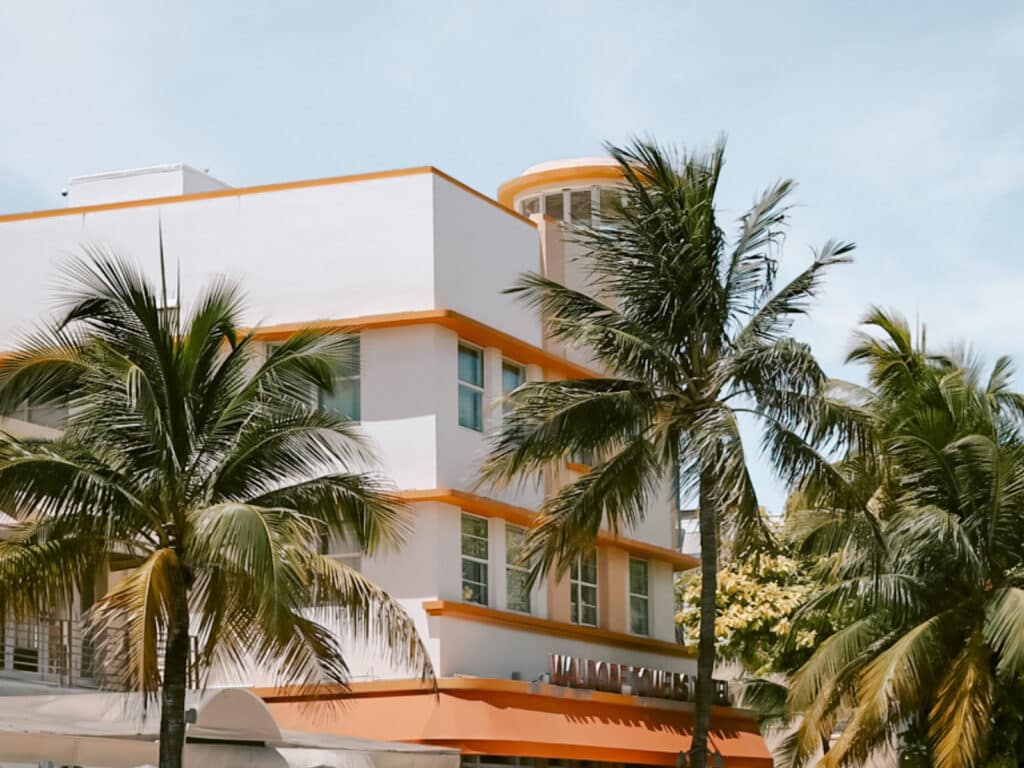 South Beach is known for its popular architectural style that originated in the 1930s. Restaurants, hotels, retail, and apartment buildings are colorfully painted and display brightly lit neon signs.
Art Deco District is near the bustling streets of Ocean Drive and Collins Avenue. It is the perfect location for an outdoor stroll or to enjoy some awesome al fresco dining. Walking around Art Deco District is one of my favorite things to do in Miami Beach and it never gets old.
Address: 1001 Ocean Dr, Miami Beach, FL 33139
Enjoy walking tours? Take a guided tour of the famed Art Deco in South Beach. For the ultimate expeirence you can also tour through this district by bicycle.
3|Spend Some Cash At Lincoln Road Mall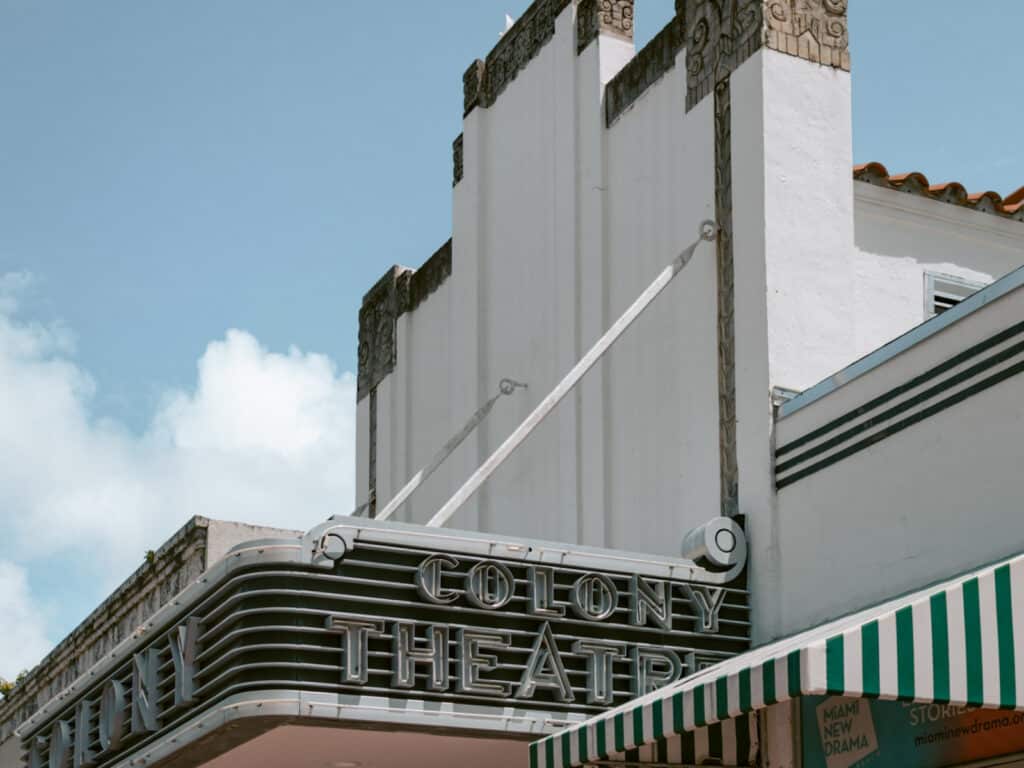 Located a few blocks from the beach you can do some outdoor shopping or people watch at the endless selection of patio cafes on Lincoln Road Mall, the pedestrian-only street stretching a mile long. 
Address: Lincoln Rd, Miami Beach, FL 33139
Website: https://lincolnroadmall.com
4| Take A Scenic Route On The Miami Beach Boardwalk
Looking for a perfect place to get in a morning jog or afternoon stroll? The Miami Beach Boardwalk is a 4-mile scenic route. Even if you are not going for a workout it is deserving of your visit for the views. 
Address: 46th Street and Collins Avenue to Ocean Drive promenade to 5th Street.
Website: https://www.miamibeachboardwalk.com/
RELATED POST: Quotes About Miami
5|Bring Out Your Inner Child At  Miami Children's Museum
Miami Children's Museum is located right off the 195 Causeway before driving through the many islands leading to South Beach. There are plenty of child-friendly activities for the family, unlike most adult-only entertainment found in the South Beach neighborhood. 
Educational exhibits, a giant piggy bank, and a music production studio motivate children to interact with hands-on activities. This museum is one of the things to do with toddlers in Miami. 
General admission is $22, children under 1 free to enter. 
Address: 980 MacArthur Causeway, Miami, FL 33132
Website: https://www.miamichildrensmuseum.org/
6|Swing At Some Golf Balls At Miami Beach Golf Club
Don't expect to find many golf courses in Miami Beach, cause there aren't. But, if you are into golf you can swing at a couple of golf balls at the Miami Beach Golf Club, just a few blocks away from the beach.  Arthur Hills is legendary for designing top golf courses and put this lush tropical club together. Fore!
Rates range from $129-$232 depending on the season you arrive. 
Address: 2301 Alton Rd, Miami Beach, FL 33140
Website: https://www.miamibeachgolfclub.com
RELATED POST: TOP PLACES TO EAT IN MIAMI
7| Go Topless At Haulover Park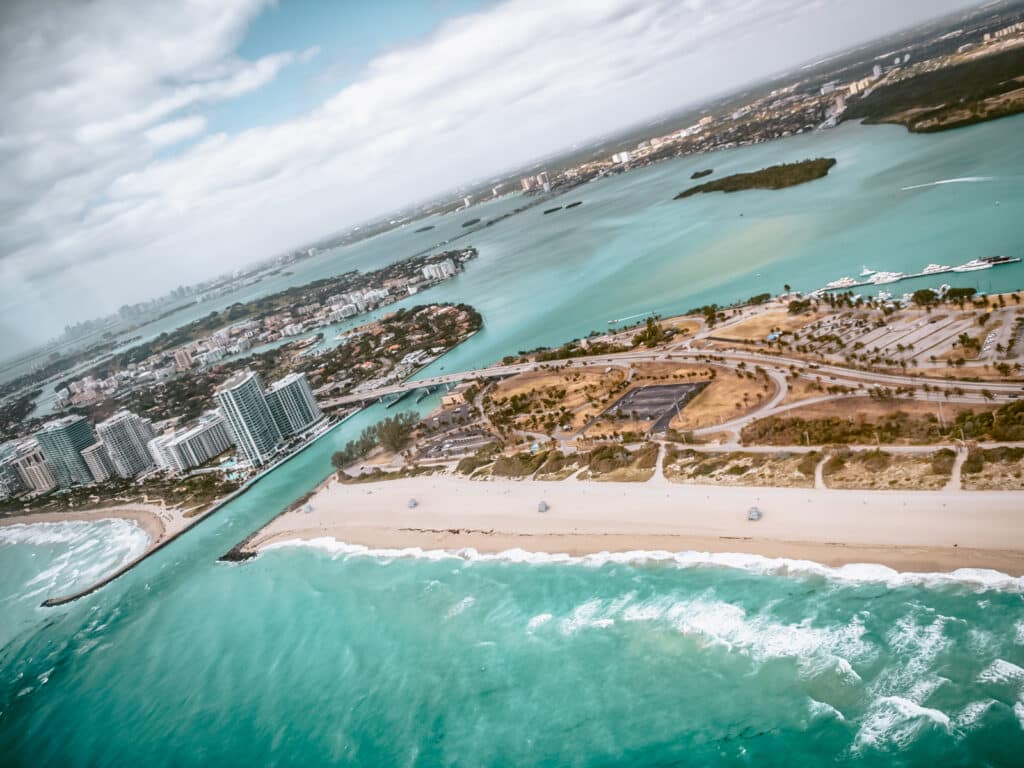 Not a fan of tan-lines? Problem solved! Haulover Park is one of the few nude beaches in Dade County. Drop the top and get your tan on. This park is also a dog-friendly beach too, so bring the pooch, just keep them on a leash. 
Also, there is a skate park located outside the beach if you're feeling a tad bit adventurous. 
Address: 10800 Collins Ave, Miami Beach, FL 33154
Website: http://www.miamidade.gov/parks/haulover.asp
Seeking a little more action at the beach? If you're a lover of water sports rent jet skis for the ultimate thrill.
8| Party Like A Rock Star What Miami Beach Is Known For
Miami is known for its incredible nightlife that you may or may not remember in the morning.  Of course, hitting the clubs in  Miami is one of the top things to do in South Beach at night. Tourists visit from all around the globe to experience its party scene with the world-famous nightclubs such as LIV, Bleau Bar, STORY, or E11EVEN.
Since the Miami Beach nightlife is quite popular- expect hefty cover charges, long lines,  extremely expensive cocktails, and a lot of pretentiousness.  Most of these clubs have lineups from exclusive DJs such as Skrillex.
9| Bring Out Your Inner Nerd At Frost Museum Of Science
A perfect spot to cool off and escape the Miami heat is this 250,000-square-foot facility overlooking Biscayne Bay. Numerous hands-on exhibits, displays, and activities will keep you busy for a full afternoon or morning. This is a perfect spot for those traveling with children too. 
Frost Science Museum opened in mid-2017 the facility includes exhibitions across six levels inside their North and West Wings. The star of the museum is the 500,000-gallon aquarium that extends up to three levels. On the rooftop, you can stargaze and explore the urban garden and wildlife. 
Admission prices begin at $22 and children under 2 are free. 
Address: 1101 Biscayne Blvd, Miami, FL 33132
Website: https://www.frostscience.org
10|  Crack Some Claws At Joe's Stone Crab 
Catch Florida's delicacy that draws heavy crowds at Joe's Stone Crab. This is one of Miami's most famous restaurants since the doors opened over 100 years ago. Crack open the claws of some of the most delicious and moist stone crabs at this popular eatery.  Make sure you arrive between October thru May when they are available. Joe's Stone Crab does not take reservations, so arrive early to avoid the long wait.
Not only is there stone crab a must, but save room for their tasty and creamy Key Lime Pie. 
Address: 11 Washington Ave, Miami Beach, FL 33139
Website: https://www.joesstonecrab.com
RELATED POST: Romantic Things To Do In Miami
11| Get Lost Inside Vizcaya Museum And Gardens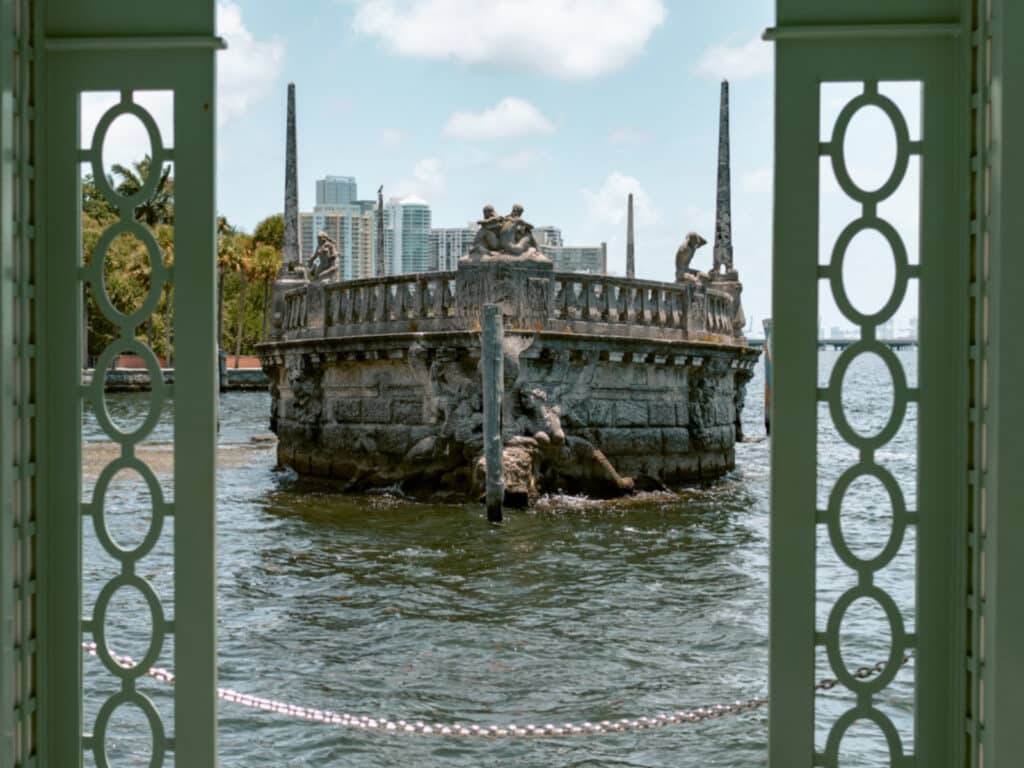 Vizcaya is a National Historic Landmark and was the lavish winter home to a filthy rich bachelor, James Deering. Built in 1916, this mansion is set on 28 acres and includes a central courtyard with 34 rooms encompassed around. 
It took over 1, 000 workers, craftsmen, and others brought from Europe to complete the Vizcaya Project. The interior is an Italian Renaissance theme. Each room is inspired by eloquent  European furniture and art between the 15th-19th centuries.
Outside the museum are lush gardens, French fountains, and whimsical sculptures. 
The cost to enter for adults is $22 and $10 for children. 
Address: 3251 South Miami Avenue, Miami, Florida
Website: http://vizcaya.org
12|  Get Fancy At Eden Roc Miami Beach
Eden Rock Miami Beach's historic luxury hotel is known for its exquisite accommodations and amenities.  It is located smack dab in the center of Mid-Beach and steps from the ocean. Head to the hotel hungry because they have a selection from world-renowned restaurants such as Nobu, Nobu Bar, and Malibu Farm. 
Address: 4525 Collins Ave, Miami Beach, FL 33140
Website: https://www.edenrochotelmiami.com
13| Go Medieval At Ancient Spanish Monastery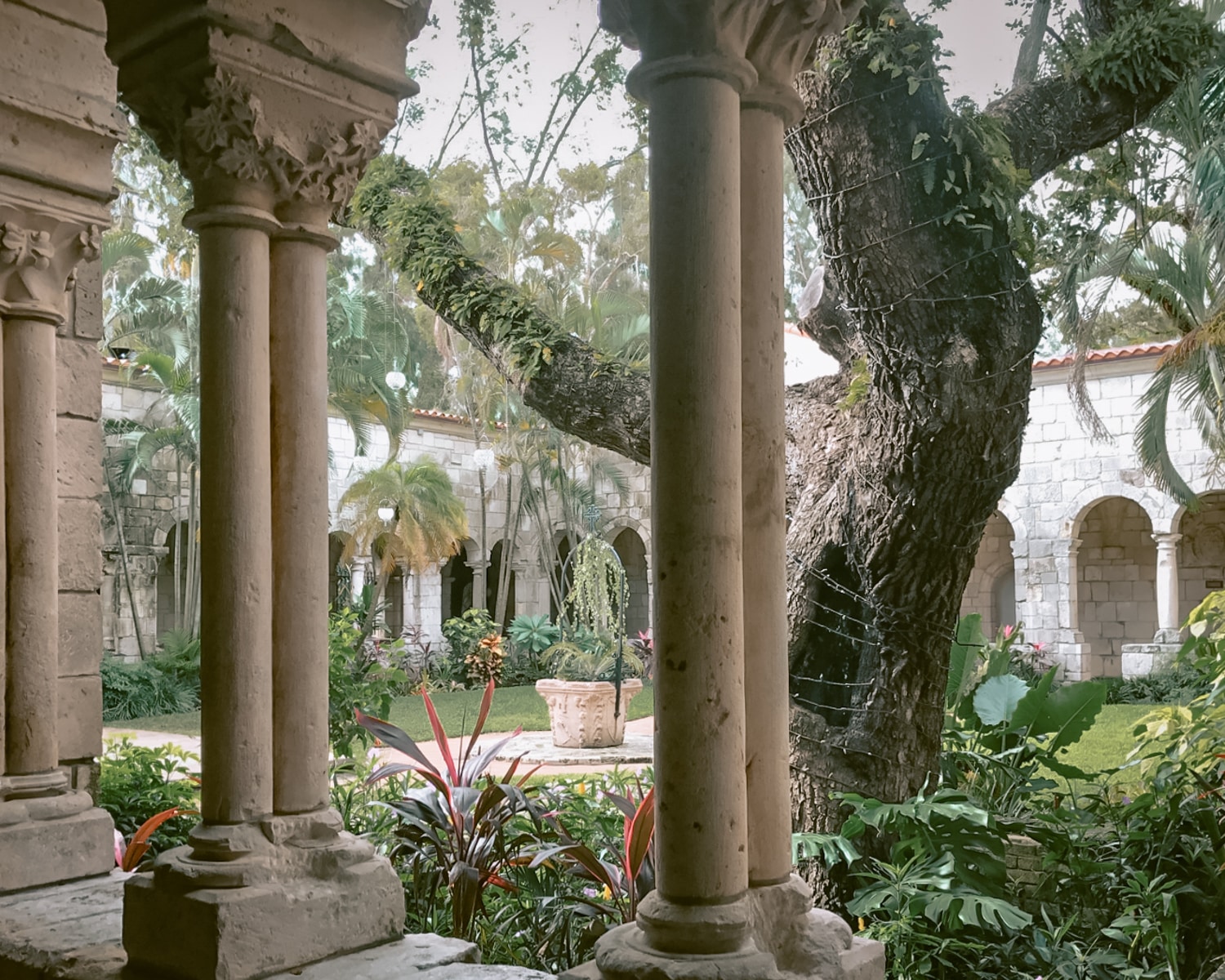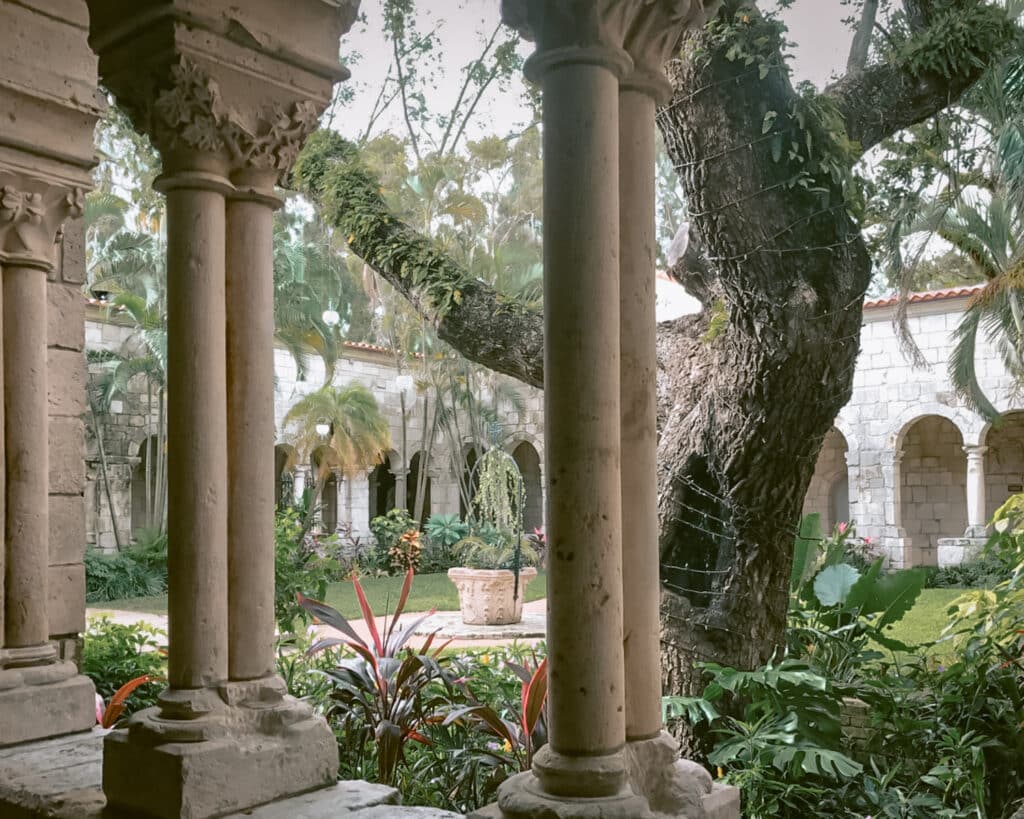 Catch a piece of medieval Europe amidst the scuttle of North Miami Beach. Consisting of lanterns aligning the garden paths, carved ceilings, and arches, and cloisters adorned with colorful coats of arms. Due to the monastery's beauty, it has become a popular wedding spot here in Miami. 
The Spanish Monastery has quite a dramatic story trying to get constructed. completion. Following a visit to Segovia in 1925, William Randolph Hearst fell in love with the cloisters and purchased them.
The 800-year-old structure was dismantled and shipped to the United States in 11,000 boxes, but due to the Great Depression Hearst sold his collection.
For 26 years the stones were kept in a Brooklyn warehouse until William Edgemon and Raymond Moss prominent Miami businessmen purchased the selection. Nineteen months later and $1.5 million dollars the Ancient Spanish Monastery was reassembled. 
Fee to enter the Monastery is $10, students and seniors pay $5. 
Address: 16711 West Dixie Highway
Website: https://www.spanishmonastery.com/services
14| Get Artsy In Wynwood District- Wynwood Walls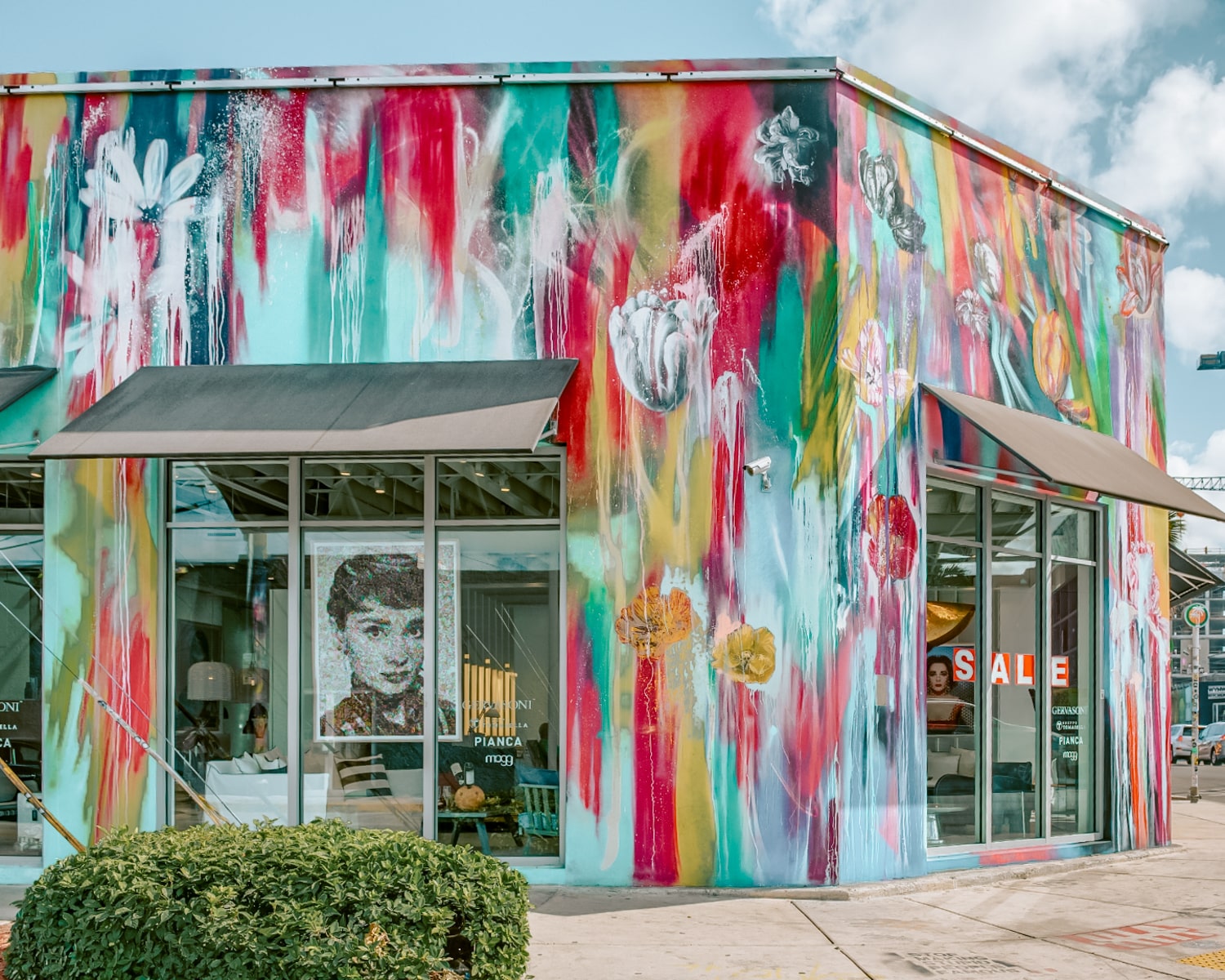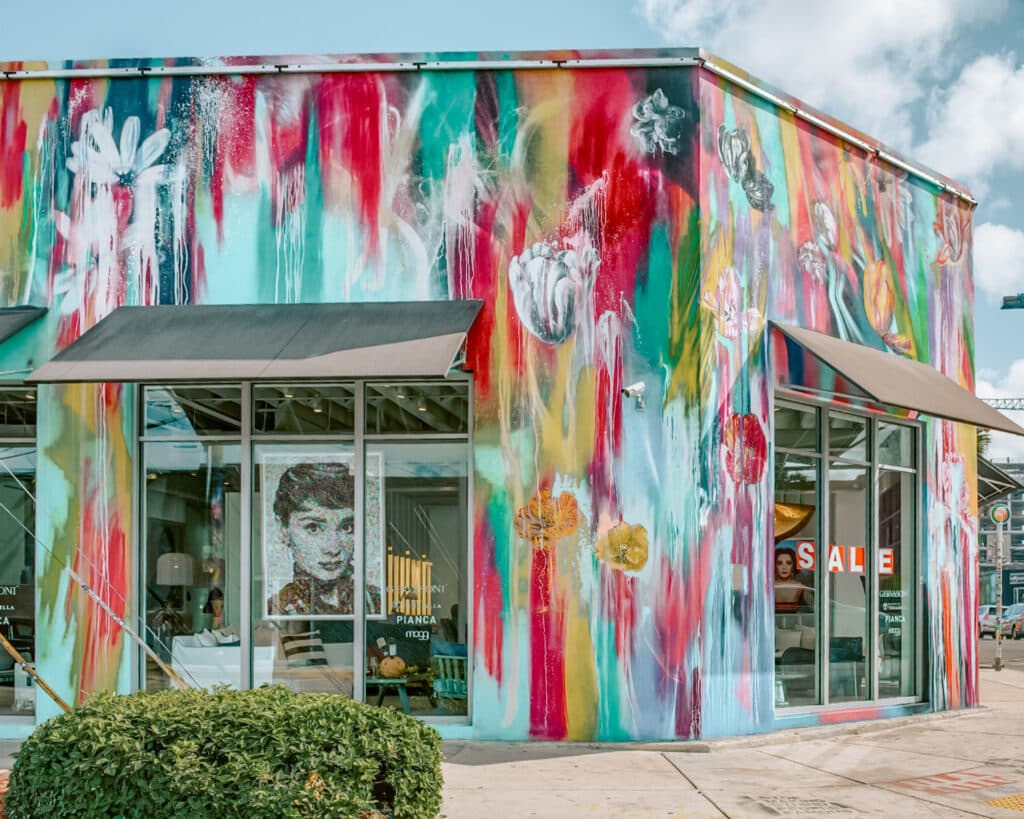 Wynwood district is 80, 000 square feet of wall space painted with colorfully decorated wall murals from well-known and upcoming artists. It is one of the most popular and happening areas in Miami. Lots of open-door exhibits, breweries, restaurants, and fashionable boutiques are enough to keep you busy for the whole day.  And, it is one of the things to do in Miami for free!
Address: 2520 NW 2nd Ave, Miami, FL 33127
Website: https://www.miamiandbeaches.com/neighborhoods/wynwood
15| View Some Modern Art At Perez Art Museum
Perez Art Museum is a top cultural destination in Miami with an impressive collection of 20th and 21st-century art. Plenty to see and do for a few hours here. Perez Art Museum has 3-floors to peruse that encompass a collection of 3,000 pieces, rotating exhibits, a lavish hanging garden, and spectacular views of Biscayne Bay. 
Admission ranges from $12-16. 
Address: 1103 Biscayne Blvd, Miami, FL 33132
Website: http://www.pamm.org/visit
RELATED POST: Miami Packing List
16| Experience Cuban Culture In Little Havana
Following the Mariel Boat Lift in 1980, Miami became heavily influenced by the large Cuban population.
Little Havana district is a great spot to get a taste of Cuba. This side of Miami is a historic urban neighborhood filled with bustling streets, the fragrance of Cuban cigars, open markets, authentic Cuban cuisine, and colorful buildings serving cafecito. 
A trip to Little Havana is not complete without visiting Ball & Chain. This iconic venue opened its doors in the 1930s and offers the best salsa dancing and live music in Miami. 
For the tastiest Cuban meal in town head to the popular spot frequented by locals Cafe Versailles. Skip ordering the famous Cuban Sandwich and opt for the homey Cuban dish Vaca Frita and a mojito for a truly unique local experience. 
Address: SW 8th St, Miami, FL 33135
17| Order Tapas On Española Way
Wanna see tiny shops, adorable hotels, and cute sidewalk cafes? Take a walk on the beautiful Spanish street located off of Collins and nearby Lincoln Road.
Perfect spot for al fresco dining and people-watching on this pedestrian-only street.
Address: 447 Española Way, Miami Beach, Fl 33139
Website: https://visitespanolaway.com

18| Drink An Awesome Cocktail At Broken Shaker
Indoor and outdoor bar located inside a hostel, Broken Shaker is one of the prime places to visit in Miami Beach to grab a cocktail. Doesn't matter which one you order because they are all delicious and come with a poolside view. Pool access is open to customers.
Admission? Nope, but cocktails are pretty pricey, but that is the norm for Miami. 
Address: 2727 Indian Creek Dr, Miami Beach, FL 33140
Website: https://freehandhotels.com/miami/broken-shaker/
RELATED POST: Best Places to Take Pictures In Miami
19|Roll A Strike At The Basement
If you arrived in South Florida with a group of friends and cannot decide on what to do in Miami Beach, head on over to the Basement,  it is not a typical club. Besides the full-service bar and dance floor here you have activities that will please everyone. Bowling, check. Indoor ice skating ring, check. There is something here to please everyone. 
Address: 2901 Collins Ave, Miami Beach, FL 33140
Website: https://basementmiami.com
20| Have A Beer At A Legends Favorite Bar Mac's Club Duce
Aside from the city posh is Miami's oldest bar Mac's located off of 14th Street.  Do not leave Miami without visiting this bar at least once. Consisting of a very eclectic crowd, and is different from the exclusive high-end nightclubs. Mac's is one of the favorite bars and was praised by Anthony Bourdain. If you want to continue partying until the wee hours of the morning doors open at 8 am and close the following day at 5 am. 
Address: 222 14th St, Miami Beach, FL 33139
Website: https://www.macsclubdeuce.com
21| Get Close With Some Exotic Animals At Jungle Island
Located in the middle of Downtown Miami and South Beach is an intimate zoological park. Established in 1936, Jungle Island houses some of the most exotic and rare animals.  Bring out your inner child and watch the animal shows, participate in hands-on interactions with animals, and browse the informative exhibits which will keep you busy during your visit. It is one of the fun things to do in South Beach, especially for those who are traveling with children. 
General admission grants you access to the entire island. Tickets for adults are $39.95 and children $24.95.
Address: 1111 Parrot Jungle Trail, Miami, FL 33132
Website: https://www.jungleisland.com
22| Cure Your Hangover Eating Sunday Brunch At Nikki Beach
Looking for a memorable Sunday brunch that lasts all day or night? Nikki beach club is beautifully decorated with tiki bars, lounge chairs, and attractive people. Make sure you are dressed up and come with plenty of cash to rent a lounge chair and sip on champagne by the beach. 
Address: 1 Ocean Dr, Miami Beach, FL 33139
Website: https://miami-beach.nikkibeach.com
RELATED POST: TOP PLACES TO EAT IN MIAMI
23| Get Dirty at Standard Spa
See the Miami skyline twinkling at the saltwater infinity pool located at Standard Spa. For a memorable experience get dirty and head to the Mud Lounge. Apply one of the colorful algae-infused mud liberally all over your body and face. Chill out my the pool while they mud does its work. 
Address: 40 Island Ave, Miami Beach, FL 33139
Website:  https://www.standardhotels.com
24| Have A Picnic At South Pointe Park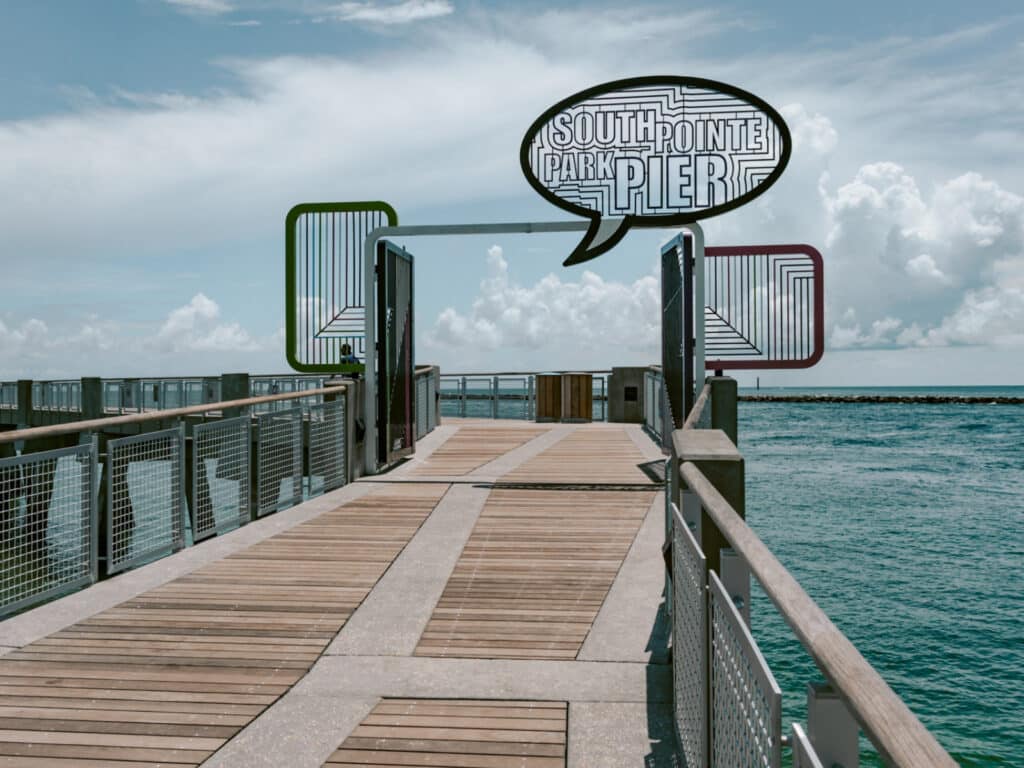 See the Southernmost tip of Miami Beach at South Pointe Park. One of the top attractions in Miami Beach and the perfect spot for a picnic on the grassy knoll or a breezy stroll along the path. Don't forget your beach bag, there is beach access when you're done hanging out at the park. As a local, I will tell you that South Pointe is one of my favorite and best things to do in Miami. It has a great walking path, a beautiful view of Fisher Island, and plenty of appetizing restaurants nearby. It's the quieter side of South Beach.
Address: 1 Washington Ave, Miami Beach, FL 33139
25| Take A Cruise On Millionaire's Row
Take a waterfront cruise along the stretch of water home to many celebrities. Oceanfront mansions and luxurious hotels span from Collins Avenue from 41st to 62nd Street. 
You can book your cruise and find out more about pricing here.
Check out these other fun cruises you might enjoy.
26| Do Some Dancing At Bayside Marketplace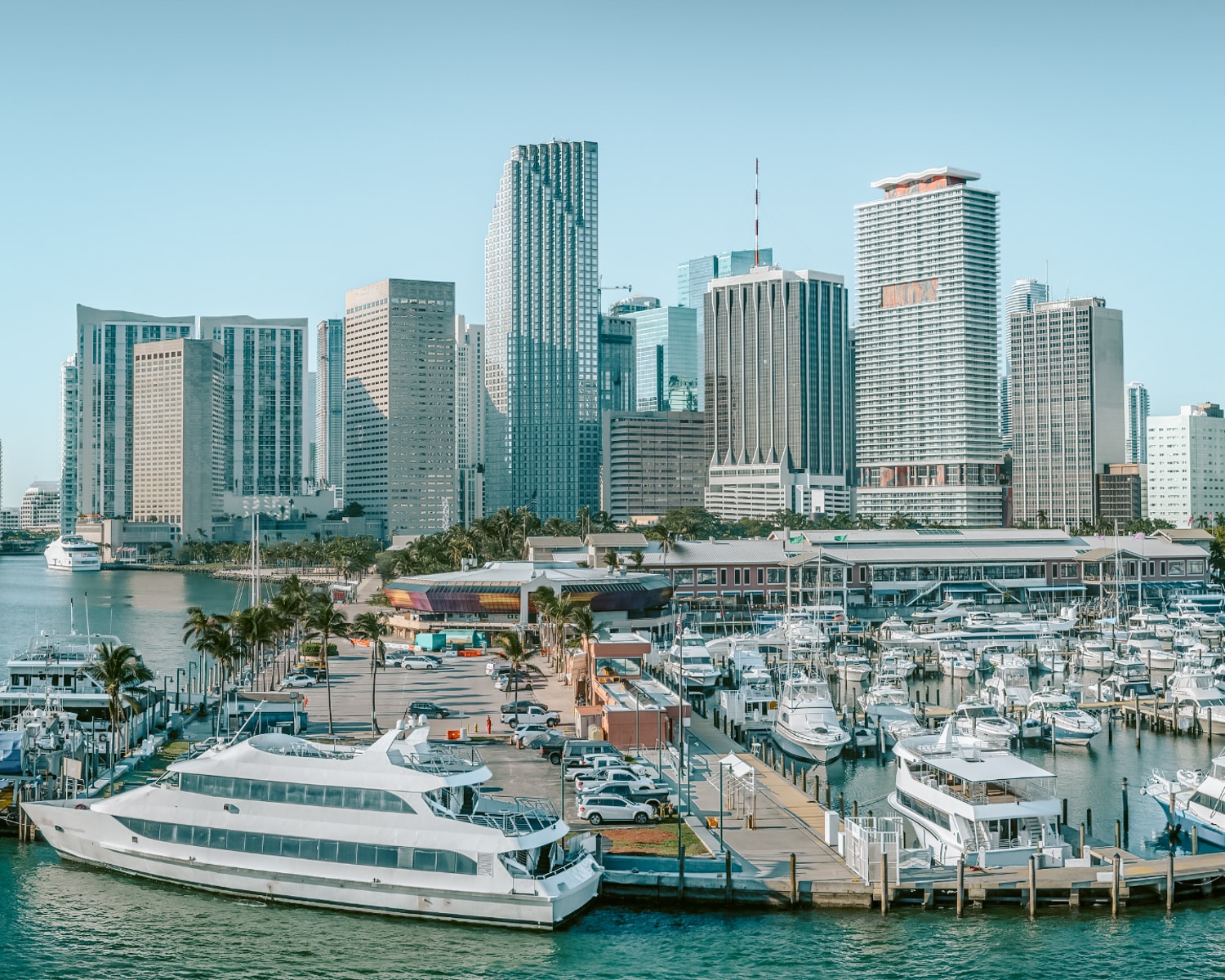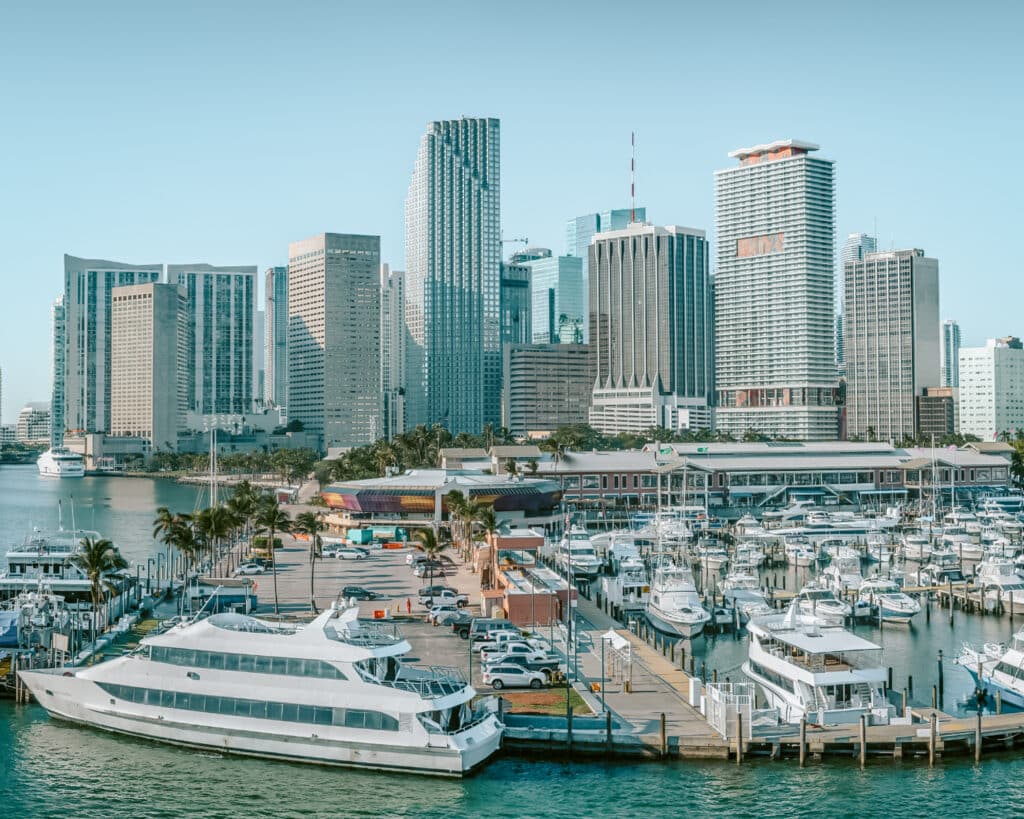 Situated between Bayfront Park and Miami Miamarina is a 2-story open-aired mall.  Bayside Marketplaces is one of the main Miami Beach tourist attractions for shopping, dining, and people-watching. Live music from local bands is featured every afternoon and evening. After shopping, grab a table with a sea view and unwind with a mojito. 
Address: 401 Biscayne Blvd, Miami, FL 33132
Website: https://www.baysidemarketplace.com
If you're looking for something unique things to do near Miami Beach, cruise the bay on a speed boat. If you prefer something a little more tame, enjoy a sunset happy hour on the water.
27| Holocaust Memorial Miami Beach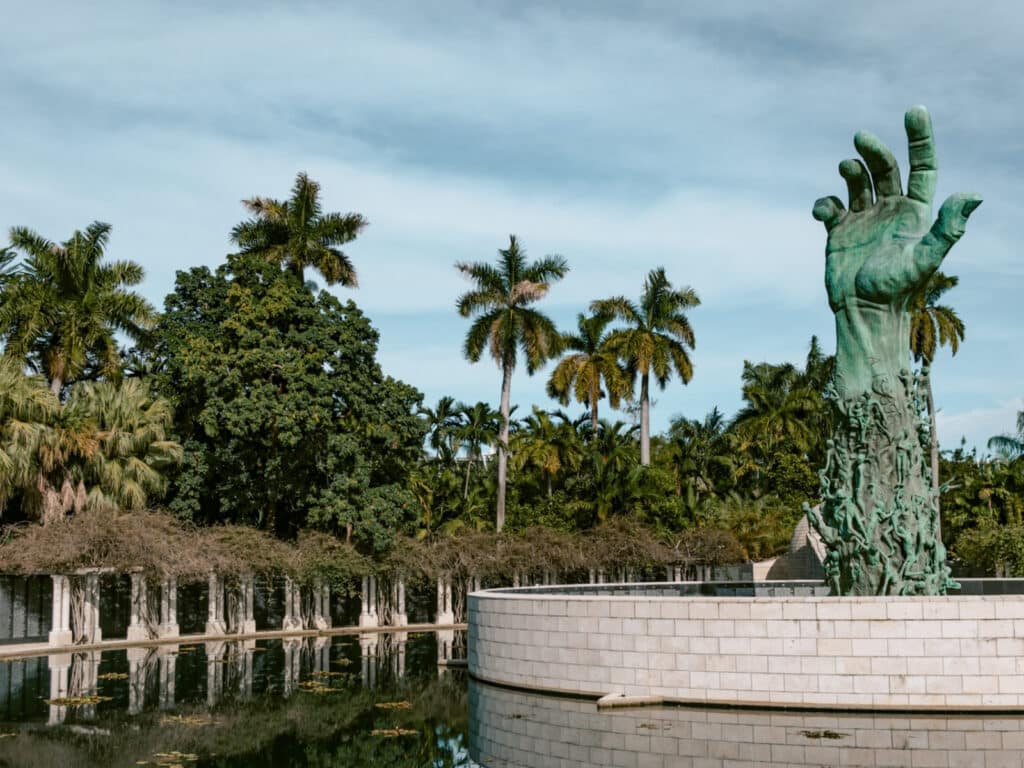 Located in the heart of South Beach is the Holocaust Memorial. Annually the landmark is visited by over 100, 000 people to see the remarkable exhibits and dramatic sculptures. 
The memorial is free of charge. For $2 they have brochures for you to do your own self-guided.
Address: 1933-1945 Meridian Ave, Miami Beach, FL 33139
Website: http://holocaustmemorialmiamibeach.org
Things To Do In Miami Beach Related Posts
 Now you know 27 things to do in Miami Beach, but check out these other related posts you will enjoy before your trip to South Florida.
Like this pin about things to do in Miami Beach? Share it with others or pin it for later.