Wanna know what's in my makeup bag? So, if you're reading this post then you're a tad obsessed with makeup like me.
Nothing excites me more, besides travel than talking about anything related to beauty, so I'm going to share with you what's in my makeup bag. These are awesome products that I have bought repeatedly every day and when traveling. Hey, if it ain't broke why fix it, right? 
This article may contain affiliate / compensated links. For full information, please see our disclosure here.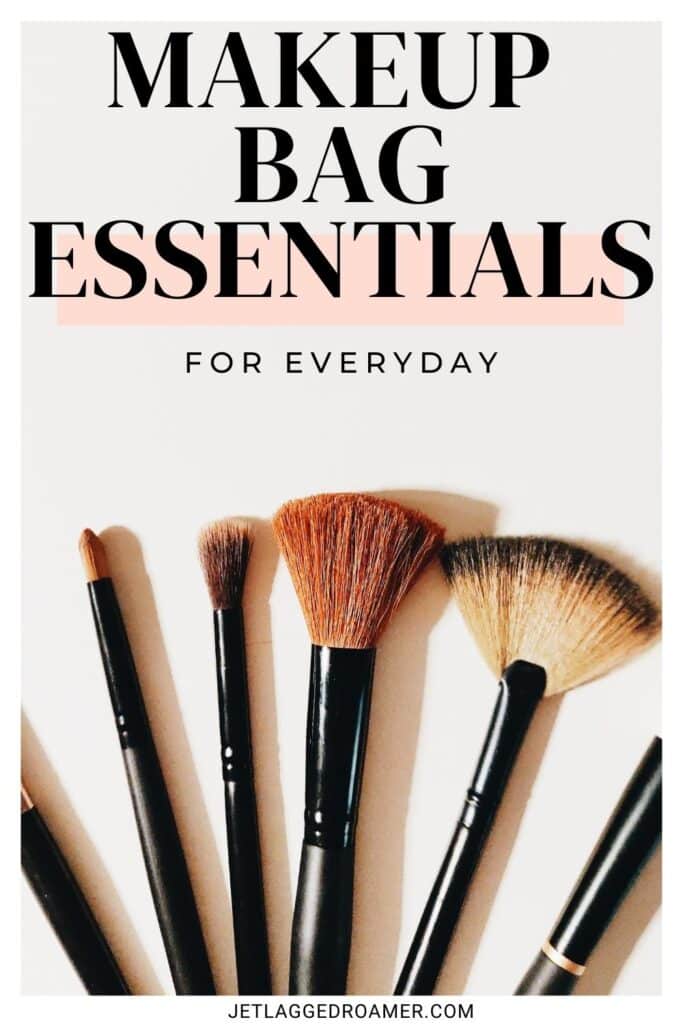 Check out these other beauty posts I know you will enjoy:
What's In My Makeup Bag For The Face
Primer
Let's start with what's in my makeup bag for the face! My holy grail primer hands down goes to Milk Hydro Grip Primer. Say haaaay to the Allure Best of Beauty 2019 award winner.
What I love the most about this product is it preps my face with the ultimate hydration and keeps my foundation from getting all cakey throughout the day. 
Foundation 
For my everyday work makeup, I am obsessed with bareMinerals Complexion Rescue tinted moisturizer. It's light and does some pretty darn good coverage for being a tinted moisturizer. Complexion Rescue doesn't make my face feel heavy with makeup throughout the workday. Plus, it also has SPF 30 packed inside, so say yay to sunscreen! 
When I need heavier coverage BECCA Ultimate Coverage Complexion Créme delivers. BECCA's foundation works awesome to cover any blemishes you want to conceal. All you need is a few drops, a little goes a very long way.
Concealer
If you didn't get much sleep last night and have dark circles under your eyes, erase them with Yves Saint Laurent  Touche Éclat High Cover Radiant Concealer. Years ago I received this as a sample and after my first use, I purchased it immediately. This concealer is the HOLY GRAIL for all under-eye problems you have.
Powder
Honestly,  I have tried what seems like gazillion-setting powders in the past, but the best one I have used was Veil from Hourglass.
Veil is a super fine powder and works wonders in keeping the foundation set for the entire day. Occasionally, I may need a few pats with blotting paper throughout the day only because of my oily T-Zone.
Bronzer 
For a perfect sun-kissed glow, Tarte's Park Avenue Princess Chisel Palette delivers. It's an awesome palette that comes with a total of 6- bronzing and highlighting powders.
Princess Chisel Palette is multi-purposeful too, shades halo and enhances work great as a base for eyeshadows. This is one of the best bronzing palettes that I have ever used. 
Blush
 For a pop of color to my cheeks, I typically go with pinks and corals. Sephora Collection has been my favorite for blush. They have so many shades and are very affordable.
Highlighter 
To be honest I have a slight obsession with highlighters and have a few that give me the glow I want to achieve.
Two of my top highlighters that are easy to pack for traveling too are Fenty Beauty Mean Money and Hu$tla Baby palette and Artist Couture Haute Damn. They are both very easy to apply and brands that are very affordable.
My favorite highlighter is from Pat McGrath Labs Sublime Skin Highlighting Trio. Here products are top quality and always extremely pigmented. All you need is a little with her products.
Setting Spray
 I have tried a lot of setting sprays, but, MAC's Prep+ Prime Fix + sprays set my makeup like no other. Fix + Matte really tames my makeup with my combination skin that leans more toward the oily side. It's one of my top makeup essentials.
RELATED POSTS: How To Follow The Korean Skincare Routine Easily & Get Super Squeaky Clean Skin With This Face Cleansing Brush
Ultimate Makeup Bag Essentials For The Eyes
Eye Primer
Not often do I glam up my lids, when I do MAC's paint pot eyeshadow primer keeps my eyeshadow lasting all day without creasing! 
Eyeshadow
Anything from Natasha Denona and Pat McGrath Labs is going to be a top-notch product. I'm not claiming to be a makeup artist, cause I'm not. But, as the everyday girl, their palates make it easy for me to apply my shadow like a pro. Yes, they're super expensive but worth every single penny. Application is super easy and will make your eyelids look fierce. 
Brows
From all the years of over-plucking when it was a thing, my eyebrows are finally starting to grow.
Benefit's Browvo! Conditioning Primer makes shaping eyebrows a breeze when paired with their Precisely, My Brow Pencil. Also, the eyebrow primer has helped with my eyebrow growth, thank goodness!
To keep my brows in place I glide the Femme Couture Arch Brow Grooming Wax over to help them keep their shape all day.
Eyebrow Highlighter 
Benefit has amazing products for brows and to highlight my arch I use their High Brow. It's a thick pencil that'll last you forever and the price is super affordable.
Mascara 
One affordable eyelash primer that I always restock on is Tarte's Opening Act Lash Primer. Opening Act is a miracle worker and will give you some flirty lashes. 
Kat Von D Go Big Or Go Home Volumizing Mascara is my favorite mascara that is great for getting long wispy eyelashes.
What's In My Makeup Bag For The Lips
Lip Primer
Wake up with super hydrated lips every morning with Laneige Lip Sleeping mask. In the past, I used to suffer from really dry lips and would constantly apply chapstick or anything throughout the day. Since I added this to my daily skincare routine my lips have NEVER been the same. 
Lipstick
I always have taken with me a nude, bright coral, and classic red shade in my makeup bag. But, I cannot get my fill on lipstick.
Anastasia lipsticks for nudes have been my all-time favorites. My favorite colors include Kiss and Soft Touch.
For corals, Kat Von D nails those shades and her color Malice is gorgeous! Her everlasting liquid lipstick is easy to apply and lasts all day long. 
MAC's Ruby Woo is the ultimate classic for a timeless red.
What's In My Makeup Bag For Tools
 Beauty Blender
If you love beauty you probably already have one, two, or three Beauty Blenders. This makeup tool makes applying makeup super easy. and one of the ultimate makeup essentials.
Eyelash Curler
For flat eyelashes whip out your eyelash curler, apply eyelash primer, and then apply mascara. Get gorgeous lashes in minutes with Kevin Aucoin curler.
Powder Brush
Although you may be pretty tight friends with your Beauty Blender, to make sure my powder is blended well I go over my face with the Sephora Pro Featherweight Powder Brush. 
Bronzer Brush
The Sephora Collection Pro Demi Fan #72 brush is amazing to get the ultimate precision when applying bronzer to your forehead, cheeks, nose, and jawline.
Highlighter 
Whichever highlighter I decide to apply that day, depending on my mood or outfit I go for my highlighter brush from the Sephora Collection Ready To Roll Brush Set. It gives a very light highlight so I don't look like a big disco ball. 
Blush Brush
To add a pop of color to my cheeks, my go-to brush is the Morphe M530. 
Eyeshadow Brushes
For an easy eyeshadow base application, I use the Morphe M535 brush. It is fluffy and makes it easy to set my primer after being applied.
Sephora Pro  Drawing Blending Brush works wonders reaching the crease of my eyelid. Its one-of-a-kind tip makes it easy to glide on my shadow into the crease.
To apply shadow to my lid and blend everything together I whip out my Morphe M518. What I love about Morphe is their brushes do one heck of a job and are very affordable. 
Sharpener
NARS pencil sharper has been fantastic for sharpening my eyebrow wax and any lip pencil. It's sturdy and has sharpened all my products perfectly! 
Best Makeup Bags
Hard cases are the best makeup bags to purchase to protect your makeup and are much easier to organize too. However, I organize my makeup bag for travel differently and don't carry nearly as much.
Makeup Essentials Recap
Thanks for stopping by and reading what's in my makeup bag. Have some great essential makeup recommendations you love? Leave me a comment below! Would love to hear them. Ciao! 
Love beauty? Check out these other related posts:
Like this post about what's in my makeup bag? Share it with others or pin it for later!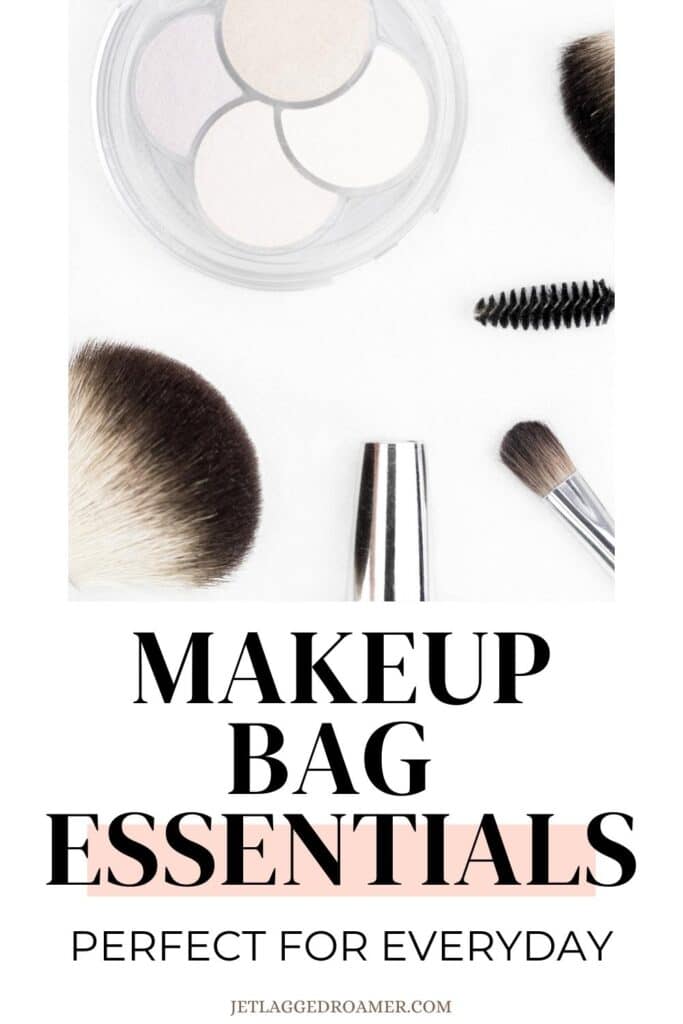 Jetlagged Roamer is a participant in the Amazon Services LLC Associates Program, an affiliate advertising program designed to provide a means for sites to earn advertising fees by advertising and linking to amazon.com, amazon.co.uk, amazon.ca. Amazon and the Amazon logo are trademarks of Amazon.com, Inc. or its affiliates.