Pretty sure you heard of the FOREO Luna face brush and wondering if it's worth all the hype. FOREO claims their Luna cleansing brush penetrates deep below the skin's surface for one fabulous face cleanse. Does it though? My FOREO Luna Mini 2 review will tell you why I use this silicone face brush religiously in my cleansing routine.
This article may contain affiliate / compensated links. For full information, please see our disclosure here.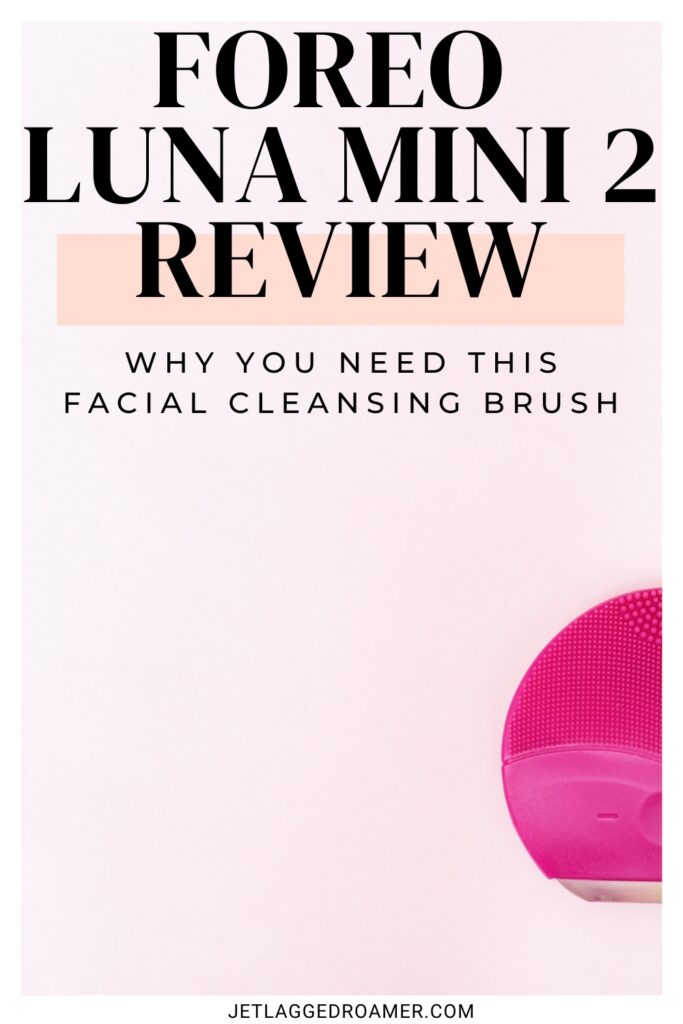 Enjoy reading about beauty tips? Check out these other related posts:
What Is the Luna Mini 2
The Luna Mini 2 is a silicone facial cleansing tool made by FOREO- this company specializes in tools for cleaning the face and teeth with silicone bristles.
Besides the Luna Mini 2, FOREO has many different cleansing brushes that are larger than the mini, but I personally haven't used them. I am going to share my FOREO Luna Mini 2 review on this cleansing tool that I have been using for many years. So you could say I have a pretty good insight if it works and lives up to what it claims to be.
Sonic Pulsations
So what's all the craze over the Luna Mini 2? The FOREO beauty gadget uses T-sonic pulsations that remove up to 99.5% of dirt, grime, and makeup residue. During cleansing, the silicone nubs pulsate 8,000 times per minute for a gentle massage.
To be honest, after my first use, I could immediately feel a difference and was hooked. My skin has never felt so squeaky clean after washing. This cleansing tool was able to clean my face better than my hands or washcloth could. After a few days of using my Luna mini 2 it unclogged my pores and left my skin with a lifted and firm appearance.
Power Levels
The Luna Mini 2 has 8 different massage intensities that you can customize to your face sensitivity.
Changing the pulsation intensities is easy, just select the +/- buttons on the front of the FOREO Luna Mini 2. Your setting is saved for all your future cleansing until you decide to change the intensity.
I typically bounce back and forth between intensities. When I am washing off a heavier makeup application I usually bump up the pulsations a notch.
RELATED POSTS: The 6-Best Exfoliating Face Masks For Glowing Skin & 10 Beauty Products on Amazon That Really Work!
Colors
The Luna mini 2 comes in fun colors which I find makes your cleansing routine more fun and personalized. Luna mini 2 colors come available in fuchsia, mint, pearl pink, sunflower yellow, aquamarine, and midnight. My favorite was mint.
Charging Your Luna Mini 2
What I love most about my FOREO Luna Mini 2 is it's a rechargeable cleansing gadget and doesn't require any batteries. It charges easily with the USB cord that inserts into the back of the cleansing device. A single charge lasts for 5 months or a total of 300 face washes.
Before your first use, it is recommended you charge your silicone brush for an hour, a steady glow will appear once the Luna mini 2 has fully charged.
When the pulsations on the Luna Mini 2 become weak then you will know your beauty gadget needs a recharge.
Cleaning Your Luna Mini 2
Cleaning the Luna Mini 2 is super easy and doesn't take much time at all. After washing your face massage it with a mild soap, rinse, and pat dry. FOREO has a cleansing spray on their website for keeping your brush clean, but honestly, a mild soap works just fine. It is very low maintenance and much cheaper.
What makes the FOREO Luna Mini 2 so great is not having to buy replacement brushes like other cleansing tools on the market. FOREO guarantees the Luna Mini 2 silicone brush head will last a lifetime, which saves time and a lot of money in the future which is worth the investment.
I have had my Luna mini 2 for years and haven't had any issues. For the amount of time, I have had my cleansing gadget it has already paid for itself.
RELATED POSTS: How To Follow The Korean Skincare Routine Day & Night & How To Take Care Of Your Skin While Traveling
Cost & Warranty Of The Luna Mini 2
The Luna mini 2 facial brush goes on sale periodically, so be on the lookout if you plan on buying this facial cleansing tool. You can find out more about current pricing by clicking here. When you purchase your Luna mini 2 it comes with a 2-year warranty and a 10-year quality guarantee.
Just make sure to register your Luna after buying. If a defect happens after 24 months you can claim 50% off the listed price on your online order with the company after your product has to be deemed defective by the manufacturer first.
Luna Mini 2 Precision Cleaning Zones
The FOREO Luna Mini 2 has 3-different precision cleansing zones that you use for your skincare needs and type. Thinner touchpoints target sensitive-dry skin, thicker touchpoints are aimed at precision cleansing, and broad touchpoints are for oily skin.
How To Use Your FOREO Luna Mini 2
Using the Luna mini 2 facial cleansing brush is really simple. You just divide your face into 4-quadrants like the picture above to make sure you hit every spot on your face. Quadrants include 1) the right cheek and right side of the chin 2) the left cheek and left side of the chin 3) the forehead and 4) the nose and under the eyes.
After doing my double cleanse I apply my water-based cleanser to a dampened Luna Mini 2 before turning on the power button. Just apply your brush to the first quadrant in circular motions. When you feel the Luna mini 2 pauses move to another section until each zone has been completed. Voila, your face is super clean, now resume your regular skincare routine.
The Luna pulsates for a full minute and each quadrant lasts for 15 seconds before you feel the pause to move to another zone.
Luna Mini 2 Review Final Verdict
Since I have been using the FOREO Luna Mini 2 my skin just keeps improving after each use. This facial cleansing brush makes my skin softer, smoother, cleaner, and much tighter! All my facial products absorb and penetrate deeper into the skin. Blackheads were a big problem I dealt with in my pre-Luna days, now they are very minimal Although I don't have issues with acne, my friends have said theirs have cleared since using this beauty gadget.
The Luna mini 2 is also very portable in size and the cleansing gadget is no bigger than my palm, lightweight, and very easy to store. If you are a frequent flyer, this cleansing brush is great for travel since it will only take up minimal space in your luggage or carry-on. Just make sure you have a sufficient charge before traveling.
What makes the FOREO Luna even more awesome is its very low maintenance. Cleaning this product is painless and takes less time to clean than all your makeup brushes! Since it's silicone the bristles are reusable which saves money not having to constantly replace brushes or batteries.
The cost of the FOREO Luna mini 2 is a reasonably good price, you just buy one Luna and that's all you need. I have had my FOREO Luna Mini 2 for many years and haven't had any issues. It is still in impeccable condition, but I do take care of my Luna. FOREO provides an awesome warranty so it's a great investment for your skin.
Hands down I absolutely recommend this product and add it to your skincare routine. The Luna mini 2 is a skincare tool I will always use to wash my face because it works! If you want smooth, tight, and squeaky clean skin the Luna mini 2 is a great investment and worth every dollar.
Before you go, check out these other related posts on skincare!
Like this post about the FOREO Luna Mini 2 Review? Share it with others or pin it for later.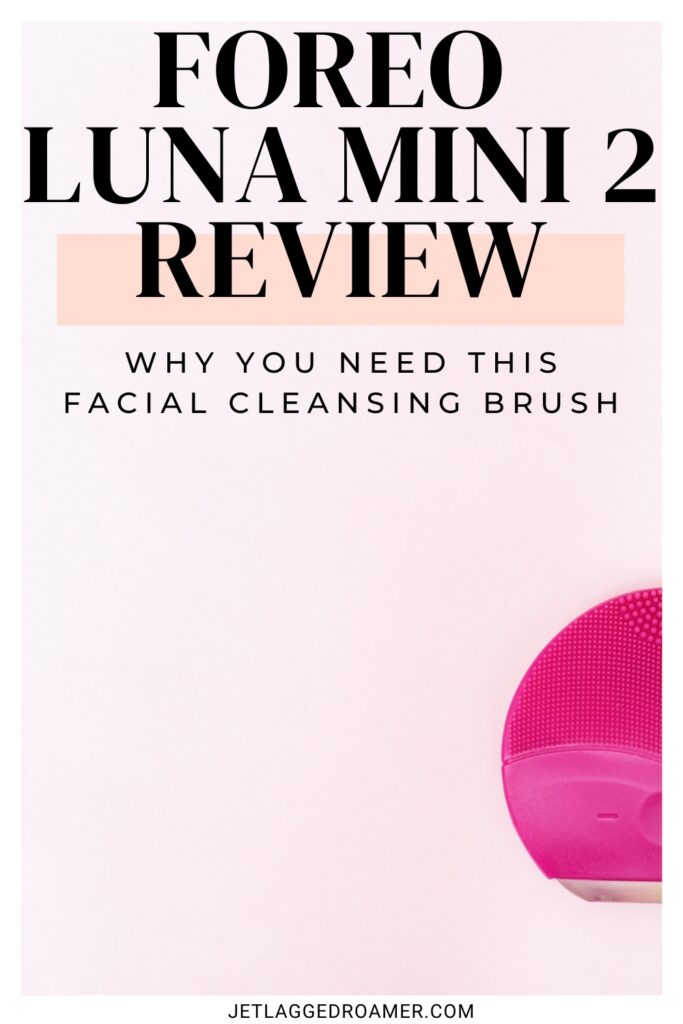 Jetlagged Roamer is a participant in the Amazon Services LLC Associates Program, an affiliate advertising program designed to provide a means for sites to earn advertising fees by advertising and linking to amazon.com, amazon.co.uk, amazon.ca. Amazon and the Amazon logo are trademarks of Amazon.com, Inc. or its affiliates.