On the hunt for some awesome makeup captions for your Instagram? You're in the right place! Here I have compiled this extensive list for all makeup junkies and makeup artists highlighting all of the best makeup quotes for Instagram, makeup beauty quotes, funny Instagram captions for makeup, inspirational makeup quotes, and much more!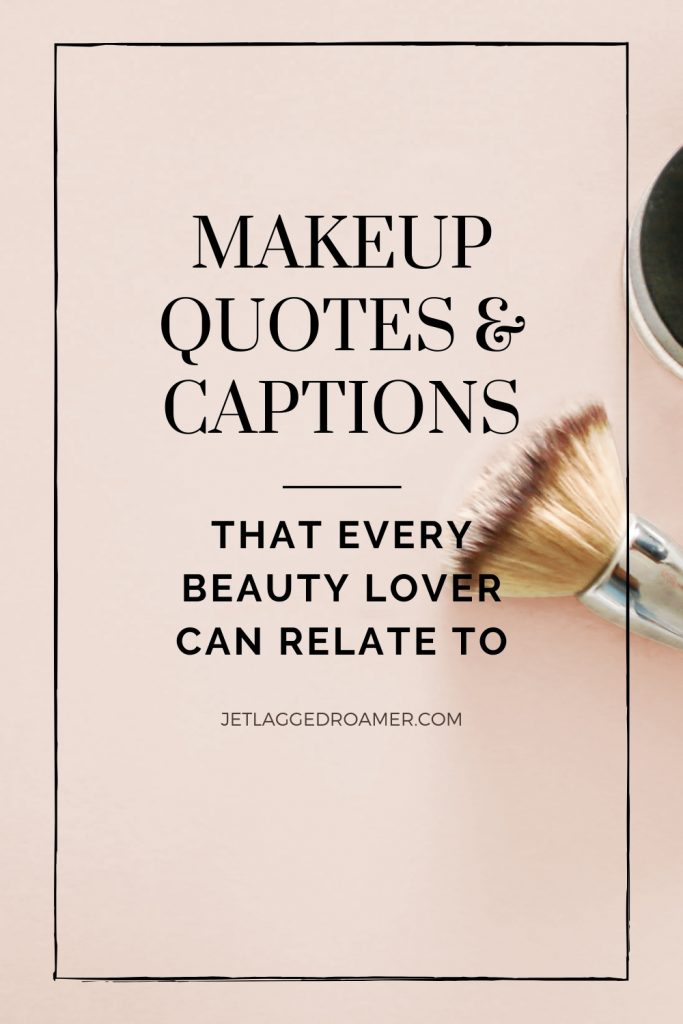 This article may contain affiliate / compensated links. For full information, please see our disclosure here.
Best Makeup Captions That Are Short
Check out these sassy, short, and sweet makeup captions for Instagram. Hope you enjoy them as much as I do!
1| When in doubt, just add some more glitter.
2| Give them a reason to take a second look. 
3| Wake up. Makeup. Repeat. 
4| Glamour is a state of mind.
5| Be as bold as your lipstick.
6| Brows before bros. 
7| Too glam to give a damn.
8| She's looking glossy.
9| Today is gonna be a glow day. 
10| My summer makeup looks can't be beat.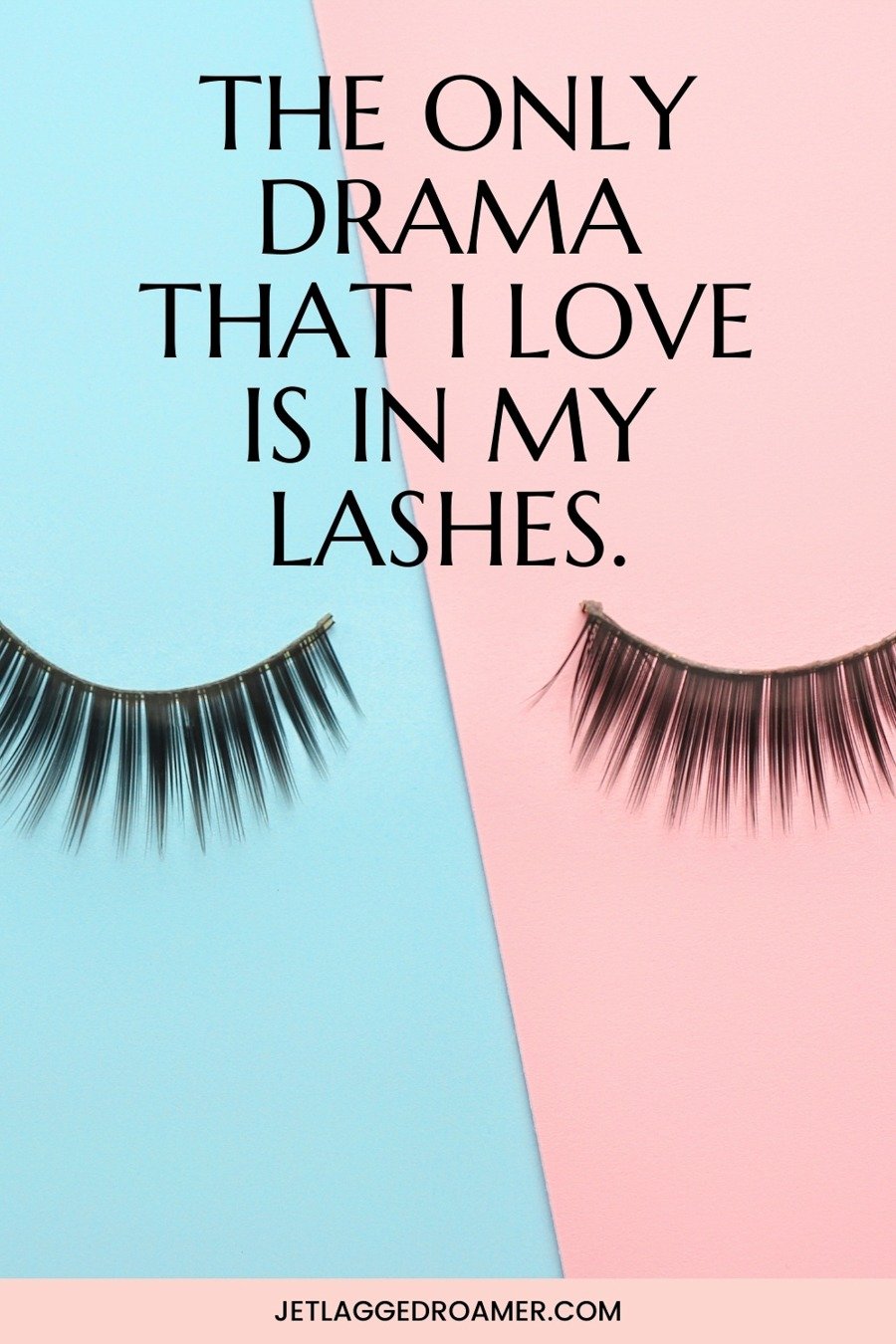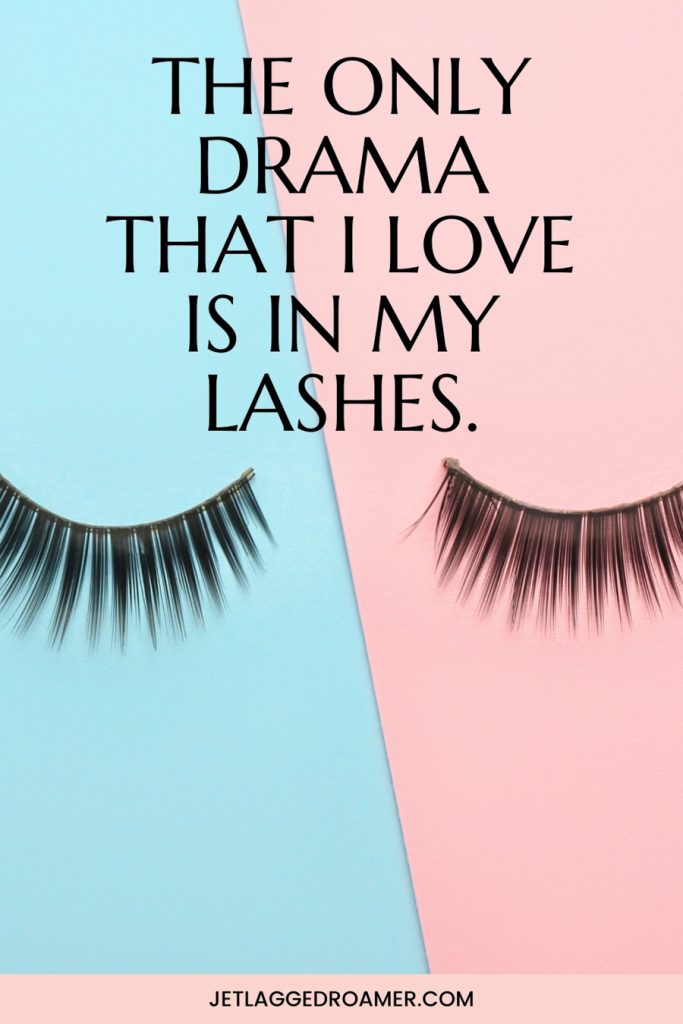 11| The only drama that I love is in my lashes.
12| Sephora and chill. 
13| My war paint.
14| There's no use crying over a broken bronzer.
15| Perfect makeup. Perfect mood. Perfect day.
16| I don't wear makeup to impress guys. I wear it for myself. It's my way of getting high.
Makeup Captions For Instagram 
Here are some of my favorite makeup captions for Instagram and I know all makeup lovers can relate too!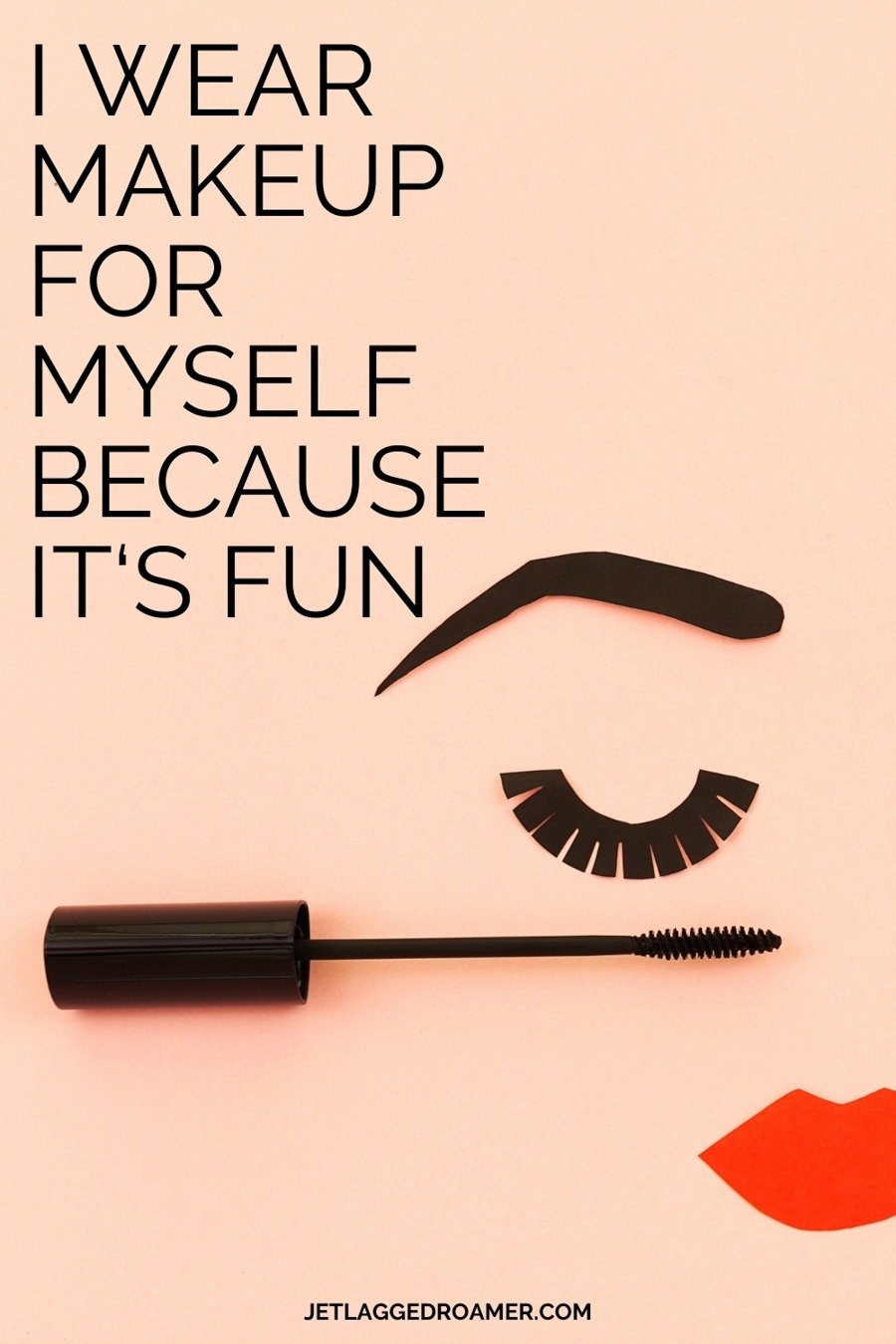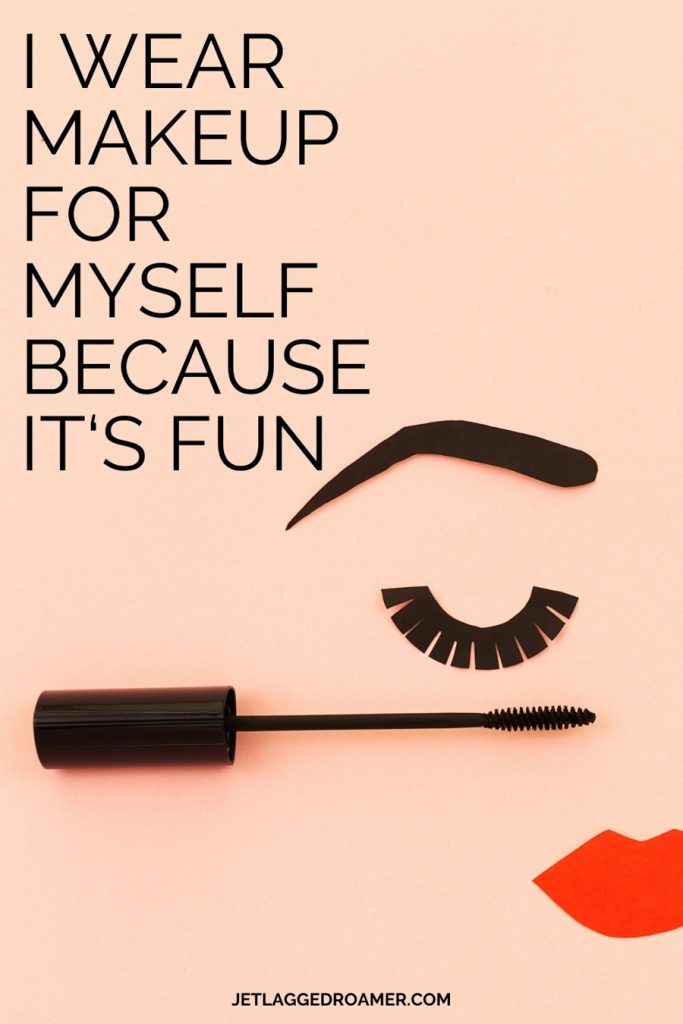 17| I wear makeup for myself because it's fun.
18| Beneath the makeup and the perfect smile, you can find a girl, who's ready to conquer the world. 
19| Shimmery, shiny, and sparkly are my three favorite colors. 
20| I don't need a fairy godmother. I've got my MAC. 
21| How to apply liquid eyeliner when you're already running late…1. DON'T. 
22| All things are possible with a little coffee and mascara.
23| I believe in manicures. I believe in overdressing. I believe in primping at leisure and wearing lipstick. 
24| Life is tough: use a setting spray. 
25| Nothing haunts you like the makeup you didn't buy.
26| Growing up, I never imagined my eyebrows would be this important."
RELATED POST: How To Follow The Korean Skincare Routine
Caption On Makeup 
Needing a perfection caption on makeup? These short captions are sure to get people to comment on Instagram pictures.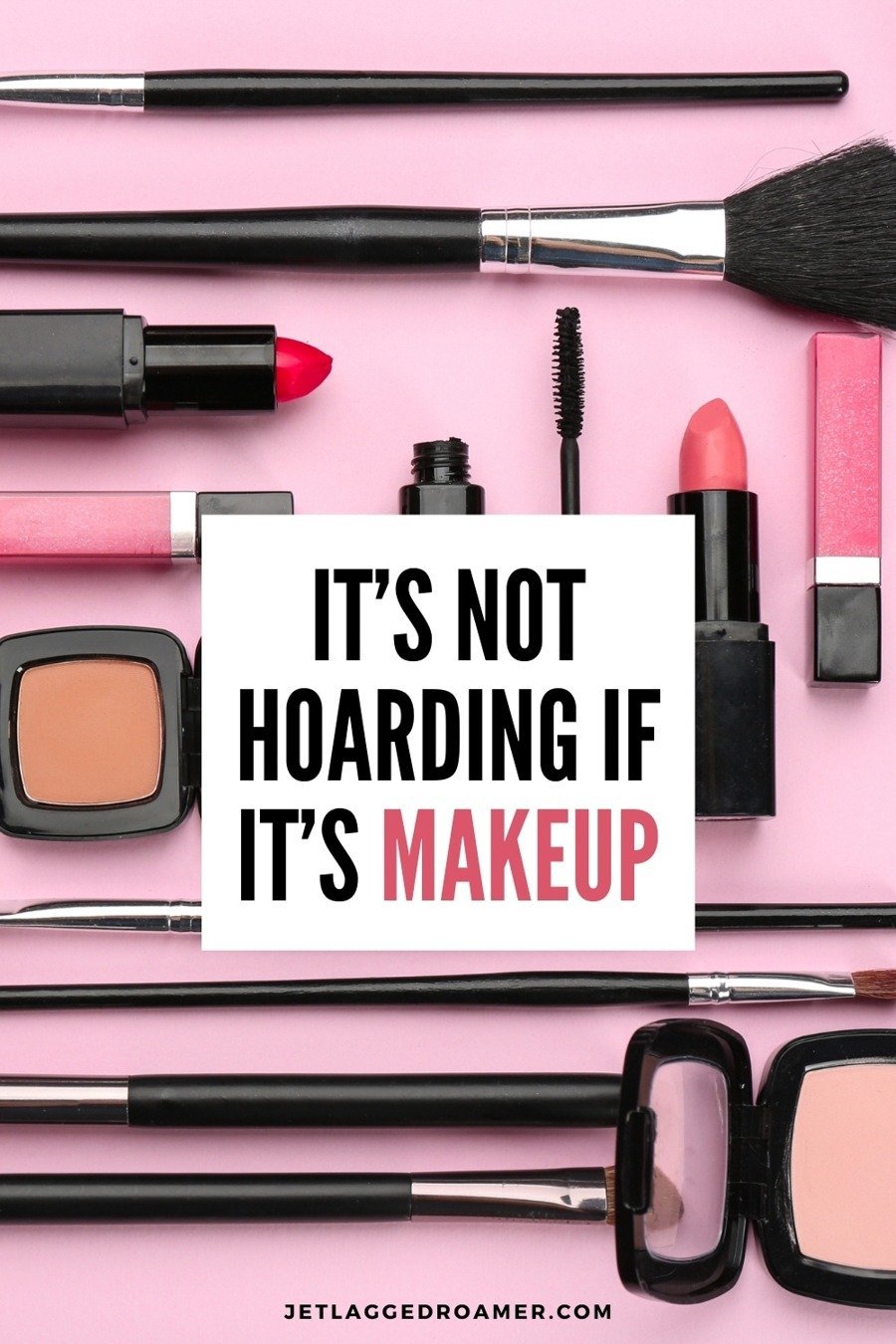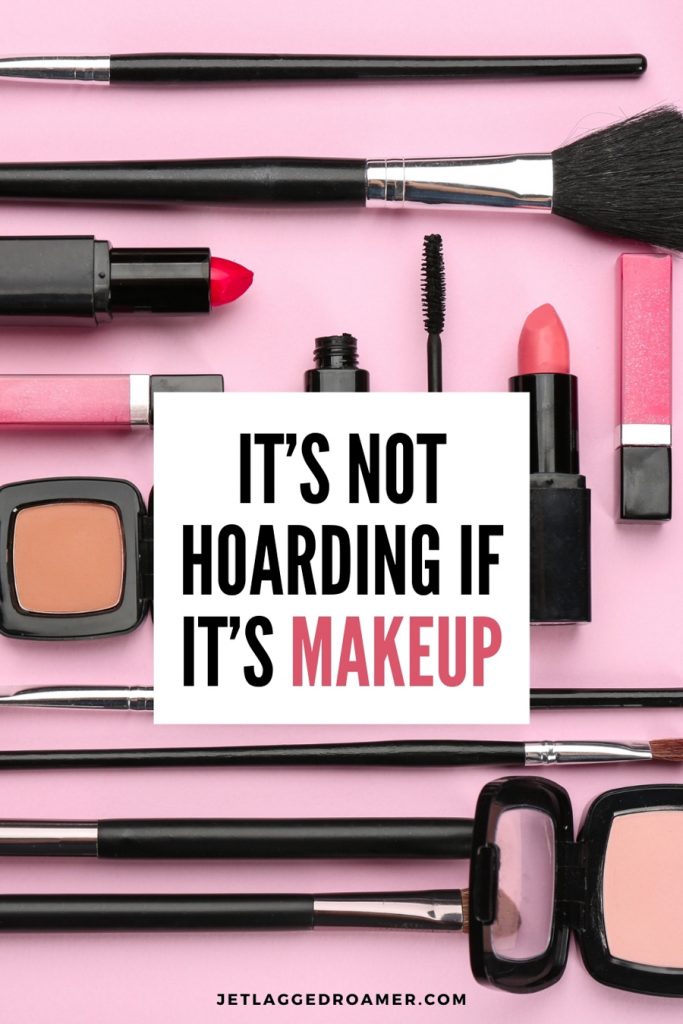 27| It's not hoarding if it's makeup.
28| Be with someone who ruins your lipstick – not your mascara.
29| Don't try to come for me when my makeup looks this fierce. 
30| Don't let today be a waste of makeup.
31| Wake up and makeup.
32| While some girls share their BF problems, I worry about not having enough makeup.
33| Feeling confident because I've got my summer glow on.
Makeup Quotes For Instagram
Nothing like reading a good beauty quote. Below are some makeup quotes for Instagram from icons in the world of makeup.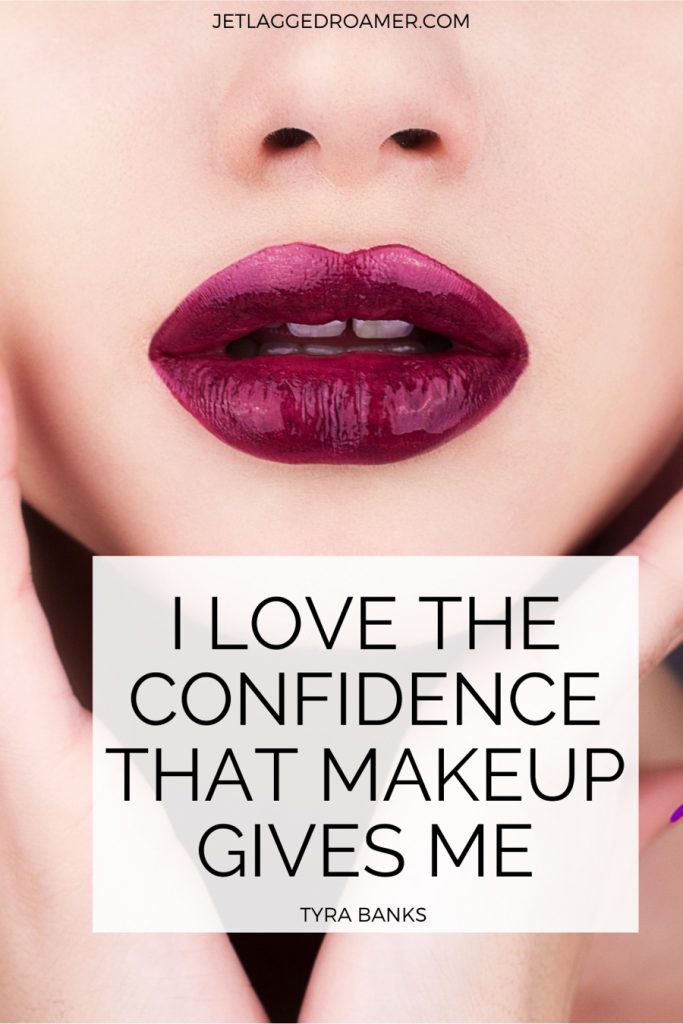 34|  "I love the confidence that makeup gives me." – Tyra Banks 
35| "Shine bright like a diamond." — Rihanna, Diamonds 
36| To me, beauty and makeup and color is like the finishing touch on everything. – Marc Jacobs
37| All the makeup in this world can never cover up an empty brain. – Edmond Mbiaka  
38| "I don't think I could live without hair, makeup and styling, let alone be the performer I am. I am a glamour girl through and through. I believe in the glamorous life and I live one." – Lady Gaga
39| "Whether I'm wearing lots of makeup or no makeup, I'm always the same person inside." – Lady Gaga 
40| "The best thing is to look natural, but it takes makeup to look natural." – Calvin Klein
41|  "Beneath the makeup and behind the smile I am just a girl who wishes for the world."- Marylin Monroe
42| I'm feelin' myself. — Nicki Minaj and Beyoncé, Feelin' Myself
43| "To me, natural, healthy looking skin is really beautiful. With a little concealer, eyeshadow, liner, gloss and bronzer, I love my lighter makeup look. I've saved so much money on facials!"– Giuliana Rancic
No Makeup Quotes 
These no makeup quotes are sure to draw engagement in captions on your Instagram or Facebook.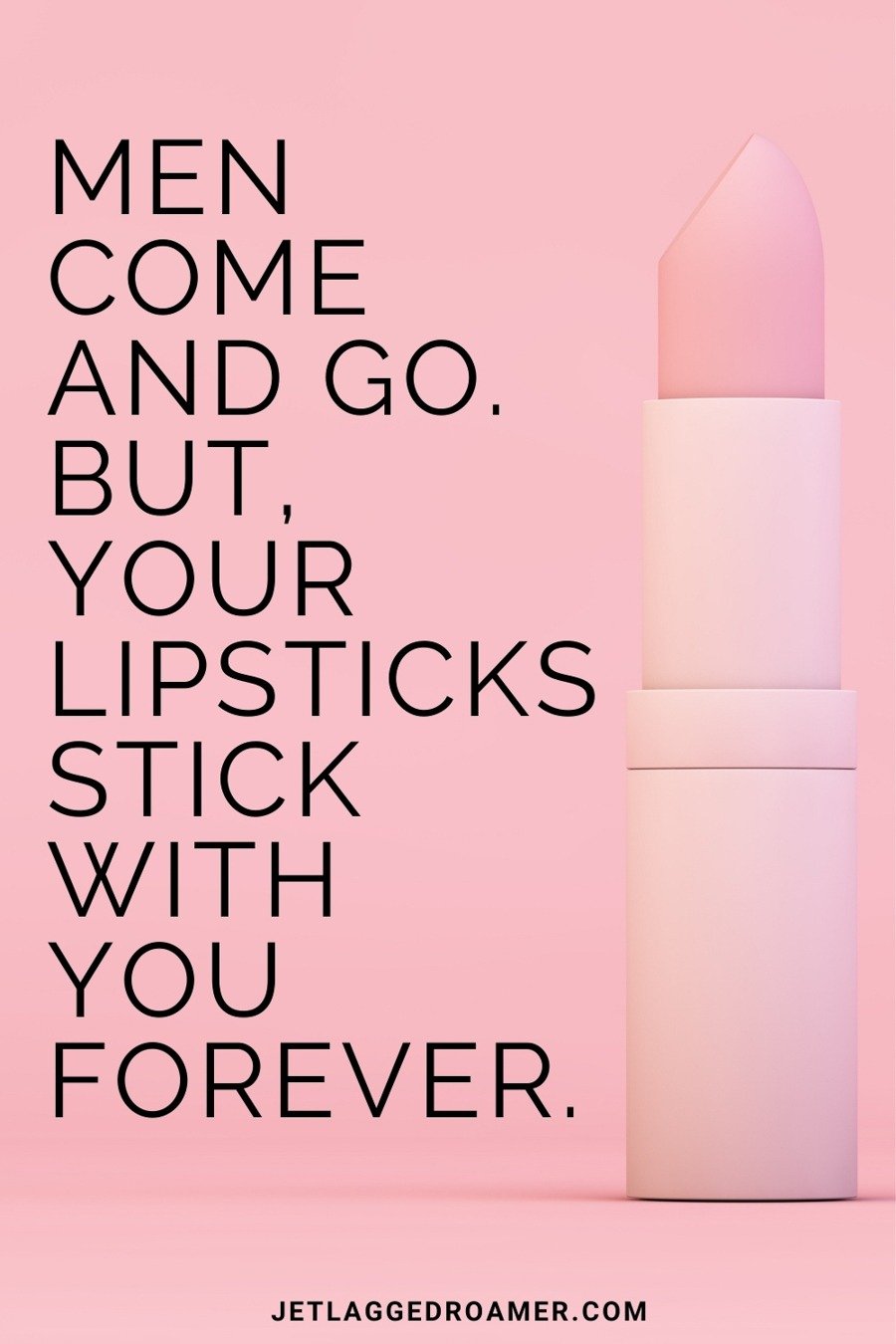 44| Men come and go. But, your lipsticks stick with you forever. 
45| I own too much makeup. #thatsamyth 
46| I spent too much time on my makeup to claim I woke up like this.
47| Success is the only option because I like expensive makeup.
48| May your day be as flawless as your makeup.
49| Yes, I agree that a natural look is the best look. But, do you know that it takes makeup to look natural?
50| Life is too short not to buy makeup.
51| Losing your BF hurts. But, it's nothing compared to the horror of losing your makeup bag.
RELATED POST: 6 Best Exfoliating Face Scrubs
Funny Instagram Captions For Makeup
These funny Instagram captions for makeup are sure to give any makeup junkie a chuckle. 
52| My cardio for the day – blending!  
53| I came. I saw. I contoured. 
54| My idea of a perfect romantic evening. Walking hand in hand along with bae, up and down the makeup aisle. 
55| Crying is for ordinary women. Pretty women go makeup shopping.
56| My life might not be perfect, but my makeup is. 
57| That's a lot of money to spend on a lipstick. That's when I realized that the relationship is over.
58| Guess who doesn't need blush because she's already sunburnt?
59| For all those who say beauty isn't skin deep, I would like to say, but it shows on your skin.
60| I don't want to cry over you. You aren't worth spoiling my mascara for.
61|  I'm addicted to buying makeup. But, then I'm not rich enough to face this problem.
Caption About Makeup 
From highlighter to mascara, below are some of the best captions about makeup.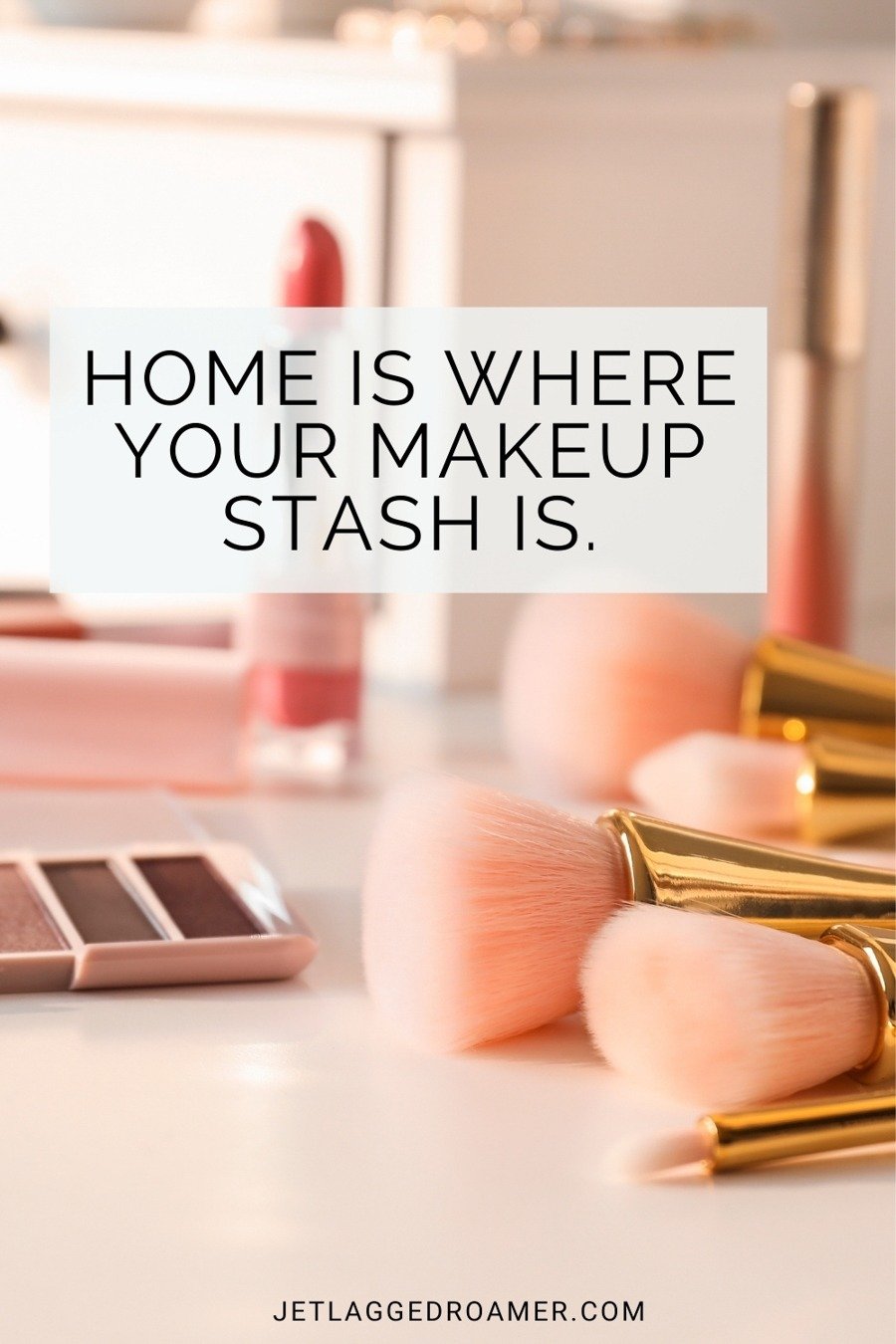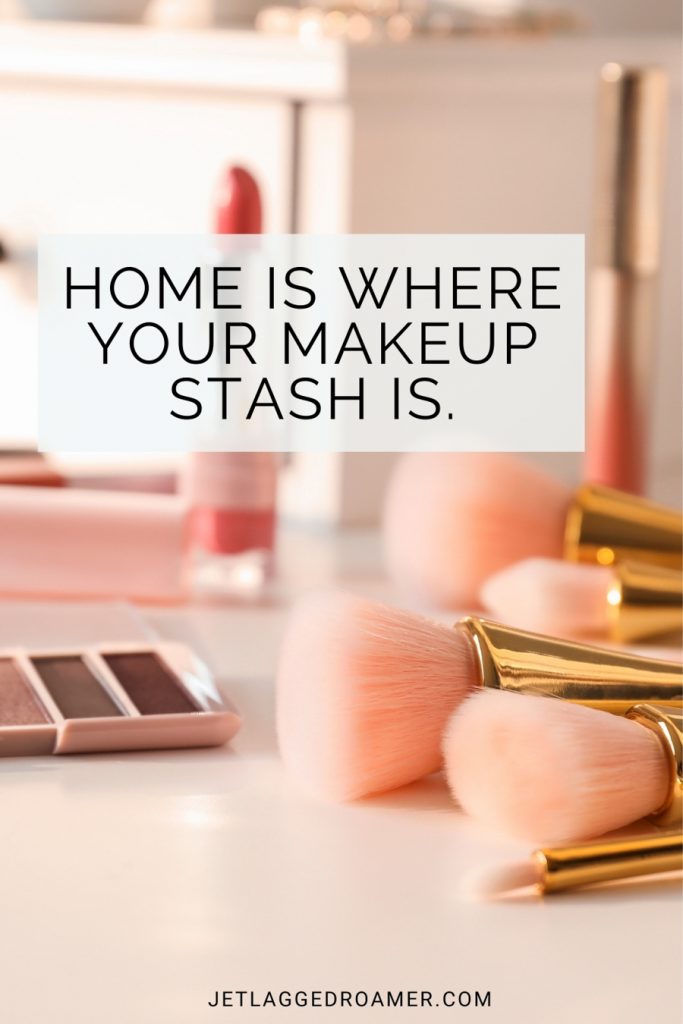 62| Home is where your makeup stash is.
63| Living for the 'so glowy I look like I'm constantly sweating' vibe this summer. 
64| Give me a glowing highlight, a poppin' lip gloss, and mascara wand, and I can do no wrong. 
65| Sunkissed glow' is the look we're going for all summer long. 
66| My BF still thinks that my eyelashes are real. There are some secrets that you don't share even with your bar. 
67| My highlight is as bright as the sun right now, and I'm not mad about it.
68| If you can't see my highlighter from space, I'm not wearing enough.
Funny Quotes About Makeup 
I hope these funny quotes about makeup will give you a good laugh. All makeup lovers can relate to bronzer mishaps and the chore of removing makeup!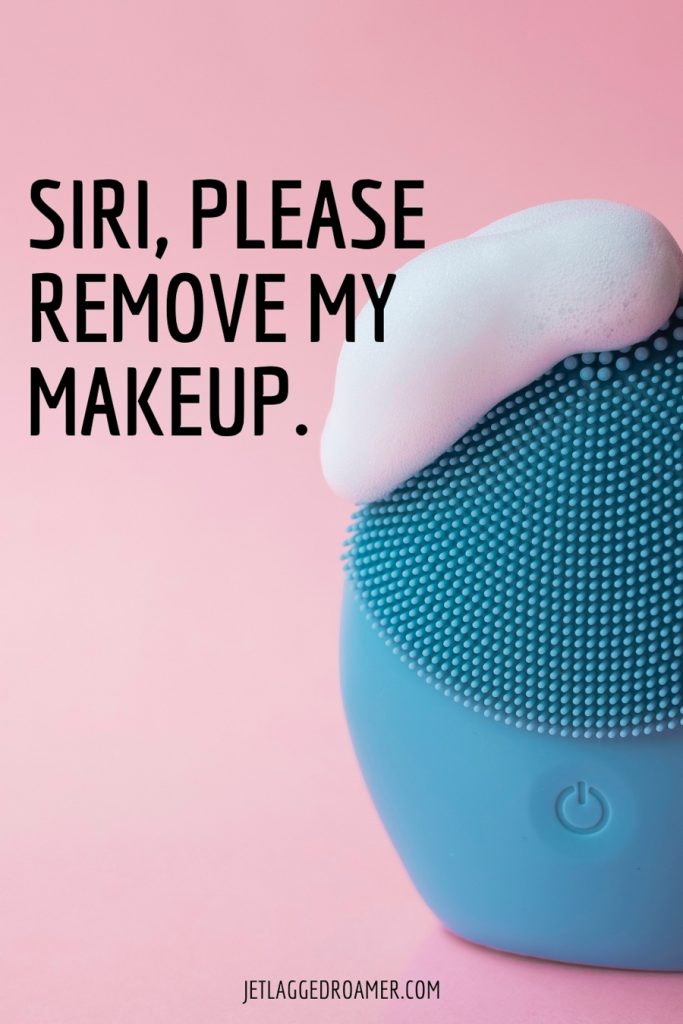 69| Siri, please remove my makeup.
70| Does this bronzer make my tan look orange? 
71| Make-up can only make you look pretty on the outside but it doesn't help if you're ugly on the inside. Unless you eat the make-up.
72| There is no such thing as too much highlight. 
73| I like makeup more than people.
74| Great eyebrows don't happen by chance. They happen by appointment.
75| You can't buy happiness… but you can buy makeup (which is basically the same thing).
76| Confidence comes from within… within the tube of a bomb lip shade.
77| Shout out to all the makeup I haven't bought yet. I'm coming for you.
78| Highlight so bright you need sunnies on just to look at me. 
79| I run on sarcasm, coffee, and lipstick..
Captions For Makeup Selfies 
Time to strike a pose! Use these captions for makeup selfies on your Instagram.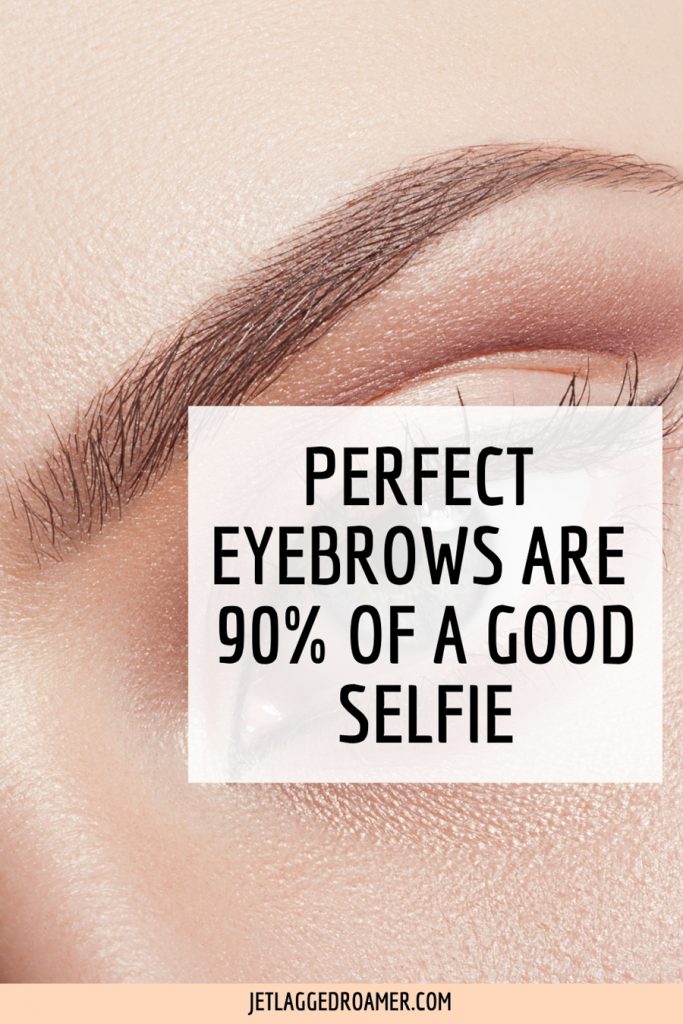 80| Perfect eyebrows are 90% of a good selfie.
81| Never spend a good makeup day without taking a selfie. 
82| Confidence level: selfie with no filter. 
RELATED POST: 10 Beauty Products That Really Work
Makeup Quotes And Sayings 
Here are some of the best makeup quotes and sayings that are perfect captions for your social media.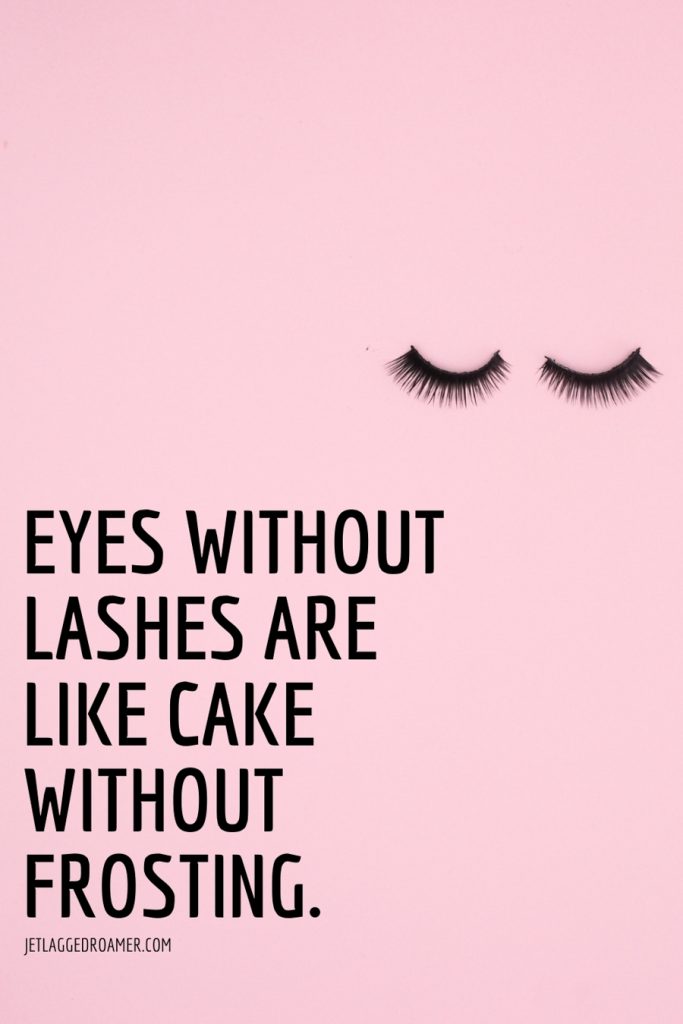 83| Eyes without lashes are like cake without frosting.
84| "We're just so lucky as women to be able to wear [makeup]. If you're having a bad day, you can change that." – Gwen Stefani 
85| "Cosmetics is the science of a woman's cosmos." – Karl Kraus
86| "Joy is the best makeup. But a little lipstick is a close runner-up." – Anne Lamott
87| "I can't wear a little makeup. I have to wear a lot of makeup or no makeup." – Betsey Johnson
88| Cross my heart hope to die, stick mascara in my eye. 
89| That glow tho.
90| Better to be late than to arrive ugly. 
Eye Makeup Quotes And Captions
Nothing like having your eye makeup on point! Flaunt your creation using these eye makeup quotes and captions below.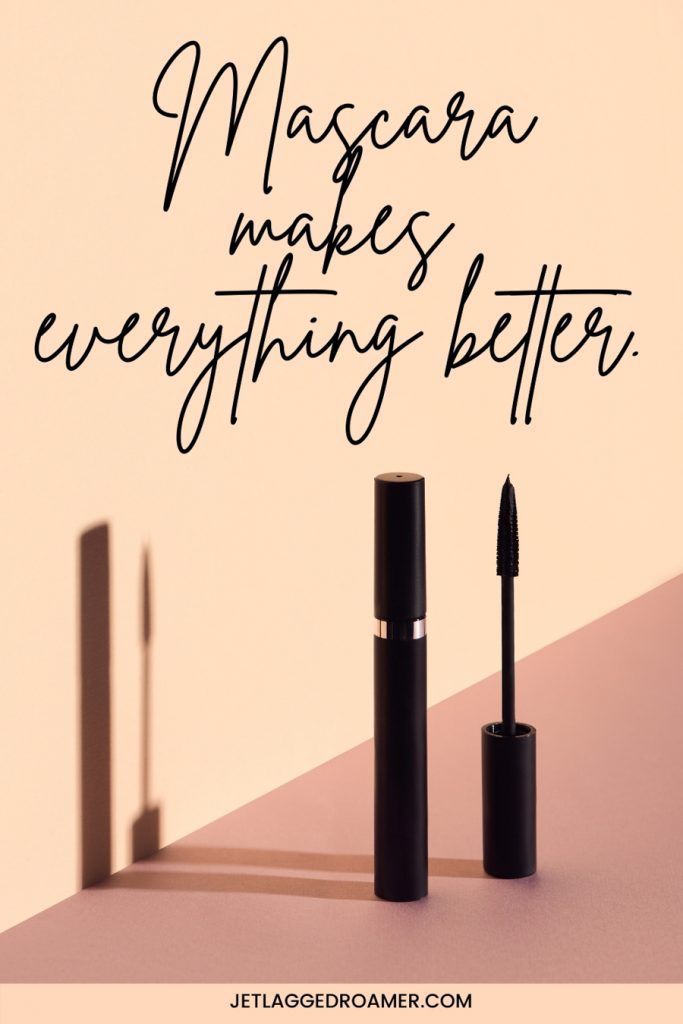 91| Mascara makes everything better.  
92| Don't you love the confidence that comes with a good lipstick and the perfect mascara? 
93| Never underestimate the power of brow game. 
94| "The bags under my eyes are designer. For beautiful eyes, look for the good in others; for beautiful lips, speak only words of kindness; and for poise, walk with the knowledge that you are never alone." – Audrey Hepburn    
95| Keep your heels high your head strong and your lashes long.
96| Lashes so long when I bat my eyes you get whiplash."
97| "Your eye makeup says so much about you and your style." – Laura Mercier  
98| You think I'm listening to your problems, but I'm just doing your brows.
99| Eyebrows speak louder than words. 
100| I want to cry but my eye makeup looks so good right now.
Some people are just born with glitter in their veins (and on their eyes).
Beauty Makeup Quotes And Captions
Calling all beauty lovers out there! Use these perfect beauty makeup quotes and captions on your social media.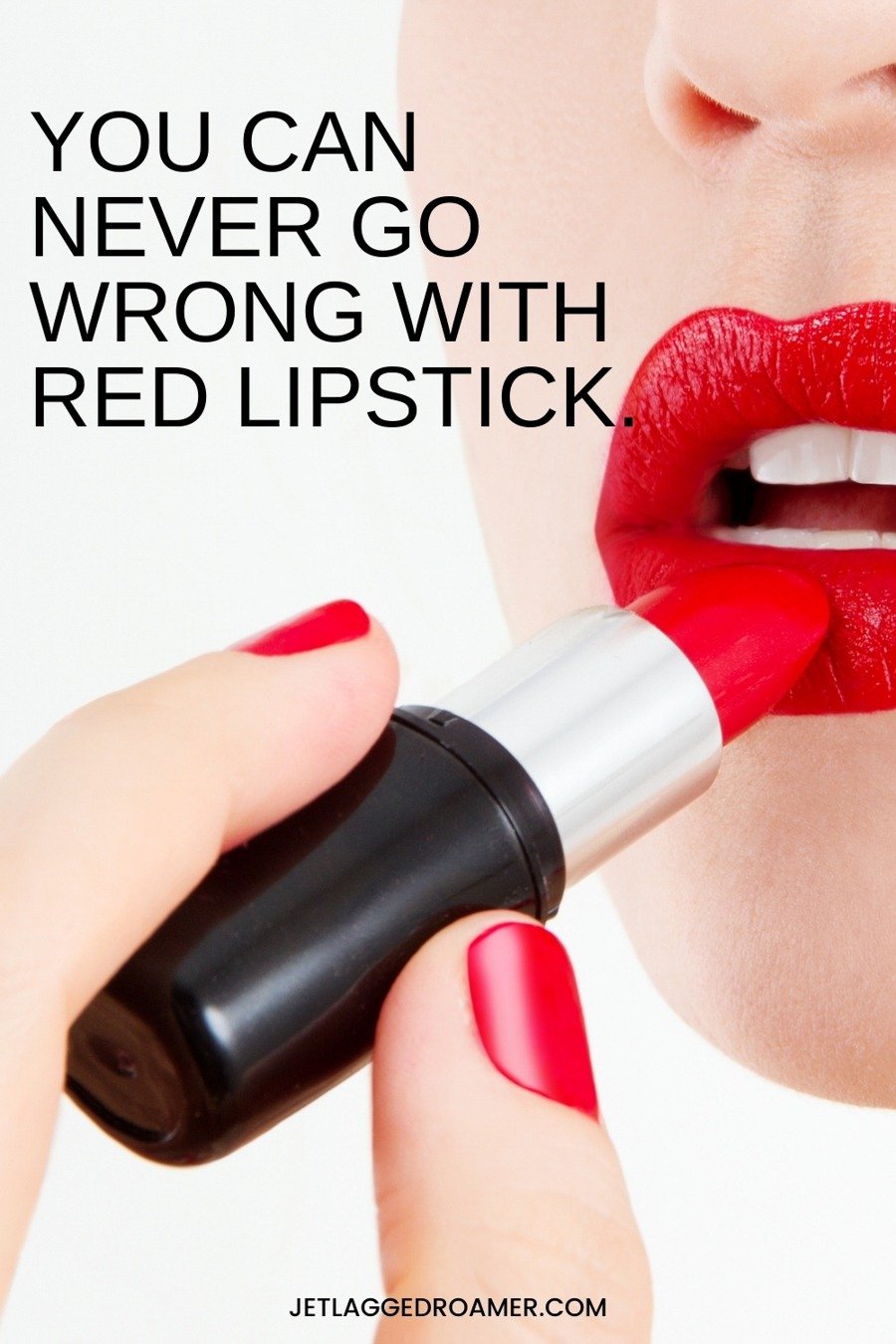 101| You can never go wrong with red lipstick. 
102| "For makeup, I prefer to keep it simple for the daytime." – Chiara Ferragni    
103| All I need is some tinted moisturizer and mascara. 
104| "I feel beautiful without makeup on, but when I do put makeup on, it just gives me this extra pop." – Cardi B 
105| "Makeup is the finishing touch, the final accessory." – Marc Jacobs
106| Lipstick is one of the best inventions of humanity. With a bit of waxy color, you open the doors to a brilliant day and a brilliant smile.
107| "Sometimes you just have to put on lip gloss and pretend to be psyched." – Mindy Kaling
108| Makeup is not a mask that covers up your beauty: it's a weapon that helps you express who you are from the inside.
Eyeliner Captions 
Oh the struggles of having a perfect winged eye. These eyeliner captions capture the true bliss when applied perfectly.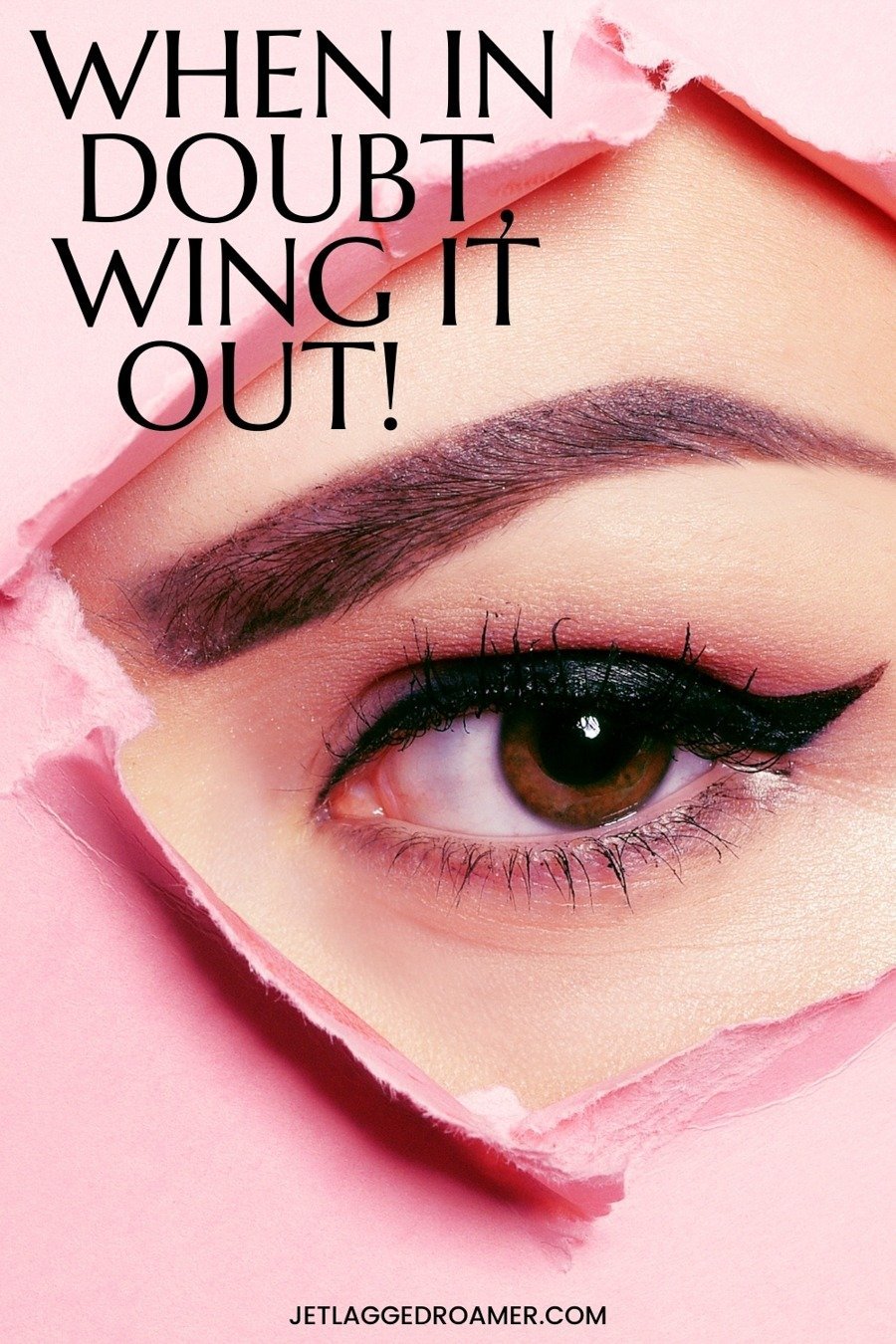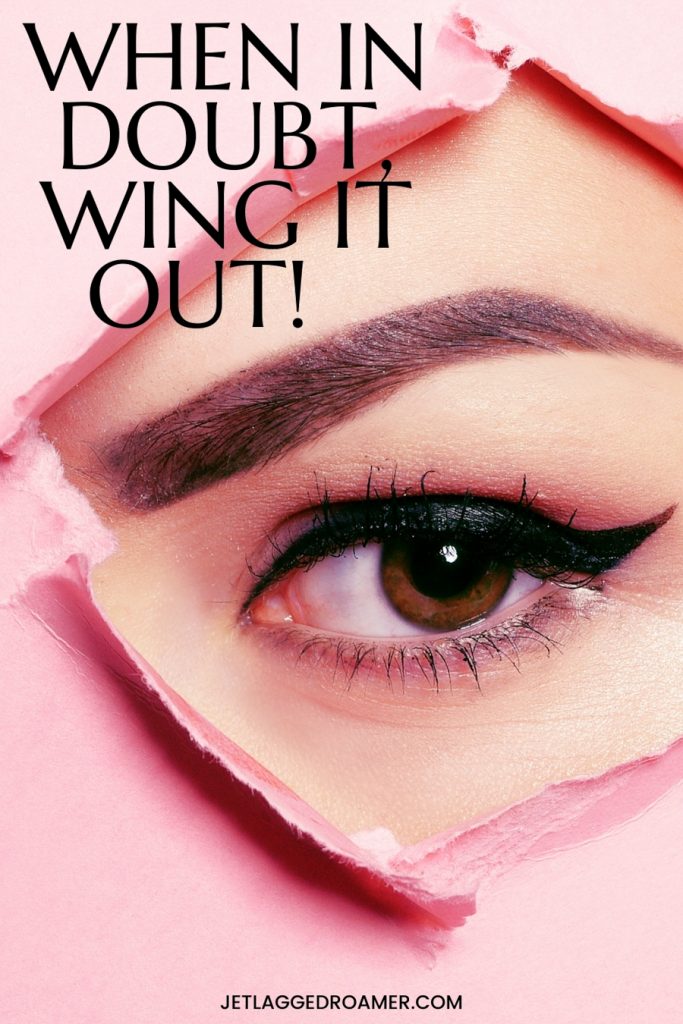 109| When in doubt, wing it out.  
110| Fly away on the wings of my eyeliner.
111| The common thing about life and eyeliner is that – you've got to wing it, like a boss! 
112| May your day be as good as a perfectly blended foundation and an even eyeliner. 
113| May your eyeliner be even and foundation be perfectly blended. 
114| That moment of happiness when the left wing of an eyeliner matches the right one.
115| Bolder than my lipstick. Sharper than my eyeliner.
116| You know you're going to have an absolutely brilliant day when the wings of your eyeliners are even. 
117| May your foundation match your neck, concealer be creaseless, and winged eyeliner be sharp enough to kill.
118| When my eyeliner is on point my life is on point.
119| Never ask a girl with winged eyeliners, why she's late.
RELATED POST: What's In My Makeup Bag
Makeup Quotes Funny 
These funny makeup quotes are sure relatable for all makeup lovers. 
120| "My lip gloss is cool, my lip gloss be poppin'."— Lil Mama, Lip Gloss
121| "Makeup is scary. When I do it myself, it's just mascara, and sometimes I forget even to do that." – Sandra Bullock 
122| "On a bad day, there's always lipstick." – Audrey Hepburn
123| "Cause I slay." — Beyoncé, Formation 
124| "If you're sad, add more lipstick and attack." – Coco Chanel
125| "There are no rules when it comes to makeup!" – Kevyn Aucoin  
126| "I just like playing with makeup and clothes…so I really don't feel like there are rules, and if there are rules, then I think it's up to you to break them." – Kesha    
Smokey Eye Quotes
Nothing sexier that a smokey eye. Use these perfect smokey eye quotes when showing off your blending skills.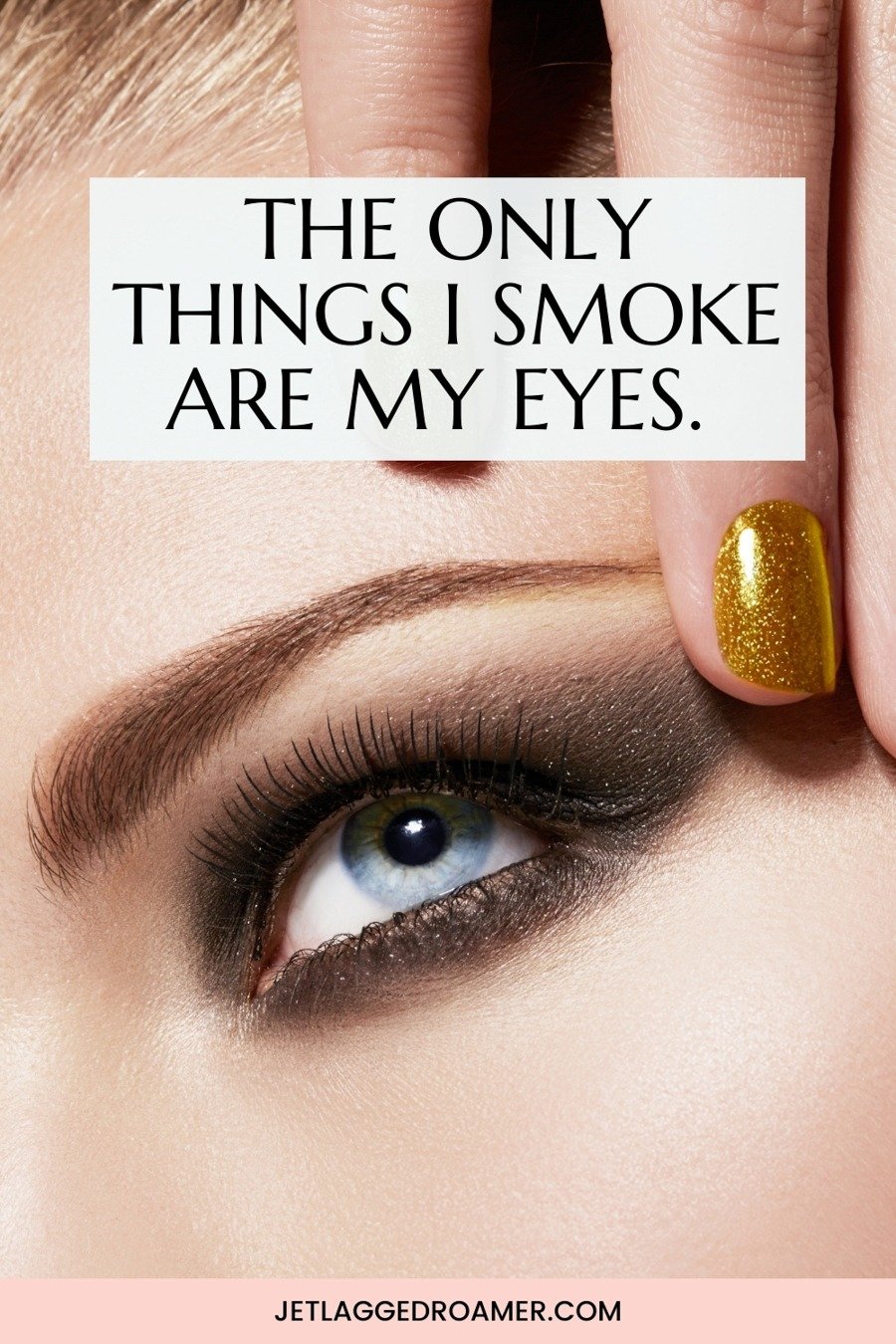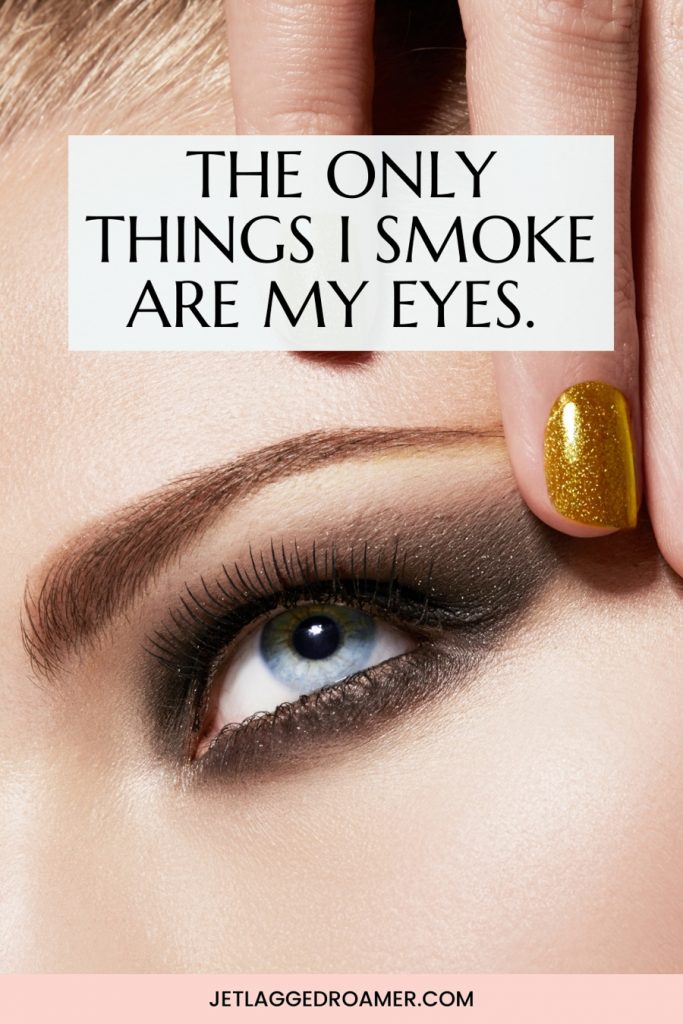 127| The only things I smoke are my eyes. 
128| The only thing smoking around here is my eyes. 
129| When all else fails, turn it into a smokey eye.
130| Do you smoke? Only my eyes.
 131| These aren't bags, it's reverse smokey eye.
Inspirational Makeup Quotes 
Needing a boost of motivation? These inspirational makeup quotes are sure to put your sparkle back in your highlighter!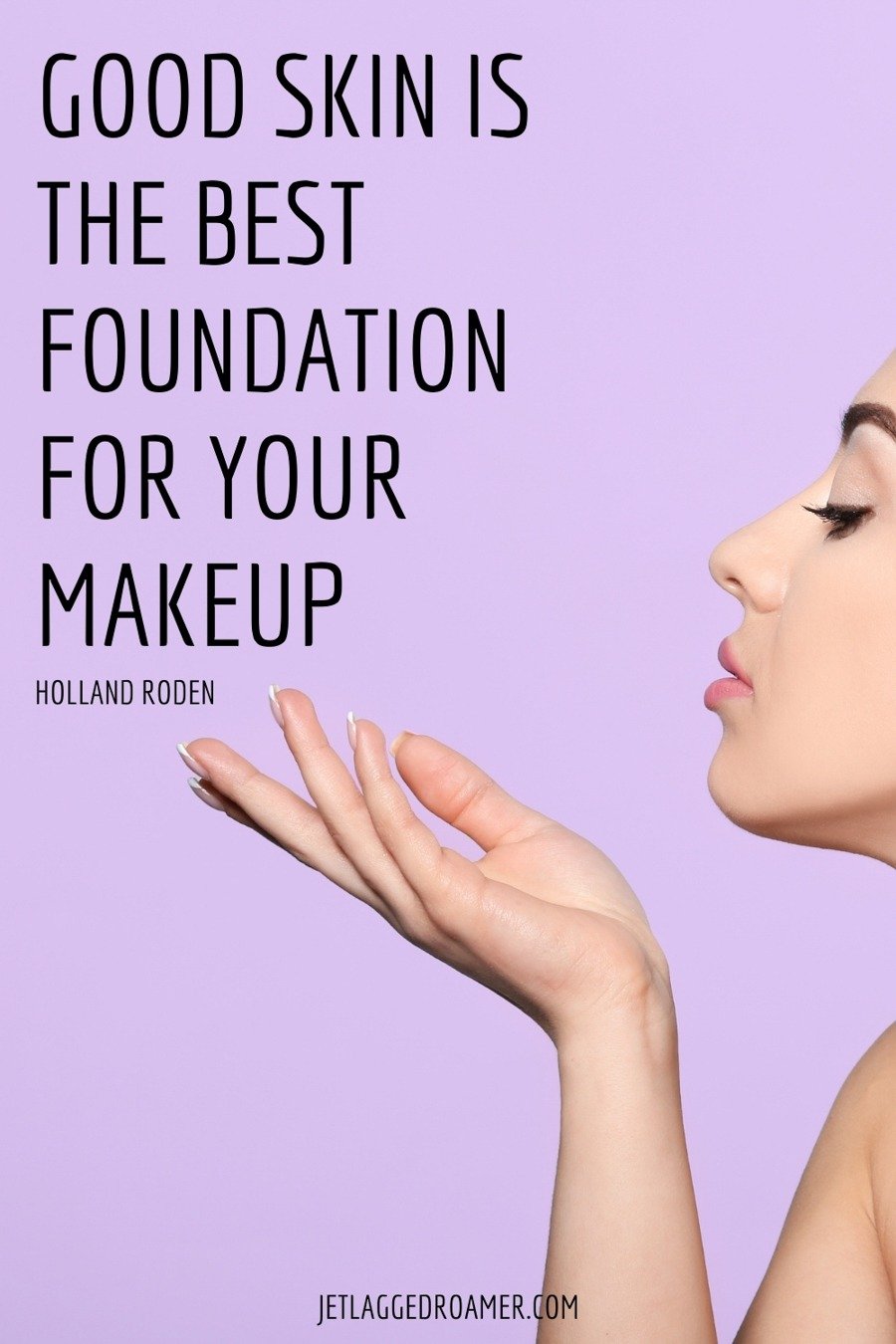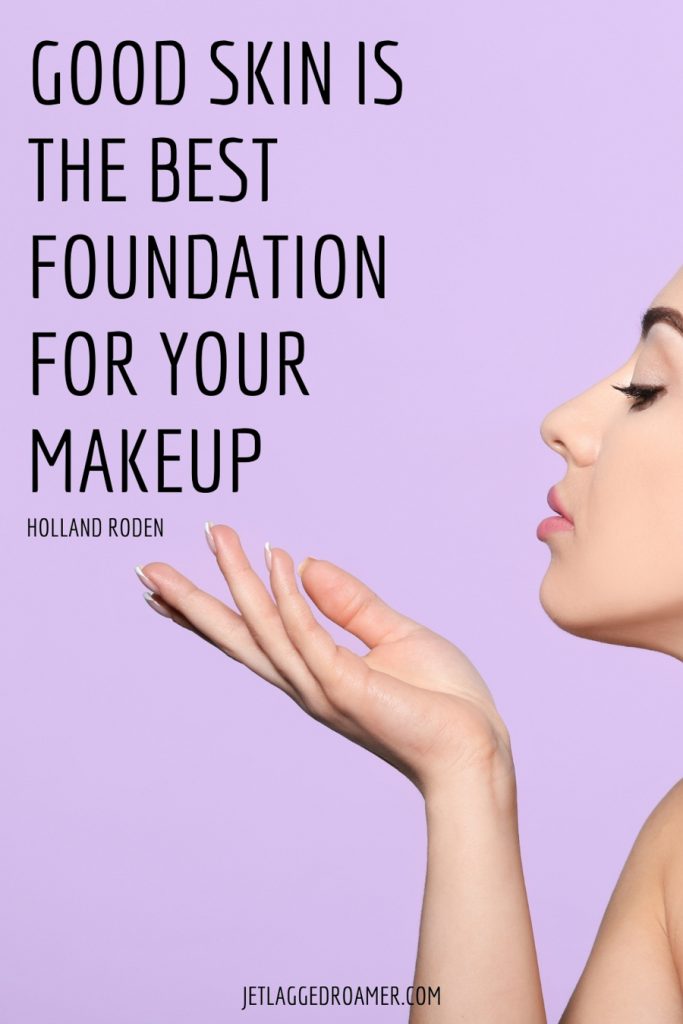 132| "Good skin is the best foundation for your makeup."- Holland Roden  
133| "Personalized beauty is about each woman being able to create her own makeup routine that complements her coloring and style" – Bobbi Brown  
134| "Makeup is very important for a show. It's really an accessory on the runway. You have to be sure that it fits the clothes." – Francois Nars  
135| "We know grooming is important for people. To get their hair done, to get makeup and things like that – that makes a person feel better". – Kenneth Williams    
136| I love natural beauty, and I think it's your best look, but I think makeup as an artist is so transformative." – Marina and the Diamonds   
Eyeshadow Quotes 
You can never have too many eyeshadow palettes, right? From blues, pinks, and even glitter these eyeshadow quotes are quite relatable for all makeup lovers.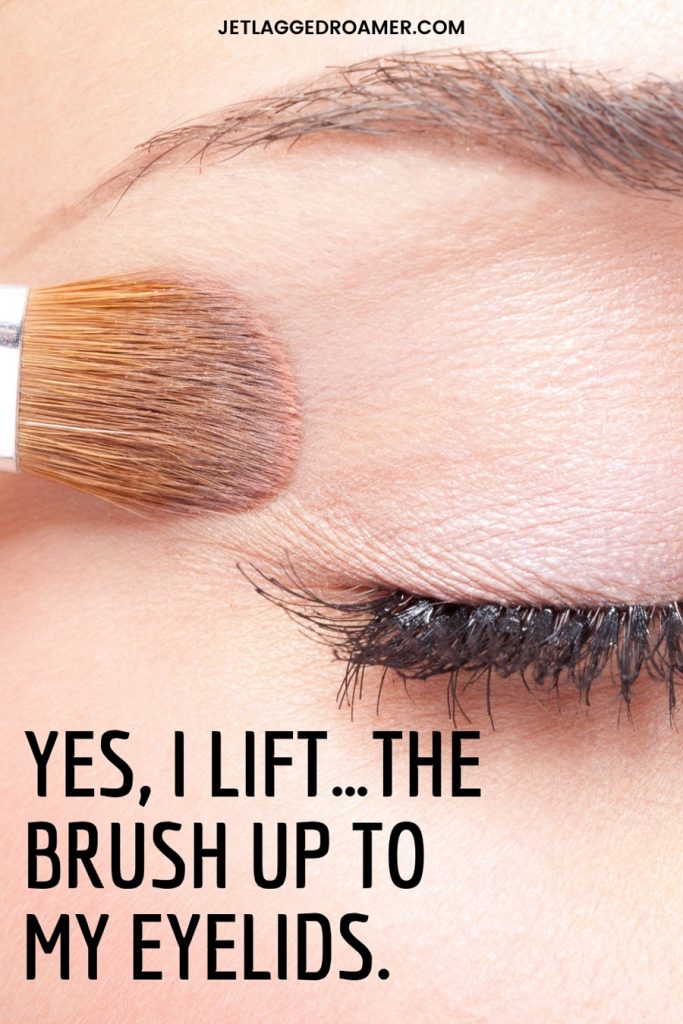 137| Yes, I lift…the brush up to my eyelids. 
138| You can never have too much coffee or too many eyeshadow palettes.
139|  I don't understand why makeup brushes are so expensive… I just want to blend my eyeshadow, not take out a bank loan.
140| When in doubt keep blending. 
141| I don't see why I'm being blamed for a man stupid enough to think I have gold sparkly eyelids.
142| I just feel like the world would be a better place if people knew how to blend their eyeshadow.
Makeup Beauty Quotes 
Here are some amazing makeup beauty quotes from some of the best in the makeup world.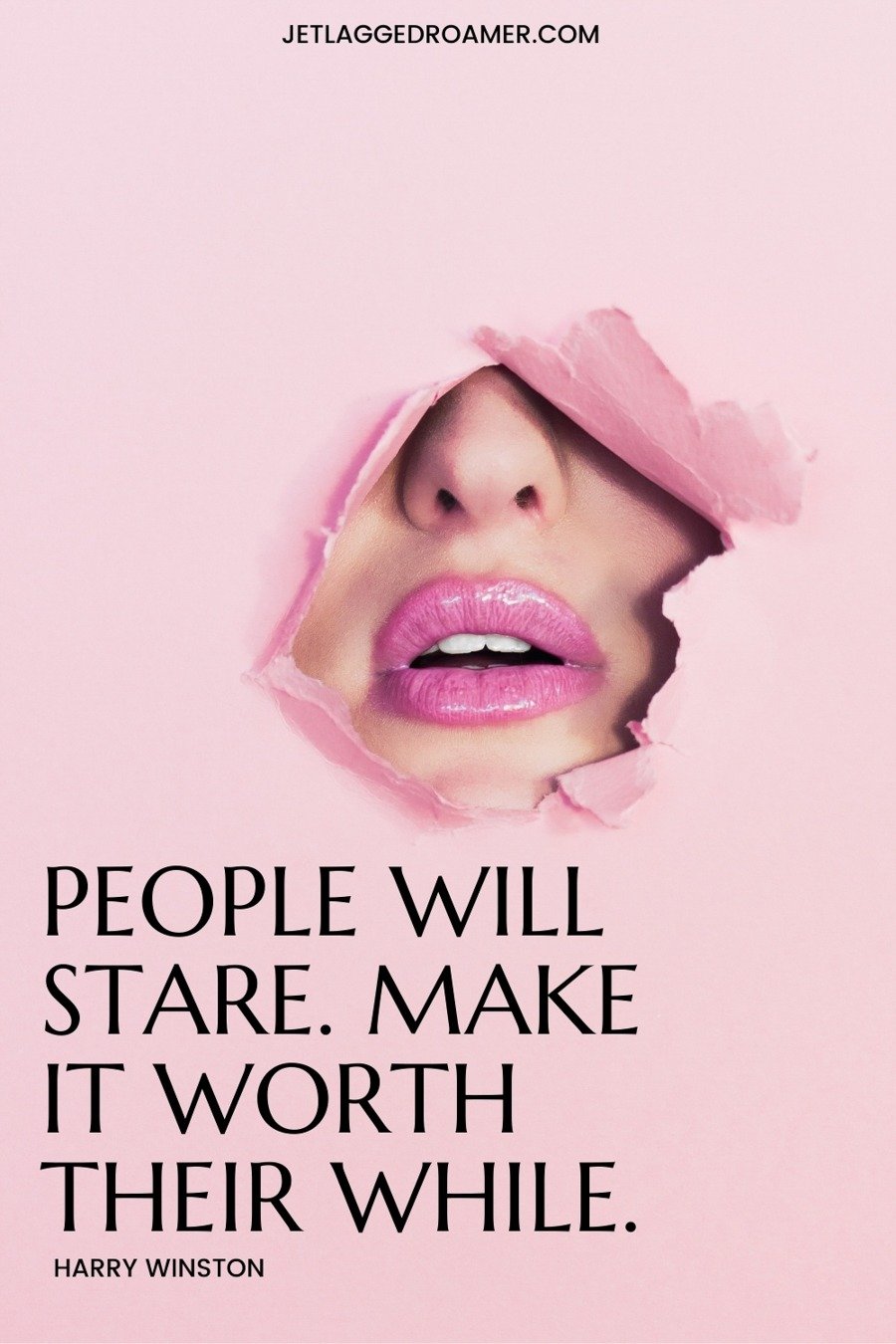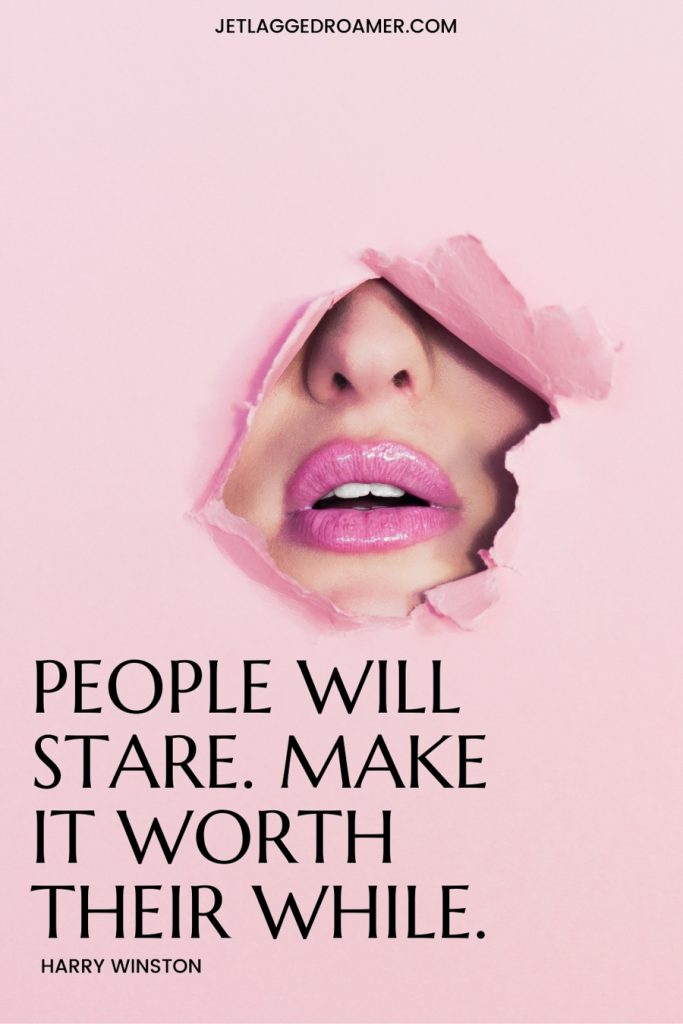 143| "People will stare. Make it worth their while." — Harry Winston
144| "Beauty, to me, is about being comfortable in your own skin. That, or a kick-ass red lipstick." — Gwyneth Paltrow
145| "Makeup is not a mask that covers up your beauty; it's a weapon that helps you express who you are from the inside." — Michelle Phan 
146| "Girls have always wanted to be pretty, even in Egyptian times. Cleopatra wore all the eyeliner, you know." – Rita Ora 
147| "When I put on makeup, I'm not doing it to pander to antiquated patriarchal ideals of feminine beauty. I'm doing it because it makes me feel good." – Sophia Amoruso 
148| "Have a better relationship with your makeup and take the time to learn what your products will do." – Sam Fine
149|  "Just because you want to be glamorous, don't be a sheep about your eye makeup." – Loretta Young
 150| "The notion that wearing makeup is anti-feminist is silly. Cleopatra pretty much invented the eyeliner, and she ruled a kingdom!" – Natasha Scripture 
151| "I'm very proud of my skin and face, and I have no problem not wearing makeup. I don't wear makeup because I feel like I need to cover myself up or because I don't feel confident. I wear makeup because it's fun; it's like painting on my face." – Zendaya
Makeup Artist Quotes
Here are some of the best makeup artist quotes from icons in the beauty world.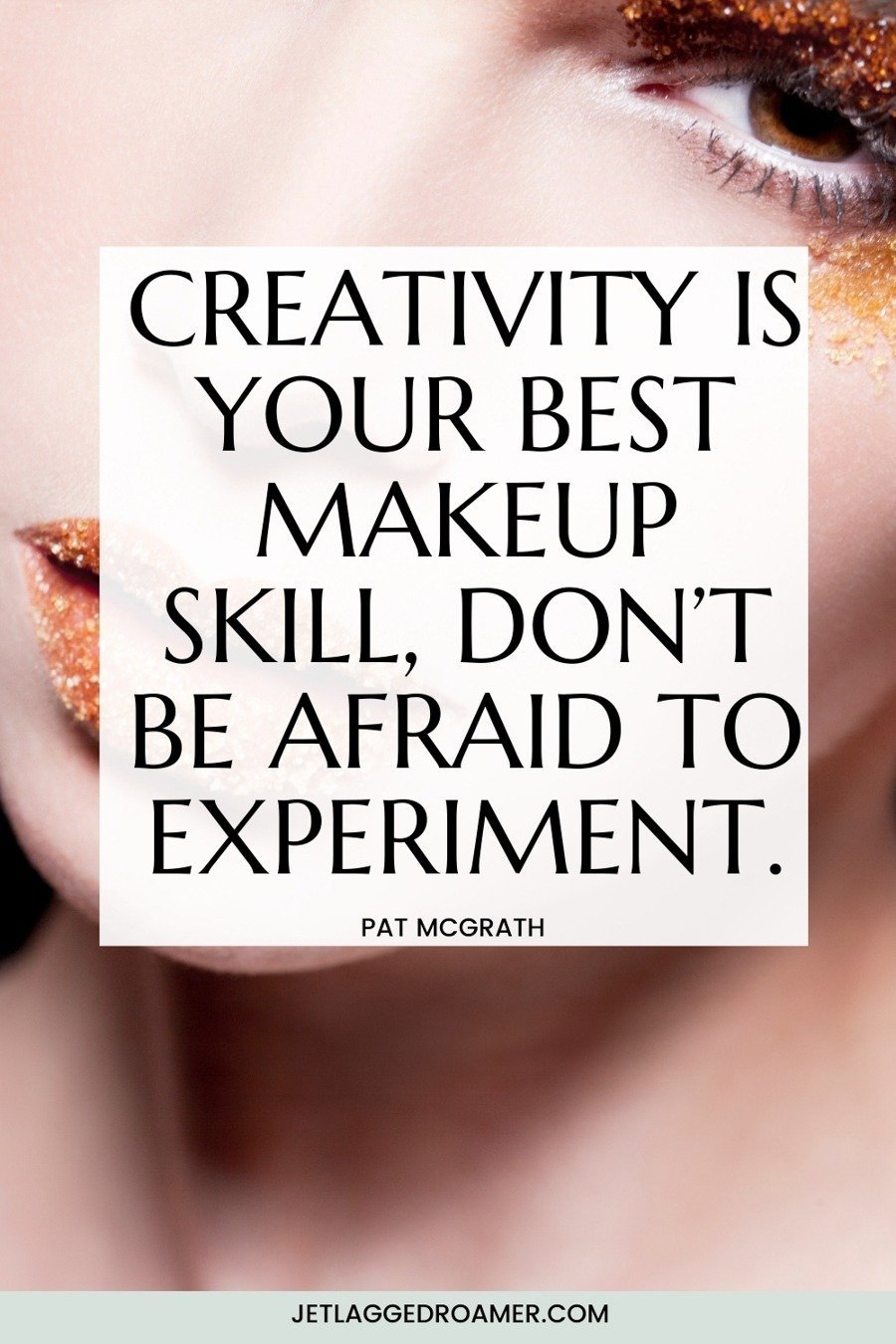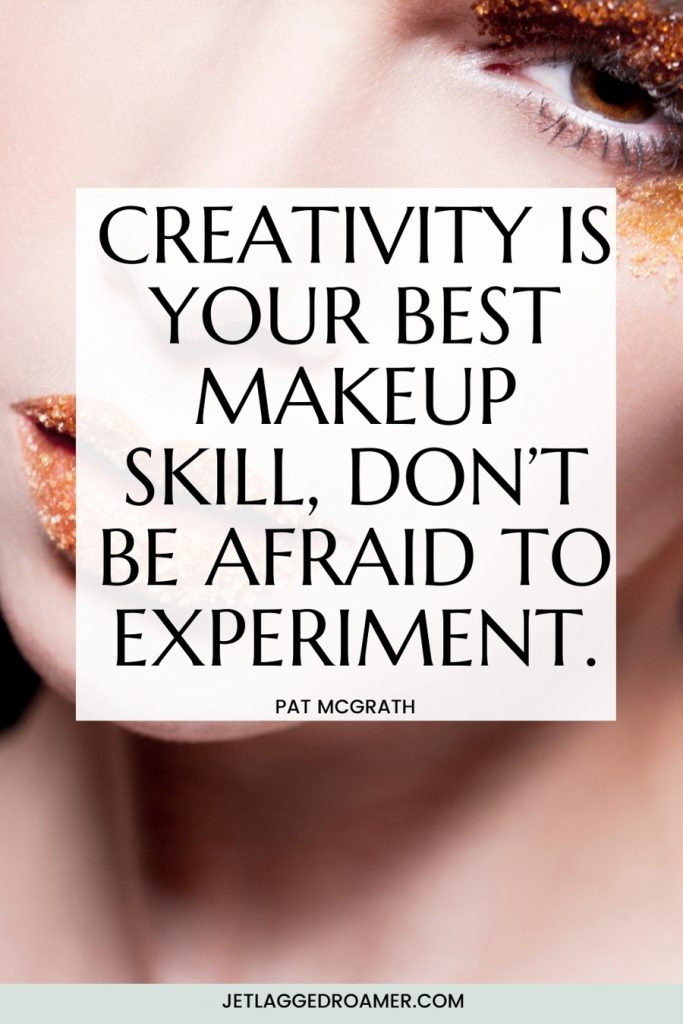 152| "Creativity is your best makeup skill, don't be afraid to experiment." – Pat McGrath
153| "Makeup is malleable and mercurial: The biggest joy I have every day is the opportunity to create, to play, and to invent with something I've loved forever." – Pat McGrath 
154| "To me, the essence of truly modern makeup is the freedom to be yourself, to express who you are." – François Nars
155| "That's why I began doing makeup in the first place: I was hoping that through helping people see the beauty in themselves, I could try and find it in me."- Kevyn Aucoin 
156| "Treat your makeup like jewelry for the face. Play with colors, shapes, structure—it can transform you." – François Nars 
157| "I love natural beauty, and I think it's your best look, but I think makeup as an artist is so transformative." – Marina Diamandis
158|  "Beauty is power, and makeup is something that really enhances that; it's a woman's secret." – Charlotte Tilbury
Caption For Makeup Artist 
Short on words? Here are some captions for makeup artist to put on your social media. 
159| Makeup is art.  
160| Makeup is a way for a woman to look and feel like herself, only prettier and more confident.    
161| Creativity is your best makeup skill, don't be afraid to experiment.  
162| Makeup can help you capture a moment.   
163| The most beautiful makeup of a woman is passion. But cosmetics are easier to buy.     
164| A makeover is the rebranding of a human being.    
165| Makeup is an expression. It's an art and a passion.
166| You're making me blush.
166 Makeup Captions For Your Instagram
I hope you enjoyed this list of makeup captions as much as I had putting it together for you. Which makeup captions did you enjoy the most? Let me know in the comments below!
Related Posts:
Like this post on makeup captions? Share it with others or pin it for later in your quotes board!