Howdy cowboys and cowgirls! Heading to the Wild Wild West and wanna know the best places to take pictures in Dallas? It's not overrun with cattle farms and cowboys as you might think, but they are there.
As a previous local I am going to tell you where to capture the most stunning Dallas Instagram, family, or engagement photos. Grab your camera y'all and lets get started on where are the best places to take pictures in Dallas.
This article may contain affiliate / compensated links. For full information, please see our disclosure here .

1| Deep Ellum
Location: 605 Elm St, Dallas, TX 75226
Deep Ellum is one of the most artsy places in Dallas. This district is filled with graffiti art, local musicians, tattoo shops, vintage clothing stores, and stellar restaurants. Some of the best murals in Dallas are in this neighborhood.
One of the famous Dallas sites in Deep Ellum to visit is The Traveling Man. This sculpture is made of stainless steel and stands a whopping 40-feet. You can find him striking varying poses around a few locations in this neighborhood.
Location: 2801 Elm Street, Dallas, TX 75226
Stirr, a swanky and trendy restaurant is one of the top Deep Ellum photo spots. Many Instagrammable quotes are written on the walls and stairs for an awesome photo op. If you're looking for pretty places in Dallas to take pictures you will love this spot.
Deep Ellum definitely gets packed at night with streets resembling a cattle herd, so arrive early morning so you're not interrupted taking pictures. There isn't an admission to visit Deep Ellum so feel free to walk around for as long as you want.
If you develop an appetite while there grab a bite to eat at Anvil Pub, Cane Rosso, Pecan Lodge, or Stirr.
2| Oak Cliff
Location: 1333 Plowman Ave, Dallas, TX 75203
Oak Cliff has been one thriving neighborhood since I left Dallas in 2008. This laid back area is now home to numerous gastropubs, wine bars, appetizing restaurants, and dives. On this side of the hood are a plethora of trendy and antique cafes to capture that would make a beautiful photo for your Instagram or any other special occasion photo.
One venue you must visit is Internet Café 2, it's saturated with bright pink and sea foam green making it a colorful backdrop. Be sure to hurry and snap some photos here. This trendy cafe closed in 2018 so I'm not sure how long it will remain.
Location: 314 N Bishop Ave, Dallas, TX 75208
Bishop Arts District is a tiny section embedded within Oak Cliff that is a must see to capture some cute photos in Dallas. Lots of restaurants, mid-century modern furniture stores, vintage clothing boutiques, and handcrafted soaps and candles are aligned all along the streets.
Be sure to stop by Emporium Pies for a photoshoot. This is a bakery tucked inside an adorable cottage pictured above. Arrive early when doors open for an uninterrupted photos since it gets extremely crowded. Grab a slice of pie when done. The Smooth Operator is delicious!
Bishop Arts District if free to stroll around, just arrive early, especially on weekends if you prefer an uninterrupted photo shoot. Arriving around sunrise is a great time to beat the crowds.
If you do get hungry, so grab a bite to eat at Emporium Pies, Boulevardier, and Eno's Side Dough.
3| Ronald Kirk Pedestrian Bridge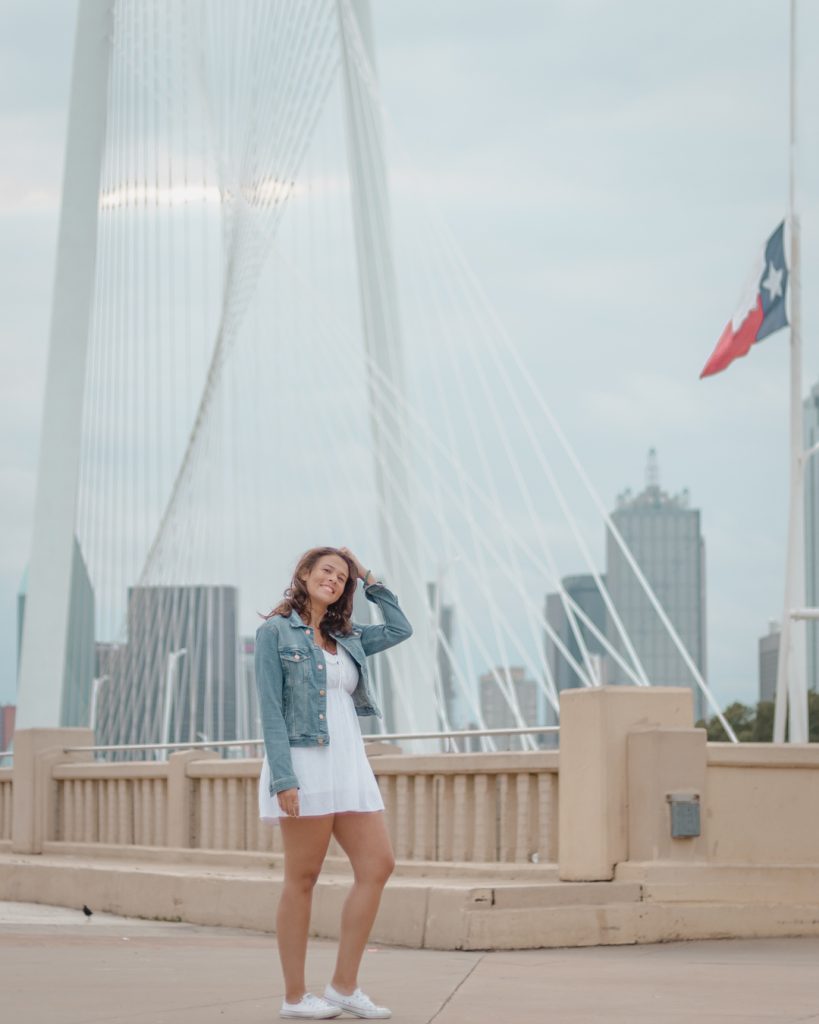 Location: 101 Continental Ave, Dallas, TX 75207
In my opinion, Dallas has one of the most stunning skylines I have ever seen. No matter how many times I have seen it still gives me goosebumps, every visit always feels like the first.
One of the most scenic places in Dallas is the Ronald Kirk Pedestrian Bridge. You can catch the best view of the Dallas skyline with skyscrapers and other famous Dallas landmarks for an amazing backdrop in your photos.
Across this bridge you can view the Margaret Hunt Hill Bridge and admire its unique architecture and of course the view. This view from this bridge is one of the best places to take pictures in downtown Dallas.
The perfect time to snap a photo is sunrise. There aren't too many people there around those hours. Morning you will find a few exercisers, but they won't get in your way.
Across the street from the bridge is Trinity Groves. There are numerous restaurants and retail stores to snap some extra photos if you like. If you're feeling hungry Trinity Groves has plenty of delicious restaurants. So many to choose from, everything from barbecue to sushi! Some of my favorites include Cake Bar and Amberjax Fish Market Grille.
4| Magnolias Sous Le Pont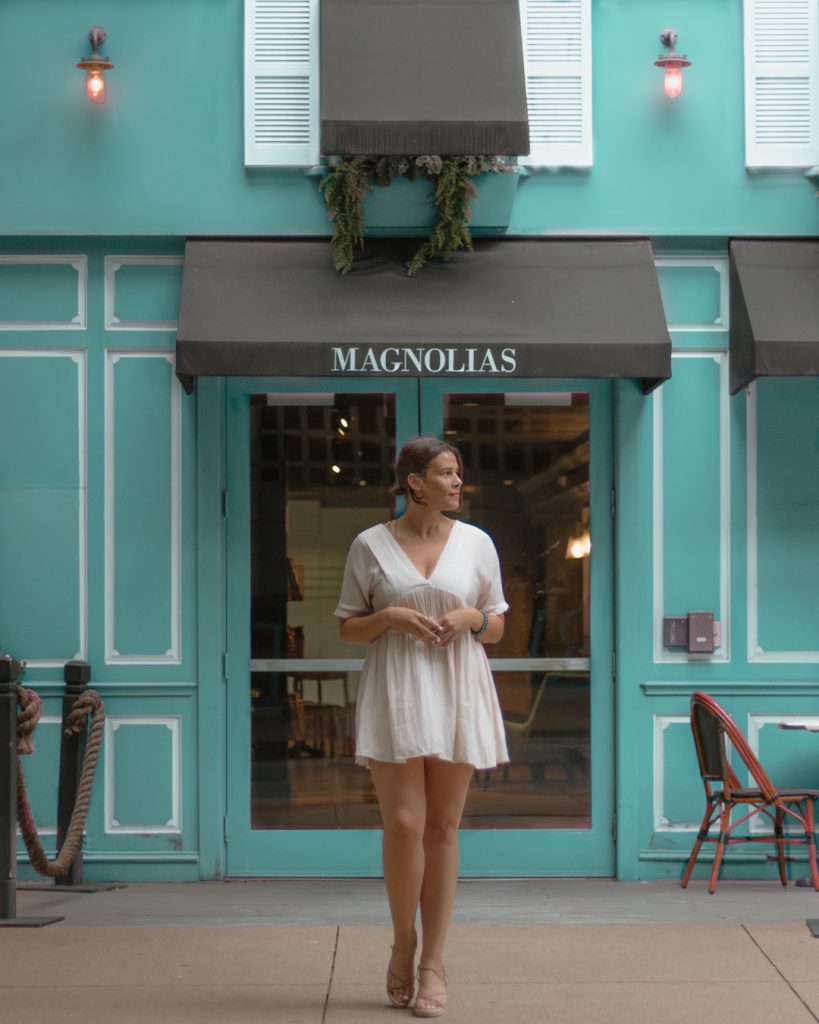 Location: 2727 N Harwood St, Dallas, TX 75201
One of the super cute places to take pictures in Dallas is at Magnolias Sous Le Point. Transport to to a Parisian cafe at one of the top downtown Dallas attractions.
There isn't a fee to enter this café, but be kind and order a latte if you plan on doing a few photo ops. Best time to go would be after the morning and lunch crowd. The café is open until 7pm so you have plenty of time!
5| Chapel Of Thanksgiving
Location: 1601 Elm Street, Dallas, TX 75202
The Chapel of Thanksgiving is one of my favorite places to take pictures in Dallas, it's in the center of all the action. Inside the chapel has a winding stained glass window that interior is absolutely stunning.
Getting inside can be tricky, but walk up the stairs that leading to the mini bridge outside. Photos are allowed, but be respectful and quiet if anyone is praying inside.
Doors of the Chapel of Thanksgiving are open everyday from 11am-3pm. There isn't an admission fee and best time to go would be when it opens.
If you decide to grab a bite to eat after, stop by Zenna, Americano, and Overeasy. These were some of my favorites to dine when I lived downtown.
RELATED POSTS: WHAT TO DO IN DALLAS IN ONE DAY
6| Dallas Farmer's Market
Location: 920 S Harwood St, Dallas, TX 75201
If you love rustic charm visit the Dallas Farmer's Market, both the inside and outside of the market have plenty of adorable shops to take photos.
Across the street is Ruibal's Plants of Texas, which is another great spot for additional pictures and one of the many beautiful places to take pictures in Dallas. Ruibal's has a nursery filled with colorful pottery, flowers, tropical plants, and bohemian themed.
It's totally free to enter the farmer's market or nursery. You may spend a bucks buying some of the market's delicious food or a beautiful plant.
Doors are open Monday-Saturday from 9am-5pm and Sundays from 10am-5pm. Arrive early if you are visiting on the weekend since it tends to get extremely busy.
7| Klyde Warren Park
Location: 2012 Woodall Rodgers Fwy, Dallas, TX 75201
Klyde Warren Park is a little slice of New York's Central Park in the heart of downtown.
This is a 5-acre park surrounded by skyscrapers sitting above the Woodall Rogers Freeway. If you cannot hit up all the locations recommended, this is the one of the places you should see in Dallas. Kyle Warren Park has beautiful white archways and a lush green landscape during Spring and Summer.
Best of all, Klyde Warren Park is totally free! If you prefer your pictures not to have any people, arrive early.
Don't rush to leave, food trucks arrive around 11am so stay and grab a bite to eat.
8| The Adolphus Hotel
Location: 1321 Commerce St, Dallas, TX 75202
The Adolphus Hotel is one of the places to take pictures in Dallas that truly captures the vibes of downtown Dallas. It's an upscale hotel fused with Mid-cCentury modern and fabulous chic decor.
Otto Coffee And Fine Foods is a moody cafe located inside the hotel with sleek with beautiful white marble countertops and wood paneled walls.
You are able to walk inside the Adolphus Hotel, the lobby is absolutely stunning! The blue velvet furniture and marbled floors make this entrance exquisite.
There really isn't a good time to go since it is a hotel since lobbies usually have continuous traffic. Just avoid checkout and checkin hours which is typically around 11am and at 3pm.
9| Highland Park Village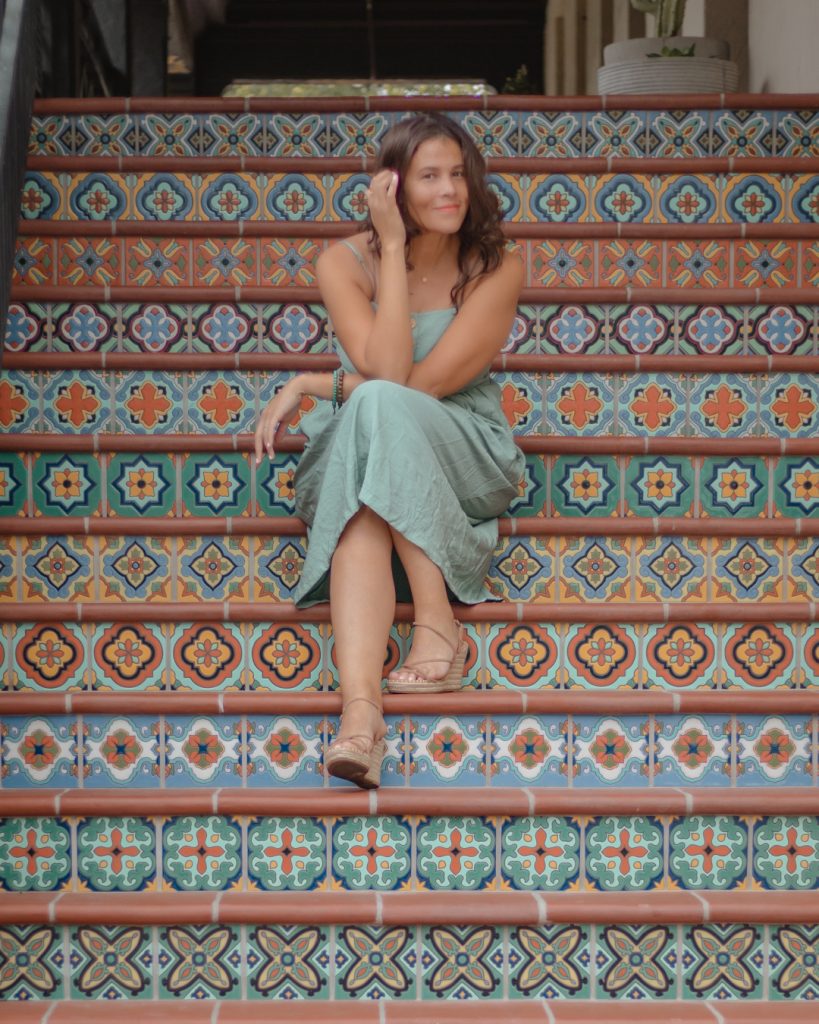 Location: 47 Highland Park Village, Dallas, TX 75205
Highland Park Village is an adorable upscale shopping plaza located North of downtown Dallas. The plaza's architecture is Spanish influenced making it the perfect backdrop to transform you to Spain. For a unique Instagram photo there is a a 1950's styled movie theater or and quaint little restaurants.
The shopping plaza is located outside, so you will be able to go before or after hours and it's free to walk around. Like anywhere you go for photos arriving early is the best time to beat the crowds.
If you get hungry after, head on over to Honor Bar for the best burger you will ever eat in your entire life! I am not kidding either.
10| Royal Blue Grocery
Location: 1800 Main St Suite 124, Dallas, TX 75201
Downtown Dallas reminds me a lot of New York, but of course a smaller version. A popular spot frequented by locals is the Royal Blue Grocery off of Main Street in downtown Dallas. This corner grocery is a Dallas staple and an Instagrammable spot in the inside and outside.
Arrive early you can avoid getting interrupted constantly by people walking the street and cars.
The café is open everyday from 7am-midnight. Avoid the morning and lunch crowds for picture taking. Since the café is open pretty late, you should have plenty of time to get that Insta-worthy shot!
11| Dallas Eyeball
Location: 1601 Main St, Dallas, TX 75201
Snap a few photos with the 30-foot Dallas Eyeball located in downtown Dallas. From the Joule Hotel you can catch the best view of this unique photo spot.
The giant eyeball is free to visit and available to capture photos 24/7.
12| Reunion Tower
Location: 300 Reunion Blvd E, Dallas, TX 75207
Another place to capture photos is from the 561- foot Reunion Tower, one of Dallas' most recognizable landmarks. Around downtown you can easily snap a photo with this iconic structure in the background or snap a picture on the observation deck.
From here you can catch a spectacular view of the city from the rotating tower.
Reunion Tower is open Monday-Thursday 4:30pm-8:30pm. Friday to Sundays doors are open from 1:30pm-9:30pm. Admission for adults is $21.18.
13| Pegasus Red Flying Horse At Omni Dallas
Location: 555 Botham Jean Blvd, Dallas, TX 75202
Pegasus, the Flying Red Horse is a well known symbol in Dallas and located outside of the Omni. Prior the pegasus was perched on top the Magnolia Building before being taking down, replaced, and restored and setting up permanent residence at the Omni Dallas.
No charge to view the Flying Red Horse and since it is outside you can take photos any time of day.
14| Pioneer Plaza
Location: 1428 Young St, Dallas, TX 75202
Pioneer Plaza located in downtown has longhorn sculptures walking along a stream. Here you can catch a glance into Dallas history.
No charge to observe the cattle and it's available to observe 24/7.
15| White Rock Lake
Location: 8300 East Lawther Drive, Dallas, TX 75218
White Rock Lake is a 1,015 acre lake located in north-east Dallas. Here you can capture beautiful sun set photos or more active ones such as on a boat or kayaking if you prefer.
The lake tends to get busy on weekends so plan to arrive early. You can visit White Rock for free at no charge.
16| SMU Campus
Location: 6425 Boaz Lane, Dallas, TX
Southern Methodist University, otherwise known as SMU is a beautiful campus located in University Park. Beautiful architecture and a tree lined street is perfect for any photo occasion.
Best time to visit the university is on the weekends when school is closed and less congested to roam the campus for free.
17| Dallas Arboretum
Location: 8525 Garland Rd, Dallas, TX 75218
Escape to one of the best places to take pictures in Dallas at The Dallas Arboretum. Here you can find an array of beautiful backdrops depending on the season to choose from such as tulips or camellias.
The Garden is open everyday from 9am to 5pm and general admission can cost up to $17 depending which season you visit.
18| Canvas Hotel
Location: 1325 Botham Jean Blvd, Dallas, TX 75215
The Canvas Hotel offers another spectacular view of the Dallas skyline from its rooftop deck that is deserving of your visit.
You can capture a stunning photo during sunset or sitting in a pool!
That's A Wrap On Best Places To Take Pictures In Dallas
Now you have the top places to take pictures in Dallas for your Instagram or any special occasion photos. If you do get time some other exquisite neighborhoods to checkout are Uptown, Harwood, Design District, and Southside.
Enjoy your visit to Dallas and I know you will capture some beautiful photos with these recommendations!
Check out the map below of all the best places to take pictures in Dallas and to get your grub on while there!
Check Out These Other Posts On Instagrammable Places:
Like this post about best places to take picture in Dallas? Share it with others or pin it for later in your Dallas or Instagram Photo Ideas Board
Jetlagged Roamer is a participant in the Amazon Services LLC Associates Program, an affiliate advertising program designed to provide a means for sites to earn advertising fees by advertising and linking to amazon.com, amazon.co.uk, amazon.ca. Amazon and the Amazon logo are trademarks of Amazon.com, Inc. or its affiliates.