Wondering what are the best cities in South America to visit? There are so many beautiful places in South America to explore. As this continent is known for its vibrant cultures, stunning landscapes, and rich history. Whether you're interested in exploring ancient ruins, enjoying breathtaking natural wonders, or immersing yourself in lively cities, South America offers something for everyone. 
South America is a continent made up of 12 countries and is known for its diverse geography. Go exploring the vast Amazon Rainforest, the Andes Mountains, the Atacama Desert, the Pantanal, and the Patagonian region with vast plains and glaciers. 
This continent is also home to many natural wonders, including the Amazon River, Iguazu Falls, the Galapagos Islands, and the Uyuni Salt Flats.
With this continent being so biodiverse and home to natural wonders, it can be challenging to know the best places to visit in South America first. However, this post has all the cities worth visiting when planning a trip to this wonderful continent. 
 So grab your glass of Malbec and let's begin this exciting adventure of the best cities in South America to visit. 
This article may contain affiliate / compensated links. For full information, please see our disclosure here.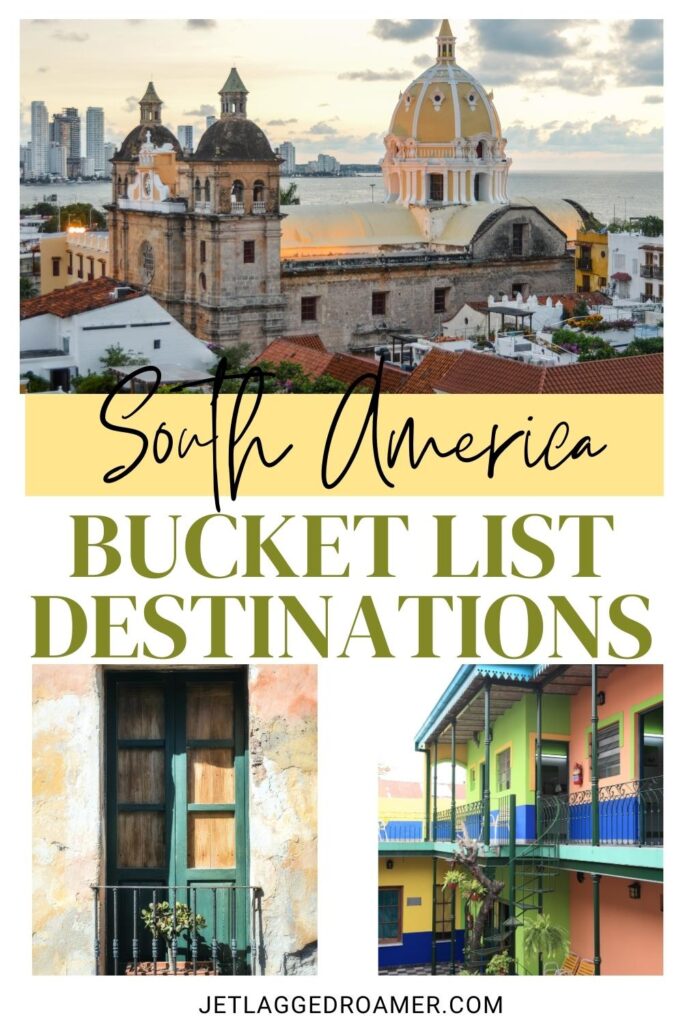 Considering visiting South America? You may enjoy these related posts: 
Best Cities in South America 
Here is a collection from some of the most experienced travel bloggers to share their experiences in these best cities in South America. 
Buenos Aires, Argentina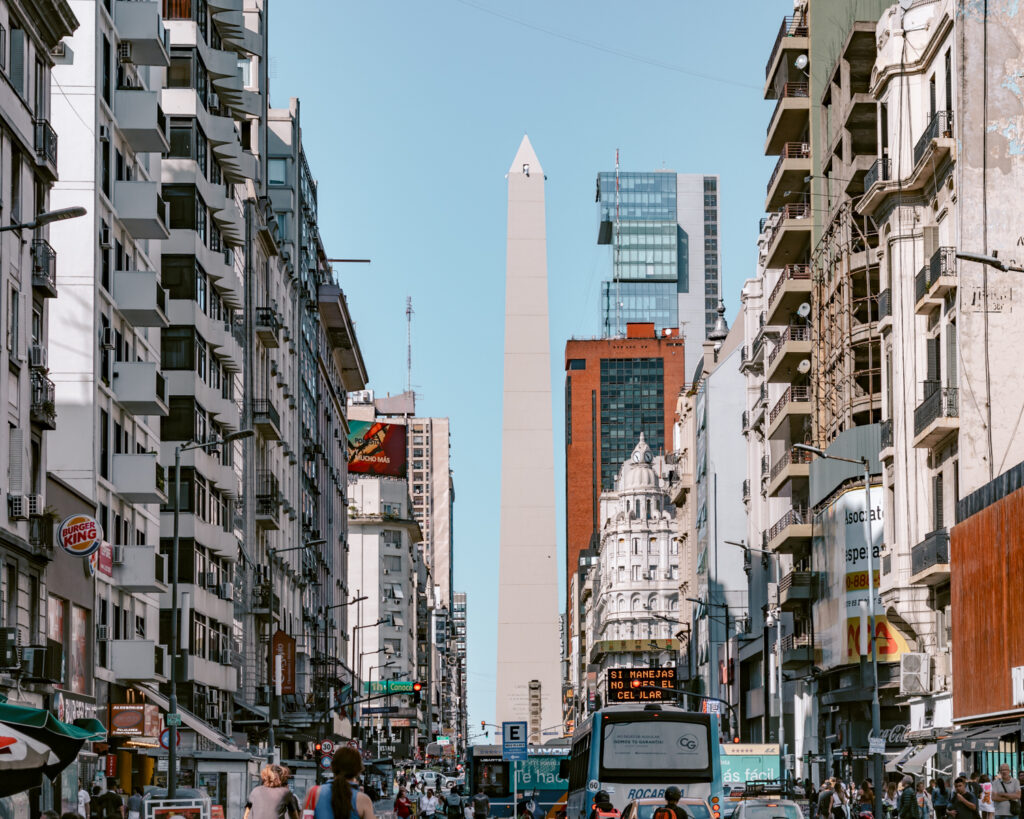 Buenos Aires is a vibrant and cosmopolitan city that offers a very rich cultural experience. The city's mix of culture, delicious cuisine, and lively atmosphere makes it one of the best cities in South America to visit. Also known as the 'Paris of the South' it's one of the best cities in South America that will sweep you off your feet when you're exploring.
The city has a temperate climate, with mild winters and hot summers. The months of December to February are summer, with temperatures ranging from 25°C to 35°C (77°F to 95°F). This period is ideal for enjoying outdoor activities, festivals, and exploring the city's parks and gardens. However, expect this time to be crowded with tourists. 
If you prefer milder weather, spring is from September to November, and would be ideal to visit. Also, you could visit between March to May for some beautiful crisp fall weather. 
Buenos Aires is a haven for food lovers, especially for those who appreciate delicious steaks and traditional Argentine cuisine. The city boasts numerous renowned steakhouses (parrillas), which Don Julio is a must-eat during your visit. You can also explore the local markets, such as San Telmo Market, to sample a variety of Argentine delicacies. Attend one of the food festivals, such as Feria Masticar, which is held at different times of the year. 
Be sure to embrace Buenos Aires' vibrant arts and cultural scene. The city hosts numerous festivals, tango events, and theater performances throughout the year. The Tango Festival and World Cup held in August is a major highlight, attracting tango enthusiasts from around the globe. Additionally, the Buenos Aires International Film Festival, which takes place in April, showcases a wide array of international films.
There are many more things to do in Buenos Aires. Overall, Some of the popular neighborhoods to visit and stay in are Recoleta, San Telmo, and Palermo Soho. La Boca is another neighborhood worth visiting; however, it's not recommended to stay or wander outside of the few blocks for tourists. 
Buenos Aires offers a mix of cultural experiences, delicious cuisine, and a lively atmosphere that appeals to a wide range of travelers. Whether you're interested in exploring the city's history, immersing yourself in its vibrant nightlife, or simply enjoying the local cuisine, Buenos Aires has something for everyone.
Related post: Things To Do In Buenos Aires
Santiago, Chile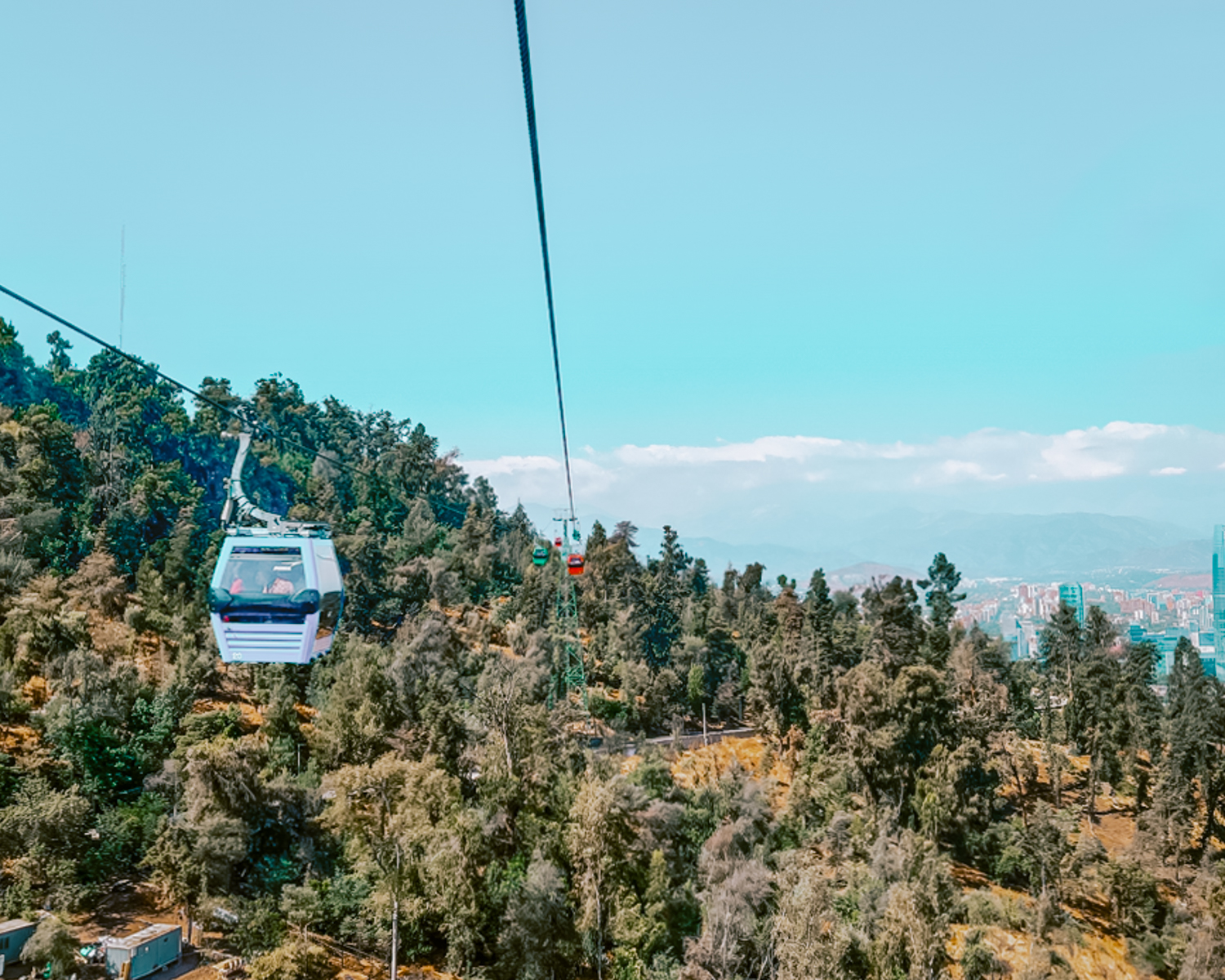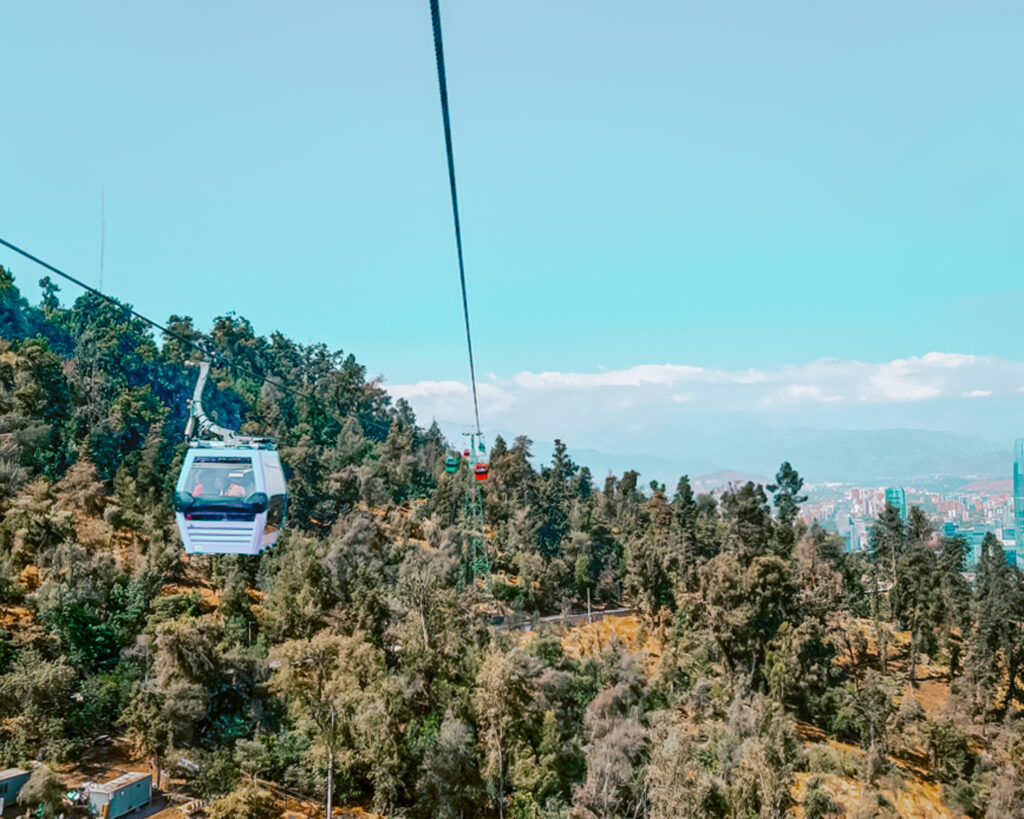 Santiago, Chile is one of the best cities in South America to visit. This bustling and vibrant capital city is a great gateway into Chile and has a ton of areas to explore and offers the opportunity for many fun day trips. 
Summer in Santiago lasts from September to February and it can get quite hot during that time, while May to July is the rainy season. The best time to visit is at the tail end of summer as it will be less hot and crowded. 
Santiago has a plethora of options to keep you busy. One of the best things to do is San Cristobal Hill. This area offers the best views of Santiago via cable car. To get up to the top of the hill, visitors will take a funicular. 
For those interested in a bit more of a hike, Cerro Santa Lucia is a fun place to visit. Visitors will have to take a hike up the hill to be rewarded with views of Santiago. The Sky Costanera also offers views of Santiago and is the tallest building in South America. 
The Museum of Memory and Human Rights is an important stop for those interested in the history of Chile. It is dedicated to the human rights violations during the dictatorship's reign. 
Other fun things to do in Santiago include the Central Market (for shopping), the Plaza de Armas, La Moneda Palace, and Parque Quinta Normal. 
Outside of Santiago also lies the fabulous wine-tasting regions of Casablanca and the Maipo Valley. It is also worth taking a trip to the coastal towns of Valparaiso and Vina del Mar. 
Delicious places to eat include Cafe Derby (chicken dishes), Soho Thai Restaurant, La Bonaerense (Italian), and Rincon Venezolano (empanadas). The best area to stay is in the centro historic, which is near the Cerro Santa Lucia and Plaza de Armas. 
Explored by Francesca of Homeroom Travel
Florianópolis, Brazil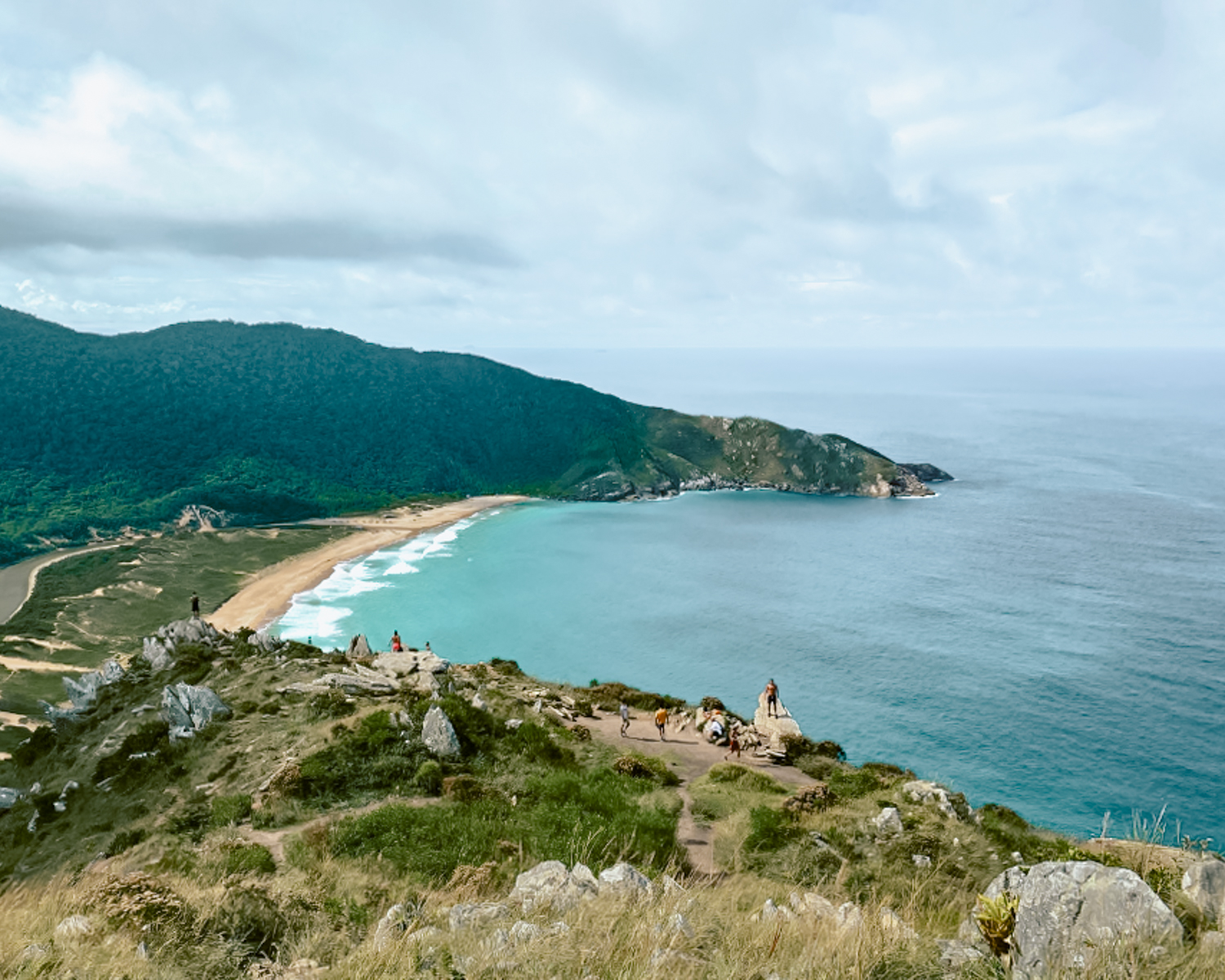 When you think about cities in Brazil, Rio de Janeiro and Sao Paolo are probably what come to mind. But as such a huge country, Brazil has plenty of other amazing cities as well. In particular, Florianópolis in southern Brazil is one of the best cities in South America.
Florianópolis is the capital of the State of Santa Catarina and although it's a prominent city, it's also a 33-mile-long island!
But this doesn't mean it's off the beaten path. Florianópolis is connected to the mainland by a bridge and has its own international airport and major bus terminal, connecting travelers to the rest of Brazil and South America.
Something that makes Florianópolis so special is that the city centre only takes up a small part of the island. The rest is made up of districts comprising small neighborhoods, beachside resorts, and untouched nature. Plus, the island has over 40 pristine beaches!
You won't run out of fun things to do while visiting Florianópolis. Of course, hitting the beach is the most popular activity here, as well as hiking, sand boarding, water sports, paragliding, fishing, and enjoying Brazilian food and nightlife. For some of the best seafood in an idyllic setting, try O Timoneiro in Barra da Lagoa.
Plus, don't forget to check out the city's historic centre! In particular, make sure to visit Fernando Machado Square, the huge 140-year-old fig tree in XV de November Square, and São Francisco de Assis Church and the Metropolitan Cathedral – two of the city's most beautiful colonial buildings.
In addition to exploring the main island, you can also visit some of the city's smaller surrounding islands, such as taking a day trip to picturesque Campeche Island. Here you can sip a coconut while relaxing on the whitest sand and enjoying the Caribbean-like turquoise water.
The best time of year to visit Florianópolis is between December and March, as this is the hottest time and the best time to enjoy the island's beaches. Although this is also the rainy season, so make sure you come prepared for some varied weather.
And if you're wondering which area to stay in, consider Lagoa da Conceição. Situated along the shore of a picturesque lake, this neighborhood has a beach town vibe and has lots of bars and restaurants to explore.
Explored by Chanelle of Chasing Chanelle
Colonia del Sacramento, Uruguay
Colonia del Sacramento is a charming city in Uruguay known for its well-preserved colonial architecture and rich history. It's one of the must-see places in South America. If visiting Buenos Aires it's a short ferry ride for a quick day trip. 
There are plenty of things to do in Colonia del Sacramento. Be sure to start your visit by wandering through the historic quarter. This UNESCO World Heritage site is a site to see. Stroll down the cobblestone streets, admire the colorful buildings, and colonial architecture. Be sure not to miss the iconic drawbridge and the city gate known as Portón de Campo. 
Climb up the 19th-century lighthouse, El Faro. Capture panoramic views of Colonia del Sacramento and the Río de la Plata. The lighthouse is a great spot for taking photos and getting a sense of Colonia's layout. 
Colonia del Sacramento has several interesting museums worth visiting. Go visit the Municipal Museum, which displays artifacts and exhibits related to the city's history. You can also visit the Portuguese Museum, which focuses on the Portuguese colonization period. 
Indulge in the local cuisine by trying Uruguayan specialties. Chivito, which is a tasty steak sandwich is a must. Another mouthwatering dish is their asado (barbecued meat). Another staple to try is mate, a traditional South American tea. You will discover several restaurants with al fresco dining serving these dishes. 
Consider visiting Colonia del Sacramento during spring, which is from September to November.  Also, March to May is the autumn season and a great time to visit as well.  During these months, the weather is generally mild and pleasant, with temperatures ranging from 15°C (59°F) to 25°C (77°F). It's a great time to explore the city's historic quarter, stroll along the waterfront, and enjoy outdoor activities.   
Colonia del Sacramento is one of the places in South America to visit. It has a laid-back atmosphere. You can escape the hustle and bustle of Buenos Aires, as it is a perfect destination for relaxation. Take some time to unwind, enjoy the slow pace of life, and savor the beauty of this enchanting city.
Related post: Things To Do In Colonia del Sacramento
Cuenca, Ecuador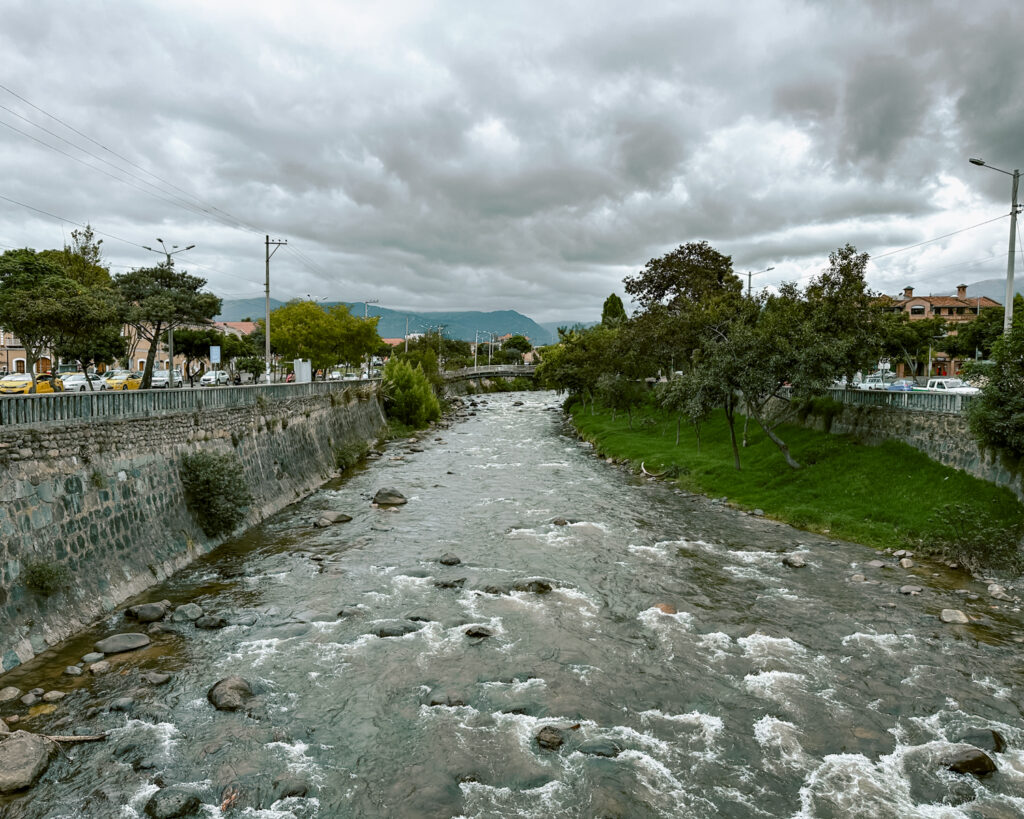 I'm convinced anyone who visits Cuenca will fall in love with its colonial charm. As you wander the cobblestone streets, you'll be amazed by the historic buildings and churches. Cuenca is the third largest city in Ecuador – after Guayaquil and Quito. 
But don't think it's actually that big, because it's only roughly 1/5th the size of Quito by population. And despite it having over 325000 inhabitants, you won't feel like you're in a big city when you're exploring the historic center. 
Exploring that center is also one of the best things to do in Cuenca. You'll find beautiful churches, parks, and other picturesque areas.
Something else you'll enjoy is the Tomebamba River. The river splits the historic center from the more modern area of the city and is lined with a park often used by locals for picnics, jogging, and relaxing.
If you're in need of any groceries, especially fruits, and vegetables, consider heading out to Mercado 10 de Agosto. Local farmers gather here to sell their produce. Fruits, vegetables, herbs, rice, and pasta are all for sale for a bargain. Meats are also available, but nothing is refrigerated so I'm not sure that's a good idea.
If you're heading to Cuenca, I recommend going in April-June. You can expect very little rain, lots of sunshine, and overall good weather conditions. It's also not the busiest time of year, so it's a great time if you want to avoid crowds.
So when you get to Cuenca, you'll need somewhere to eat, right? One of the restaurants I enjoyed most was Raymipampa. It has interesting decor and great food and it's located in the historic center!
And since we've been talking about the historic center so much, let me mention that this is also the best area to stay in. This is where you'll see all the magic happen, and where the best things in Cuenca are located. You will quickly discover it is one of the best places to travel in South America. 
Explored by Callie of Counting Our Footsteps Travel Blog
Otavalo, Ecuador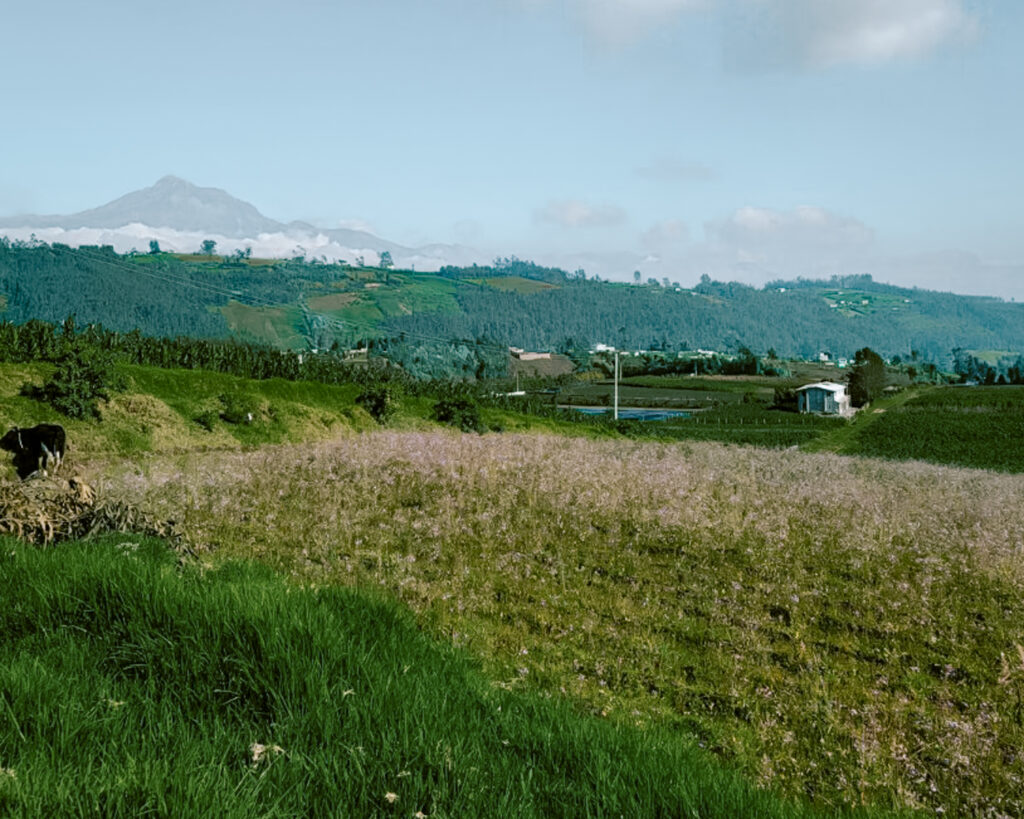 Otavalo is set in the northern reaches of Ecuador just over 90 kilometers (56 miles) from the capital of Quito. It is easily one of the best cities in South America for its rich food scene, hospitable locals, and vibrant market! Owing to Otavalo's unique location just miles from the equator, it's actually one of the few cities in South America that experiences winter at the same time as those in North America. 
This makes the best time to visit between December and February and May through September, though we found Otavalo to be the most beautiful in January! The weather was pleasantly warm and dry making it the ultimate time to take a hike to the nearby Peguche Waterfall (known as Cascada de Peguche to the locals).
During your visit, it's almost imperative that you take a stroll through the center of town to explore the local market. It's always bustling with street vendors selling their handmade alpaca scarves and blankets (though be careful of scams, some may try to sell you manufactured materials instead). You can also find beautiful clothing and bags, and everything in between. This is also a great area to try some local food such as empanadas, meat on a skewer, and tropical drinks, just remember to be aware of proper sanitation practices.
Following your time at the market, make your way over to Mi Otavalito for a proper meal! Featuring local Ecuadorian dishes such as guinea pig (the national dish) and roasted fish, this is where you'll find the locals spending their evenings.
When seeking accommodation in the city, it's important to remember that Otavalo is not like that of Quito or Guayaquil where you'll find numerous neighborhoods each with their own distinct personality. Instead, Otavalo harbors a community atmosphere where everyone stays in the center of town.
Sure, there are a few residential neighborhoods on the outskirts of the city, but having visited those personally, they aren't somewhere you're going to easily end up and look somewhat empty most of the time. When choosing your hotel, it's likely that it will already be in the center of town, but Google Maps is a great tool to check exact locations before booking.
Hotel Indio Inn is a popular 3-star favorite among tourists as it's near all of the restaurants and markets and is in the center of town if you're hoping for an easy pick!
Contributed by Emily Concannon of Sea to Summit Alaska
Medellín, Colombia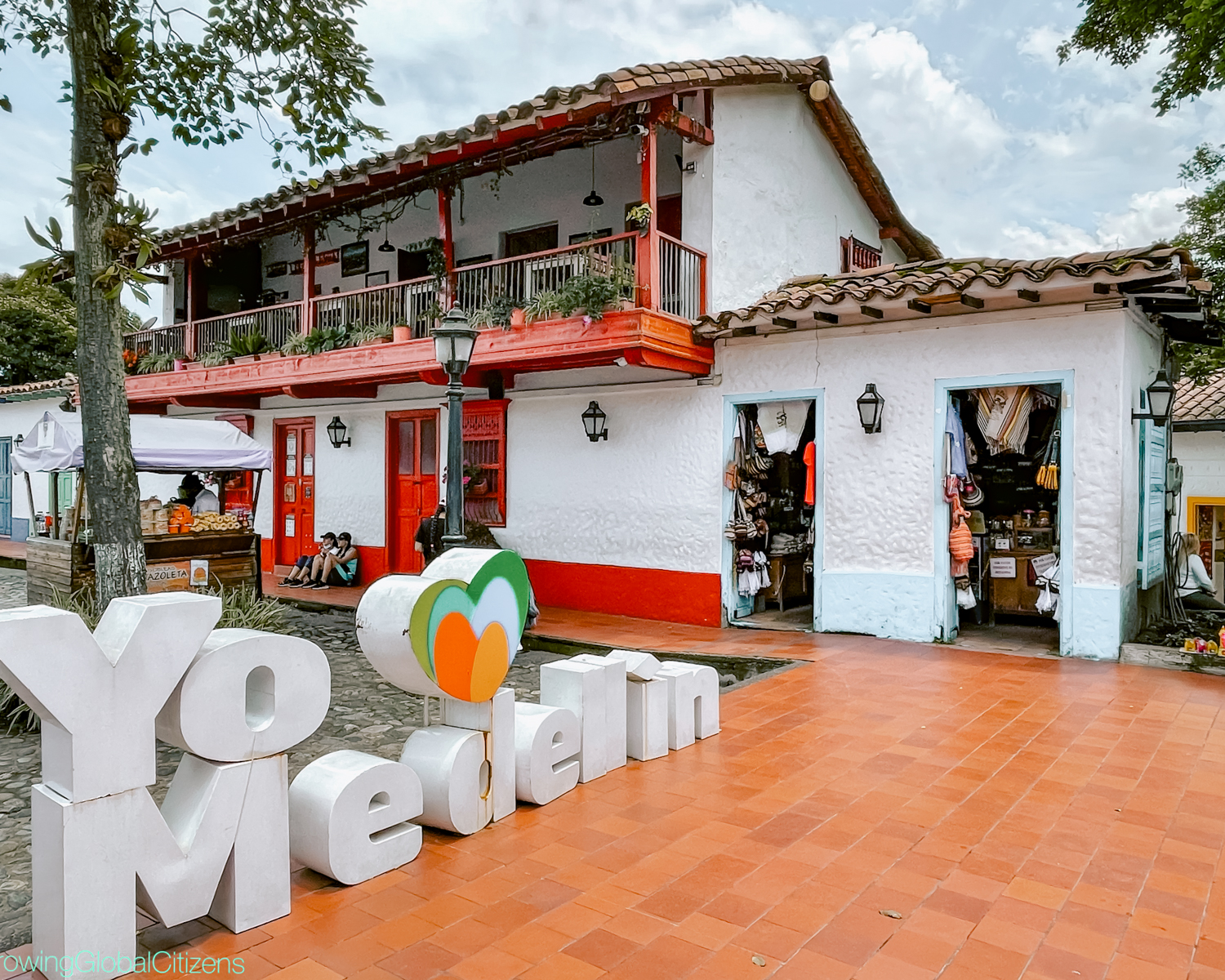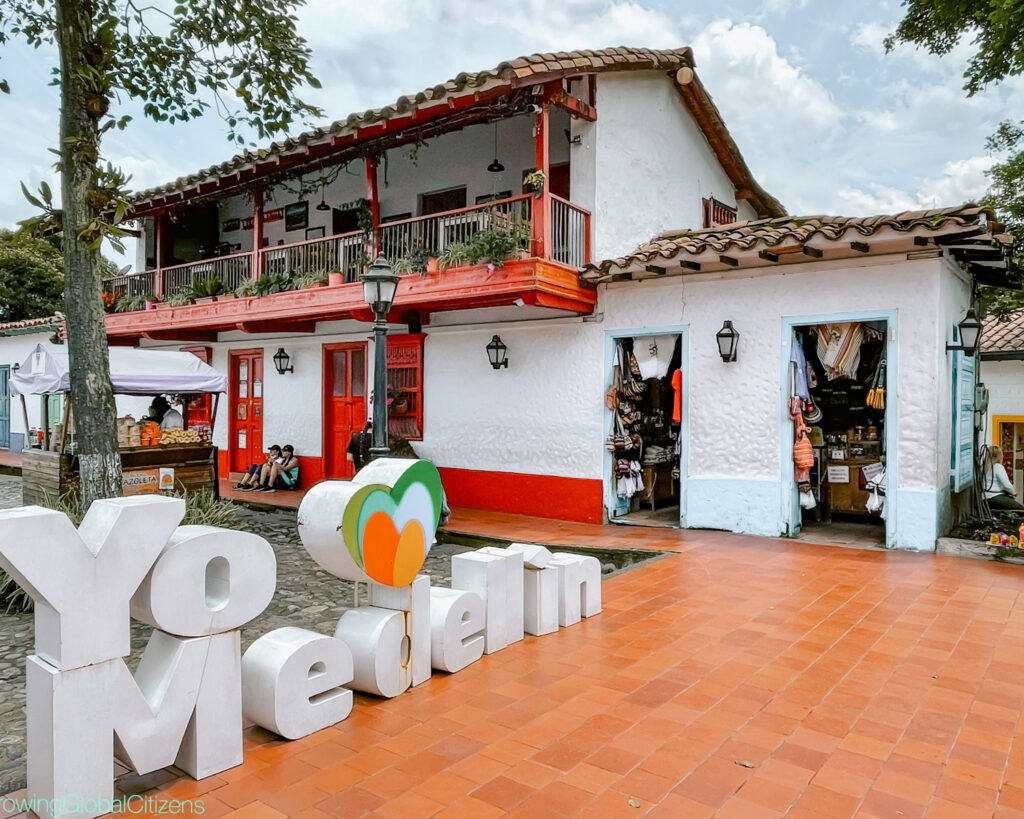 Medellín is one of the most famous places in South America right now, for a number of reasons. The City of Eternal Spring has incredible greenery and a year-round climate of temperatures in the 70s.  There is quite a bit of rain though, so head there during the dry season from December to March.  
The city has an amazing Christmas light display if you happen to come in December.  The Feria de Flores in August is an event worth planning your trip around.  It's a week-long celebration of flowers where contestants create giant flower displays that they carry on their backs in a parade. 
Medellín is world famous for transforming from the most dangerous city in the world in the 90s to a thriving and innovative city today.  You can hear about the transformation for yourself at a tour of Comuna 13, a neighborhood known for its street art and dance.
The artist Fernando Botero was from Medellín and you'll recognize some of his robust metal statues at Plaza Botero downtown. If you are downtown, the free botanical gardens are worth a visit, as is doing a guided visit of the downtown area to hear more about the history of the city.
Pueblito Paisa is a recreation of a typical regional village and affords visitors great views of the area.  While you're there, try the quintessential dish of the region: bandeja paisa.  This is a meat-heavy tray of 13+ ingredients and managing to eat the whole thing will greatly impress your dining companions!
Poblado is the most popular neighborhood for tourists because of its amenities and nightlife.  It's a good base for tourists and has good transportation connections.  Provenza is the nightlife hub, but if you want a good night's sleep you may want to stay in other parts of Poblando.  
Check out Alambique for garden-inspired dining and cocktails and the Pergamino chain for coffee.  If you aren't going to the coffee-growing region, the eje cafetero, you can do a coffee plantation tour where you get to pick the beans yourself!
Explored by Kristin of Growing Global Citizens
Bogata, Colombia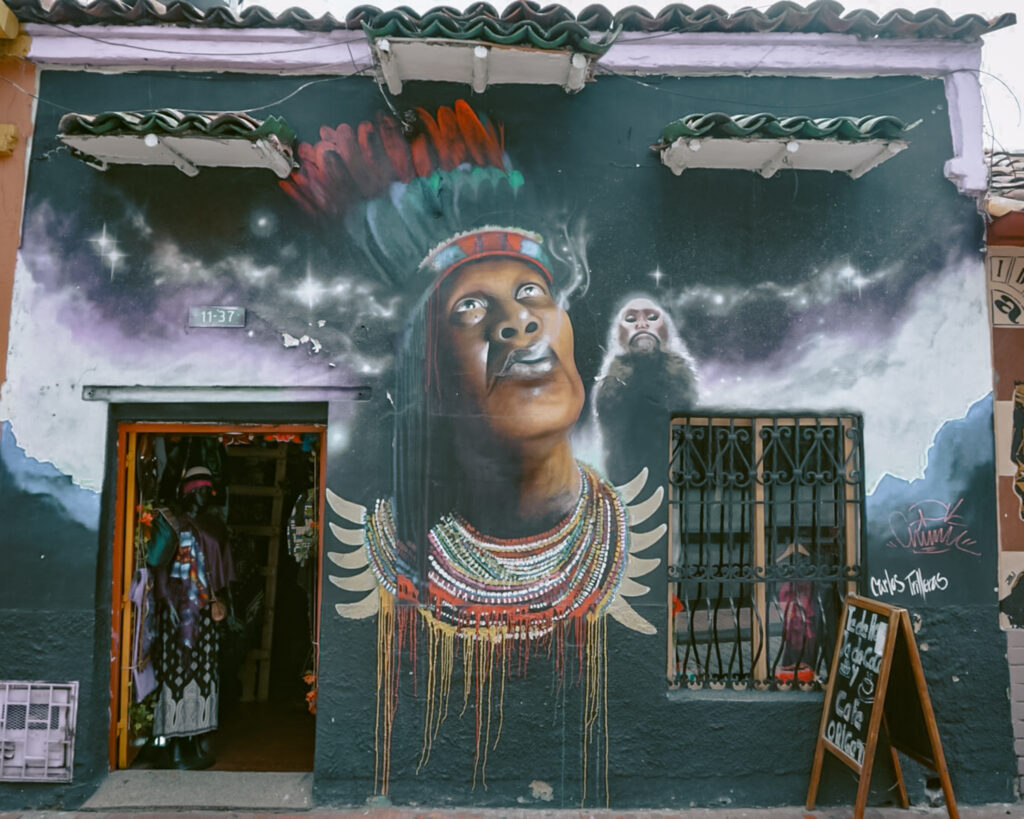 Bogotá, the vibrant capital of Colombia, offers a wealth of experiences to explore and enjoy. From wandering around Plaza Bolívar to discovering the National Museum of Colombia, there's plenty to keep you busy during your stay. You will easily see why it is one of the best cities in South America to visit. 
Begin your trip in Bogota with a Free Walking Tour that covers many fascinating landmarks. You will visit the National Capitol Building, Plaza de Bolívar, El Chorro de Quevedo, La Candelaria, Iglesia de San Francisco, stroll through the Botanical Gardens, and enjoy the rich history of Bogota's street art scene.
There are museums in Bogota that are worth visiting: the Gold Museum, Botero Museum, and the National Museum of Colombia. Another recommended activity is hiking up to Monserrate to view Bogota from a higher perspective. And make sure to not miss out on the delicious food of Bogota while there!
The best time to visit Bogota is from December to March. During this period, the city enjoys mild temperatures and plenty of sunshine – an ideal combination for sightseeing!
For a delicious dining experience in Bogota, try El Cielo restaurant. Located in the heart of the city, it offers a tranquil atmosphere with lots of natural light and lush vegetation.
And if you're looking for a place to stay, look no further than La Candelaria neighborhood. This area is home to many hostels and budget-friendly accommodations, making it an ideal choice for backpackers and budget travelers. It's also within walking distance from Bogota's main tourist attractions, so you'll be able to save on transportation costs too!
Explored by Giorgy from G-Extreme Travel
Cartagena, Colombia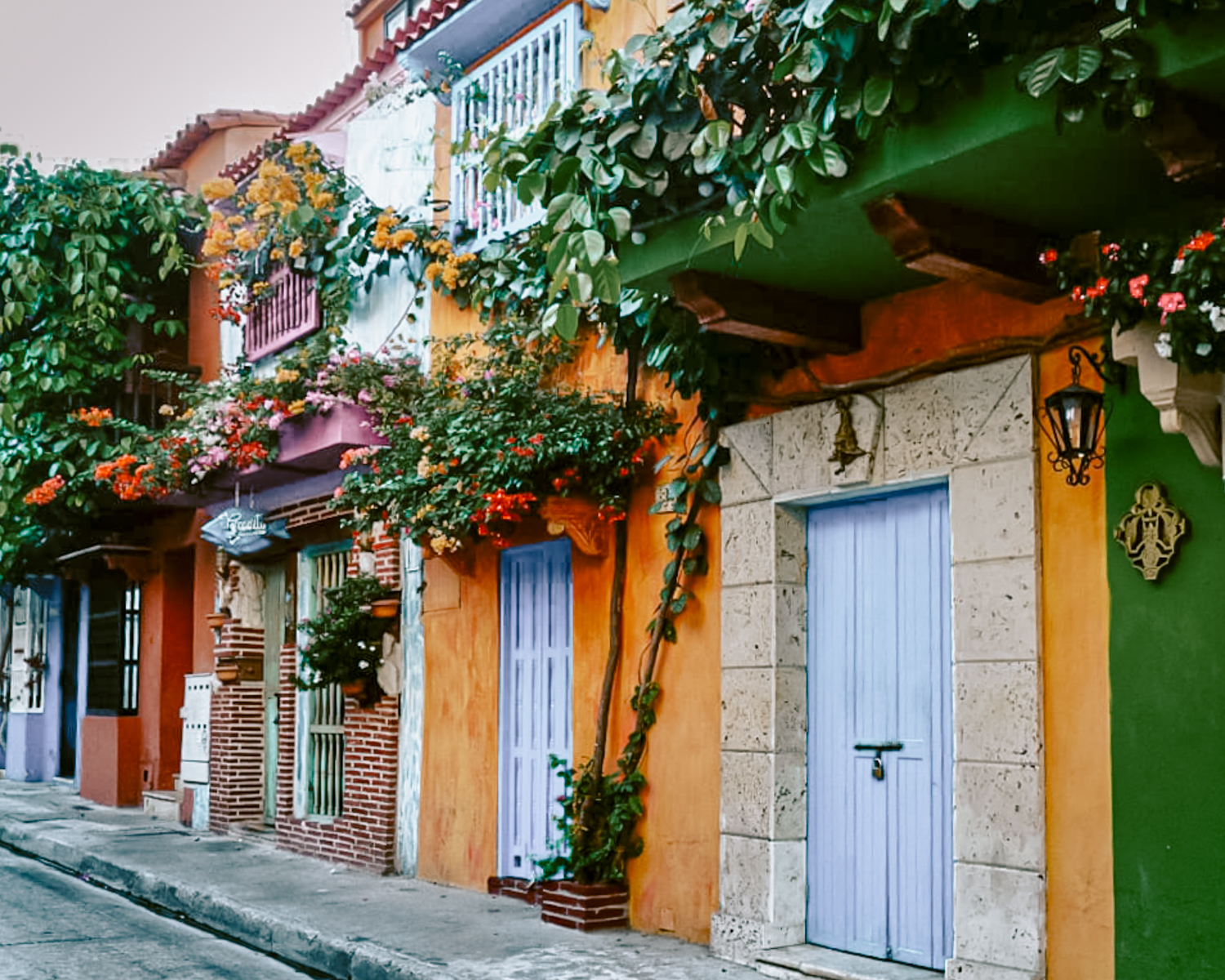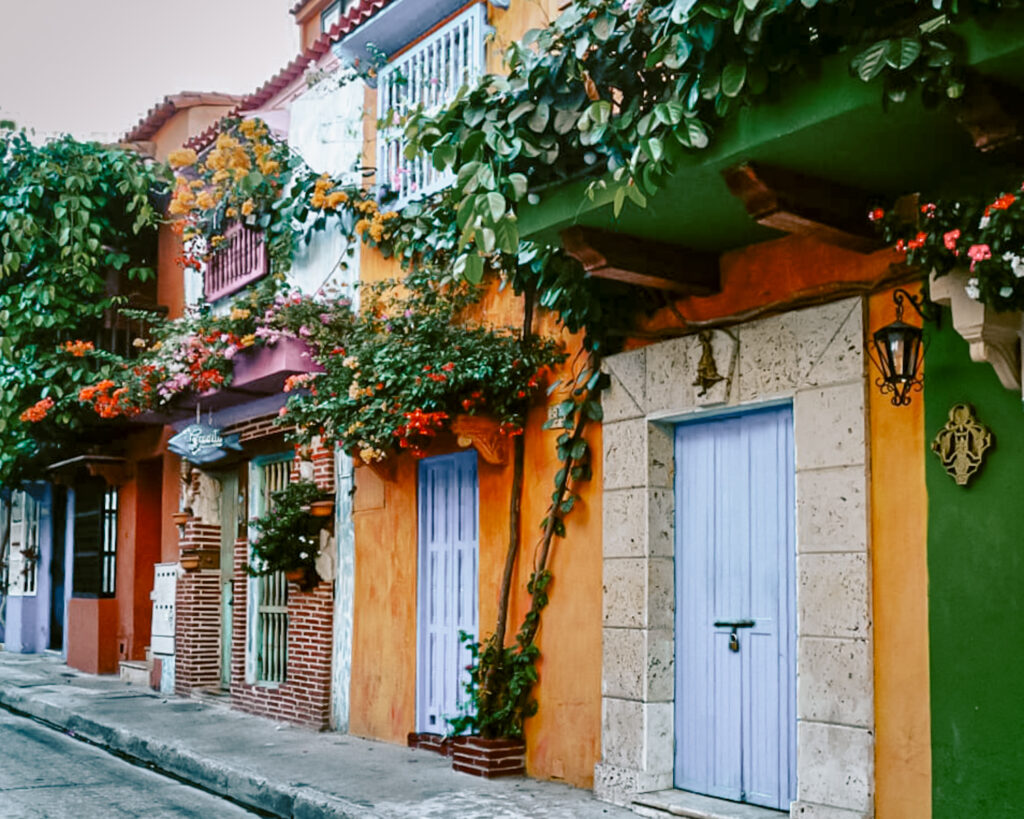 When it comes to cities in South America that embody a vibrant beauty and rich cultural heritage, Cartagena undoubtedly stands out. 
From the moment you set foot in Cartagena, Colombia, you will be captivated by the tropical colors that seamlessly blend with old-world charm. You will quickly see why it is one of the most beautiful cities in South America. 
One of the most enchanting aspects of this coastal South American city is its historic center, a UNESCO World Heritage site renowned for its well-preserved architecture and fortified wall that surrounds the city. 
Wandering its cobblestone streets early one morning before the city awakens is one of the best things to do in Cartagena. You'll discover quaint balconies adorned with flowers and a fascinating history among its beautiful churches and plazas.
Take a break with a traditional lunch at Restaurante Espiritu Santo in the heart of Cartagena. Afterward, watch the sunset from the fortified walls that the Spanish built to protect the city from invaders.
Continue your adventure the next day with an overnight trip to Isla Grande, one of the Rosario Islands located near Cartagena. With its unpaved streets and seaside bungalows, Isla Grande feels a world away from the city.
When you return to Cartagena, take a morning to explore the Mercado Bazurto, a sprawling market with an explosion of colors, scents, and flavors. At this local market, you can find everything from produce to meat and seafood, clothes, and other household items. 
You'll also want to spend an afternoon and evening in the Getsemaní neighborhood to immerse yourself in Cartagena's vibrant culture. This bohemian area is known for incredible street art, lively plazas, and salsa clubs.
The best time to visit Cartagena is during the dry season, which is roughly December to April. During this time, the weather is sunny and warm but less humid than in the summer. However, be prepared for larger crowds during this period, as it is the peak of the tourist season.
From its well-preserved walled city to the vibrant Getsemaní neighborhood and beyond, it's easy to see why Cartagena is among the best cities in South America.
Explored by Julien of Cultures Traveled
Enjoy tours? Eat your way through Cartagena with other food lovers eating the best street food in the city. Book your tickets in advance here.
Brasilia, Brazil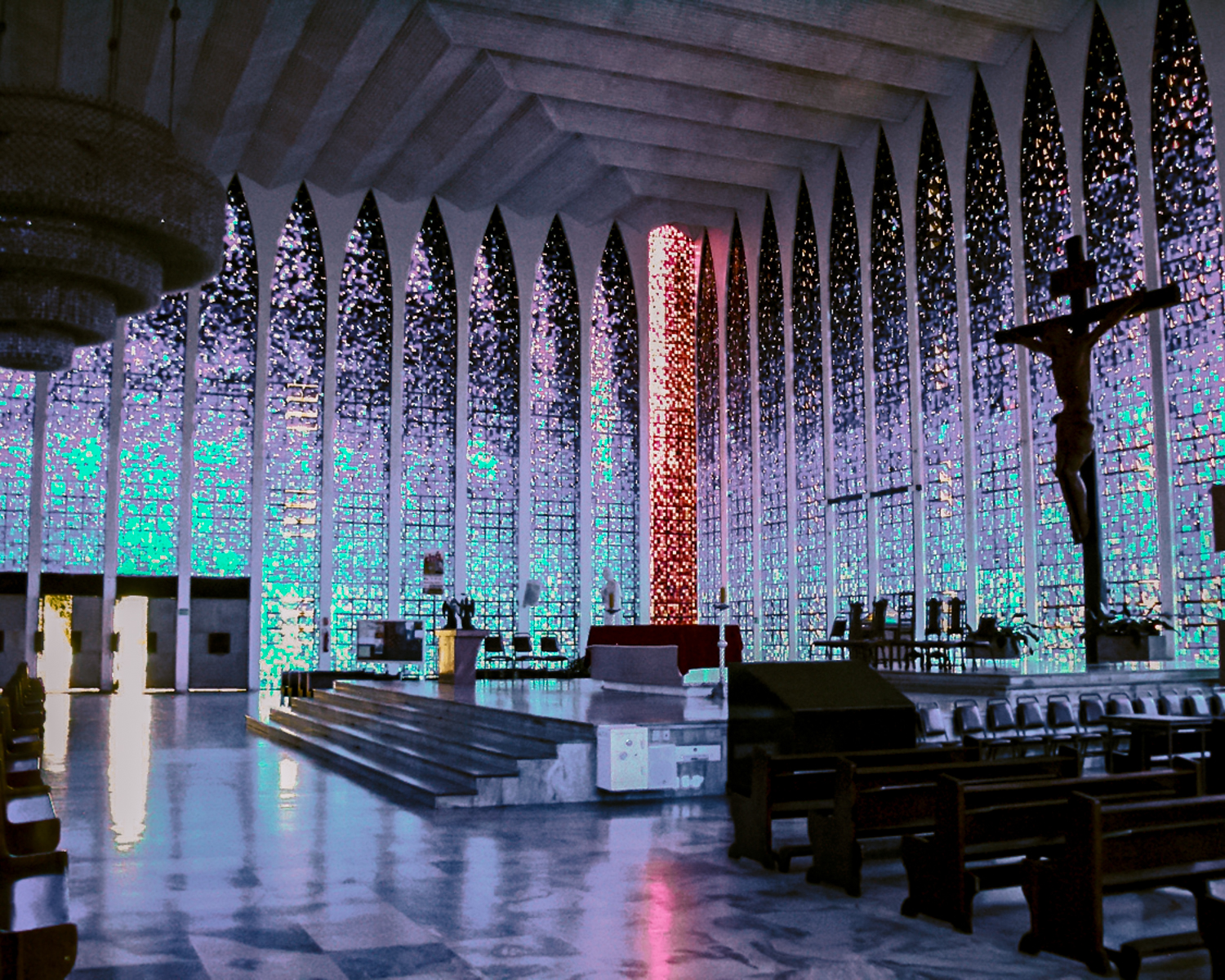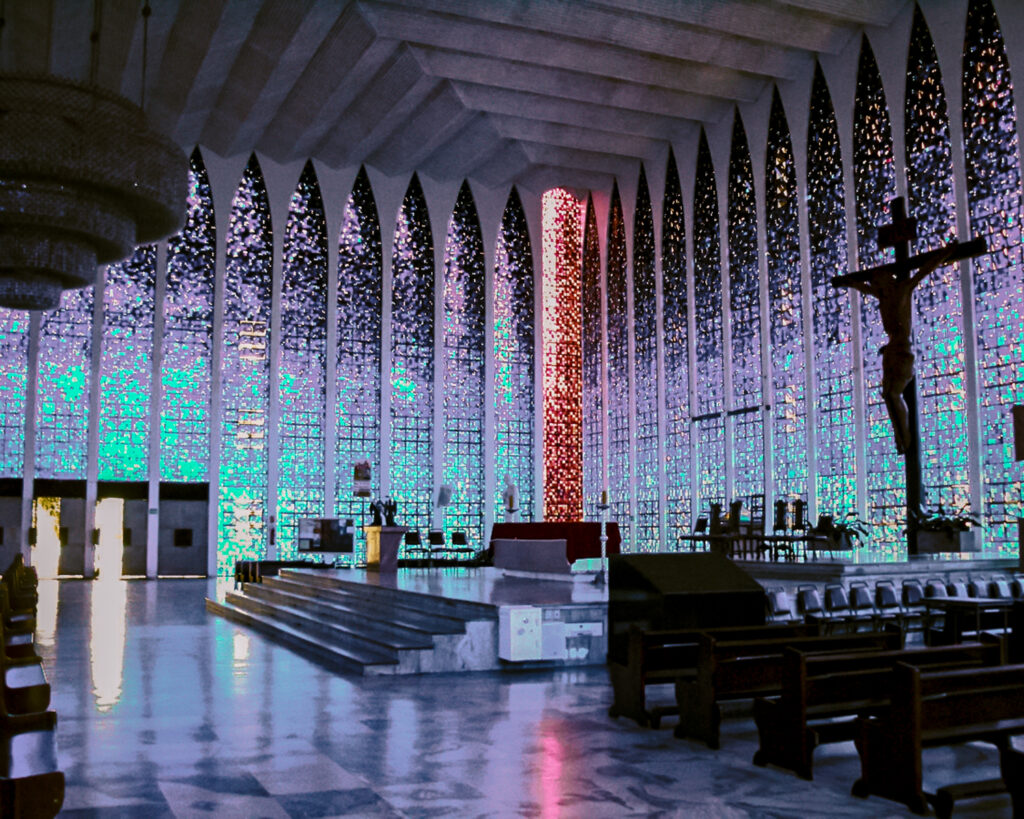 Brasilia is Brazil's capital and its location was picked because it is in the middle of the country. Before it was decided in 1956 that the capital would move from Rio de Janeiro and that Brasilia would be the new capital there was not much to see in the area. This meant that the whole city has been meticulously planned out and everything was built in a very short period – just over 3 years to be exact.
Most of the buildings are designed by one man, Oscar Niemeyer, which has given the city a unique feel. The architecture is white and modern and the unusual government buildings and cathedrals are the main reason to come here. The layout and architecture are so different from most other cities that Brasilia was designated as a UNESCO World Heritage site in 1987.
Start your sightseeing at the Congress Nacional, which is at one end of the Esplanada dos Ministerios, before getting the bus to Catedral Metropolitana, which is in the middle. The distances between buildings can be reasonable and personal safety is a concern.  So don't walk long stretches between buildings.
The final building not to miss is the Catholic church called Santuario Sao Joao Bosco. It has stained glass from floor to ceiling. It is possible to get the bus here as well.
Since the centrally located buildings are what you should see, and the Federal District is also one of the safest, this is where you should base yourself. There are several hotels at the eastern end of the Esplanada dos Ministerios but the top pick is Brasil 21 Convention Affiliated by Melia.
Despite Brasilia's location, far from the sea, seafood is what to eat here. The capital has an excellent chain of seafood restaurants called Coco Bambu and there are several locations throughout the city.
The best time to visit is from March to June and in October. From July to September, it is very hot and from November the rains start.
Explored by Kristin of Scotland Less Explored
Stanley, Falk Islands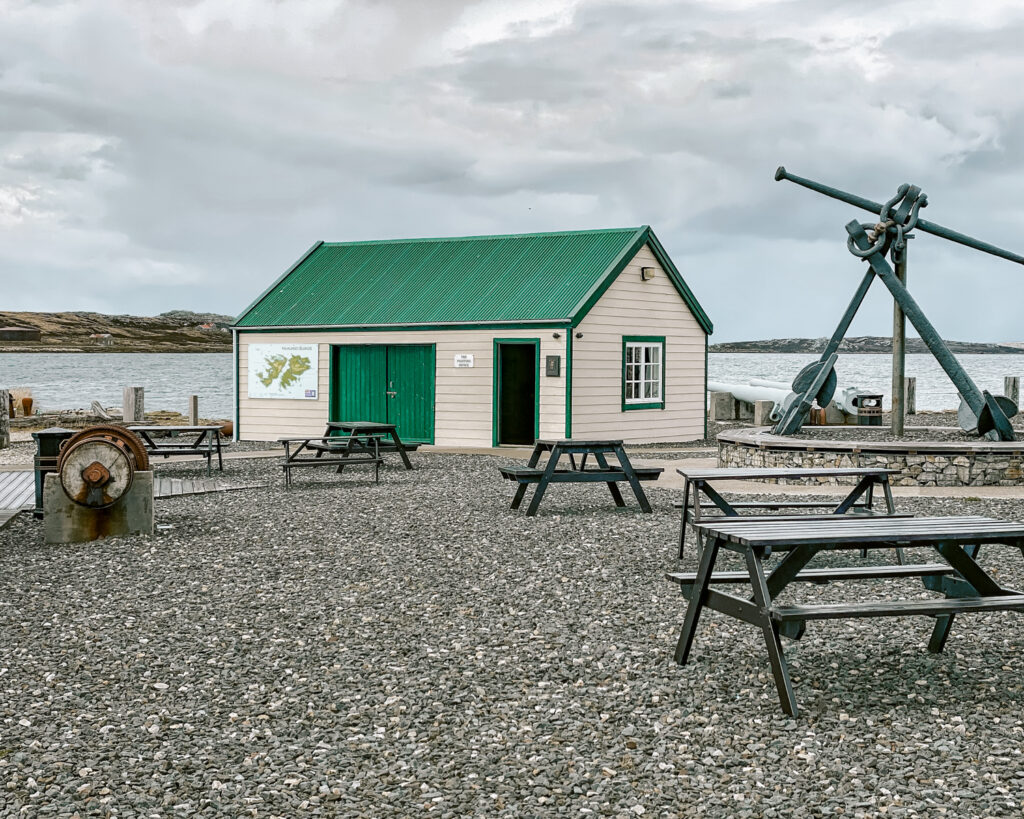 When it comes to cities and South America, not many travelers ever think of Stanley, the capital of the Falkland Islands. Albeit only having a population of roughly 2500 people, this is a city proper and indeed the largest settlement in the country. And, most importantly, it's actually one of the most interesting places in South America to visit!
What's special about Stanley is that it is immersed in a perfectly South American landscape: think of the most barren environment of Argentine and Chilean's Tierra del Fuego. However, at the same time, it has the look of a small British town with the typical red phone boots, an Anglican church, a post office, and the local pubs which feel very much British. And finally, the vibe is incredibly friendly, and for a place that small actually very international.
But what is there to see and do in Stanley? Actually, lots!
The Historic Dockyard Museum is the perfect place to begin your exploration. It is seemingly small, but there is a lot of photographic and reading material so a proper visit will take you at least two full hours. This is where you can learn more about the history of the country – how the Falklands were discovered, how they became British territory, and the history of the Falklands War against Argentina.
Victory Pub is the place to go for a drink and simply hang out and mingle with the locals. Don't be surprised if the minute you walk in everyone stares at you. This is a small place, after all. But it won't take you long to befriend someone and start sharing drinks and life stories.
Other must-sees include the Jubilee Villas, late Victorian villas built in 1887 in commemoration of Queen Victoria's Golden Jubilee. Also, the Christ Church Cathedral was built on the site of a much older church between 1890 and 1892. Make sure to also spot Margaret Thatcher Memorial, inevitably dedicated to the Prime Minister during the Falklands War.
Finally, Stanley is the best starting point for expeditions to Volunteer Point, where you can admire one of the largest colonies of King Penguins in the country (and in South America).
To make the most of the Falkland Islands, plan to visit in the late spring and summer months – between November and March. That's when the weather is a bit better and the days are also longer.
There are a few options for places to stay in Stanley. The best one is by far The Waterfront Boutique Hotel, which also owns the nicest restaurant in town.
Explored by Claudia of My Adventures Across The World
Sucre, Bolivia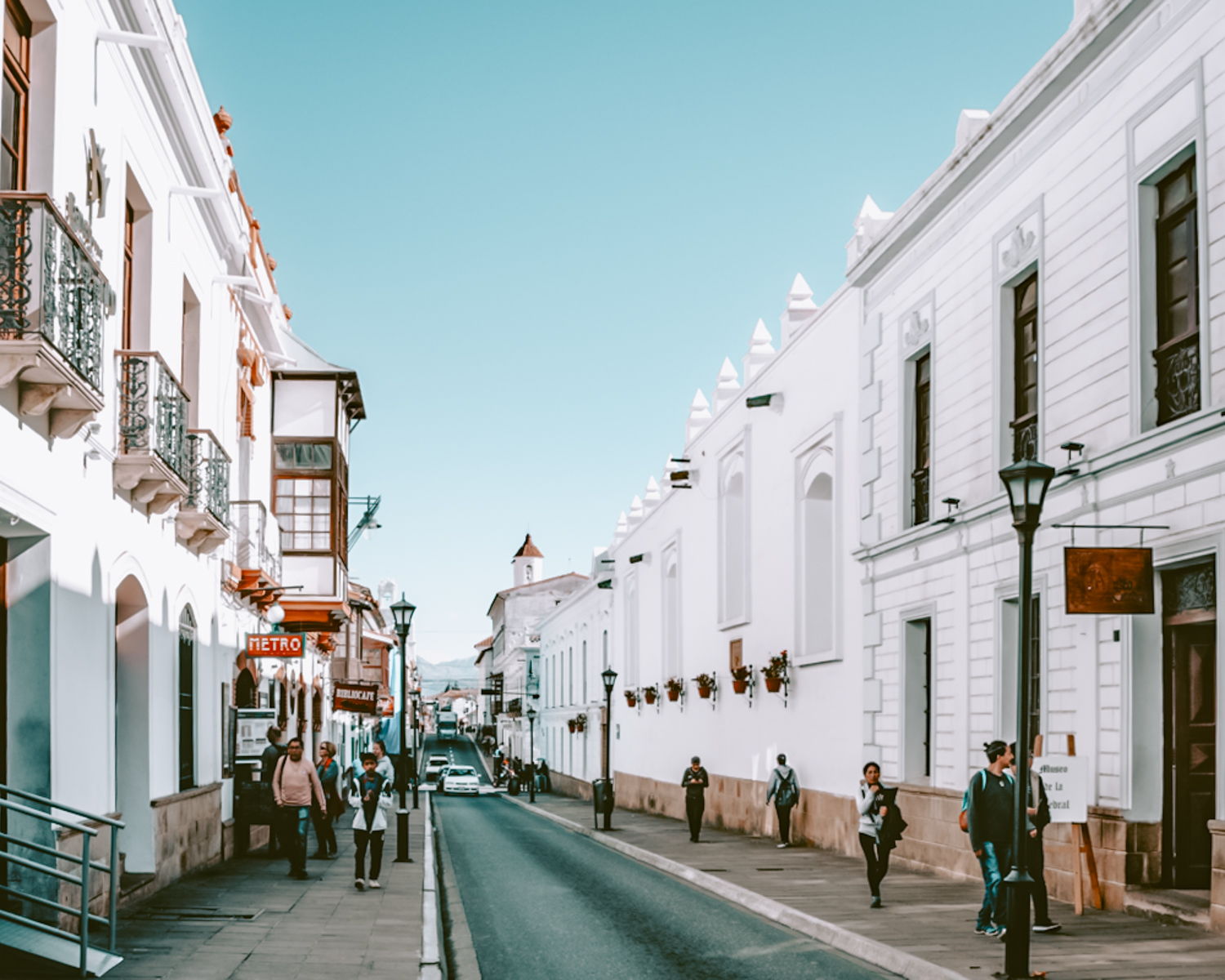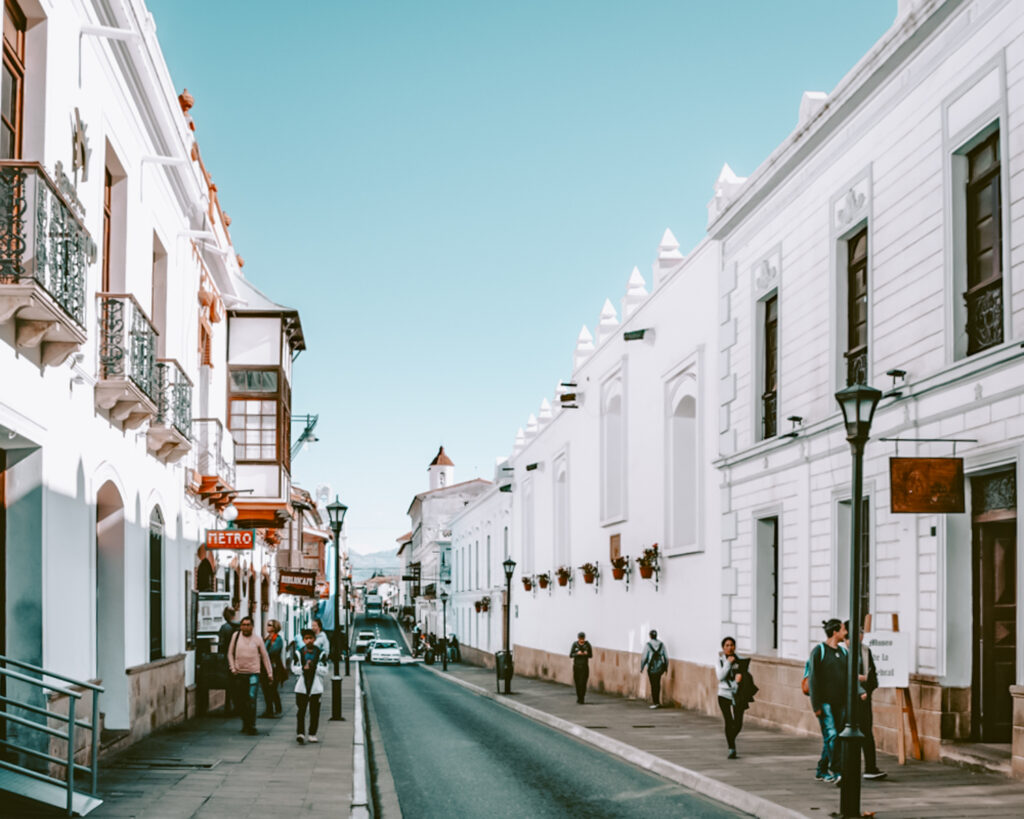 Sucre, known as Bolivia's "White City," is arguably one of the best cities in South America to visit. While you won't find any world-famous tourist attractions in Sucre, this constitutional capital of Bolivia might steal your heart with its charming streets lined with white colonial buildings. One of the best things to do in Sucre is to climb to the rooftop of the San Filipe de Neri Monastery and watch as the sun sets behind the city, illuminating the white buildings in a dreamy yellow-orange glow.
You won't be bored in Sucre! If you're stopping for a day or two, focus on exploring the city's architectural wonders. Stroll through picturesque neighborhoods, and soak in the lively atmosphere of the Mercado Central. Here you can sample fresh products – or visit one of the many restaurants in the city. Bibliocafe, the oldest cafe bar in Sucre, is certainly worth a stop. If you have a sweet tooth, you'll love Vacafría, an ice cream shop with delicious flavors.
For those with more time to spare, Sucre offers the opportunity to explore Bolivia's rich history and culture through the numerous museums scattered around the center. And for an extraordinary encounter with prehistoric times, visit Parque Cretácico. It's home to the world's largest group of dinosaur footprints.
When to visit Sucre? Anytime is a great time to explore this lovely city. Its pleasant climate and lively atmosphere make it a year-round destination. However, if you prefer milder temperatures and smaller crowds, consider visiting during the shoulder seasons of spring (September to November) or autumn (March to May).
For accommodation, consider staying in the Recoleta neighborhood. This charming area offers a mix of colonial-style guesthouses and boutique hotels conveniently located near major attractions.
Whether you're exploring its history, indulging in local cuisine, or simply strolling through its charming streets, Sucre will leave you with a lasting impression.
Explored by Sandra of The Blue Marble Vagabonds
San Carlos de Bariloche, Argentina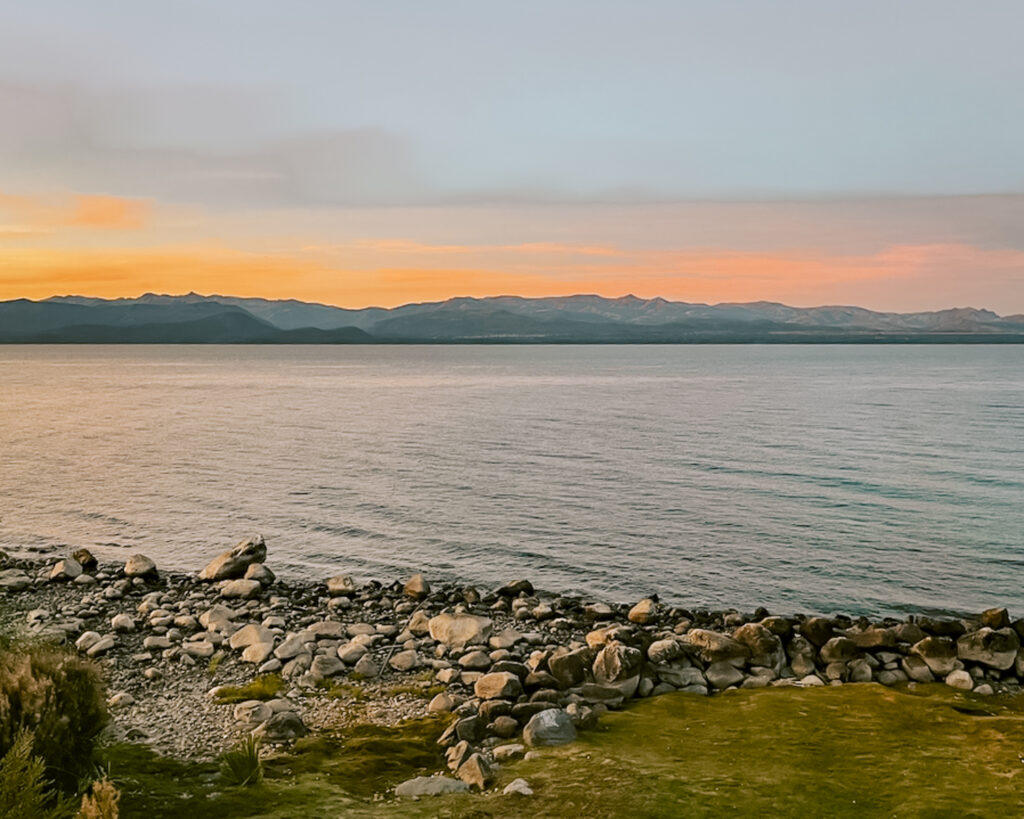 Bariloche – or San Carlos de Bariloche, to use its full name – is a small city that's often used as a gateway to Argentinian Patagonia. But make no mistake: there's plenty to do here, and Bariloche is definitely worth visiting in its own right.
With its mountains, lakes, and chalets, Bariloche feels like a Swiss mountain town. It's hard not to fall in love with this place.  The scenery makes it one of the must-see places in South America to visit. 
Bariloche is busiest during the winter due to its amazing skiing. Mount Catedral is the largest ski resort in the southern hemisphere, with over 120 kilometers (75 miles) of slopes for skiers of all abilities. The views from Mount Catedral are amazing and you can also explore some sections of the mountain on a snowmobile!
But Bariloche is also beautiful in the summertime. During this season you can relax on the pebble lakefront beach, enjoy boat rides on the lake, and explore some of the excellent hiking trails on offer. The Cerro Llao Llao hike is a fairly easy trail that only takes around 2.5 hours to complete, and offers amazing views of the Moreno and Nahuel Huapo lakes.
You should also definitely take the cable car to the top of Mount Otto, where you can enjoy a snack or a glass of wine at the revolving restaurant at the top. And no trip to Bariloche would be complete without a visit to the Patagonia Brewery, which has a fantastic beer garden with gorgeous views over Moreno Lake.
The Havana Chocolate Museum is also a must. Not only do you get to learn about the history of chocolate and try some yummy samples, but you can also see some incredibly detailed sculptures of Patagonian animals made entirely from chocolate!
In terms of restaurants, the Buena Vista Resto is easily one of the best in Bariloche. It feels like a cozy mountain lodge inside and all of the dishes are made with fresh, local ingredients. Make sure you ask for a window seat, too, because this place offers beautiful views of the lake and the mountains in the distance.
Lots of the accommodation in Bariloche is along the lakefront, so you don't have to spend a lot to get a great view. If you don't plan on hiring a car, it's best to stay in the city center, as the accommodation outside of the center tends to be quite spread out.
Explored by Hannah Stephenson of The Capetown Blog 
Barranquilla, Colombia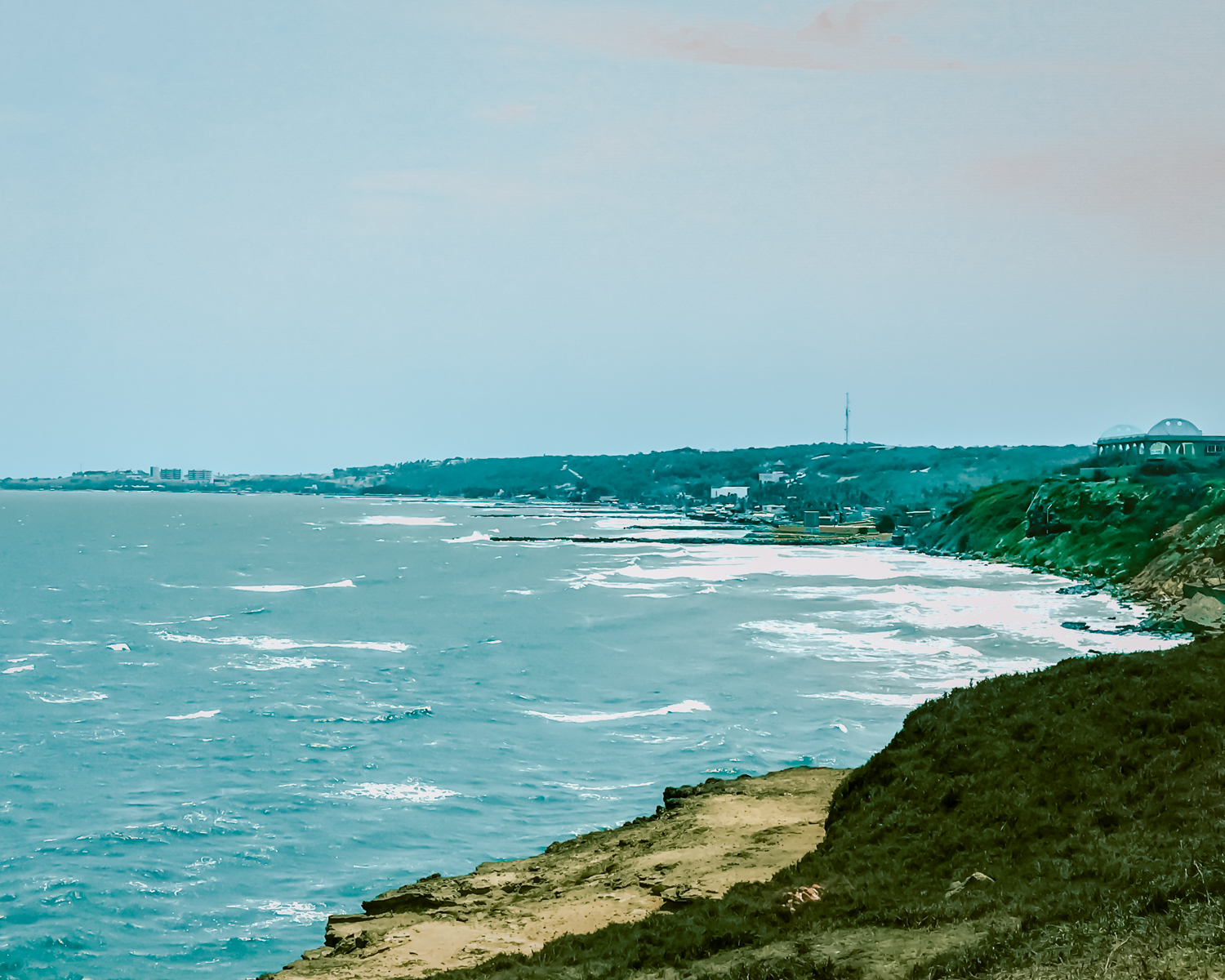 Barranquilla is one of the best places to visit in South America due to its vibrant culture, rich history, and lively atmosphere. Plus, Barranquilla is famous for its annual four-day Carnival! With vibrant parades, music, dance, and costumes, this is the second-largest carnival in the world, after Rio de Janeiro, and attending the Carnival is an absolute must-do when you visit Barranquilla!
As Barranquilla is less touristy than other big cities in Colombia, you really get a feel for the local culture here – without all the tourists! The Castillo de Salgar, a historic fortress, provides panoramic views of the Caribbean Sea and is a popular spot for sunset. The Museo del Caribe is also a great place to visit – this cultural museum explores the region's history, music, art, and traditions. A stroll along the waterfront promenade The Malecon is also a must-do!
Barranquilla is located near the Caribbean coast, and there are beautiful beaches nearby where you can relax and enjoy the sun or enjoy some water sports activities if you wish!
The best time to visit Barranquilla is during the Carnival, which usually takes place in February or March. However, if you prefer to avoid crowds, the months of December to April offer pleasant weather and fewer tourists.
In terms of food, Barranquilla offers a wide range of delicious traditional dishes, including arepas, patacones, and seafood delicacies. Make sure to try the local specialty, "Bollo de Mazorca," a corn cake filled with cheese or meat – yum!
La Cueva is a must-visit restaurant in Barranquilla. It specializes in traditional Colombian cuisine, and has a lovely cozy ambiance and friendly service, making it a popular choice among both locals and tourists!
A great neighborhood in Barranquilla to stay is El Prado – a neighborhood known for its beautiful architecture and upscale atmosphere. It offers a range of accommodation options, including boutique hotels and guesthouses, and is conveniently located near the city center.
Explored by Catrina of 24 Hours Layover
Explore Barranquilla by taking a group tour. Explore downtown and the river avenue boardwalk with a guide.
Popayán, Colombia
The Colombian city of Popayán is a beautiful and peaceful city in the southwest section of the country and it is one of the most important religious areas of Colombia. In addition to the churches and religious festivals held here, Popayán is also close to some amazing nature and ancient history. 
Popayán is known as "The White City" due to the number of white-walled buildings in the city center that help make this town so charming. It is a beautiful place to wander around and take pictures but you might need some sunglasses even when the sun isn't directly shining off the buildings. 
You can find parades and festivals on religious holidays throughout the year but if you want to visit for the largest one, go during Semana Santa or Holy Week in the spring. This tradition has been practiced in Colombia since the colonial years and it is still taken very seriously. There are processions held throughout the week but this is not a party, it is a serious event held to honor and remember the death of Christ. 
Outside of religious activities, taking a historical tour of Popayán is the best way to learn about this city. While visiting this city, you should also try the Tamales de Pipían which come from this area. 
If you are a nature or outdoor lover, the Puracé National Natural Park is the best place to take a day trip from Popayán. The main draw of this park is the active Puracé volcano which you can hike up. 
If you love history, the small town of San Agustín is one of the best places to visit in Colombia. It's for those who love ancient history. However, it can't really be done on a day trip from any Colombian city. 
Popayán is however one of the closest larger cities to this harder-to-reach historical location so the city can be a perfect starting point for further Colombia exploration. San Agustín is definitely worth the trouble of visiting as it is one of the most beautiful areas of Colombia in addition to having a fascinating history that outdates Machu Picchu. 
Explored by Haley from Fernweh Foreigner
Rio de Janeiro, Brazil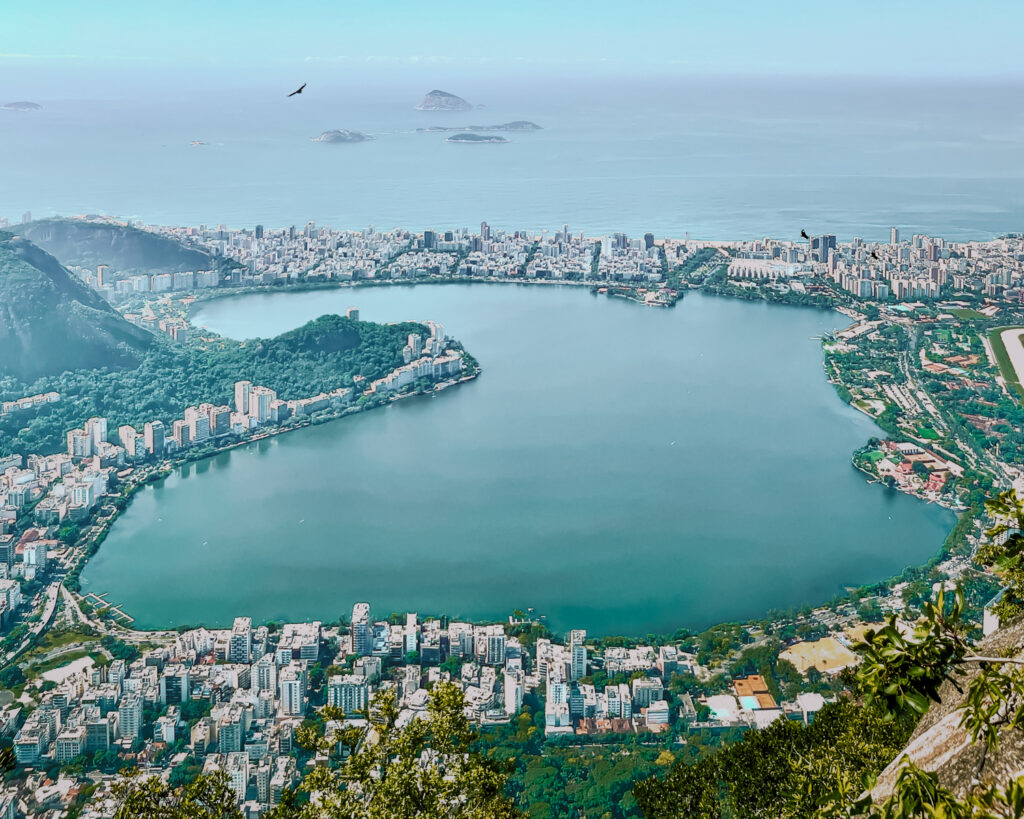 Rio de Janeiro is one of the 5 most visited cities in South America making it one of the best places to travel. This unique city offers the perfect combination of natural beauty and a vivid and lively culture that can easily fill your Brazil itinerary. 
Set between the Atlantic Ocean and mountains, including the iconic Sugarloaf Mountain and Corcovado. Rio de Janeiro is also home to one of the seven new wonders of the world, Christ the Redeemer. The city's natural beauty offers a variety of things to do. In addition to exploring Sugarloaf Mountain and Christ the Redeemer, you can also take in the city's beauty by hang gliding or hiking Telegraph Rock, Llanos de Cortez Waterfall, or Pedra de Gavea.
Another fun way to take in the beauty of Rio is by sailing on Guanabara Bay. Be sure to stop at Flutuante Rio, a floating restaurant that is only accessible by boat, for a delicious meal and drink. You won't be disappointed as the food is fresh and delicious and it offers breathtaking views of Sugarloaf Mountain.
You can't come to Rio without experiencing its magnificent culture. If your vacation takes you to Rio during carnival season, the week leading into Lent, be sure to participate in the parades and local events as it's the largest carnival celebration in the world. This is the ultimate way of experiencing the true culture of Rio de Janeiro. 
But don't be dismayed if you are not there during the Carnival as there are plenty of ways to experience Rio's vibrant and unique culture. One is simply visiting some of their beautiful beaches like Cococabana and Ipanema. Yes, there will be tourists but locals love to visit these beaches as well. 
Similarly, both Copacabana and Ipanema are great neighborhoods to stay in. Copacabana is the most popular area for tourists in Rio de Janeiro. There's always something going on in this neighborhood. Ipanema is what could be considered Copacabana's more upscale cousin as you can easily find high-end boutiques and fine-dining restaurants throughout the neighborhood. 
The weather in Rio de Janeiro is beautiful all year round. If you'd like to avoid the coldest months, which may still be warm for some, July is the coldest month of the year with the average temperatures at 72 degrees F / 22 degrees C. It is also good to note that the rainy season is from December to March.
Explored by Marquita of The Traveling Twin Mama
El Calafate, Argentina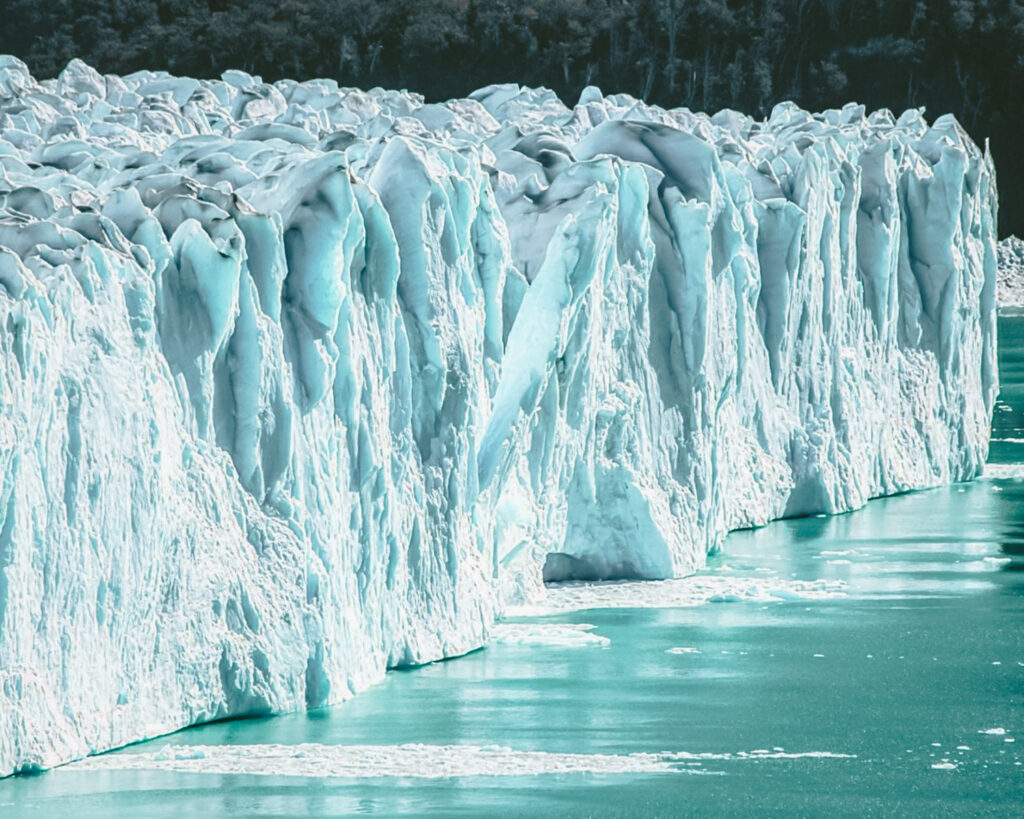 Nestled in the southern region of Argentina, El Calafate is a charming town that serves as a gateway to the breathtaking wonders of Patagonia. Known for its awe-inspiring natural landscapes and unique attractions, El Calafate offers an unforgettable experience for every visitor.
The town itself is relatively small and has a cozy, laid-back ambiance. The main avenue, Avenida Libertador, is the heart of the town, with souvenir shops, boutiques, and restaurants lined up. The city centre is one of the most popular places to stay, thanks to a large variety of accommodations, ranging from cozy hostels and lodges to luxury hotels.
The best time to visit El Calafate is during the Austral summer months of December to February when the weather is milder and ideal for outdoor activities.
El Calafate serves as a hub for exploring the surrounding natural wonders of Los Glaciares National Park, especially the impressive Perito Moreno Glacier. This colossal ice formation is a sight to behold, and boardwalks allow visitors to get up close. One of the main highlights when witnessing this advancing glacier (one of the few in the world). You can observe massive chunks of ice calving and plunging into the shimmering blue waters of Lake Argentino below.
After a day of exploration, treat yourself to the city's culinary delights. La Zaina is a popular restaurant that offers an incredible range of Argentine cuisine, including succulent grilled meats (asado) and traditional tostadas.
Make sure to also try local specialties made from the indigenous Calafate berry, which gave its name to the town. You should find many products around, such as jams, liqueurs, and desserts.
Finally, when choosing a place to stay, consider the picturesque neighborhood of Puerto Banderas. This charming area provides easy access to the town and nearby attractions. As well it offers a variety of accommodations, ranging from cozy hostels and lodges to luxury hotels. The tranquil atmosphere and scenic vistas make it an ideal base for your El Calafate adventure.
Explored by Jenny Tales From The Lens
Arequipa, Peru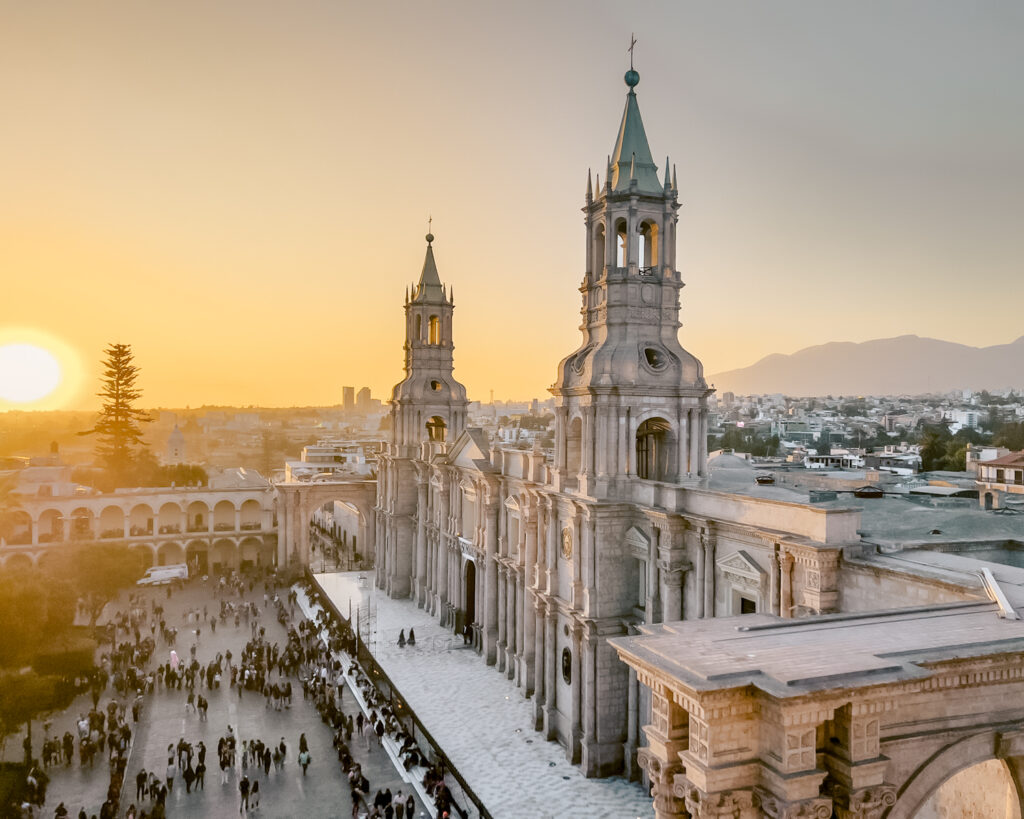 Arequipa is a beautiful city located in Peru and nestled in the Andes mountains at an altitude of 2,328 meters. It's also known as the "White City" due to its beautiful colonial buildings made of white volcanic stone. It is one of the underrated places in South America to visit.
Start your journey by exploring the historic city centre, a UNESCO World Heritage site, and visiting the stunning Basilica Catedral de Arequipa. For the best views, head to one of the surrounding rooftop bars/restaurants during sunset. 
Enjoy a stroll along Santa Catalina, a street lined with beautiful restaurants and alfresco dining areas. An excellent restaurant option is 13 Monjas. It has stunning décor and delicious pasta and pizza.  
If you're visiting Arequipa, you must visit the Santa Catalina Monastery, a vibrant and colorful precinct with picturesque streets and tranquil courtyards.
Arequipa is also an excellent base for exploring some of the stunning surrounding areas. One of the most popular options is to visit the Colca Canyon, one of the deepest canyons in the world. Witness the awe-inspiring flight of the Andean condors as they soar above the dramatic landscapes. For adventure enthusiasts, embark on a trekking expedition or go white-water rafting on the Chili River.
The best time to visit Arequipa is during the dry season from May to September when the weather is mild and rainfall is minimal. This period offers clear skies, making it ideal for outdoor activities and exploring the city's attractions.
For the best area to stay, consider the historical centre of Arequipa. It not only offers convenient access to the city's main attractions but also immerses you in its enchanting colonial ambiance. Here, you'll find a range of accommodations to suit different budgets.
Peru is one of the safest countries in South America and Arequipa is not an exception to this. It's a relatively safe city, perfect for solo travelers to families, and anyone in between. With its rich cultural heritage and breathtaking landscapes, Arequipa is a South American gem that should not be missed. 
Explored by Danni from The Solo Plan
Valparaiso, Chile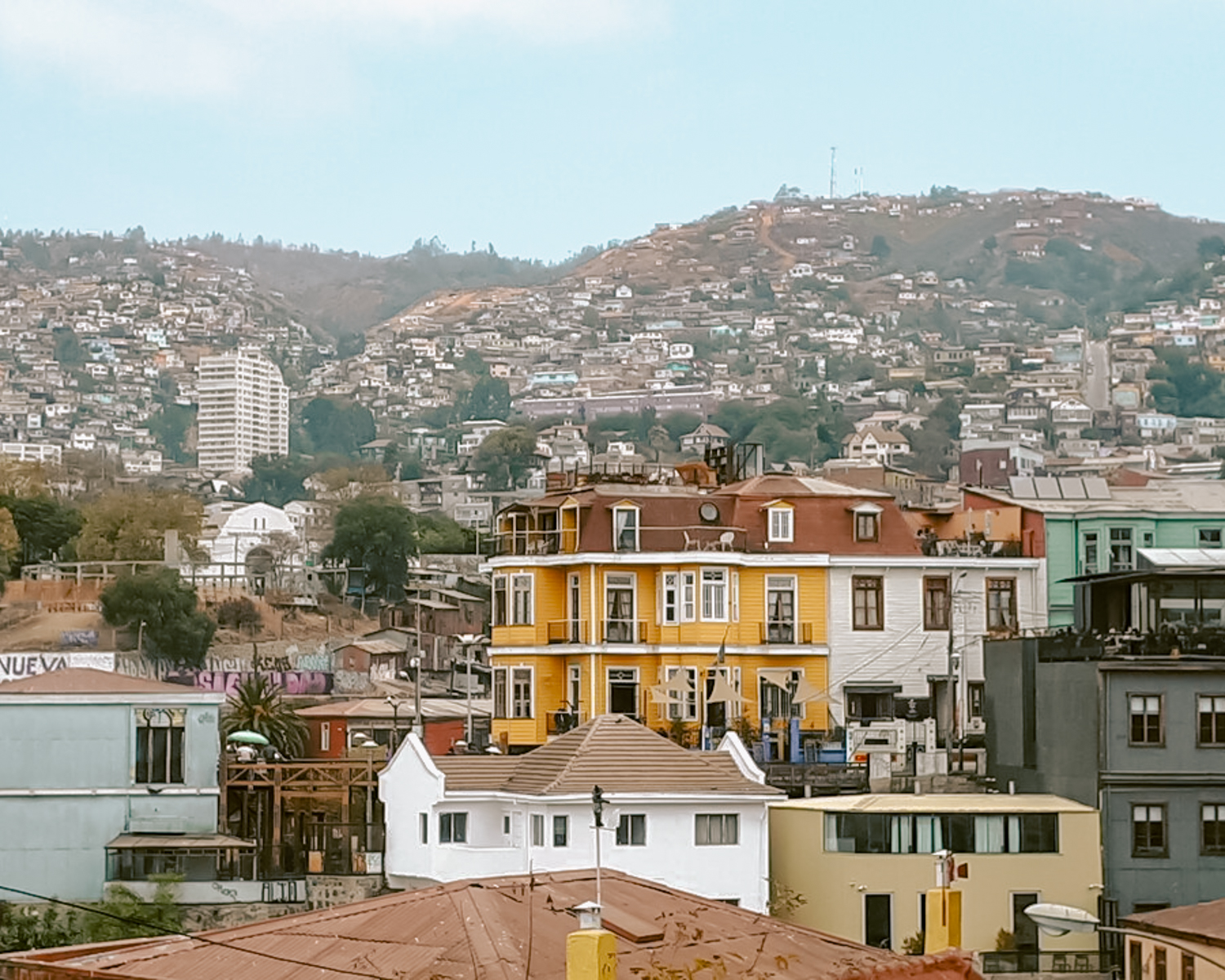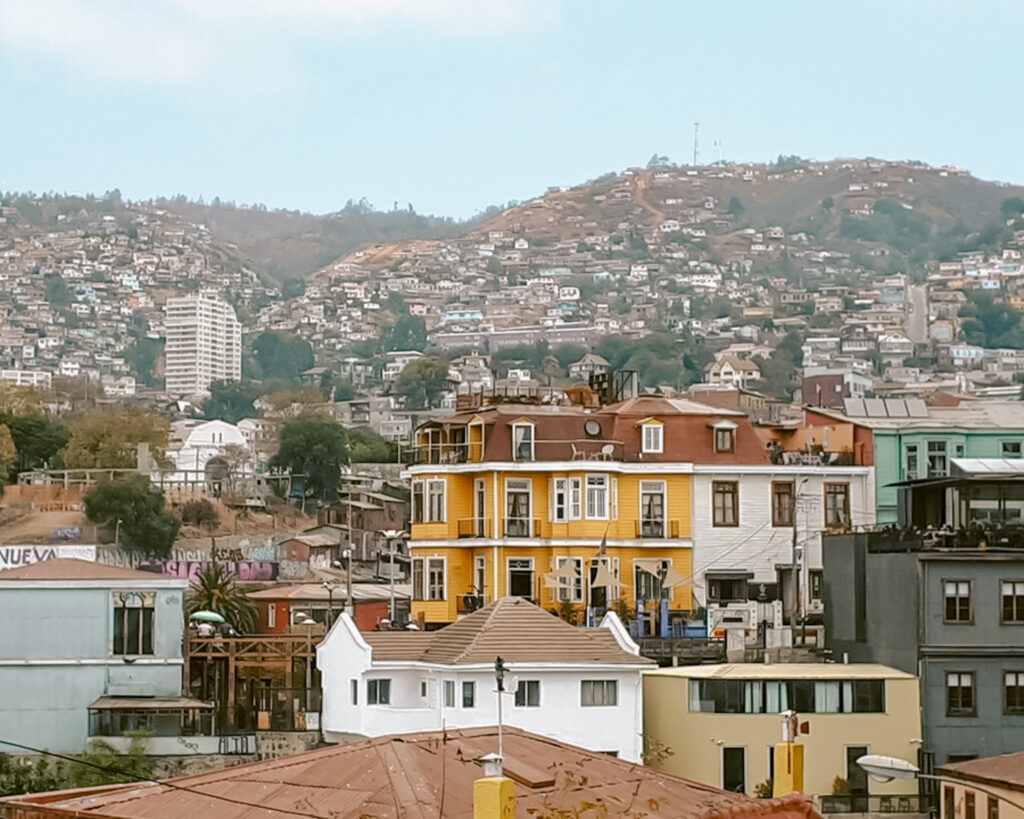 Valparaiso, Chile, is a vibrant coastal town that's known for its colorful street art and steep funiculars. In fact, the city is built on a series of hills, and although most of the city's businesses are found in the lower town near the port, the hills are where the locals live. Each hill has its own distinct neighborhood and unique charm, with shops, cafes, colorful houses, and interesting street art. Funiculars are located on several of these hills, providing easy access between the downtown and the areas at the top. 
While riding the funiculars is an interesting experience – many of these date from the early 1900s -there are plenty of other fun things to do in Valparaiso as well. 
Explore the UNESCO-listed historic quarter and spend some time wandering the streets that are filled with stunning street art. There's no shortage of colorful art no matter where you explore but some of the areas to find beautiful art are in the Cerro Bellavista, Cerro Conception, and Cerro Alegre neighborhoods. 
Cerro Bellavista is also home to La Sebastiana, one of Pablo Neruda's three houses. Now a museum, La Sebastiana contains some interesting items from the famous Chilean poet's life and provides some stunning views over the harbor and city below. 
And for a different view of Valparaiso, head out on a boat tour in the harbor. Lasting about 30 minutes, these boat tours offer excellent views of the city's many hills. 
Valparaiso is home to some excellent restaurants. One of the best is La Concepción, a fantastic spot in the Cerro Concepcion neighborhood. With fantastic food, including plenty of seafood dishes, and providing stunning views from the terrace, this is one of the top restaurants in the city. 
For accommodations, the neighborhoods of Cerro Alegre and Cerro Concepción are great areas to stay, with charming streets, plenty of cafes and restaurants, and fantastic views of the city and over the Pacific Ocean. 
However, summer is also a popular time and the city and beaches can be crowded. Visiting in the late spring or early fall is also a great choice when the weather is still mild and the crowds are less. 
Explored by Erin of Wanderlust With Kids Blog
Quito, Ecuador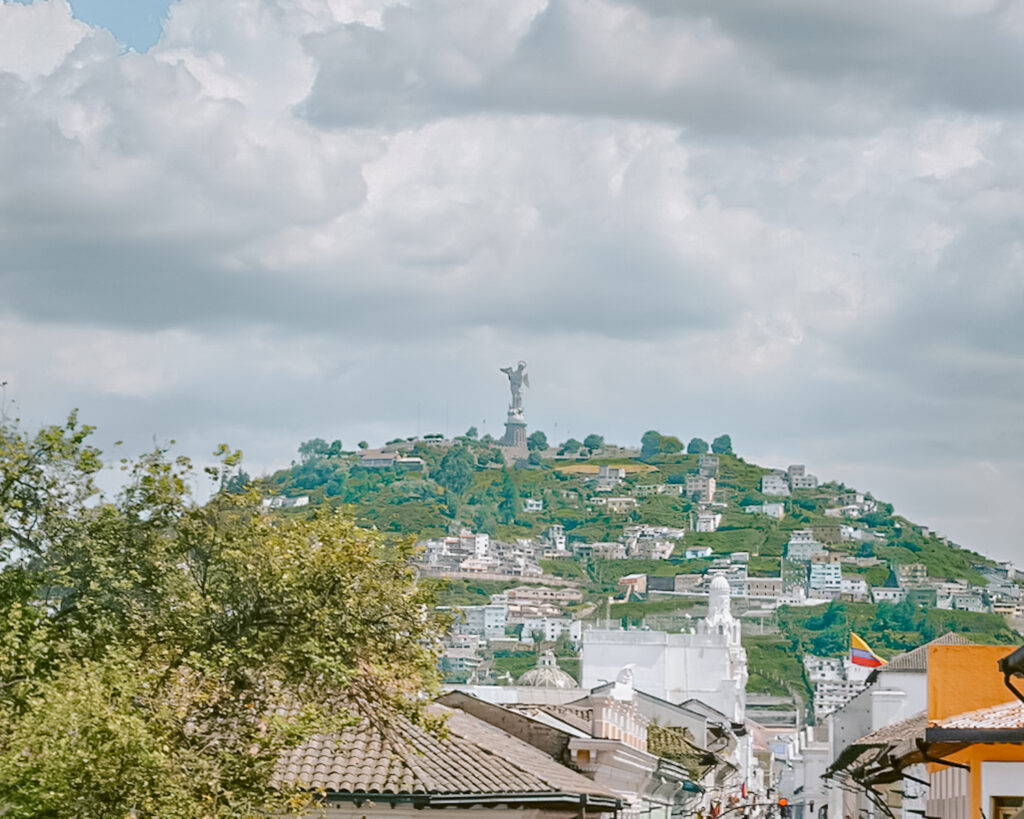 Quito, the capital and largest city of Ecuador, is a perfect city to get introduced to Latin American culture. The beautiful historic center of Quito is a designated UNESCO World Heritage Site, and the city is located just 16 miles south of Ecuador's namesake: the equator line. There is enough to do in Quito to keep you busy for several days, but spending 3 days in Quito is a perfect introduction to the city.
There are tons of amazing things to do in Quito. Spend your first day in the city taking a walk around Quito's beautiful historic center. Take some time to explore the historic squares and the streets surrounding them, full of ornate buildings, churches, and monasteries. The Basilica del Voto Nacional and the Church of La Compañía de Jesús shouldn't be missed!
For great views of Quito, take the TeleferiQo up to the Cruz Loma lookout. Here, you'll have incredible views of the sprawling city below. There are also hikes further up the mountain if that's something you're interested in. Make sure to bring a jacket – it's a few degrees colder up here!
You can't visit Ecuador without visiting its namesake: the equator! There are two monuments dedicated to the equator. The Intiñan Museum claims to have the most geographically accurate, GPS-tracked line; it also has a host of exhibits dedicated to Ecuadorian culture and folklore surrounding the powers of the equator line. The Middle of the World monument, located nearby, is the more frequently visited monument.
When deciding where to stay in Ecuador, search for a hotel located in the historic center or in La Mariscal, which is the city's New Town. If you're a solo traveler, the Community Hostel can't be beaten.
Being located right on the equator, you would expect Quito's temperatures to be very hot. But, thanks to the city's high altitude, you can expect mild temperatures year-round. For the best weather overall, visit Quito between June and September, which is the dry season.
Even if you're visiting in the dry season, make sure to pack a rain jacket and an umbrella as there's still a chance of showers. And don't forget your sunscreen – the city's altitude and location on the equator increase your chances of sunburn.
Explored by Sydney of A World In Reach
Cusco, Peru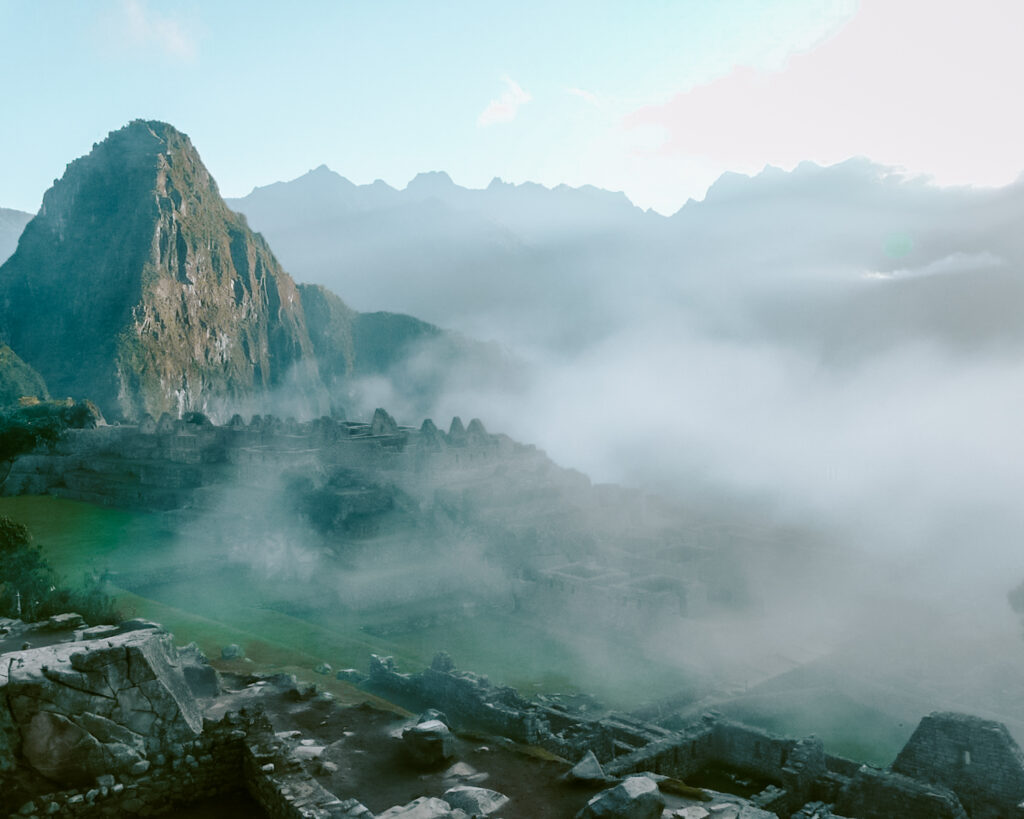 If you want to visit one of the most fascinating places in South America, then visit Cusco, Peru. Before being conquered by the Spanish, Cusco was the capital of the Inca empire, so it's a place full of history, culture, and tradition.
There are so many places to visit in Cusco that you can easily spend a week there and still have lots more to see. Generally, people spend some time in Cusco city itself, and the other half of the time in the nearby Sacred Valley of the Incas.
In the city of Cusco, you will immerse yourself in the traditional Inca and Peruvian culture. You can walk around Sacsayhuaman, the ruins of an old Inca fortress. If you want to visit more Inca sites, there are also temples dedicated to the Sun and to the Moon. And you can also go hiking a little bit out of the city to find other Inca sites while enjoying the beautiful landscapes of the Andes mountains.
Cusco is also a great place to eat traditional Peruvian food. There are hundreds of restaurants to choose from and you won't be disappointed.  Make sure to visit Morena, one of the best ones in the city.
Any location around the main square is a good place to stay, but the nicest neighborhood is San Blas. San Blas is an area just next to the main square, with cobblestoned streets that go uphill. Its streets are lined with small, nice shops, cafes, and museums.
If you want to visit the Sacred Valley, a day trip to Maras and Moray is a great option. Maras is a beautiful set of pink salt pools, and very close by, Moray is a mysterious archeological site that was used as a food lab. There are also some beautiful and picturesque towns that you can visit, like Pisac and Ollantaytambo.
And of course, you can't miss the best of Cusco: Machu Picchu. This Inca site, located on a mountain in the middle of a forest, will be the highlight of your trip to Cusco.
The best time to visit Cusco is between May and October, which is the dry season. 
Explored by Sharon of I Travel Peru
Ushuaia, Argentina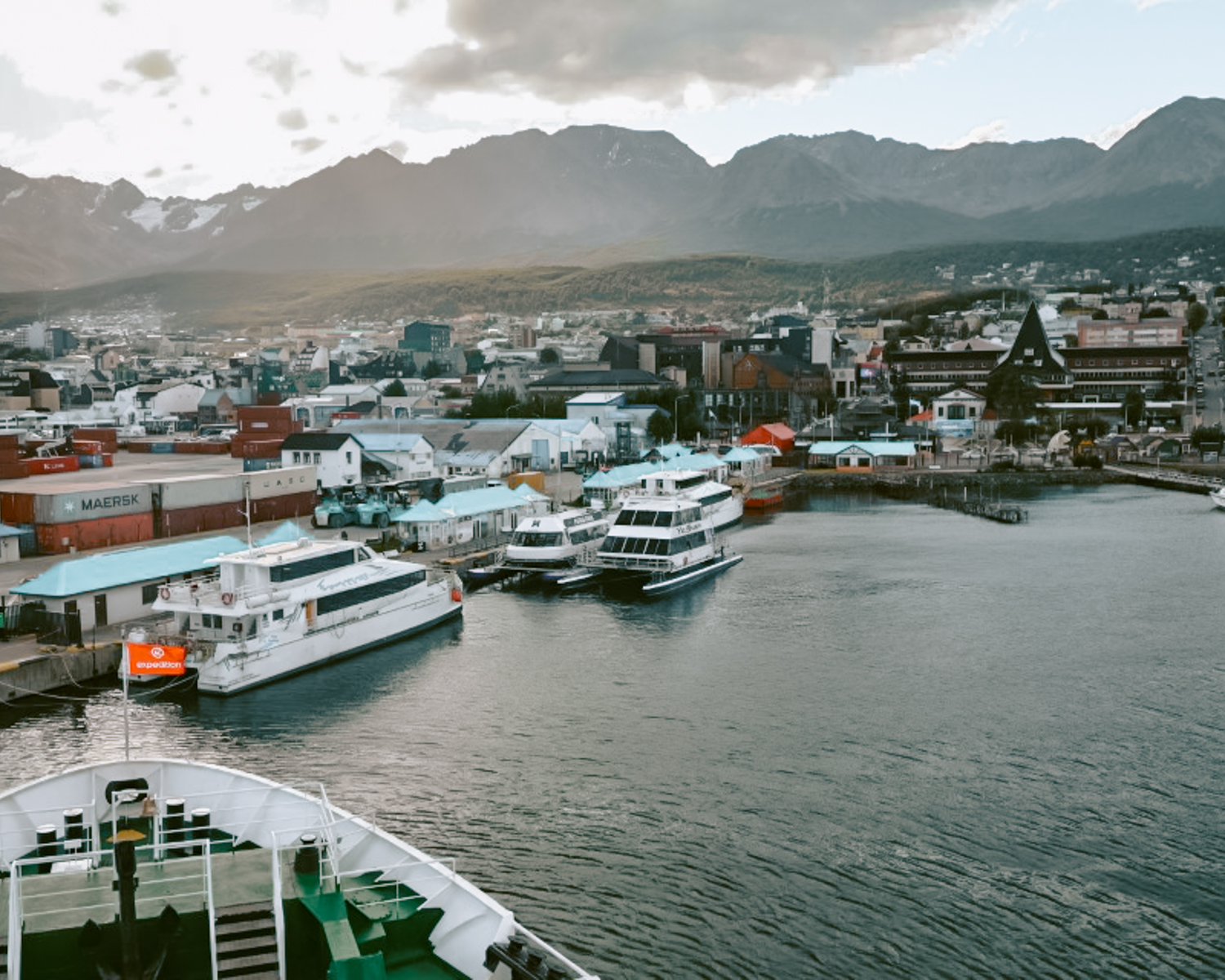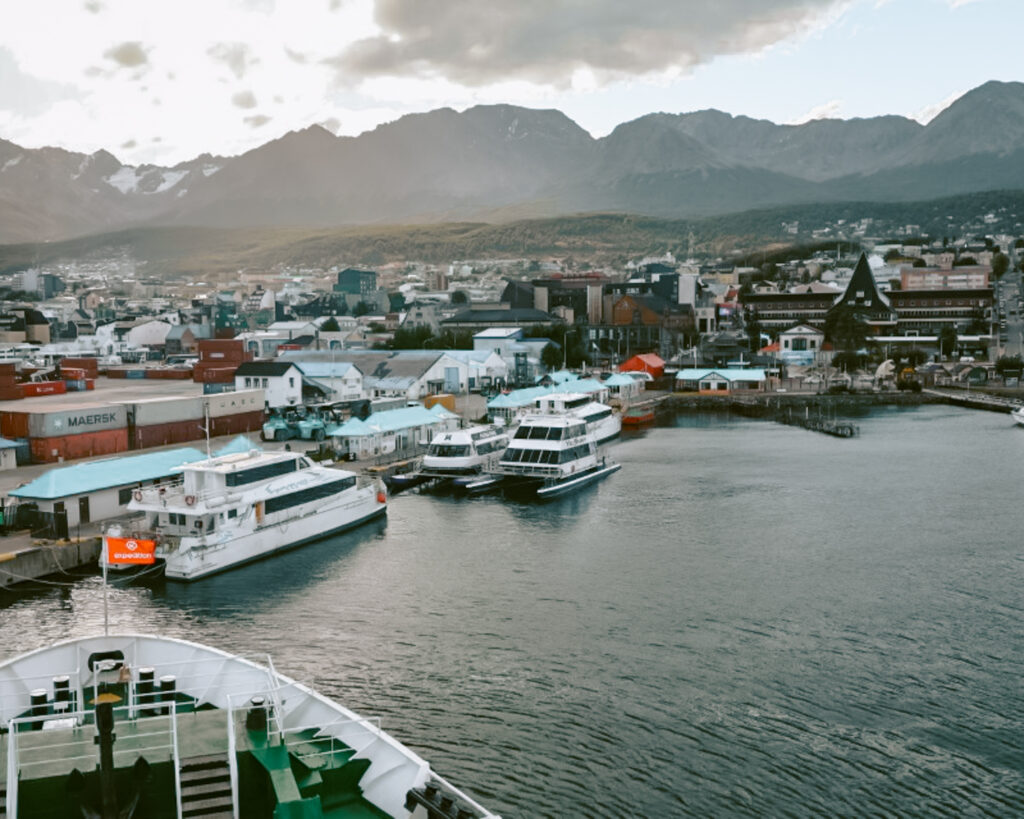 Ushuaia – the city at the end world – at least that is what the famous sign says about this southernmost city of the earth. Ushuaia offers a unique blend of breathtaking natural beauty and adventurous activities. For many, it is the gateway to Antarctica making it one of the best cities in South America to visit. 
In case you are not heading to the 7th continent, be sure to embark at least on a boat tour of the Beagle Channel. In these crystal-clear waters, you'll have the opportunity to witness majestic glaciers, and diverse wildlife such as dolphins, whales, and sea lions.  As well, you can discover iconic landmarks such as the famous Les Eclaireurs Lighthouse. For nature enthusiasts, a visit to Tierra del Fuego National Park is a must. Here, you can explore picturesque trails, marvel at the serene lakes and rivers, and soak in the tranquility of the untouched forests.
You can also learn about the city and the region in Museo del Fin del Mundo (End of the World Museum) and visit the captivating Museo Marítimo y del Presidio (Maritime and Prison Museum).
The best time to visit Ushuaia is during the summer months of December to March. The weather is relatively mild, and you can enjoy longer daylight hours, making it perfect for outdoor activities. However, if you're looking to experience the winter wonderland of Ushuaia, go skiing, or sled-dog riding, a visit between June and September is also possible. You might be lucky to see the Northern Lights from there. 
When it comes to dining in Ushuaia, not the cheapest, but highly recommended restaurant is Kaupe. The restaurant offers a delightful fusion of Argentine and international cuisines. You may try their seafood dishes, such as Patagonian king crab or fresh fish.
For your accommodation, the most convenient is to stay nearby the port of Ushuaia. This area provides easy access to the main attractions, restaurants, and shops. You can find a range of cozy lodges, boutique hotels, and comfortable guesthouses of various budgets.
Explored by Adriana of Czech The World
Explore Ushuaia and go penguin watching on a catamaran. See availabity and book your tickets in advance here.
La Paz, Bolivia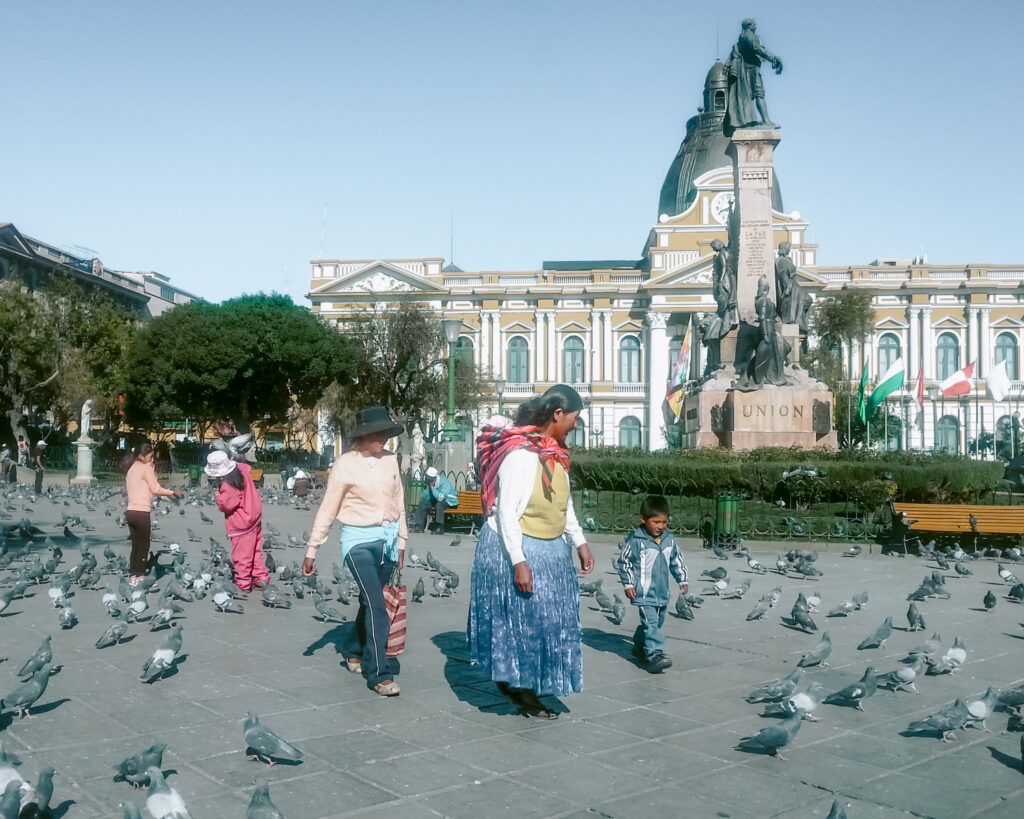 La Paz is one of the most underrated places in South America, with many people choosing to skip it altogether.  However, those who choose to spend a few days exploring will be rewarded with breathtaking views, fascinating cultural experiences, and adrenaline-pumping adventures!
One of the most popular things to do in La Paz Bolivia is to visit the Witches' Market. Which is filled with stalls selling all sorts of paraphernalia that are used for offerings to Pacha Mama (Mother Earth).  This tradition has continued even though Christianity is the main religion of Bolivia, with these indigenous practices still an important part of Bolivian culture.
Another example of this is the San Francisco Basilica, which has indigenous stone carvings alongside Christian statues.  Admire the façade or head inside to see more, there are tours of the rooftop available too.  Nearby restaurant Popular Cocina Boliviana is a fabulous place for lunch.
The Teleferico cable car is another must-do in La Paz.  There are several lines and the Red Line whisks you up to El Alto in a fraction of the time it would take by car – and with spectacular views of the city and mountains beyond.  There is a huge market in El Alto on Thursdays and Sundays, but be aware of pickpockets so leave your valuables behind.
San Pedro prison used to be a popular tourist stop, where inmates would offer tours of the prison – however, it is no longer recommended to go there due to safety concerns.  A La Paz walking tour is a good way to get more information about this notorious place, without having to venture inside!
Outside of the city, a tour to go mountain biking down Death Road is a must for adrenaline junkies, but be sure to choose a reputable company like Gravity Mountain Biking.  You want to be sure you have a good quality bike.  The road used to be the world's most dangerous, and people still die after plummeting off the edges, so be warned!
When looking for where to stay in La Paz, Sopocachi is a nice area that is 10-20 minutes from the Historic Centre. At this location, there are plenty of bars and restaurants.  Selina La Paz or Anami Hotel Boutique are good choices for this area.  Alternatively, the Historic Centre also has a variety of options for all budgets.
For a unique stay outside of the city, Colibri Eco Lodge and Camping is a lovely glamping site close to the Valley of the Moon just south of La Paz.
Explored by Claire of Tales of a Backpacker
Lima, Peru 
Lima is the capital city of Peru and is one of the best cities in South America to visit.
With stunning coastal views, quirky neighborhoods, and an incredible gastronomy scene. There are heaps of things to do and tons of epic places to eat, drink and stay.
The best tourist districts of Lima are Miraflores and Barranco and so it's here that you'll want to base yourself.
Miraflores is the most popular and offers a bustling environment with a modern and upscale feel.  It's home to some of the best restaurants – including Maido – an award-winning restaurant. You can dine on an incredible fusion of Peruvian and Japanese-style cuisine. If you're traveling on a budget, then Mercado San Ramon is a great alternative. It's a unique food hall filled with plenty of options. Experience a variety of different Peruvian foods, alongside other cuisines.
On the other hand, if you're looking for somewhere a little more authentic, then Barranco is a great option to consider. It's known as the Bohemian district and has a hipster vibe, filled with cute coffee shops and incredible pieces of street art.
The best time to visit Lima is considered to be between December and March. However, if you're also planning to travel to Cusco, then you'll need to bear in mind that this is the wet season. Many people who are traveling across Peru choose to sacrifice the best weather in Lima in exchange for a dry trip to Cusco – the gateway city to Machu Picchu.
The best things to do in Lima that you won't want to miss include walking along the Malecon. Be sure to stop at the many points of interest such as the Chinese Park of Park del Amor. Also, take a trip to the historical centre, visit the Larco Museum, and join a street art tour in Barranco.  
Depending on how much time you have in the city, you may also want to take some popular day trips. One of the best locations in Peru is Huacachina – a desert oasis that's just a few hours from Lima. You'll be able to enjoy adrenaline activities like sandboarding and riding in a sand buggy across the dunes.
Paracas is also a charming beach town nearby worth visiting. While there be sure to visit Paracas National Park and take a boat ride to Ballestas Islands. These are considered two of the best activities here. You'll certainly experience some unforgettable memories in South America here. 
Explored by Millie of Stay Wild Travels
Best Cities In South America Final Thoughts
Hope you enjoyed this read on the best cities in South America. If you haven't visited this vast continent I highly suggest adding it to your bucket list. These are some of the best places to visit in South America. Let me know if the comments below which one of the places in South America piqued your interest the most!
You may enjoy reading my other post on places in South America worth visiting: 
Like this post on the best cities in South America to visit? Share it with others or pin it for later!