Seattle, the largest city in the Pacific Northwest region of the United States, is known for its stunning views, vibrant cultural scene, and excellent dining options. From the iconic Space Needle and Pike Place Market to its many parks, museums, and unique neighborhoods, Seattle has something for everyone. 
Whether you're looking for a fun weekend getaway or planning a longer vacation in the Emerald City, this 3 day Seattle itinerary will help you make the most of your time there. With carefully chosen activities that highlight some of Seattle's best attractions, this guide will ensure that you see all the top sights while still having plenty of time to explore on your own. 
So grab your comfiest walking shoes and get ready to experience everything that makes Seattle one of America's greatest cities. Let's get started with this Seattle 3-day itinerary. Oh, and use these Seattle captions for all the photos you post on Instagram from your trip!
This article may contain affiliate / compensated links. For full information, please see our disclosure here.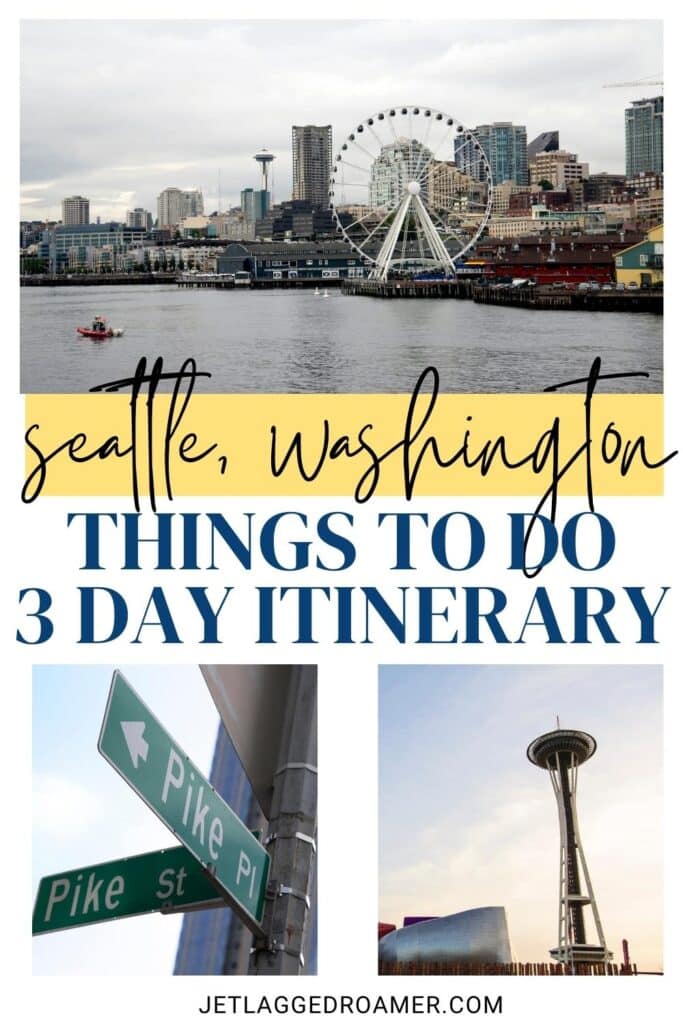 Besides this 3 day Seattle itinerary, you may enjoy these other reads to plan your trip:
How Many Days In Seattle?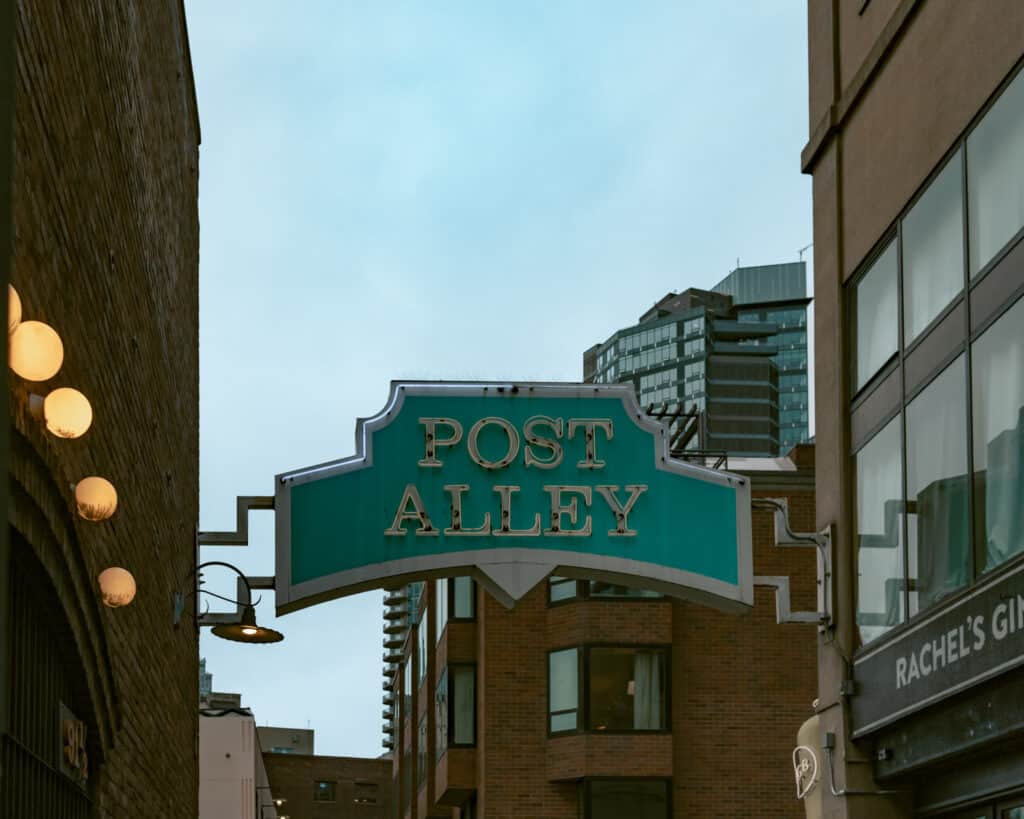 If you're looking to get the most out of your time, this 3 day Seattle itinerary is ideal. You'll be able to explore the city's top sights and attractions while still enjoying plenty of free time. 
However, if you'd prefer a shorter trip, you can easily adjust the activities to fit in a Seattle 2-day itinerary visit. I would also recommend at least one full day for exploring the city's many neighborhoods and markets.
Where To Stay In Seattle? 
When planning a trip to Seattle, two neighborhoods that are popular among visitors are Belltown and Downtown Seattle. Here are some of the top hotels to consider in each area:
Belltown District
Belltown district is a great place to stay and experience the city's nightlife. Not only is it centrally located with easy access to some of Seattle's most popular attractions. You can walk on foot to Pike Place Market and the Space Needle. But, it also boasts a vibrant neighborhood with plenty of restaurants, bars, and shops to explore. 
Plus, there's something to fit every budget with many hotel options, vacation rentals, and hostels. Whether you prefer luxury accommodations or something more budget-friendly, Belltown has you covered with this Seattle itinerary. The following hotels are great options for visitors to the area:
Ace Hotel: The Ace Hotel, located on 1st Avenue, offers a prime location for anyone looking to explore the city. With only a 10-minute walk to the Seattle Waterfront and Pike Place Market, guests will have plenty to do and see right outside their door. 
Additionally, the Space Needle is just an 11-minute walk away, making it easy to take in the breathtaking views of the city. And for those flying in, the hotel is only a 26-minute drive from Seattle Tacoma International Airport. Make the most of your trip to Seattle, Washington itinerary by staying at the Ace Hotel.
Hotel Andra: When it comes to a long weekend in Seattle, Hotel Andra is a top choice. Its location in downtown Seattle puts guests just a short walk away from the famous Pike Place Market and the bustling retail core. 
But the hotel's charm continues further. The Scandinavian-style decor mixed with Pacific Northwest elements creates a unique and inviting atmosphere in its 123 guest rooms and suites. And to fuel up for a busy day with this Seattle itinerary, guests can indulge in Mediterranean cuisine with local Pacific Northwest flavors at Tom Douglas' Lola restaurant or enjoy authentic Northern Italian cuisine at Assaggio Ristorante just next door. 
Hotel Andra offers the perfect blend of luxury and convenience for anyone planning a trip to Seattle.
Related post: Seattle Captions
Downtown Seattle
Downtown is ideal for a central location when planning a trip to Seattle. It's close to some of the city's top attractions. As well as the iconic Space Needle and Seattle Waterfront. 
There are plenty of shopping, dining, and entertainment venues for visitors to choose from. The following hotels make for great options for those staying in the downtown area:
Palihotel: The Palihotel offers a more intimate atmosphere with its stylish boutique-style rooms and suites. It's perfect when spending 3 days in Seattle. Located in the center of the city, it's within walking distance of all downtown attractions, such as Pike Place Market, Seattle Waterfront, and the Space Needle. 
Guests who choose this hotel will also enjoy exclusive access to local restaurants like Lola and Spinasse and a complimentary breakfast each morning.
The State Hotel: The State Hotel is in the heart of downtown Seattle, close to all the city's top attractions. Rooms are spacious and feature modern amenities such as flat-screen TVs, free Wi-Fi, and air conditioning. 
Plus, guests can enjoy complimentary bike rentals for exploring the city on two wheels. And with its close proximity to Pike Place Market, there's no shortage of great restaurants and shops to explore. The State Hotel provides an ideal home base for this Seattle itinerary and showcases what this city has to offer.
Seattle Itinerary Day 1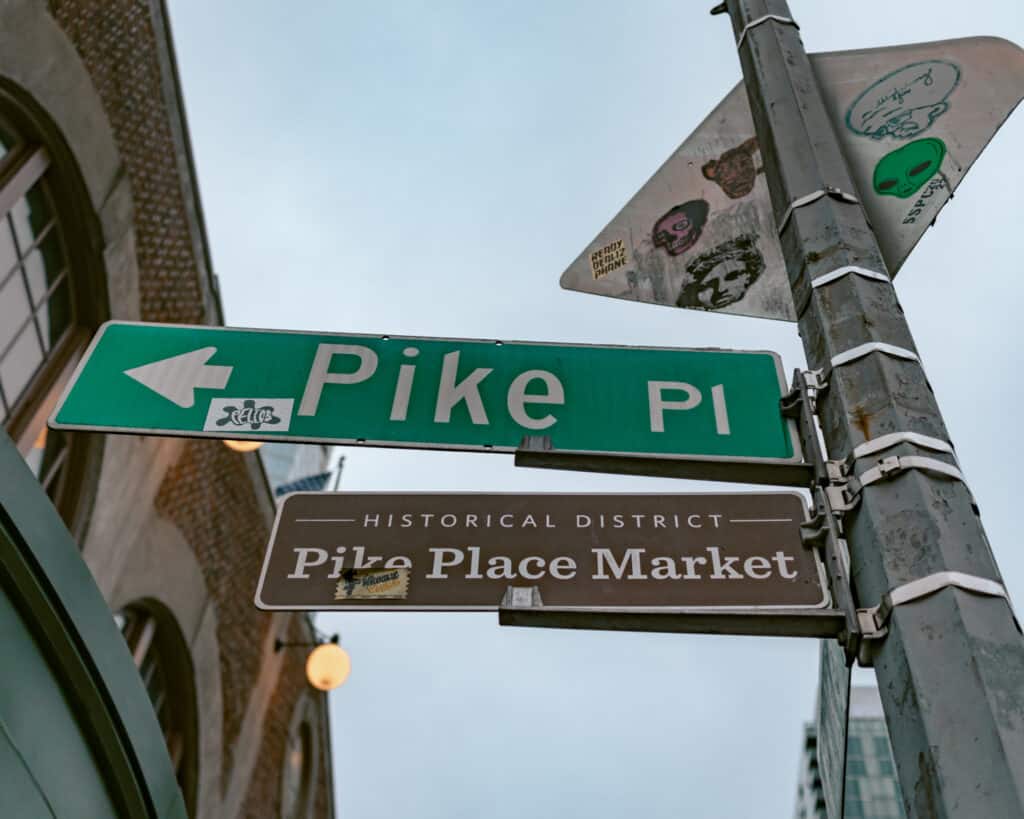 Seattle is a city that is full of life and energy, with so much to explore and discover. Here's a suggested Seattle itinerary for day one of your visit. It's packed with some of the top things to do in Seattle and experiences in the city.
Pike Place Market
First, make your way to one of Seattle's most iconic landmarks: Pike Place Market. Whether you're in the mood to explore the vendors and shops or try fresh seafood from a local vendor, you will be satisfied.
Guided Food Tour
Exploring Seattle's world-famous Pike Place Market is an absolute must-do! What better way to kick off this 3-day itinerary in Seattle than with a guided food tour? Delight all of your senses as you sample the market's freshest offerings from charming and authentic vendors. 
Savor some local seafood, indulgent pastries, and aromatic coffee while strolling through the bustling crowds. Take in the iconic sights, and marvel at the impressive techniques used at The Flying Fish seafood market. This immersive experience will give you a glimpse into the heart of Seattle's lively food scene. 
With the guidance of a knowledgeable local guide, you will learn about the history and unique features of Pike Place Market, giving you an authentic insight into the local culture. This unforgettable experience will leave you eager to discover what Seattle offers.
Rachel's Ginger Beer
Once you have finished exploring the market, head over to Rachel's Ginger Beer for your next stop. Located in the heart of Pike Place Market, this small shop offers a selection of craft sodas and ginger beer. With its bright colors and bold flavors, Rachel's has become an iconic destination for locals and visitors alike. Sample some of the delicious drinks and take home some souvenirs for a truly unforgettable Seattle experience.
The Gum Wall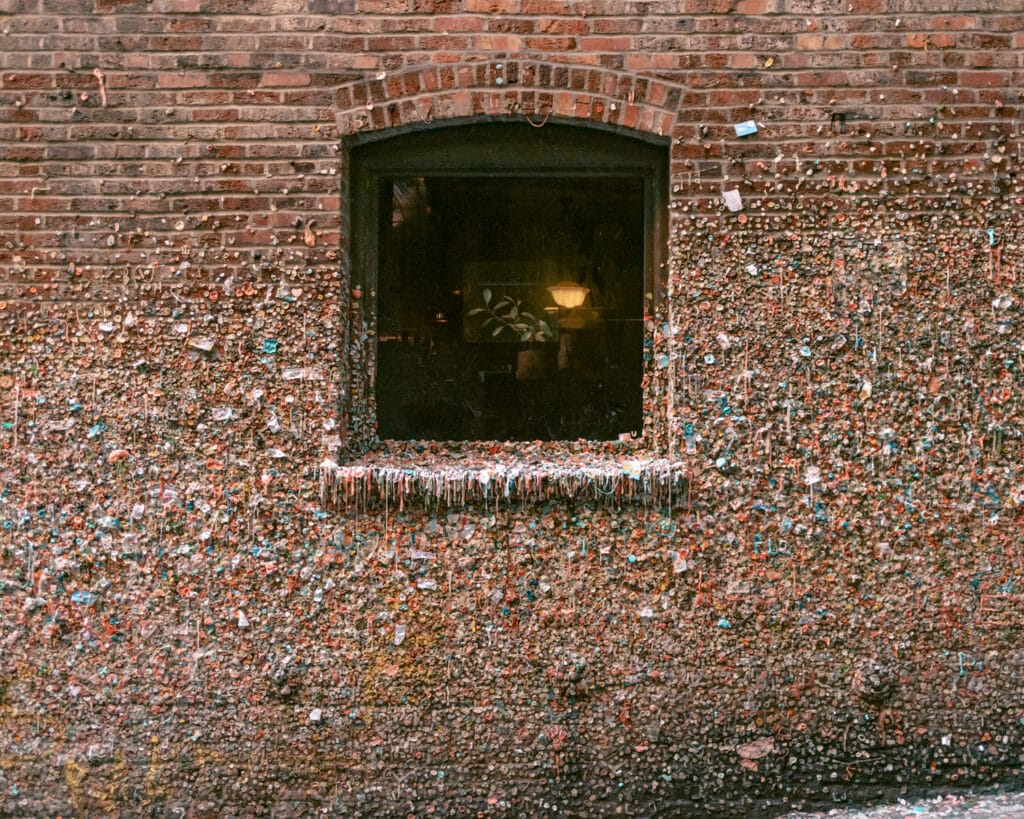 It may not be everyone's cup of tea, but a must-see is the infamous Gum Wall. Yes, it is gross; however, it's one of those "weird" things to do in Seattle during your visit. 
This brick wall filled with chewed pieces of bubble gum originated in the 90s. It's close to 8 feet high and 54 feet wide. There are over 250,000 bubble gum wads! 
Ellen's Real Greek Yogurt
When exploring the market, you made need to refuel. Ellen's Real Greek Yogurt offers a delicious selection of traditional Greek yogurt dishes and desserts that are sure to satisfy your appetite. 
From spanakopita to baklava, you can sample all of the classic Greek flavors in one place. Enjoy some refreshing yogurt parfaits or savor some of the restaurant's signature dishes, such as Ellen's famous Greek salad. There is something for everyone at this cozy and vibrant eatery.
Market Grill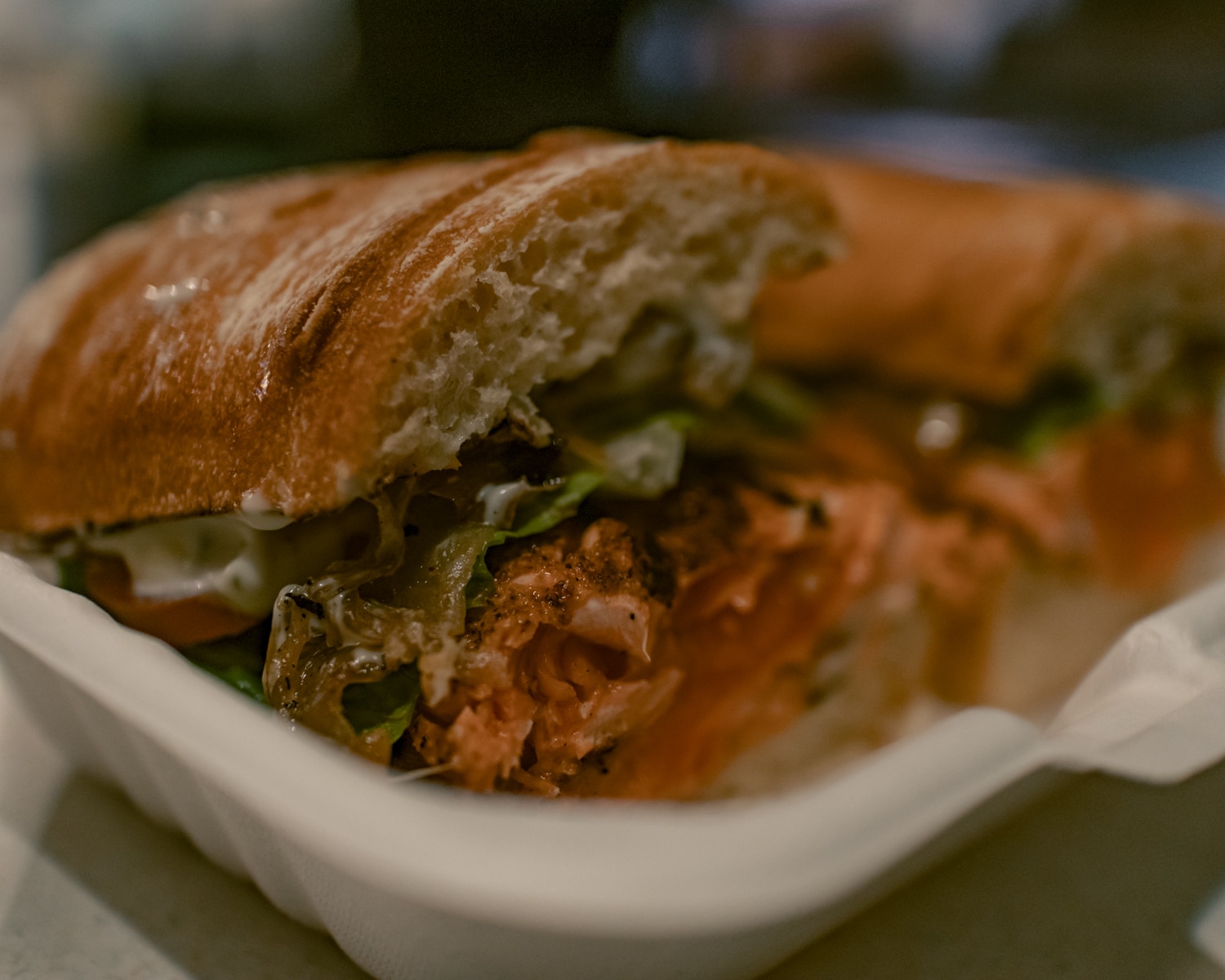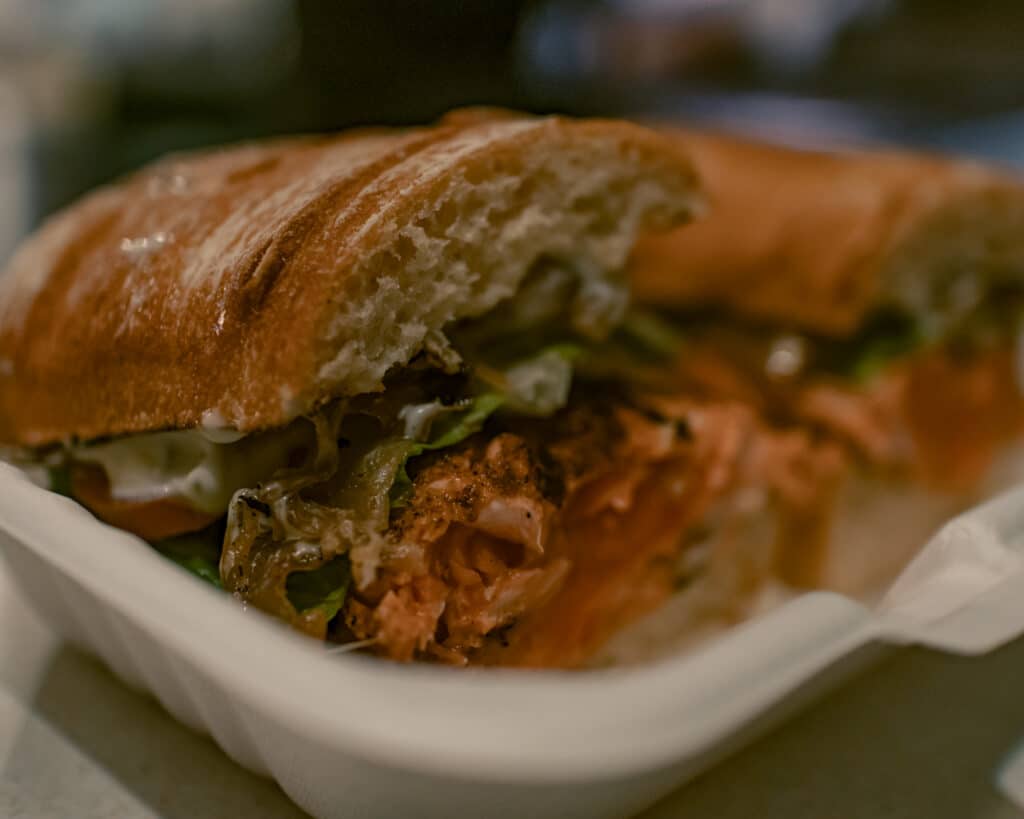 For a light lunch or snack (if shared),  head to Market Grill and try the blackened salmon sandwich. This juicy salmon is cooked to perfection and served on a fresh ciabatta roll. The freshness of this dish will have you coming back for more each time you visit Seattle.
Beecher's Cheese
Beecher's Cheese is a unique shop that features an impressive selection of handmade artisanal cheeses!  They have been aged and perfected over time. 
Sample some of the locally-crafted cheeses and take home a few slices for later. You can also purchase some of Beecher's signature items, including their famous Flagship cheese.
The Seattle Great Wheel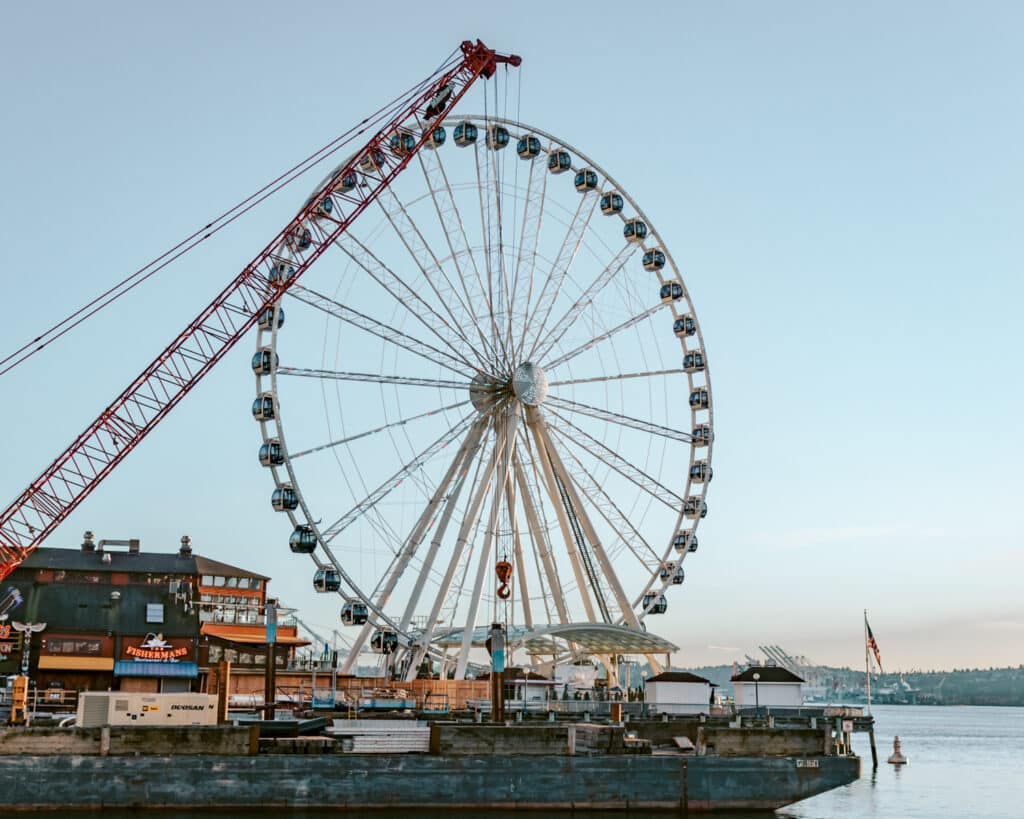 Just a short walk from Pike Place Market is the 175-foot Ferris wheel, located at Pier 57. This Ferris wheel is the tallest along the West Coast. To be honest, I found the $20 price to be steep to ride a Ferris wheel. I decided to use that money for goodies at the market. However, if it is something that interests you, then take a ride! Just review the weather before visiting to be sure you will catch a stunning view of Elliott Bay, 
Seattle Center
If you're looking for fun and interactive activities, then Seattle Center is the perfect place to explore. Home to the iconic Space Needle, this 73-acre area offers a variety of attractions and experiences. It is a must-see for any Seattle itinerary. 
Dale Chihuly Gardens and Glass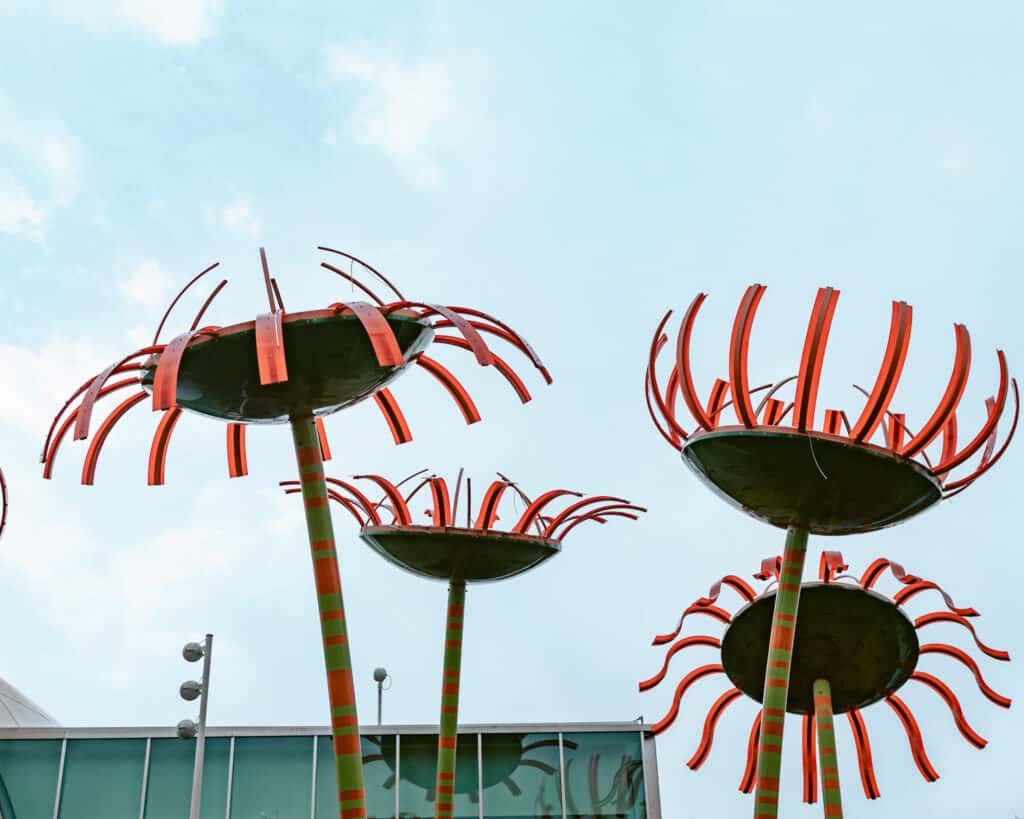 When spending 3-days in Seattle do visit the Dale Chihuly Gardens and Glass. This exhibition features an impressive glass sculpture collection by renowned Pacific Northwest artist Dale Chihuly. 
Marvel at the vibrant colors and intricate designs as you wander through this larger-than-life gallery. Make sure to check out the gift shop for a unique souvenir to take home.
The Pacific Science Center
The Pacific Science Center stands just a few steps away from the glass sculptures. This science museum is home to interactive exhibits, IMAX theaters, and a planetarium that will spark your curiosity and ignite your imagination. 
Explore the fascinating world of science through hands-on activities and immersive experiences. With its wide variety of attractions, the Pacific Science Center provides an educational and entertaining experience for all ages.
The Museum of Pop Culture
The Museum of Pop Culture (MoPOP) is one such destination that should not be missed. Explore some of your favorite movies, music, and television shows while learning about their impact on pop culture. 
With its interactive exhibits and engaging activities, MoPOP provides an exciting experience that will have you captivated for hours.
Seattle Space Needle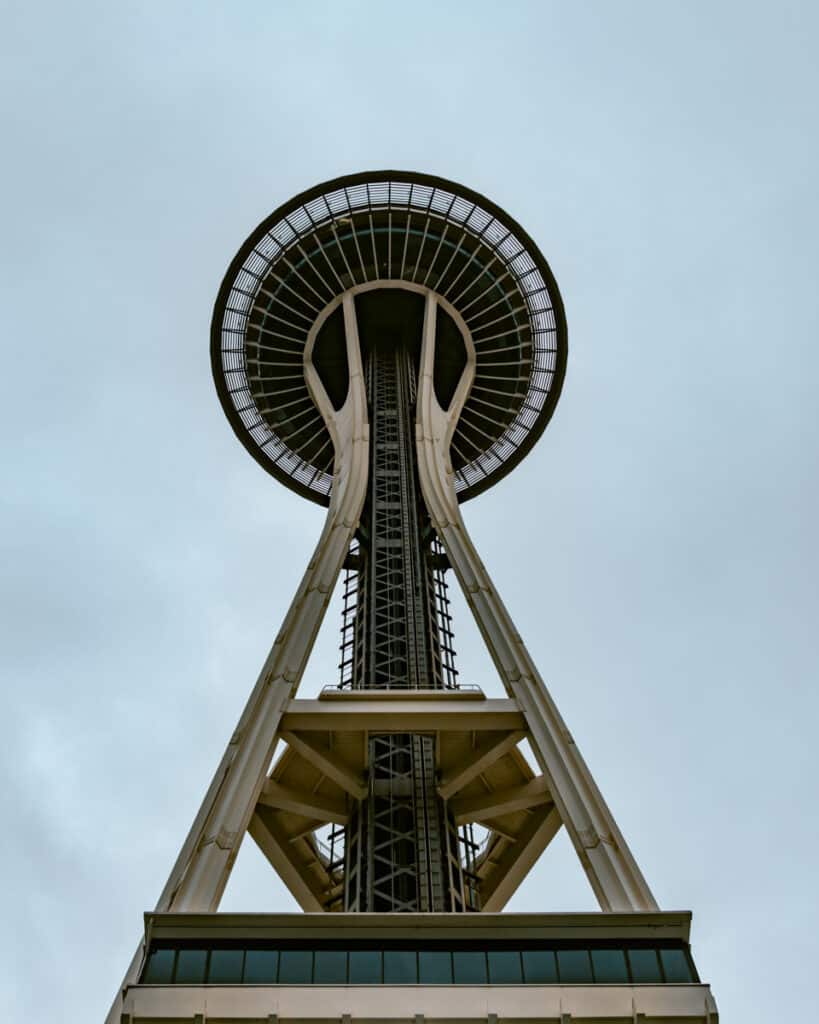 Of course, a visit to the Space Needle is a must in this Seattle itinerary. It's been an icon of the Seattle skyline and a landmark in the city for 60 years. From the 520 feet observation deck, you can catch a glimpse of Mount Rainier, islands in Puget Sound, Elliott Bay, and the Olympic and Cascade Mountains. 
The price is a little steep and will cost you over $30. So, be sure to check the weather and will have a clear view during your visit. 
Love saving money? Get admission for the Seattle Space Needle and Chihuly Gardens and Glass for a discount here.
Olympic Sculpture Park
Let's continue with this Seattle itinerary and continue at Olympic Sculpture Park. This large outdoor sculpture garden offers a stunning view of Puget Sound and breathtaking views of downtown Seattle. Stroll through this tranquil landscape and view some of the incredible sculptures on display, including works by renowned artists such as Alexander Calder and Richard Serra.
Kerry Park
No trip exploring Seattle is complete without a visit to Kerry Park. This iconic park on Queen Anne Hill offers panoramic views of the city skyline and Mt Rainier. 
Whether you're looking for a romantic sunset spot or an Instagram-worthy backdrop, Kerry Park is the perfect setting for capturing those moments. So don't forget to bring your camera and snap some photos of this stunning Seattle landmark.
Dinner
Serious Pizza
If you're looking for a delicious dinner spot in Seattle, then look no further than Serious Pizza. They are serious about their pizza. This restaurant offers an extensive menu of freshly made pizzas that are sure to delight any palate.
Choose from classic flavors such as pepperoni and sausage, or get adventurous with unique combinations like fig and prosciutto or smoked salmon and goat cheese. Pair your pizza with a crisp salad or some of Serious Pizza's famous garlic knots for the ultimate dining experience.
The Alibi Room
If you're in the mood for something more unique, head to The Alibi Room. This speakeasy-style restaurant serves up some of the city's best cocktails along with an eclectic menu that features dishes from around the world. 
Enjoy classic pub fares such as fish and chips, or try something new, like their signature Korean barbecue. With its cozy atmosphere and tantalizing cuisine, The Alibi Room is sure to leave you wanting more.
The Pink Door
The Pink Door is a Seattle staple that is known for its cozy atmosphere and excellent Italian cuisine. From classic pasta dishes to creative entrees, there's something for everyone on their menu. 
Make sure to check out their famed Sunday Night Supper Club, where you can enjoy a five-course meal in their vibrant back room. Whether you're in the mood for a romantic dinner or want to try some of Seattle's best Italian food, The Pink Door is a perfect choice.
The Crab Pot
If seafood is more your style, you'll want to visit The Crab Pot. Located in the heart of downtown Seattle, this popular eatery specializes in crafting some of the city's freshest and most delicious seafood dishes. 
Enjoy classic favorites such as Cioppino, or try something new, like their signature crab cakes. No matter what you choose, you're sure to be delighted by The Crab Pot's flavorful fare.
Day 2 Seattle Itinerary
Capitol Hill
Starbucks Reserve Roasters
For day 2 on this Seattle itinerary, begin your day with a visit to the Starbucks Reserve Roasters. Located in the trendy Capitol Hill neighborhood, this unique cafe offers an exclusive selection of freshly roasted coffees and teas. 
From their signature espresso blend to single-origin pour-overs, you'll find something special at the Roasters. Enjoy a cup of coffee while taking in the lively atmosphere of this vibrant neighborhood.
The Elliott Bay Book Company
Continue your exploration of Capitol Hill with a visit to the Elliott Bay Book Company. This beloved independent bookstore is packed with books on every topic imaginable. Take some time to browse the shelves, and you're sure to find something that piques your interest. Don't forget to check out their selection of local authors for an even more unique experience.
Fremont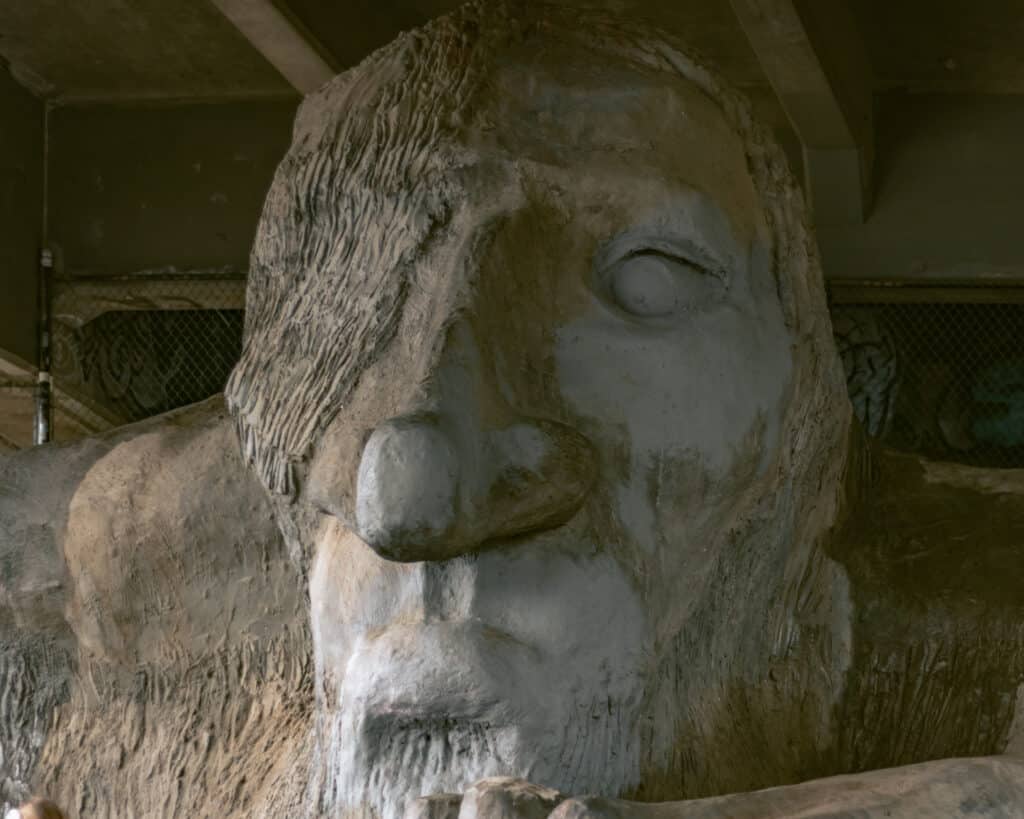 Breweries
After exploring Capitol Hill, make your way to Fremont for some of the city's best craft beer. This neighborhood is home to a collection of breweries that offer an impressive selection of IPAs, stouts, and ales. Enjoy a flight at one of these local spots and try out different styles of beer while taking in the trendy vibe of Fremont.
Fremont Troll
No visit to Fremont is complete without a stop at the famous Troll. This iconic statue is nestled beneath the Aurora Bridge and has been delighting visitors since 1990. Take some time to snap a few photos of this whimsical sculpture and take in Seattle's unique culture.
Bainbridge Island
Bainbridge Island is just a short ferry ride from downtown Seattle and the perfect place to enjoy an afternoon escape. Spend some time strolling along the waterfront and soaking up the stunning views of Puget Sound. Once you're done exploring, stop by one of the local cafes for some coffee or a bite to eat. You can take in the picture-perfect scenery from here and enjoy some much-needed relaxation.
 Dinner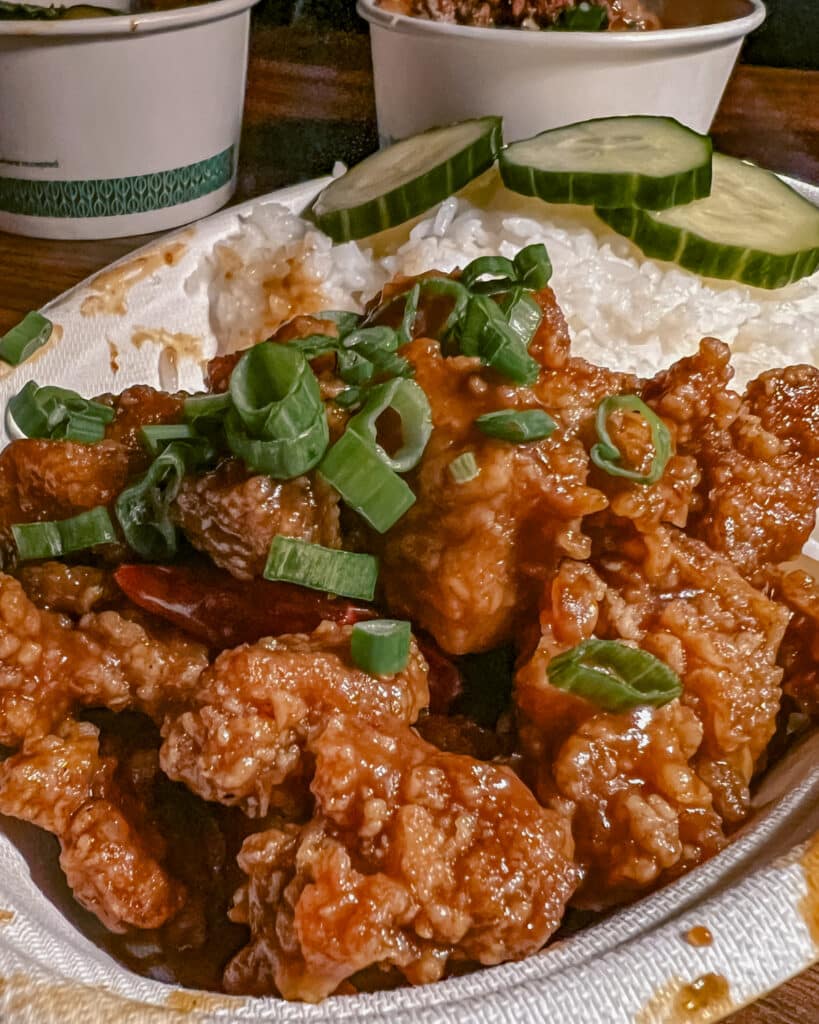 End your day with dinner at one of Seattle's renowned restaurants. Enjoy a delicious meal and the city's vibrant nightlife all in one place. From fine dining to casual eateries, there are plenty of options to choose from.
Elephant & Castle
For traditional British fare with a modern twist, visit Elephant & Castle. This popular pub serves up classic dishes such as fish and chips, bangers and mash, and shepherd's pie. Enjoy your meal with a pint of ale, or choose from their selection of craft cocktails to complete the experience.
Asadero
This cool spot is known for its mesquite-grilled meats that are cooked to perfection, leaving a smoky taste in your mouth. But that's not all – they also make their own tortillas and salsas, adding even more flavor to your meal. 
As you step inside, you'll be greeted by the moody environs that perfectly set the vibe. So if you want to satisfy your craving for delicious meats and experience a cool dining atmosphere, head to Asadero Ballard.
The Walrus And The Carpenter
The Walrus and the Carpenter in Seattle isn't your typical seafood joint. This cozy, unassuming spot boasts a menu full of delicious oysters and other fresh seafood, as well as a variety of American plates and specialty cocktails that won't disappoint. 
Whether you're craving a simple yet satisfying snack or a full meal, the talented chefs at The Walrus and the Carpenter have got you covered. Don't let the small space fool you; this lively restaurant has quickly become a local favorite, drawing in crowds for its incredible food and laid-back atmosphere.
New Luck Toy
Step inside New Luck Toy, and you'll immediately feel like a kid again. This West Seattle hotspot is the perfect blend of childhood nostalgia and modern flair. This place has everything from classic pinball machines to playful karaoke rooms. 
But what truly sets New Luck Toy apart are its Chinese favorites and expertly crafted cocktails. Satisfy your cravings with mouth-watering dishes like Dan Dan noodles or crispy honey walnut shrimp. And don't forget to pair them with one of their signature drinks like the Lucky Buddha or HK Lemonade.
Rondo Sushi
When it comes to satisfying Japanese cuisine cravings, Rondo Sushi definitely deserves a spot on this Seattle itinerary. With a casual yet chic ambiance, this place is perfect for a quick lunch or a relaxed dinner.
Their menu boasts a range of delicious options, such as scrumptious ramen, delectable donburi bowls, and delightful izakaya-style snacks. All of these can be paired with their unique Japanese cocktails, which make perfect accompaniments. So, the next time you're planning a trip to Seattle and want to indulge in some authentic Japanese flavors, be sure to visit Rondo Sushi!
Seattle Itinerary Day 3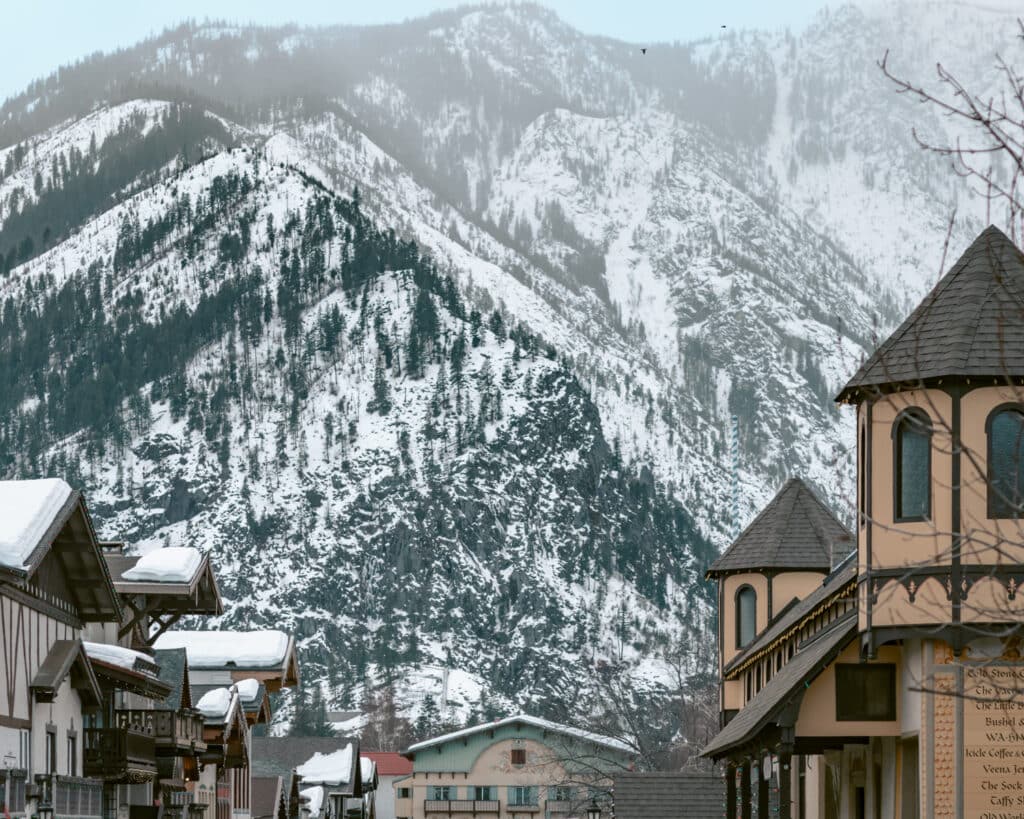 On day three of your Seattle itinerary, immerse yourself in the stunning scenery of the Pacific Northwest with a day trip to either Leavenworth or Vancouver. 
If you're up for a Bavarian-inspired adventure, head to Leavenworth and explore its charming architecture and abundant outdoor activities. Be sure to check weather conditions before making the trip. If you prefer not to rent a car, you can go on a tour to this German town.
Or, you take a quick jaunt over to Vancouver for a cosmopolitan city experience featuring art and culture, world-class dining, and shopping galore. Furthermore, you can explore the region's lush forests and pristine coastline. No matter your destination, you'll surely have an unforgettable experience!
You may enjoy these other day trips from Seattle during your visit.
Getting To Seattle
Flying into Seattle is an exciting experience that is sure to leave you breathless! Seattle-Tacoma International Airport (SEA) and Paine Field (PAE) are the primary airports that serve the city. SEA is a bustling hub that sees millions of passengers every year, offering flights to and from all over the world. 
On the other hand, PAE is a smaller regional airport that caters to a more niche market but offers a more intimate airport experience. 
Regardless of your chosen airport, getting to Seattle is just a short drive or public transportation ride away. 
How To Get To Seattle From The Airport?
Whether you fly into SEA or PAE, getting to Seattle from the airport is a breeze. Here are some of the best ways to get around Seattle:
Public Transit – King County Metro offers regular bus routes connecting the city with airports.
Taxi/Ride-Share Services – Taxi and ride-share services are readily available at both SEA and PAE.
Car Rentals – Most major car rental companies have locations at both airports, allowing you to hit the road as soon as you arrive.
Shuttle Services – Several shuttle services offer direct transfers from the airport to downtown Seattle for an efficient and hassle-free journey.
When To Visit Seattle?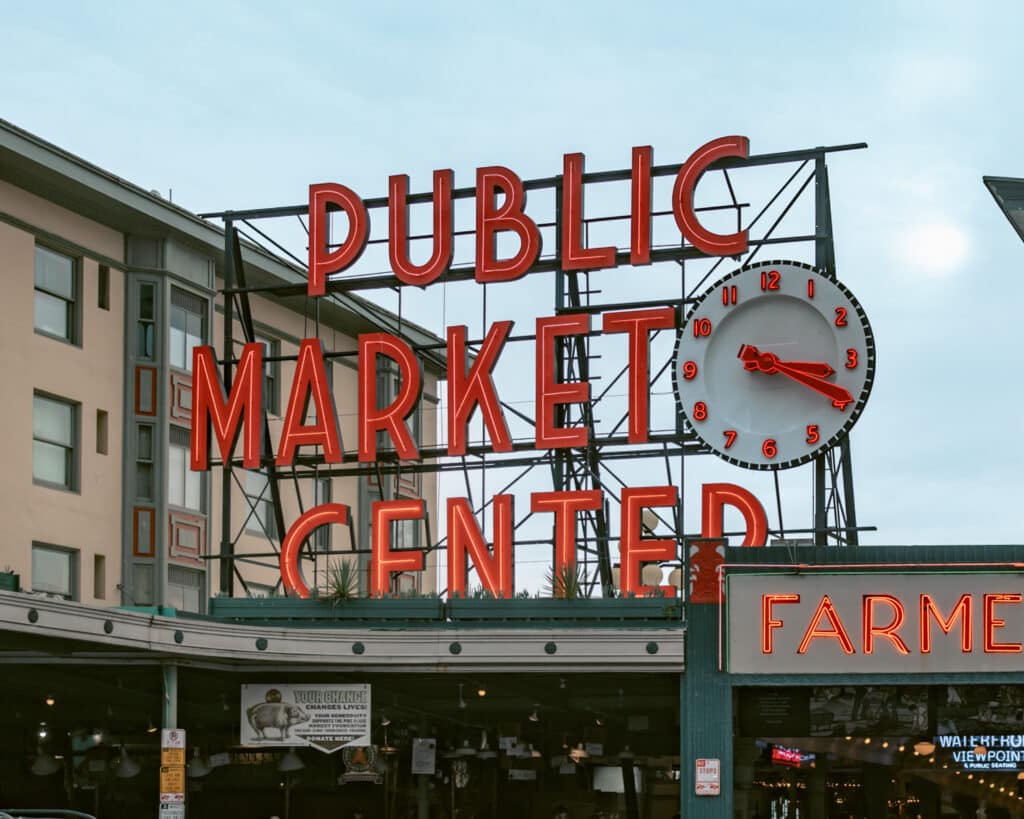 Seattle offers diverse experiences depending on the time of year you visit. If you're looking for warm weather and endless outdoor activities, then your best bet is to go between June and September. This is the best time to explore the city's sprawling parks and trails, visit the iconic Pike Place Market, or take a ferry ride to the nearby islands. 
Visiting in October and November is ideal for those who enjoy cooler temperatures and want to experience Seattle at a slower pace. You can enjoy the stunning fall foliage and catch the start of the holiday season. 
No matter when you are planning to visit Seattle, there's always something worth exploring in Emerald City.
Seattle Itinerary Conclusion
 I hope you found this 3-day Seattle itinerary and that it was helpful in planning your trip. From its world-famous Space Needle to its vibrant foodie scene, the Emerald City is worth visiting. Whether you're looking for a city filled with culture and outdoor activities or want to relax, Seattle is the perfect destination. So what are you waiting for? Plan your trip today and experience the beauty of Seattle for yourself!
Use these Seattle captions for the photos you post on Instagram. Also, check out some awesome day trips from Seattle worth visiting!
Interested in US destinations? Check out these other posts:
Like this Seattle Itinerary? Share it with others or pin it for later!