Taking a trip to Emerald City? Consider these 22 day trips from Seattle during your visit. Seattle is a city full of life and excitement! Don't forget to take advantage of the opportunity to explore the natural beauty outside its limits. 
There is an abundance of day trips around Seattle to choose from during your visit. You can escape to the mountains, rainforests, beaches, and waterfalls that make up this awe-inspiring region. Washington State is the perfect combination of mountains and water, and it's hard to imagine needing anything more.
This article may contain affiliate / compensated links. For full information, please see our disclosure here.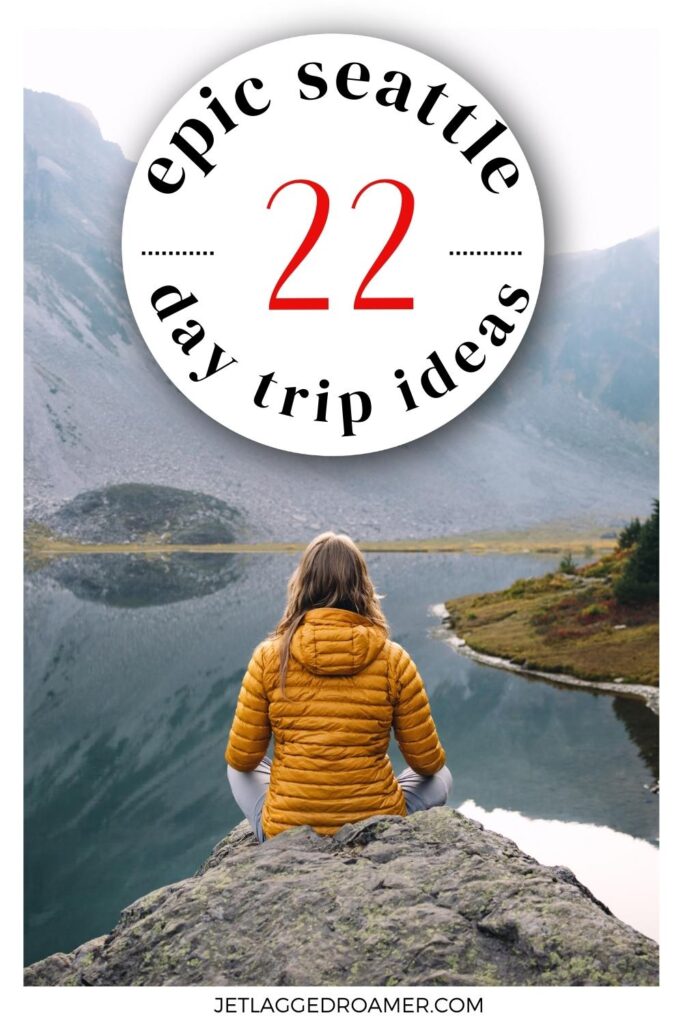 You may find these other posts helpful for your trip to Seattle: 
Epic Day Trips From Seattle
Let's begin our journey through one of the most beautiful states. Here is the top list of the best day trips from Seattle.
Leavenworth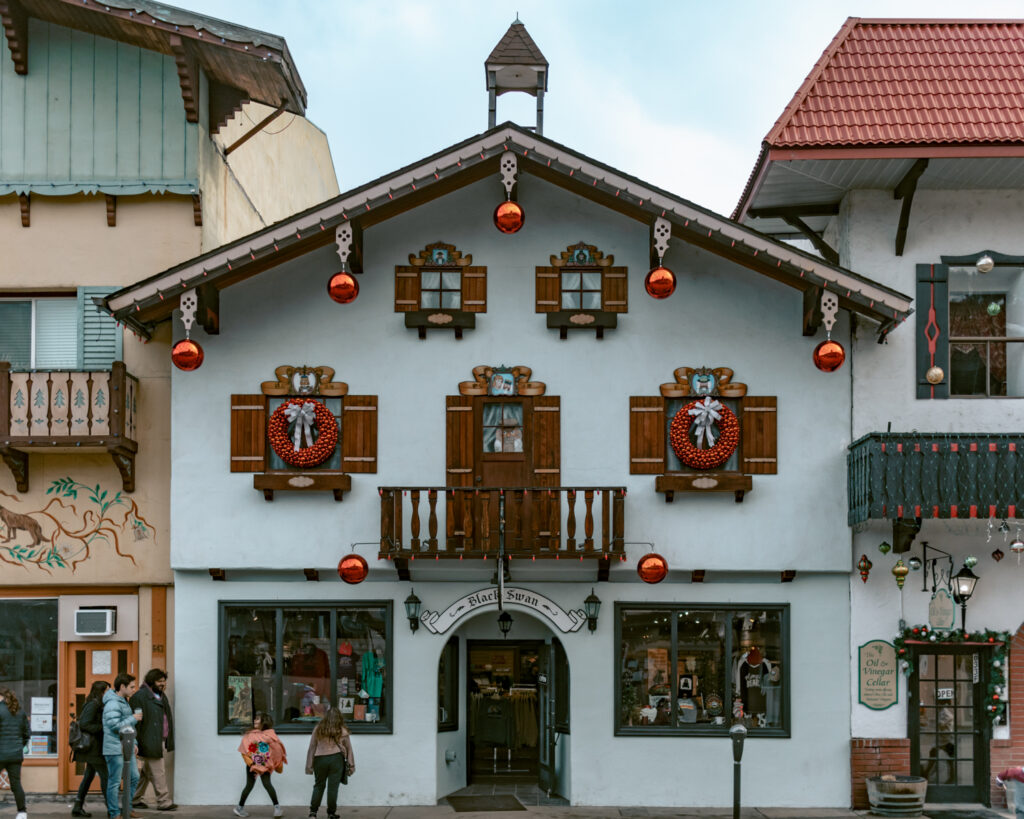 Are you yearning for a Bavarian adventure? Leavenworth is one of the best day trips from Seattle. At least in my opinion. Nestled in the picturesque Cascade Range, it's the perfect place for anyone seeking an experience reminiscent of a German town. 
With its stunning architecture and mouth-watering German cuisine, there's so much to enjoy in this charming city! 
During the winter season when the streets come alive! Expect to see a dazzling display of Christmas lights and mulled wine all around. But don't fret if you're not into winter sports; there are plenty of relaxing activities to occupy your time in summer. For warmer months you can sip on cold brews, paddle-boarding, and rafting in the glistening Wenatchee River. 
Leavenworth is easy to get to by car and you can arrive in two hours. However, be sure to check road conditions the day of to ensure they are safe. Driving up in the mountains you can encounter heavy snow depending on the month you plan on visiting. You can also arrive at this Bavarian-themed city by taking a group tour. 
Consider a Seattle to Leavenworth day trip with a tour. Explore Washington's Bavarian town to this charming European village.
Hood Canal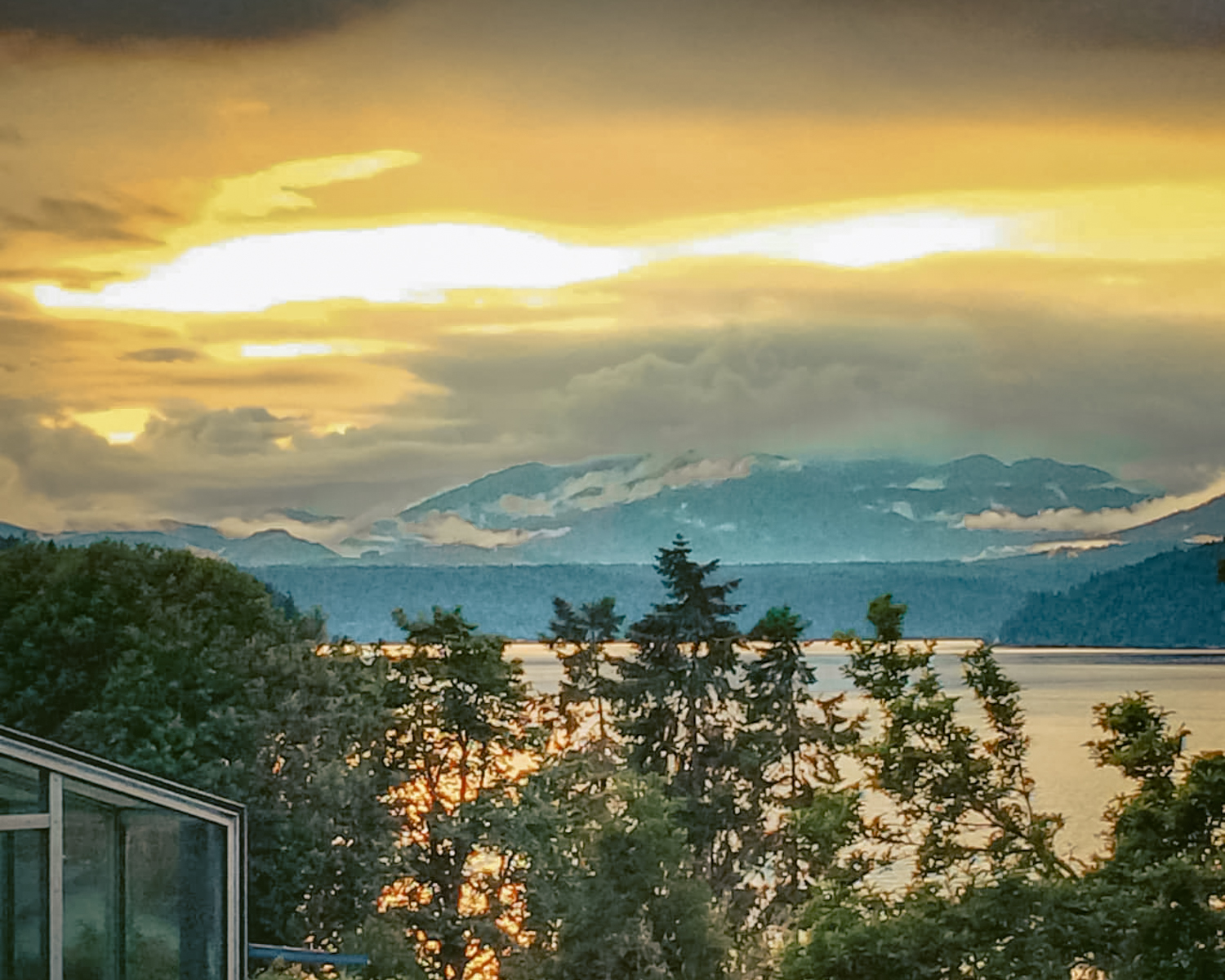 One of the local's favorite day trips from Seattle is Hood Canal. There are beaches, scenic highways, and charming businesses along Washington's Hood Canal. It may look like a simple river to most visitors. However, the Hood Canal is a naturally occurring fjord located on Washington's Pacific Peninsula. It's easy to visit from Seattle than the Pacific Coast, it offers all the tranquility of Olympic National Park without the hours of driving. 
The Hood Canal is known for its foggy beaches, temperate rainforests, and thriving shellfish estuaries. Connected to Puget Sound via deep channels, it's possible to spot all kinds of marine life in the canal- including orcas! 
The best way to enjoy the Hood Canal is to leave Seattle with your GPS set to Union, Washington. While Union is a tiny town, the drive will take you past hiking trailheads, public beaches, and charming roadside shops. For those seeking a specific destination, Alderbrook Resort and Spa offers waterfront dining, drinks, and spa treatments. Hama Hama Oyster Saloon a few miles away serves destination-worthy seafood.
This one day trip from Seattle takes around 1.5 to 2 hours. However, depending on traffic and whether you can ride a Seattle ferry across Puget Sound.
With average gas mileage, you can expect to spend about $25 on gas for this trip. Plus, an additional $40 if you opt to include 2 ferry trips. 
A good day trip to the Hood Canal includes a mix of activities. Casual hikers will find easy trails like Staircase Rapids, a two-mile looped trail (don't worry, there are no actual stairs!). Even visit Elk Lake Trail, which offers a mix of easier and more moderate sections. Plan to catch the sunset from the outdoor bar at Alderbrook Resort for a special end to the day.
Explored by Lynli from Wander Big 
Wallace Falls State Park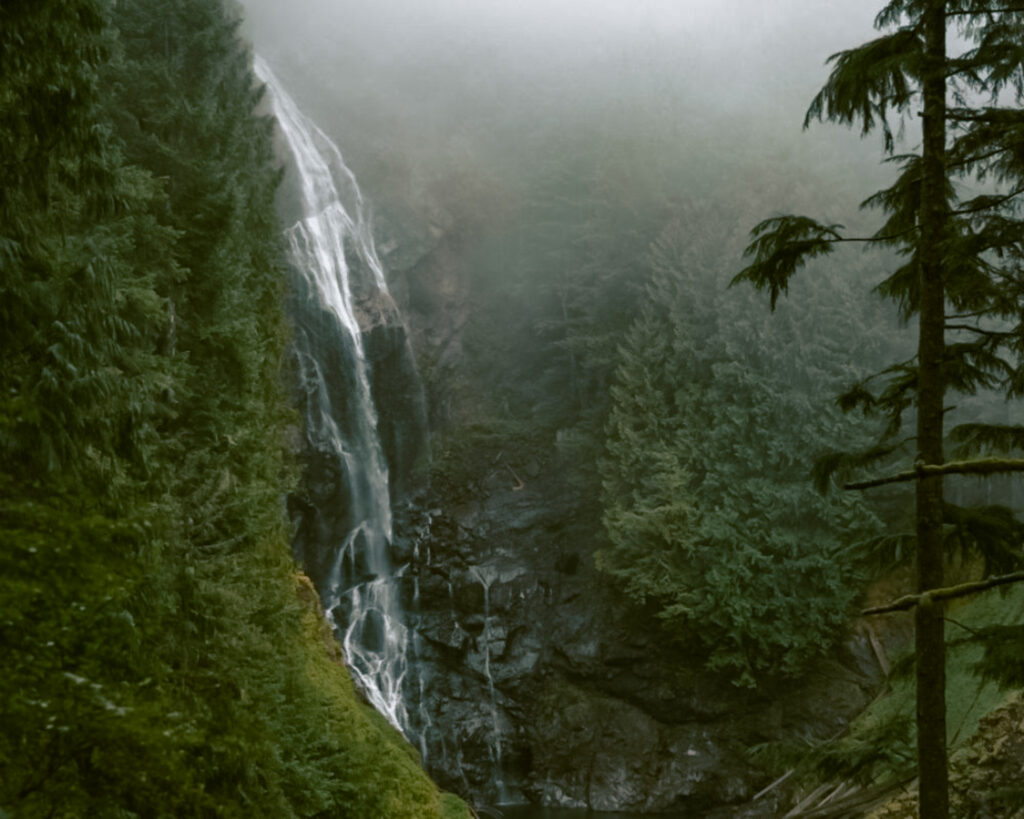 Wallace Falls State Park is located just about an hour Northeast of Seattle. Not far from the city, you'll get immersed in moss-covered trees, ferns, waterfalls, and flowing creeks. This makes it one of the best rainy-day activities from Seattle. Just strap on those hiking boots and throw on a rain jacket to hit the trails!
The best and easiest way to arrive at Wallace Falls is by car. You can park in the lot and purchase a single-day pass for $11.50 in advance online. You can find an automated pay kiosk there. There are bathrooms with flush toilets located at the trailhead. During the peak summer season, try to get here before 10 am. The parking lot can fill up quickly.
There are 12 miles of trails here that will make you feel like you're walking through an enchanted forest. The best day hike is to Wallace Falls via the Woody trail. It is 5 miles round trip with 1,500 feet of elevation gain. It is rated as moderate and will take a few hours to complete. 
If you're up for a longer hike, check out the Wallace Falls and Wallace Lake loop trail. This is 11 miles round trip with 2,000 feet of elevation gain and is rated as hard.
You may develop an appetite after all of your hiking and exploring is done for the day. Head into the closest town of Gold Bar, Washington to get some food before heading back to Seattle. Visit Maggy's Family Mexican Restaurant for great Mexican, or Mountain View Diner for breakfast, lunch, and freshly baked pies. If you have a sweet tooth, go to The Woodshed Espresso & Ice Cream for an ice cream cone!
Explored by Kate Kaehler from Kate Roams The World
Whidbey Island
One of the easiest day trips from Seattle is Whidbey Island. It's technically part of the San Juan Islands, but it's much closer to Seattle and more accessible. 
You can get there by taking a 25-minute ferry from Mukilteo, which is about 40 minutes from Seattle. Roundtrip ferry costs are about $25.00 for a vehicle and the driver, and it's about $6.00 for other adult passengers. Another option is you can drive North and cross the Deception Pass bridge to get to Whidbey Island. This takes about 90 minutes, depending on traffic. 
Once you arrive at Whidbey Island, there are so many fun things to do! One of the top attractions is visiting the historic Fort Casey. There are lots of tunnels and it's fun to run around with flashlights, no matter how old you are! It's also home to Admiralty Head Lighthouse, which is a fun photo spot. 
Deception Pass State Park is also worth a stop. You can walk across the Deception Pass Bridge for gorgeous views of mountains and water. There are also some short hikes to the base of the bridge and to the beach.
If you're looking for shopping and dining options, head to Coupeville. This historic (and adorable) small town has lots to do. Explore the many independent shops, a museum, and lots of places to try the famous Penn Cove mussels. 
One of the best things to do on Whidbey Island with kids is grab ice cream by the water! There are also several farmer's markets across the island on any given day. Whidbey Island is also home to several wineries including the Spoiled Dog Winter, Whidbey Island Winery, and Comforts of Whidbey. 
No matter what you're interested in, you're more than likely to find something to enjoy on Whidbey Island!
Explored by Marcie Cheung from Marcie In Mommyland
Enjoy guided tours? Consider one of the guided day trips from Seattle to Whidbey Island with a Deception Pass tour. Have a charming lunch break in Coupeville and Penn Cove as well.
Snohomish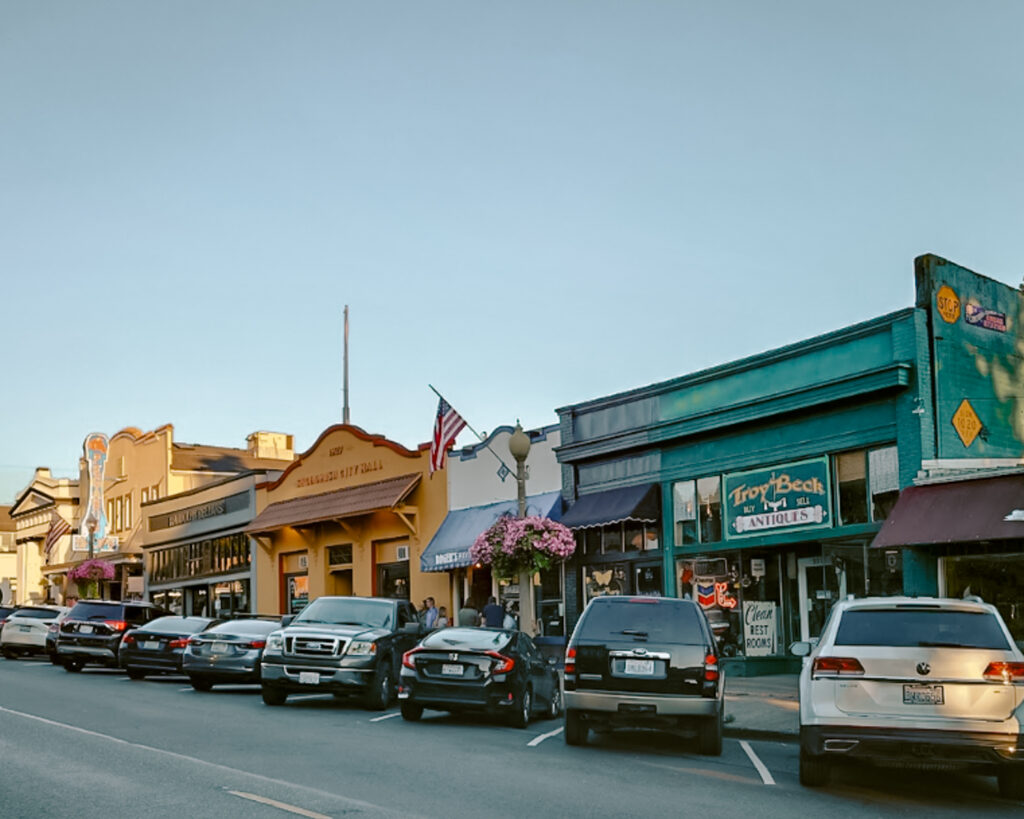 Snohomish is one of the other fun day trips from Seattle. This is a 45-minute drive north of Seattle off of Hwy 2. Set along the Snohomish River, this quaint town attracts everyone from shopaholics to serious cyclists.
The historic downtown is lined with charming antique shops filled with vintage wares, furniture, and clothing. It's easy to get lost in some of the multilevel stores and winding shelves. Don't expect to find a bargain though! These shop-owners know what they have and they aren't afraid to charge for it.
If you are looking for new items, there are just as many boutique shops as well. Explore the imported goods as well as locally made products. You can browse unique candles, wood-burned art, and handmade jewelry perfect for souvenirs. 
Snohomish is the gateway to the Centennial Trail, a 30-mile paved path that ends at the Nakashima Barn in Arlington. As you can imagine, on beautiful sunny days, Snohomish is full of bikers (and hikers) taking advantage of this quintessential trail along rivers and farmland.
Adventure seekers can get an adrenaline rush at Snohomish Skydive. Go jumping over expansive agricultural fields with the Cascades looming in the distance.
Throughout the year, you'll find many events happening in Snohomish, giving you a reason to keep coming back. Explore Farmer's Markets, Kla Ha Ya Days, Wine Walks, Pumpkin Patches, the Grinch Run, and so much more.
Last, but not least, Snohomish has fabulous food options. Look for Asian nachos at Fred's Rivertown Alehouse. Sip on some fruity sour beers at Spada Farmhouse Brewery. Enjoy fresh-baked pies and cookies at Snohomish Pie Co.
If you need to get out of the hustle and bustle of Seattle, Snohomish is the place to come. Expect to slow down and enjoy a bit of Washington's countryside.
Explored by Tabitha from Travel Compositions
Portland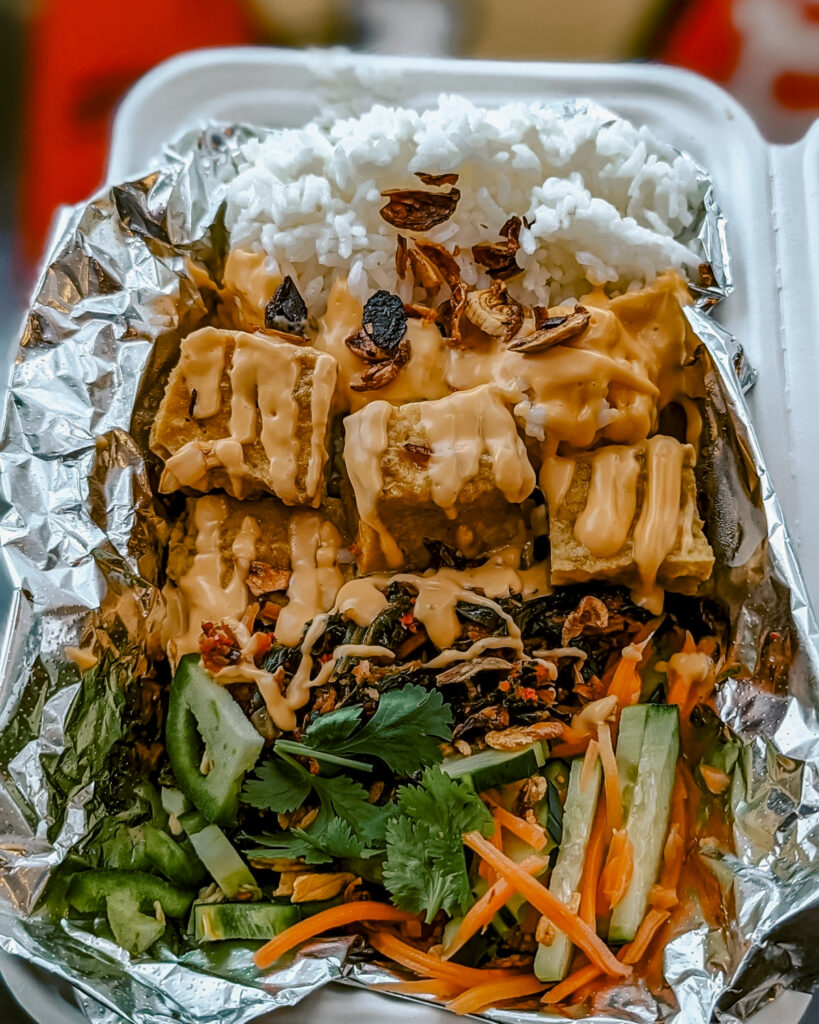 One of the best day trips from Seattle is to Portland, Oregon. By car, the trip will take you approximately 2 hours and 45 mins. However, if you decide to make any scenic stops, it will take a little bit longer. Another option is to take the Amtrak train. But, it will double the travel time. It could be even longer if there are slowdowns on the track. However, it's a good option if you don't have a car.
Portland is well known for its counterculture vibe! There's a good reason that one of the city's mottos is to "Keep Portland weird." If you enjoy independent boutiques, an endless selection of eateries (no matter your budget), specialty coffee, and craft breweries, Portland is for you!
With only a day in Portland, you really need to prioritize all of the things that make Portland unique. That would include a little shopping and a lot of eating! No matter what your taste buds are craving, you'll find it in Portland. Munch on custard-filled donuts to a mega vegan scene. Portland is one of the most vegan-friendly cities in the US!
Start your day trip to Portland's famous donut shop, Voodoo Donuts. The company is credited for kicking off Portland's obsession with donuts in 2003. Portland loves donuts so much that there are even donut tours throughout the city. After getting your sugar fix, stroll through the historic Peal District. From there head to Mississippi Ave for even more unique shops, bars, cafes, and more!
Before you hit the road, consider grabbing a bite to eat at Mama Đút. This Vietnamese street food spot is serving up an array of savory dishes. It's so good that it was even featured on Netflix's "Street Food: USA" series.
Explored by Rebecca Grade Sawicki from Veggies Abroad
Use these road trip captions for Instagram when taking your day trip to Portland from Seattle.
Puyallup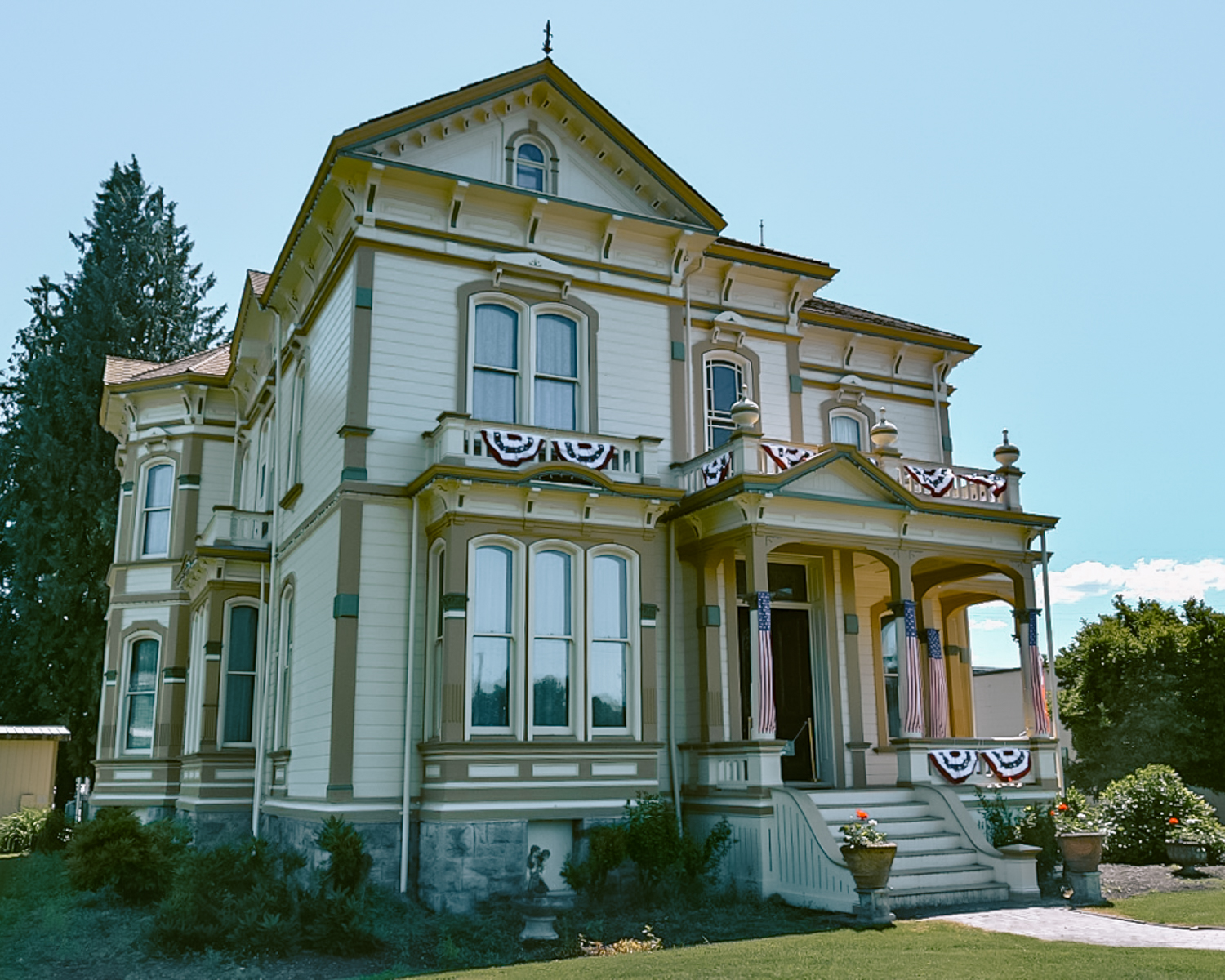 Puyallup is a great destination for a one day trip from Seattle. This town is a hidden gem less than an hour away from the city. 
It is easy to misspell or mispronounce Puyallup [pew-A-lup]. The town's beautiful name originates from one of the Native American languages. It refers to the tribe who lived there long before the pioneers arrived.
There are several ways to reach Puyallup from Seattle. You could get there by car in 40 minutes without traffic. An S Line train is a reliable option on weekdays. It gets you to Puyallup in 42 minutes for $4.75 each way. A direct bus costs $3.25 but will take over an hour.
There are a lot of attractions to visit in Puyallup. You can choose from adorable parks to the mysterious Victorian mansion.
Puyallup is in the foothills of Mount Rainier along the Puyallup River. This location makes it a great place to catch the views of the mountain. Go to Van Lierop Park for the best views of Mount Rainier. You will enjoy the fields of blooming lupines if you visit the park in the summer.
You could tour the Meeker Mansion after lunch. This 1890 Victorian mansion is a town landmark. The house belonged to Eza Meeker, an Oregon Trail pioneer and Puyallup's first mayor, and his wife Eliza Jane. The mansion was the center of the town's life during Meeker's time.
The Meeker Mansion is one of the few house museums in the Puget Sound region. It is open for self-guided tours Wednesday through Sunday from noon to 4 p.m. You can enjoy this beautiful mansion and its rose garden at your own pace. Regular admission is $12. 
Explored by Anastasia from Travel Realist
Skagit Valley
One of the most beautiful day trips from Seattle is to Skagit Valley about an hour north of the city. This region is really a county that is made up of multiple cities. Some are Mount Vernon, La Conner, and Anacortes to name a few. Specifically, what this area is known for is their tulip festival which takes place each year in April. Farmland comes alive as thousands of tulips blossom!
To get there, drive on I-5 north from Seattle and exit at Mount Vernon where the tulip farms are located. There are a number of farms to explore. But some options of ones to visit include Roozengaarde and Tulip Valley Farms. Admission to each farm is about $15.
Each tulip field has its own draws. For example, Roozengaarde has a stunning curated garden. In addition to their fields and they open an hour earlier than the others on weekends. Tulip Town is dog-friendly, and Garden Rosalyn is woman-owned!
The main things to do are to walk the tulip fields, respectfully take photos following all posted signs. Also, enjoy the curated gardens, and shop for your own flowers and seeds. Be sure to admire all the different species of tulips (some farms have over 50!).
Seeing the tulips in Washington should absolutely be on your Pacific Northwest bucket list. This is easy to accomplish as one of the day trips out of Seattle!
Explored by Alanna from Periodic Adventures
You may enjoy these Seattle captions to use on your Instagram for all your adventures during your visit. 
Hoodsport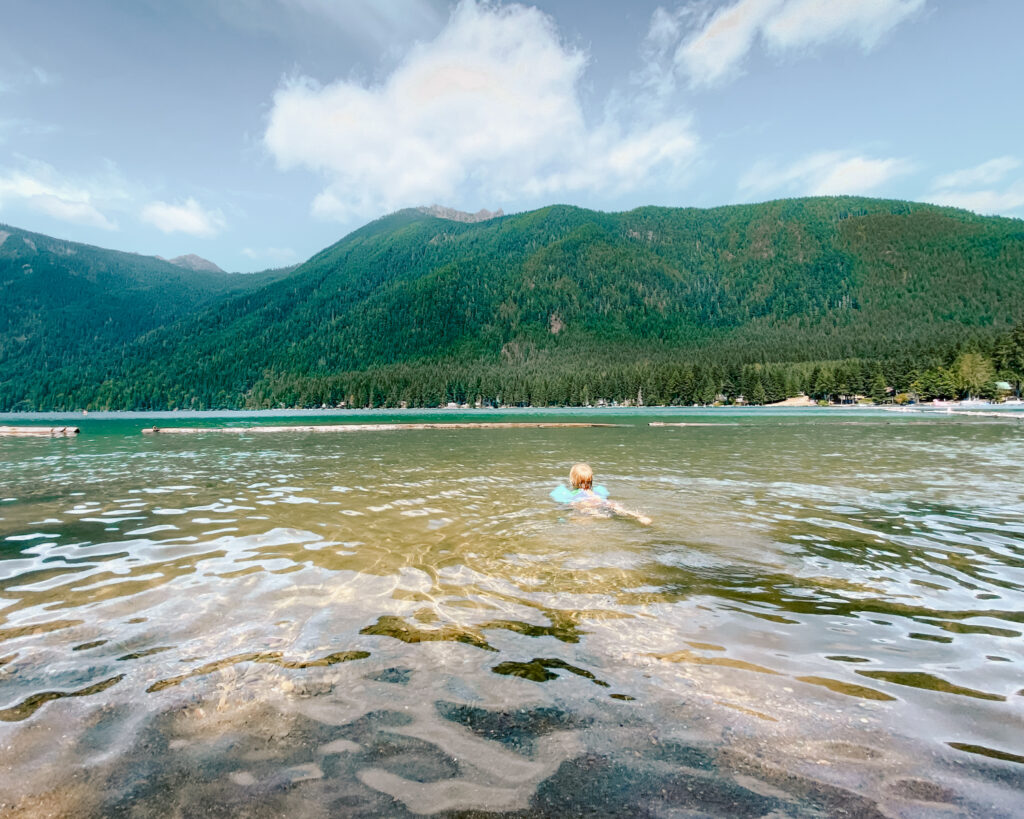 One of the best day trips from Seattle is the lush Olympic Peninsula.  It has some of Washington's most spectacular scenery!  Depart Seattle and be in Hoodsport on the Hood Canal in less than two hours.  
Hoodsport is located on the Hood Canal. It's the perfect place to stop for homemade Olympic Mountain Ice Cream at the Hoodsport Coffee Co. Be sure to also sample spirits at the Hardware Distillery Co.  
There are multiple ways to arrive by car. On is via 1-5 South and the scenic Highway 101 (about 1.5 hours with no traffic).  Or, test your sea legs and take the ferry from Seattle to Bremerton. You arrive in less than an hour and drive the rest of the way (about an hour).
After Hoodsport, your choices include:
Swimming in the crystal-clear waters of Lake Cushman.  From Hoodsport, you can reach the Skokomish Park in less than 15 minutes.  There's a $ 20-per-car entrance fee.  Heads up that the parking fills up quickly. But the park is large, so you'll have plenty of space to enjoy the lake.  It's gorgeous!
Enjoying freshly-shucked oysters at Hama Hama Oyster Saloon, while taking in more views of the Hood Canal.  Here it's a very relaxed setting. The perfect place to just 'chill out,' have a nice conversation, and get your fill of fresh seafood!  It's just 15 minutes north of Hoodsport.
Hiking in Olympic National Park on the Staircase Trail.  You'll love walking one of the paths through the forest. Trails here are full of plants, Douglas firs, and mosses in every shade of green imaginable.  The staircase is part of Olympic National Park and you must have an entrance pass.
Costs for the day include gas and the ferry (if you decide to take it). Additionally, ice cream at Hoodsport Coffee Co., lunch, an entrance pass ($30/car) for Staircase or a parking pass ($20/car) for Skokomish Park are included.
Enjoy your time soaking up the natural beauty of the Olympic Peninsula!
Alternatively, stop in Hoodsport on your way back from Lake Cushman or the Staircase Trail. Especially, if you want to get an early start on your hike. Also, you have a greater chance of getting a parking spot at Skokomish Park.
Explored by Candice of Mom In Italy
North Cascades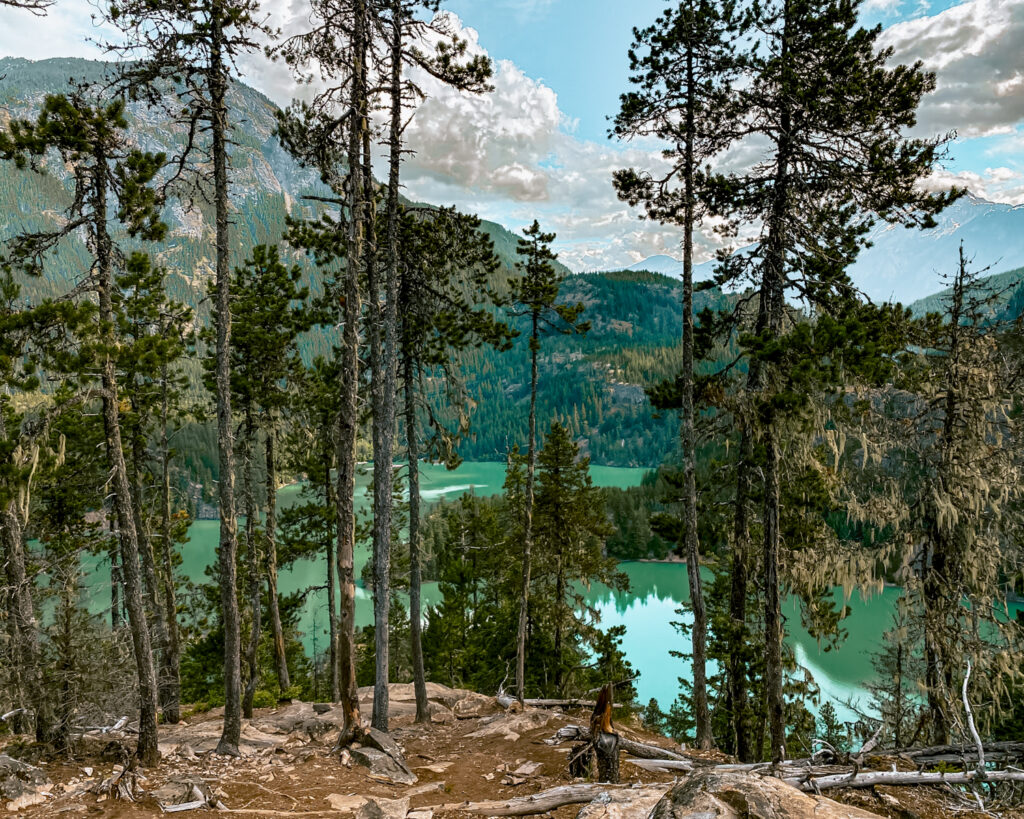 Located approximately 2 hours northeast of Seattle are the  North Cascades. This Is the perfect destination to escape the hustle and bustle of the city and connect with the mountains. The best way to get to the North Cascades from Seattle is to take I-5 north to WA-530 to State Highway 20. Also known as the North Cascades Scenic Byway. This is considered one of the most scenic drives in Washington! There are no tolls along the route, so your only expense getting there will be the cost of gas.
The area is known as the North Cascades National Park Complex. Which includes North Cascades National Park, Ross Lake National Recreation Area, and Lake Chelan National Recreation Area. There are abundant outdoor recreation opportunities throughout the complex, including hiking, camping, kayaking, and backpacking.
For breathtaking views of Diablo Lake, hike the Thunder Knob Trail. Parking for the hike is located along State Highway 20 near the Colonial Creek Campground. The trail is 3.6 miles round trip with 675 ft. of elevation gain. It's an easy-moderate hike depending on your experience. You'll hike through the forest, getting glimpses of the North Cascade mountains throughout before reaching the summit and overlooking the turquoise waters of Diablo Lake.
If hanging out on the water is more your speed, pack your SUP or kayak and head out onto Diablo Lake or Ross Lake. The water can get choppy when winds pick up in the afternoon. So get an early start to the day if you're planning on spending time on the water. Be sure to pack your PFD to stay safe on the water!
Explored by Kate of Kate Outdoors
Enjoy a North Cascades day trip from Seattle intimate private tour. Discover these rugged mountains with a trip to Leavenworth, Deception Falls, and Snoqualmie Falls as well.
Poulsbo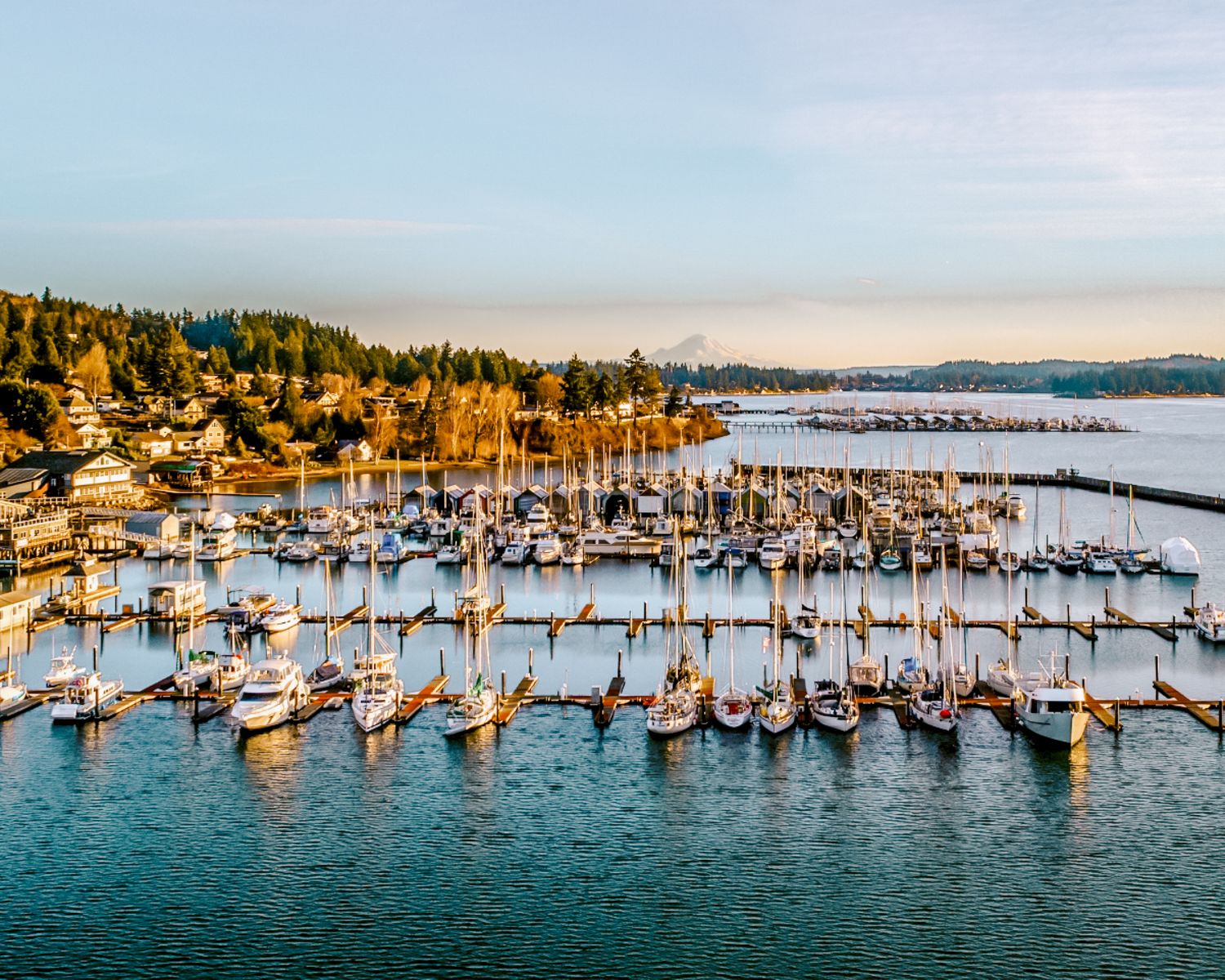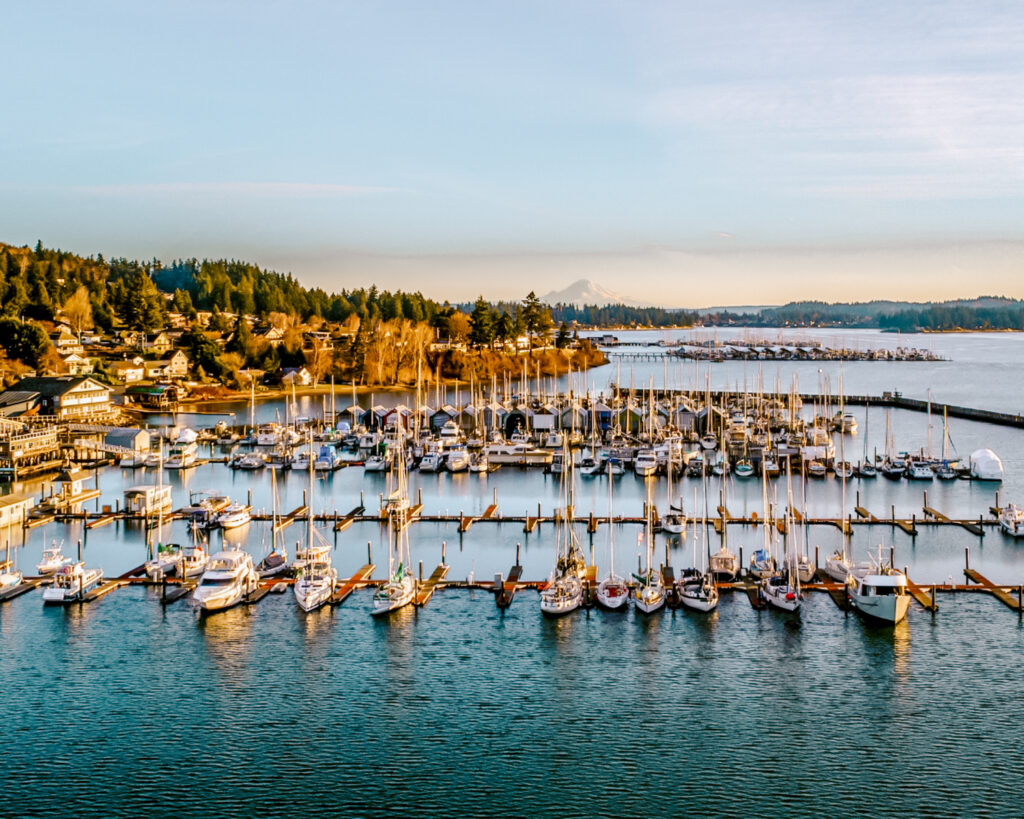 If you're looking for one of the short day trips from Seattle, consider Poulsbo. This charming Norwegian town of Poulsbo offers visitors an opportunity to explore its unique Scandinavian culture. 
Poulsbo is easily accessible by car and is a 90-minute drive from Seattle. You can also arrive by ferry. However, there aren't any direct connections to Poulsbo, and will have to purchase a ticket to Bainbridge Island. From there you need to grab a bus, taxi, or ride-share to arrive in Poulsbo. 
Poulsbo is known as Little Norway for its strong ties to traditional Norwegian heritage. You'll find plenty of colorful, old-world buildings and eateries that offer flavors straight from Scandinavia. 
If you're visiting during the summer months, take advantage of their famed Viking Days Festival. You can learn about traditional Norwegian customs and sample the famous Salmon Chowder. 
While in Poulsbo visit the downtown's specialty shops and art galleries before heading to Muriel Iverson Williams Waterfront Park. The park has some stunning views of Liberty Bay. With breathtaking scenery and a little slice of history all within reach. No wonder Poulsbo is one of the favorite day trips from Seattle.
North Bend
A one day trip from Seattle to North Bend, WA is a delightful escape into the beauty of the Pacific Northwest. Just 30 miles east of Seattle, it can easily be reached by car. The best way to get there is to hop on I-90 East. Enjoy the stunning views of the Snoqualmie Valley along the way. 
The cost of reaching North Bend depends on the transportation you choose. If you're driving, you'll need to consider gas expenses and toll fees (if applicable). Public transportation is also available, which costs around $6-$10 one way. Having a car, however, gives you the flexibility to explore the area at your own pace.
There are many things to see and do in the North Bend area, an outdoor lover's dream. There are a huge number of nearby hiking trails, in Snoqualmie, North Bend, and Snoqualmie Pass. Also, you will find other recreational opportunities as well. One of the most popular highlights is Snoqualmie Falls. This awe-inspiring waterfall is known for its impressive 268-foot drop and raging volume. Other notable attractions include the beautiful Rattlesnake Lake, Mt Si, the Snoqualmie Casino, and Mt Si Golf Course. 
In addition, North Bend is famous for being the filming location of the cult TV series "Twin Peaks." You can visit iconic sites like Twede's Cafe (also known as the Double R Diner in the show) and many others. Exploring the quaint downtown area also offers a chance to browse some unique and thoroughly charming shops.
Whatever you choose to do, North Bend, WA will leave you feeling inspired by the incredible natural beauty of this amazing state. 
Explored by Tammi of Wander Healthy
Port Townsend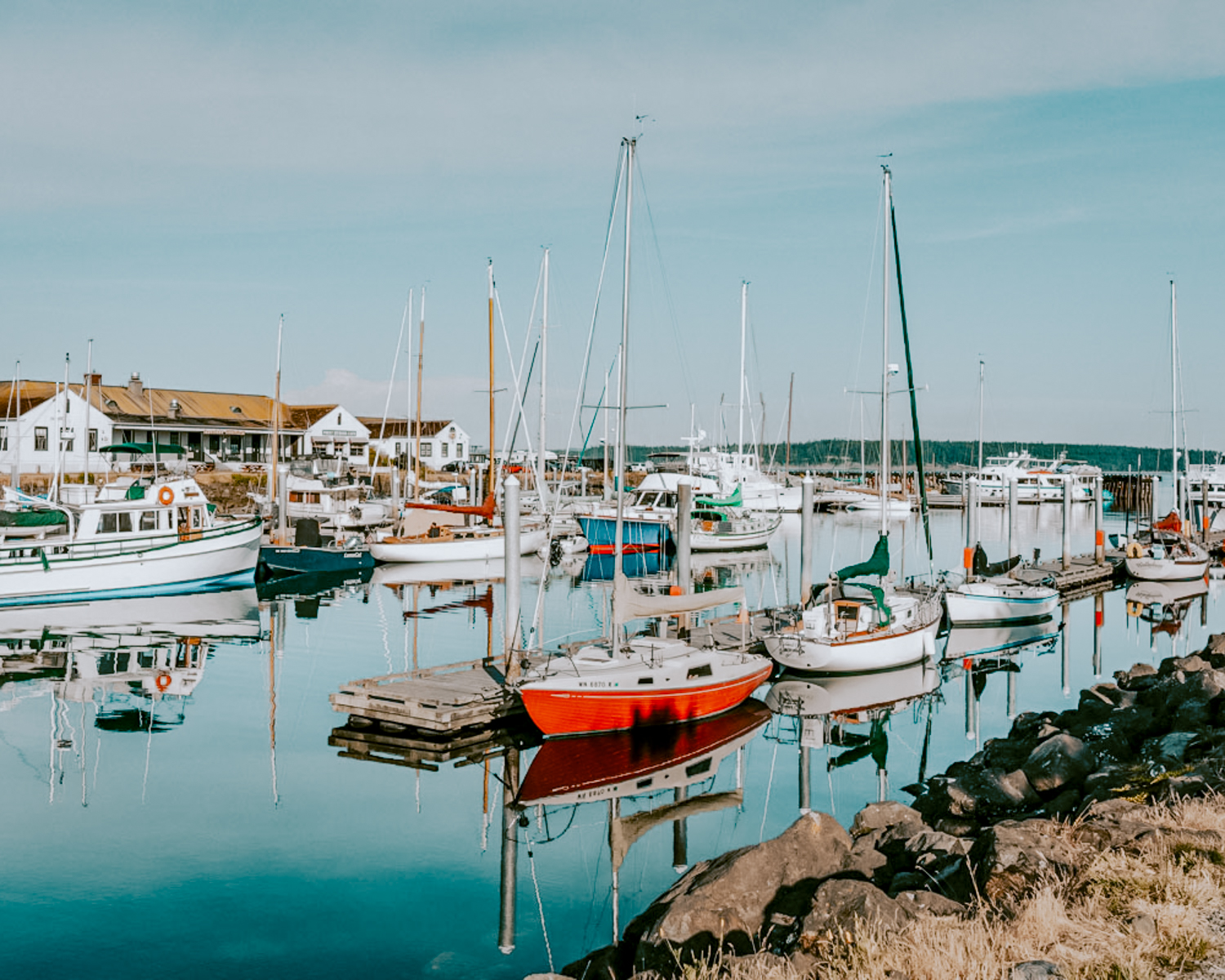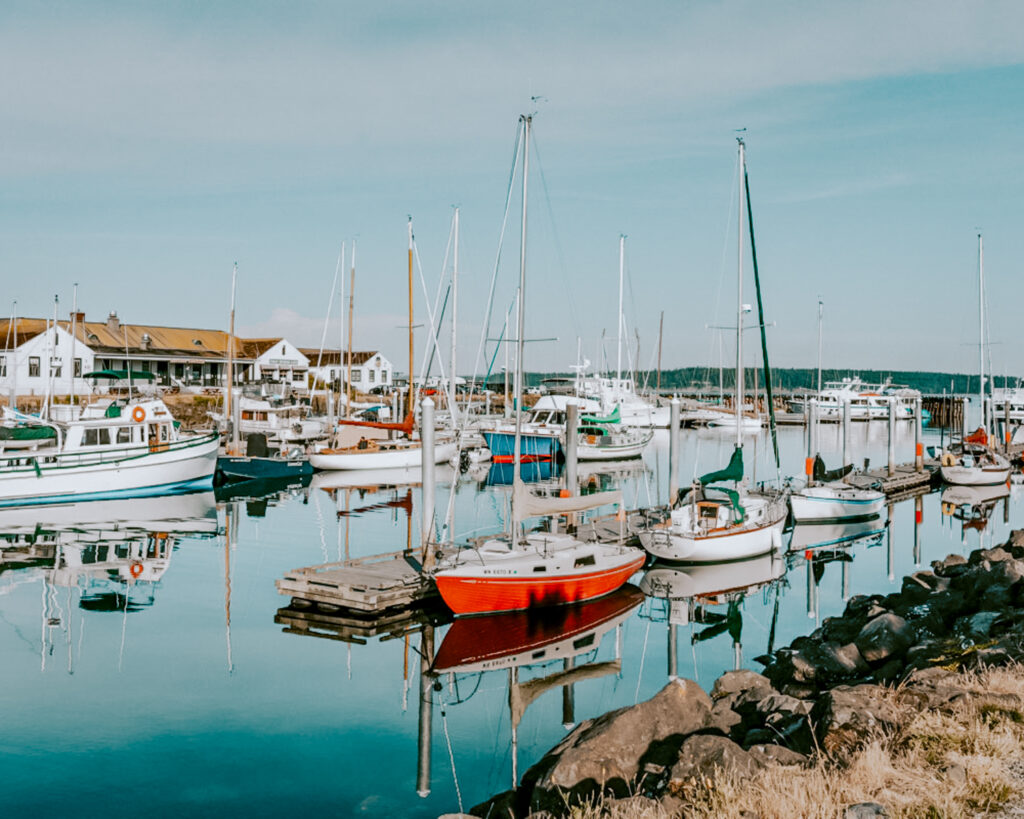 Port Townsend is another one of the day trips near Seattle. This is a charming Victorian-style arts town on the Olympic Peninsula. 
One of the best things to do in Port Townsend is explore the waterfront downtown area. It boasts local charm amid Victorian architecture. 
Stop in local shops, and sip a warm drink at Better Living Through Coffee, a fully-organic waterfront coffee shop. Enjoy a filling lunch at Tommyknockers Cornish Pasty, a British-style pub with flavorful food. Or have brunch at Owl Spirit Cafe, a cozy spot with delicious, wholesome meals. If you want to relax, make a reservation at Soak on the Sound. What makes this spa unique are its gorgeous saltwater tubs and saunas. 
Don't miss Fort Worden State Park when visiting. You can walk along the windy shore, explore hundred-year-old military bunkers, and see the Point Wilson Lighthouse. 
On a rainy day, catch a movie in the Rose Theater's Starlight Room. It's furnished with Victorian couches and features alcoholic drinks and gourmet snacks. Or, for a completely different movie experience, head to the Wheel-In-Motor Movie Drive-In to catch a film from your car. 
There are several ways to get to Port Townsend from Seattle. The most straightforward route includes a scenic ferry ride across Puget Sound from Edmonds to Kingston. After it's followed by an hour-long drive. 
Along the way, pass through Port Gamble. A small historic lumber town fabled to be one of the country's most haunted towns. Then cross the Hood Canal Bridge, which connects the Kitsap Peninsula to the Olympic Peninsula. Next, drive past Finn River Cidery, a thriving community hub. Experience the locally made ciders on tap and several eateries. Stop along the way to make the most of your day trip. 
The roundtrip ferry cost for two adults in a standard vehicle is about $85. There are often ferry delays on weekends. So getting to the ferry a few hours ahead of time is a good idea. To avoid ferry tolls and waits, you can drive from Seattle to the Tacoma Narrows Bridge and up north through the Kitsap Peninsula. 
Explored by Annie of Your Friend the Nomad
Not sure what to do in Seattle? Use my 3-day Seattle itinerary to discover Emerald City's best gems.
Mount Rainier National Park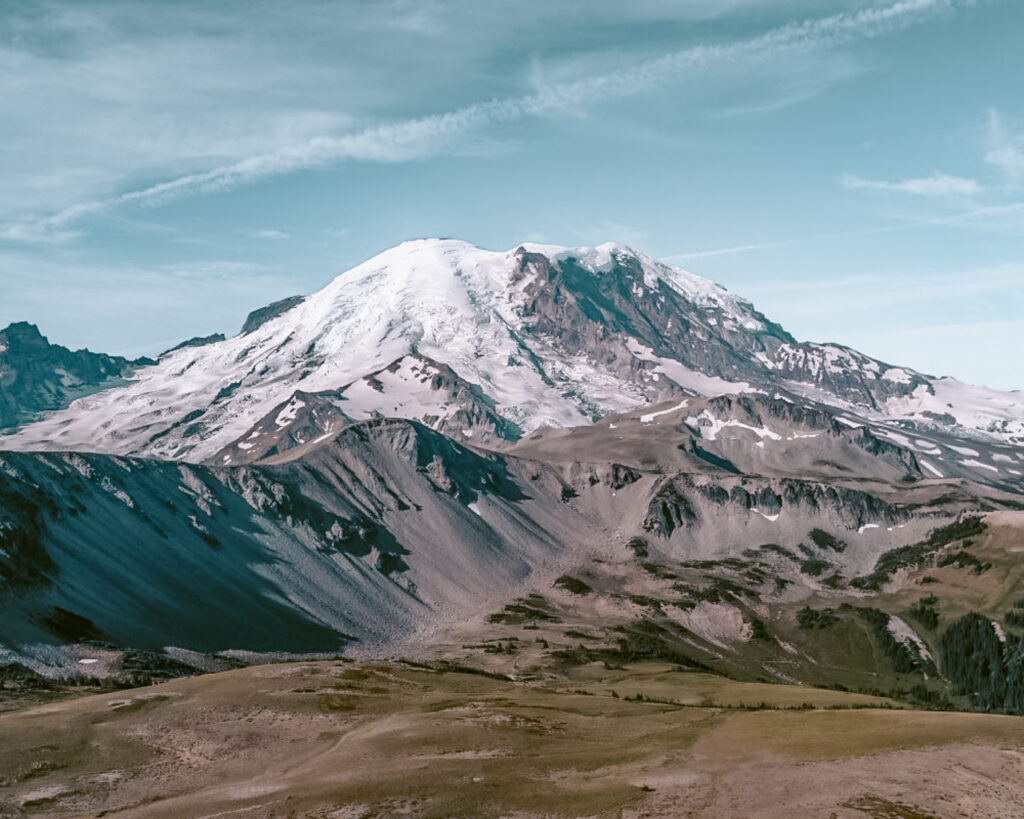 Of course, a Mount Rainier day trip from Seattle is necessary when visiting the city.  Getting to Mount Rainier National Park takes about 2.5 hours. At this time you can arrive at the Paradise side of the park. Just take WA-167, WA-161, and WA-706 most of the way. Each vehicle must pay $30 for a week's pass. However, if you visit many National Parks, for $80 you can purchase the America the Beautiful Pass. You can enter any National Park within the year.
Once in the park, take in the sights and make the most of your one day in Mount Rainier. In the Paradise section of the park, some of the best hikes include Skyline Trail, Carter Falls, and Comet Falls. You can also drive further into the park to the Sunrise area. Here you can do the iconic Mount Fremont Lookout Tower hike. 
If you are short on time, consider spending the morning in Sunrise, and the evening in Paradise to see the most of the park. You can also stop by Tipsoo Lake and Reflection Lake for quicker stops that don't require much hiking. Don't forget to stop by the gift shops for souvenirs at Paradise, Longmire, or Sunrise. 
The best time to visit Mount Rainier is late July and August when the wildflowers will be blooming! Keep in mind that many high-elevation trails do not melt fully until July or sometimes into August. You can still visit Mount Rainier for a day trip in the winter. However, you will be limited to lower-elevation hikes, or snowshoeing at Paradise, which is an experience in itself. 
Explored by Val of Voyages With Val
Enjoy an intimate Mount Rainier National Park day trip from Seattle with a guide. It's a guided walk through the park's spectacular scenery. As well as learn all the local secrets!
Lake Serene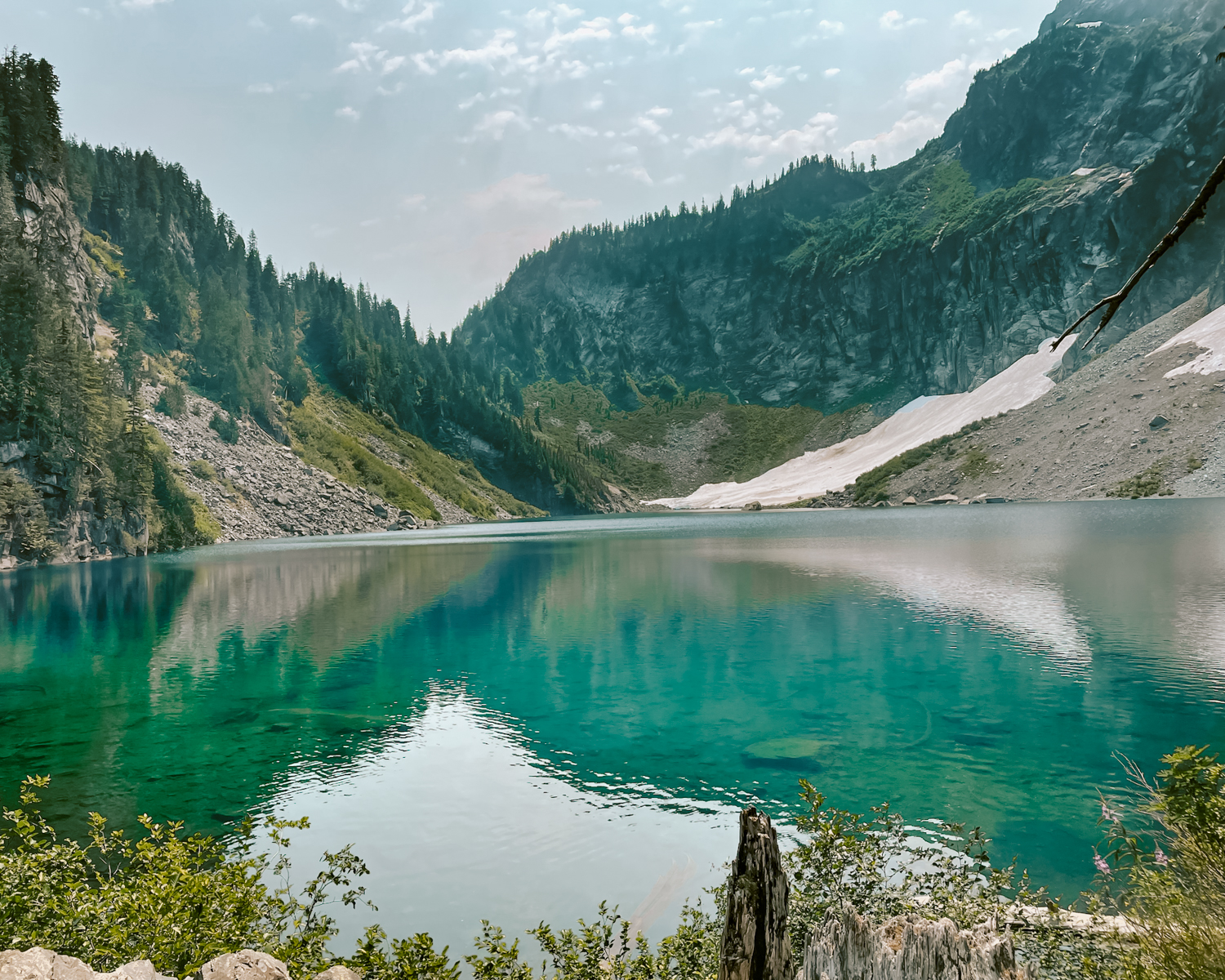 Washington is one of the most beautiful states in the entire country for landscape photography and outdoor adventure. No list of day trips from Seattle is complete without a nod to quintessential Pacific Northwest scenery. About an hour's drive northeast of Seattle near Gold Bar, Washington is the Lake Serene and Bridal Veil Falls trailhead. Once you park be ready to set off on one of Washington's most picturesque day hikes.
Lake Serene is a pristine green-blue alpine lake in Mount Baker-Snoqualmie National Forest. Just south of North Cascades National Park, it's reminiscent of the turquoise glacial flour lakes we associate with the region. Surrounded by jagged peaks, this popular swimming hole is a refreshing and rewarding oasis after hikers spend most of the trail shrouded in the forest canopy. 
You'll truly earn your views here! Reaching the lake requires a 7.6-mile out-and-back day hike. There is enough elevation change up wooden and rocky stairs to have you breathing hard and taking plenty of breaks. Luckily the ascent is broken up by a spur trail to visit Bridal Veil Falls, an extra treat for waterfall hunters. There is nothing technical about the trail to Lake Serene. Also, there are no exposed edges, so like most day hikes in the Cascade Range, the main challenge is steep elevation change.
Remember to bring your Northwest Forest Pass or America the Beautiful Pass, which covers parking fees. Be sure to get there early to find a space as they fill up quickly. The area is black bear country, though this hike is popular enough that they tend to steer clear. 
Keep in mind that snow can linger at higher elevations well into spring, so attempting the Lake Serene hike may still require microspikes for traction if you go in a shoulder season. Last but not least, don't forget the most important item on your packing list – your swimsuit!
Explored by Claire of The Detour Effect   
Mount St. Helens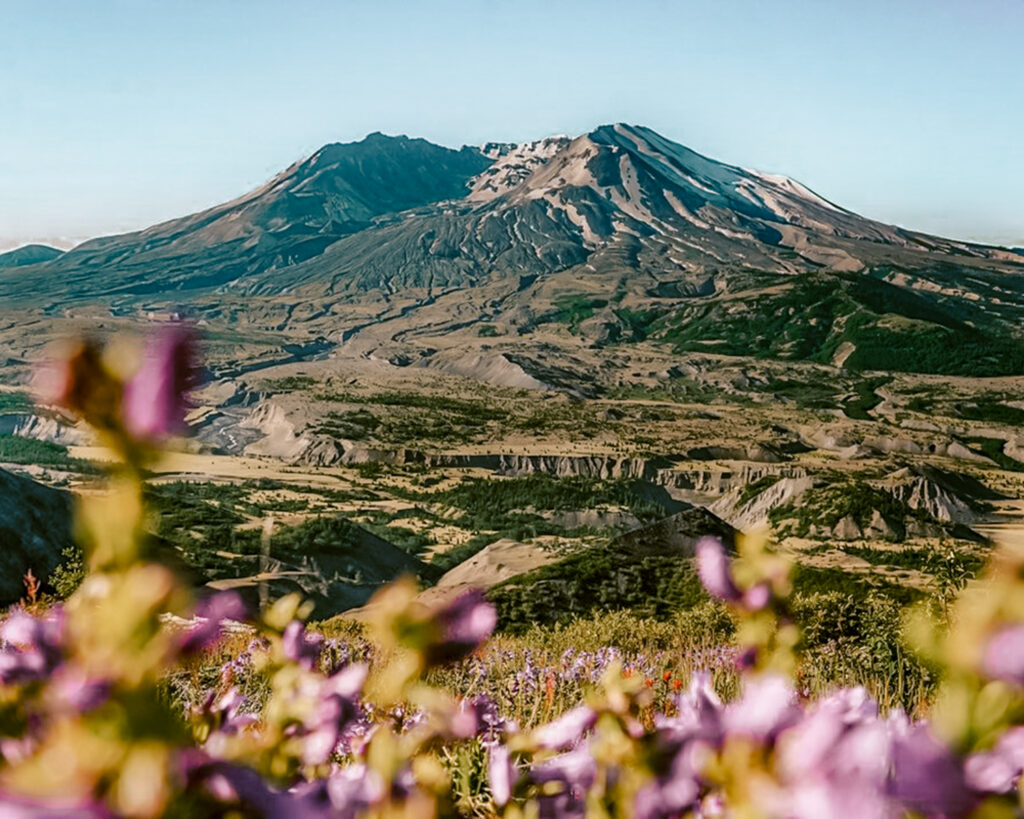 Did you know there's an active volcano just 3 and a half hours from Seattle? Pretty crazy, huh? Washington's Mount St. Helens is one of the most incredible day trips from Seattle. It's chock full of stunning natural beauty and astounding geological wonders.
This Seattle to Mt. St Helens day trip journey takes approximately 3.5 hours by car. The drive is simply stunning! The gradual shift from urban landscape to scenic mountain terrain is breathtaking to behold.
When you arrive at the National Volcanic Monument, you'll have plenty of cool things to explore. First, head to the end of State Route 504 for some incredible views. Here, you'll find the Johnston Ridge Observatory with a panoramic look at the volcano and impressive surrounding landscape. You can also engage with interactive exhibits to learn more about the 1980s eruption, the geological processes that formed Mount St. Helen, and the continued efforts to monitor volcanic activity.

For a comprehensive education on the area, book a guided tour with a knowledgeable local expert. They share in-depth information about the volcanic history, geology, and the regional ecosystem.
Prefer to explore on your own? No problem. Choose from a number of hiking routes with varying degrees of difficulty that traverse the gorgeous terrain of Mount St. Helens. For an easy route, try the .5-mile Eruption Trail, or take on the challenge of Lake Trail's 8-mile path. Adventure seekers and adrenaline junkies will want to make a beeline to Ape Cave. Here you can venture inside the country's longest underground lava tube!

From unique volcanic formations to wildflower-dotted trails and azure alpine lakes, Mount St Helens National Monument is an unforgettable Seattle day trip.
Explored by Sydney of Sydney to Anywhere
Experience a Mt St Helens day trip from Seattle with a small group. Learn the history and stories about the 1980 eruption from a guide.
Woodinville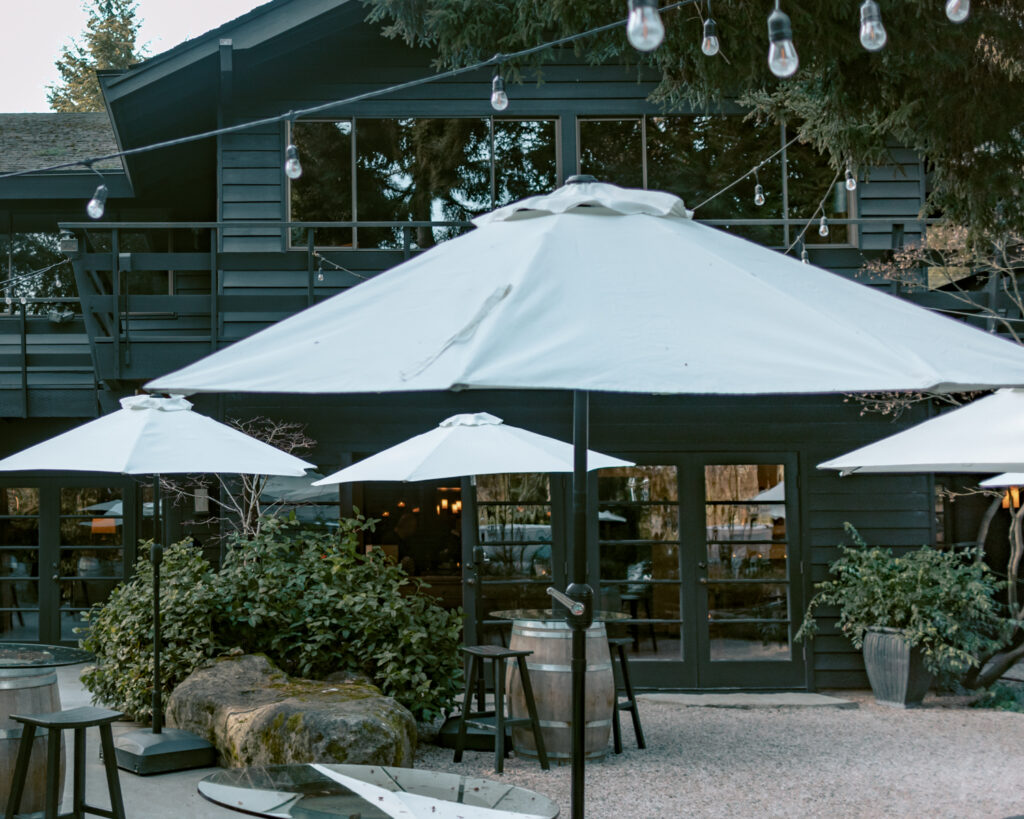 Woodinville is a small city just 30 minutes north of Seattle. It's the place to go if you're looking to experience some of the best-tasting rooms in Washington State. Whether you're an expert or just starting to explore, there's something for everyone. 
For a truly unique wine experience, head to Sparkman Cellars. This by far was my favorite tasting. This winery can boast of its numerous accomplishments. Sparkman Cellars was named #21 on the 2016 Wine Spectator Top 100 for their Cabernet Sauvignon. They also were named one of Wine Spectator's Rising Stars. Other awards include the Wine Enthusiast's Cult Winery and Wine & Spirits' Top 100 Wineries in the World.
The easiest and best way to get to Woodinville is by car. If you're expecting to participate in many tastings, please hire a driver as we did. Remember to drink responsibly. 
Check out all the wineries I visited here on my Instagram.
Tacoma
One of the best short day trips from Seattle is Tacoma. It is about 35 miles to the south of the city. There are a few different ways to get here. If driving, you can easily drive around 30 minutes (or more depending on traffic) and be in the downtown area. You can also take a rideshare but it'll likely cost you about $100 round-trip. Public transportation is also available such as the metro, train, and bus which are the least expensive options. However, they are limited and it depends on where you would like to visit in Tacoma.  
Love the outdoors? One of the best things to do in Tacoma is a visit to Point Defiance Park. Point Defiance Park has something for everyone! There are numerous gardens for a leisurely stroll. Also, a zoo, an aquarium, and a playground with slides if you have little ones. Consider Fort Nisqually if you're a history buff. It also has multiple trails, viewpoints, Mountaineer's Tree, and a 5-mile drive for those looking for exceptional scenery. 
Nearby in the city of Tacoma, you can visit numerous museums. Some worth noting are the  Children's Museum, Museum of Glass, Art Museum, Washington State Museum, and LeMay's Car Museum. Don't leave Tacoma before stopping by Stadium High School. This was the filming location of the popular 90's movie "10 Things I Hate About You." You can also walk along Rustin Way. Here you can see the beautiful waterfront of Puget Sound with places to eat and shop.  
Explored by Dr. Rachel of The Rx For Travel
Everett
For one of the best short trips from Seattle, head over to the city of Everett.  
Everett is located about 30 minutes north of Seattle. It's an easy drive to get to, just straight North on the I5.  It can also be reached by bus as well. Although, this isn't ideal as it would be best to have a car while visiting Everett.  
While in Everett the main attraction not to miss is Boeing Future of Flight.  This is where Boeing aircrafts are built.  Aside from the factory tour, there are exhibits to see and interesting things to learn for visitors of all ages.  
Another interesting museum to visit is the Flying Heritage & Combat Armor Museum.  This museum houses various historical aircrafts and vehicles used in conflicts of the 20th Century.  Some of the aircraft are displayed on rotation. So when visiting a second or third time expect to see a new plane!
Another popular activity to enjoy in Everett is the Everett Farmers Market.  It's located at 2930 Wetmore Ave. Everett, Washington 98201, and is open on Sundays from May – October 10:30 am – 3 pm.  At this market, you'll find all kinds of fresh foods, flowers, and more.  Even just going for a stroll and enjoying the atmosphere of the market is time well spent.  
Enjoy your time visiting Everett!
Explored by Chelsea of Adventures of Chels
Olympic National Park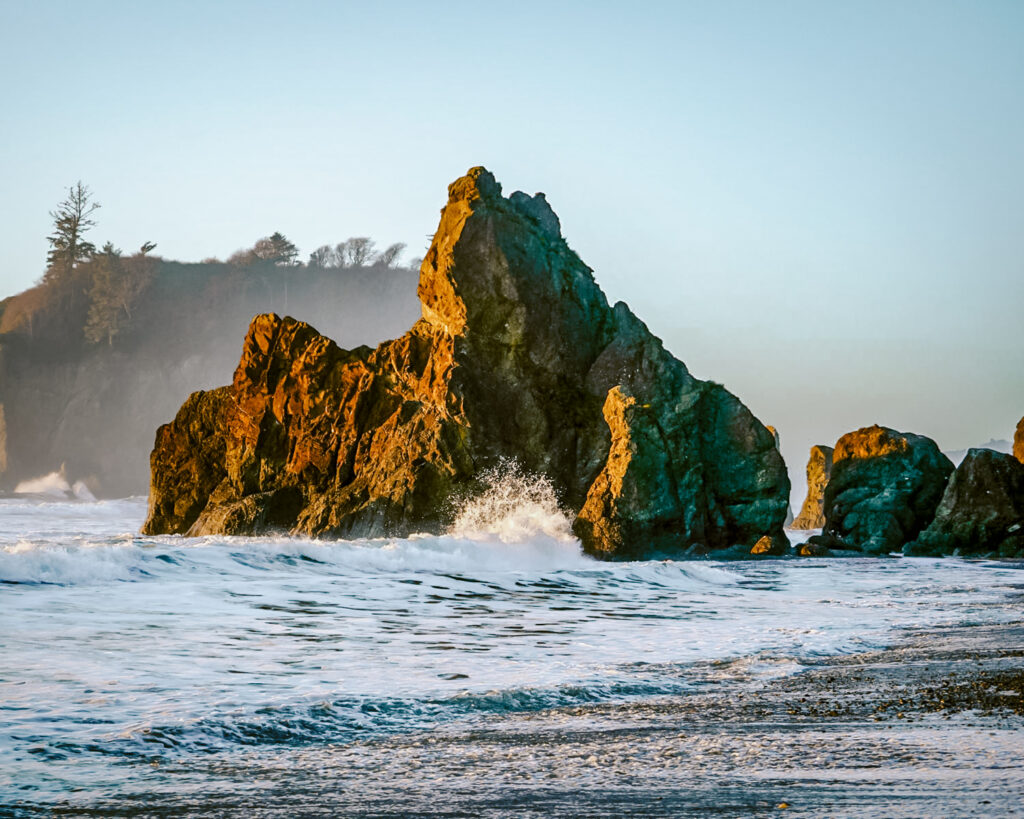 Consider taking a Seattle to Olympic National Park day trip. It's one of the most diverse and dynamic national parks in the United States. Located in the northwestern corner of Washington state, in the Olympic Peninsula, Olympic National Park is home to temperate rainforests, snow-capped mountains, and dramatic beaches. What's so fascinating is you can easily see all of these types of scenery in just one visit! 
What makes Olympic National Park one of the best day trips from Seattle is its size. This park is enormous, covering nearly one million acres! 
To reach the park from Seattle, you can either drive down through Tacoma or along Highway 101 to reach the park. Alternatively, you can take a half-hour ferry from the city to Bainbridge Island and continue your drive from there. Depending on which method of transport you're taking and where you're headed in the park can vary. Getting to Olympic National Park can take a little under two hours all the way up. If expecting to visit its most remote areas the drive can be over four hours. 
Entrance in the park costs $30 for a private vehicle for a week-long pass. Alternatively, it is included with any interagency pass. Once you've entered, be sure to explore any of the best hikes of Olympic National Park! Discover the incredible Hall of Mosses trail in the famed Hoh Rainforest. Here you'll walk under a cathedral of trees dripping with dramatic moss. Stroll the pebbly shores of Rialto Beach in the Hole in the Wall Trail. You'll pass dramatic sea stacks, tide pools teeming with sea life, and dense pine tree forests along the way. 
If you're looking for something a bit more relaxed, consider spending the day on Lake Crescent. A stunning lake, surrounded by pine trees, that's perfect for kayaking, stand-up paddleboarding, or simply taking in the beautiful scenery.
Explored by Jessica of Uprooted Traveler
Consider a Seattle to Olympic National Park day trip with an experienced guide. Go trekking through a waterfall and lush forest. Also, enjoy an afternoon hike at Hurricane Ridge.
Bainbridge Island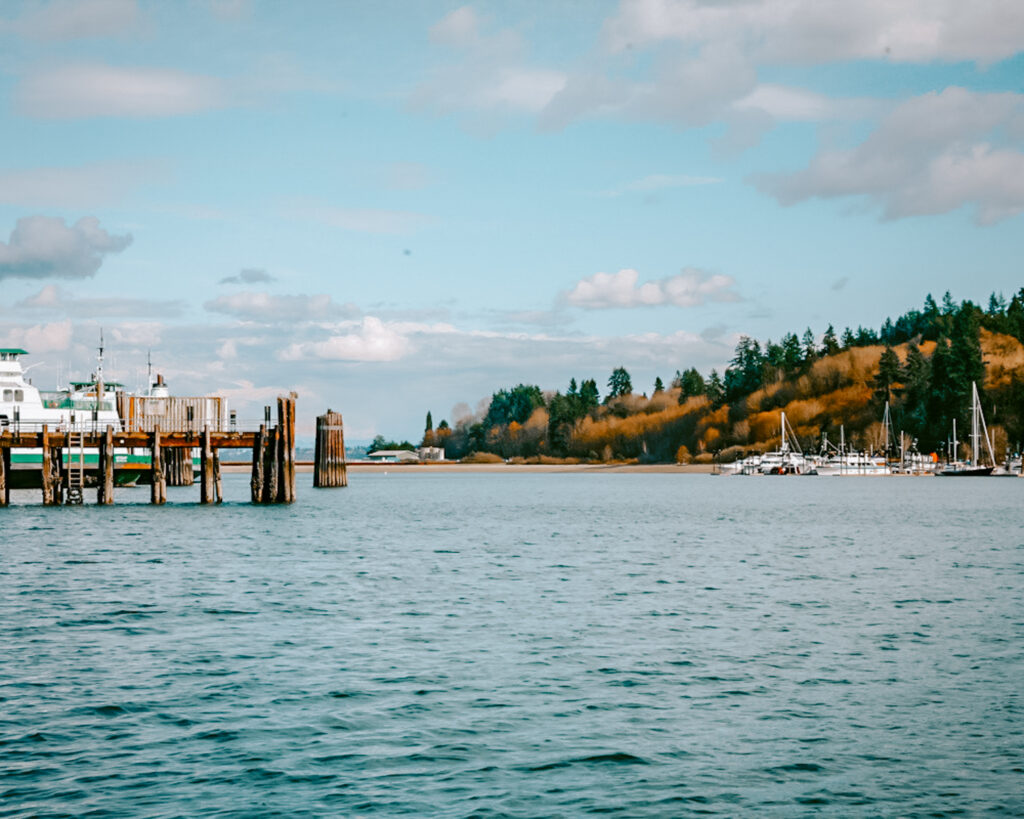 Consider taking a popular day trip from Seattle Bainbridge Island. Located within the chain of islands dotting the Puget Sound waterway bordering Seattle to the west, Bainbridge Island has both forest and coasts to explore.
Bainbridge Island is located across Puget Sound from Seattle. It is easily accessed by the Bainbridge Ferry, which happens to have one of the best views of Seattle. The port for the ferry is located in downtown Seattle and can be boarded by pedestrians or by car. 
The ferry cost is around $16 per vehicle with a driver and about $10 per passenger or pedestrian. In 35 minutes you can quickly arrive in Bainbridge Island. Be sure to arrive early as ferries tend to fill up, especially on weekends. Bring a book as you could be stuck waiting for the next boat, especially on the way back to Seattle. 
Once on the island, there are a few things to do. First, we recommend exploring the little downtown area. Be sure to grab a pastry from the popular Blackbird Bakery, or a scoop from Mora Iced Creamery. Sip some local wines at one of the many tasting rooms, or grab a craft beer at Bainbridge Brewing. Then head to the free Bainbridge Island Museum of Art to walk it off and take in the works of art.
Hit the trails at Grand Forest, which is one of the largest urban parks in Washington. The trails have something for everyone, from beginners to advanced hikers. If you're feeling extra adventurous, take the trail up to Battle Point Park and check out the incredible views!
Finally, don't forget to hit the beach! There are multiple beaches around Bainbridge Island to visit. Discover the sandy shores and driftwood to explore, plus incredible views of the distant mountains.
Explored by Michele of The Adventures Abound 
Vancouver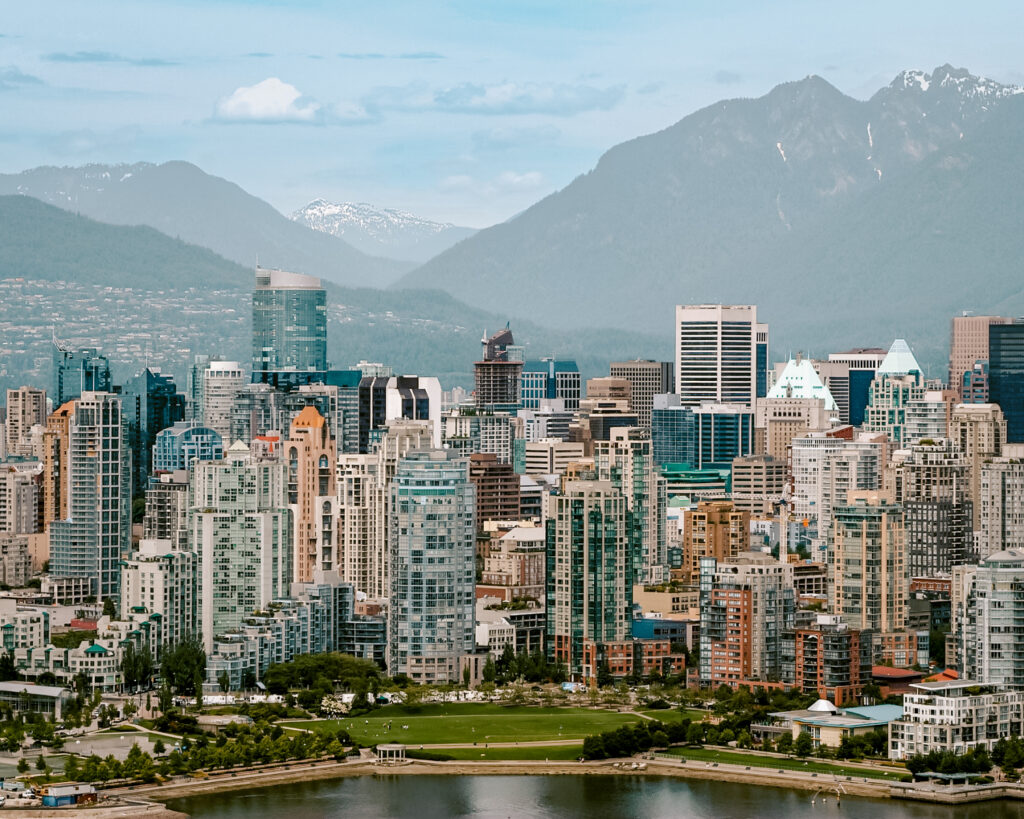 Consider taking a day trip to Vancouver from Seattle. Just a quick two-and-a-half-hour drive north of the city. Vancouver offers a perfect day trip destination that is easily accessible. You will find a mix of cultures and activities, perfect for adventure seekers, foodies, and nature lovers alike. 
Explore the historic Gastown neighborhood, home to some of the best restaurants and boutiques Vancouver has to offer. Also, take a stroll in Stanley Park, a 1000-acre park that offers scenic vistas of Vancouver's skyline and coastal mountains. 
Quirky Granville Island offers artisanal shops and a giant indoor market, while English Bay Beach is famous for its stunning sunsets. 
For animal lovers, head to the impressive Vancouver Aquarium, home to over 50,000 animals, including the city's beloved sea otters. Vancouver is truly a place where there is something for everyone. No wonder it's a much-loved day trip for Seattlites.
Some things to do in Vancouver are first and foremost visiting the biggest Chinatowns in all of North America. Experience a kaleidoscope of vibrant colors, aromatic foods, and a rich cultural heritage.
Uncover artisan treasures through the bustling public market on Granville Island. A treasure trove of fresh produce, hand-crafted goods, and gourmet delights awaits you. Expect a unique shopping experience infused with local flavor.
The easiest way to get to Vancouver is by car. It is a scenic route and lots of stops worth visiting along the way. You can also reach Vancouver by taking the Amtrak. Tickets are around $45 each way. However, with the train, you can expect it to take over 4 hours to arrive in Vancouver.
Best Seattle Day Trips
Leavenworth
Hood Canal
Wallace Falls State Park
Whidbey Island
Snohomish
Portland
Puyallup
Skagit Valley
Hoodsport
North Cascades
Poulsbo
North Bend
Port Townsend
Mount Rainier National Park
Lake Serene
Mount St Helens
Woodinville
Tacoma
Everett
Olympic National Park
Bainbridge Island
Vancouver
Best Day Trips From Seattle Final Thoughts
Whether you're looking for a relaxing getaway or something adventurous during your visit, there are plenty of day trips from Seattle to choose from. Washington is a beautiful state to explore. Don't stay within the limits of the capital. Go explore these best Seattle day trips!
Also, while in Seattle, check out my 3-day Seattle itinerary so you don't miss all the gems of Emerald City. Don't forget to use these Seattle captions for all the photos you post to your Instagram!
Like these day trips from Seattle ideas? Share it with others or pin it for later!