Looking for things to do in Delray Beach for your upcoming trip? This friendly and quaint seaside town is located 54 miles north of Miami, which makes it a perfect getaway for a short trip. Expect to stay busy and on your feet because this gem has beautiful beaches, historical buildings, and tasty eateries to keep you stimulated during your visit. 
Without further ado, let me give you the scoop on the most fun things to do in Delray Beach. 
This article may contain affiliate / compensated links. For full information, please see our disclosure here.
Heading to Florida? Check out these other posts for your visit to the Sunshine State:
Things To Do In Delray Beach
Let's proceed with this spectacular list of things to do in Delray Beach for your visit.
Atlantic Avenue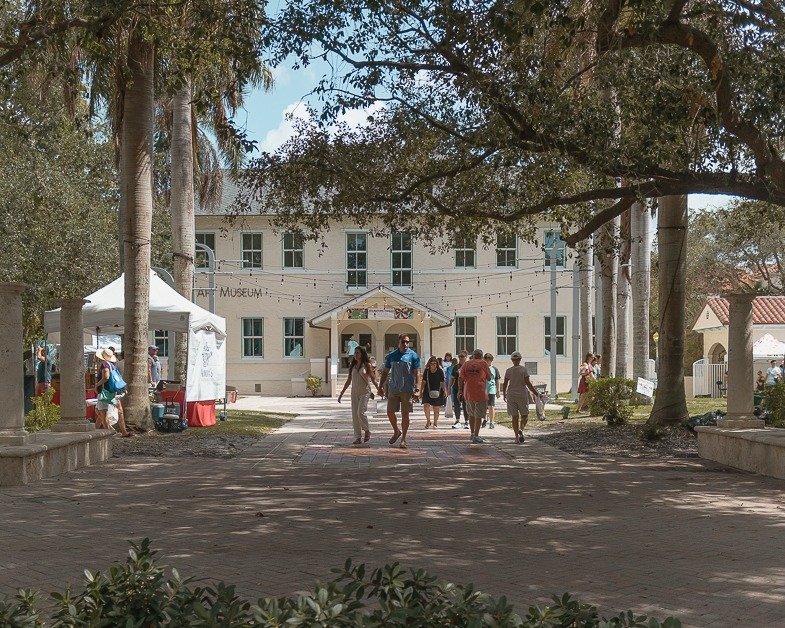 Take a long stroll up and down "The Ave" which is the main street in Delray Beach located on Atlantic Avenue. It has a combination of high-end to affordable boutiques, galleries, and antique shops. 
Grab a meal on "The Ave" after browsing the shops. This downtown treasure has an array of restaurants that serve fresh seafood, steaks and more ranging from affordable or 4-star eateries to fill your belly when you develop an appetite. 
Morikami Museum And Japanese Gardens
Tour the 188.5-acre Morikami Museum and Japanese Gardens modeled like a Japanese villa. Housed inside are over 7,000 Japanese artifacts and information about the Japanese immigrants in the area.  
Outside you can take a peaceful stroll through the 6- themed gardens that capture Japan's gardening styles with a variety of flowers, trees, and statues. 
Hours: Tuesday to Saturday 10 AM-5 PM
Address: 4000 Morikami Park Rd, Delray Beach, FL 33446
Admission: Adults $15, seniors and military $13, children (6-17) $9, children under 5 free.
Pineapple Grove Arts District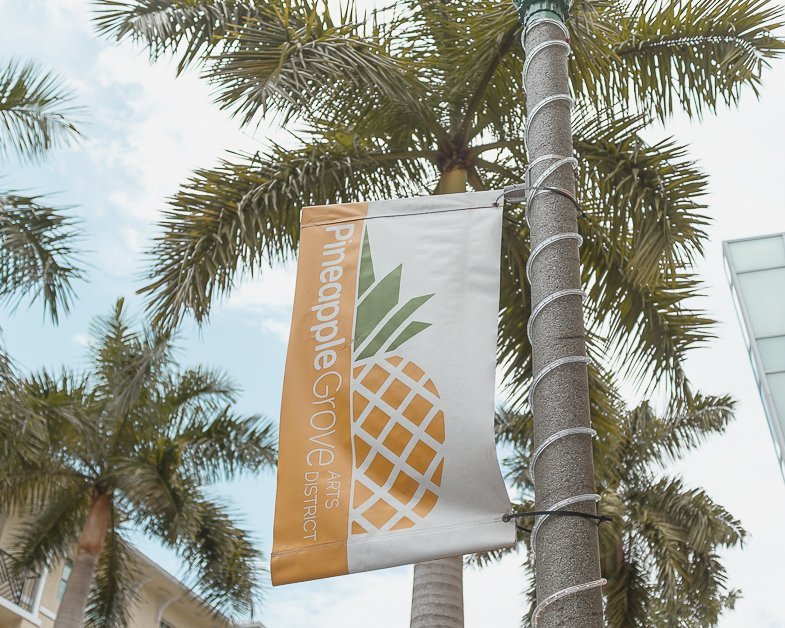 Pineapple Grove Arts District is a popular spot for the locals in Delray Beach. Located right off Atlantic Avenue this side of town is splashed with colorful murals and sculptures. 
One of the fun things to do in Delray is to browse the many galleries, restaurants, shops, and Artist Alley along the street. 
Address: Located off Atlantic Avenue on NE 2nd Avenue
RELATED POST: 27 Things To Do In Miami Beach
Silver Ball Museum 
Transform yourself back into the 1950s at the Silver Ball Museum, where adults can become a kid. 
Sliver Ball is a unique spot to visit in Delray Beach and has over 100 classic pinball machines and arcade games occupying the museum. Enjoy playing classics such a skeeball and Miss Pac-Man. 
Hours: Everyday 12 PM-12 AM
Address: 19 NE 3rd Ave, Delray Beach, FL 33483
Admission: One hour pass $15, all day pass $20.
The Beach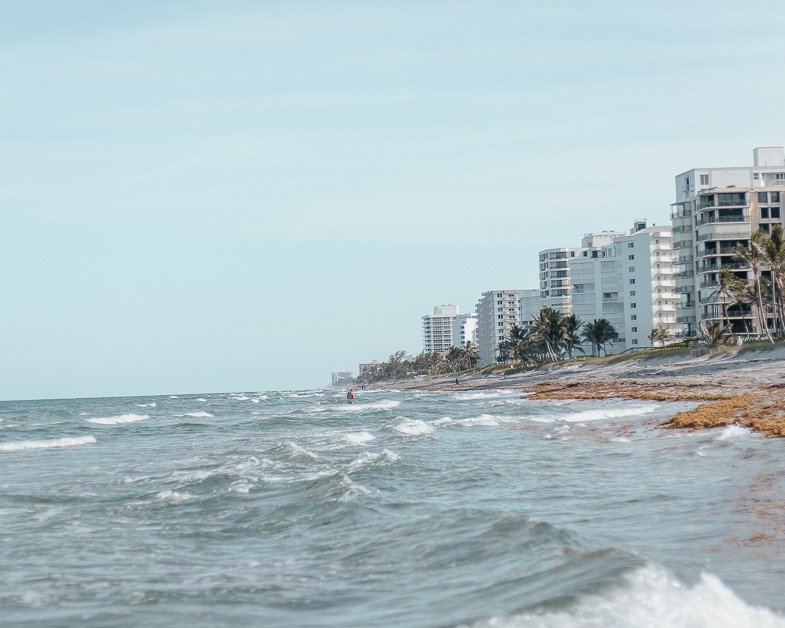 One of the top places to go in Delray Beach is of course the beach! Soft sand and pristine waters make Delray's beaches some of the best along the eastern coastline. 
Delray Municipal Beach is one of the most favored beaches visited for sunbathing and water sports. Cabanas, beach chairs, and umbrellas are available for rental use while you're visiting the beach.
For a serene beach experience visit Atlantic Dunes Park, surrounded in an elevated wooded area. Go for a walk on the boardwalk and admire the scenery on the 300-foot nature trail. At Atlantic Dunes there is a covered pavilion, picnic tables, and restrooms on-site. 
Home of the Ocean Rescue Division Headquarters is located at Anchor Park. This beach has more convenient facilities than the others such as grills, a community park, picnic areas, restrooms, and vending machines for families. 
Saltwater Brewery
Grab a microbrew after playing in the water at Saltwater Brewery, a favorite spot for the locals to hang out. Brews are all handcrafted and only natural ingredients are used. 
Saturday afternoons guided tours of the facility are given. However, make sure to arrive early to catch a tour because spots fill up quickly. 
Hours: Monday to Thursday 12 PM-10 PM, Friday 12 PM-11 PM, Sunday 12 PM-8 PM
Address: 1701 W Atlantic Ave, Delray Beach, FL 33445

Delray Beach Market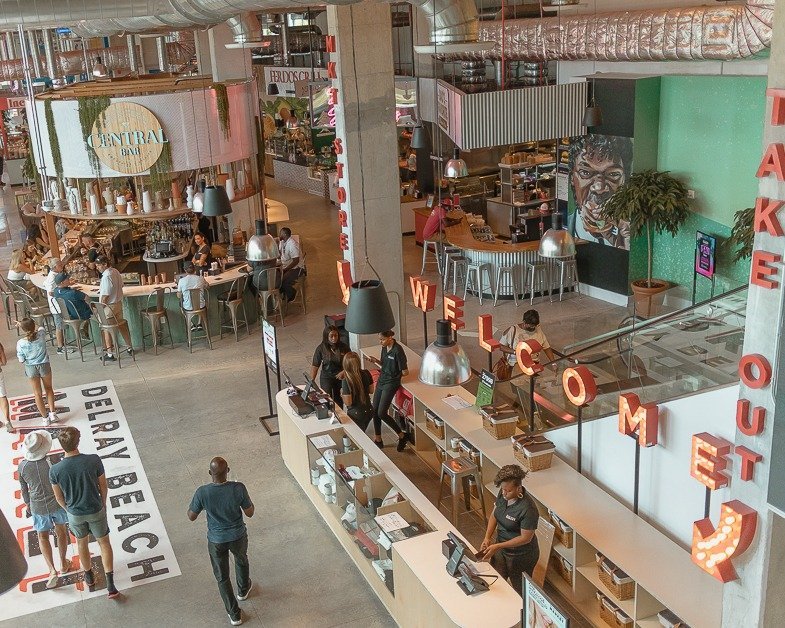 Visit Florida's largest food hall Delray Beach Market spanning over 150,00 square feet.  Arrive hungry and get a taste of Delray Beach with more than 25 different local and regional vendors and pop-ups to choose from in this 4-story warehouse. 
Hours: Sunday to Wednesday 9 AM-10 PM, Thursday to Saturday 9 AM-11 PM
Address: 33 SE 3rd Ave, Delray Beach, FL 33483
Ride bikes 
A great way to explore this resort town is by bicycle, it's one of the fun things to do in Delray Beach for those who like to be active when traveling. 
Renting a bicycle makes it a little easier to get around to places that may be too far on foot. Opting for a bicycle is convenient too for avoiding the hassle of parking and paying for meters. 
RELATED POST: 30 Things To Do In Fort Lauderdale
Cornell Art Museum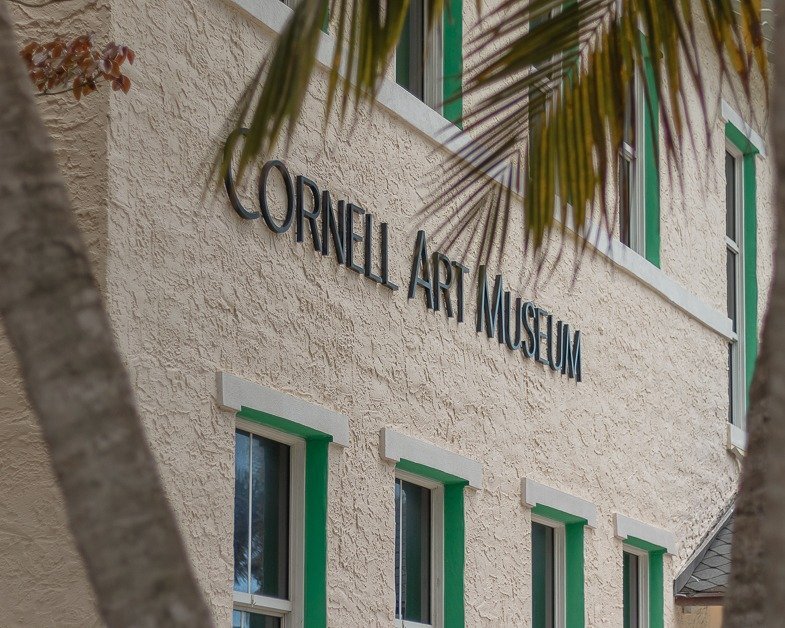 Once an Elementary school built in 1913, Cornell Art Museum turned into a home to house contemporary artwork from artists known worldwide. 
Restored classrooms serve as exhibition rooms to showcase contemporary artists who create innovative pieces of art to awe guests. 
Hours: Thursday to Sunday 12 PM-5 PM
Address: 51 N Swinton Ave, Delray Beach, FL 33444
Admission: Adults $15, children (4-17) $8, children under 3, and veterans free.
Delray Festivals 
Delray Beach hosts numerous events that offer a culinary or cultural experience. No matter when you plan to visit a festival will more than likely be occurring.
Get the latest schedule of events right here.
Places To Eat In Delray Beach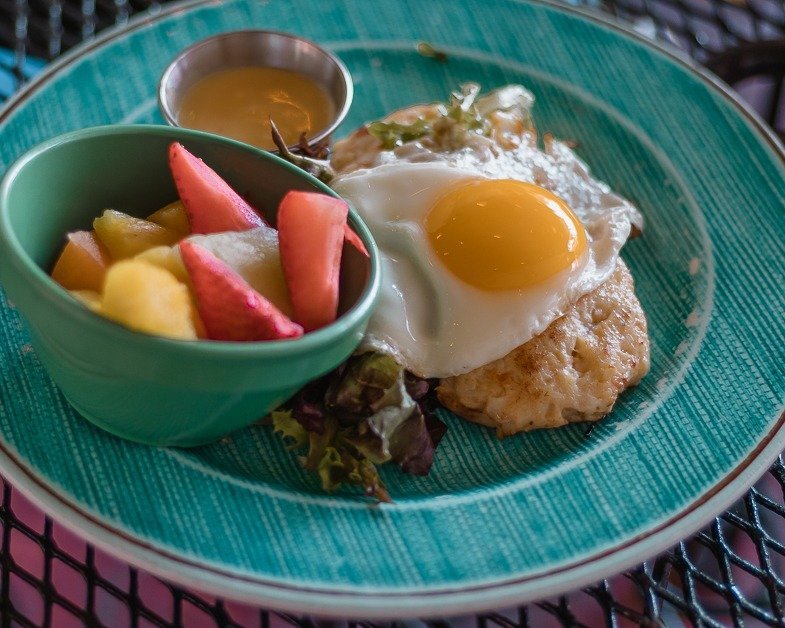 Delray Beach has grown into a foodie scene and is becoming a popular dining destination in South Florida. Some places deserving of your visit are listed below. 
Breakfast: 
Lunch & Dinner:
How To Get To Delray Beach
Getting to Delray Beach can be done by car or plane, depending on your departure location will help you determine the most convenient form of transportation to arrive there. 
Car
If you are taking a quick trip during your visit from Miami or Fort Lauderdale you can arrive at Delray Beach by car in under an hour. 
Driving from Key West will take you around 4 hours if traffic permits.
Coming from the West coast near Naples expect to arrive around 2 hours by car in good traffic conditions.
Plane
If arriving by plane, the closest airport to Delray Beach is the West Palm Beach Airport. Other airports you can arrive at are Fort Lauderdale or Miami. however, coming by plane you will need to arrange transportation to get to Delray Beach by a hired driver or renting a car. 
RELATED POST: Best Things To Do In Key West
When To Visit Delray Beach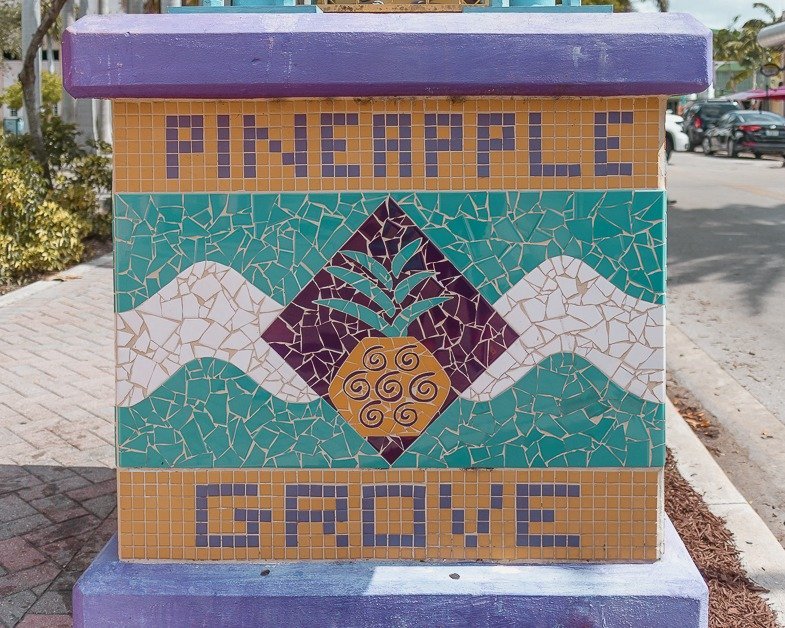 South Florida has warm climate year-round making it a perfect destination to visit any time. Florida has seasons and costs for activities and hotels do fluctuate depending on when you plan to arrive.
December to mid-April is high is South Florida's cooler season. Expect more tolerable temperatures and less humidity. These months are South Florida's high season and hotel prices tend to be more expensive. 
Low season runs from June through November. Highs reach the upper 90°s and the humidity can be unbearable at times. Hotels prices are cheaper, but hurricanes or heavy rain may interrupt your trip. Be sure to bring your umbrella. 
Where To Stay In Delray Beach
Delray Beach has hotels for both budget and luxury travel. Searching for hotels during my day trips to Delray Beach I always use booking.com. When booking considers selecting a hotel near or on Atlantic Avenue. Most shops and restaurants are located within walking distance. 
Use the map below to browse hotel recommendations. 
How To Get Around Delray
Delray Beach is small making it easy to get around fairly quickly. Depending where you are staying you can get around easily by foot. Even though it may be a tiny town you will need wheels to get to some places. 
Car
You can get around Delray Beach by car easily. Parking never seemed to be an issue during my visits. Keep in mind depending on the day of the week and time parking may not be full on Atlantic Avenue. However, there are plenty of parking lots available one block off downtown. 
Bicycle 
My favorite way to get around for things to do in Delray Beach is by bicycle. You will find this town to be extremely bicycle friendly. 
At Need A Bike they are one of the cheapest in the area and they will happily deliver and pick up your bicycle from wherever you're staying.
Things To do In Delray Beach Conclusion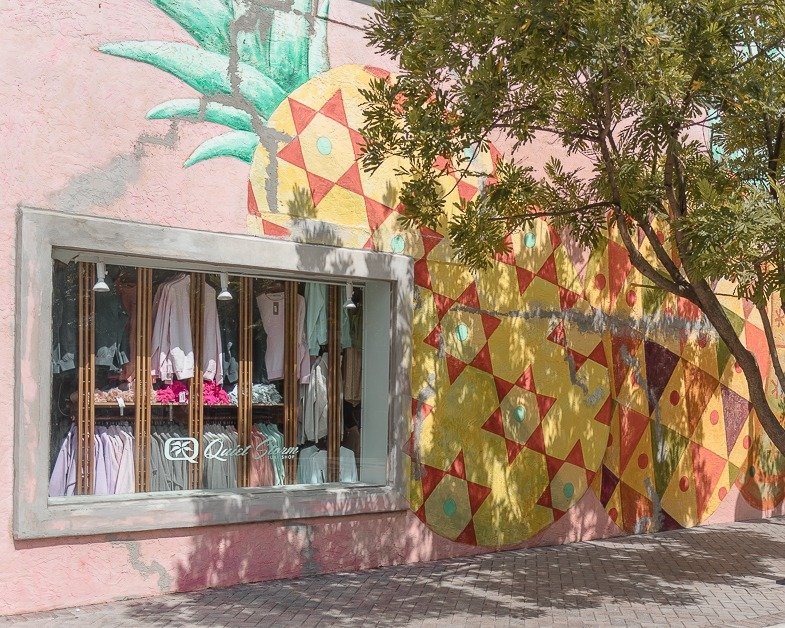 Hope you enjoyed this list of fun things to do in Delray Beach. You will find this beach town to be a nice getaway and will leave refreshed after visiting these Delray Beach attractions. 
More places to check out for your trip to Florida:
Like this post on top things to do in Delray Beach? Share it with others or pin it for later in your Florida board!