Planning a trip to Portugal? Here is your 2 days in Porto itinerary and why you shouldn't skip out on this city. 
Porto, the second-largest city in Portugal and a UNESCO World Heritage Site, is a must-visit destination for travelers who want to explore the best of European culture. Porto has something for everyone with its stunning architecture, vibrant nightlife, and delicious cuisine. 
Whether you're looking for an action-packed weekend filled with adventure or just some time away from it all to relax and take in the sights, this 2 days in Porto guide will help you make the most of your stay! 
From exploring ancient churches to sampling local wines at one of the city's many wine bars, plenty of activities can be enjoyed by spending two days in Porto. So let's get started and discover what makes this charming city so special!
This article may contain affiliate / compensated links. For full information, please see our disclosure here.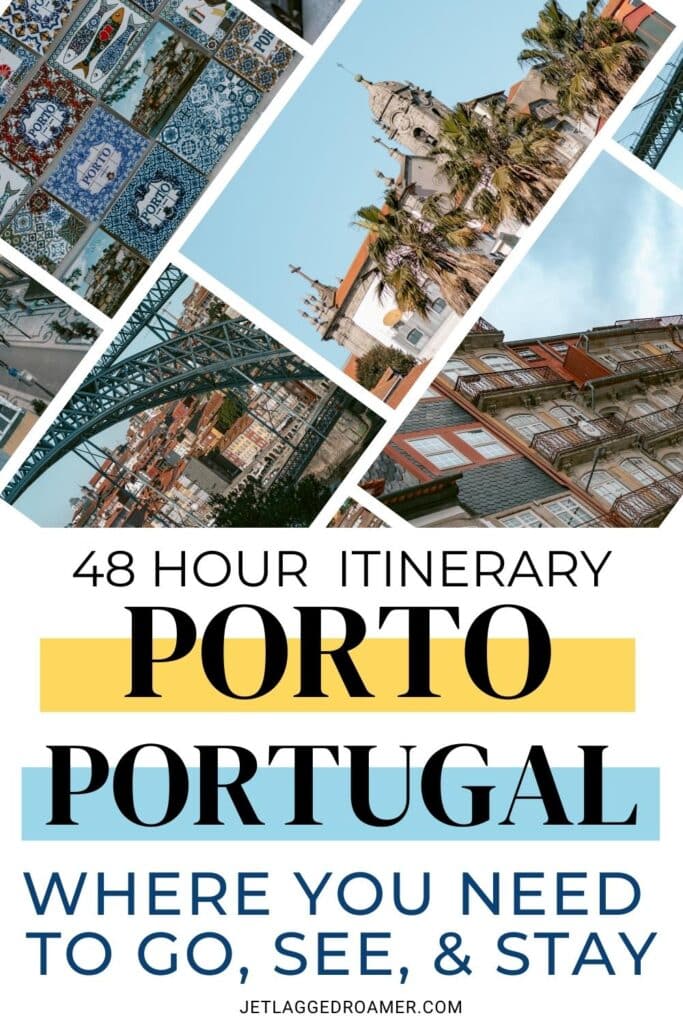 Visiting Porto? Check out these other posts for your visit:
How Many Days Do You Need In Porto?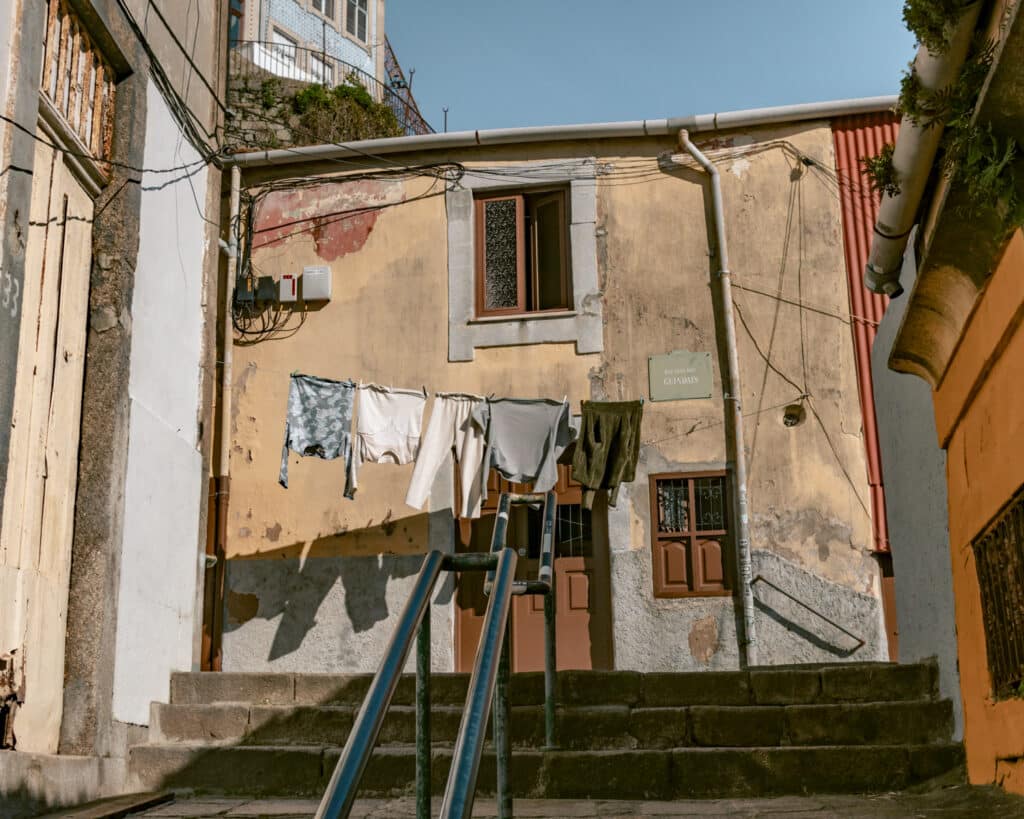 Two days in Porto is ideal for getting the most out of the city. With this 2 days in Porto itinerary, you will be able to see the top highlights of the city. Spend the first day visiting some of its historical sites like Torre dos Clerigos and Livraria Lello. Seek out the intriguing Museu do Carro Eléctrico, the memorial to 19th-century streetcars, for an afternoon stroll.
On the second day, explore the city's cafés and restaurants, then spend time on Ribeira's bustling waterfront. A full day amidst its cobblestoned alleyways will also give you plenty of snippets of its culture and heritage. Before you leave, why not take a ride on Porto's port wine train?
2 Days In Porto Itinerary
Visit Ribeira
 São Bento Station
Walk Don Luis I Bridge
Port wine tasting
Cruise the Douro River
Take a food tour
Tour Porto's churches
Visit the azulejo buildings
Shop at Mercado do Bolhão
Stroll Rua de Santa Catarina
Visit Palacio da Bolsa
Ride a cable car
Buy a book at Livraria Lello
Watch a sunset at Jardim do Morro
Take a day trip from Porto
Things To Do In Porto In 2 Days
Stroll Ribeira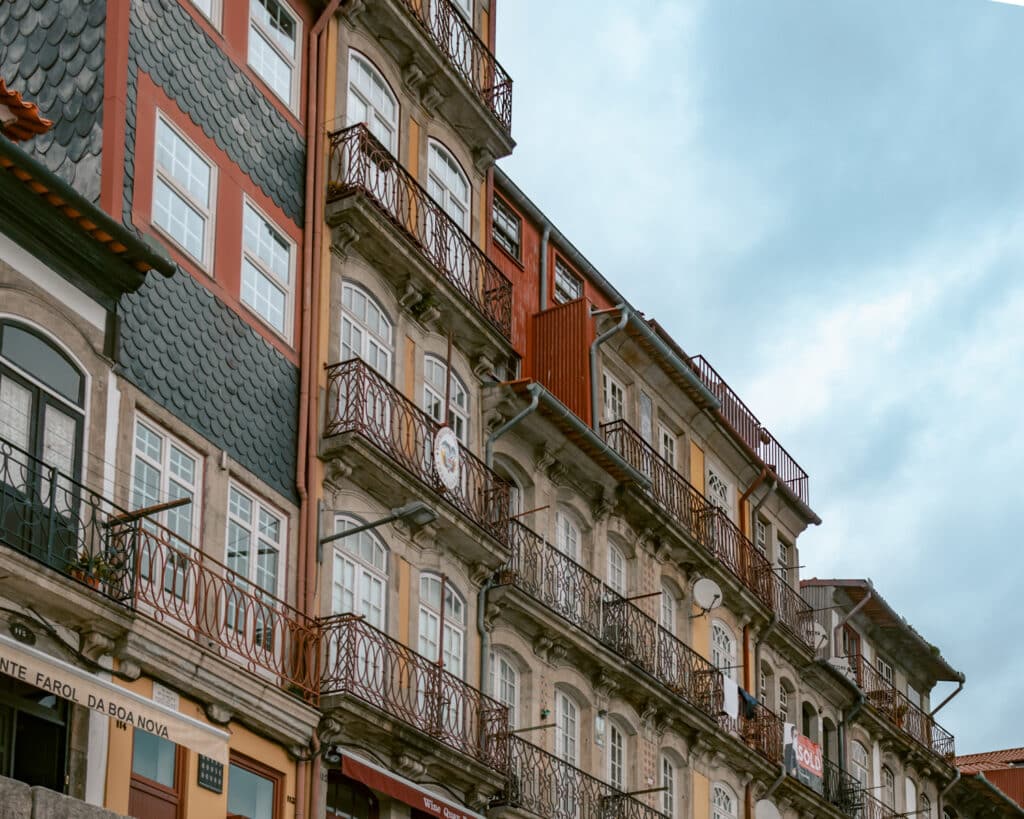 Two days in Porto would only be complete with exploring the charming Ribeira neighborhood. It's a cityscape like no other, gracing calendars and guide covers around the globe. To discover this area, embrace walking – you'll walk through winding alleyways and cobbled steps along the inviting Cais da Ribeira promenade. 
Before strolling along the terracotta waterfront promenade, take some time to admire the wrought-iron balconies adorning many charming old-world buildings. As night falls, the area comes alive with restaurant lights and music to enjoy. Seek out those slightly further back for cozier atmospheres and more wallet-friendly prices. 
Whether day or night, you will surely fall in love with the beautiful Ribeira. If you're looking to explore and experience one of the most vibrant cities in Europe, Porto is sure to enthrall you. 
Gawk At The São Bento Station
São Bento station is one of the most beautiful train stations in the world. This architectural masterpiece was built during the late 19th century and still stands today as a beacon of Porto's impressive past. 
What makes this station so remarkable are its interior walls, adorned with over 20,000 azulejo tiles that depict scenes from Portugal's history. From kings and queens to battles, these exquisite works of art make São Bento Station an absolute must-visit for anyone looking to take in some culture while on their 2 day trip to Porto.
Related post: Portugal Instagram Captions
Walk Over & Under Dom Luis I Bridge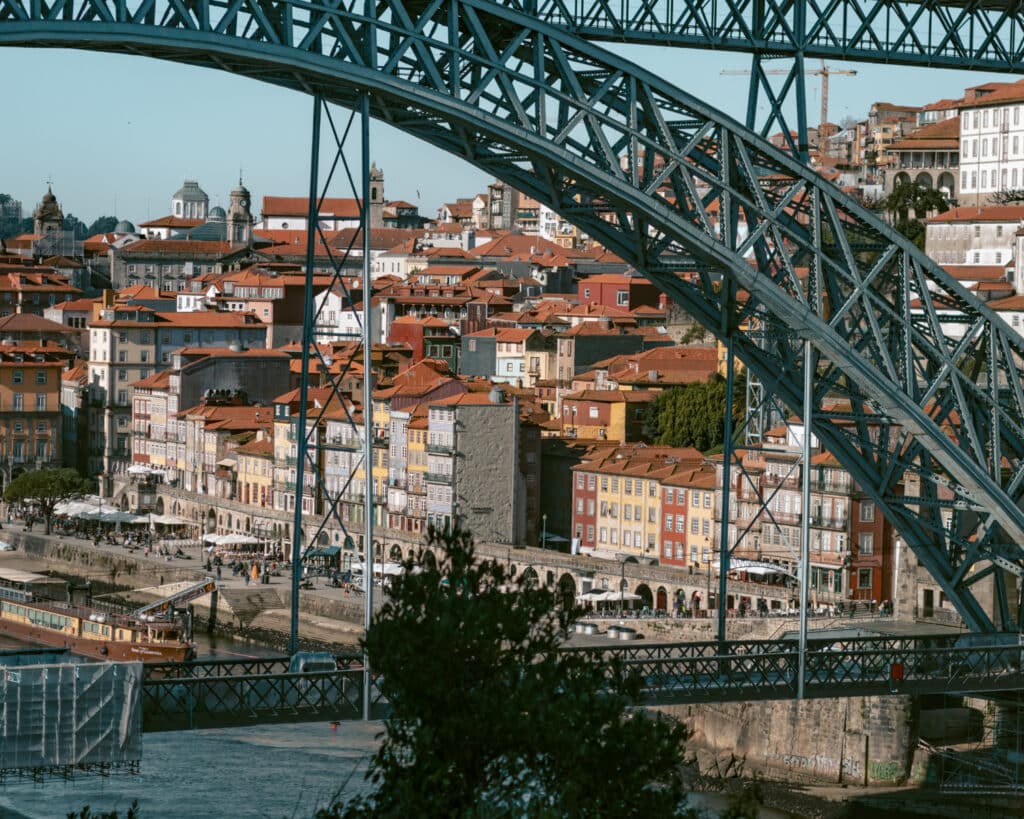 Another must when spending 2 days in Porto is the Dom Luis I Bridge. This is Porto's most iconic bridge. Built in3 1880, this immense steel structure spans the Douro River and offers incredible panoramic views of both river banks. 
Walk across the upper deck for a great view of the city skyline, or take the steps or railway down to the lower pedestrian walkway for an up-close look at its intricate design. Be sure to take some time to enjoy a stroll along the waterfront on either side of the bridge – it's one of the best spots in Porto!
Cruise The River
A great way to take in the beauty when spending 2 days in Porto is by taking a river cruise. This leisurely boat trip will showcase the city's impressive architecture and historical sites, such as the Dom Luis I Bridge and Se Cathedral. 
You can even hop off at one of the stops along the banks to explore places like Vila Nova de Gaia and take in some famous port wine lodges. Escape from the hustle and bustle of everyday life, listen to tranquil music, or lounge on deck under a blanket of stars for an unforgettable two days in Porto!
Tour Porto's Churches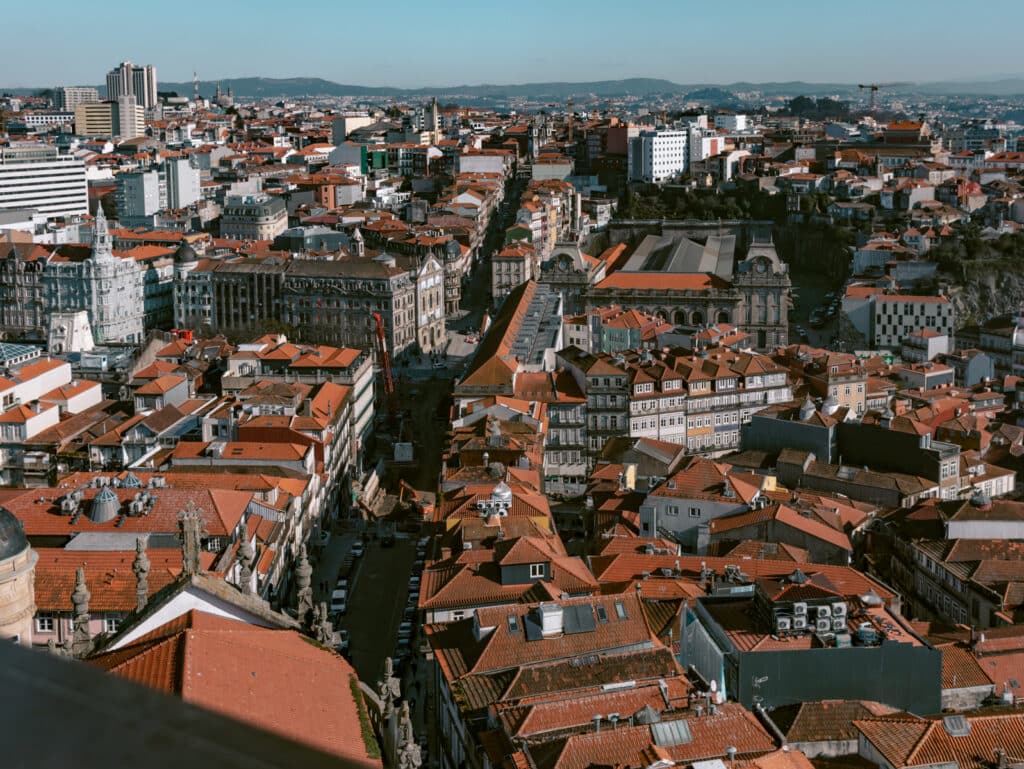 Several churches in Porto make it an ideal spot for those interested in experiencing some of Portugal's finest religious architecture. Take a leisurely stroll through the city to admire its grandeur, or go on a guided tour to learn about the history and stories behind these awe-inspiring structures. 
Start with a tour of Sé do Porto, the oldest church in the city. Admire the intricate stonework and look out for relics and artifacts! 
Once you're done admiring it, head to São Francisco Church for an interior that will take your breath away. 
Afterward, visit Clérigos Church – climb up its bell tower for panoramic views! 
Before you leave, check out Igreja do Carmo for its fantastic Baroque architecture. These churches are an essential part of any 2 day trip to Porto.
Do Port Wine Tasting In Porto
One of my favorite things to do in Porto in 2 days was wine tasting.  A popular activity for visitors as well. Experience the city's rich wine culture by participating in a Port wine tasting. Here are some of the best places to do a Port wine tasting in Porto:
Sandeman: Founded in 1790, Sandeman is one of Porto's oldest and most well-known Port wine houses. Visitors can take a guided tour of the Sandeman cellars and participate in a Port wine tasting.
Cálem: Established in 1859, Cálem is another popular Port wine house in Porto. The Cálem cellars in Vila Nova de Gaia, across the Douro River from Porto, offer daily tours and tastings.
Ferreira: Founded in 1751, Ferreira is one of the most historic Port wine houses in Porto. Visitors can tour the Ferreira cellars and participate in a tasting of their world-renowned Port wines.
Noval: Quinta do Noval is a well-known producer of fine Port wines, and visitors can tour their vineyards and cellars and taste some of their award-winning Port wines.
Visit The Azulejo Buildings And Architecture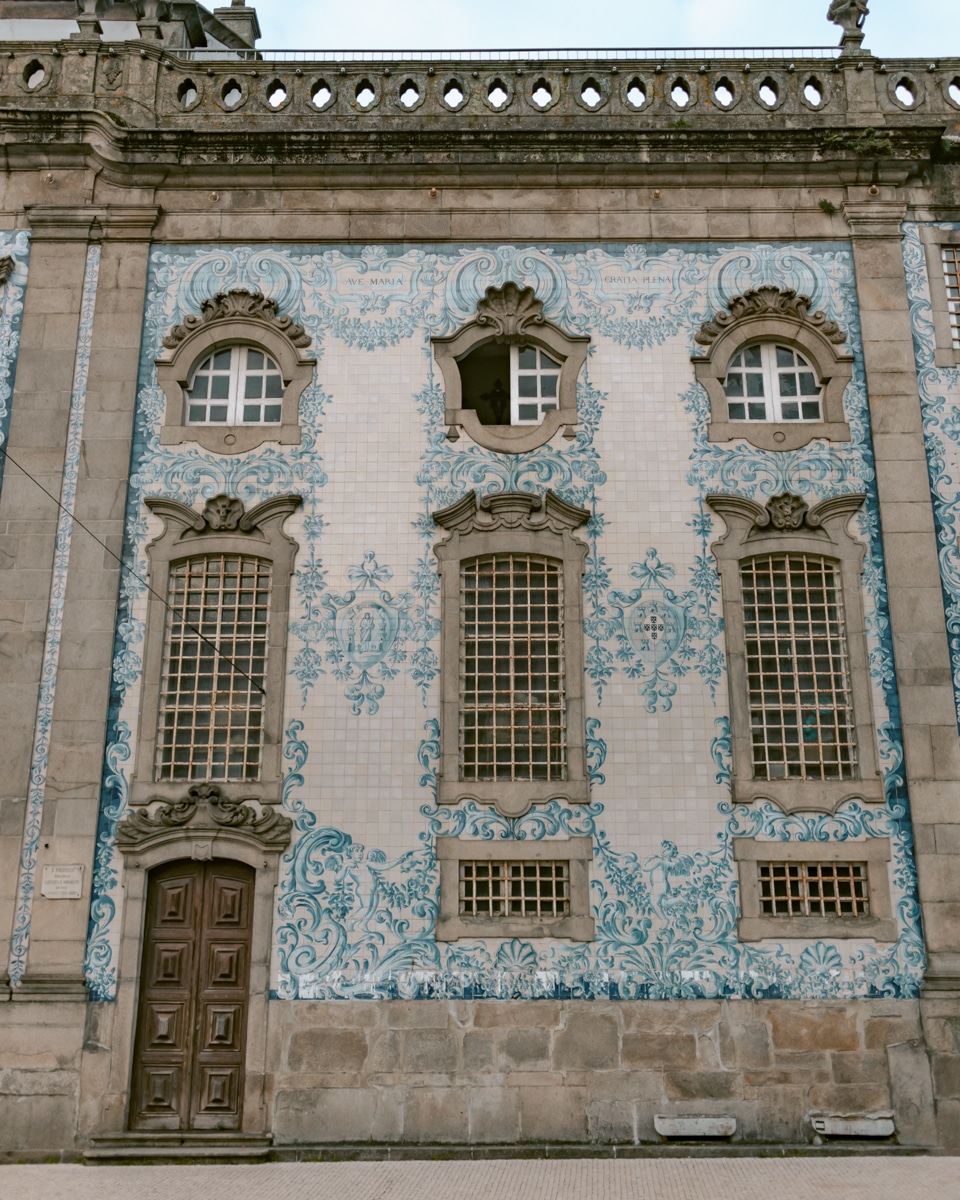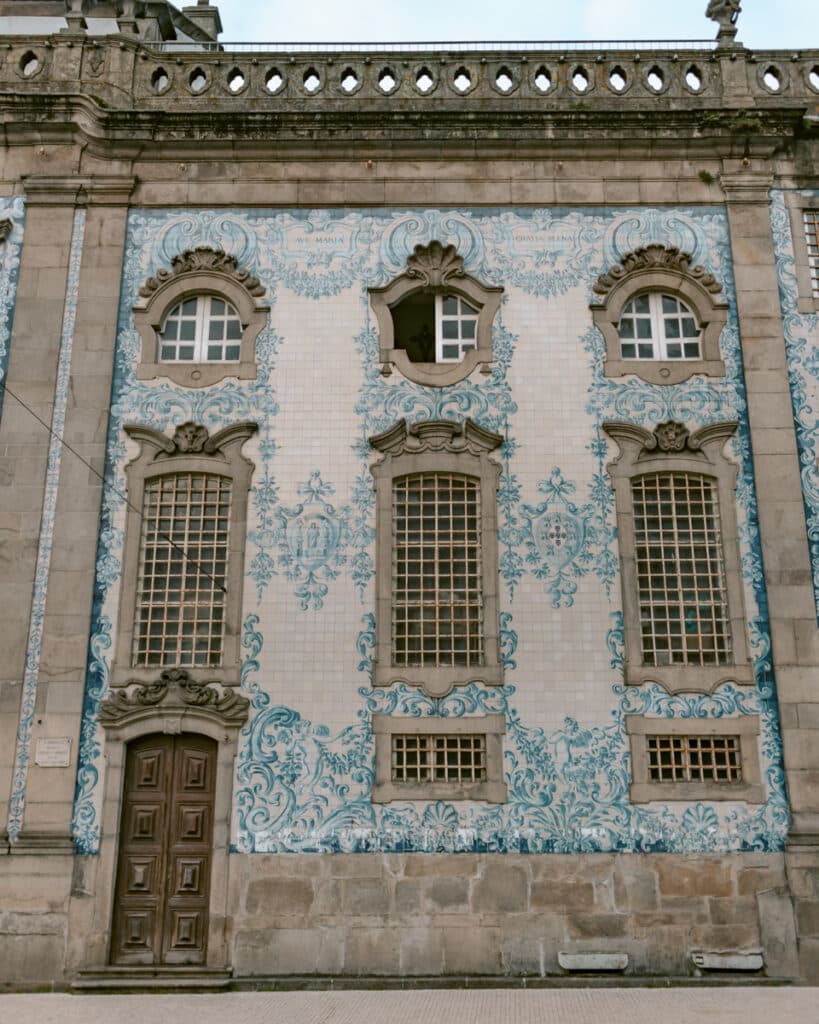 If you really want to see something unique in Porto in two days, hit up some of the city's most stunning Azulejo buildings and architecture. 
Igreja do Carmo, Chapel Of Souls, and Igreja Paroquial de Santo Ildefonso are three must-see spots for any art enthusiast. 
These iconic places will awe you with their exquisite stylings and not to mention the centuries-old stories behind them. Stop by one (or all!) of these landmarks to get a feel for Porto and its amazing history!
Related post: Where To Find Azulejos In Porto
Shop Local At Mercado do Bolhão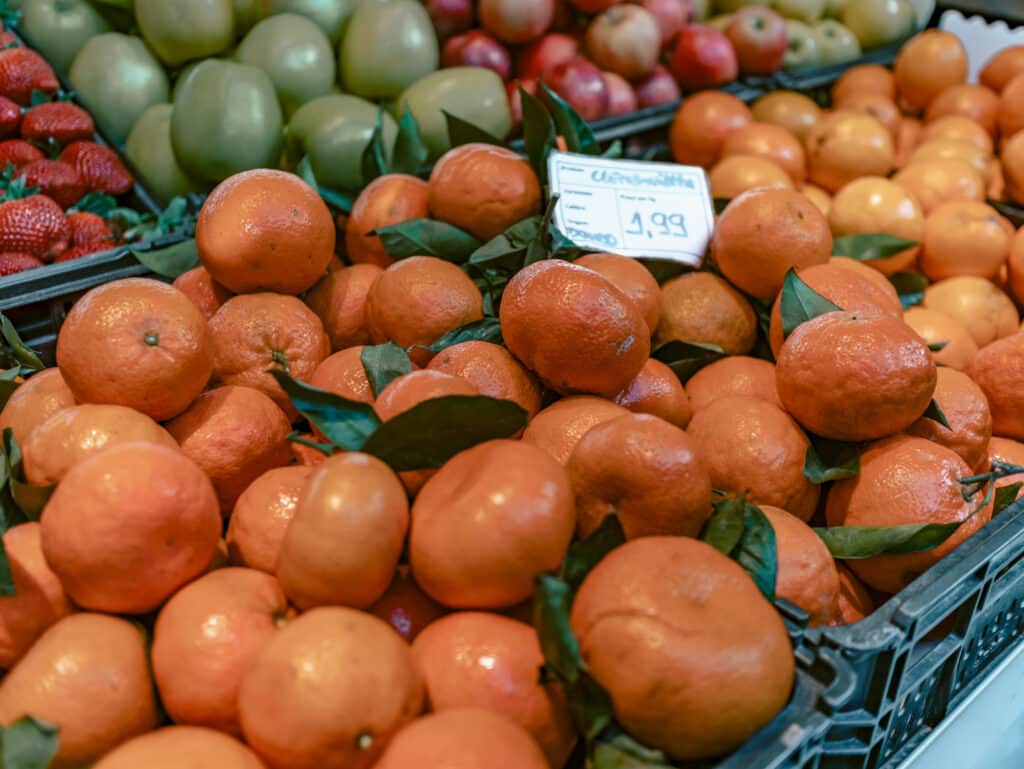 To taste local life in Porto, visit Mercado do Bolhão. This indoor market has been around since 1839 and is among the city's most popular attractions. 
Here you will find everything from fresh produce to cured meats and hot-smoked sardines – ideal for sampling some authentic Portuguese cuisine in town. Explore the stalls, pick up some souvenirs, or people-watch – this bustling spot will surely provide an enjoyable 2 days in Porto!
Stroll Rua de Santa Catarina
Rua de Santa Catarina is a vibrant street running through Porto's heart. This lively pedestrian-only zone is filled with shops, cafes, and restaurants, making it an ideal spot to spend time in town. 
Shop for souvenirs or try some traditional Portuguese dishes before enjoying a leisurely stroll along this colorful avenue – one of the best ways to experience Porto in 2 days!
Love food? Walk the city while sampling the cusine and wine of Porto with a local on a food tour.
Visit Palacio da Bolsa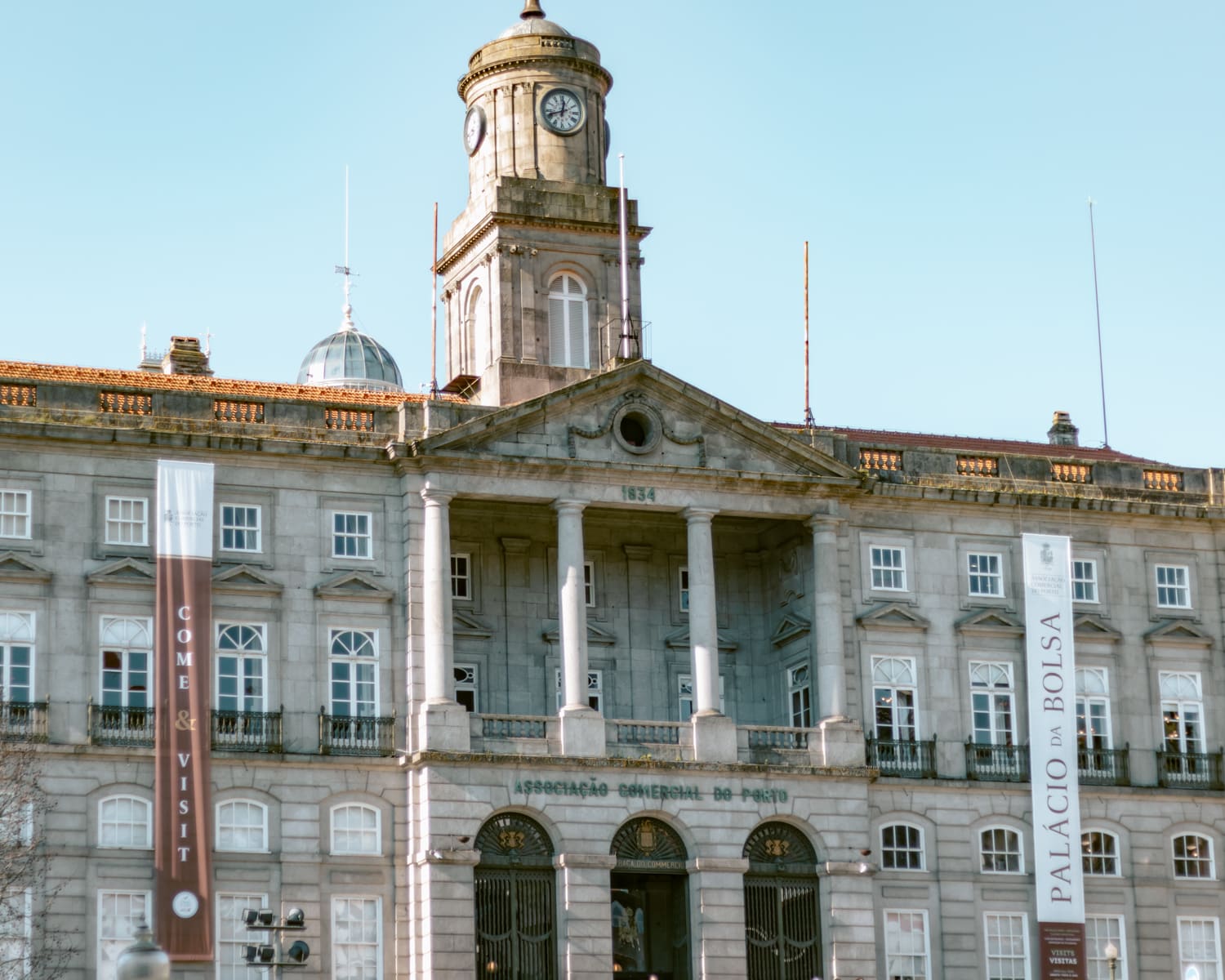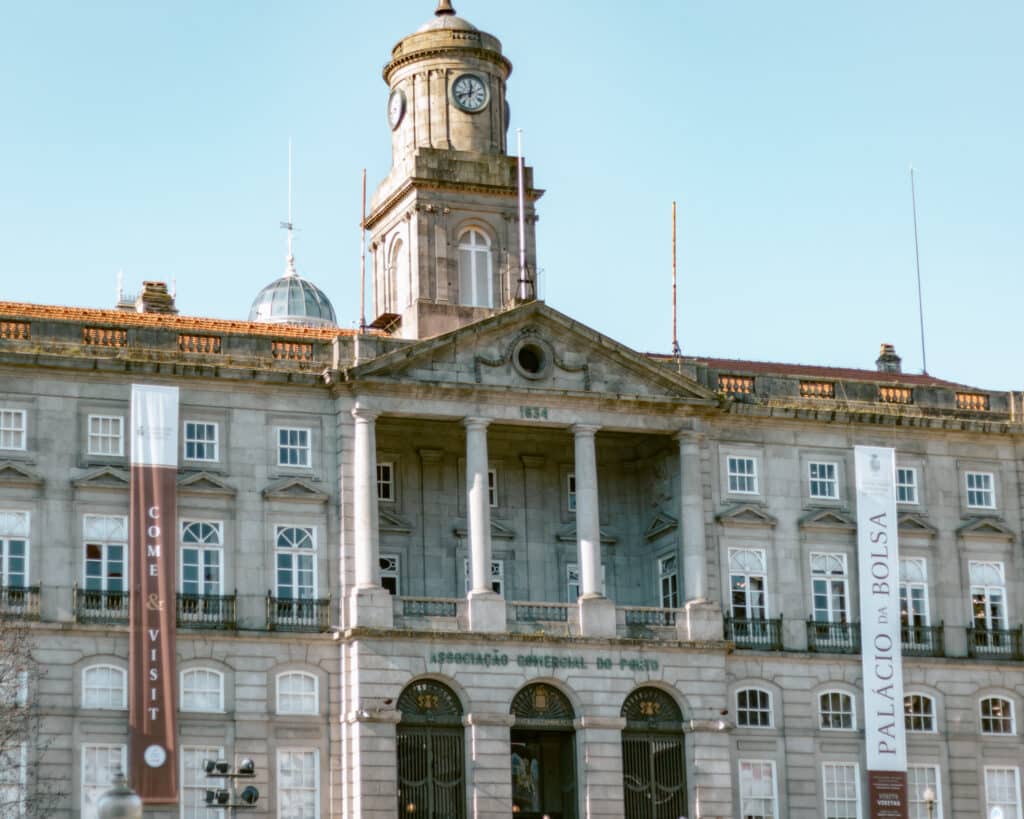 Another must-see added to this 2 day Porto itinerary is Palacio da Bolsa. This stunning palace is the former home of the Portuguese Stock Exchange and boasts impressive neoclassical architecture with its grand marble staircases, statues, and intricate ceiling frescoes. 
Explore this national monument, as it will undoubtedly leave you in awe! Moreover, you can plan a guided tour to visit Palácio da Bolsa to take in its incredible beauty. As one of Porto's must-see monuments, it's an experience that you won't forget.
Ride A Cable Car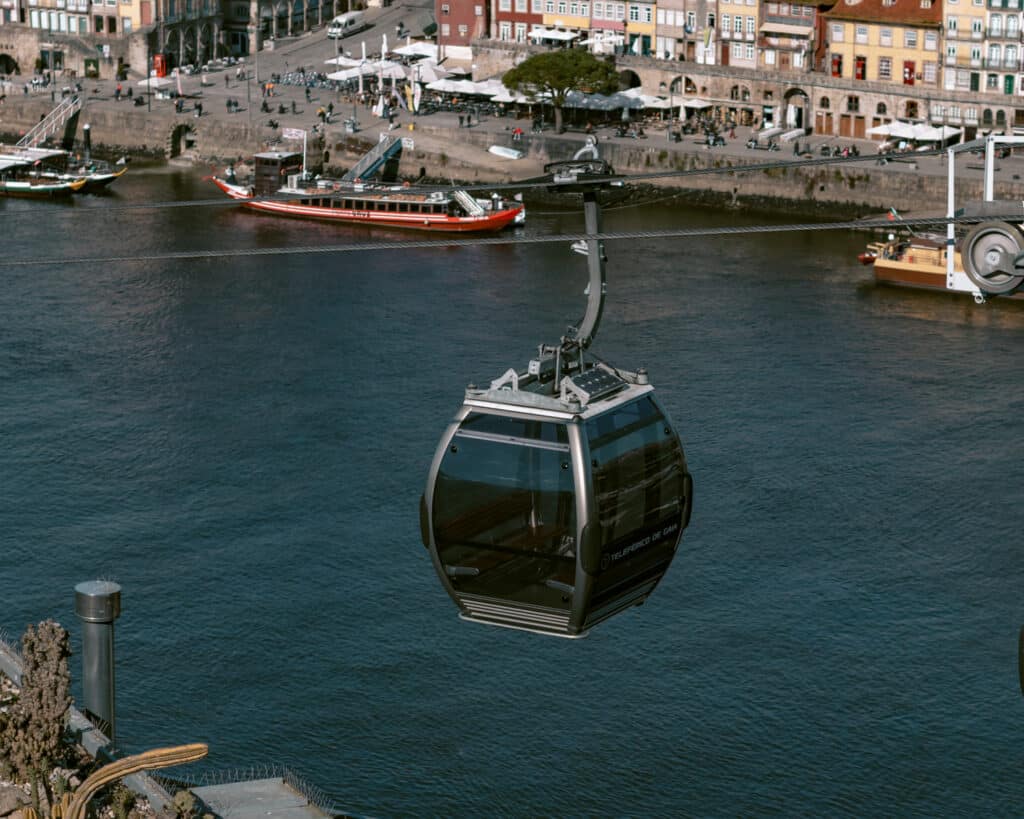 For an incredible view of Porto, hop on the cable car at Massarelos and enjoy a scenic ride up to Monte de Serralves. The views from the top are breathtaking as you can admire the entire city from above. 
This is one of the best ways to end your two days in Porto – take in the stunning landscape and relax after a busy day of sightseeing!
Staying longer than 2 day in Porto? Consider a Douro wine tasting tour.
Buy A Book At Livraria Lello
If you're wondering what to see in Porto in 2 days,  Livraria Lello should be added to your list. This is one of Porto's most iconic bookstores and has been visited by authors such as J.K Rowling and Ernest Hemingway. 
Explore the magnificent interior with its stunning wooden staircases, stained glass windows, and murals – it is a sight to behold! Moreover, if you're lucky enough to visit on special days, there may even be live music performances in store for you. 
If books are your thing, this is the perfect place to pick up a few souvenirs during your two-day Porto trip!
Related post: Portugal Instagram Captions
Watch A Sunset At Jardim do Morro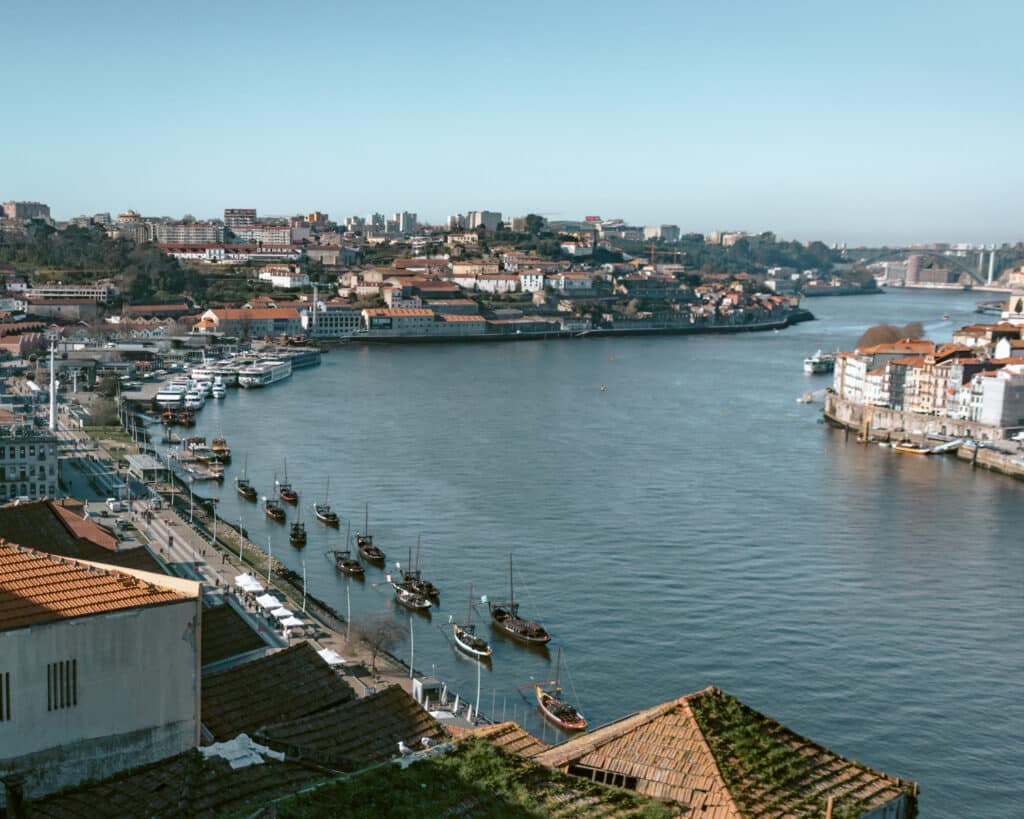 One of the best ways to end your two days in Porto is with a perfect sunset at Jardim do Morro. This garden overlooks the Douro river and offers spectacular views of the city skyline. 
Sit back, relax, and enjoy one last drink as you take in the beauty of this enchanting place. What better way to cap off your trip than watching an unforgettable sunset over Porto?
Take A Food Tour
Foodies rejoice! Porto is home to a tantalizing array of flavors. From the classic Francesinha sandwich to the local specialty trips à moda do Porto, this city is not only known for its port wine but also its delicious gastronomy. 
Take a food tour and sample some of the best Porto foods this region has to offer. Indulge in freshly caught seafood, devour a pastel de nata, and try some of the unique port wines this city is well-known for.
 Take A Day Trip From Porto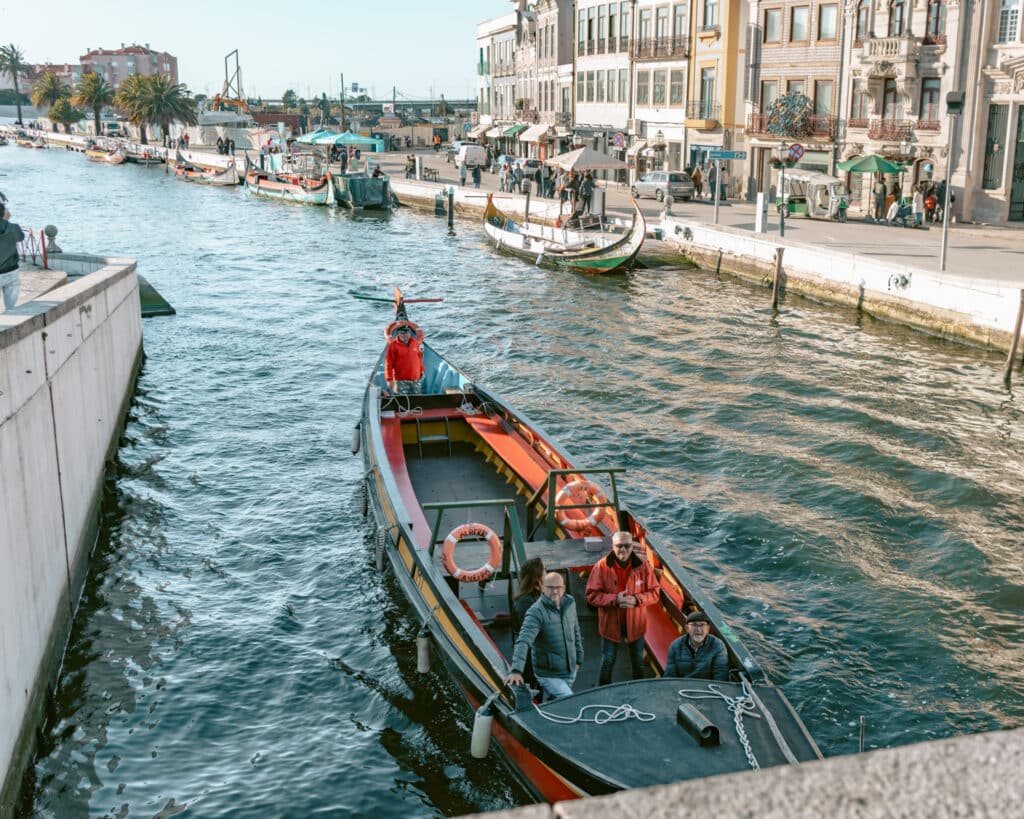 If you have extra time, why not take a day trip from Porto? Visit Aveiro to explore its canals or Santiago de Compostela to see the gorgeous Galician city. Valença is just a stone's throw away and offers stunning views of the Minho mountains and river, while Matosinhos boasts plenty of delicious seafood restaurants to sample. With so much on offer in the surrounding area, why not make time for an excursion while in Porto 2 days?
Related post: 16 Day Trips From Porto
How To Get To Porto?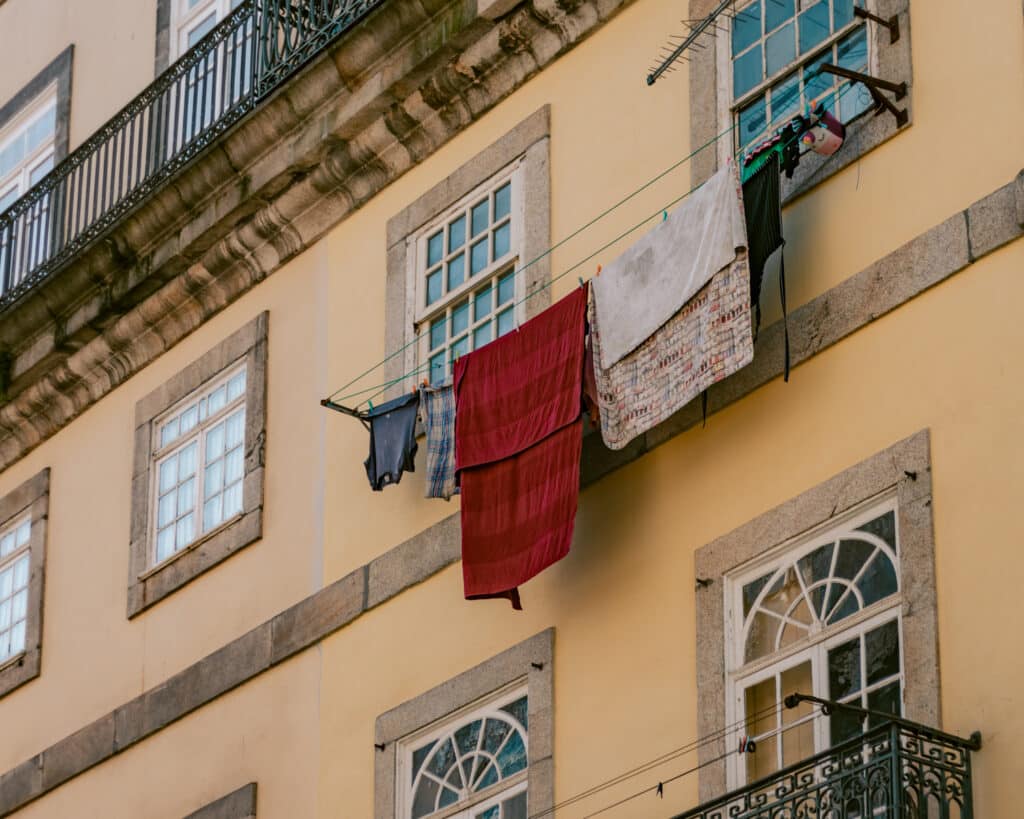 By Train
If you're traveling from within Portugal, the best way to get to Porto is by taking a train. The central station, Sao Bento Station, is conveniently located in the city center and directly connects to cities such as Lisbon, Coimbra, Braga, and Guimaraes.
By Car
Porto is easily reachable by car from cities such as Lisbon (3-4 hours), Coimbra (2-3 hours), or even from Spain. You can also rent a car directly in Porto, allowing you to explore the surrounding area at your own pace.
By Plane
If you are arriving to Porto from the United States or another country you can fly into their airport. Flying into the city you won't have to worry about driving from another city and can utilize your full 2 days in Porto. You can get to your accommodation stress-free using a transfer.
When To Visit Porto?
Porto is one of the most picturesque cities in Portugal, full of exciting sights and sounds. Each season has its unique charm, but spring and summer are the perfect times for those ready to explore the best Porto offers. 
From April to June, temperatures soar, making outdoor activities like strolling along the Douro River or visiting the city's stunning houses pleasurable. 
In July and August, days are even longer, allowing more time to explore all Porto offers. Whether you fancy exploring the cobbled streets of Old Town or sampling Porto's famous port wine, there's something for everyone at any time of year – but when visiting Porto, why not make it extra special by going during spring and summer?
Where To Stay In Porto
Mid Range:
The Bloom House offers a home away from home in enchanting Porto. It's the ideal choice, providing 65 well-located apartments with the city's original aesthetics preserved. 
Tastefully renovated, you'll love being welcomed with all the comforts of home. Experience what so many have come to adore about this beautiful Portuguese city. The Bloom House is ideal for spending days in Northern Portugal's beautiful capital city!
Luxury:
Yeatman:
The Yeatman is the ultimate definition of luxury and glamour. This world-renowned wine hotel and spa is located in the heart of Porto, a UNESCO World Heritage city. With its two Michelin Stars, it's no surprise this hotel has become the best in Porto – providing guests with a unique stay surrounded by beautiful views over the Douro River and majestic hills populated by Port wine lodges. 
When guests enter The Yeatman, they are immediately immersed in unparalleled classic luxury. On top of that, they will also have access to sparkling infinity swimming pools indoors and outdoors while soaking up the stunning 7 acres of lush land.
InterContinental Porto:
The InterContinental Porto is an exquisite 5-star hotel in the center of Porto that offers breathtaking views of the iconic Avenida dos Aliados. 
With its convenient location, guests have easy access to several major attractions and can get lost in the beauty of this unique Portuguese city. 
Formerly known as Palacio das Cardosas, the building has been transformed into a luxurious hotel that continually provides memorable experiences.
Maison Albar Hotels Lie Monumental Palace:
Maison Albar Hotels Lie Monumental Palace is an exceptional experience where guests can blend in with Porto's high society. This 5-star hotel is located in the city's heart and was once the most famous café in Porto since 1930. 
With its sophisticated services and amenities, guests can indulge in the lavish accommodation and first-class services expected from a member of Leading Hotels of the World. Guests will be captivated by luxury at Maison Albar Hotels Lie Monumental Palace, where they become part of history.
You can check out the map below from booking.com to find accommodation within your budget. 
How To Get Around Porto?
The easiest way to get around with this Porto 2-day itinerary is by walking. It is a very walkable city as long as you are wearing comfortable shoes. 
If you prefer not to walk you can take the public buses, which provide frequent and affordable services throughout the city. Alternatively, you can take advantage of the metro system, which comprises four lines and covers most of the main attractions in Porto. 
Those wishing to explore further afield can opt for a rental car, allowing them to discover more of Portugal's hidden gems. 
Finally, you can also opt for a ride share which was reasonably priced when I ventured farther than my feet could take me.
2 Days In Porto Itinerary Final Thoughts
Porto is a charming city with lots to see and do. This 2 days in Porto itinerary will help you make the most of your time in this wonderful place. Be sure to try some delicious food, walk along the river, and visit one of the many museums or art galleries. Planning allows you to fill two days in this lovely city. Have you been to Porto? What did you think? 
Check out these other posts on Portugal:
Like this post on 2 days in Porto itinerary? Share it with others or pin it for later!