Have you ever found yourself daydreaming of a place where scenic waterways intertwine with colorful buildings and rich cultural stories? You might be thinking of Aveiro, often called the 'Venice of Portugal'. If you're pondering the enchanting question of what to do in Aveiro, you're about to embark, oops, I mean to set off, on a delightful journey filled with local secrets, age-old traditions, and breathtaking sights. Let's delve into this charming city's offerings without further ado!
This article may contain affiliate / compensated links. For full information, please see our disclosure here.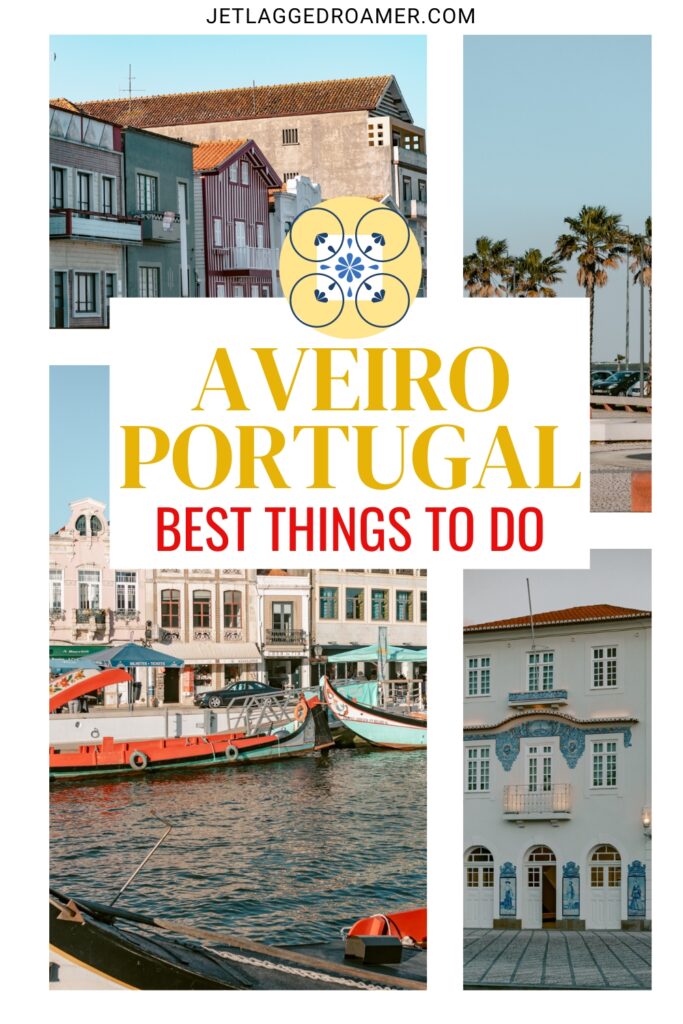 Heading To Portugal? Check out these other posts to help you plan your visit: 
What To To Do In Aveiro: Things To Know Before You Visit
Before we begin our journey on what to do in Aveiro, here's a list of things to know before visiting Aveiro:
Moliceiro Magic: These aren't your average boats. Aveiro's traditional "moliceiro" boats, once used for harvesting seaweed, now offer scenic rides through the city's canals. But, heads up! Some of them sport cheeky paintings, so you're in for a giggle.
The Salty Side of Life: Aveiro's salt pans are more than just picturesque landscapes. They're an integral part of the city's history and economy. Bring a hat and soak in those views!
Artisanal Aveiro: If you're a fan of unique keepsakes, traditional Azulejos, the iconic painted ceramic tiles, are a must-buy. Hey, who doesn't love a bit of artsy action?
Tummy Love: You can't visit Aveiro without trying "ovos moles". These egg yolk and sugar treats might just become your new favorite thing. But remember, moderation is key. Or is it?
Talk the Talk: A little Portuguese can go a long way. Simple phrases like "Obrigado" (thank you) or "Bom dia" (good morning) can earn you some warm smiles.
Beach Vibes: Costa Nova, a short trip from Aveiro, boasts sandy beaches and striking striped houses. Perfect for those "wish you were here" postcard moments. Or, you know, Instagram.
Museum Moments: The Museum of Aveiro offers deep dives into the city's history and religious importance. And who doesn't like a little knowledge sprinkled onto their travels?
Walking Shoes Are a Must: The city is best explored on foot, allowing you to appreciate the intricate details and alleyways fully. So, pack comfy shoes. Your feet will thank you!
Cultural Nuances: Aveiro hosts a series of festivals in January, including the famous São Gonçalinho. Check local listings to ensure you don't miss out on fun festivities during your visit.
Weather Wise: Aveiro has a maritime climate, with mild temperatures year-round. A light jacket for evenings and occasional rain showers will serve you well.
Is Aveiro, Portugal, Worth Visiting?
Aveiro affectionately called the "Venice of Portugal," is unquestionably a destination worth adding to your itinerary. While it's perfect for an afternoon or a full-day jaunt from Porto, it is a delightful experience. 
The city's intricate canals and traditional "moliceiro" boats offer a serene maritime charm distinct from the urban hustle of Porto or Lisbon. Moreover, for travelers who are budget-conscious, Aveiro shines as an attractive choice. Not only does it provide a more affordable accommodation landscape compared to its larger counterparts, but it also serves as an ideal base for exploring Portugal's enchanting West Coast. 
In essence, Aveiro is a blend of cultural richness, scenic beauty, and cost-effectiveness, making it a splendid alternative for a genuine Portuguese experience.
How To Get To Aveiro From Porto
If you're looking to take a Porto from Aveiro day trip without breaking the bank, the urban train is your best bet. Here's a step-by-step guide to ensure a smooth trip:
Begin your journey from either the iconic Sao Bento Station or the well-connected Campanha Station in Porto.
Next, you need to purchase a ticket. It's simple. Head to the counter or one of the self-service kiosks. You'll need to buy a Siga card for €0.50 (it's reusable!) and then purchase a title, which is essentially your ticket for the journey to Aveiro.
Here are a few train details: 
Route: Urban train from Porto Sao Bento Station straight to Aveiro Station.
Duration: Approximately 1 hour and 20 minutes.
Frequency: There's pretty decent frequency, with about 1 or 2 trains running per hour.
Cost: The ticket price is €3.55. Don't forget the initial €0.50 for the Siga card.
Timings: For a detailed train schedule, pop over to the Comboios de Portugal website.
Some pro tips to know:
Reuse & Recycle: Hold onto that Siga card! It's reusable and will come in handy for your return trip or other train adventures.
Validation is Key: Before hopping onto the train, make sure to validate your card. It's a crucial step to avoid any travel hiccups.
Interested in day trips during your visit? See other beautiful cities to explore in Portugal and check out my day trips from Porto guide. 
How Many Days Should I Spend In Aveiro, Portugal?
There are many things to do in Aveiro. Aveiro offers a range of attractions that can be tailored to different durations of stay. The number of days you should spend in Aveiro depends on what you hope to achieve, but here's a general breakdown:
1. Short Visit (1 Day):
Morning: Take a leisurely "moliceiro" boat ride through the city's canals to acquaint yourself with the cityscape.
Afternoon: Wander the city, admiring the Art Nouveau buildings and visiting the city's main squares. Indulge in a delightful "ovos moles" treat from a local bakery.
Evening: Head to the fish market or a local restaurant to savor fresh seafood.
2. Extended Stay (2-3 Days):
Day 1: As outlined in the short visit above.
Day 2: Explore the salt pans and learn about Aveiro's salt production history. Visit Costa Nova to witness the striped houses and enjoy the beach. In the evening, dine at one of the canal-side restaurants.
Day 3: Dive into Aveiro's culture by visiting the Museum of Aveiro or the Vista Alegre Museum. Spend the afternoon shopping for traditional Azulejos (tiles) or other artisanal crafts.
3. Comprehensive Experience (4-5 Days):
Incorporate all of the above activities and add day trips to nearby areas. Explore the São Jacinto Dunes Natural Reserve or head to other nearby towns like Ílhavo or Barra. You'll also have the luxury to revisit spots that intrigue you and truly immerse yourself in the local culture.
Remember, Aveiro can be a relaxing escape from the busier Portuguese cities, so the pacing is up to you. 
Related post: Portugal Instagram Captions
Where To Stay In Aveiro
With its charming canals and picturesque architecture, Aveiro offers a range of accommodation options suitable for various budgets and preferences. Whether indulging in a luxurious getaway or seeking a cozy spot as a budget traveler, Aveiro has got you covered. Here are some of the best hotels in Aveiro to stay. 
Hotel Aveiro Palace is nestled in the heart of Aveiro, Hotel Aveiro Palace stands as a symbol of luxury. With elegantly designed rooms, top-notch amenities, and views overlooking the central canal, this hotel promises a grandeur stay. Perfect for those looking to indulge in a lavish experience, the Hotel Aveiro Palace offers impeccable service, a sumptuous breakfast spread, and proximity to the city's main attractions.
Hotel Aveiro Center is a harmonious blend of comfort and value and provides a warm ambiance for its guests. Its central location ensures easy access to Aveiro's iconic spots, making it an ideal explorative base. The rooms are tastefully decorated, offering modern amenities and a cozy stay. Whether you're a solo traveler or with family, this hotel balances affordability and comfort.
Aveiro Rossio Hostel is a haven for backpackers and budget travelers. This hostel offers a vibrant and friendly environment. With its quirky decor and friendly staff, guests are bound to feel right at home. Situated close to the Rossio area, this hostel places you right amid Aveiro's bustling life. Besides dormitory options, it also provides private rooms for those seeking more privacy. The communal spaces encourage interaction, making it a great spot to meet fellow travelers and share tales of adventures.
To get an idea of all the hotels within the area within my budget, I use booking.com.
Related post: Where To Stay In Porto
Top 14 Things To Do In Aveiro
Cruise On Aveiro's Canals: Navigating the Venice of Portugal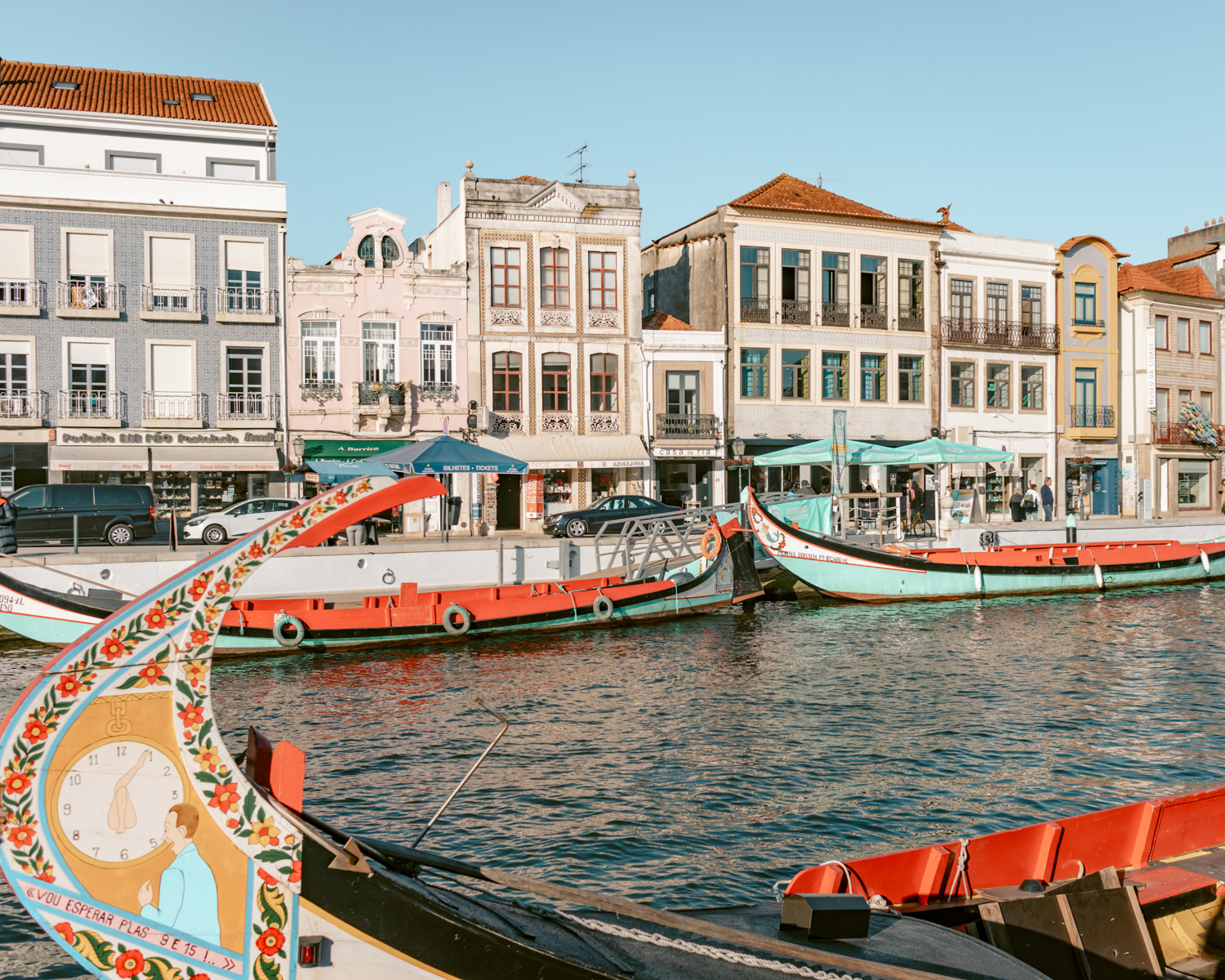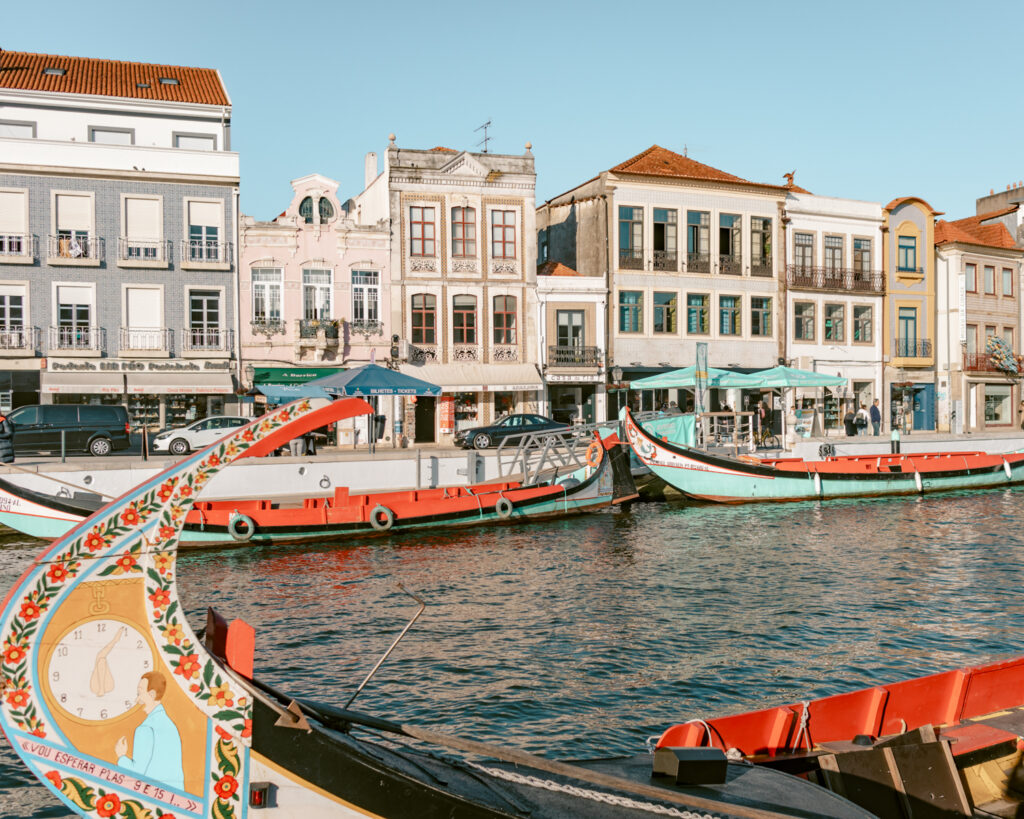 Embarking on a cruise through Aveiro's intricate canals is like navigating the "Venice of Portugal." Take an Aveiro boat ride and drift on traditional Moliceiros, colorful and elongated boats adorned with vibrant paintings. This is one of the best things to do in Aveiro to experience a genuine taste of the city's charm. 
Once employed for seaweed harvesting, these boats now float past Aveiro's striking Art Nouveau buildings, age-old salt pans, and bustling squares. Beyond just historical insight, the canals, bordered by lush marshes and salt flats, paint a serene natural backdrop rich with local birdlife. 
For any visitor, a canal cruise in Aveiro isn't merely a ride but an immersive journey into the heart of the city's heritage and natural beauty.
Mosteiro de Jesus: Aveiro's Historical Jewel
The Mosteiro de Jesus in Aveiro, constructed between the 15th and 17th centuries, is renowned for associating with Joanna, Princess of Portugal. Unable to take convent vows due to her royal status, she led a humble life here and later bequeathed her estates to the convent. 
Recognizing her virtuous life, she was beatified in the 17th century. Her intricately crafted tomb in the convent is a significant attraction. The church's interior, adorned with exquisite floor tiles and gilded woodcarving, is a testament to the era's craftsmanship.
Museu de Aveiro: A Glimpse into the Past
If you're not sure what to do in Aveiro for history lovers, touring this monastery and museum is a must-do for these enthusiasts and heritage lovers. It's an ideal spot to immerse oneself in Portuguese sacred art. 
The museum seamlessly blends contemporary architecture with the ancient edifices of the Convento de Jesus. The artifacts are meticulously preserved. The cloister narrates tales of past chapels, serving as an introduction to the museum's extensive collection.
Tour Moliceiro: A Traditional Voyage Through Aveiro's Waters
A trip to Aveiro isn't complete without experiencing a Moliceiro tour. Moliceiros are Aveiro's traditional, slender boats, recognized for their vibrant hues and intricate hand-painted designs, often depicting local legends and scenes from daily life. Originally used for harvesting seaweed from the lagoon, these boats have taken on a more touristic role today.
Cruising on a Moliceiro provides an unmatched view of Aveiro. As you meander through the city's intertwining canals, you're granted intimate glimpses of its Art Nouveau architecture, bustling marketplaces, and other iconic landmarks. 
The soft lapping of water, combined with the boat's gentle sway, sets a soothing tone, making the journey both enlightening and relaxing.
Every Moliceiro carries its own story, showcased through its unique hand-painted designs. Engaging with boat operators often leads to fascinating tales of Aveiro's history and the significance behind each boat's artwork.
Museu Marítimo de Ílhavo: Diving into Aveiro's Rich Maritime Heritage
Nestled a short distance away in Ílhavo, the Museu Marítimo is a testament to Aveiro's deep-seated maritime roots. During the dictatorship era, Aveiro emerged as a pivotal port for cod fishing in Portugal, and this museum brilliantly captures that epoch.
One of the highlights is an intricately crafted replica of the trawlers that once bravely journeyed to distant waters like Newfoundland in pursuit of the prized cod. Visitors are treated to an immersive experience, delving deep into the world of these fishermen. Learn the tools they employed, the challenges and camaraderie of life aboard, to the encompassing culture that revolved around this industry.
But the museum doesn't stop at cod fishing. It also sheds light on the vibrant ecosystem of the Aveiro lagoon, offering insights into the time-honored salt harvesting methods and the unique moliceiro vessels, a symbol synonymous with Aveiro.
In essence, the Museu Marítimo de Ílhavo doesn't just recount tales of the past; it introduces you to the heartbeat of a community shaped by the rhythms of the sea.
Explore the Rossio Area: A Glimpse into Aveiro's Art Nouveau Legacy
The Rossio area in Aveiro serves as a testament to the city's rich Art Nouveau heritage, particularly influenced by emigrants who, upon amassing wealth in Brazil, returned to Aveiro in the early 20th century. They expressed their affluence by erecting fashionable Art Nouveau residences.
Among these architectural marvels stands the Casa do Major Pessoa. Not only is it a stunning piece of Art Nouveau architecture with intricate wrought iron gates and balconies, but it now also houses the Art Nouveau Museum. 
Nearby, along the waterside, is the Casa dos Ovos Moles located at Rua João Mendonça 24 and 25. This residence boasts ornate balconies and a distinct gable featuring a curved window.
Venturing further on the same street, the Cooperativa Agrícola building, occupying numbers 5, 6, and 7, is another must-see. This structure captures attention with its exquisite tile work, adorned with intricate floral patterns.
Visiting the Rossio area is like stepping back in time, immersing oneself in the beauty and elegance of Aveiro's architectural renaissance.
Admire The Old Train Station: A Step Back in Time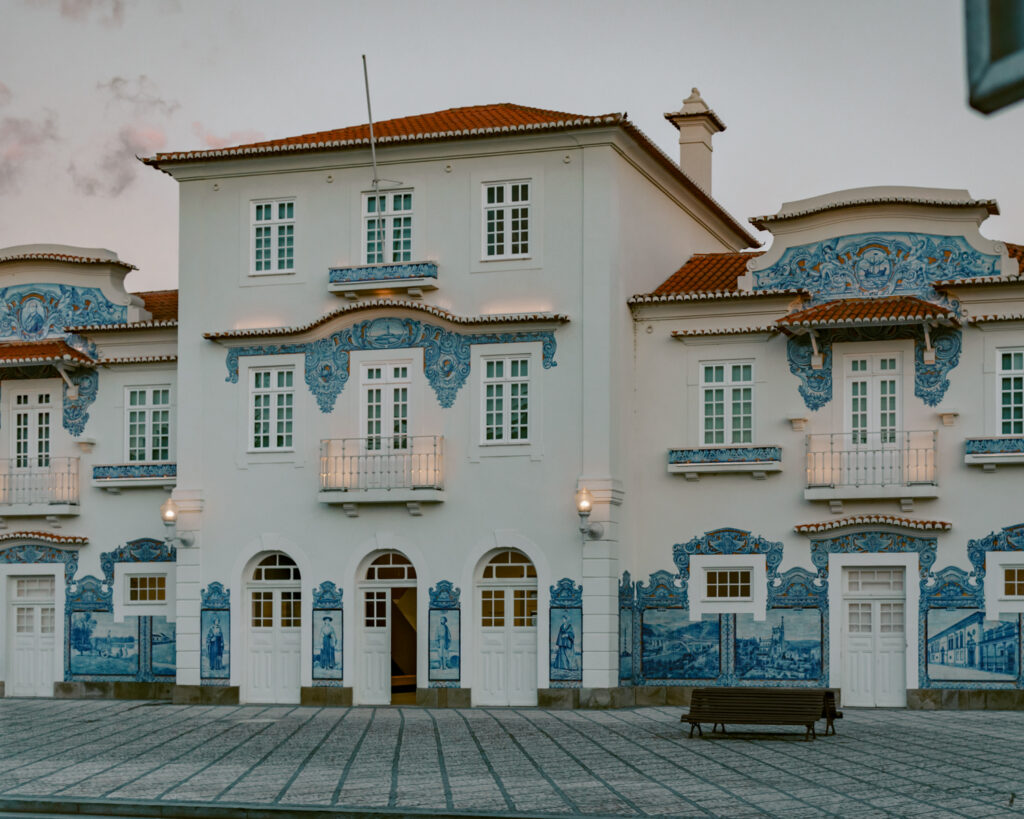 The city's rich history welcomes you when you approach Aveiro by train. It's an Aveiro must see attraction.  The old train station terminal, completed in 1916, starkly contrasts its modern counterpart, serving as an architectural reminder of the early 20th century. 
Its most striking feature is undoubtedly the blue azulejos – traditional ceramic tiles. Crafted at the Fábrica da Fonte Nova, these tiles beautifully illustrate scenes native to Aveiro and its surrounding areas.
From moliceiros (the city's iconic boats) and salt farms to depictions of locals in traditional attire and glimpses of the city's canals, the azulejos are a visual journey through Aveiro's vibrant past. Essentially, this station isn't merely a transportation hub but a living time capsule, capturing and preserving the essence of Aveiro as it was over a century ago.
If you enjoy these beautiful blue tiles, find out where to see azulejos in Porto here.
Forum Aveiro: More Than Just Shopping
If you're still not sure what to do in Aveiro, the forum Aveiro stands out as no regular shopping mall. Located by the canal, its architectural charm combines classical elements with contemporary flair. Two-story galleries with bridged passages overlook a lengthened central promenade, offering an ambiance reminiscent of historical streets. The center delights with rooftop cafes, providing panoramic views and green pockets perfect for summer picnics.
Shopping enthusiasts can revel in a diverse selection, from renowned brands such as Zara and Mango to popular Iberian favorites like Bershka, Oysho, and Pull & Bear. But it's not just about shopping. 
The food court boasts a plethora of dining options, catering to all tastes. Whether you're in the mood for a quick bite or wish to indulge in traditional Portuguese dishes, particularly those from the Serra da Estrela region, you're in for a treat. A cinema is available for movie buffs, completing the mix of entertainment and leisure. Forum Aveiro offers a harmonious blend of retail, culture, and relaxation, making it a must-visit when in the city.
Shop For Crafts: Delving into Aveiro's Artistic Soul
With its rich heritage and thriving arts scene, Aveiro is a haven for craft enthusiasts. One of the best things to do in Aveiro is strolling through its winding streets and shopping at the unique craft shops, each echoing the city's cultural legacy. 
Whether you're seeking intricate handwoven textiles, exquisite ceramics with traditional Azulejo patterns, or handcrafted jewelry inspired by the city's maritime history, Aveiro is sure to satiate your artistic cravings.
Local artisans take immense pride in preserving age-old techniques, ensuring that each piece you buy carries with it a fragment of Aveiro's soul. These crafts are not just items but stories – stories of the craftsmen, the city, and its vibrant past.
From delicate lacework and hand-carved wooden trinkets to innovative up-cycled creations, Aveiro's craft market is a delightful melange of the old and the new. Shopping for crafts here is more than a mere purchase; it's an experience, an intimate dance between tradition and contemporary artistry. So, as you wander through Aveiro, let your senses guide you to the hidden gems that await in every nook and cranny, waiting to be cherished and taken home.
Take A Trip To Costa Nova: A Blend of Oceanic Charm and Rich Heritage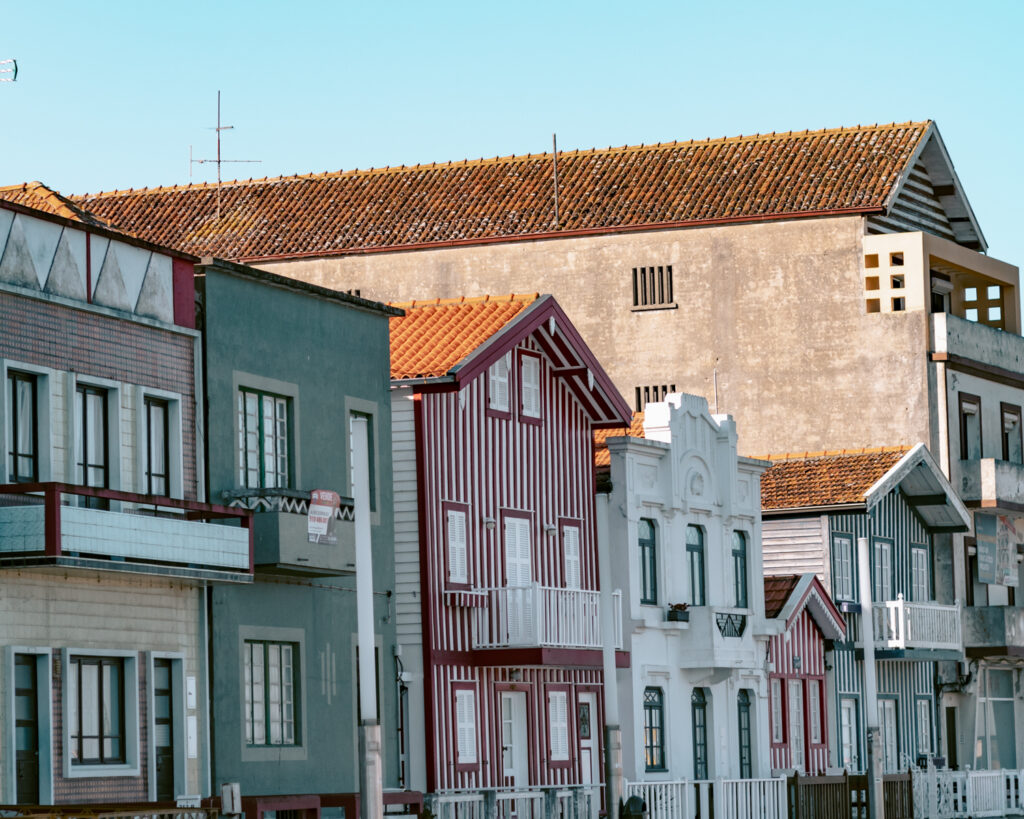 Not sure what to do in Aveiro that is unique? Nestled between the serene lagoon on one side and the vast expanse of the Atlantic on the other, the picturesque village of Costa Nova awaits exploration.
 Its location on a slender peninsula offers visitors unique coastal beauty. Originally a fishing village, Costa Nova's history is vividly portrayed in its quaint weatherboard cottages adorned with characteristic vertical stripes, hearkening back to a simpler time.
For seafood aficionados, the fishing market is an unmissable spot. Located on the Cais dos Pescadores, it promises a culinary experience like no other. Indulge in the freshest of seafood offerings, from whelks, crabs, and goose barnacles to lagoon-caught shrimp. Watch as your chosen delicacies are prepared right in front of you, offering an unparalleled taste adventure that's as fresh as it gets.
Admire The Ceramics: A Glimpse into Aveiro's Artistic Craftsmanship
In Aveiro, art isn't just confined to galleries or museums; it's also elegantly displayed in the delicate craftsmanship of its ceramics. Steeped in tradition, Aveiro's ceramic works showcase the region's rich cultural tapestry, drawing inspiration from its vibrant history, natural landscapes, and everyday life.
Wandering through local markets and specialized boutiques, visitors are treated to a splendid array of hand-painted tiles, ornate pottery, and intricate ceramic sculptures. The blue azulejos, reminiscent of the tiles at the old train station, stand out, narrating tales of the region with their detailed patterns and motifs.
These ceramics don't just serve an aesthetic purpose. They carry the heartbeat of Aveiro, with each piece reflecting the meticulous dedication of local artisans. From the earthy clays sourced from local soils to the rich glazes inspired by the hues of the Aveiro Lagoon, every element speaks of the city's deep-rooted connection to its land and heritage.
So, as you delve deeper into the artistic lanes of Aveiro, take a moment to appreciate the ceramic masterpieces, for they're not just objects but a testament to the city's enduring love for creativity and tradition.
Indulge in Ovos Moles: Aveiro's Sweet Legacy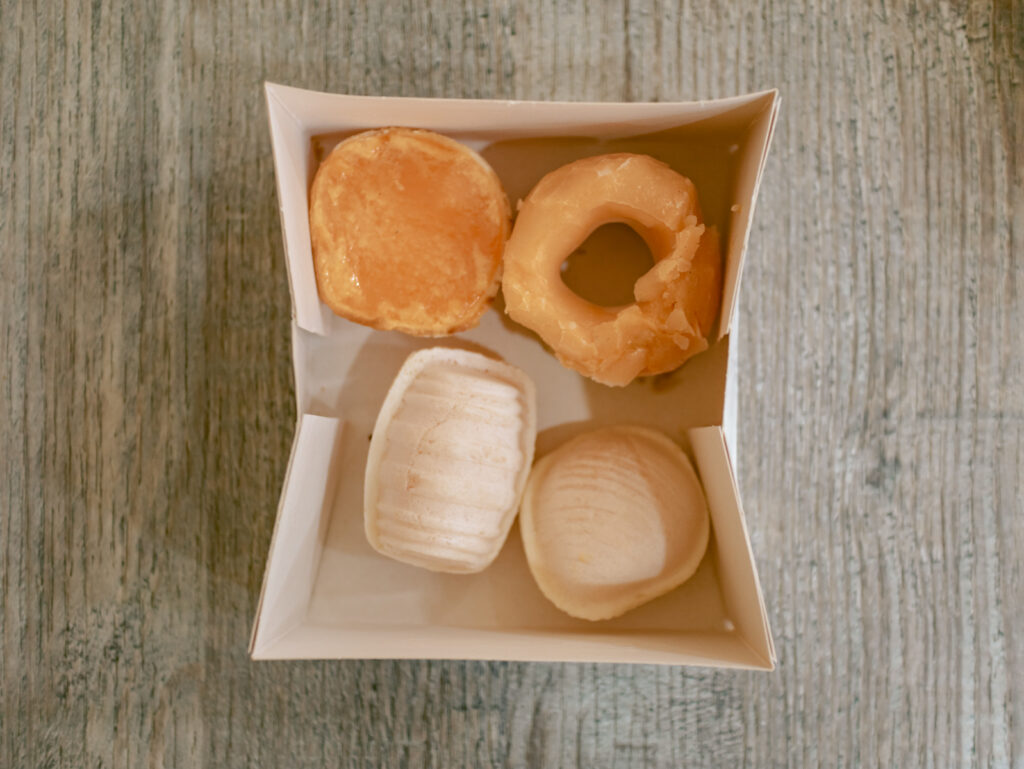 In a city renowned for its winding canals and iconic moliceiros, Aveiro's culinary heart beats sweetly to the rhythm of its cherished dessert, ovos moles. Translating to "soft eggs", these delicacies comprise a simple yet heavenly combination of sugared egg yolks. But the story of ovos moles is as rich as its flavor.
Dating back to times when soon-to-be-married couples gifted nuns in Aveiro's ancient convents eggs, these sweet treats emerged. With the closure of religious establishments, the secret recipes were shared with the locals, becoming an integral part of Aveiro's culinary tradition.
Yet, it's not just the taste that captures one's heart. Drawing inspiration from the city's close bond with the ocean and the bountiful shellfish in the Aveiro Lagoon, ovos moles are meticulously handcrafted to mimic the appearance of clam and whelk shells. This unique blend of history, artistry, and flavor makes indulging in ovos moles a must when in Aveiro. A bite is a treat and a journey into the city's rich past and love for its natural surroundings.
Related post: Porto Food Guide
Praia da Barra Lighthouse: A Towering Beacon of Aveiro
Not sure what to do in Aveiro that is unique? Dominating the backdrop of Praia Velha, the Praia da Barra Lighthouse stands as a sentinel, reaching a height of 62 meters and holding the title of Portugal's tallest lighthouse. 
Built in 1893, this architectural marvel served a vital purpose. The waters off Aveiro, treacherously shallow, posed significant risks to ships. Moreover, the looming presence of the lagoon could deceptively make the land appear more distant than it truly was.
It wasn't until nearly a century later, in 1990, that the lighthouse adopted automated operations. However, its legacy and charm remain intact. An adventurous ascent awaits if you find yourself in the vicinity on a Wednesday afternoon. By climbing its 271 steps, visitors are rewarded with a panoramic spectacle: a bird's-eye view of the shimmering lagoon, the picturesque Praia da Barra and Costa Nova, the cityscape of Aveiro, and the quaint communities of São Jacinto and Gafanhas. Truly, this towering beacon offers more than guidance; it offers a breathtaking glimpse into Aveiro's vast beauty.
Get Lost In The Streets: Aveiro's Labyrinth of Discovery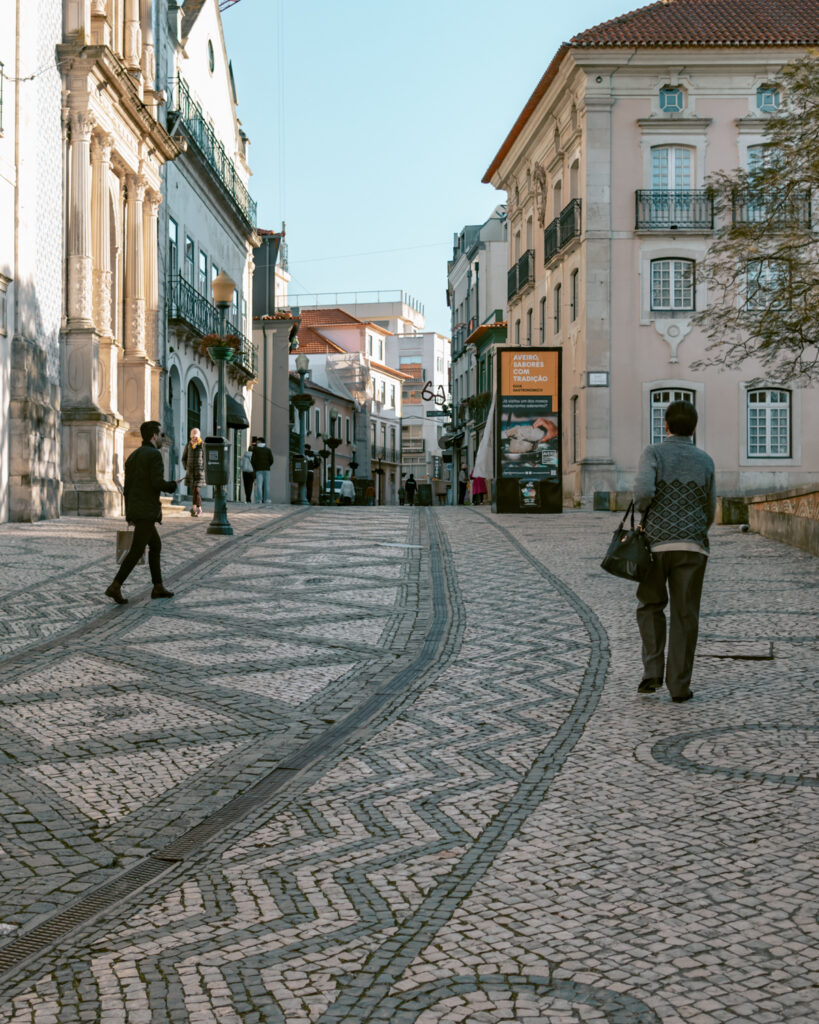 Venture into the heart of Aveiro, and you'll soon realize that the city's true essence isn't just in its prominent landmarks but also in its labyrinthine streets and alleyways. These winding paths beckon you to abandon the map, let go of pre-set itineraries, and simply immerse yourself in the spontaneous allure of exploration.
Every cobblestone, every corner, holds a story waiting to be discovered. From quaint cafes that have witnessed decades of whispered conversations and hearty laughter to vibrant murals that chronicle the city's evolving artistic spirit, the streets of Aveiro pulse with life and history.
Majestic trees cast dappled shadows on old-world houses, their walls echoing tales from bygone eras. Hidden courtyards reveal unexpected oases of greenery, while the occasional strains of a Fado song, Portugal's soulful traditional music, might waft from a distant window.
As you stroll, you'll encounter friendly locals eager to share their slice of Aveiro's narrative or exchange a warm smile. So, when in Aveiro, give yourself the gift of unhurried exploration. Let curiosity be your guide as you get lost in the streets, for the most treasured memories are often made in these uncharted wanderings.
What To Do In Aveiro Conclusion
Hope you found this post helpful for your visit to Aveiro, Portugal. Aveiro is more than just its picturesque canals and charming moliceiros. From its deep-rooted maritime history to the sweet allure of ovos moles, Aveiro promises a tapestry of experiences that weave together the old and the new, the natural and the cultural. 
Whether you're scaling the heights of the Praia da Barra Lighthouse, wandering through the vibrant streets, or relishing the tales of fishermen at the Museu Marítimo de Ílhavo, you'll find that there's no shortage of what to do in Aveiro, Portugal. 
So, as you chart your next adventure, let Aveiro beckon with its unique blend of tradition, beauty, and vivacity.
Interested in visiting Portugal? Here are some helpful posts to read for planning your trip: 
Like this post on what to do in Aveiro? Share it with others or pin it for later!