Wondering where to find the best azulejos in Porto? Porto is a charming and vibrant city in Portugal that is famous for its stunning architecture and beautiful landmarks. One of the most distinctive features of the city's architecture is its use of azulejos. Those vibrant blue tiles adorn many buildings and structures there. 
Let's explore where to find the azulejos in Porto. I have compiled this guide for the top places to find these Porto blue tiles. From historic churches and train stations to modern cultural venues, I will take you on a tour of Porto's best places to see azulejos. 
So, whether you're a tile enthusiast or simply looking to explore the cultural treasures of this fascinating city, read on to discover the wonders of azulejos in Porto.
This article may contain affiliate / compensated links. For full information, please see our disclosure here.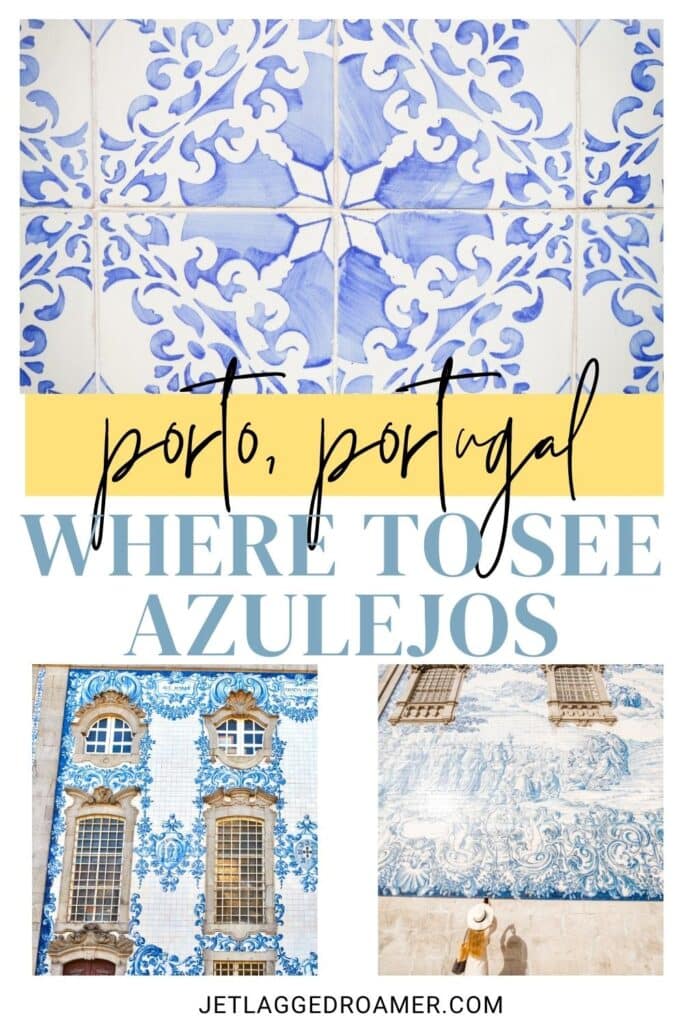 Visiting Porto? Check out these other helpful guides for your visit: 
Azulejos In Porto Map
Save this map of all the azulejos in Porto that I have listed in this post. You can download this  in your Google Maps app so you have them handy during your visit to Porto. 
Where To Find Azulejos In Porto
In the colorful streets of Porto, one element that draws the eye is the intricate Porto blue tiles that decorate the facades of buildings. These traditional Portuguese tiles are known for their intricate patterns and vibrant hues of blue, making them a beloved sight throughout the city. 
Walking along the streets, it's hard not to stop and admire the craftsmanship of these decorative tiles, each one telling a unique story or showcasing a beautiful scene. Whether you're a first-time visitor or a local, the azulejos in Porto are a must-see, adding a touch of history and beauty to the already charming city.
Igreja do Carmo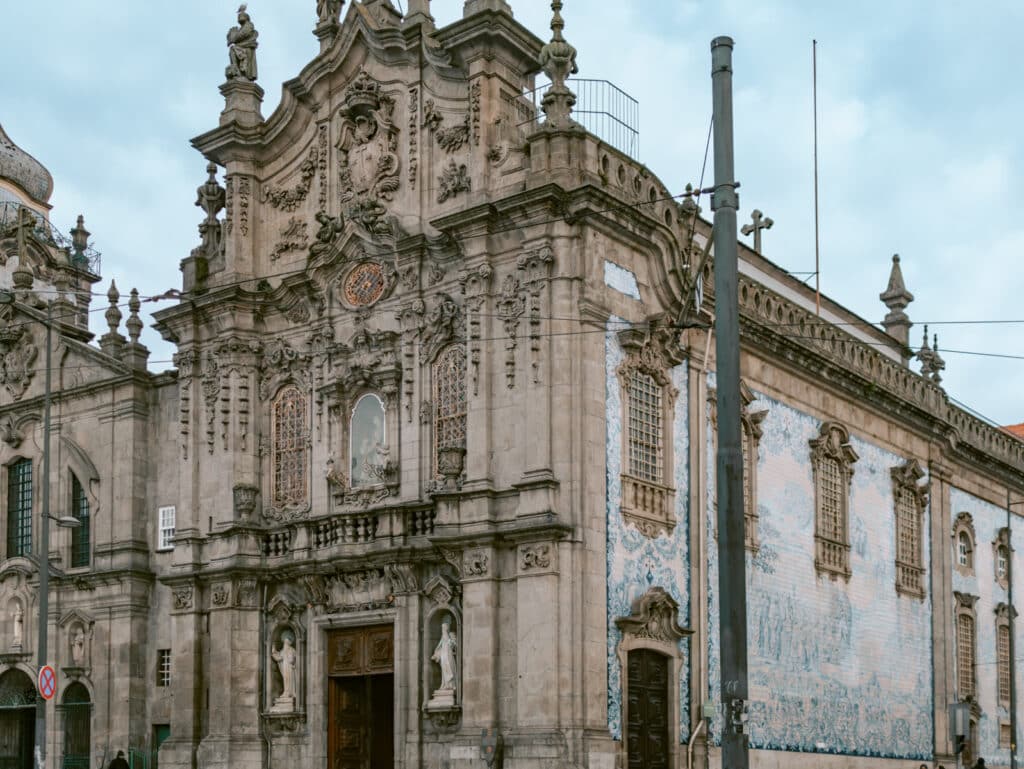 When it comes to finding azulejos in Porto, there is no shortage of stunning locations to explore throughout the city. My favorite and must-visit spot is Igreja do Carmo. It's a beautiful church that draws visitors in with its intricate tile work. 
The church's exterior is adorned with a mix of blue and white azulejos, depicting religious and historic scenes that date back to the early 18th century. 
These tiles are a true work of art and offer a glimpse into Portugal's rich cultural heritage. So, put on your walking shoes and make your way to Igreja do Carmo to catch a glimpse of these beautiful tiles for yourself.
Want to explore more than all the azulejos in Porto? See the city with my 2 days in Porto itinerary.
Bramica
Experience more captivating azulejos in Porto at Bramica, a unique mosaic of tiles from all over Portugal. Located in the heart of the city's Ribeira district, this public art installation by artist Manuel Cargaleiro is like something out of a fairytale. 
Here you can make your very own azulejos! The bright and intricate designs will mesmerize you, while the huge array of colors, shapes and symbols give Bramica a truly unique feel. From the blue and white tiles to the larger-than-life pieces of art, this spot is an absolute must-see for anyone visiting Porto. So make sure you take the time to explore this incredible piece of Portuguese history and make your own souvenir to take home.
Banco de Materiais
Banco de Materiais is another spot to admire the azulejos in Porto. You'll be transported into a world of historical wonders. This isn't your traditional museum but a unique collection of constructive and decorative elements from some of Porto's iconic buildings. 
The range of azulejos available is impressive, particularly in the Hispanic-Arab variety. And that's not all – cast iron and stucco elements also grace the halls of this treasure trove of architectural history. 
Whether you're an enthusiast or intrigued by the beauty and charm of the past, a visit to the Banco de Materiais is a must.
Porto Cathedral
As you stroll through the historical old town of Porto, you cannot help but notice the stunning architecture of the Porto Cathedral. It's another one of my favorite spots to admire the Porto azulejos.
This Romanesque monument is a true gem of the area, standing proud as one of the most significant buildings in the region. With a rich history that spans centuries, the cathedral has undergone multiple renovations and now boasts an impressive blend of Gothic, Roman, and Baroque designs. 
One detail not to be missed is the stunning blue and white tiles that adorn the cathedral walls, making it home to one of the oldest collections of azulejos Porto tiles. Visiting the Porto Cathedral is an unforgettable experience, sure to leave you in awe of this stunning piece of history.
Capela das Almas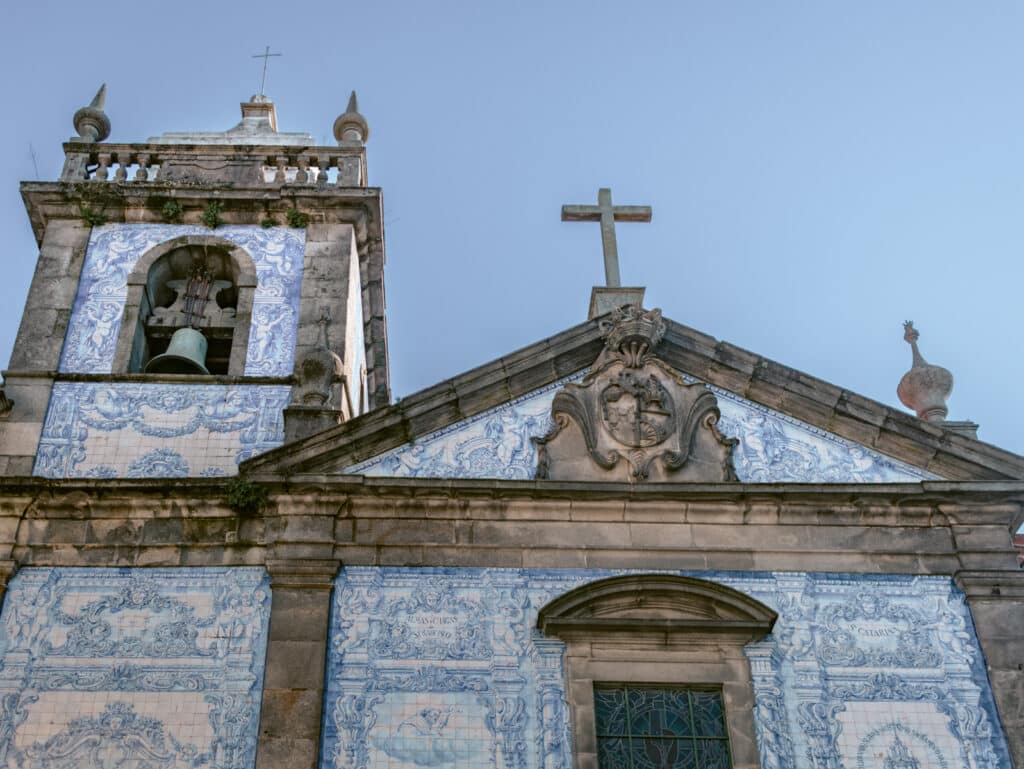 Get ready to be awe-struck by Porto's captivating Capela das Almas, otherwise known as the Chapel of Souls. This neoclassical gem has been gracing the city since the 18th century, but it's the 20th-century tile work that will leave you mesmerized. 
The building's unmistakable blue and white tile façade, showcasing the lives of Saint Francis of Assisi and Saint Catherine, is what makes this church an unmissable attraction on Santa Catarina Street. With a breathtaking exterior that exudes grandeur and magnificence, this unusual azulejo church will have you in complete admiration.
Explore beyond the azulejos in Porto. Eat your way through the city with my Porto food guide.
Casa da Música
Another location for those Porto blue tiles is Casa da Musica,  an architectural masterpiece that stands at the forefront of modern design. While it may not bear the traditional blue tiles of the city, there is no denying the meticulous attention to detail and beauty of the marble structure that houses this concert hall. 
Enter the VIP area, where you will be surrounded by the stunning azulejos gracing the walls and ceiling. 
Be sure to check ticket availability and witness the blending of old and new at Casa da Musica. And for even more exciting tile experiences, take a stroll along Avenida da Boavista and admire some of Porto's finest azulejos for free.
Sao Bento Train Station
Stepping into São Bento Train Station, your eyes are immediately drawn to the intricate Azulejos tiles adorning the walls. It's hard to believe that over 20,000 pieces of these stunning tiles were used to create mesmerizing murals. 
As you take in the scenes of 18th-century life depicted in the artwork, you can't help but appreciate the skill and artistry that went into their creation. José Colaco, the talented architect behind the murals, has truly left his mark on this magnificent structure.
The Sao Bento Terminal is a hub of activity that attracts tourists and regular commuters alike. If you're looking for a unique experience, be sure to set your alarm and arrive early to have the station all to yourself. You'll have the opportunity to snap some incredible photos of the magnificent tilework that adorns the walls. 
It's a chance to get up close and personal with one of Portugal's most popular landmarks and soak up the vibrant energy before the crowds arrive. Don't miss out on this exciting chance to have the station all to yourself!
Igreja de Santo Ildefonso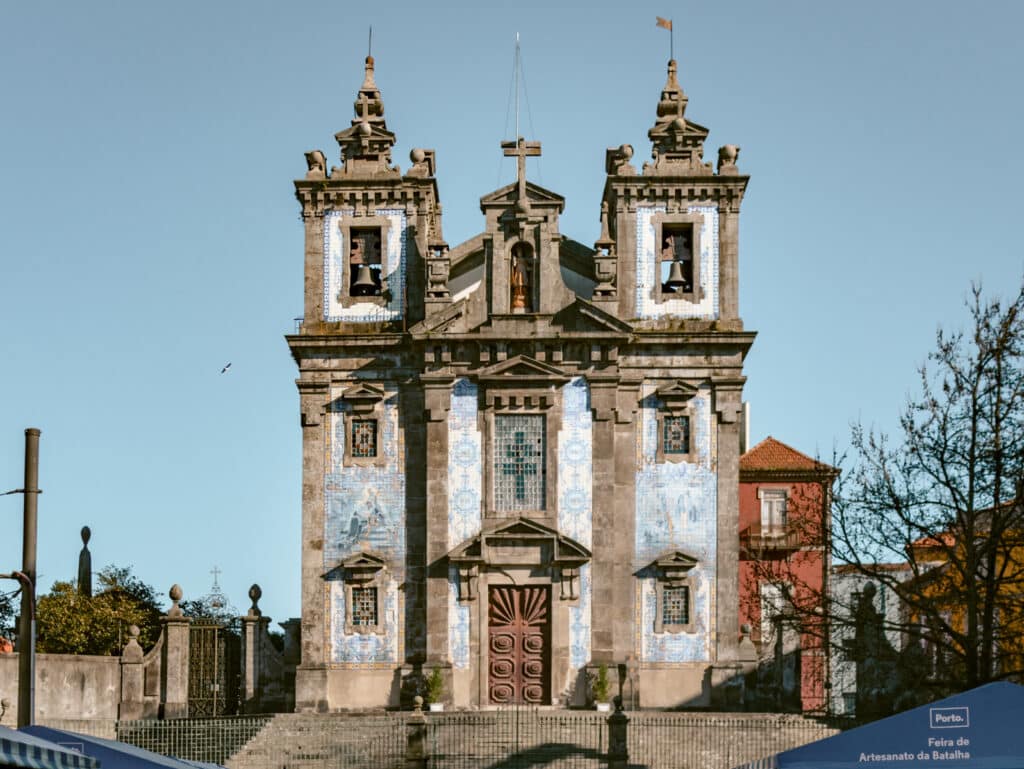 Perched on a small hill near the enchanting Batalha Square is the awe-inspiring Igreja de Santo Ildefonso. It's a Baroque-style church that boasts 11,000 magnificent azulejo tiles. 
Designed by Jorge Colaço, the same architect behind Porto's renowned azulejo tiles at the Sao Bento Train Station, the blue and white tiles on the church's exterior vividly depict the life of Saint Ildefonso and the Eucharist. 
Despite being established in 1739, the church didn't obtain its stunning exterior until 1932. This standalone building is impossible to miss, and its tile work makes it an iconic sight that's visible from miles away.
 Igreja dos Congregados
Step back in time and admire the beauty of the Igreja de Santo Ildefonso. This stunning baroque church, situated just across from Sao Bento Railway station and close to Liberdade Square, has been impressing visitors for centuries. 
The most striking feature? The intricate façade is adorned with blue and white azulejos. However, the ornate interior is equally as impressive. 
For the opportunity to truly appreciate the stunning masterpieces, I suggest attending one of the masses held on Saturday or Sunday. Make sure to add this impressive sight to your travel itinerary.
What Is The History Of Azulejos?
The history of azulejos is a fascinating journey through the centuries, tracing its roots back to the Islamic empire in the 8th century. These decorative tiles flourished as a part of the Moorish culture, where they were highly valued for their beauty, durability, and ease of maintenance. 
Over the years, they became a symbol of wealth and luxury, adorning the walls, floors, and ceilings of cathedrals, palaces, and homes. Today, azulejos still hold a special place in Spain and Portugal's artistic and cultural heritage. 
Their intricate designs and vibrant colors add a touch of splendor to gardens, public spaces, and private homes. The story of azulejos is a testament to the enduring power of human creativity and craftsmanship.
Not sure where to stay during your visit? Find out where to stay in Porto here.
Why Are There So Many Tiles In Porto?
As you wander through the charming streets of Porto, Portugal, one thing that might catch your eye is the abundance of colorful tiles adorning the buildings, known as azulejos. But why are there so many tiles in Porto? Well, it all started in the 15th century, when the Moors brought the art of glazed ceramics to Portugal. 
Over time, this art form became a staple in Portuguese culture, and they began using the tiles to decorate their homes, churches, and public buildings. In Porto, the use of azulejos became especially popular in the 18th and 19th centuries, with many buildings featuring intricate designs and scenes from Portuguese history. 
Today, these tiles continue to add beauty and character to this picturesque city, making it a feast for the eyes of any visitor.
How Are Azulejos Used Today?
Azulejos are still widely used in many parts of the world today, from Portugal to Mexico and even further afield. In modern times, azulejos have become a popular choice for home decor. Also, as public art installations, allow us to bring a touch of traditional beauty into our contemporary lives. 
Whether you're looking to add a splash of color to your walls or create a stunning mosaic in your garden, azulejos can be used innovatively. So why not take inspiration from the past and inject a bit of old-world charm into your home? With azulejos, you can do
Does Azulejos Require Special Maintenance?
Although azulejos are highly durable and resistant to wear and tear, they require some special maintenance to remain in top condition. As with all glazed ceramics, cleaning your tiles regularly with a damp cloth or mild detergent is important. 
Additionally, it's recommended to seal your tiles with a waterproofing sealant every few years in order to protect them from moisture and dirt. Following these steps will help ensure that your azulejos remain as beautiful as the day you installed them for many years to come!
Azulejos In Porto Final Thoughts
If you're looking for a unique way to experience the history and culture of city, then visiting azulejos in Porto-adorned sites is a must! From the mesmerizing Bramica mosaic to the ornate interior of Sao Francisco Church and the Banco de Materiais, a visit to Porto would be incomplete without taking the time to appreciate these stunning tiles. 
So when you're in Portugal's second city, make sure you take the time to explore these Porto blue tiles fascinating history and culture. With their vibrant colors and intricate designs, azulejos are sure to leave a lasting impression!
Don't forget to check out my other Porto guides for your visit: 
Like this post on azulejos in Porto? Share it with others or pin it for later!