Looking for the best day trips from Porto? This guide includes 16 trips from Porto to help you plan an amazing one-day adventure. 
Porto, Portugal, is a city full of culture and history with beautiful landscapes. It's the perfect place for travelers looking to explore a new destination. But don't forget about all the incredible places to visit near Porto! 
From coastal towns to wine regions, there are plenty of places to explore within easy reach of this vibrant city. Here are the best day trips from Porto so you can make the most of your time in Portugal!
This article may contain affiliate / compensated links. For full information, please see our disclosure here.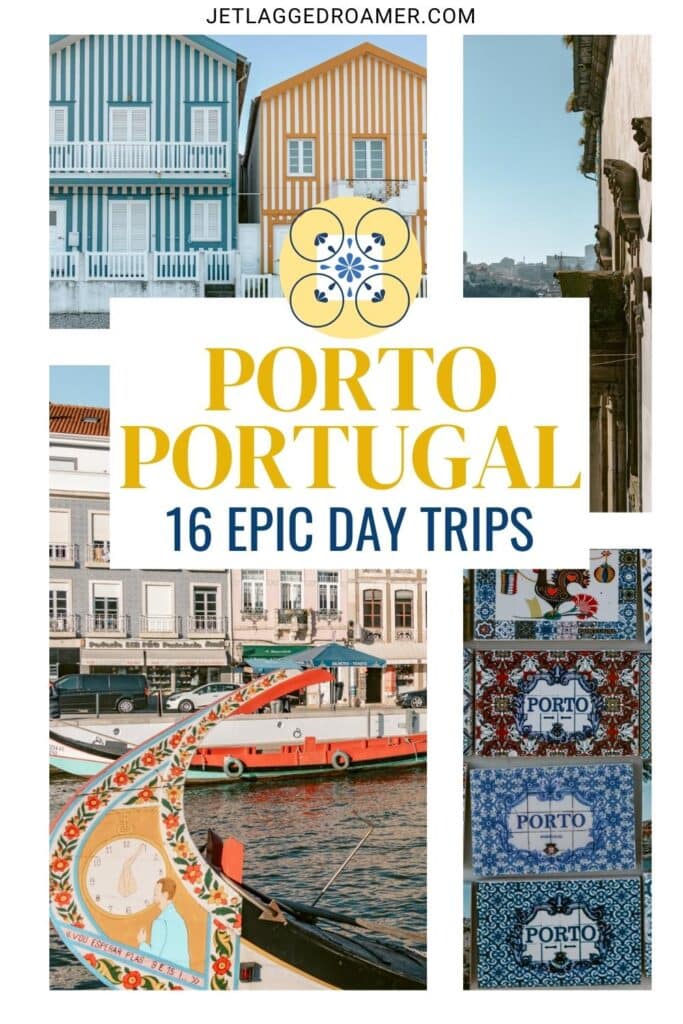 Check out these other posts to help you plan your visit to Porto: 
16 Day Trips From Porto
Day trips from Porto may be an absolute must if you want to experience the beauty of Portugal. Here are some incredible ideas for day trips from Porto!
Santiago de Compostela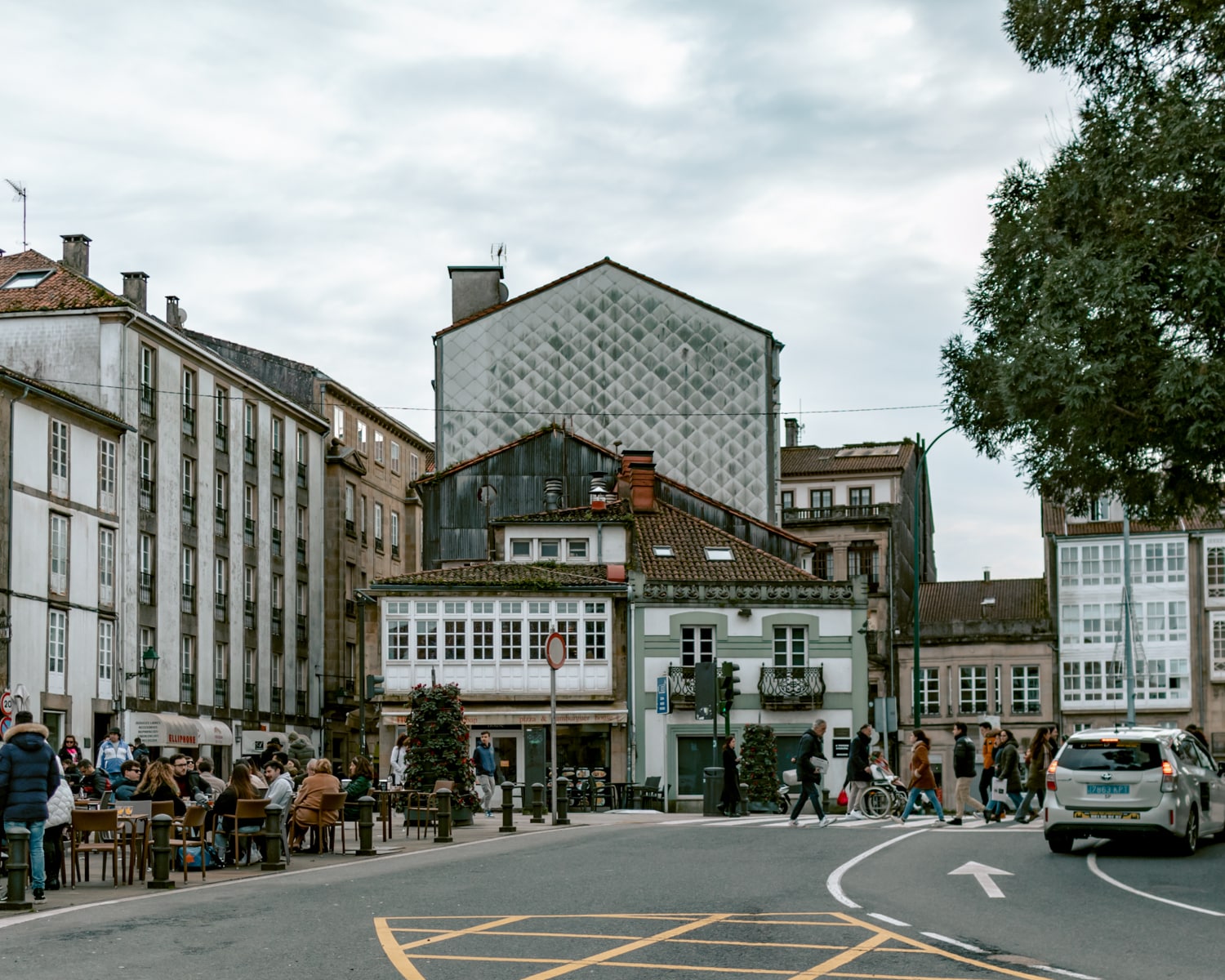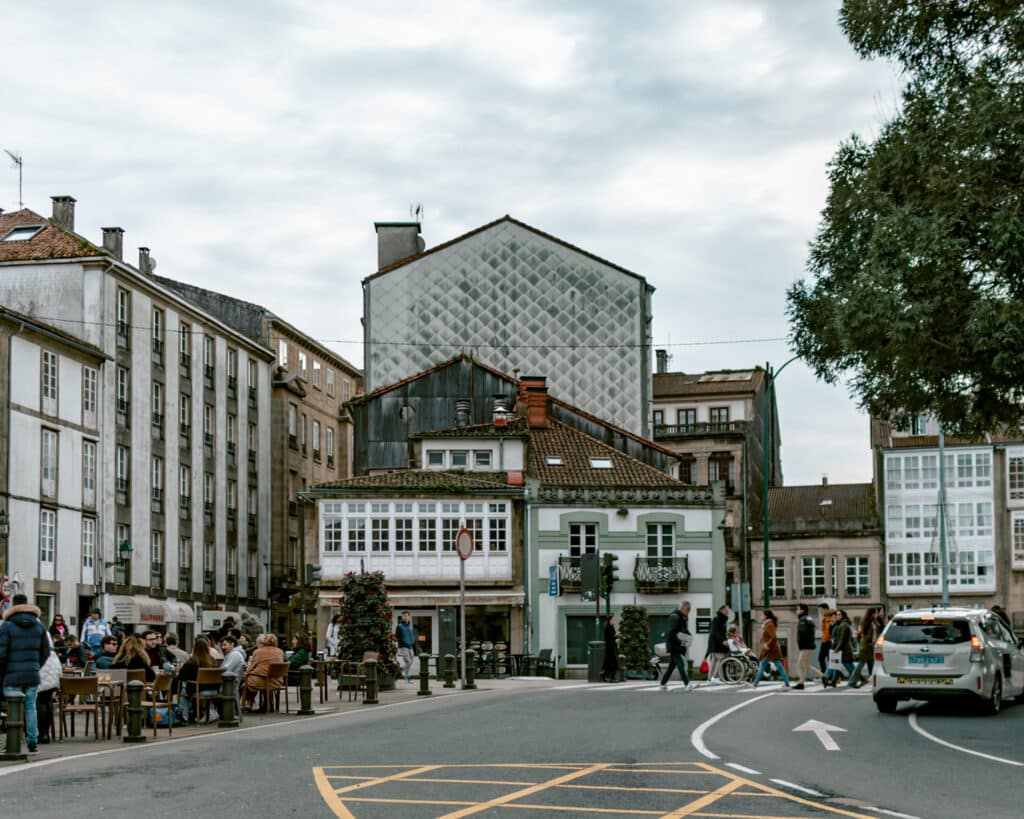 Porto is filled with many opportunities for a great day trip, one of which includes a visit to Santiago de Compostela, Spain. Located just 2.5 hours away by car from Porto, it's a perfect day trip destination for those looking to escape the bustling city and immerse themselves in the rich Galician culture. 
Known as a pilgrimage site for centuries, the stunning Cathedral of Santiago de Compostela is a must-see attraction for history buffs and architecture enthusiasts alike. In addition, the charming Old Town, lined with quaint cafes and historic buildings, provides a perfect backdrop for a leisurely stroll. 
Visitors can also indulge in delicious Galician cuisine and sample the regional drink, Albariño wine, which will surely leave a lasting impression. Whether you're seeking cultural experiences or just a peaceful retreat, Santiago de Compostela is a fantastic choice for a day trip from Porto.
The quickest way to arrive in Santiago de Compostela is by car in 2 1/2 hours. If you decide to opt for a bus or train you can reach this city in under 4 hours. They may be the longer options, but the cheapest. You can also opt for a group tour and be able to explore other towns in Northern Portugal along the route. 
You may enjoy reading more about things to do in Santiago de Compostela here.
Obidos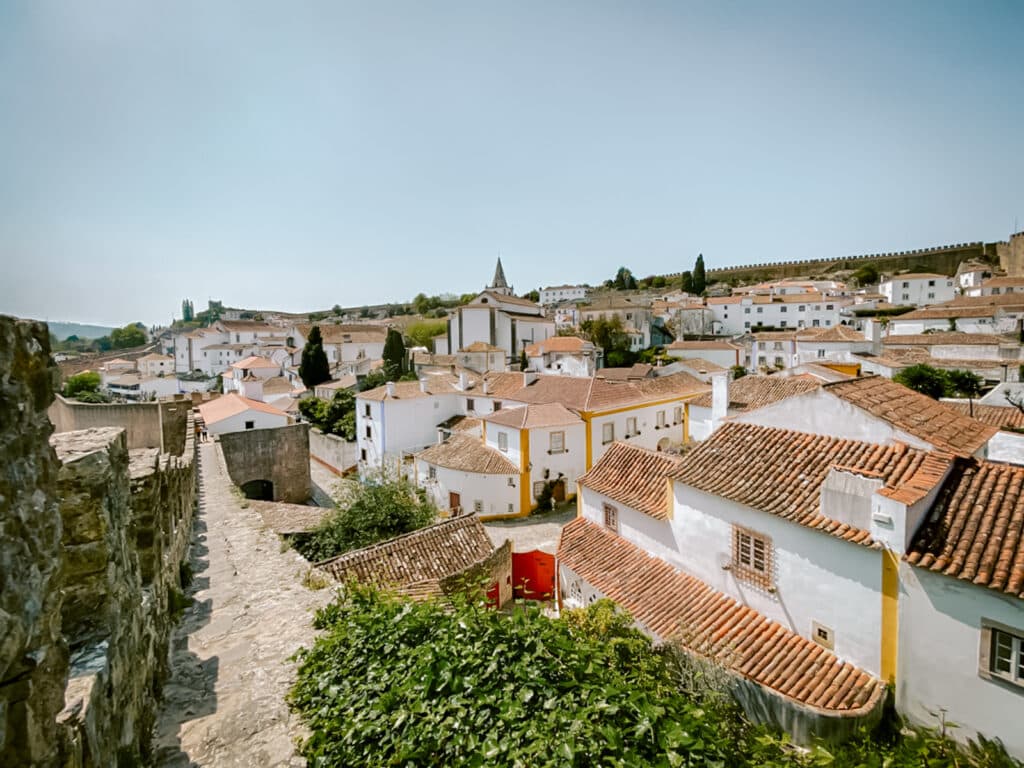 Óbidos is one of these gorgeous must-see places during your time in Portugal. It's one of the most picturesque places in the country and easy to reach from Porto. You'll get to this castle-walled city by car within 2.5 hours, but some tours are also available from Porto to Óbidos. Tours are often combined with visits to other towns such as Aveiro, Fátima or Nazaré. You even have the option to visit Óbidos on your way to Lisbon! Expect to pay anything between €60 to €400 to see this stunning place. 
What makes this one of the best day trips from Porto? Many reasons! Óbidos is a medieval walled city, and when you arrive, you'll literally step back in time. The town is built on a hill, and the castle overlooks the valley. King Dinis gave the village to his wife, Queen Isabel, in the 13th century, and it became part of the Queen's Estate.
Nowadays, you'll find a labyrinth of tiny, colorful streets filled with flowers. The perfect setting to stroll around for a couple of hours! You can also walk along the castle walls, which offer great views of the vineyards and valley surrounding the town. 
Óbidos is a great place to visit throughout the year, thanks to the many festivals. For example, during the International Chocolate Festival, you can taste the delicious chocolate cups filled with Ginja de Óbidos, a traditional cherry-flavored liquor. Or enjoy the Middle Ages during the Medieval Market of Óbidos. The squares fill up with knights, merchants, and witches! Other notable events are the Opera Festival in August, the International Literary Festival of Óbidos (FOLIO) in October, and the Christmas Market Vila Natal in December.
Explored by Marga, Discover Portugal
Valença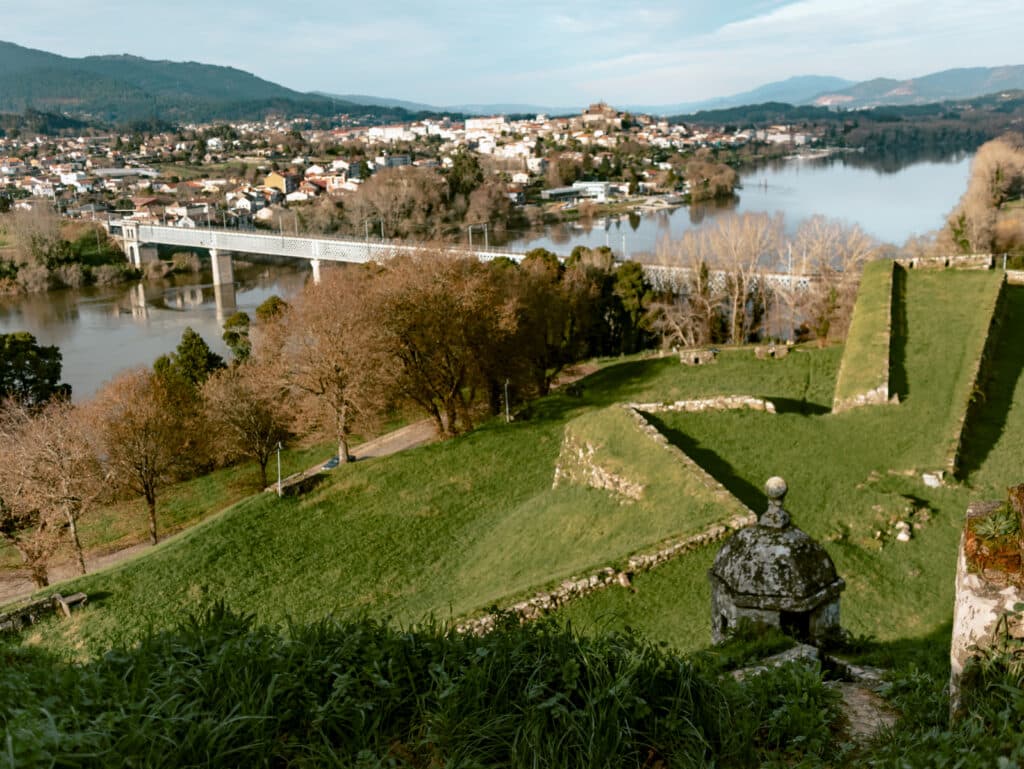 Valença is another destination for a perfect day trip from Porto. Located just above the Miño River, Valença boasts stunning medieval architecture and unique cobblestone streets that almost feel like stepping back in time. 
Its walls and architecture are a testament to the French military architect Vauban, who designed it in the seventeenth century. Initially named "Contrasta," the town's position opposite the Galician town of Tui across the river is still evident in its name. Despite its age, Valença is a vibrant city that attracts visitors looking for traditional crafts produced by local artisans. 
Stroll through the old town and visit one of its many monuments, including the impressive fortress walls that protect the city from invaders and a quaint church on top of a hill overlooking downtown. 
The regional cuisine here also offers something special with seafood dishes cooked to perfection, so make sure you try some when visiting! Valença is only an hour away by car from Porto, making it ideal for those looking for a quick escape. With flourishing trade, this fortified town is a must-visit destination for history enthusiasts and those seeking a glimpse of rich Portuguese heritage.
You can reach Valença by train in under two hours by train. A roundtrip ticket will cost you around €22. 
Aveiro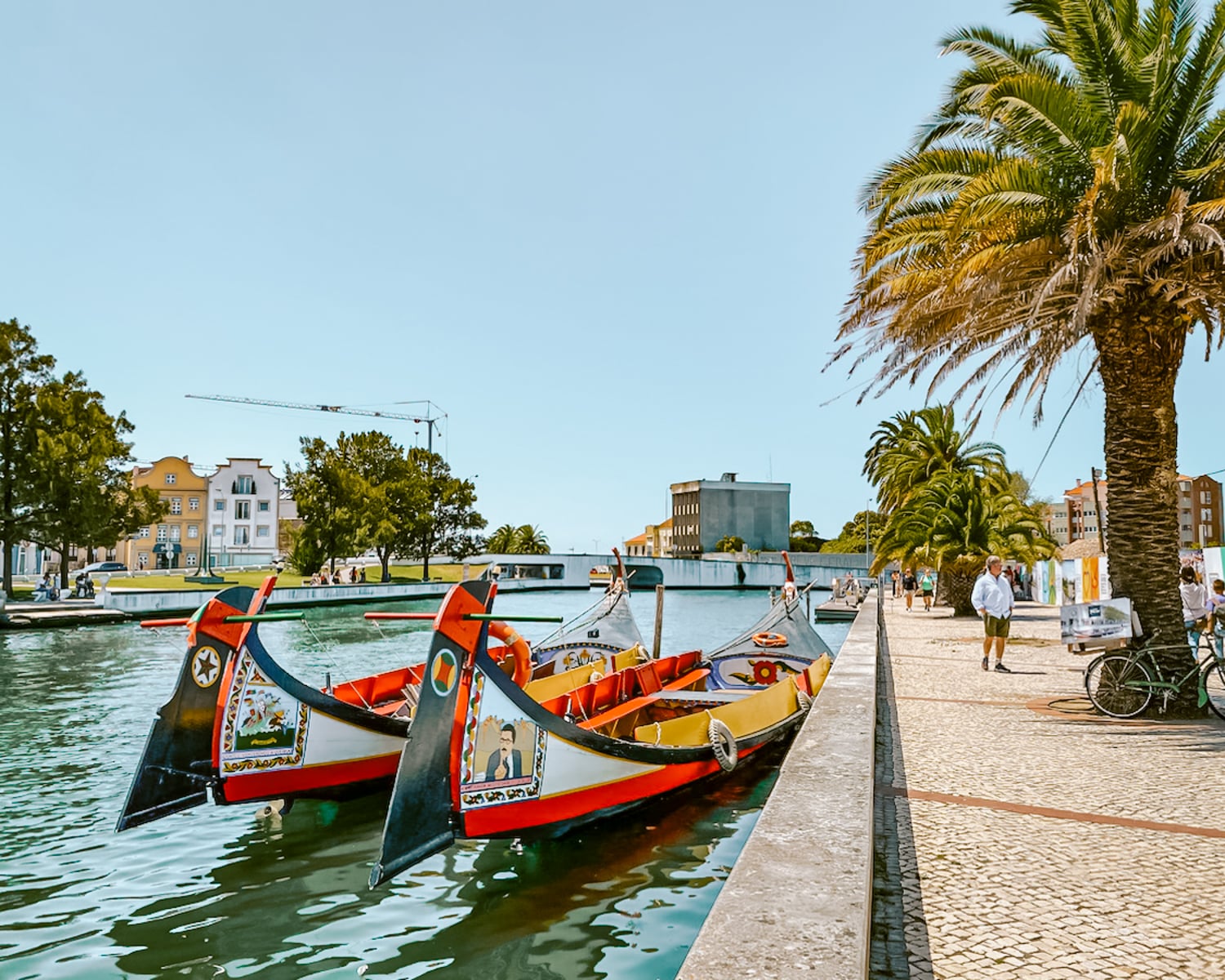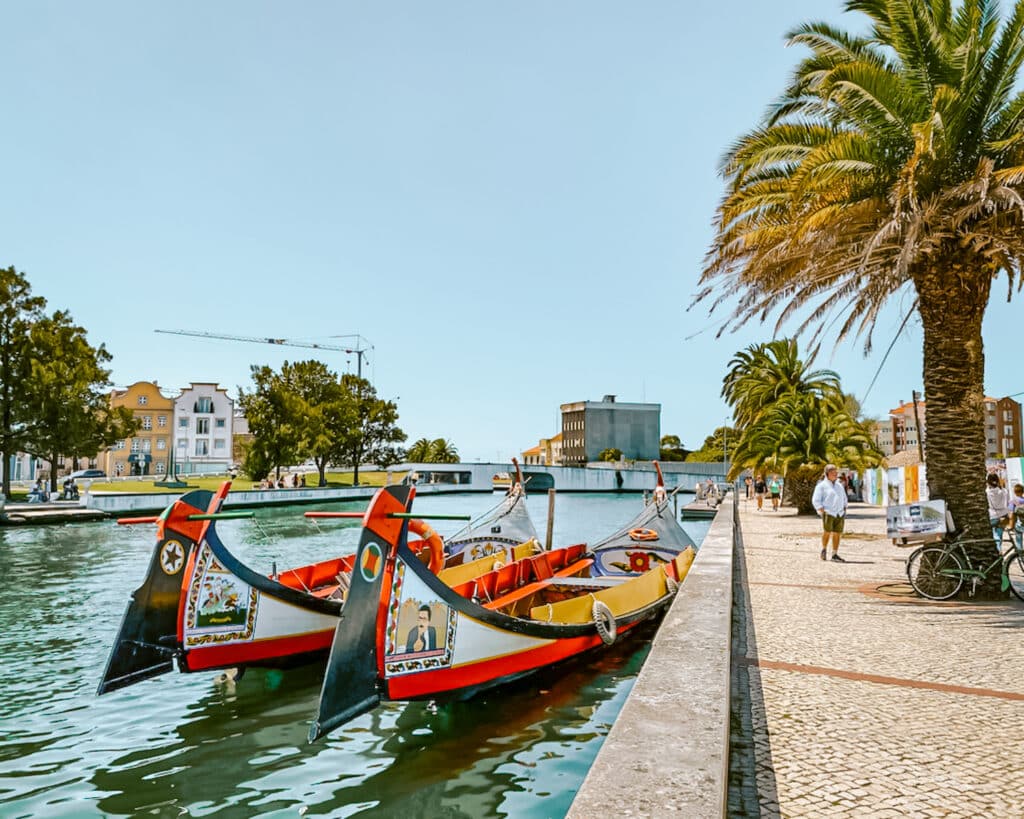 For something quick, consider an Aveiro day trip from Porto. Hop on a train from the iconic São Bento train station, and in about one and a half hours, you'll arrive at your destination for only €3.55. Although a faster train is available, it's not even half an hour quicker, costs over four times as much, and departs from the new train station. So, opting for the slower urban train is the best choice for a more enjoyable experience.
In Aveiro, the train arrives at its new train station which is right next to the old one that's decorated with traditional Portuguese blue tiles, known as azulejos.
Aveiro is called the Venice of Portugal because of its many canals. So, of course, the best thing to do in Aveiro is to go for a gondola ride on those canals there. During your gondola ride you can learn a lot about the town's history in multiple languages from the guides. After the gondola ride, you can explore the town center further on foot and go for some delicious food. 
Explored by Tina, Veganderlust
Enjoy private tours? Why not consider having your own personal guide take you on a day trip from Porto to Aveiro? Besides a gondola ride, find out more of what to do in Aveiro here.
Costa Nova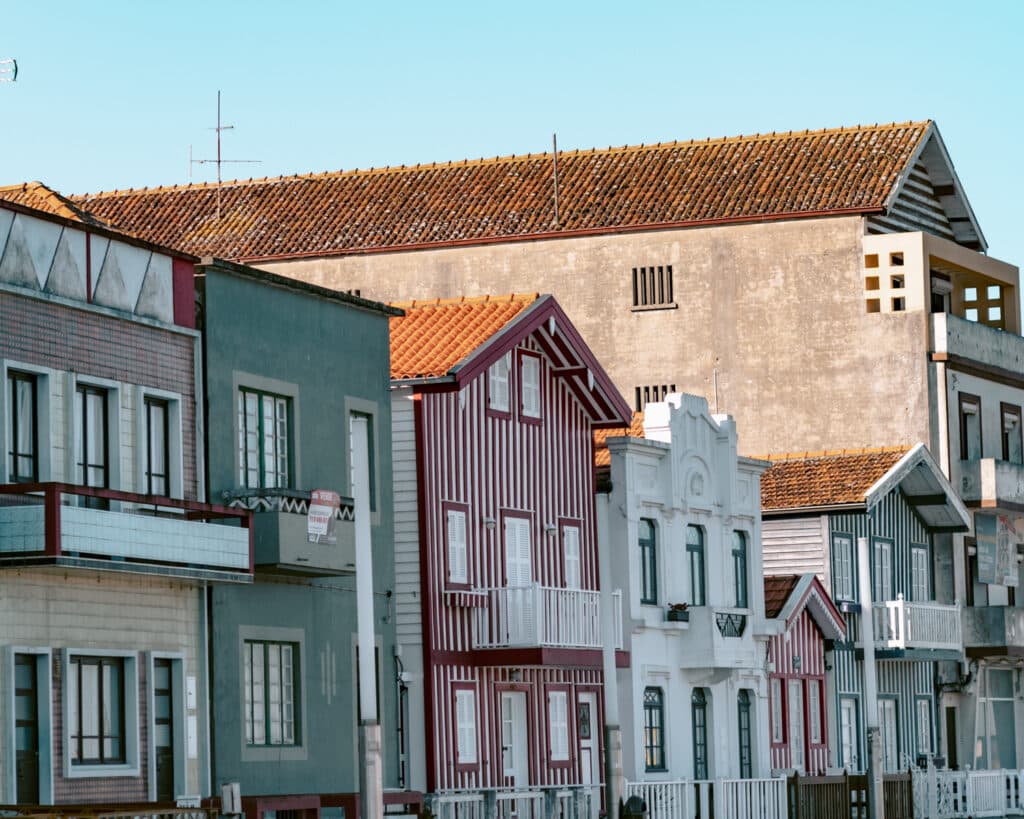 Escape the hustle and bustle of city life with a day trip to Costa Nova. This seaside resort town is located around an hour from Porto and boasts some stunning views. 
The coastline here is dotted with tall, wave-battered wooden houses painted in traditional stripes of yellow and blue, adding a splash of color to the landscape. Visitors can enjoy its pristine beaches for a quick dip or participate in water sports like kayaking and surfing between May and October.
The area also offers fantastic seafood restaurants that serve up freshly caught delicacies from the Atlantic Ocean, so make sure you sample some of the local flavors before heading out for your next adventure! 
With plenty of time left over after exploring this charming little town, why not explore its many historic sites? The 16th-century church of Santa Cruz is a must-visit, and the various towers are worth exploring too. For those wanting to take a break from it all, Costa Nova offers plenty of options for relaxation with its peaceful atmosphere. So if you're looking for an escape from the hustle and bustle of city life in Porto, a day trip to Costa Nova may be just what you need! 
This quick Porto one day trip can be reached by taking a train or bus to Aveiro. From there, you will either take a cab or ride share to reach Costa Nova, which is around a 10-15 minute drive. 
From the São Bento Train Station, you can arrive in Aveiro in 70 minutes. One-way tickets are under €4.  You can also arrive by bus from the TIC Campanhã Station in 90 minutes for €8.60 one way.
Serra da Estrela Natural Park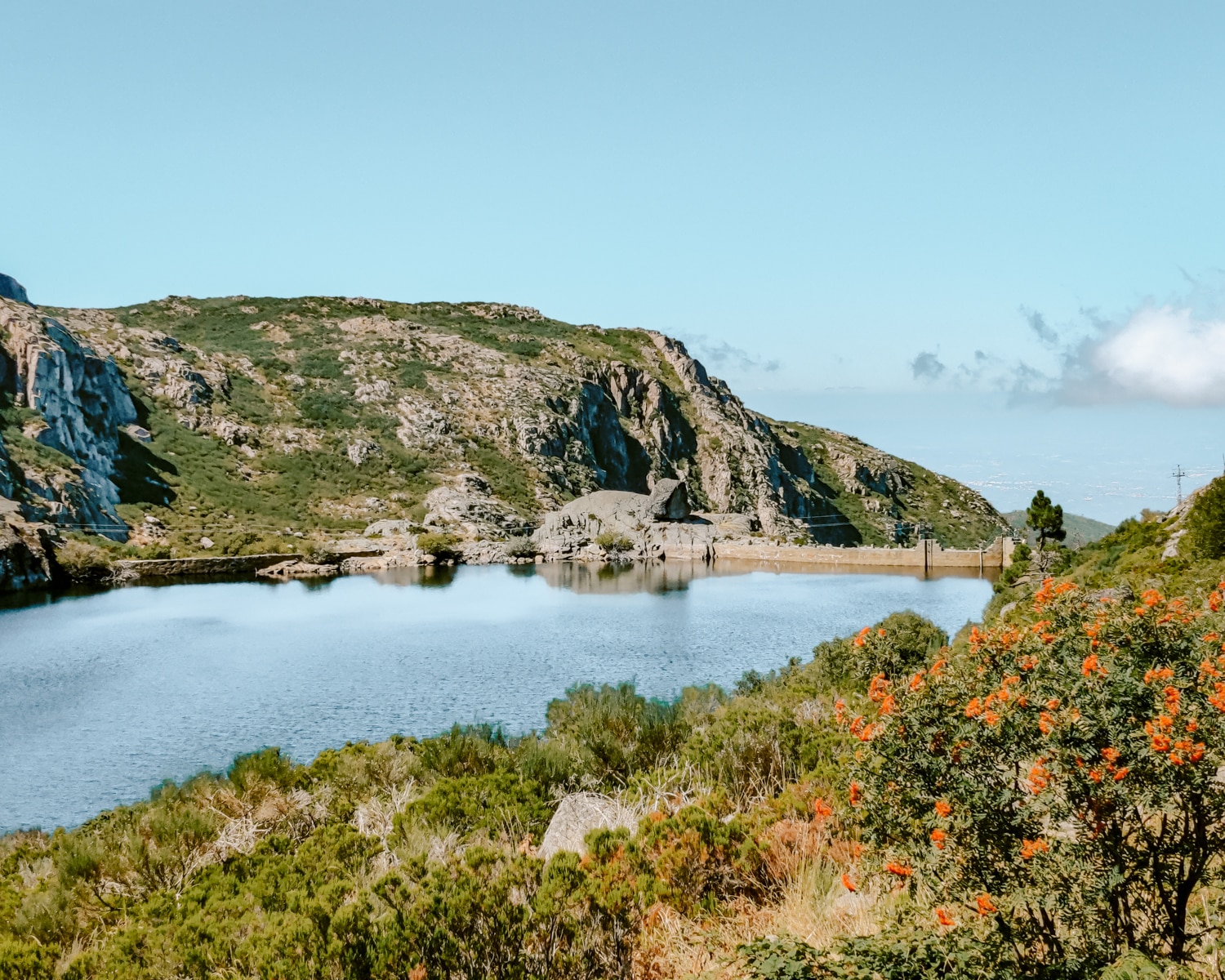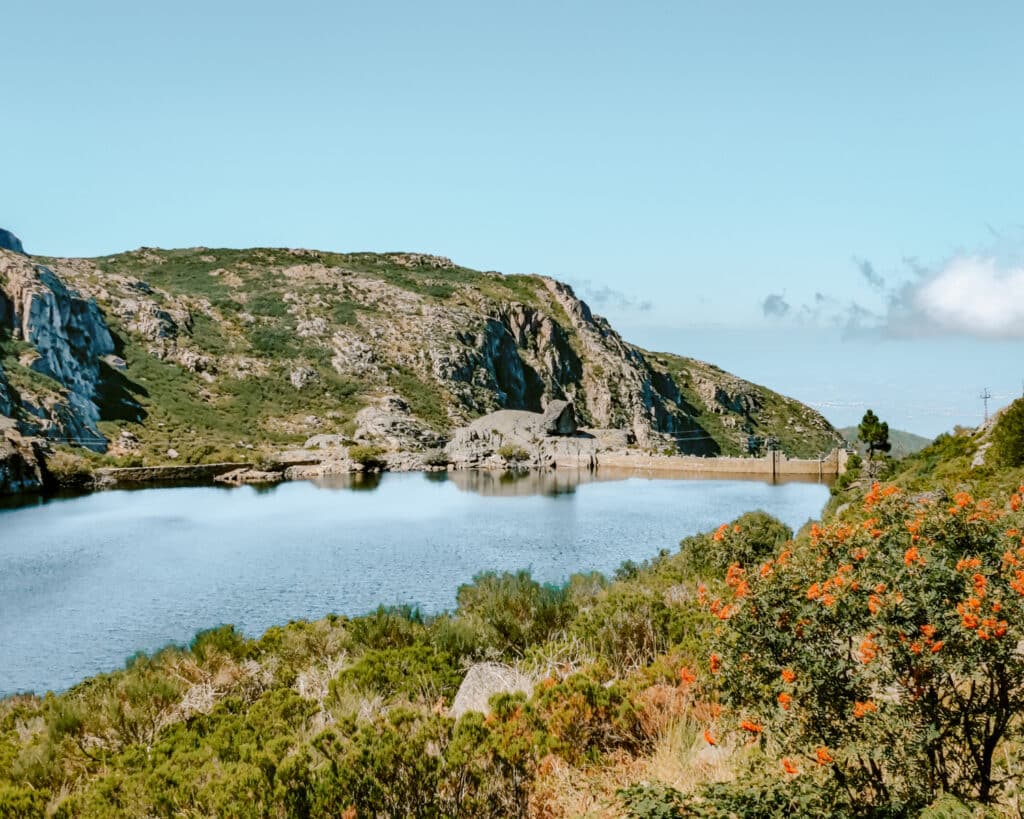 If you are looking for one of the best day trips from Porto, consider the Serra da Estrela Natural Park. Located less than a 3-hour drive from Portugal's northern city, the park is best reached and explored by car.
Serra da Estrela Natural Park is located in the central region of Portugal and is a mountain park that is beautiful and free to visit. It is also where you will find the highest point on continental Portugal, marked by the Torre.
Many people enter the park via the towns of Seia, Covilhã, or Guarda. Seia is like an Alpine town and since Serra da Estrela is where you will find Portugal's only ski resort during winter, it is easy to see why.
The ski lift at the top of the Natural Park is open year-round and visitors can take a ride at any time of year to enjoy the views across the valley from the top.
The park also has waterfalls to find, hidden valley villages which are pretty, and lots of stopping points along the roads to take in the views. Parts of it are reminiscent of Ladies View in the Killarney National Park in Ireland.
At the Torre, at the top of the mountain, you will find the ski lift, two round-topped towers, one of which is used as a radar tower by the Guarda Nacional Republicana (GNR, one of the police forces), and a gift shop and restaurant where you can buy local delicacies including cheese and cured meats.
Another interesting thing to see in the park is the Senhora da Boa Estrela or protector Saint of the Shepherds, a sculpture carved into the rock face.No matter your interests, Serra da Estrela Natural Park is an ideal location to spend a day away from Porto, even if you just want to get closer to nature and soak up the clean mountain air.
Explored by Cathrine, Travel Around Ireland
Ponte de Lima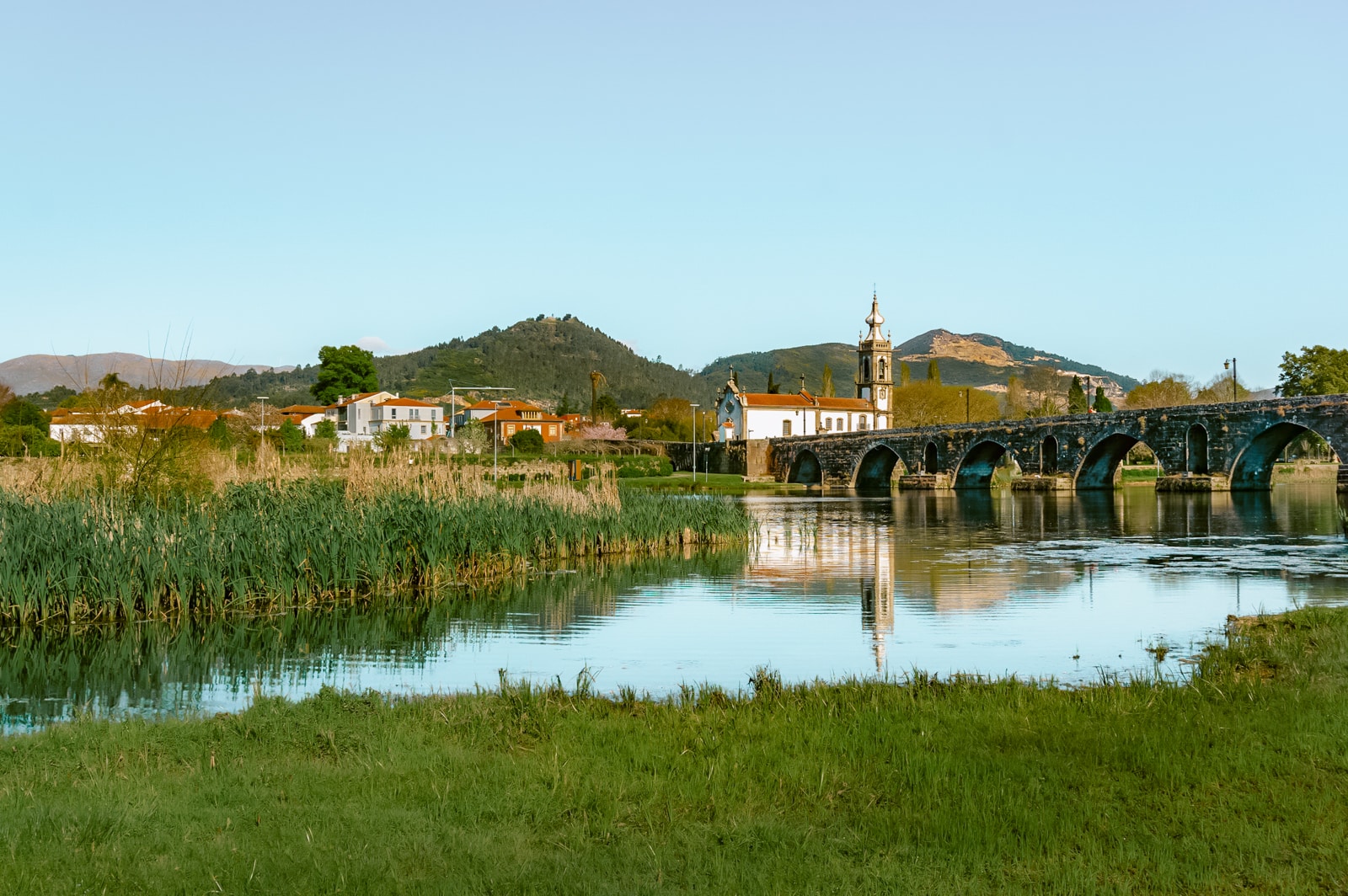 Ponte de Lima is Portugal's oldest village, founded in 1125 by Teresa de Leão, mother of the first king of Portugal. This beautiful town is located in Northern Portugal, in the green Alto Minho region, only about 90km from Porto.
Your best and fastest way of getting to Ponte de Lima is to travel by car, either yours or rented. Another option is to travel by bus. Direct connection from Porto last about 1.5 hours, and cost about €5-12. Unfortunately, there is no train station in town, but you can take a train from Porto to Viana do Castelo, and then take a bus from it to Ponte de Lima.
What places should you visit while in Ponte de Lima? Ponte Romana stone bridge, the town's most famous landmark, is a must. Also don't forget to get to know a fascinating legend that lies behind the bridge and the Roman soldier statues you'll find near it.
Then there is a charming and well-preserved old town with spots like parish church, Palace of the Marquis, towers Cadeia Velha and Saint Paul which are remains of the town's 14th-century ramparts, and Largo de Camões square with a beautiful fountain.
Also, don't forget to take a walk along Avenida dos Plátanos, which is a pedestrian-only avenue lined with plane trees planted in 1901. While there you can visit Museu dos Terceiros, a museum located in two churches with a valuable collection of sacred art.
Museu do Brinquedo Portugues, a museum dedicated to Portuguese toys, is another interesting stop in Ponte de Lima. If you'll be visiting between May and October don't forget to visit International Garden Festival and admire very unique and original garden displays.
Explored by Sonia, Happy Little Traveler 
Fatima
Fatima is a small town about 200 kilometers north of Porto, Portugal. It is a popular destination for tourists and pilgrims who come to see the Sanctuary of Our Lady of Fatima, one of the world's most important Catholic pilgrimage sites. If you're visiting Porto and want to take a day trip to Fatima, here's what you need to know.
The best way to get to Fatima from Porto is by train. There are several direct trains each day from Porto's Campanhã train station to Fatima, and the journey takes about two hours. Alternatively, you can take a bus or go on a little road trip, but the train is the most convenient and comfortable option.
The cost of a train ticket from Porto to Fatima varies depending on the time of day and the type of ticket you purchase. However, a one-way ticket typically costs around 15-20 euros, making it an affordable option for a day trip.
Once you arrive in Fatima, there are several things to see and do. The Sanctuary of Our Lady of Fatima is the main attraction. It includes several chapels, a basilica, and the Chapel of Apparitions, where the Virgin Mary is said to have appeared to three shepherd children in 1917. You can also attend mass, light candles, and participate in other religious activities at the sanctuary.
In addition to the sanctuary, there are several other places to visit in Fatima. The Wax Museum of Fatima is a popular attraction that tells the story of the apparitions through wax figures. The nearby town of Aljustrel, where the shepherd children lived, is also worth a visit.
Explored by Victoria, Guide Your Travel
Use these Portugal captions for all your Instagram photos from your Porto day trips.
Guimarães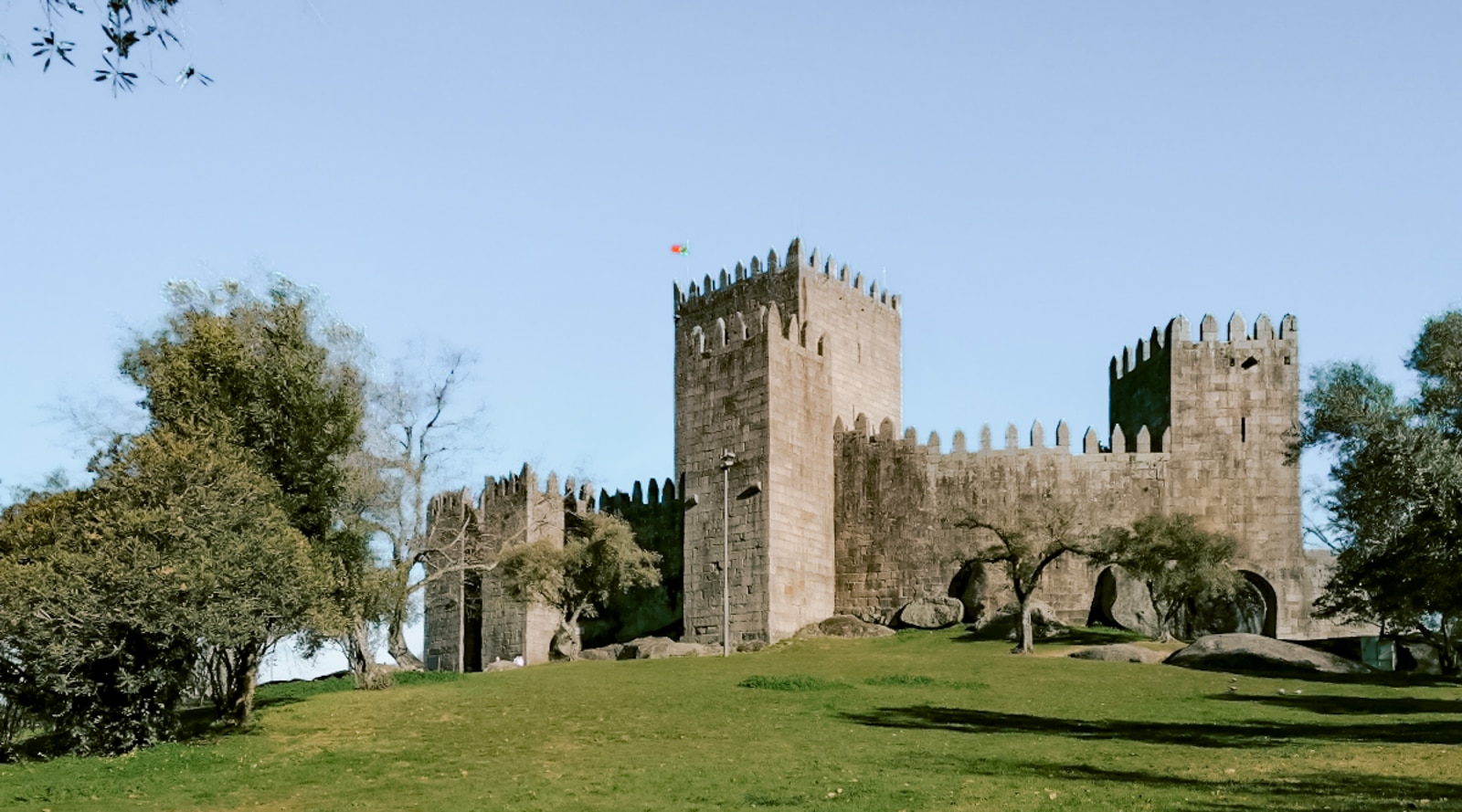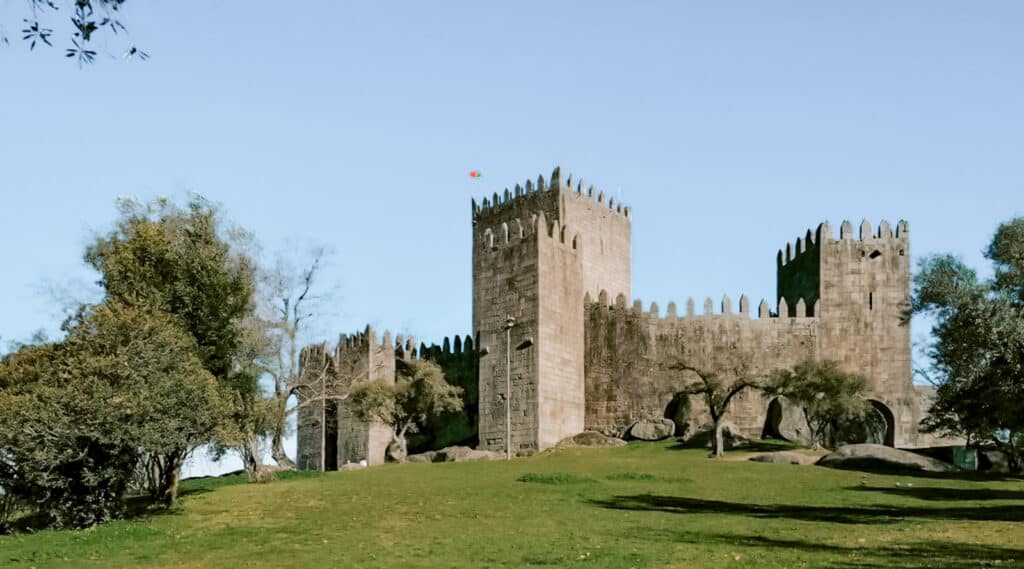 If you're looking for a unique day trip from Porto to learn more about Portuguese culture and history, a visit to the birthplace of Portugal is a must. Guimarães is a city 55 km away from Porto, and it is here where the first king of Portugal, King Afonso Henriques, was born and where an important battle for the independence of Portugal took place. Hence the nickname "the cradle city."
Besides the historical and cultural relevance of Guimarães for the Portuguese, it's also a city with an adorable and walkable city center that's perfect for strolling around and shopping for unique Portuguese souvenirs. The city center has also been listed on UNESCO's World Heritage list as an authentic example of the evolution of a medieval settlement into a modern town.
The best way to explore Guimarães is to join a walking tour. Whether you join the free tip-based one or a private tour, you can easily see all the highlights in a day and learn about the interesting backstories. If you prefer to explore on your own, make sure you visit the medieval Guimarães Castle (where the king was born), the Palace of the Dukes of Braganza, the Olive Square with the Church of Our Lady, and walk along Rua De Santa Maria to travel back to medieval times.
The fastest and cheapest way to get to Guimarães from Porto Central is by train. The train departs about every hour and a half from São Bento or Campanhã station, costs about €6.50 for a return ticket, and takes around an hour and ten minutes. The train back to Porto also departs about every hour and a half, so you may want to plan your return so you don't end up waiting an hour at the train station.
Explored by Lara, The Best Travel Gifts
Douro Valley Day Trip From Porto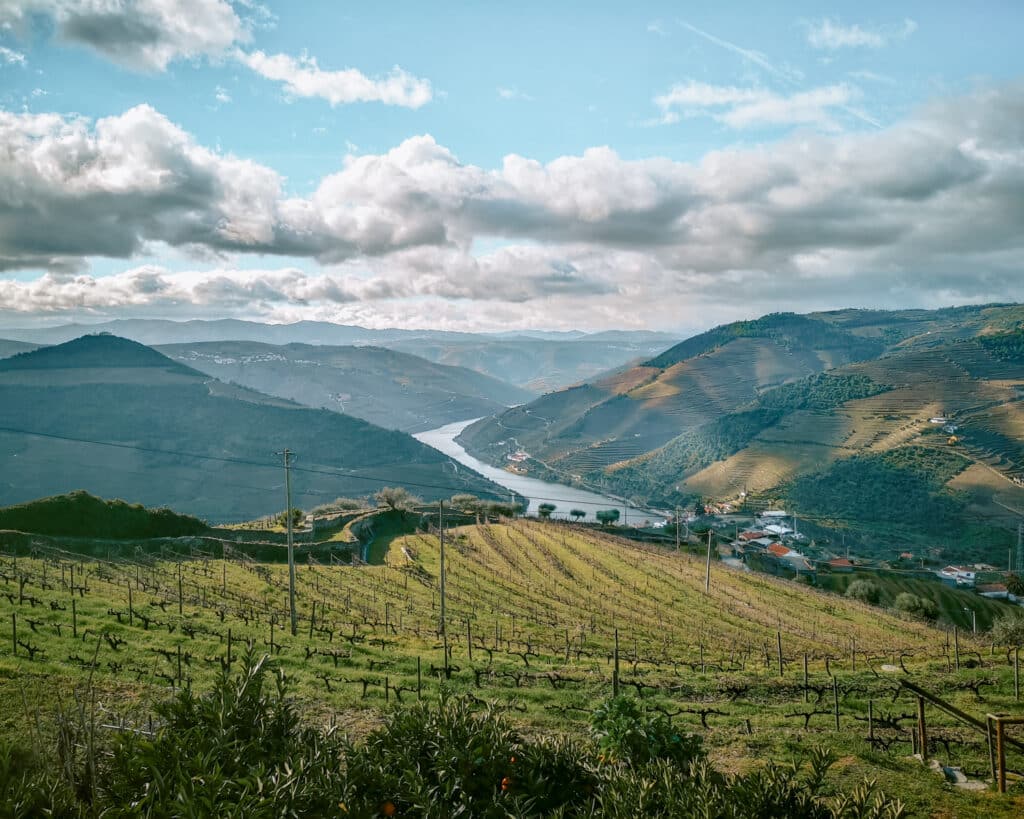 Porto is known for its wine and port, and a Douro Valley day trip from Porto is a great way to learn more about the region's wine-making and sample some of the delicious wines.
The Douro River valley banks are filled with rows upon rows of vines, and the scenery is gorgeous.  As well as some excellent wineries you can also find honey and olive oil producers, and taking a boat cruise along the river is a must.    
The Douro Valley is an hour and a half's drive from the city, and while it is possible to visit the Douro Valley yourself with a car, you would need to be very careful about how much wine you tasted – or have a designated driver. 
There are trains that run from Porto to Pinhão which take around 3 hours one way, and taxis are available to take you to visit a couple of wineries or boats for a cruise along the river.  An easier option is to join a Douro Valley wine tour from Porto so you can have someone else take you to the best vineyards. 
There are several companies offering Douro Valley tours, which usually include transport to and from the Douro Valley, wine and port tastings, lunch, and often a riverboat cruise which might be an optional extra or built into the tour.  Prices vary between $150 and $200 USD per person.
Explored by Claire, Tales of a Backpacker
Day Trip From Porto To Braga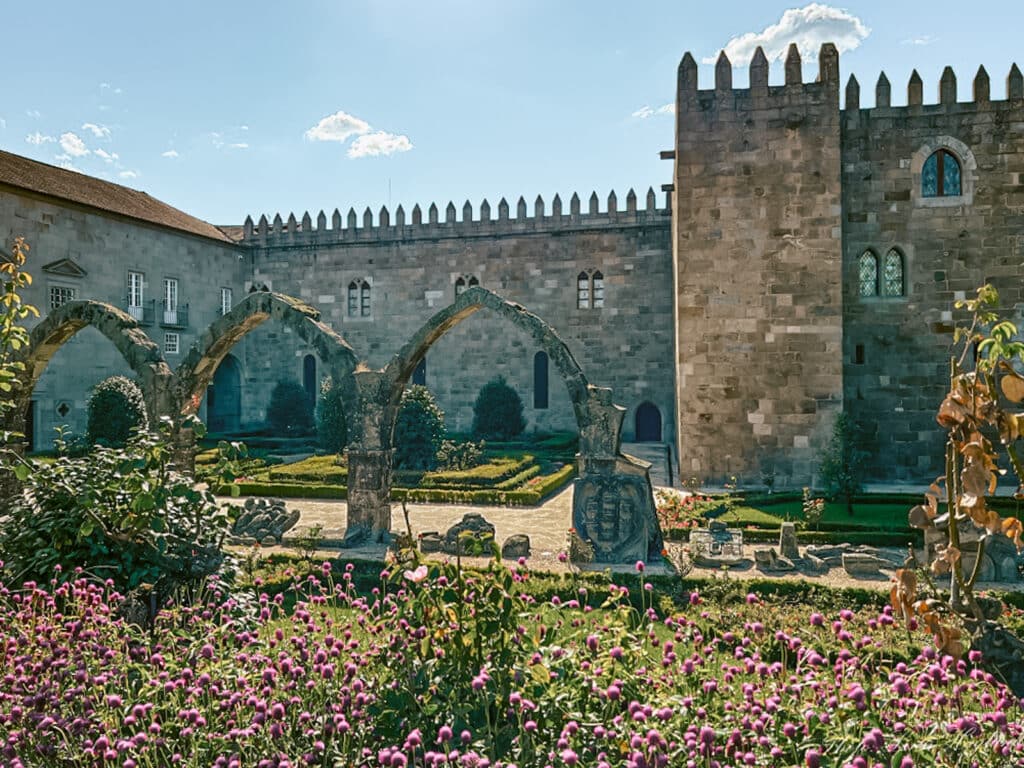 Taking a day trip from Porto to Braga is well worth it. Situated only an hour north of Porto, it is easy to reach by car, bus, and train. Public transport costs are as little as 4-10 Euros one way. 
While the city is walkable and you easily can spend the whole day exploring the beautiful old churches, among them, the oldest cathedral in Porto, some of the top attractions of Braga are situated outside the city. 
To reach the famous Sanctuary of Bom Jesus do Monte, you need to drive up to a hill overlooking the city. If you take public transport to Braga, you might want to consider a taxi to see the impressive sanctuary led by a majestic staircase of 577 steps reaching the church itself. There are also other sanctuaries on the hills surrounding Braga, but with only a day trip, this is the one must-see. 
Other places of interest in Braga are the Town Hall and the Public Library of Braga. Near them, head to Jardim de Santa Barbara where you can stroll through beautifully manicured flower beds in every thinkable color. Another incredible place to visit is the Raia Palace, an 18th-century residence that today houses a museum. The blue azulejos covering the façade are blinding and the balcony above the entrance is spectacular with two statues overlooking the square below. 
There are many great places to eat traditional Portuguese food in Braga too, but a strategic place to eat is around the cathedral where you will find multiple restaurants.
Explored by Linn, Brainy Backpackers
Enjoy tours? Consider taking a day trip from Porto with your own private guide to Braga.
Porto To Sintra Day Trip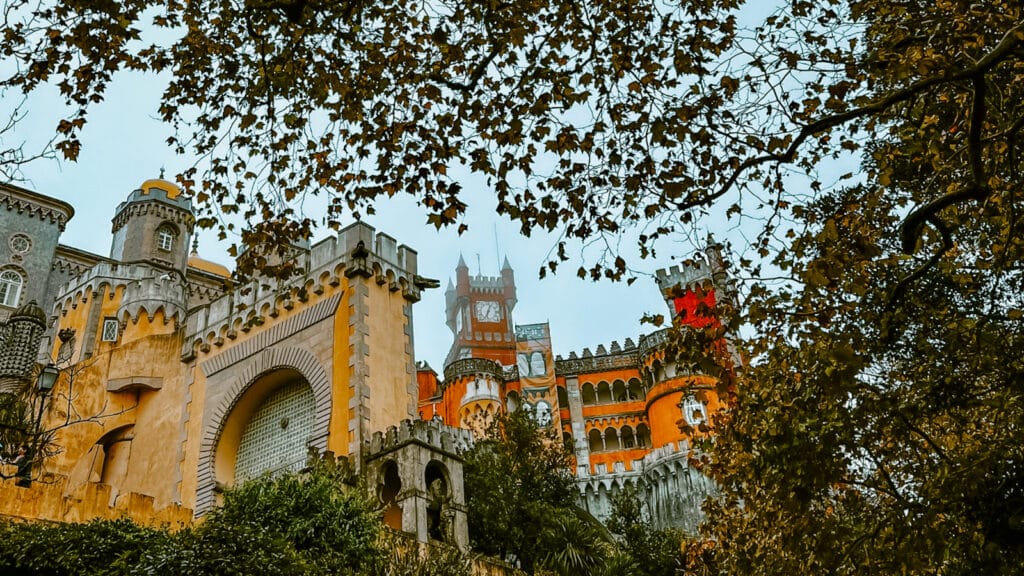 Sintra is a small and beautiful Portuguese town only 300 km from Porto.  A day trip from Porto to Sintra is perfect for a day escape or weekend getaway. This lovely town is known for its dreamy and mystic castles and palaces. You can easily reach Sintra from Porto by hopping on a FlixBus or taking a train with a transfer at Lisbon Rossio or Lisbon Oriente stations. The FlixBus fares start as cheap as €9. The trains should cost around €25-30 one way, and the journey, on average, takes about 3 and a half hours.
Sintra is known for its colorful and iconic Pena Palace. It is a romanticist palace displaying royal history and is perched on top of a hill. Other best things to do in Sintra are to visit the town's many beautiful fairy-tale castles and palaces, like the Quinta da Regaleira (it has a mystical vibe to it), the ruins of Moorish Castle (perfect location to see views of Pena Palace), and the luxurious Monserrate Palace with a curated tropical garden. You could also visit the National Palace of Sintra, located right in the center of the town.
To enjoy visiting many places in a day, pre-book your tickets to different castles online. They are loved by tourists worldwide, and the queues tend to be long. Planning 3 things to do in a day is ideal as you will easily spend 2 hours at every castle or palace. The best way to explore the town is by using its public transport, which has specific buses that go through loops around all the tourist attractions, making it simple and easier to commute.
Explored by Kiki, RookiExplorers
Lisbon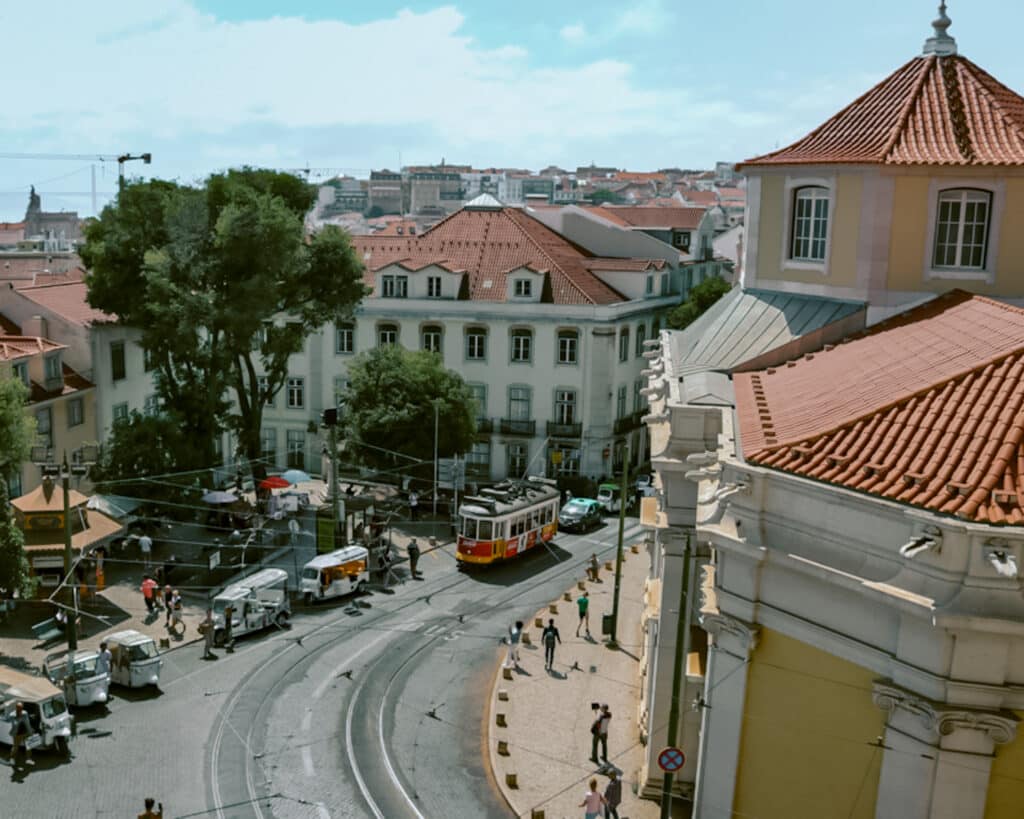 Lisbon is a vibrant and historic city that is well worth a visit if you are in Portugal. It is the capital city and offers a completely different atmosphere and experience compared to Porto. 
Despite being one of the longer day trips from Porto, it's possible to visit Lisbon on a day trip. Lisbon is 3 hours away from Porto by car or train and there are frequent and efficient transport links between the two cities. The best way to get here is by train and the train cost is around 30 USD depending on the time of day.
During your day trip from Porto to Lisbon, you can explore the city's famous landmarks such as the Belem Tower, Jeronimos Monastery, and Sao Jorge Castle. Wander through the narrow streets of the Alfama district and enjoy the lively atmosphere of the city. Ride the historic Santa Justa Lift. Admire some of the best views in the city from Miradouro da Senhora do Monte, Miradouro das Portas do Sol and other lookout points.
Lisbon is known for its delicious food and drink, including the famous Pastel de Nata (Portuguese custard tart) and the local wine, Vinho Verde. You can indulge in these culinary delights during your day trip and experience the unique flavors of Portugal. 
Overall, a day trip from Porto to Lisbon is a great way to experience more of Portugal and add some variety to your trip. With its rich history, stunning architecture, and delicious food, Lisbon is a fun and worthwhile destination for a day trip. If staying longer, consider these day trips from Lisbon as well.
Explored by Melissa, My Beautiful Passport
Tomar
No matter whether you live in Portugal, or just visiting, if you're looking for a unique day trip from Porto, consider visiting the charming town of Tomar! Located just 135 km southeast of Porto, Tomar can be reached by car in about two hours, by train in approximately three hours, or by bus in just over three hours.
Tomar is a historic city that attracts many tourists due to its rich history, beautiful architecture, and stunning landscapes. One of the main attractions in Tomar is the Convent of Christ, a UNESCO World Heritage site that was originally built as a Roman Catholic convent in the 12th century. The convent features beautiful chapels, a grand staircase, and some of the most impressive Gothic architecture in all of Portugal. Visitors can also take a guided tour to learn more about the fascinating history of the site.
Don't miss visiting Tomar's famous 17th-century Aqueduct, one of the most striking monuments of this beautiful town. You can climb up its hills and walk along the water channel, admiring the marvelous landscape.
No visit to Tomar would be complete without trying its popular egg pastries called "fatias de Tomar." These traditional sweets are made from eggs, sugar, flour, and almonds with a nice crispy crust – a perfect sweet snack during a busy day of exploring the city.
When in Tomar, don't miss the chance to explore the charming Old Town, which features narrow streets, traditional houses, and lovely shops and restaurants. Walking through the town's streets, you can admire the architecture and historical heritage of the city.
All in all, Tomar is a great day trip from Porto to experience Portugal's rich history, stunning architecture, beautiful landscapes, mouth-watering egg pastries & glimpses of medieval engineering mastery which still stand tall today.
Explored by Allison, Renovating Life
Matosinhos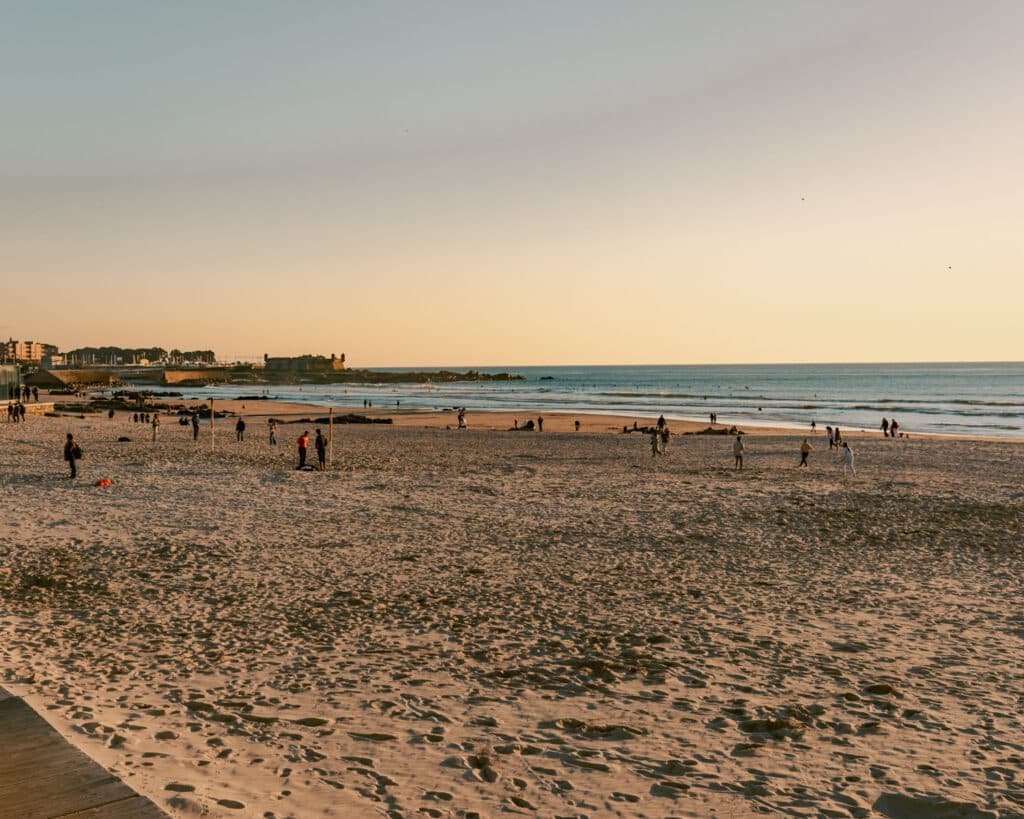 When visiting Porto, Portugal, you'll definitely want to add Matosinhos as a quick day trip from Porto. Located just a short drive or a 30-minute metro ride north of Porto. Matosinhos offers an ideal escape from the hustle and bustle of the city. This small fishing village boasts incredible seafood, stunning beaches, and so much more.
With miles of sandy coastline, Matosinhos boasts some of the best beaches in all of Portugal, including Praia de Matosinhos. The water is refreshingly cool during summer, making it perfect for swimming or surfing. The beach can get quite crowded on weekends, but it's still large enough to find a quiet spot to relax.
While in Matosinhos, take a moment to visit this beautiful urban park, the Parque da Cidade. With over 83 hectares of land, this park boasts lush gardens, a scenic lake, and playgrounds for children. Whether you're looking for a picnic spot, a jogging trail, or a bird-watching experience, this park is a must-visit spot.
Apart from its beauty, Matosinhos is famed for its culinary expertise. When it comes to seafood, the grilled fish in Matosinhos is simply exceptional. Head on down to the fisherman's wharf area for freshly grilled sardines, sea bass, squid, and more. These dishes are best served with a chilled glass of local wine or beer.
Matosinhos is the perfect spot to watch the sun go down and bask in the warm orange and pink hues. Head down to the beach or grab a rooftop seat and wait for the sun to slowly set over the Atlantic. It's truly a breathtaking experience.
Explored by Brittany, Travel X Britt
Not sure what to do in Porto? Use this Porto itinerary during your visit.
Nazare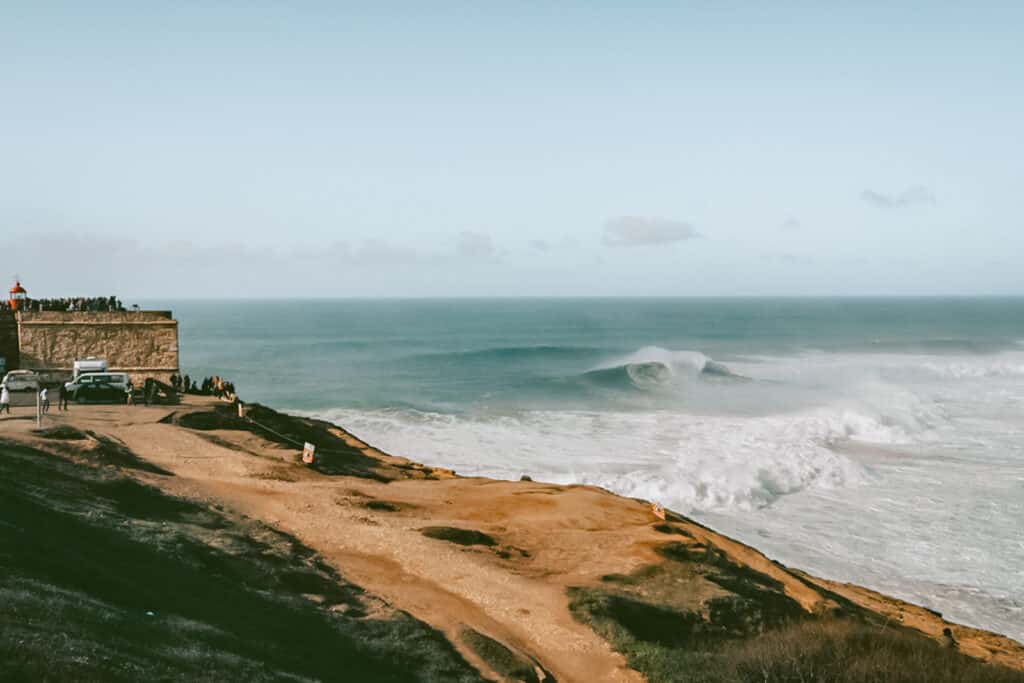 One of the best day trips from Porto is to visit Nazare! There are two ways to get to Nazare from Porto. You can rent a car and drive the 2 hours. The highways in Portugal are pretty new and easy to drive, although you will run into a few tolls. The total cost for the trip, besides the rental car, will be around €20. 
The other way to get from Porto to Nazare is by bus. The fastest route to take is to start at São Bento train station in Porto. Then take a fast take train to Lisbon Santa Apolónia or the Oriente stations. Then from Lisbon, take a bus (Rede Expressos) directly to Nazaré. The bus drops you off right outside Nazaré. Then you can hop on another local bus or grab an Uber to get to the town center. There are also tours that will take you from Porto to Nazare, and even stop by a few other coastal towns. 
Once you arrive in Nazare, there are so many fun things to do! On the top of the list would be to go and watch the massive waves on North Beach. In the wintertime, these waves can reach up to 100 feet. You can see surfers being towed in and out on jet skis. There are a few different places to watch the waves.
The old lighthouse/castle has the best vantage point, and you cannot miss it perched on the cliff of North Beach. There is also a grassy area where people set up chairs and picnics for the day. Or you can watch from Nazare Beach on the other side of the lighthouse. 
After you watch the surfers for a bit, you can head into the old town to explore. Nazare has always been a fishing town, long before the surfers master the large waves. You have to check out the sundried fish museum to learn how the locals preserve their catches. You can even taste a few yourself! 
Explored by Abbey, Trips On Abbey Road
Day Trips From Porto Final Thoughts
I hope you enjoyed these Porto day trips. The city of Porto offers a unique blend of old and new, making it the perfect destination for a day trip. From the peaceful beach to historic fortresses, there is something for everyone in this Portuguese paradise. Whether you explore one of these day trips from Porto, each destination has its unique charm! that will make your experience even more memorable.
Visiting Porto? Check out these other posts to help you plan your visit: 
Like this post on day trips from Porto? Share it with others or pin it for later!