Looking for some things to do in Santiago de Compostela?  Here in this small town, you can experience Spanish culture, history, and religious traditions.  Stunningly located in northwest Spain near the Atlantic coast and on UNESCO's World Heritage List,  this city has much to offer any eager traveler. 
From noble churches overflowing with baroque art treasure troves to bourgeois residences turned stylish boutique hotels, as well as breathtaking coastal landscapes only a stone's throw away, there are endless things to see in Santiago de Compostela just waiting to be experienced. 
Whether indulging yourself in traditional tapas bars overlooking cobblestoned streets or relaxing at sacred sites owned by ancient pilgrims, this charming town will surely provide an unforgettable holiday!
This article may contain affiliate / compensated links. For full information, please see our disclosure here.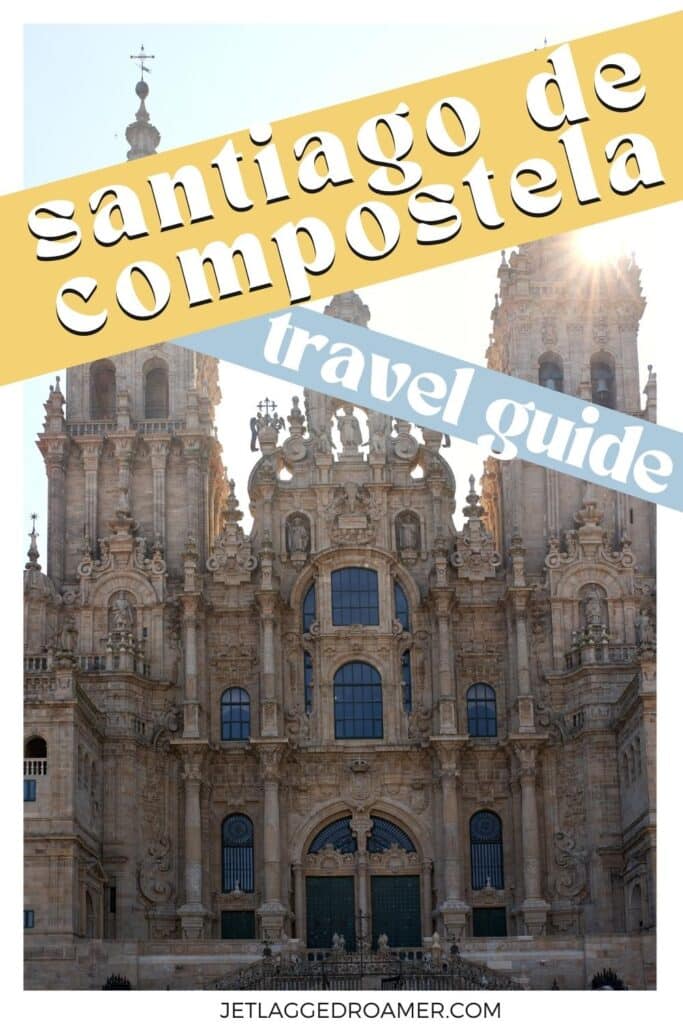 Visiting this region of Spain? Check out these other places nearby: 
Things To Do In Santiago de Compostela
Gawk At Catedral de Santiago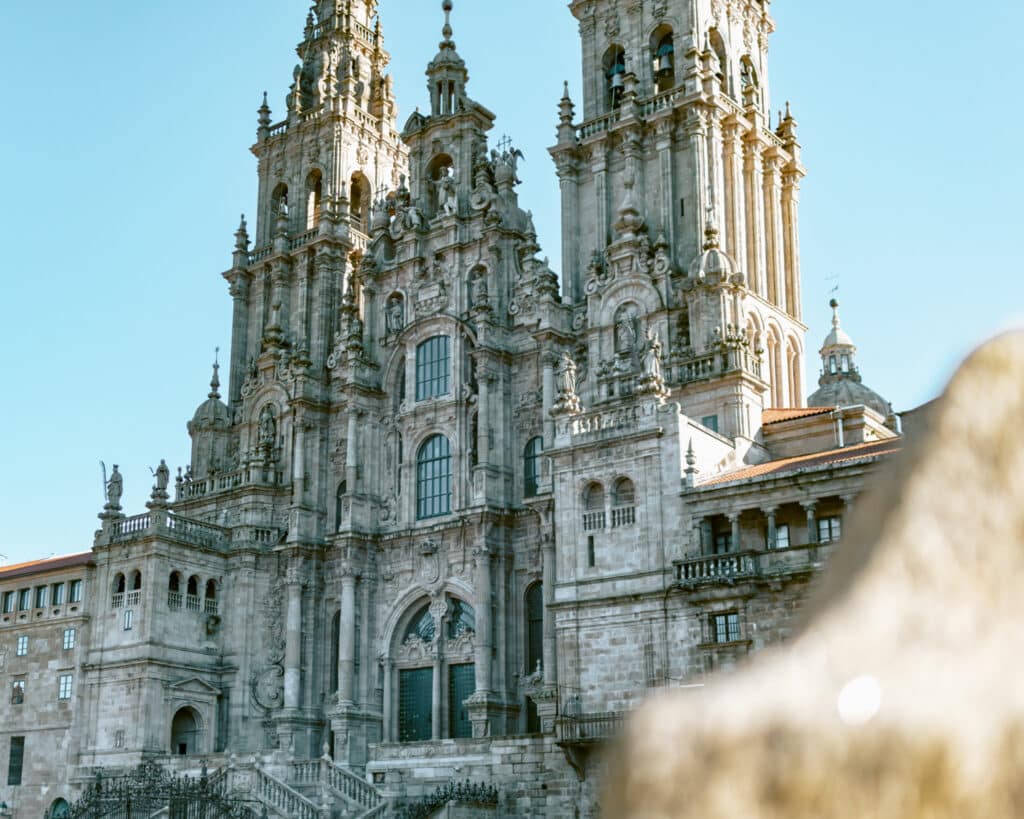 First and foremost, one of the top things to do in Santiago de Compostela is to visit the remarkable Catedral de Santiago. Also known as the burial place of St. James. This majestic structure proudly stands at the heart of Santiago de Compostela. It also serves as the ultimate destination for pilgrims on the famous Camino de Santiago. 
The Cathedral's blend of Romanesque, Gothic, and Baroque styles creates a visual feast for the eyes. And let's not forget about the Botafumeiro, a massive thurible that swings through the nave, filling the air with a sense of mystique and wonder.
Enjoy day trips? Consider taking a day trip to Porto during your visit.
Enjoy Colegiata de Santa Maria del Sar
For a quieter, more serene experience, consider visiting the Colegiata de Santa Maria del Sar. Situated.  Just outside the bustling city center, this hidden gem of Romanesque architecture will captivate you with its intricate façade and tranquil surroundings. 
It's the perfect place to take a moment, appreciate the city's rich religious heritage, and marvel at the architectural beauty that surrounds you.
Visit Hostal de los Reyes Católicos
Now, if you're in the mood for a touch of luxury and a journey back in time, the Hostal de los Reyes Católicos. It is one of the best things to do in Santiago de Compostela.  Originally established as a hospital, this magnificent Parador hotel offers a truly unique experience. 
Every corner of this establishment exudes history and grandeur, from the stunning interior courtyard to the antique furnishings that transport you to a bygone era. Don't forget about the gourmet dining options that will tantalize your taste buds and make your stay even more memorable.
Relax At Parque de la Alameda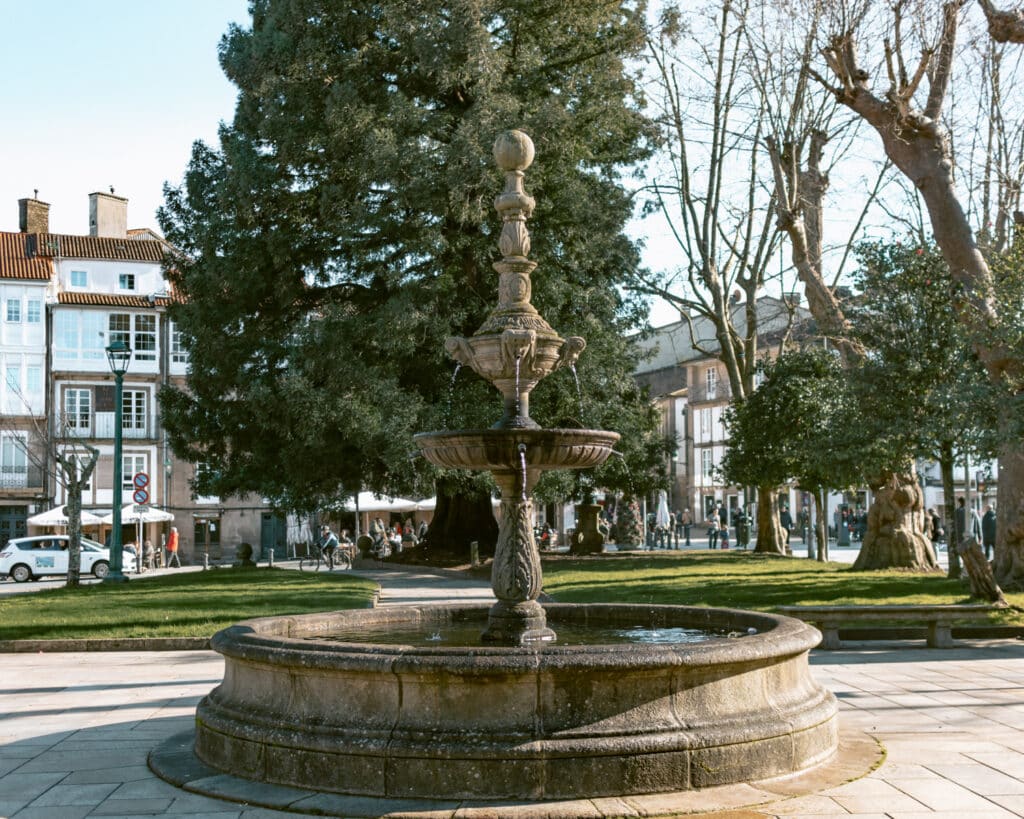 Parque de la Alameda is one of the things to do in Santiago de Compostela to unwind and escape the hustle and bustle of the city. 
This picturesque park offers a haven of tranquility, boasting lush greenery, exquisite gardens, and awe-inspiring vistas of the old town. Take a leisurely walk, find a cozy nook to dive into a good book, or simply revel in the serene atmosphere that envelops you.
Experience Mercado de Abastos
Immerse yourself in the vibrant culture of Santiago de Compostela as you explore the Mercado de Abastos, the city's central market. This lively marketplace is a feast for the senses! It offers an incredible variety of fresh produce, seafood, meats, cheeses, and other local delights. 
As you stroll through the bustling aisles, expect to be greeted by friendly vendors eager to share their culinary treasures. Mercado de Abastos is the perfect spot to indulge in the authentic flavors of Galicia.
Visit Old Town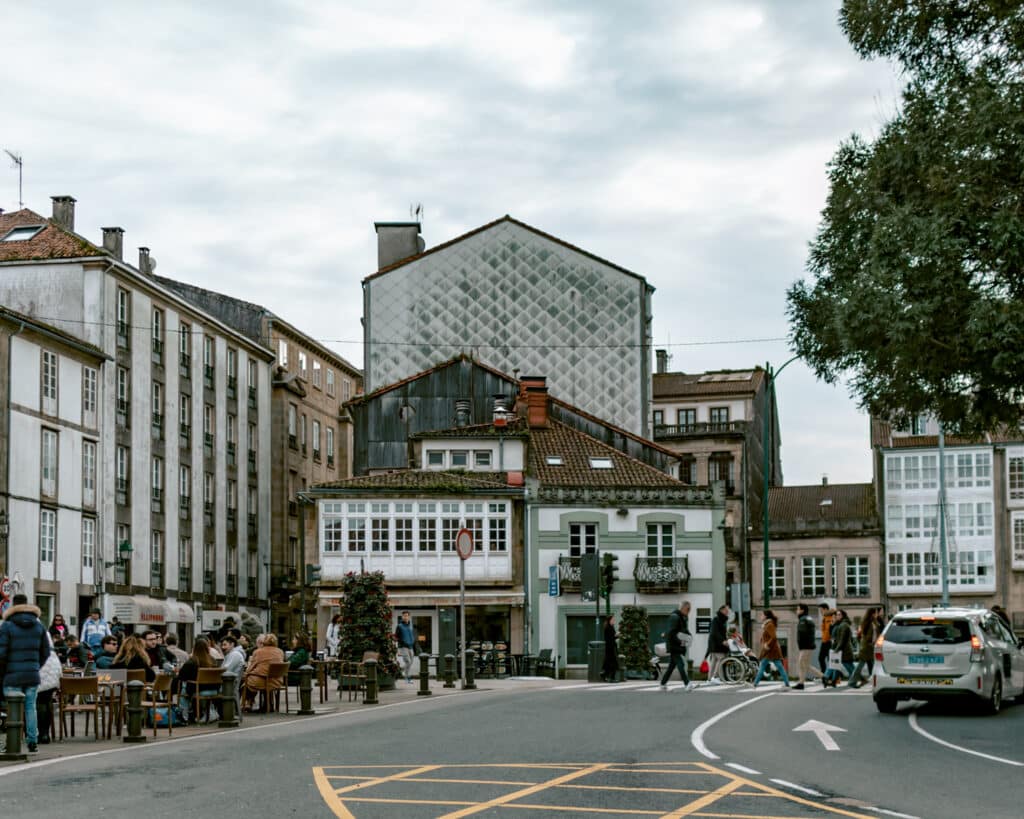 Take a leisurely stroll through the magical streets of Santiago de Compostela's old town. It's one of the Santiago de Compostela sights to get wonderfully lost in the narrow alleys.  Every corner reveals a piece of history. 
Marvel at the tall architectural wonders is bearing witness to the city's medieval past. And don't forget to explore the hidden squares that add a touch of mystery to this historic gem.
Stroll Plaza del Obradoiro
Make your way to the heart of Santiago de Compostela and discover the Plaza del Obradoiro. This is the main square that draws both locals and visitors together. Surrounded by majestic buildings, this square is a sight to behold. Its historical significance and architectural grandeur create an enchanting ambiance that never fails to captivate. Join in the lively activity that unfolds in this vibrant gathering place and feel the energy of the city.
Get Cultured A Centro Galego de Arte Contemporánea
Art aficionados, rejoice! The Centro Galego de Arte Contemporánea (CGAC) awaits your visit. This contemporary art center is a haven for creativity, showcasing thought-provoking exhibitions and awe-inspiring installations. This museum is one of the most unique things to see in Santiago de Compostela. 
Prepare to be inspired by the works of talented national and international artists, as the CGAC presents a fresh and innovative perspective on modern art. Here is one of the Santiago de Compostela sights to let your imagination run wild.  Enjoy exploring the captivating displays and delve into the ever-evolving world of contemporary art.
Visit Casa do Cabildo
Casa do Cabildo is one of the Santiago de Compostela activities that's a true gem. This stunning 18th-century building boasts an intricate façade that will leave you in awe. Today, it serves as a tourist office and houses fascinating exhibitions that shed light on the city's rich heritage. 
Take a moment to appreciate the architectural beauty before stepping inside to discover the stories that lie within. As you explore the captivating exhibits, you gain a deeper understanding of Santiago de Compostela's history and cultural legacy.
Eat Lots Of Seafood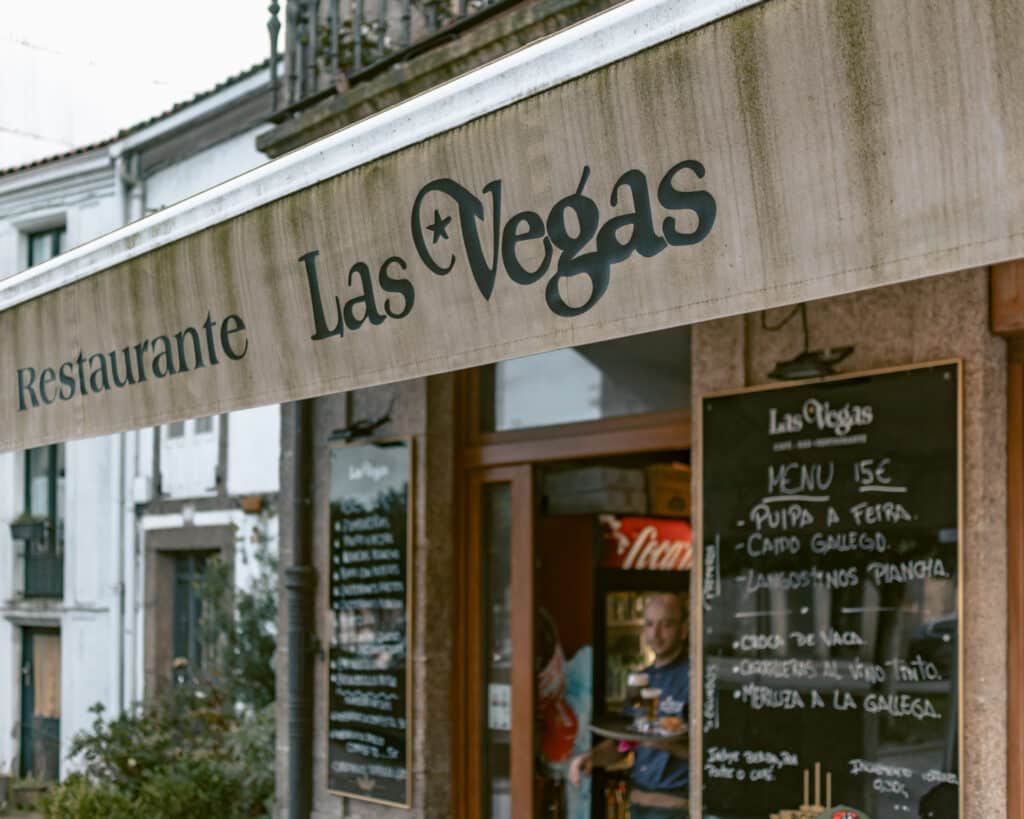 One of the best things to do in Santiago de Compostela is embark on a sensory adventure that tantalizes even the most discerning palates. To truly capture the essence of this remarkable city, one must indulge in its legendary seafood offerings. 
Prepare to embark on a gastronomic odyssey, where every bite unveils a symphony of flavors, textures, and aromas.
Indulge in the tender embrace of fresh octopus, its flesh imbued with an irresistible smokiness that dances upon your palate. The perfect harmony of tenderness and flavor creates a sensory symphony that leaves you yearning for just one more bite.
But the seafood extravaganza doesn't end there. Santiago de Compostela invites you to explore its culinary treasures, unveiling surprises at every turn. From delicate razor clams to buttery scallops, each dish is a testament to the sea's bounty and the locals' unwavering dedication to their craft.
Day Trip To Noia
If you've got some extra time on your hands, why not embark on one of the Santiago de Compostela day trips to the enchanting town of Noia? It's just a stone's throw away from Santiago de Compostela.  
Noia beckons with its medieval streets, charming churches, and a waterfront that's straight out of a postcard. Take a leisurely stroll through town, explore the local market, and bask in the soothing ambiance that permeates the air.
Explore Praza da Quintana
Prepare to be captivated by the grandeur of Praza da Quintana, a square of utmost significance in Santiago de Compostela. Renowned for its historical importance and architectural splendor, this square is home to the magnificent Portico da Gloria. 
This masterpiece is a Romanesque sculpture and serves as the gateway to the Cathedral's Holy Door during the Holy Years. Take your time to marvel at the intricate details and immerse yourself in the profound sense of spirituality that lingers in the air.
Try Galician Drinks
Indulge your taste buds on a delightful journey through the traditional drinks of Galicia. Get tantalized by the crisp and fruity flavors of the region's famous white wines, like the refreshing Albariño and the delightful Ribeiro. 
But that's not all—brace yourself for a truly unique experience with queimada, a traditional Galician punch. Made with spirits, sugar, coffee beans, and lemon peel, this drink is not just about the taste but also the captivating ceremonial ritual that goes along with it.
Day Trip to Valença
Escape the borders and consider one of the many Santiago de Compostela day trips to Valença. It's just a hop across to Portugal. Immerse yourself in the medieval charm as you stroll through its narrow streets and marvel at the well-preserved fortifications. 
Prepare to be captivated by the delightful shops that line the historic center, offering a cross-cultural experience that will leave you enchanted.
Lover of quick trips? Discover more day trips in Portugal here.
Where to Stay in Santiago de Compostela
Santiago de Compostela, a city bursting with history and charm, offers a delightful range of accommodation options to suit every traveler's taste and budget. Whether you're in the mood for luxury or cozy comfort, this Galician gem has a diverse selection that will leave you spoiled for choice.
Consider the vibrant Plaza del Obradoiro, a bustling square that is a gateway to the majestic Cathedral and a hub of cultural activities. Lastly, the city center offers modern conveniences and easy access to the main attractions, making it an ideal base for exploration.
When to Visit Santiago de Compostela
When planning a trip to Santiago de Compostela, it's important to remember your visit's timing. The city is known for its rich history, beautiful architecture, and religious significance, making it a popular destination for travelers year-round. However, if you hope to avoid crowds and enjoy a more peaceful experience, consider visiting during the off-season. 
The winter months may be chilly, but the lack of tourists allows for a deeper appreciation of the city's beauty and cultural heritage. Alternatively, if you prefer the hustle and bustle of peak season, plan your visit during the summer months when festivals and events are in full swing. Regardless of when you visit, Santiago de Compostela will leave a lasting impression on you.
How Many Days Do You Need in Santiago de Compostela
To truly savor the experience of Santiago de Compostela and explore its delightful attractions at a relaxed pace, it is recommended to spend a minimum of 2 to 3 days in the city. 
This allows ample time to visit the main landmarks, indulge in the local cuisine, and fully immerse yourself in the city's unique atmosphere. Of course, if you have more time available, you can extend your stay and delve even deeper into the city's rich history, culture, and nearby towns.
Places to visit in Santiago de Compostela Recap
Catedral de Santiago
Colegiata de Santa Maria del Sar
Hostal de los Reyes Católicos
Parque de la Alameda 
Mercado de Abastos
Old Town 
Plaza del Obradoiro
Centro Galego de Arte Contemporánea
Casa do Cabildo
Eat Seafood
Day trip to Noia
Praza da Quintana
Try Galician drinks
Day trip to Valença
Things To Do In Santiago de Compostela Final Thoughts
Hope you found this list of things to do in Santiago de Compostela helpful for your visit. This captivating destination effortlessly blends history, architecture, and gastronomy. Whether you're a pilgrim on the Camino de Santiago or an adventurous traveler, this city has something for everyone.
 Make sure to indulge in the local cuisine, sample Galician drinks, and take day trips to nearby towns for a complete and fulfilling experience. With its rich heritage and welcoming atmosphere, Santiago de Compostela is truly a destination worth exploring and enjoying to the fullest.
Consider reading these posts when visiting this area:
Like these things to do in Santiago de Compostela? Share it with others or pin it for later!