Have only one day in Copenhagen to spend? Well, as someone who fell so deeply in love with this city, this post will come in handy. So no need to stress as I'm going to give you all the best things in Copenhagen to see in 24 hours. 
This article may contain affiliate / compensated links. For full information, please see our disclosure here.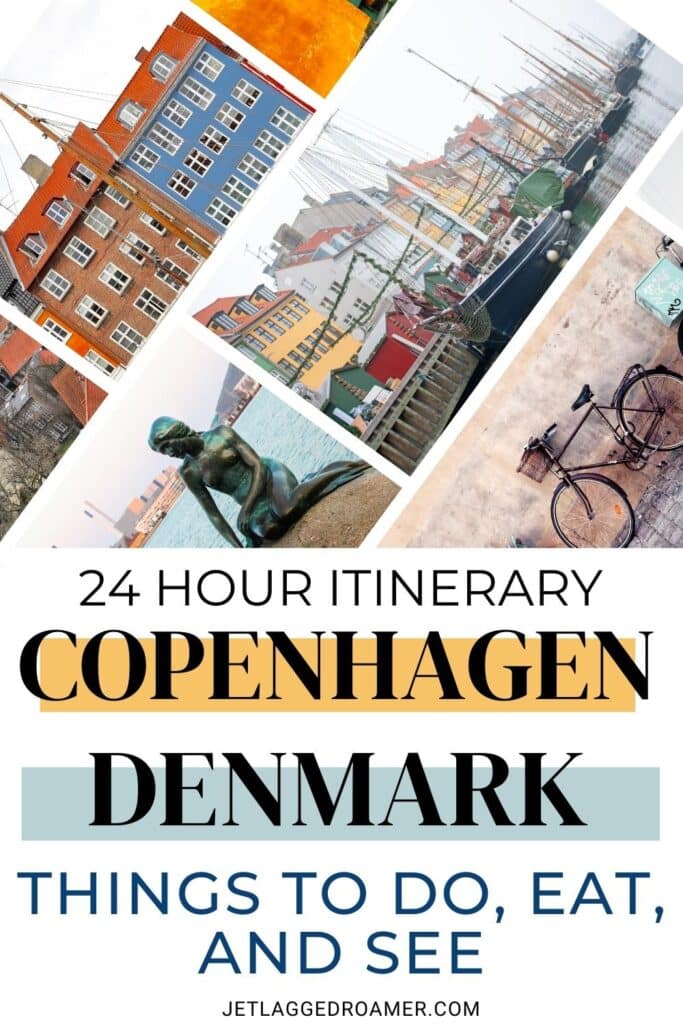 Related posts: 
Copenhagen Overview
Copenhagen is the capital of Denmark. This country has been frequently ranked as one of the happiest places on earth. After my visit, I can see why. 
Denmark is connected to Europe and is one of the 3-countries in Scandinavia (Norway and Sweden being the others). Many centuries ago it was the home to the Vikings. 
During your visit to Copenhagen, you will hear a popular Danish phrase hygge (pronounced 'hyoo-guh'), which means "coziness." Danes thrive on this phrase and pretty much live it in their daily lives. The term really can't be explained, it's just something you'll have to experience visiting Copenhagen. 
Handy Copenhagen In A Day Map
Keep all these must-see Copenhagen recommendations handy in your own Google Maps app. Just select the full-screen icon so you can download it easily and have it for your visit. 
Is One Day Enough Time To Visit Copenhagen? 
You may be wondering if one day in Copenhagen is going to be enough. To be blunt with you,  it's not. However, the good news is it can be done! 
Although, there is a time crunch you can squeeze in the best bits of Copenhagen. You can see some of the best attractions, cruise down Nyhavn, and munch on some tasty smørrebrød. Before your one day in Copenhagen comes to an end you will be planning for a longer return. 
8 AM Breakfast
Start your day in Copenhagen with a hearty Danish-style breakfast. Danes' morning meals consist of porridge, cured cold meat, jam, pastries, bread with soft cheese, eggs, and coffee or tea. 
Grød and Mad & Kaffe are highly favored by the locals for breakfast and brunch. 
9:00 AM The Little Mermaid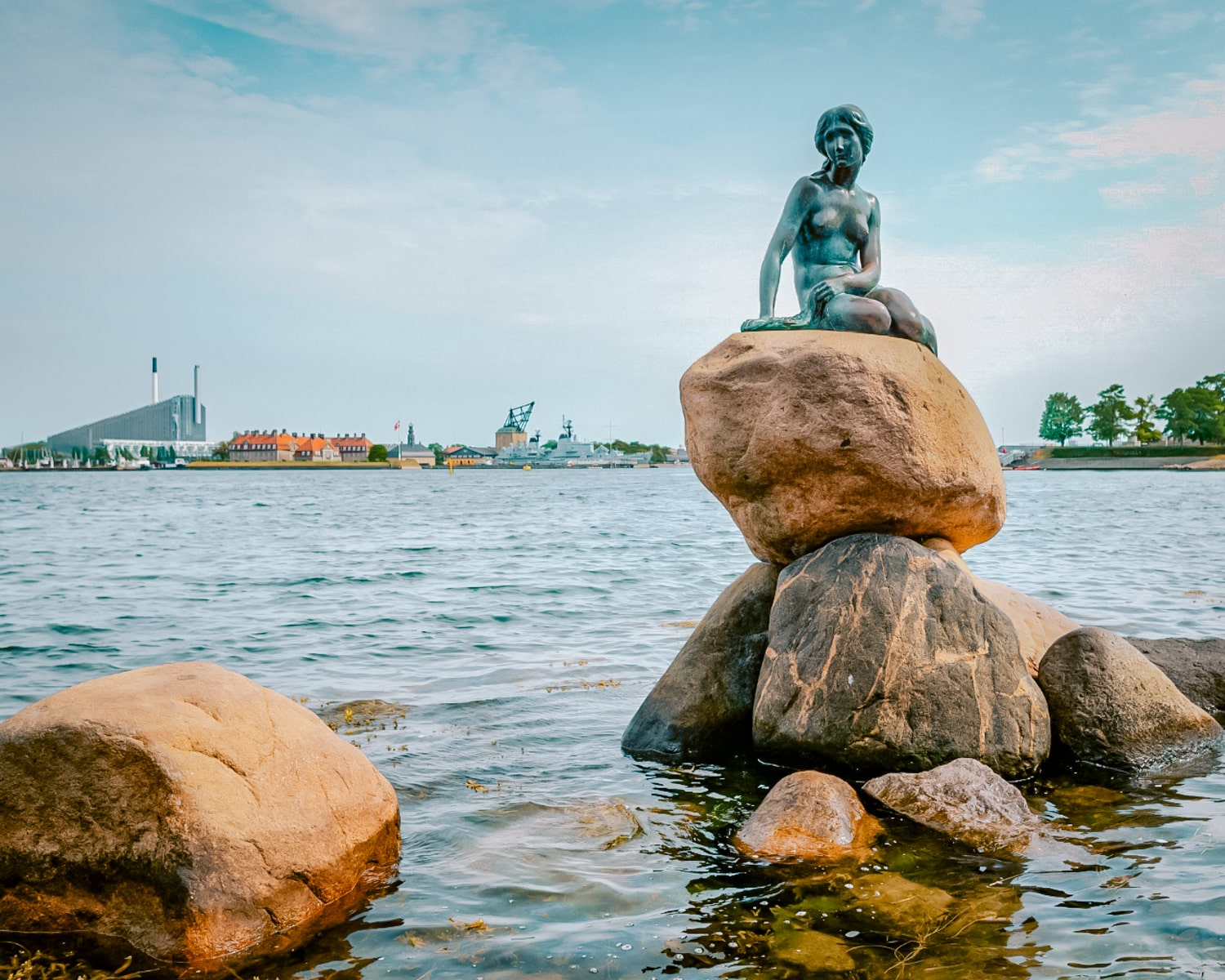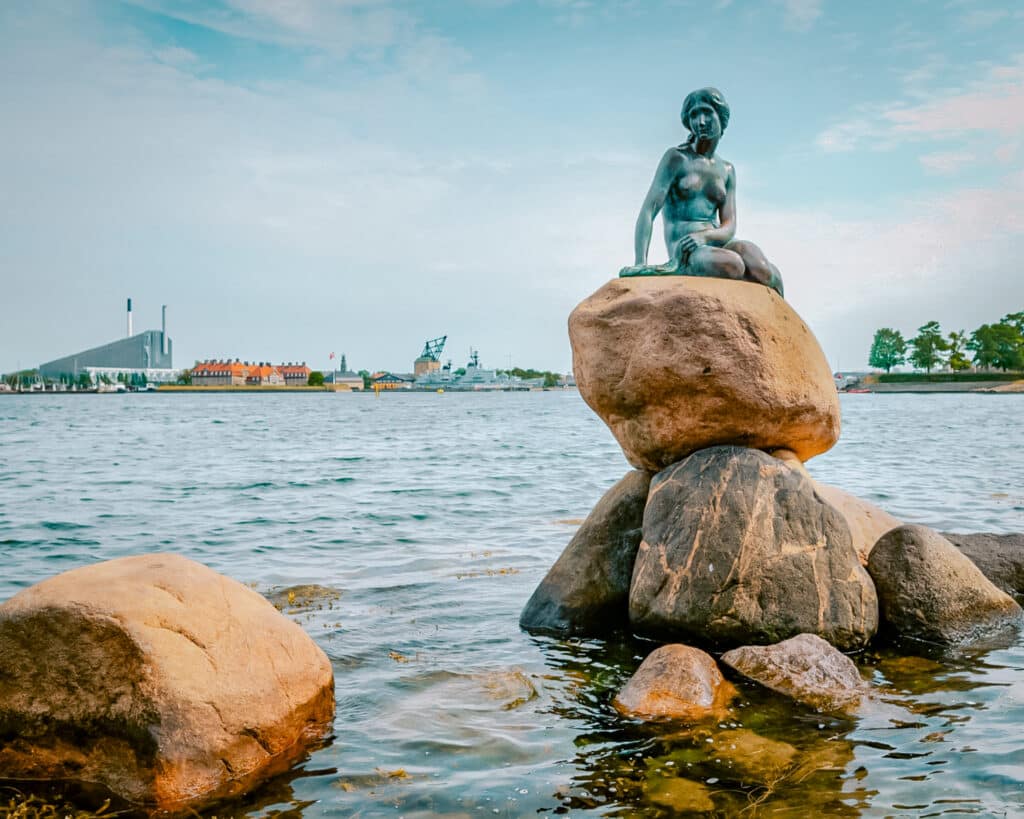 A day in Copenhagen wouldn't be complete without visiting the notorious bronze and granite statue The Little Mermaid. The statue was gifted to the city in 1913 by a Danish brewer Carl Jacobsen. 
The Little Mermaid was inspired by Hans Christian Anderson's fairytale, hence the name.
Admission: Free
Hours: 24/7
Location: Langelinie, 2100 København Ø, Denmark
Like saving cash on your trips? Get a Copenhagen City Card for free public transportation and entry to Copenhagen attractions. 
10 AM Visit A Museum
The Round Tower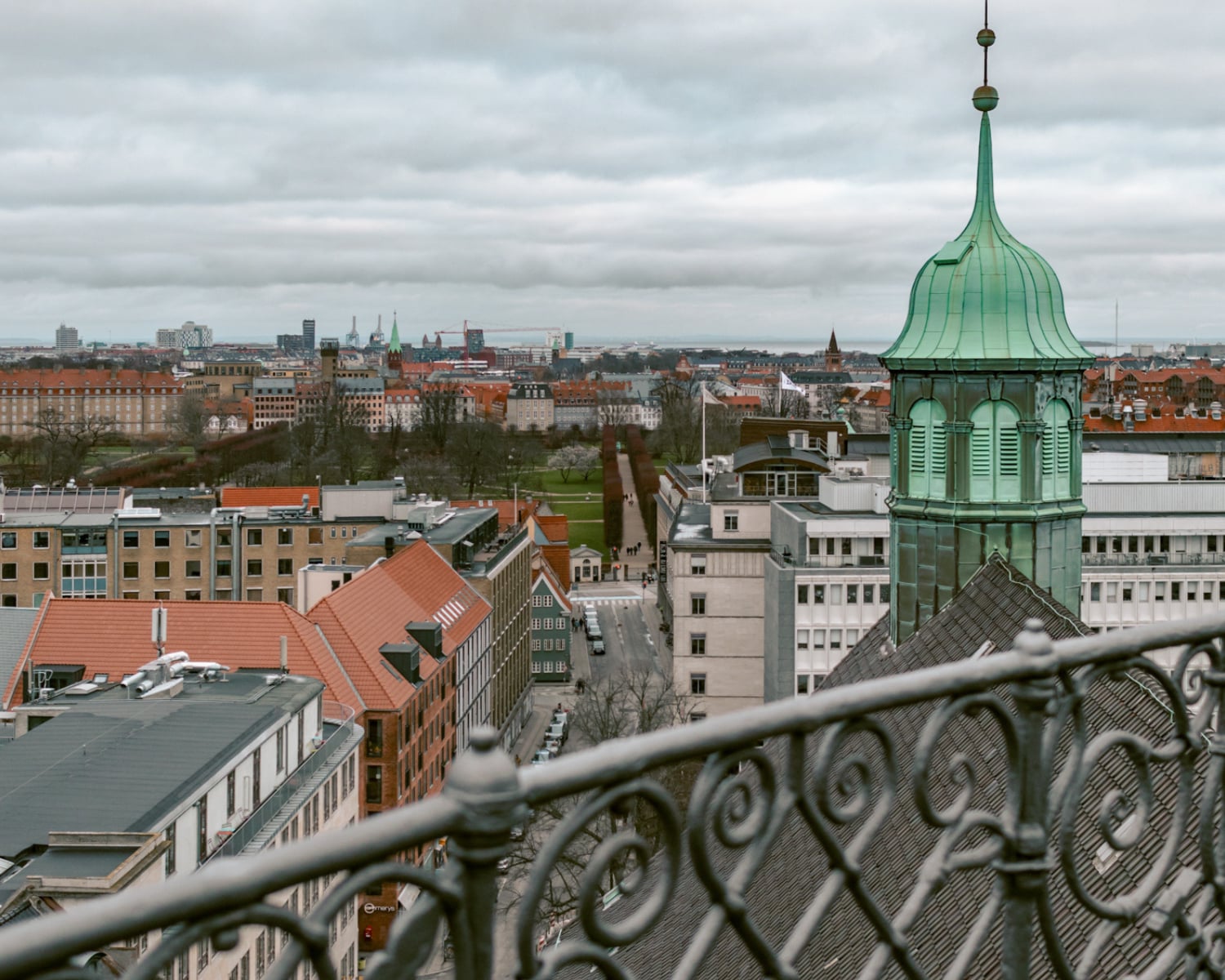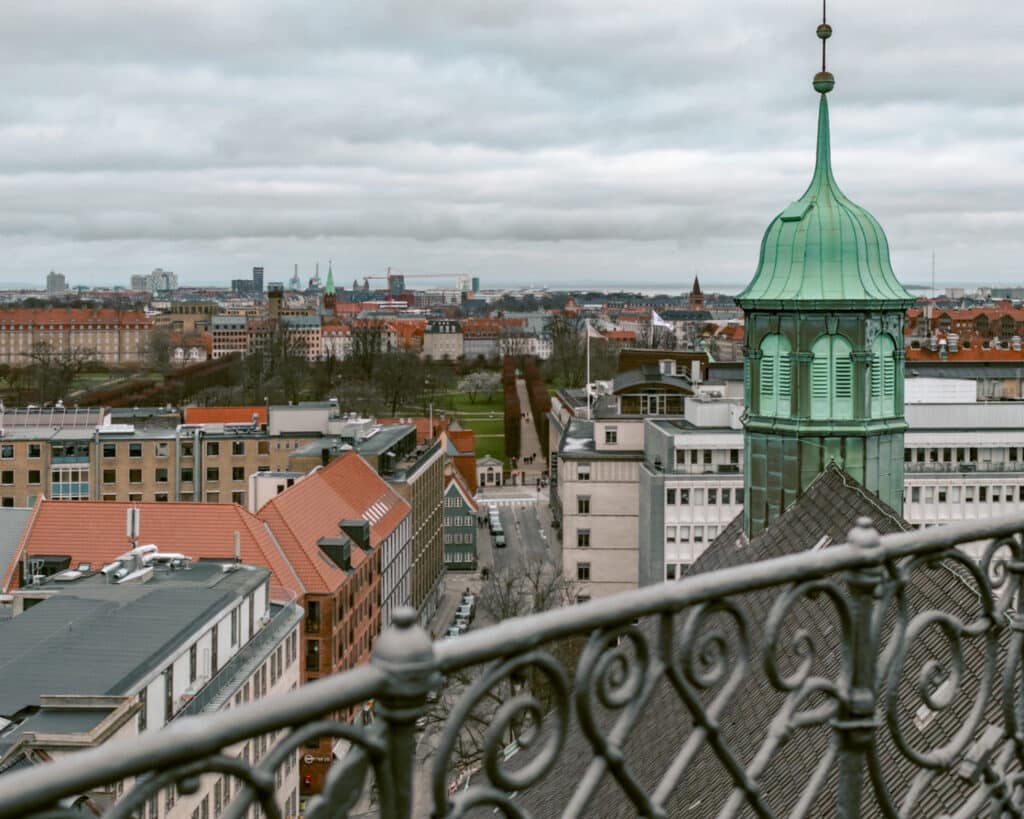 The Round Tower has a spectacular panoramic view of Copenhagen and is one of the oldest observatories all over Europe still working. The interior is minimalistic, just white walls and wooden floors, but it's stunning and worth adding to this Copenhagen itinerary. 
You can reach the tower by following the ramp that winds around a total of 7 1/2 times. There is still a journey to make it to the tower going up the narrow winding staircase before you reach the top. 
Admission: Adults 40 DKK, children (5-10 years) 10 DKK, children under 5 are free. Click here to get updated pricing and purchase tickets in advance. 
Hours: Hours are 10 AM-6 PM except for Tuesdays and Wednesdays where it stays open until 9 PM. 
Location: Købmagergade 52A, 1150 København, Denmark
Designmuseum Danmark
A museum that houses crafts, decorative art, and industrial designs from the Western Hemisphere and Asia. For those who are into interior design, this will be a very unique experience. 
Admission: Adults 130 DKK, children (0-17 years) free, under 27 90 DKK
Hours: Tuesday to Sunday 10 AM-6 PM, Thursday 10 AM-8 PM, Monday closed
Location: Bredgade 68, 1260 København, Denmark
The David Collection
Amazing preserved collections from a Danish lawyer, Christian Ludvig David. This museum houses Scandinavia's largest collection of Islamic art. Also, you can view modern art from Denmark and other additional European art from the 18th-19th century. 
Admission: Free
Hours: Tuesday to Sunday 10 AM-5 PM, Wednesday 10 AM-9 PM, Monday closed
Location:  Kronprinsessegade 30 1306 København K Danmark
National Museum Of Denmark
For history lovers, immerse yourself in art at Denmark's largest museum of cultural history. Many exhibitions at this museum will satisfy any history enthusiast. 
Admission: Adult 110 DKK, children under 18 free
Hours: June to September every day 10 AM- 6 PM, October to May Tuesday to Sunday 10 AM-5 PM. Closed December 24, 25, and 3. 
Location: Prince's Mansion, Ny Vestergade 10, 1471 København K, Denmark
12 PM Lunch: Pick A Food Hall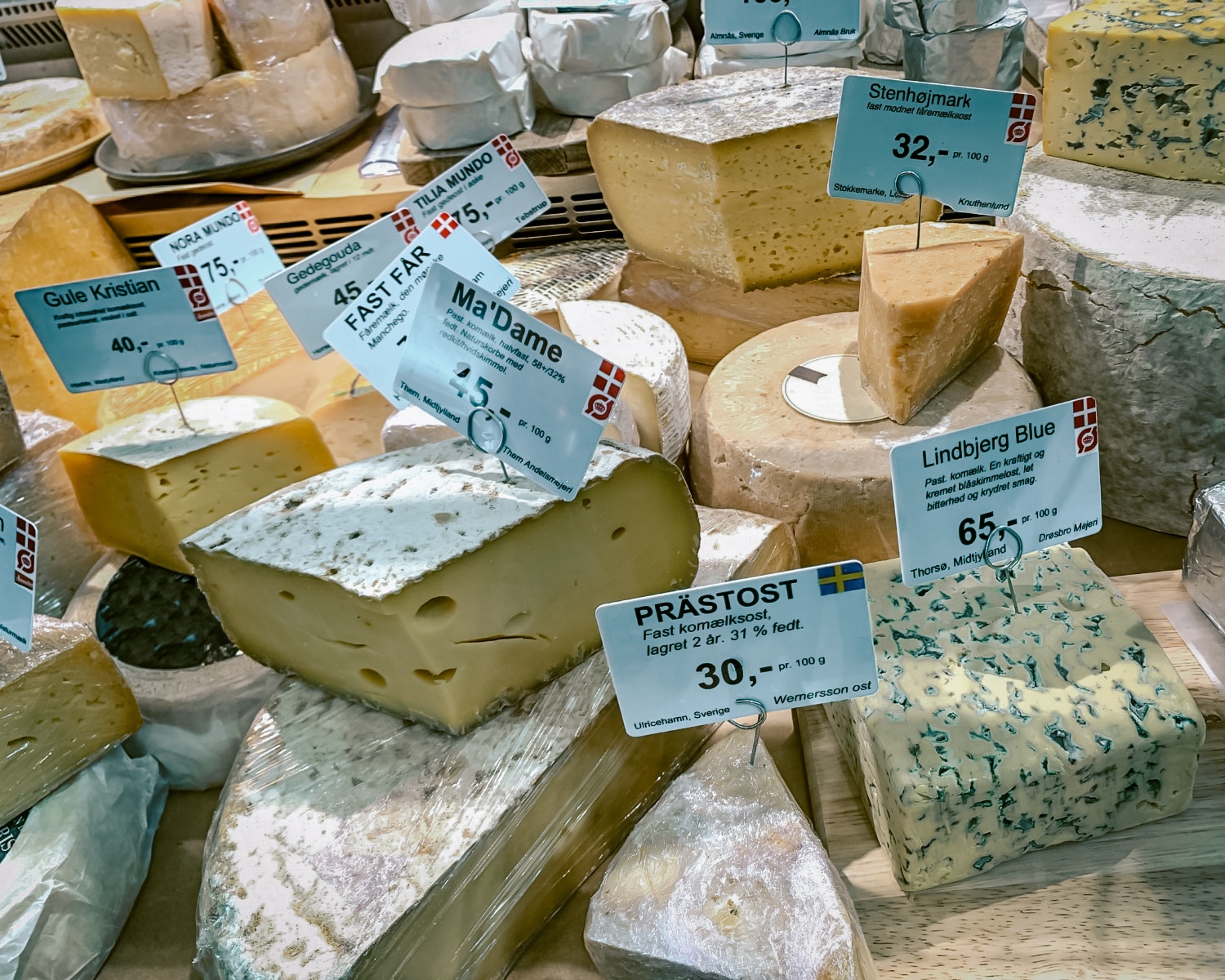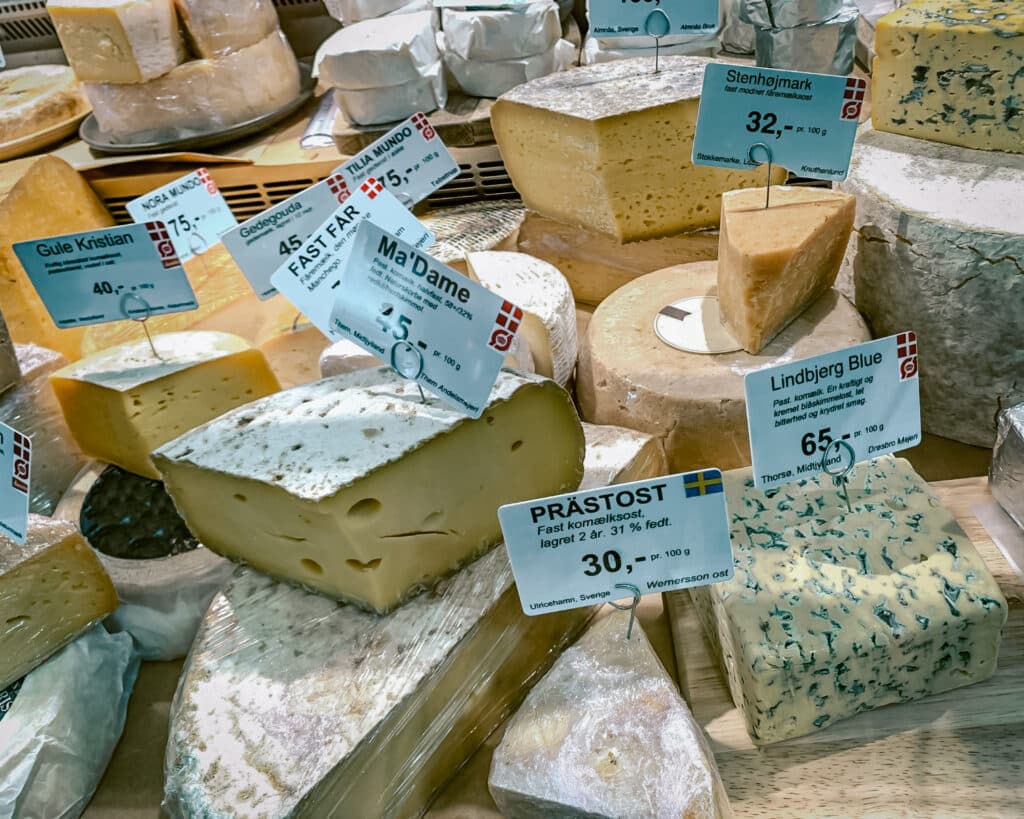 Before proceeding with this one day in Copenhagen itinerary, it's time to grab a bite to eat at Copenhagen's famous food hall, Torvehallerne. 
Get your senses overstimulated with the overwhelming amount of food stalls serving up Danish delicacies, fresh produce, bread, cheeses, and meats. You can sample some of Denmark's most popular dishes here. 
Smørrebrøad, an open-faced sandwich with rye bread as its base topped with fish, cheese, eggs, pickled herring, or cold cuts, and a must-eat when visiting Copenhagen. 
Hours: Sunday 11 AM-5 PM, Monday-Thursday 10 AM-7 PM, Friday 10 AM-8 PM, Saturday 10 AM-6 PM
Location: Frederiksborggade 21, 1362 København, Denmark
Another food court I suggest browsing and equally delicious is Tivoli Food Hall. 
There is something for everyone there. Many various booths with cuisine such as sushi, Mexican dishes, and traditional Danish eats. 
Hours: Sunday-Thursday 11 AM-11 PM, Friday-Saturday 11 AM-12 AM
Location: Bernstorffsgade 3, 1577 København, Denmark
Do you enjoy walking tours? Take a one day tour in Copenhagen with a local. 
1 PM Botanical Gardens
Copenhagen's Botanical Gardens was originally established in the 1600s but moved a few times before giving its final settlement in the late 1800s. 
The glass building has over 20 glasshouses and 13,000 species and plants indigenous to Central and Southern Europe. 
Summer of 2018 the Botanical Gardens opened a Butterfly House and the butterflies can be spotted flying around during their transformation.  
Admission: Admission is 60-DKK (less than 9-USD)
Hours: Operating hours are every day from 8:30 AM-4 PM
Location: Gothersgade 128, 1123 København, Denmark
2:30 PM Shop On Strøget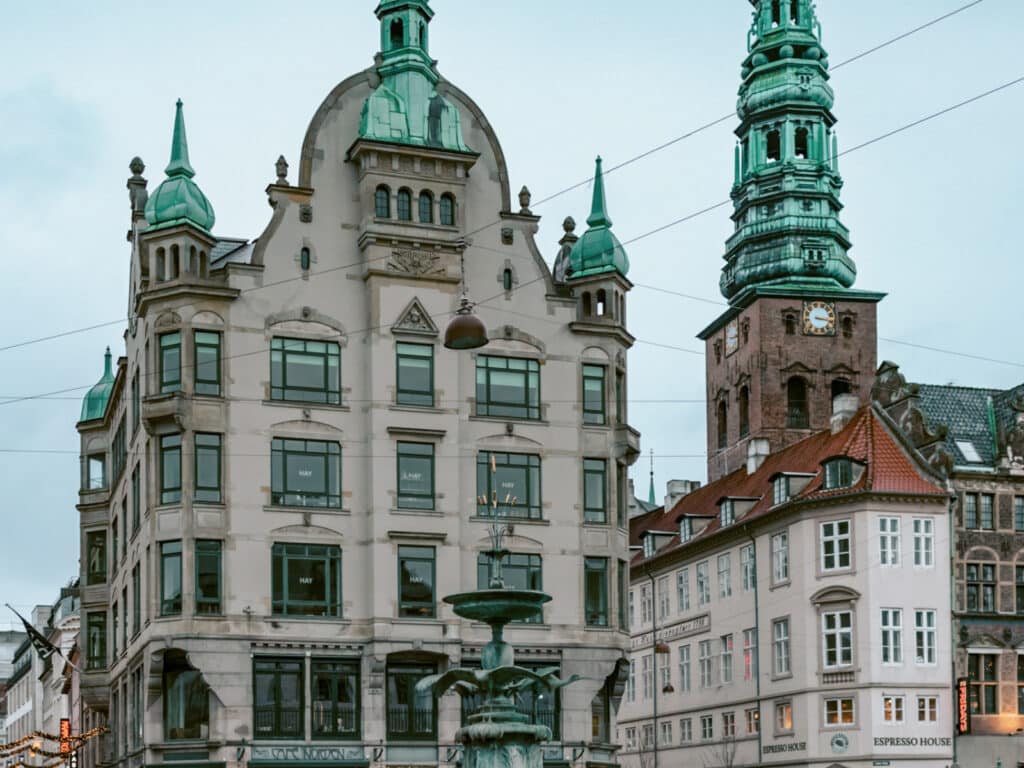 Not too far off from Nyhavn River is Strøget, a pedestrian-only road filled with lots of shopping and one of the longest streets in Europe.
There is a copious amount of shopping from retail chains and local boutiques. Take a break I from walking the cobblestone streets and dine at the many restaurants.
Hours: 24/7 to walk around, except for shopping
Location: Frederiksberggade 1459 København K
4:30 PM Nyhavn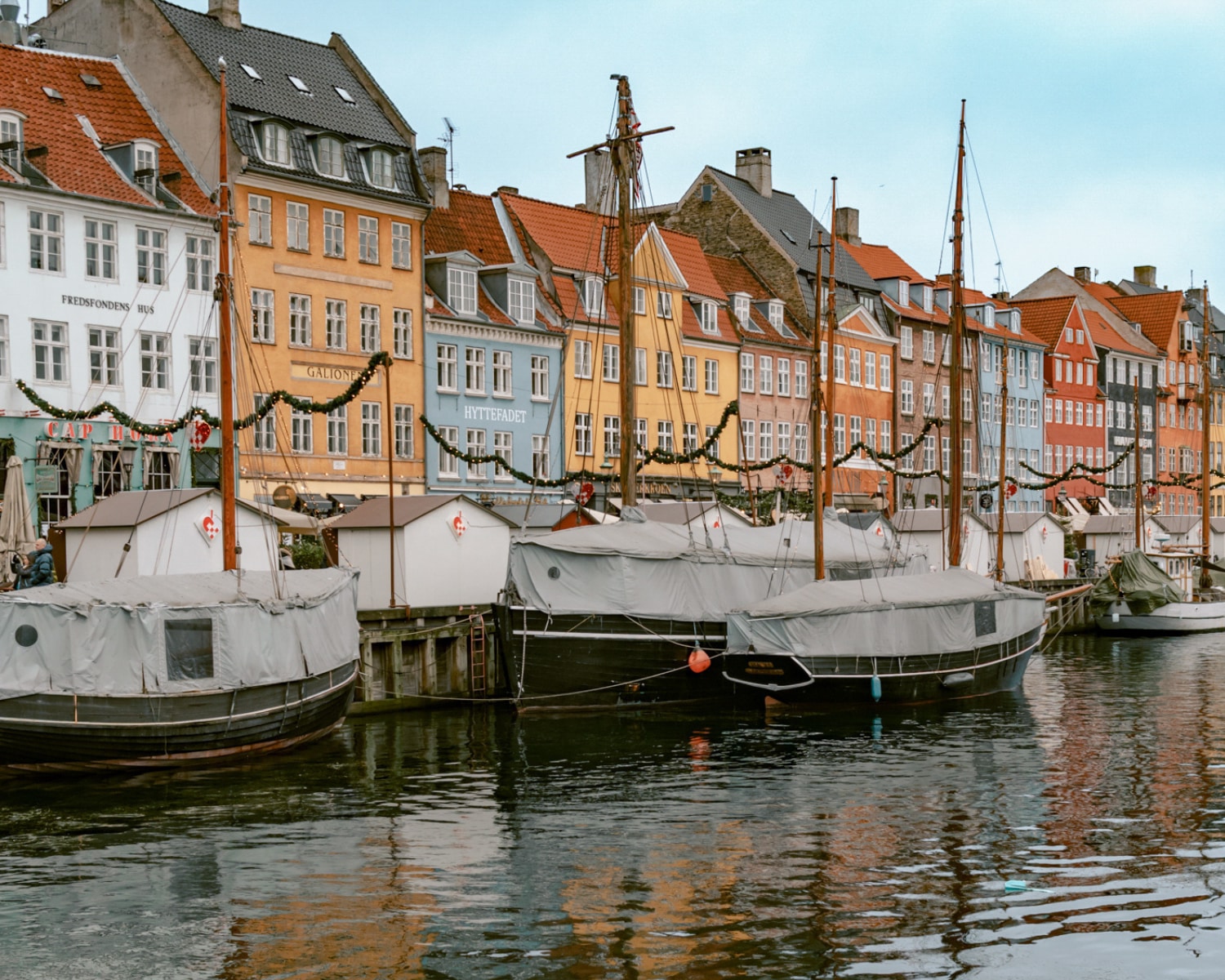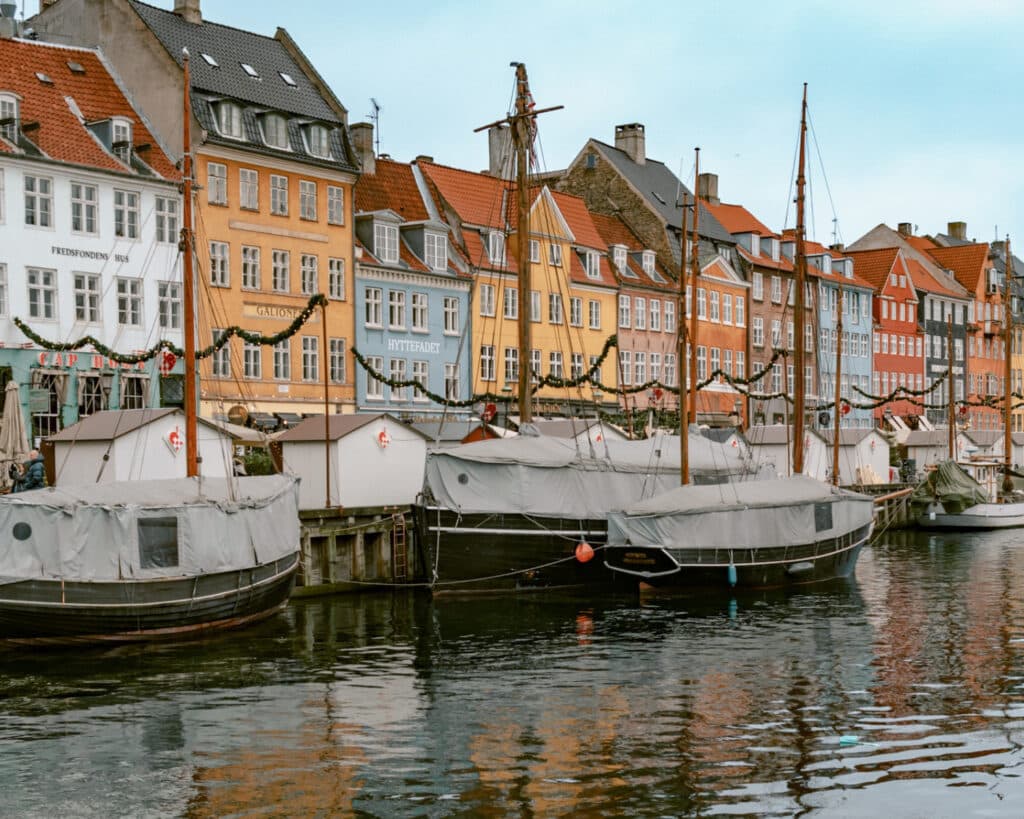 The painted houses by the Nyhavn are a must-see when spending one day in Copenhagen. These multicolored waterfront buildings of Nyhavn canal are one of Copenhagen's most iconic spots!
Although it may not be one of the non-touristy things to do in Copenhagen, strolling along the waterfront is a magical experience. Many hotels, souvenir shops, cafes, and restaurants are inside these colorful buildings. 
Expect to pay more for food and drinks on this side of town. However, it is worth at least grabbing a small bite at one of the cafes to enjoy the scenery and lively atmosphere. 
Hours: 24/7 to walk around
Location: Nyhavn 30, 44 1058, 1058 København, Denmark
6:00 PM Dinner
Madklubben is located in the hip district of Copenhagen's Vesterbro neighborhood. It's sleek, modern, and pretty tasty! The quality of the food at Madklubben is unbelievable for the price. You can compose your own menu and select either a 1, 2, or 3-course meal. 
Hours: Sunday-Saturday 5 PM-12 AM
Location: Vesterbrogade 62, 1620 København, Denmark
Another option is Seaside Toldboden, an open kitchen that will take your tastebuds on a gastronomic journey.  Former Michelin experienced chefs create an intimate dining experience for their guests. 
Hours: Kitchen is open Tuesday and Sunday 11:30 AM-4 PM, Wednesday to Saturday 11:30 AM-10 PM, and Mondays closed
Location: Nordre Toldbod 18-24, 1259 København, Denmark
Do you love quotes and captions for where you're visiting? Use these Instagram captions for your photos while you explore Copenhagen. 
8 PM Tivoli Gardens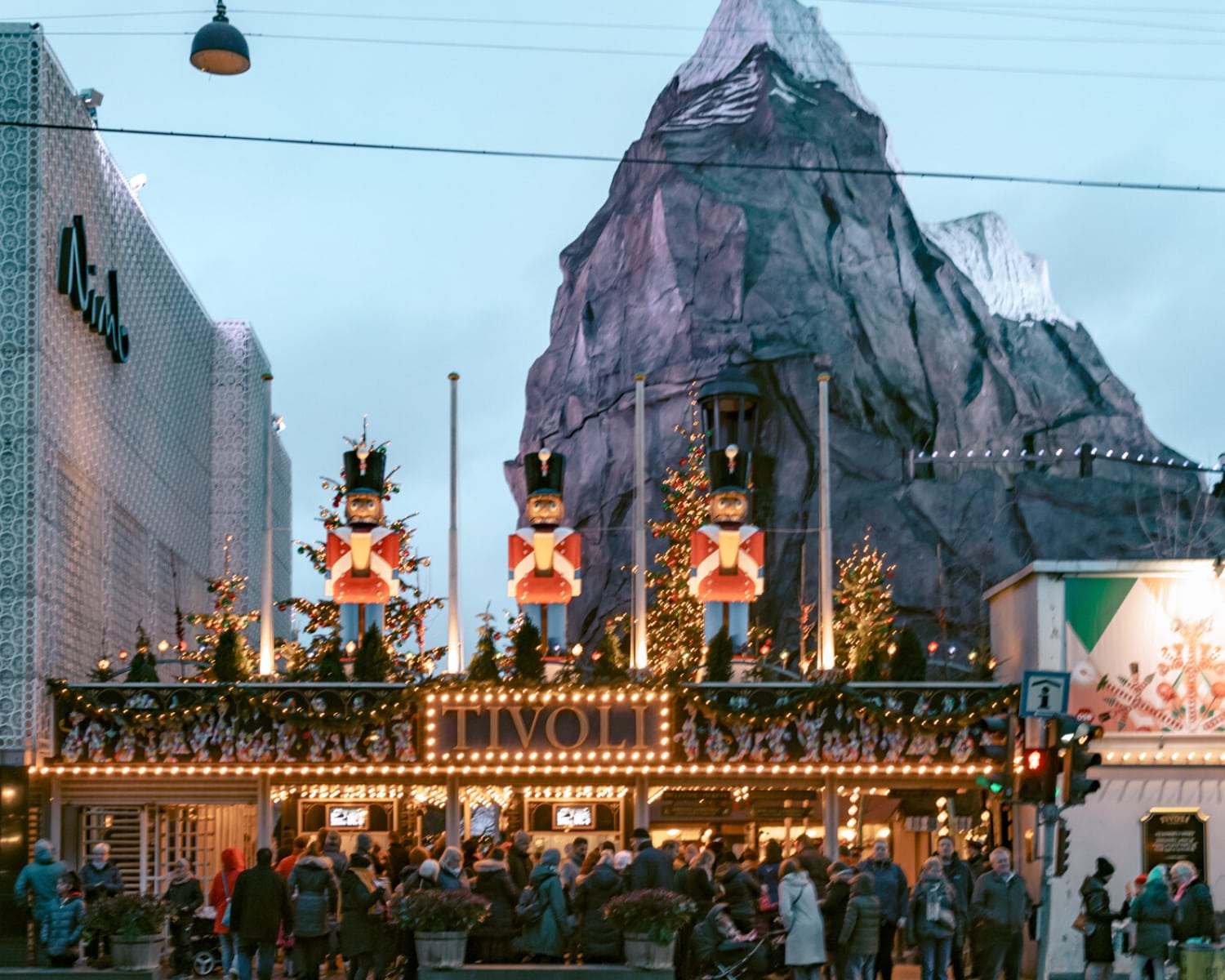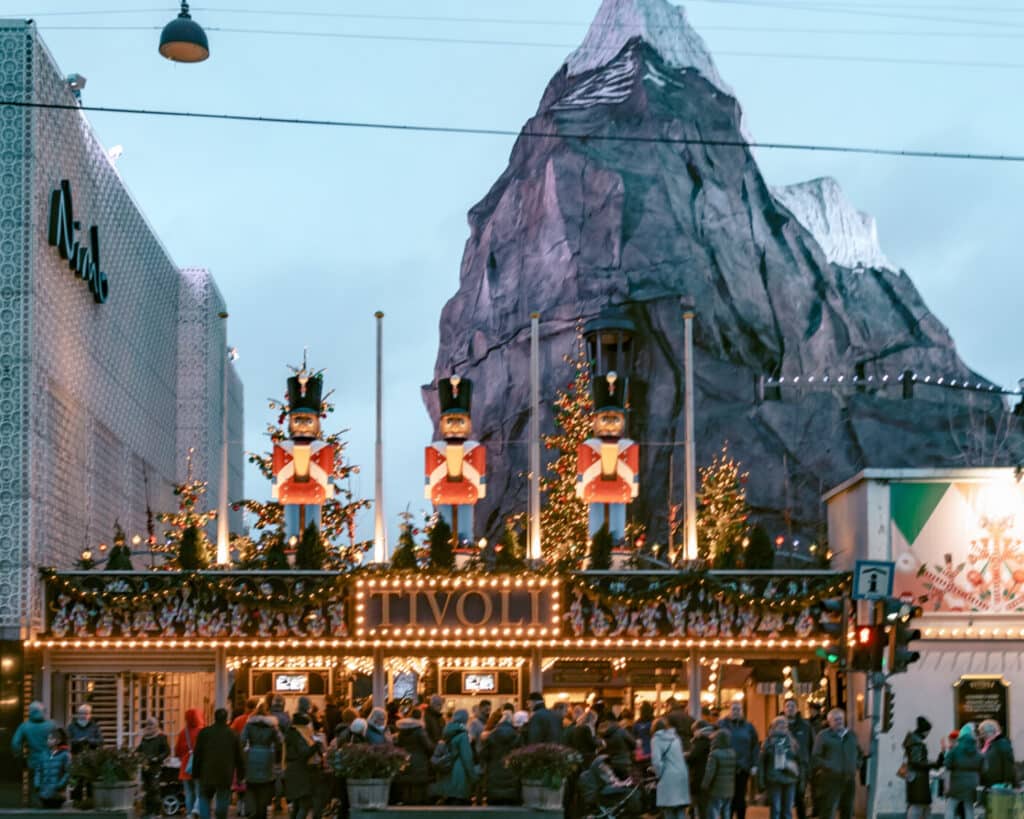 Have a perfect end to your 1 day in Copenhagen visiting Tivoli Gardens, one of the oldest amusement parks in the world. It's a 'hygge' explosion here for that authentic Danish experience. 
I highly suggest adding this to your Copenhagen to-do list. The park has many restaurants, gardens, adventure rides, and an outdoor beer garden (available only during summer). 
During winter Tivoli is one of the best places to visit in Copenhagen. It's decorated with festive Christmas lights that are simply picturesque.  
This is a large park so you will spend quite a bit of time exploring here and feel like a big kid. Get a thrill on the rollercoasters and eat a ristet hotdog (Copenhagen's version of a hotdog) if you want a snack after dinner.
Admission: 8+ 145 DKK, children 3-7 65 DKK, children under 3 free
Hours: Monday to Friday 11 AM-10 PM, Saturday to Sunday 11 AM-11 PM
Location: Vesterbrogade 3, 1630 København V, Denmark
Have More Than A Day?
Freetown Christiania 
See a different side of Copenhagen at Freetown Christiania also referred to as "The Green Light District." Locals first settled in this spot in 1971 and conform to beliefs of collectivism, anarchy, squatter beliefs, and the hippy movement. 
Residents don't consider themselves part of the country let alone the continent. As far as rules – well, they have only a few. Violence, stealing, and hard drugs are not permitted. Marijuana is banned in Copenhagen, but a lifestyle for most living in the neighborhood.
Take photos with caution, a lot of the buildings indicate photos are not allowed, and taking pictures on Pusher Street is strictly banned.  Although, Christiania is not particularly my kind of scene it's something different that cannot be seen anywhere else. 
Not once did I feel unsafe walking the commune during daylight hours. But, I would be hesitant as a female exploring at night. 
Admission: No admission to enter the gates
Hours: 24/7
Location: Prinsessegade 1422 København
Consider adding a food tour to your Copenhagen one day trip. Sample the Nordic cuisine while strolling through the streets of the city. 
Copenhagen Walking Tour
See Copenhagen in a day in a few hours by booking a walking tour with locals. You can book a bike, food, or walking tour to explore the city. 
King's Garden
Established in the early 17th century, King's Garden it is the oldest royal garden in Copenhagen. Originally, it was the Rosenborg Castle, home to King Christian IV. Doors became opened to the public when abandoned by the royals.
If you explore Copenhagen during the summer months, the lawns outside have puppet theaters and locals basking in the sun. 
Admission: Entrance to the garden is free, the castle for adults is 105 DKK, and children 17 and younger are free
Hours: Everyday 10 AM-8 PM, holidays hours may vary
Location: Øster Voldgade 4A, 1350 København, Denmark
Church Of Our Savior
Admire 360 views of Copenhagen from this large historic baroque church's tower. 
Admission: Adults 65 DKK, 65+ 50 DKK, children (5-14) 20 DKK, 4 years and younger free
Hours: Everyday 9 AM- 8 PM, tower closes at 3 PM
Location: Sankt Annæ Gade 29, 1416 København, Denmark
Christiansborg Palace
Former royal palace to kings and queens with an 800-year-long history. Now services the Danish parliament, Ministry of stay, and the Supreme Court. 
Admission: Adults 160 DKK, children 18 and under free
Hours: Monday to Sunday 10 AM-5 PM
Location: Prins Jørgens Gård 1, 1218 København, Denmark
Experience A Guard Changing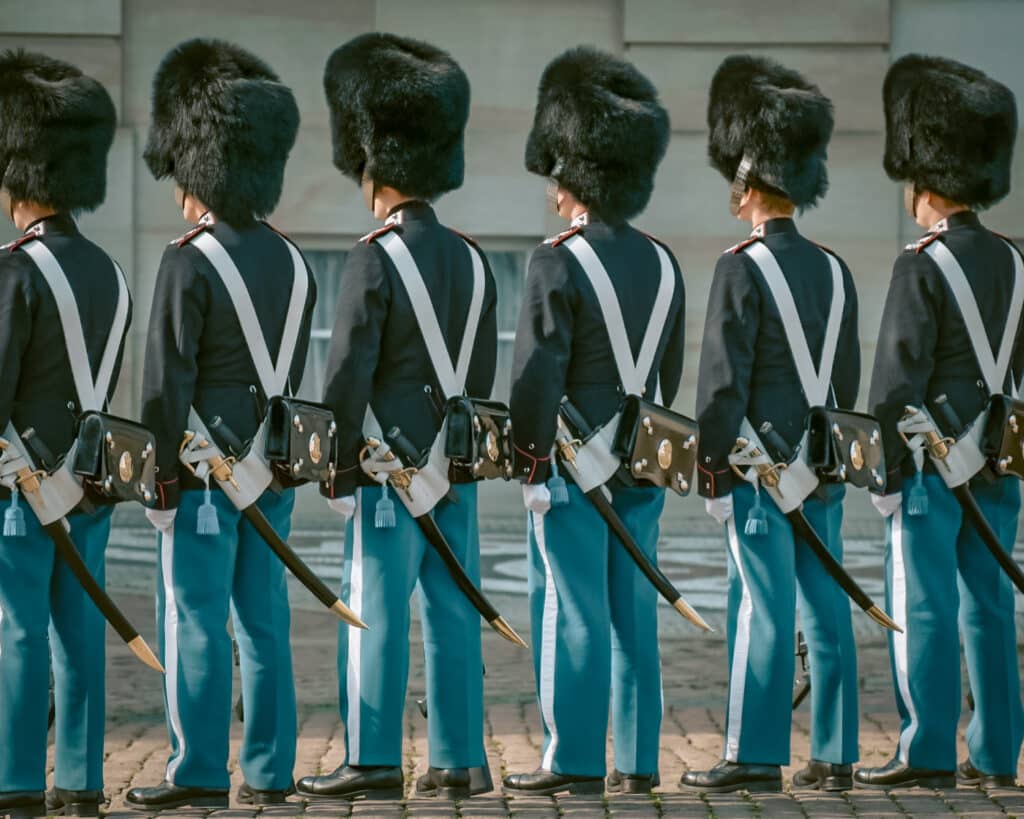 See a famous Amalienborg Royal Guard change, known as Den Kongellige Livgarde. Every day at 11:30 AM the Danish Royal Guards march to Amalienborg Palace for the Changing of the Guards ceremony at noon.
Canal Cruise
Experience a memorable one day in Copenhagen by taking a canal cruise. During the one-hour cruise, you pass many iconic Copenhagen sites. Sail past the scenic Nyhavn waterfront, the Little Mermaid, Christiansborg Palace, and many more Copenhagen attraction sights. 
Check availability and purchase tickets in advance here. 
Kastallet
The Citadel and 17th-century preserved fortresses in Copenhagen. Initially served as a military base and is presently being used by the Danish Army today. 
Admission: Free
Hours: Winter hours 6 AM-8 PM, summer 6 AM-10 PM
Location: Gl. Hovedvagt, Kastellet 1, 2100 København, Denmark
Superkilen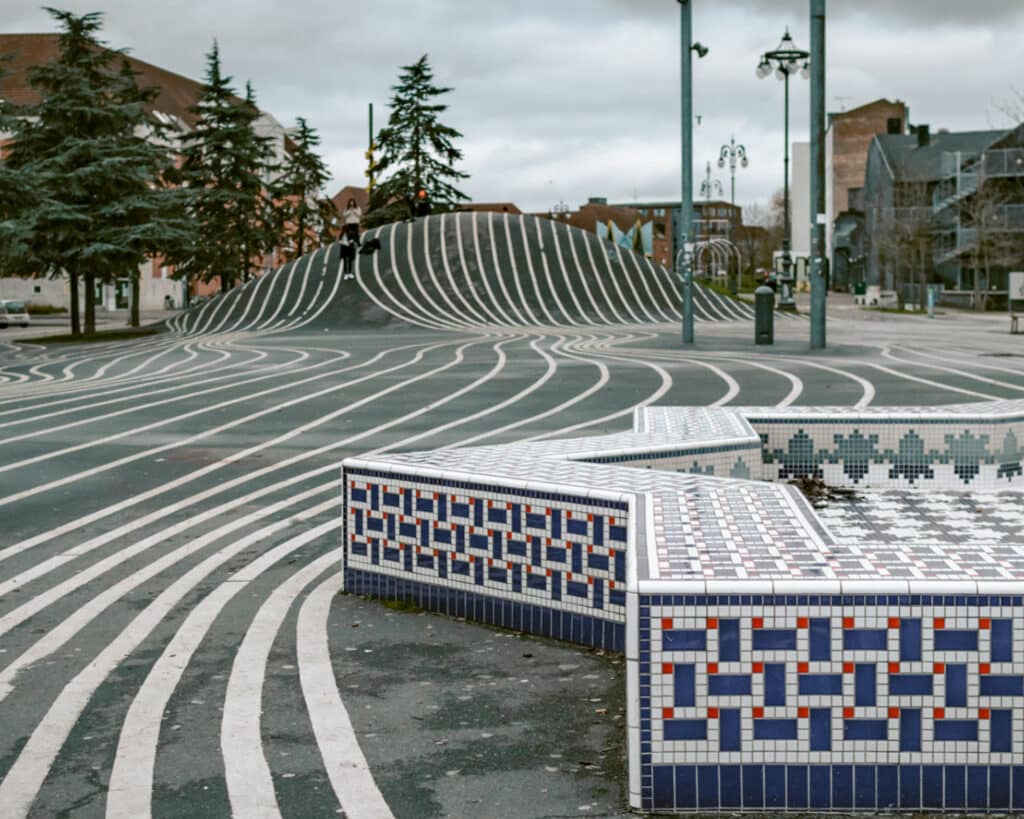 Superkilen Park on the urban side of Copenhagen quickly became a major tourist attraction due to its quirky and funky design. 
Some of the features of the park include monkey bars, slides, skateboard ramps, swings, and bike lanes to encourage physical activity and support the community. Adults are welcome to behave like a kid.
Admission: Free to enter
Hours: 24/7
Location: Nørrebrogade 210, 2200 København, Denmark
Nyboder
Formal Naval barracks were constructed by Christian IV to shelter the Royal Danish Navy and their families. This historic row house district is a sight to see for the distinct "Nyboder yellow" homes. 
Admission: Free
Hours: 24/7
Location: Sankt Pauls Gade 24, 1313 København, Denmark
Copenhagen Day Tours
How To Get Around Copenhagen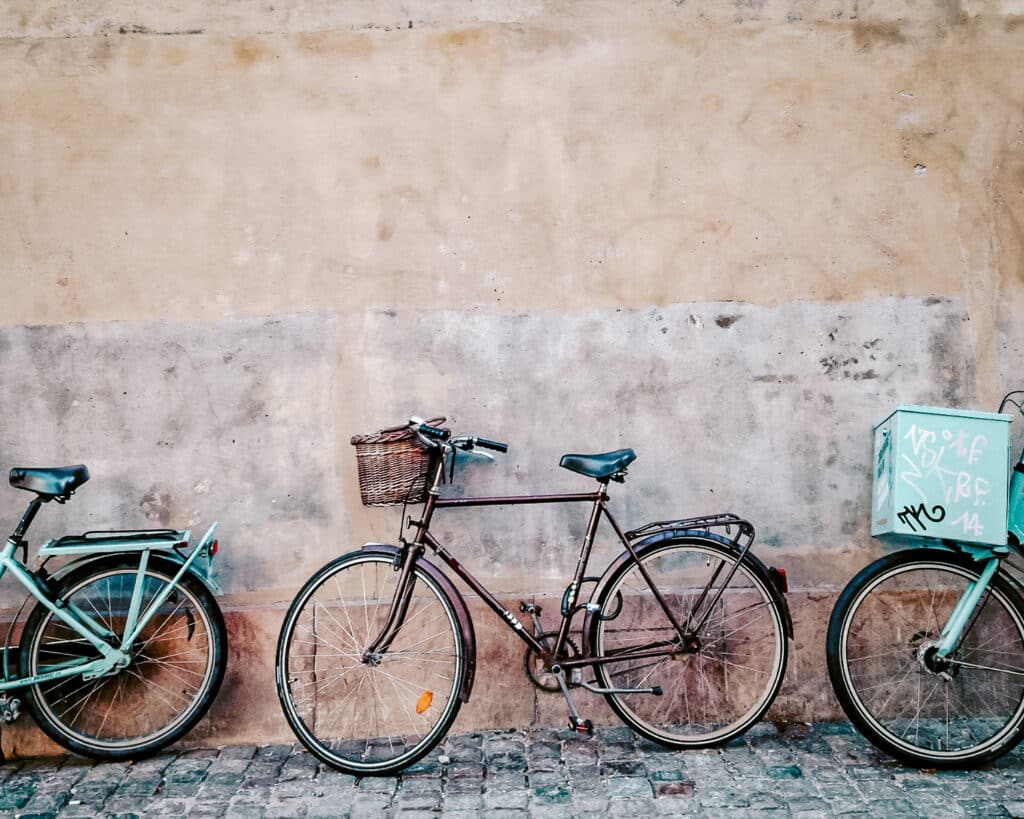 Bicycle
Explore the Copenhagen sites like the locals and rent a bicycle. Bicycles are readily available around the city. Copenhagen is very bike friendly and you will see them everywhere.
Renting a bike can cost around 170 DKK per day, which entails a bicycle, helmet, and lights for one day in Copenhagen. If you plan on cruising by bike check out rentals here.
Also, you can download the Donkey Republic application, which is a nifty app that has all the pick-up locations. You can also rent your bicycle through the app.  
Walking
Exploring by foot is one of the best ways to get around Copenhagen. Even though Copenhagen is a large city, a lot of the main sites are centrally located in the historic center.
Walking makes it relatively easy from hopping to one spot to another.  Furthermore, just make sure you have on a good pair of walking shoes.
Bus
Taking a bus is another way to get around Copenhagen. Bus passes are purchased from the bus driver with small change. 
Copenhagen Hop On Hop Off Bus
If you're stressed by the time crunch,  this bus is an efficient way to see the best places in Copenhagen quickly. 
Metro
Copenhagen's metro the  S-tog, is great to travel for slightly further distances. The metro system is very tourist friendly and easy to understand. For one day in Copenhagen, you will only need to use the intercity metro lines.
Is The Copenhagen Card Worth It? 
By purchasing a Copenhagen Card you have unlimited access to all public transportation (bus, train, metro) in the major city zones and airports. In addition to free public transit, it includes free admission to 87- top attractions in Copenhagen!
To find out more detail and to purchase in advance right here.
What Is The Currency In Copenhagen? 
Denmark uses the Danish Krone (DKK) and it's the only currency accepted. If you didn't exchange your currency prior, there are kiosks inside the Copenhagen airport to transfer your money to Krones.
Where To Stay In Copenhagen
Finding a hotel within the inner city is highly recommended. As mentioned, all the major Copenhagen attractions sights are located here. I use booking.com to find hotels for the location and budget for my travels. 
Language Spoken In Copenhagen
Danish is the official language spoken in Denmark. Most locals do speak English so no need to stress about not speaking the language. However, learning a few common words is appreciated by the locals.
One Day In Copenhagen Final Thoughts
If you have only one day these are all the best places to visit in Copenhagen. Without a doubt, I know you will enjoy this city as much as I did. During your visit use my Copenhagen Instagram captions for all your photos. Be sure to check out my post on some pretty  Copenhagen Photo spots if you need ideas. 
Like Short Trips In Europe?
Like this post about how to spend one day in Copenhagen? Share it with others or pin it for later.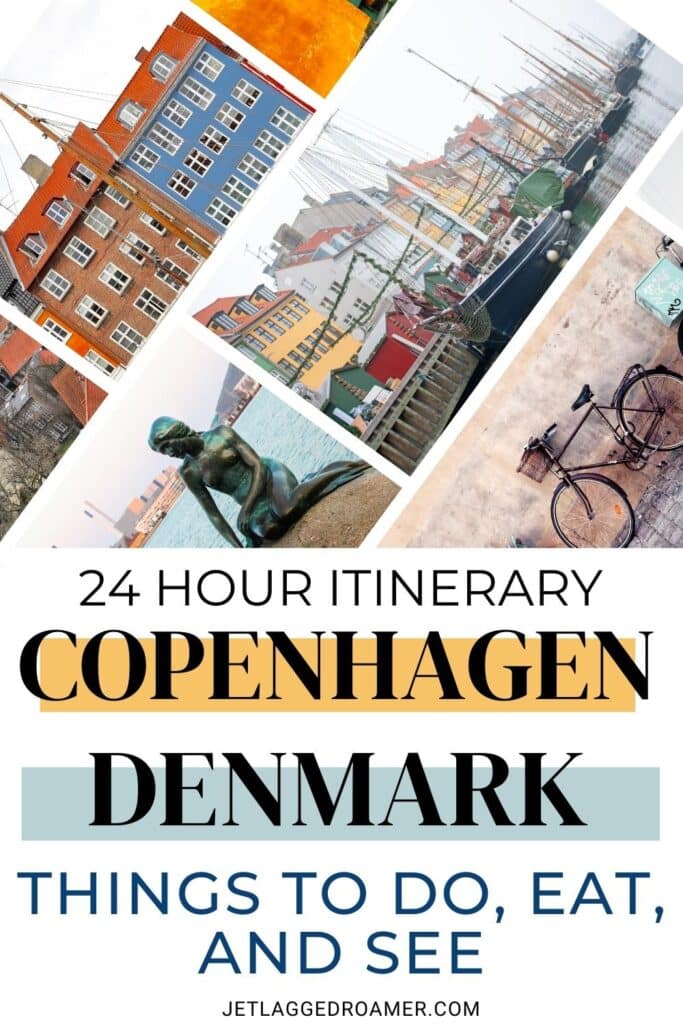 Jetlagged Roamer is a participant in the Amazon Services LLC Associates Program, an affiliate advertising program designed to provide a means for sites to earn advertising fees by advertising and linking to amazon.com, amazon.co.uk, amazon.ca. Amazon and the Amazon logo are trademarks of Amazon.com, Inc. or its affiliates.