Are you looking to experience the unique scents and flavors of Porto? If so, then you're in for a treat with this Porto food guide! This vibrant coastal city has much to offer when it comes to tantalizing food options. 
From their signature, Francesinha sandwich to local codfish dishes, and delicious pastry treats, this port city is sure to have something that will make your palette tingle with delight. In this Porto eating guide, I will showcase where you must eat in Porto for your visit.
So get ready for an adventure as I take you through a journey of discovering mouthwatering experiences. Buckle up your taste buds – they're in for quite a ride!
This article may contain affiliate / compensated links. For full information, please see our disclosure here.
Visiting Porto? Check out these other travel guides for your trip: 
What to Try in Porto?
Porto is a food lover's paradise, with diverse flavors and dishes to explore. Whether you're a meat lover or a seafood enthusiast, you'll find something to satisfy your appetite. So grab a fork and join me on this tasty adventure with this Porto food guide. Your palette will thank you.
Let's start with the most iconic dish of Porto – the Francesinha. A hearty sandwich made with layers of cured ham, linguiça sausage, sausage, and beef steak.  It's smothered in melted cheese and topped with a spicy tomato and beer sauce. It's typically served with a side of fries and you can wash it down with a cold beer.
If you're in the mood for seafood, Porto won't disappoint. The city's location near the coast means fresh fish and seafood are readily available. Try the grilled sardines, which are often served with a side of roasted peppers and potatoes. Another must-try is the octopus rice, a flavorful dish made with tender chunks of octopus and saffron-infused rice.
Salted codfish (known as "bacalhau" in Portuguese) and "vinho verde" (green wine) are definitely two of the most popular and traditional foods and drinks in Porto and the wider region of Northern Portugal.
Salted codfish is a staple in Portuguese cuisine and can be found in many different dishes, such as "bacalhau à Gomes de Sá" (a casserole with codfish, potatoes, onions, and eggs) or "bacalhau com natas" (a creamy gratin with codfish, potatoes, and cream).
Vinho Verde is a young, light, refreshing wine typically consumed within a year of production. It pairs well with fish and seafood dishes. 
Porto Food Guide: Best food in Porto, Portugal
Fine Dining Porto Restaurants 
If you are planning a trip to Porto, Portugal, and wondering where to dine, you are in for a treat. Porto is known for its diverse culinary scene and offers a range of dining options for foodies of all kinds. The city has everything, from traditional Portuguese dishes to international cuisine.
In this Porto food guide, let's go on a gastronomic journey of Porto's top fine dining restaurants that you must try. From Gruta to Pedro Lemos, I will cover the best places to satisfy your taste buds in with this the best restaurants in Porto. 
Gruta
Gruta is a fine dining restaurant located in the heart of Porto and has some of the best food in Porto, Portugal. The restaurant offers an intimate, cozy atmosphere with an extensive wine list and a modern Portuguese cuisine menu. And don't skimp out on dessert here. I highly recommend the panna cotta. Reservations are highly recommended. 
Address: R. de Santa Catarina 447, 4000-452 Porto, Portugal
Muu Steakhouse
Muu Steakhouse is a meat lover's paradise and known for its excellent selection of meats, including dry-aged beef and Wagyu. The menu also features a variety of seafood dishes, salads, and side dishes to complement your meal. The restaurant has a contemporary design with a warm and inviting atmosphere.
Address: Rua do Almada 149A, 4050-037 Porto, Portugal
Cafeína
Cafeína is a chic restaurant that has been serving fine dining since 1994. It's known for its exquisite cuisine, which combines traditional Portuguese flavors with modern techniques. The restaurant also has an impressive wine list featuring wines from Portugal and worldwide.
Address: Rua do Padrão 100, 4150-557 Porto, Portugal
Enjoy food? Besides this Porto food guide, take a private food tour with locals.
Pedro Lemos
As you step inside, you'll be greeted by a cozy, elegant space adorned with contemporary decor and soft lighting. The menu, crafted by the talented chef Pedro Lemos, features a creative fusion of traditional Portuguese flavors and modern culinary techniques. His creations result in a truly unique and unforgettable dining experience.
With impeccable service, exceptional cuisine, and an inviting atmosphere, Pedro Lemos is why it made to this Porto food guide. Whether you're celebrating a special occasion or simply looking for a memorable night out, you won't be disappointed by this must-visit culinary gem.
Adega São Nicolau
Adega São Nicolau is a traditional Portuguese restaurant that has been serving authentic cuisine for many years. The restaurant is located in a historic building in the center of Porto and has a charming and rustic atmosphere. Their menu features classic dishes and seafood. The restaurant has only a few tables, so be sure to make a reservation before going. 
Address: R. de São Nicolau 1, 4050-561 Porto, Portugal
Cantina 32
Cantina 32 is a trendy restaurant located in the historic center of Porto. The restaurant's vibrant and eclectic atmosphere is known for its modern twist on classic dishes. The restaurant also has an excellent selection of wines and cocktails.
Address: R. das Flores 32, 4050-262 Porto, Portugal
O Valentim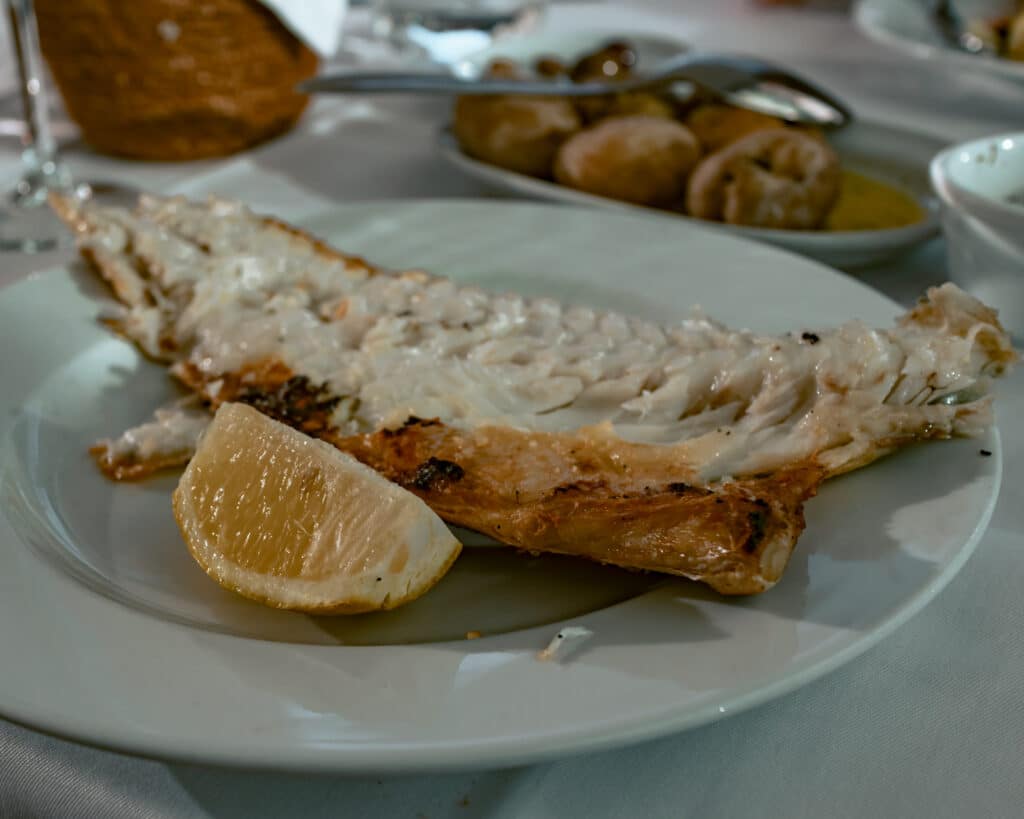 If you're looking for the ultimate dining experience, look no further than O Valentim a must-eat in Porto. Situated in the city's heart, this restaurant is renowned for its mouth-watering seafood and impeccable service. 
With a menu with a wide range of fresh seafood dishes, O Valentim is the perfect place to indulge your taste buds. Here you can delight yourself in some of the freshest seafood you will ever eat! You can be sure that every dish will burst with flavor with some of the simplest ingredients.
Address: R. Heróis de França 263, 4450-155 Matosinhos, Portugal
Related post: 2 Days In Porto Itinerary
Best Places to Eat in Porto for Cheap
You don't have to break the bank to experience the best food in Porto, Portugal. Here are some budget-friendly food options that pack a lot of flavor in their entrees! 
Cafe Santiago
One of the best restaurants in Porto that's budget-friendly is Cafe Santiago.  This is the spot to try the popular Porto food the Francesinha. If you plan to visit for lunch arrive slightly before noon to avoid waiting in line.
Address: R. de Passos Manuel 226, 4000-382 Porto, Portugal
Oficina dos Rissóis
If you're looking for another budget-friendly option and a must-eat in Porto, check out Oficina dos Rissóis. Make sure to order rissóis, which are Portugal's version of turnovers. These aren't your typical turnover though. They are fried and filled with shrimp or minced meat. 
Address: Passeio de São Lázaro 5A, 4000-507 Porto, Portugal
Gazela
Gazela is in this Porto food guide as it is a local favorite and is always packed. The restaurant specializes in traditional Portuguese dishes, including grilled hot dogs which I suggest your order. 
The portions are generous, and the prices are very affordable. With its relaxed atmosphere and friendly staff, Gazela is a great place to enjoy a casual meal with friends or family without breaking the bank.
Address: Tv. Cimo de Vila 4, 4000-434 Porto, Portugal
Lover of wine? Why not consider a walking wine tour with some of the world's oldest wine brands.
Taparikas
Taparikas is a tapas bar that serves small dishes. The menu includes various options, including meat, fish, and vegetarian dishes. This cozy little restaurant is known for its tapas-style dishes, perfect for sharing and trying various flavors. The salted codfish fritters and potatoes and eggs were my favorite and would please any garlic lover! 
Address: Portugal, R. de Santo Ildefonso 69, 4000-468 Porto, Portugal
Mercado Beira-Rio
Mercado Beira-Rio is a food market that offers a wide range of food options, from seafood to pastries. The market is perfect for those looking for a budget-friendly meal while experiencing the local food scene. Its diverse range of food options and lively atmosphere make it a must-visit spot for any foodie visiting the city.
Address: Av. de Ramos Pinto 148, 4400-261 Vila Nova de Gaia, Portugal
Porto Foodie Spots To Satisfy Your Sweet Tooth
A Porto food guide wouldn't be complete without where to satisfy your sweet tooth! Porto is known for its rich culinary heritage and mouth-watering sweet treats. Whether you're in the mood for traditional Portuguese delicacies or modern twists on classic desserts, Porto has something to satisfy every dessert lover.
So grab your fork and get ready to indulge in the sweet side of Porto!
Manteigaria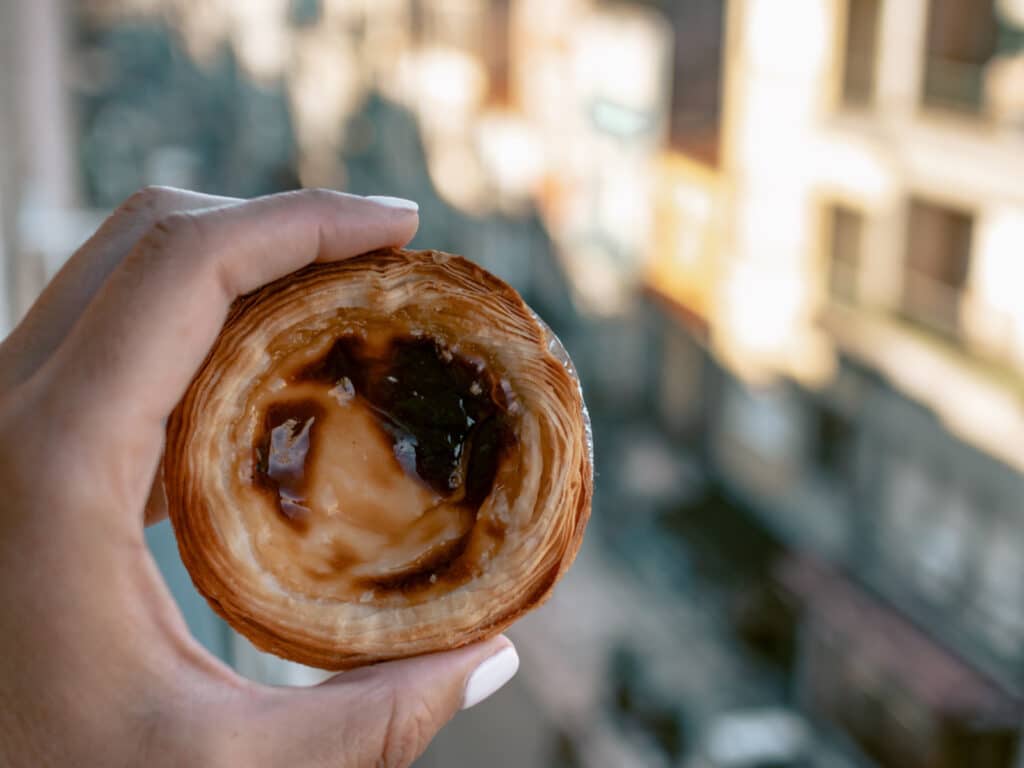 If you haven't tried pastel de nata yet, you're in for a treat. These small egg custard tarts are a popular Portuguese pastry and a must-try in Porto. Manteigaria is one of the best places in Porto to sample these tasty treats. 
Located in the heart of the city, this small bakery is known for its delicious pastries, and its pastel de nata is one of the best in town. The crust is crispy and flaky, and the filling is creamy and sweet. You can enjoy these tarts with a cup of coffee or take a few to go and savor them as you explore the city.
Address: R. de Alexandre Braga 24, 4000-049 Porto, Portugal
Do Norte Cafe
Do Norte Cafe is a cozy and charming spot perfect for a sweet afternoon snack? Located in the historical center of Porto, this cafe is known for its homemade cakes, pastries, and desserts. The atmosphere is relaxed and welcoming, making it a great spot to unwind and satisfy your sweet tooth!
Address: Rua do Almada 57/59 4000, 4050-036 Porto, Portugal
Related post: Where To See Azulejos In Porto
Nola Kitchen
Nola, which stands for 'no labels' brings a unique and healthy concept to food. All their food is natural and processed ingredients, preservatives,  and refined sugars are avoided. Grab a delicious and moist carrot cake and you will see how healthy eating can taste good. They have a large selection of tasty desserts that are gluten, vegan, dairy-free, and vegetarian. 
Address: Praça D. Filipa de Lencastre 25, 4050-259 Porto, Portugal
Porto Food Guide FAQ
What Food is Porto Famous For?
Porto is famous for its delicious seafood dishes, with grilled sardines, salted codfish, and octopus being among the most popular. For those looking for something heartier, Francesinha, a sandwich filled with ham, sausage, and steak and topped with melted cheese and a beer-based sauce, is a must-try.
Is Food in Porto Expensive?
Porto offers a variety of food options for travelers, no matter what their budget. Those looking for an affordable dining experience can head to a local restaurant or café and enjoy some traditional dishes. 
Those eager to try the popular seafood and pastries in the city don't need to break the bank either; there are plenty of budget-friendly places where you can get your fill. So whatever your culinary preferences or budget, you'll surely find something delicious with this Porto eating guide!
What Time Do You Eat Dinner in Porto?
In Portugal, dinner is a pretty important meal, and in Porto, it's usually served late. While dinnertime may be around 6:00 or 7:00 pm in many countries, most people in the city eat between 8:00 and 10:00 pm. 
So if you're out exploring Porto and are feeling hungry at 6:30 pm, don't worry – dinner will still be coming soon. Portgartuers (locals) use this later dinnertime to their advantage – often eating late-night snacks of pastel de nata after a night out or lingering around restaurant tables to savor the conversation and the delicious local cuisine.
Porto Food Guide Final Thoughts
After indulging in the culinary delights of this Porto food guide, it's safe to say that your taste buds will be tingling with pleasure. From the iconic Francesinha to the fresh seafood and the delicious pastries, Porto has something to offer for every foodie out there.
One thing is for sure, the food in Porto will leave a lasting impression on you. You'll find yourself craving the flavors and aromas long after you've left the city. So, indulge in the delicacies of Porto, explore the vibrant food scene, and immerse yourself in the unique culinary culture of this charming Portuguese city.
Don't forget to check out these other Porto travel guides for your trip: 
Like this Porto food guide? Share it with others or pin it for later!