Ever felt the urge to explore places that are a little out of the ordinary? I was curious about some less-known, off the beaten path travel destinations, so I decided to reach out to a group of avid travel bloggers to uncover their secret favorites. They shared a treasure trove of hidden spots from around the globe, leading to the creation of this detailed guide.
These uncovered gems are sure to ignite your adventurous spirit, offering breathtaking sights and experiences far from the typical tourist hustle and bustle. Each destination is a doorway to a world of natural beauty and cultural richness waiting to be discovered. So, if you're ready to step into a world of unique and mesmerizing off the beaten path travel destinations, let's get started!
This article may contain affiliate / compensated links. For full information, please see our disclosure here.
Enjoy unique places to visit? You may be interested in these other posts:
33 Off The Beaten Path Travel Places To Visit
Nanortalik, Greenland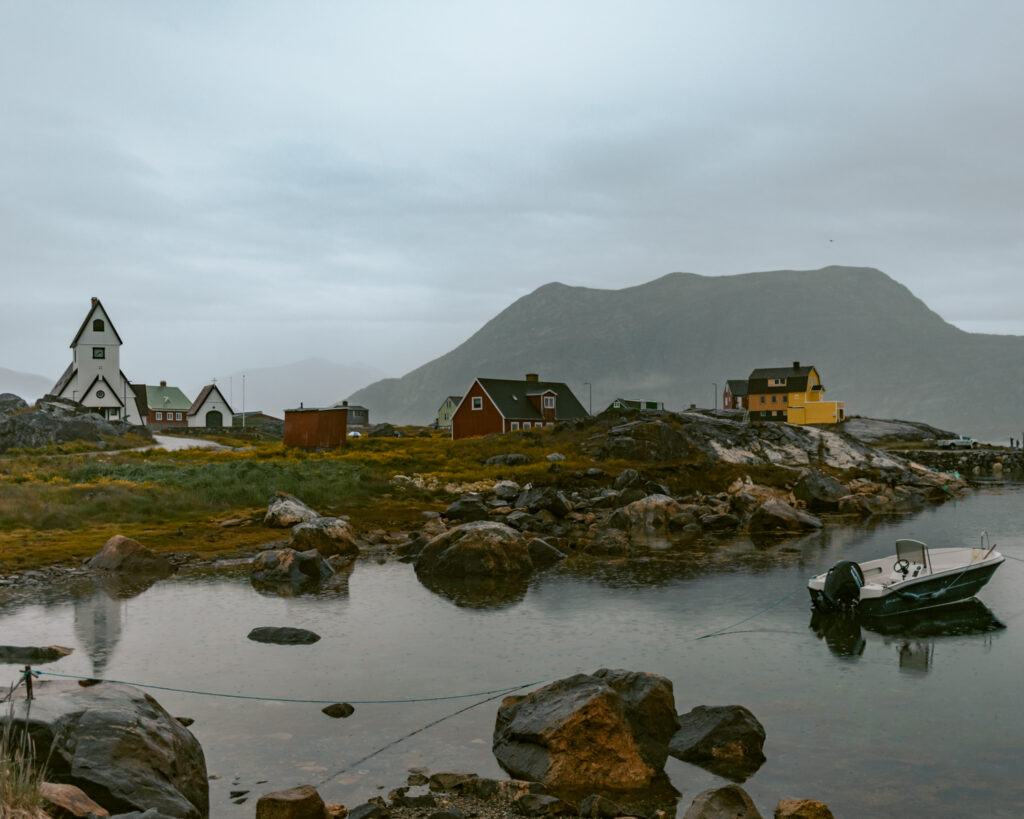 Nanortalik isn't just a destination; it's an intimate encounter with a world that echoes the harmonious symphony of nature and culture, offering a genuine off the beaten path travel allure.
The ideal time to immerse yourself in the raw, untapped beauty of Nanortalik is during the late summer months of August and September. It's a brief yet magical season when the landscapes are graced with gentle snow, and the sun graces every corner of this mesmerizing land. This period provides a climate that's not just mild but refreshing, perfect for unveiling the outdoor spectacles that await every intrepid traveler.
Nanortalik is a playground for nature lovers. There are many things to do in Nanortalik from exploring its rugged landscapes, pristine waters, and majestic icebergs and invites exploration. Here, you step into an arena where every sight, sound, and touch is a testament to Earth's unyielding beauty.
The local open-air museum is not just buildings but sanctuaries where the ancient songs, tales, and artifacts reside, offering a glimpse into a world where every item, sound, and color is a chapter of a rich, untold story. Be sure to also book a tour to see the icebergs as they will leave you speechless.
Embarking on a journey to Nanortalik is more than a mere travel plan; it's an odyssey into an off the beaten path travel experience, where every route carved and trail blazed is a testament to the spirit of adventure. Although direct flights are a stranger to this secluded haven, the thrill and the spellbinding vistas are worth the journey. Your passage begins with a flight into Narsarsuaq Airport, where the unfolding scenic beauty serves as a prelude to the visual and soulful feast awaiting Nanortalik.
Related post: Things To Do In Nanortalik, Greenland
Meteora, Greece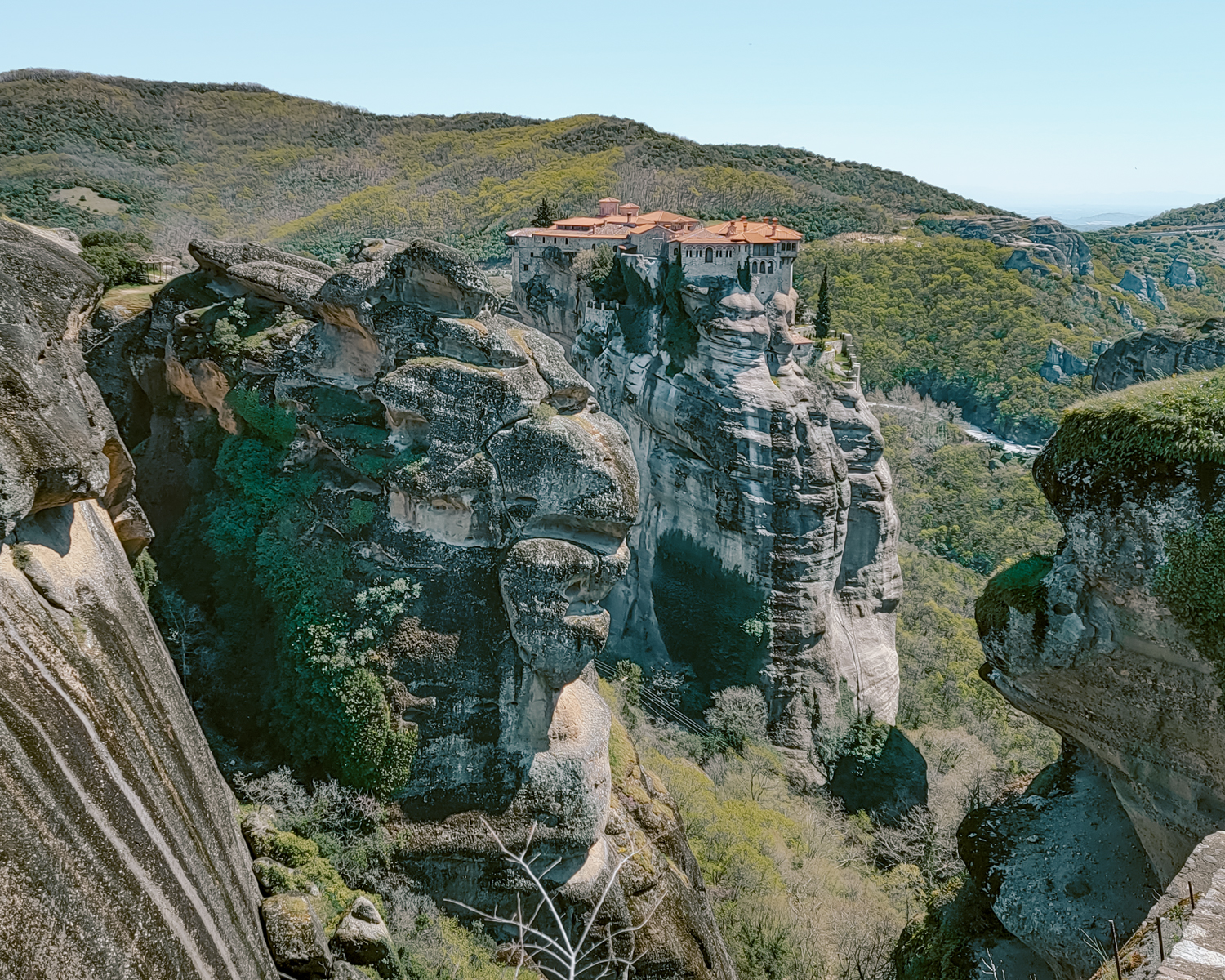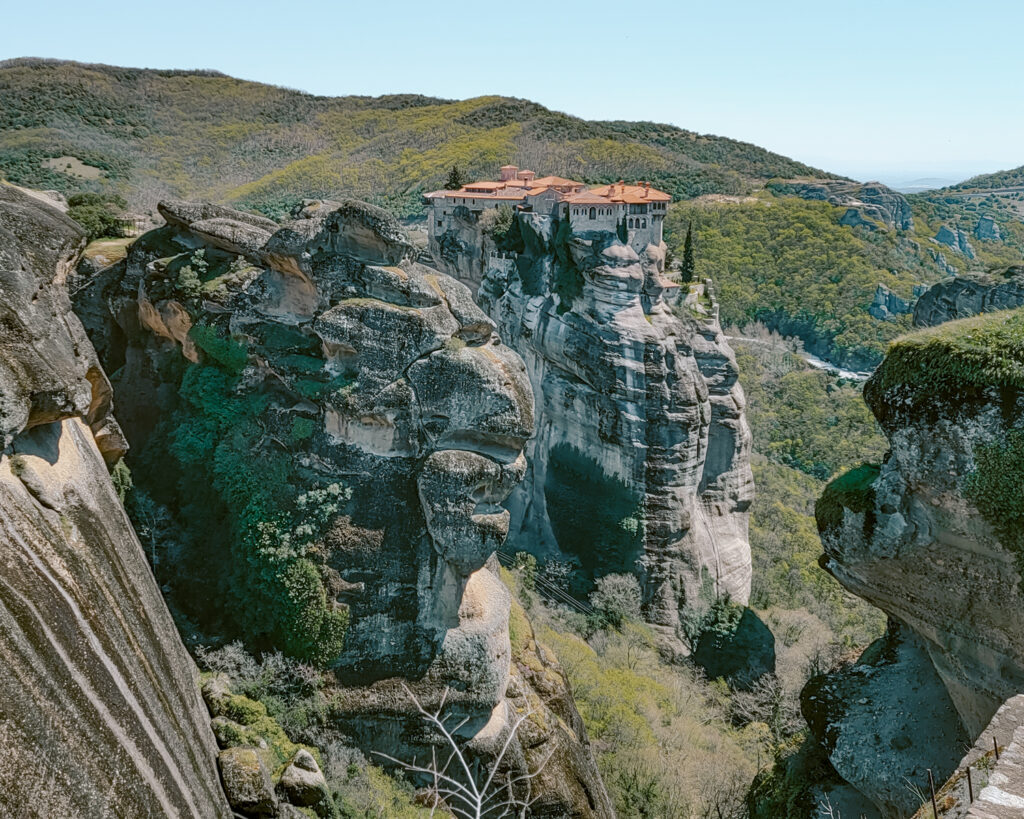 Meteora is a unique and stunning historical site located in central Greece. Meteora consists of six monasteries perched on pillar rocks overlooking the surrounding valley. Today, you can explore all six of these monasteries.
Meteora is located only a few hours' drive north of Athens and is truly a hidden gem to travel off the beaten track. Many people who visit Greece head straight from Athens to islands such as Mykonos and Santorini and completely miss out on this off-the-beaten-path destination in Greece.
One of the reasons Meteora is so incredible is due to its historical significance. In the 14th century, monks began to travel to Meteora to seek a life of peace and solitude. These monks then began to build beautiful monasteries by climbing to the top of the cliffs. It is truly a wonder how these impressive structures were built without the use of modern technology. Today, Meteora is officially recognized as a UNESCO World Heritage site due to its historical significance.
Another reason to visit this hidden gem is for its captivating beauty. Exploring the monasteries will give you panoramic views of Meteora. Sunset is an especially great time to visit Meteora to enjoy the scenic views. It is an ideal place to visit for photographers and nature enthusiasts.
To get to Meteora, it is best to fly into the Athens airport and rent a car. Alternatively, you can take the train from the Larissa Station in Athens to the town of Kalabaka.
When visiting Meteora, you will want to stay in the quiet village of Kastraki or the more lively town of Kalabaka. Kastraki sits at the bottom of Meteora with views of the monasteries and is perfect for a peaceful stay. Kalabaka is also a great choice with many restaurants and cafes and is less than a 10-minute drive to the monasteries.
Meteora can be visited year-round, but the best time to visit is in spring or fall. During these seasons the weather is mild and pleasant, making it the perfect time to explore Meteora.
Explored by Amber from Get Lost In Wanderlust
Related post: Quotes About Greece
Kilkenny, Ireland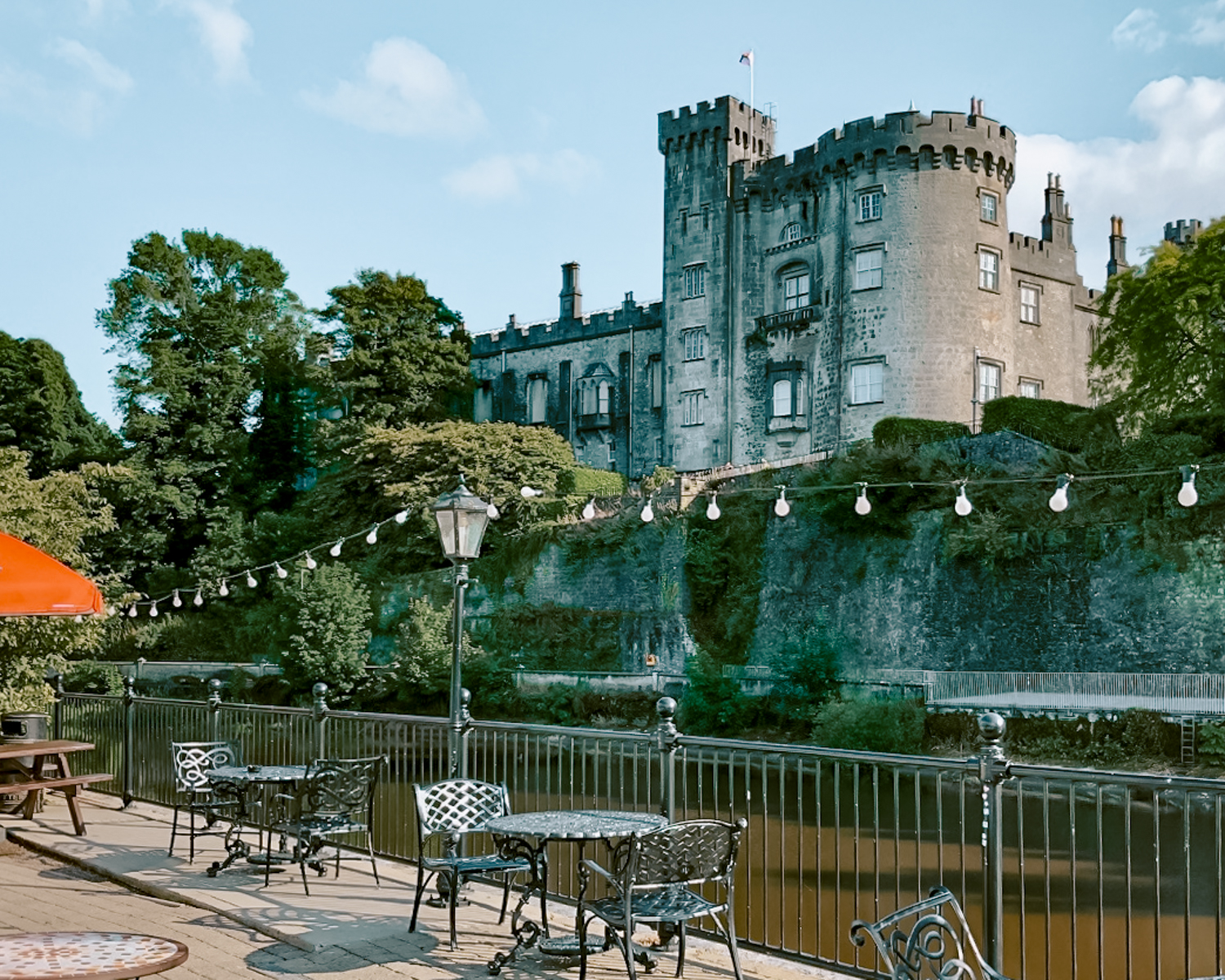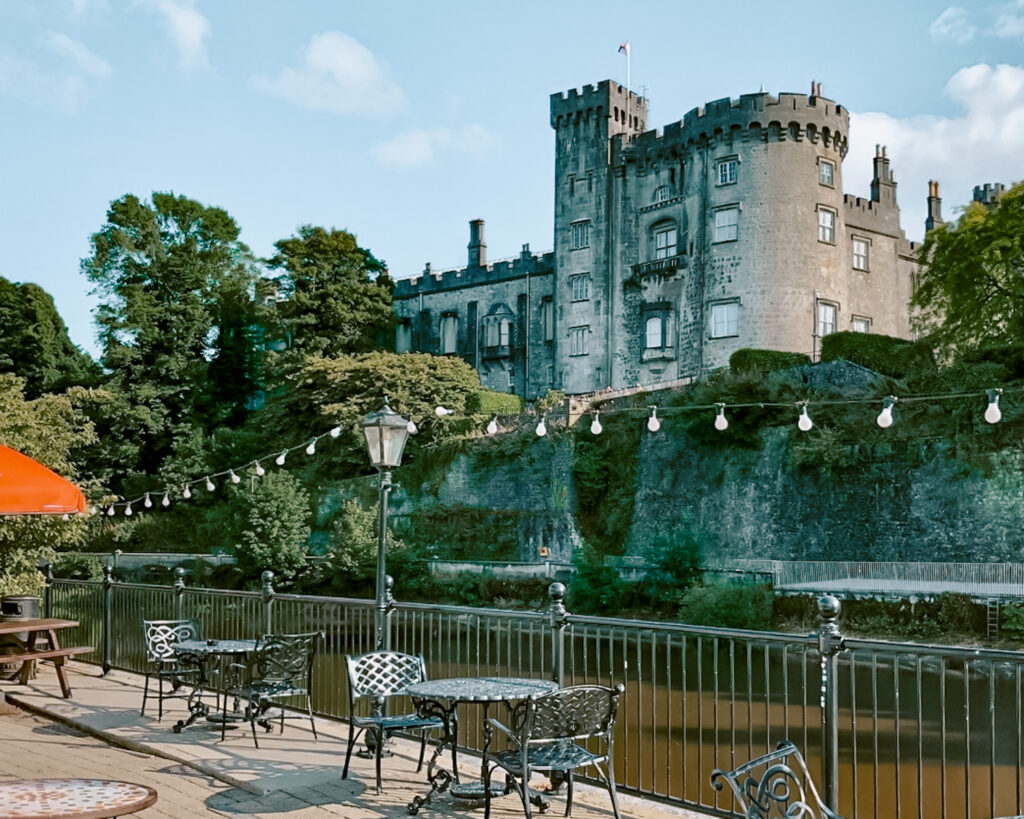 The Irish city of Kilkenny is a fabulous travel destination that is below the radar for most vacationers.  While there is an airport in Kilkenny, your best bet is to fly into the Dublin airport and then drive to Kilkenny.  It's less than an hour and a half drive, and the Irish countryside is gorgeous!
The top attractions in Kilkenny revolve around its historic center.  After all, Kilkenny is known as Ireland's Medieval Mile!  Start off visiting Kilkenny Castle, the centerpiece of the city, located on the banks of the River Nore.  Take a stroll around the extensive grounds or just relax and take in the castle views.  Spend a few euros to tour the inside of the castle – you won't want to miss the picture gallery, one of the castle's highlights!
St. Canice's Cathedral is not to be missed when you visit Kilkenny.  The cathedral dates from the 13th century and features stunning stained-glass windows.  If you're feeling energetic – and don't have a fear of heights – climb the Round Tower.  You reach the top of the tower via a series of ladders, and you'll be rewarded with views of Kilkenny and the surrounding countryside.
Tuck into some traditional Irish fare such as beef and Guinness stew or fish and chips at one of the town's cozy pubs.  Enjoy a pint of Smithwick's Red Ale – a local favorite, as the Smithwick's brewery is located here in Kilkenny.  You can even learn about the history of the brewery (and enjoy some samples) at the Smithwick's Experience.
The best time to visit this off the beaten path destination is from May through August, when the weather is warmer, and the chance of rain is lower.  Summer also brings fun festivals to make your visit even more special.  Note that not all hotels in Ireland have air conditioning, so keep this in mind if you're planning to visit in July and August.
Explored by Lisa from Waves and Cobblestones
Batumi, Georgia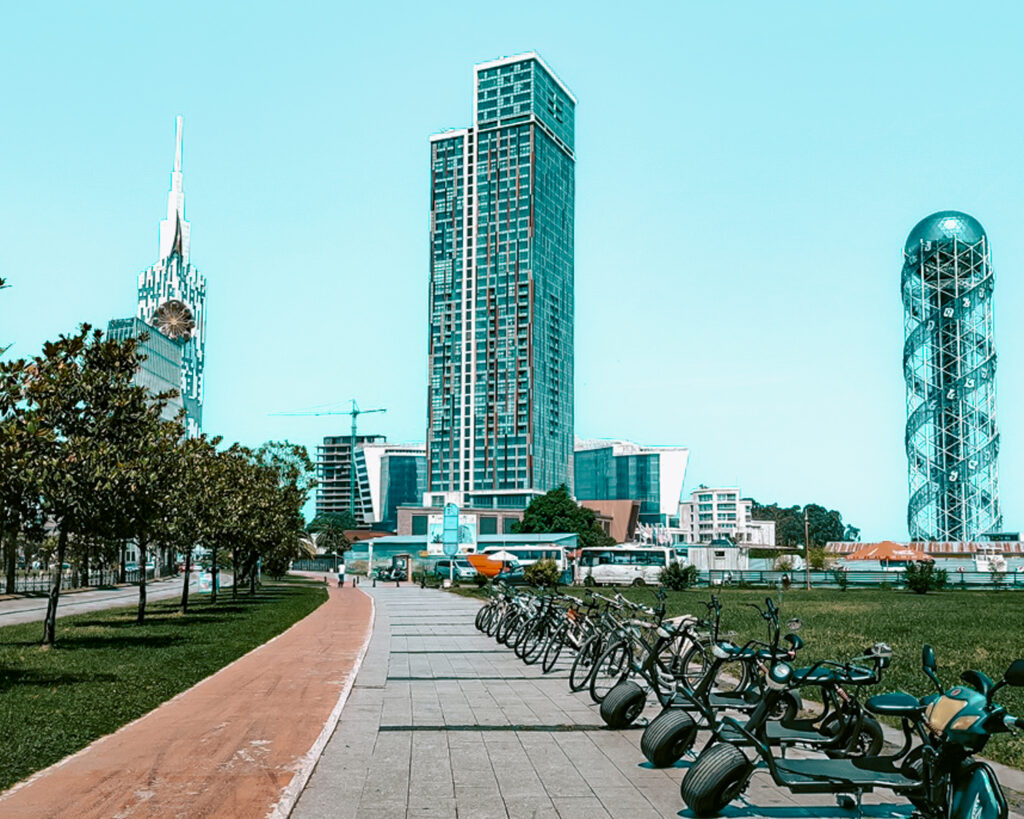 Located on the beautiful coast of the Black Sea, Batumi is an underrated city waiting to be explored by travelers seeking an authentic, off-the-beaten-path experience. The city offers a unique vibe that can be found anywhere else in Georgia and reminds a bit of Singapore, with its combination of traditional and futuristic architecture.
To reach Batumi as a traveler, you have several options. The most convenient way is to fly to Batumi International Airport. Alternatively, you can fly into Tbilisi International Airport, Georgia's capital, and then take a domestic flight or drive to Batumi, enjoying scenic landscapes along the way. There are also trains and buses connecting Tbilisi and Batumi if you prefer a more budget-friendly transport option but it will take much longer.
The best time to visit Batumi is during the summer months, from June to August when the weather is warm and ideal for beach activities. However, if you prefer a more relaxed and less crowded experience, consider visiting in the shoulder seasons of spring (April to May) or autumn (September to October). These months offer pleasant weather, lower accommodation prices, and a chance to explore the city without the summer crowds.
There are many things to do in Batumi and also some great day trips to be had in the surrounding countryside. The Adjara region is stunning and boasts magnificent mountains, including the Lesser Caucasus range, and beautiful rivers and waterfalls. Great day trips to do from Batumi are to Mtirala National Park, The Kintrishi Nature Reserve, and the Machakhela National Park.
As for Batumi itself, great things to do are stroll along Batumi Boulevard, visit the Batumi Botanical Garden, laze on the beach, and explore the wonderful café scene and local Adjaran restaurants. One of the most famous statues in the city is the one from Ali and Nino. According to local legend, they are the Caucasus version of Romeo and Juliet.
Lastly, one thing to do in Batumi that is unique to the city is to have a glass of Kvasi. Kvasi is a fermented drink that is sold on tap at almost every street corner in Batumi in large yellow tanks. You can't look past them!
Explored by Annelies from Travelers & Dreamers
Sudbury, Ontario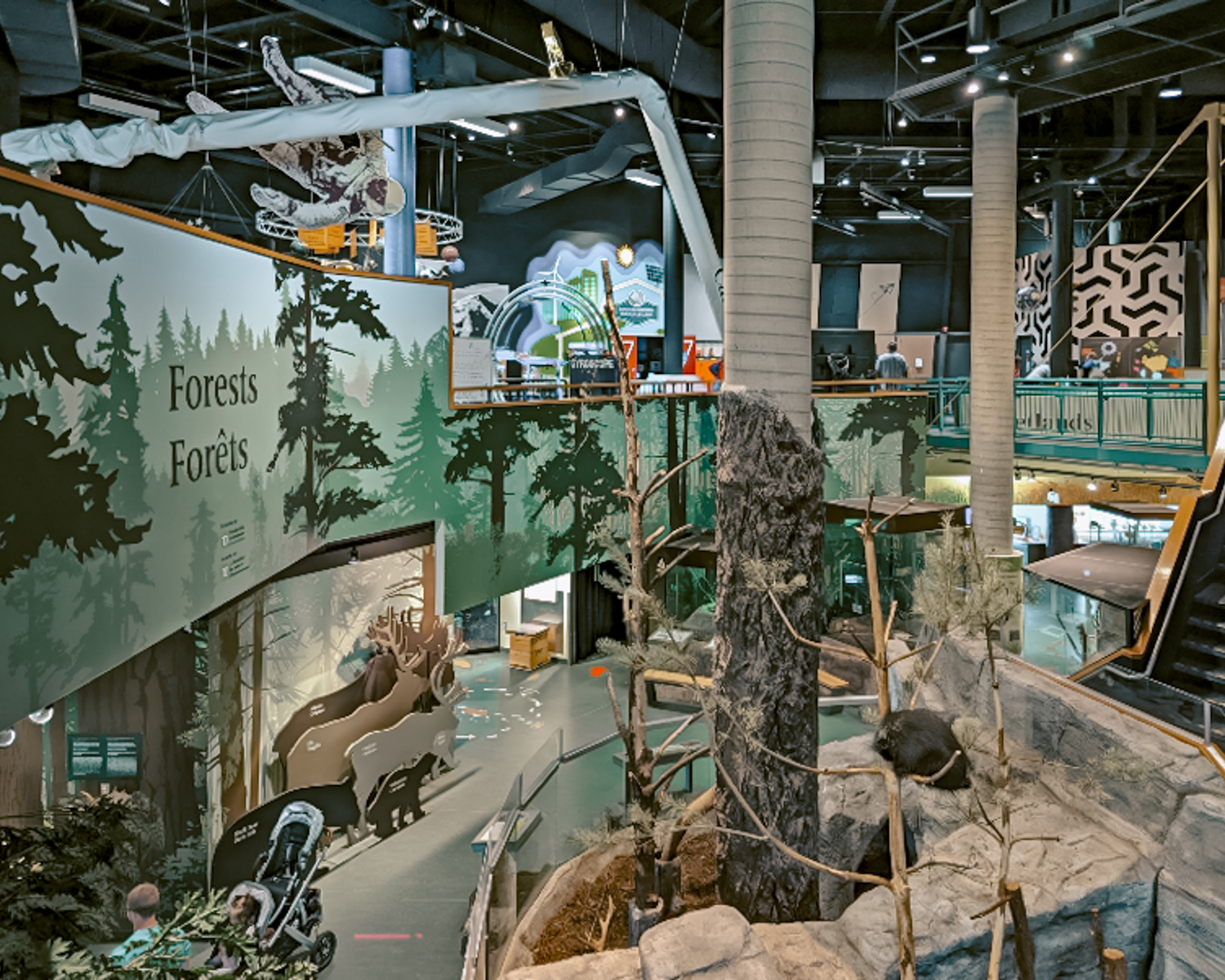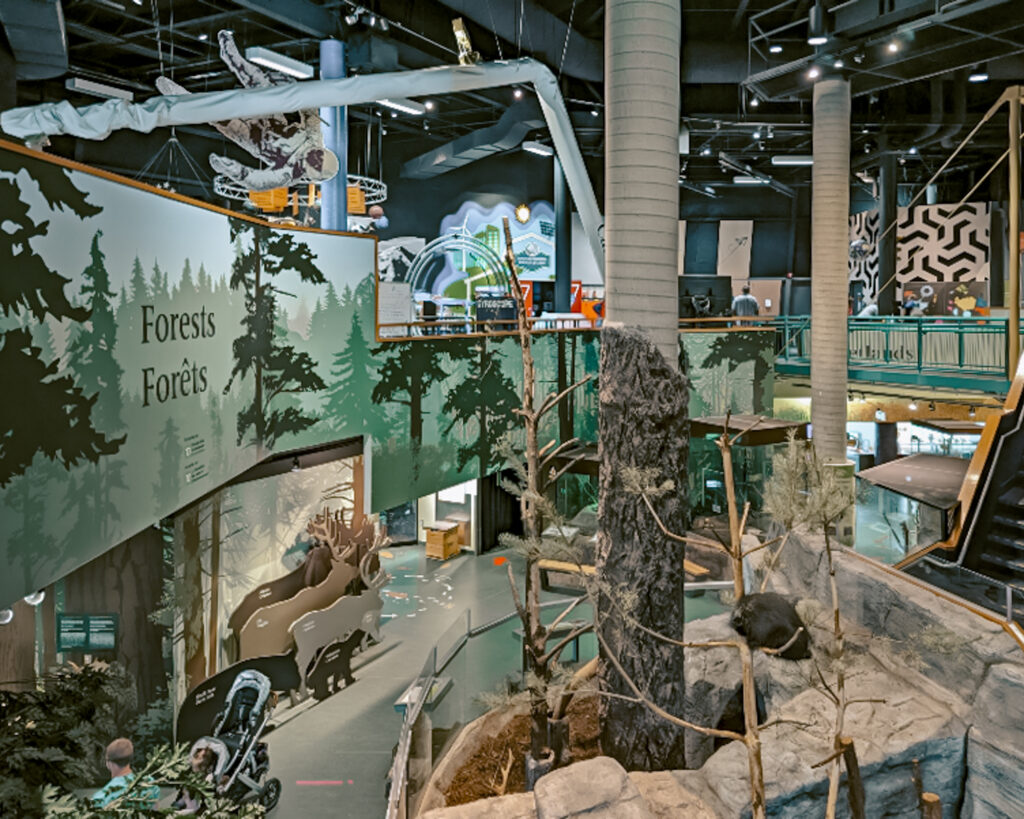 Many head to popular cities in Ontario, Canada like Toronto and Ottawa. But there's a hidden gem in Northern Ontario that's an awesome underrated travel destination. 
That destination is Sudbury! It's one of the off the beaten path places to visit in Canada.  This old mining city that was once a wasteland, is now a thriving city and offers something to entice every traveler.
Outdoor adventurers will love visiting the long list of parks and green spaces. One of the top places to go is Kivi Park. This sprawling park is home to hiking and cycling trails, as well as a lake to paddle. There are plenty of fun things to do with the family too, like disc golf and a massive playground.
Along with outdoor activities, the city is home to a number of family-friendly attractions. Two of the top places to visit in Sudbury are Science North and Dynamic Earth. These two museums are full of fun interactive exhibits that will excite both kids and adults. Plus, at Dynamic Earth you'll head underground for a tour of what it would be like to visit a working mine!
Sudbury is also home to a colorful downtown full of murals. There's even an annual mural festival every summer that brings artists to create more alongside other fun events and live music. In addition, you'll find plenty of fun shops and cafes downtown to browse.
And speaking of cafes, foodies will love the diverse range of restaurants serving a wide assortment of cuisines. Thanks to its multicultural population, across the city you'll find everything from Greek to Indian.
If you're looking for the best time to visit Sudbury, it all depends on what you want to do. The best time of year to take advantage of comfortable temperatures, festivals, and the lush outdoors in the summer.
The nearest airport is the Greater Sudbury Airport. However, the best place to fly for international visitors is Toronto's Pearson Airport. From there you can rent a car and enjoy the scenic drive north to Sudbury.
Explored by Stephanie from The World As I See It
Islas Marias, Mexico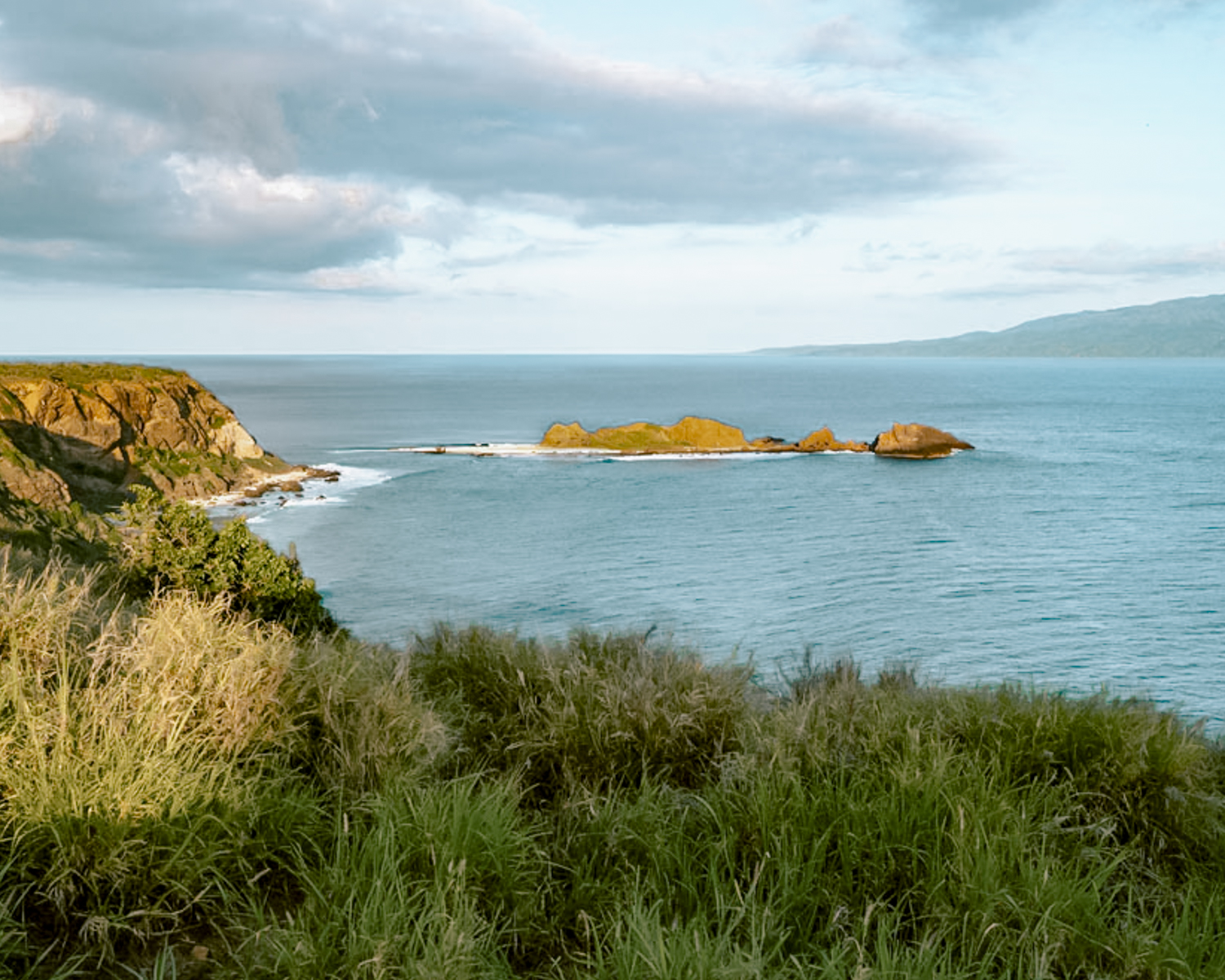 If you like off-the-beaten path destinations, consider heading to the state of Nayarit, along the Pacific coastline of Mexico. Here, you'll have the opportunity to do something quite unique—take a four hour boat ride to Islas Marias, an archipelago which, until recently, served as a Mexican federal prison for over a century.
Since 1905, the prisoners at Islas Marias ranged from individuals convicted of incredibly minor crimes to some of the most dangerous criminals in Mexico. The islands made an excellent location for a prison, due to their location sixty miles off the Pacific coastline. Given its unique geographical features, prisoners were generally allowed to walk freely around the island—and even bring their families along. Despite these pleasant aspects, though, many of the prisoners led a grim existence on the island, including being forced into very physically demanding jobs and limited food and water. The prison was eventually shut down in 2019, due to mismanagement and corruption.
The islands' remoteness also led to it being the home of several species of animals, found nowhere else on the planet, including the Tres Marias hummingbird and the Tres Marias cottontail rabbit. Given its unique biodiversity and largely unspoiled nature, the islands were named a UNESCO Biosphere in 2010. 
Now, tourists are welcome to visit the island by ferry, operated by the Mexican Navy, which alternates departures, on a weekly basis, between the sleepy beach town of San Blas or the glitzy resort town of Mazatlán. Once on the island, visitors will follow a set three-day, two-night schedule with guides (all of whom are Naval officers!), which includes activities ranging from touring the island's now derelict maximum security prison and hiking to the foot of a large Christ the Redeemer statue, built by the prisoners, on one of the island's tallest hills to snorkeling on a pristine beach and bird-watching for the island's unique species. The combination of grim history and fascinating plant- and wildlife truly makes Islas Marias one of Mexico's most unique destinations.
For example, during your time here, you'll actually stay in cabins that were once used by prisoners. Don't worry, though—they've been nicely refurbished to include big comfy beds and powerful air conditioning!
To get to San Blas, you'll want to fly into Tepic International Airport, located one hour east of the city. Mazatlán has its very own international airport, General Rafael Buelna International Airport, from which it's less than a half-hour drive to the ferry terminal.
Explored by Jess from Uprooted Traveler
Related post: Mexico Captions For Instagram
Hoonah, Alaska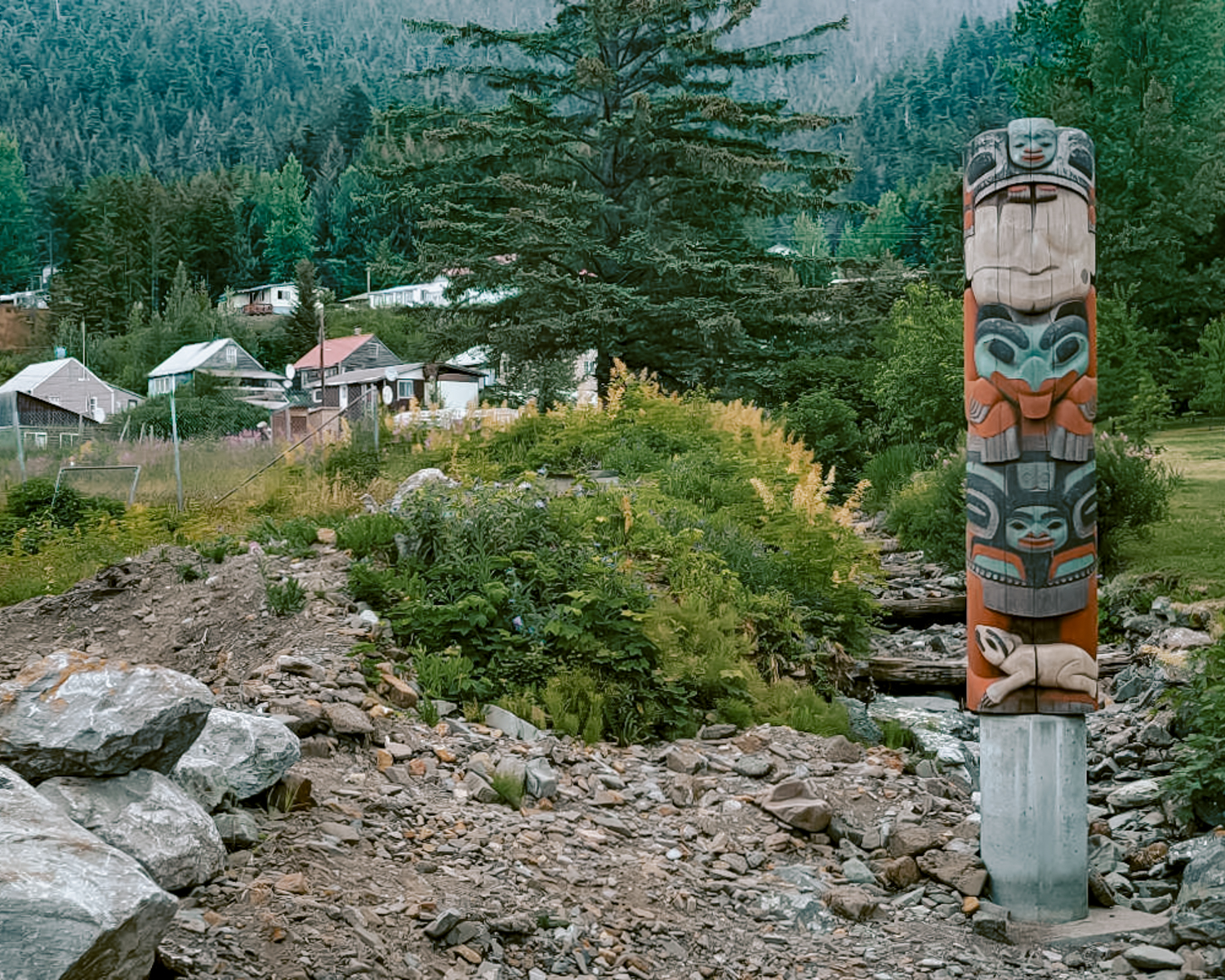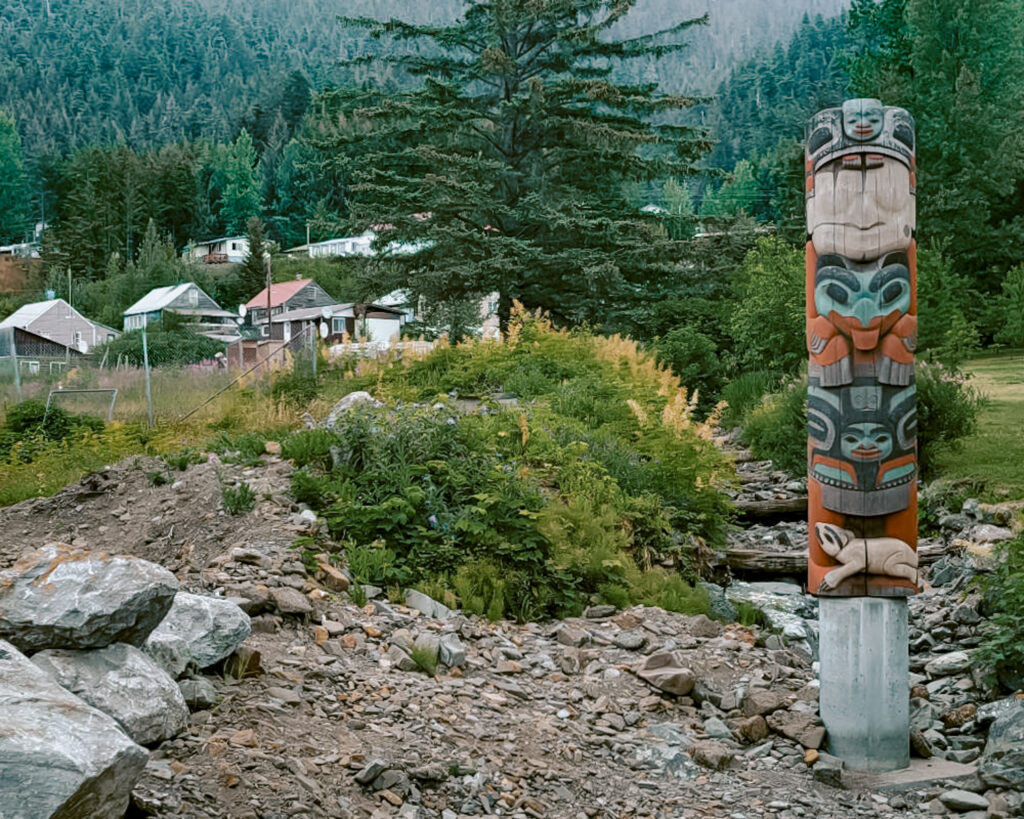 If you're seeking an off the beaten path destination, Hoonah in Alaska fits the bill. With fewer than 900 Tlingit residents, you will find few conveniences from home.
Most visitors arrive by cruise ship to Icy Strait Point, and the 1.5-mile walk to Hoonah takes 30 minutes. Alternatively, you can fly into Juneau International Airport and take a seaplane or ferry to Hoonah.
Located on Chichagof Island, those who visit come for outdoor adventures. Chichagof Island is home to Coastal Brown Bears, a cross between a grizzly and a polar bear. With the densest population of brown bears per square mile worldwide, the bears outnumber the people. 
If you want to see them, it's best to take an organized tour with the locals. The salmon run begins in July, drawing the bears to the rivers. It's a frenzy feeding as the bears feast to gain weight for their winter hibernation.
May to September provide the best months for visitation. It's also whale-watching season. Humpback whales arrive in Alaska in May for feed in their marine-rich waters. In September, they migrate back to Hawaii and Mexico to mate and give birth.
If you want to take a whale-watching tour, there are a few operators to choose from, including Alaska Whales & Drones. They use a drone to capture aerial footage of the whales, and you'll receive a copy of the video and photos with your tour. During your tour, you'll see harbor seals, sea lions, bald eagles, and, if you're lucky, Orcas too.
Walking through Hoonah allows you to see some hand-carved totem poles. Traditionally, totem poles are left natural but you may find a painted one too. During the summer, Tlingit carvers demonstrate the art of carving. It can take over six months to carve the animal spirits and mythical creatures into a cedar pole.
For the best views on the island, take the gondola to the top of Hoonah Mountain. Your ticket lasts all day, and the ride up and down offers stunning views.
Explored by Karen from Forever Karen
High Springs, Florida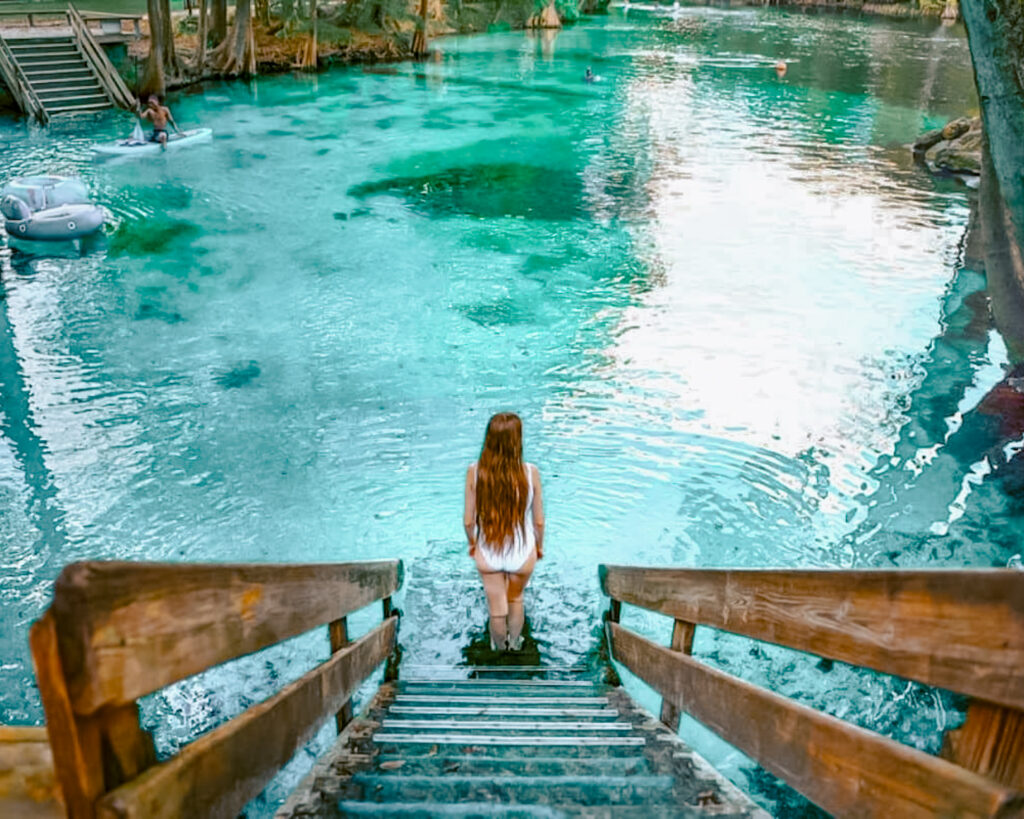 If you're searching for one of the most unique off the beaten path travel destinations then you can't beat High Springs, Florida. After all, most tourists flock to the beach or head to the major amusement parks of Orlando. 
But, if you take the time to visit High Springs, Florida then you can explore fun places like Poe Springs Park. It's an idyllic place along the Santa Fe River that is home to scenic walking trails as well as Poe Springs. Kids and adults will love swimming here since the water is clear, cool, and refreshing on a hot summer day. Now, while there are many shallow areas for kids to use, adults can swim in deeper waters that get up to 25 feet deep. 
Afterward, go scuba diving at nearby Ginnie Springs. It's another natural spring with crystal clear water and is known for being home to some of the best freshwater dive sites in the world. So, certified divers can rent gear and explore the labyrinth of underwater caverns that the area is known for. Otherwise, you can snorkel, tube, and swim along the top since the temperature of the water is around 72 F all year long. 
Next, head to the High Springs Museum and learn all about how the Plant System Rail Yard and Roundhouse shaped this tiny town before going for a picturesque hike through O'Leno State Park. As you hike along the Santa Fe River, keep an eye out for incredible swamps, sandhills, sinkholes, trees, and sinkholes. Or, if you want to head out on the water, you could rent a canoe or kayak. 
Finally, head back to downtown High Springs and enjoy the many breweries, restaurants, and stores that fill the area. You can also partake in a fun game of mini-golf at Pink Flamingo Mini Golf Course before you grab an ice cream cone and end the day. 
Explored by Victoria from Florida Trippers
Related post: Florida Packing List
Ilulissat, Greenland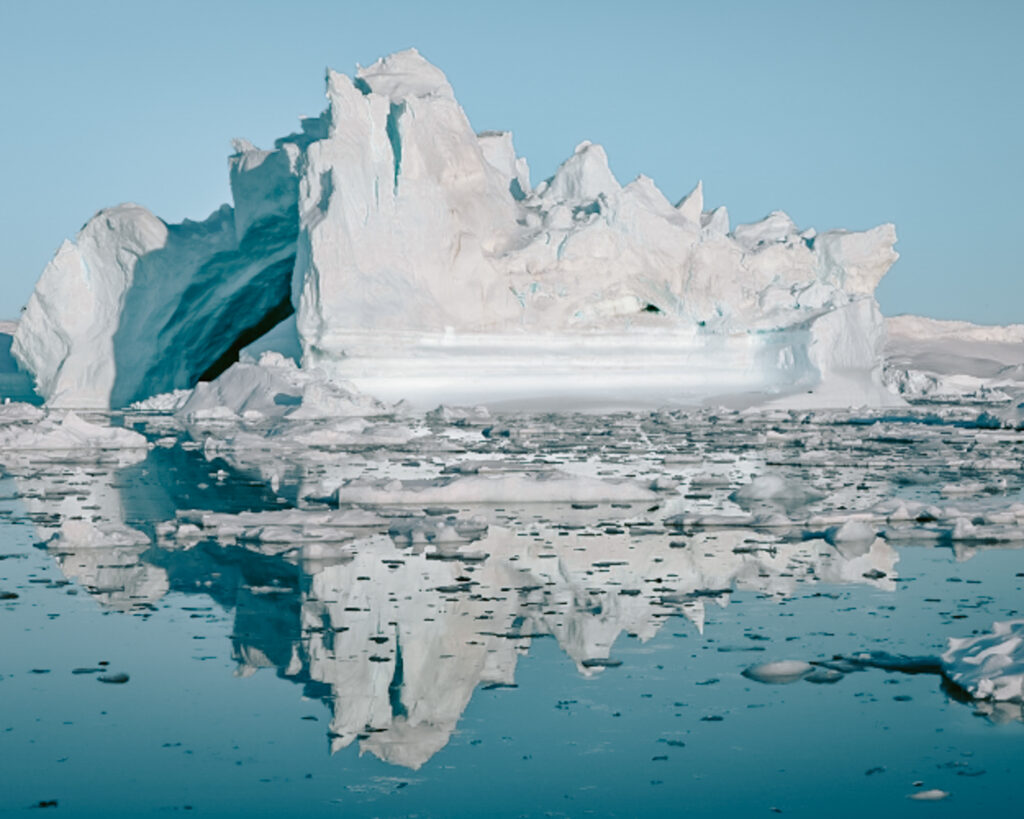 Greenland remains fairly one of the off the beaten path countries to visit for most. However, if you want to venture to one of the least densely populated regions in the world, and don't mind the cold, head for Ilulissat.
Located in the west of Greenland, and a few hundred kilometers inside the Arctic Circle, Ilulissat is Greenland's third largest city. However, to many, it will feel more like a small town, as less than 5,000 people live there.
The big draw to Ilulissat is the Icejord that it is located next to and the huge icebergs that emerge from the fjord. Ilulissat Icefjord is a UNESCO World Heritage Site – and a breathtaking spectacle.
The source of the icebergs is the Sermeq Kujalleq glacier, which is one of the fastest and most productive glaciers in the world, calving around 40m per day and releasing 35 billion tons of ice every year. The gigantic icebergs float along the Icefjord, pause for a while at the shallow entrance, and then float off into the calm waters of Disko Bay.
Most of the things to do in Ilulissat revolve around the ice in some way. There are lots of tours in Ilulissat, including Iceford sailing, kayaking, and stand-up paddle-boarding among the magnificent icebergs. You can also take boats up close to epic glacier snouts and go whale-watching in the hope of seeing humpback whales flip their mighty tails.
There are several hiking routes, all with stunning viewpoints over the icebergs. In the city itself, there are three museums, a local craft workshop, sled dog experiences, and a quaint wooden church.
The best time to experience dog-sledding, and snowmobiling on the icecap, and the Northern Lights in winter, while the best time to see the icebergs, the winter sun, and whales in summer.
The Ilulissat airport is just a few minutes' drive from the city center and connects to Reykjavik, Iceland; via Kangerlussuaq, Greenland, and Copenhagen, Denmark. 
Explored by Martha from May Cause Wanderlust
Interested in going off the beaten path in Greenland? Consider these things to do in Nanortalik.
Devils Tower, Wyoming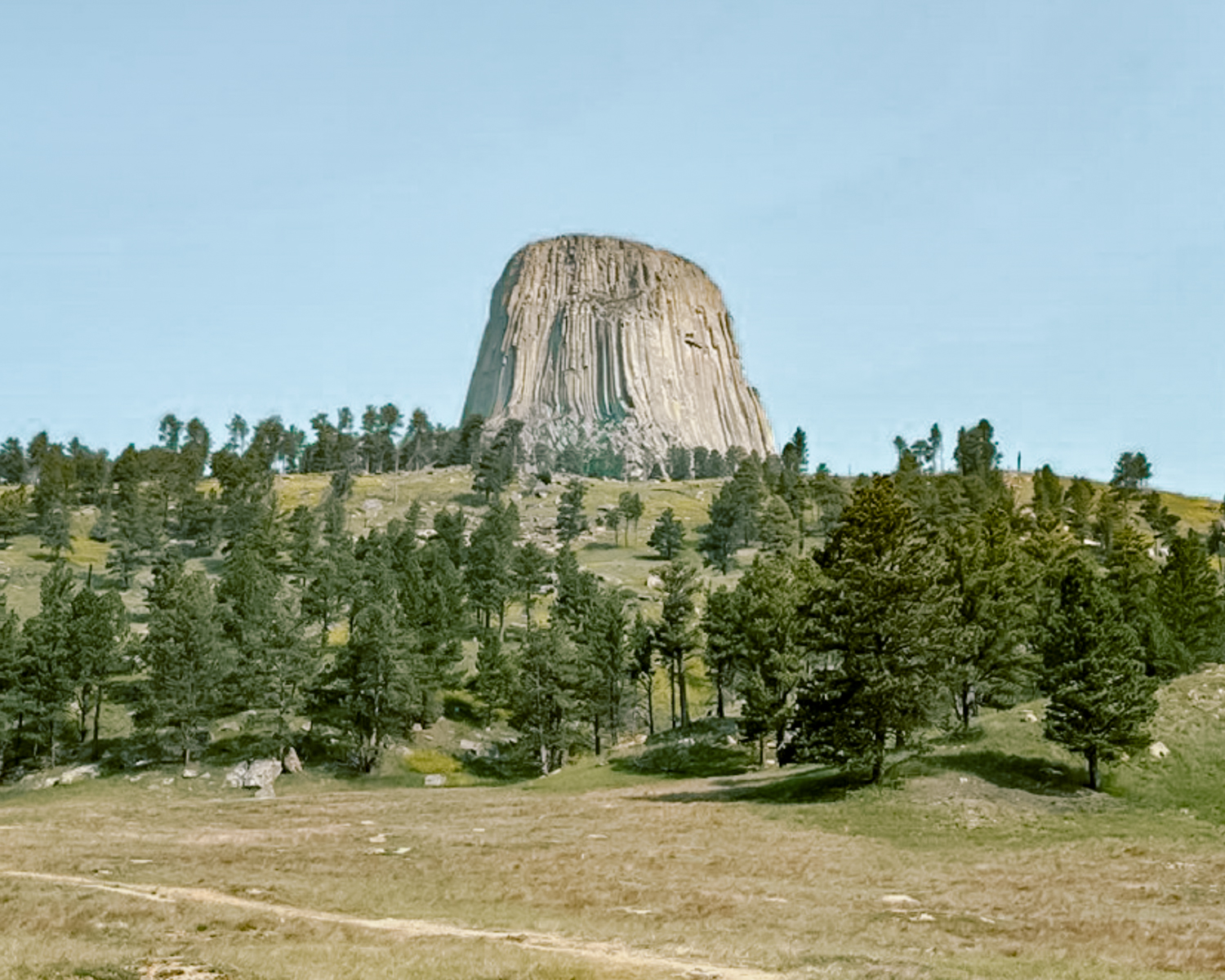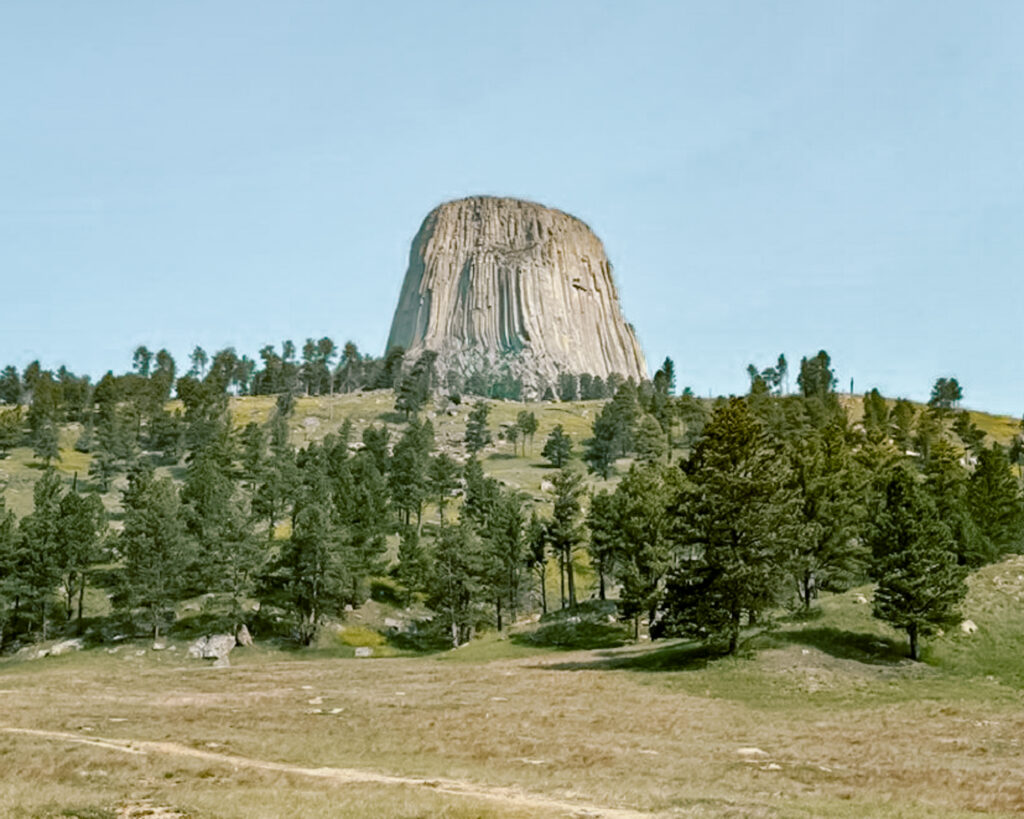 If you have ever seen Steven Spielberg's movie "Close Encounters of the Third Kind", then you probably know what the Devils Tower is. Whether you have seen the movie or not, it's one of the off the beaten path adventures and geological wonders that you need to add to your bucket list.
Located in northeastern Wyoming, the Devils Tower, standing 867 feet (264 meters) tall, was declared the first national monument in the United States by Theodore Roosevelt in 1906. Many Plains Indian tribes consider the tower sacred and have their own cultural stories associated with how they believe the tower was formed. 
Geologists are not exactly sure how it was formed, but it is considered a rare igneous rock that is believed to have been formed when molten rock cooled and was exposed to erosion, which led to the columns seen today. 
Whether you come out for a weekend or are on a road trip through Wyoming, you must plan a stop at Devils Tower.. The closest airport to Devils Tower is Gillette, Wyoming, and you will have to rent a car to get to the Tower. It is a 66-mile (106 km) drive to the Devils Tower and there are hotels to stay in nearby towns, and places to camp just outside the park, but if you are up for a fun adventure, plan to stay in a Tipi where you have a view of the Devils Tower and a unique and fun experience.
There are many things to do at Devils Tower including one of the few hiking trails in the area, especially the 1.3 mile Tower Trail around the base of the Tower, which is a must. Explore the visitors center, have lunch, and relish in the wonders of the area. You can take a drive to Prairie Dog Town, and the Circle of Sacred Smoke Sculpture after you are done exploring on foot. If you are adventurous, you can even climb the Devils Tower! There are opportunities for beginners to try it, with a guide to assist. If you plan to stay overnight in the area, then if the sky is clear, you will have some of the most amazing stargazing above you.
Devils Tower is definitely an underrated and unknown destination for many people and should be added to your list of things to see.
Explored by Melanie from The World Travel Girl
Muscat, Oman  
You would have heard of the glitzy buildings of Dubai and Abu Dhabi, but travel off the beaten track and visit Muscat in Oman. It still maintains an old-world charm with very few high rises. It is the city to indulge in cultural immersion on your trip to Oman.
Airport to fly into: You can fly into Muscat International Airport to arrive at the city. If you are doing a road trip across Oman, you can rent a car at the airport itself. Else, you don't need a car rental just for a short trip to Muscat.
Best time to visit: October to March would be the best time to visit Muscat with warm to pleasant days and cool nights.
The topmost cultural attraction in Muscat is the Sultan Qaboos Grand Mosque. It is an imposing structure in the heart of the city. Tourists can visit the mosque every day, except Friday, from 8:30 until 11:00 a.m. So Make sure you get to this site in the morning itself. Both men and women need to cover their heads, shoulders, arms, and legs before entering the mosque.
Another cultural attraction in Muscat is to visit the Royal Opera House. You can see this beautiful building at night with its lights on. Or if you are interested in the program, check the schedule for a show while you are visiting. 
One interesting thing to do in the capital city is to go for an evening walk at the Muttrah corniche and gaze at the ocean. The Muttrah soup (traditional market) is close by and is one of the best places to shop for spices, artifacts, jewelry, and other souvenirs. 
Explored by Shweta from f Zest In A Tote
Related post: Desert Instagram Captions
Launceston, Tasmania
So, you're looking for one of the off the beaten path travel destinations that offers a unique blend of natural beauty, history, and a burgeoning food and wine scene? Look no further than Launceston in Tasmania. Nestled in the northern part of this Australian island state, about 200 km from the capital Hobart, Launceston is a city that's easy to fall in love with but often overlooked.
Getting there is a breeze. Just book a flight to Launceston Airport (LST), which is well-serviced by major airlines like Qantas and Virgin Australia. Once you land, you're only a quick 15-minute drive from the heart of the city. 
For those who love architecture and history, the city's historic downtown is a treasure trove of well-preserved colonial buildings. It's also where you should consider staying. There are cozy boutique hotels in Launceston that offer a perfect blend of historic charm and modern amenities.
Timing is everything, and the best time to visit Launceston is during the Australian summer months of December to February. The weather is warm but not scorching with a high of 25 degrees Celsius, perfect for outdoor activities and wine tasting. 
Launceston's main draw is the wineries of neighboring Tamar Valley. Just a short drive from the city, the valley is home to some of Australia's finest cool-climate wines. Visiting during the Autumn months of March-May and in particular April will provide ample opportunity to see the grapes being harvested.
But Launceston is not just for wine lovers. The Cataract Gorge is another must-visit. It's a stunning geological formation right on the edge of the city. You can take a chairlift over the gorge or hike the scenic trails that range from easy to moderately challenging. For a more leisurely experience, you can board a boat for a tour of the Cataract Gorge from the water.
Explored by Haley from Haley Blackall Travel
Huaraz, Peru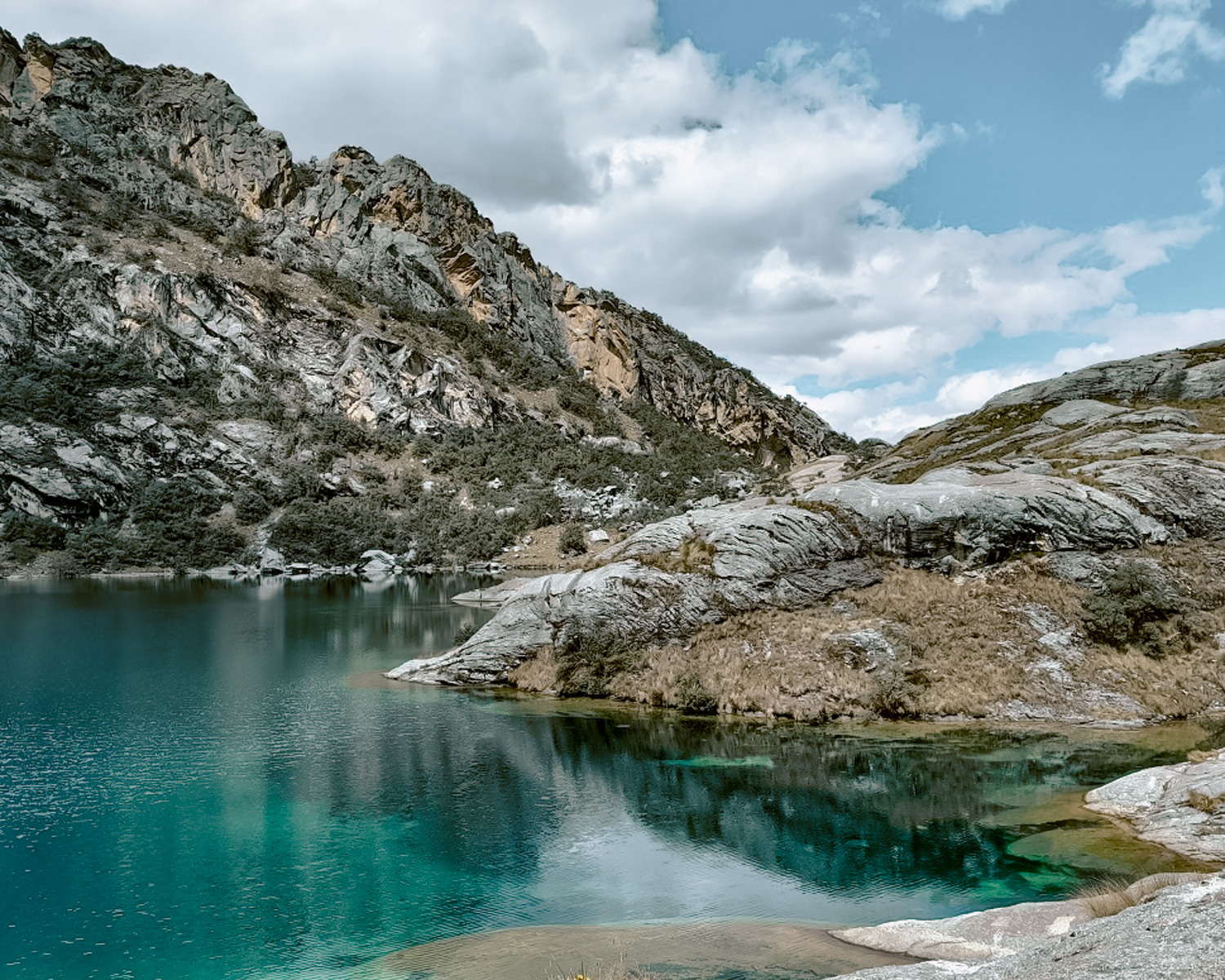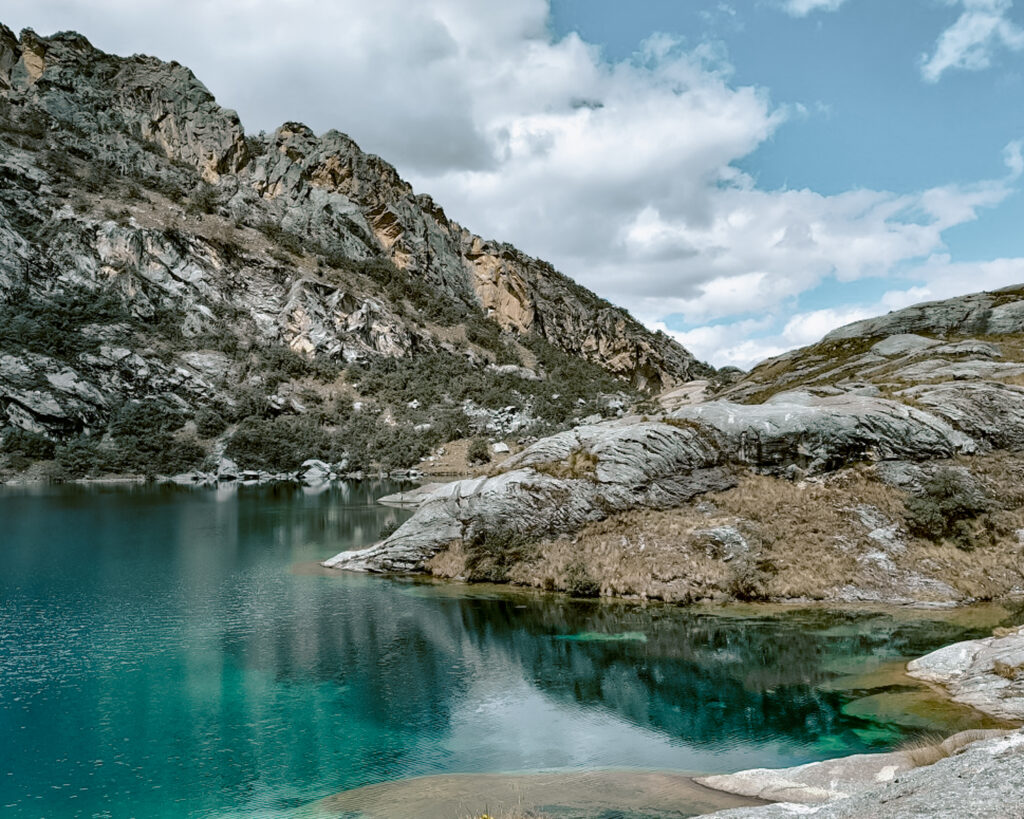 Peru ranks high on the bucket list of many travelers, largely thanks to the charm of Machu Picchu. However, Peru has so many more experiences to offer beyond the iconic ruins. Consider venturing to one of the off the beaten path destinations and discover a hidden gem, like Huaraz.
Huaraz is a small city in the Andes mountains, surrounded by the natural beauty of the Huascaran National Park. The area is known for its stunning landscapes, snow-capped mountains, and turquoise lakes. It's the perfect place to spend some time surrounded by nature, especially if you like hiking or trekking. Huaraz is actually known as the "hiking capital of Peru". There are lots of hikes in Huaraz for all levels of difficulty. From very easy hikes where you just walk 30 minutes to a viewpoint to admire a stunning lake, to treks that last for several days and require special equipment. Some are easy to do on your own and some require a tour agency to arrange the trip.
One of the most well-known hikes is the one to Lake 69, where you walk for a couple of hours to get to one of the most beautiful lakes in Peru. If you are into multi-day trekking, you can otherwise opt for the Huayhuash trek, which is said to be one of the top 10 most beautiful treks in the world.
Other things to do in Huaraz are visiting the nearby towns, like Caraz or Carhuaz, to spend some time in nature and explore the surroundings. 
If you are into mountain climbing, there are also some challenging peaks that you can climb, like the Huascaran, which is the highest peak in Peru.
To get to Huaraz from Lima, the capital of Peru, you have to take a bus. The ride is 8-hours long. The best is to take an overnight bus which will leave you there in the early morning.
Explored by Sharon from I Travel Peru
Related post: Best Cities In South America To Visit
Santa Ana, El Salvador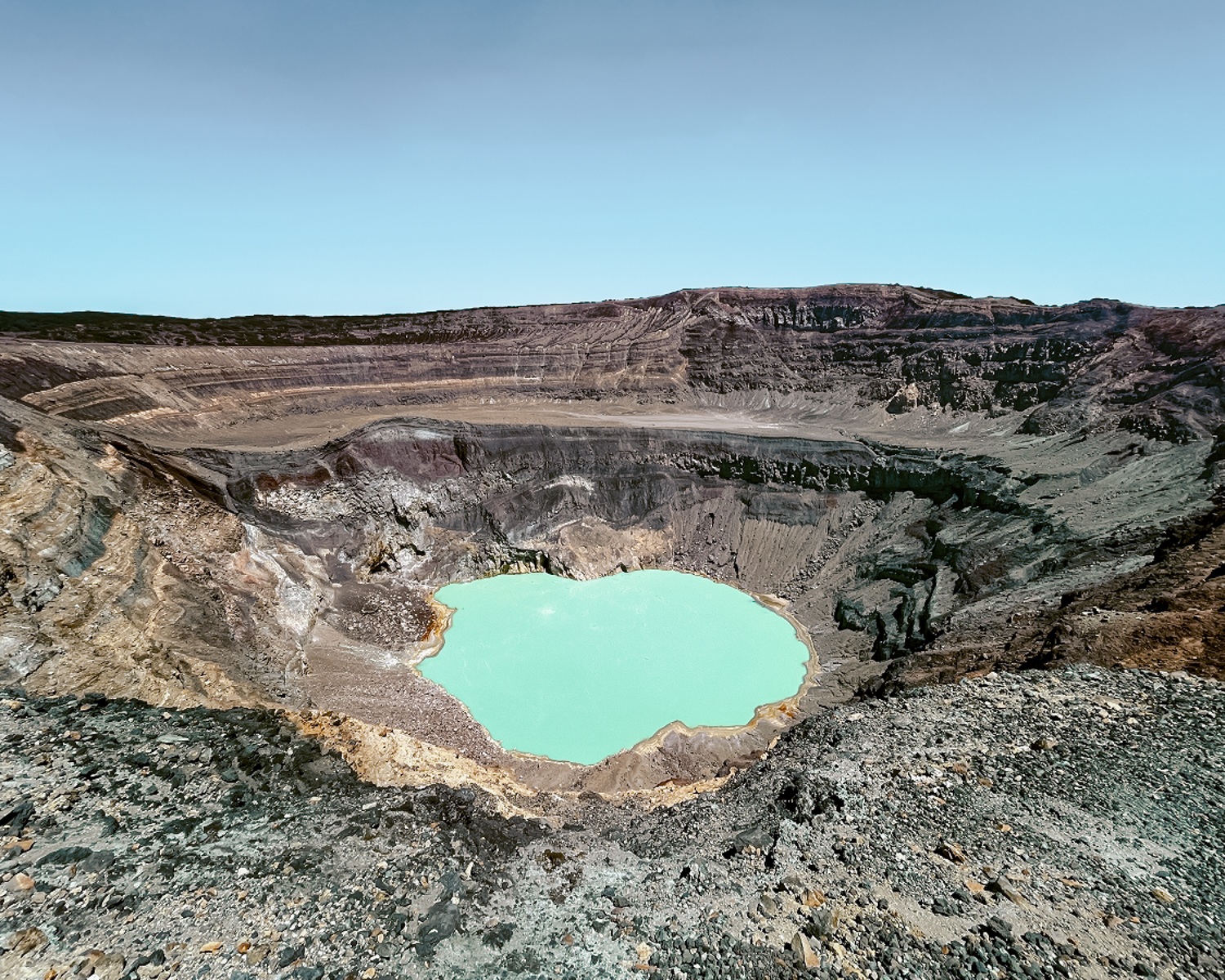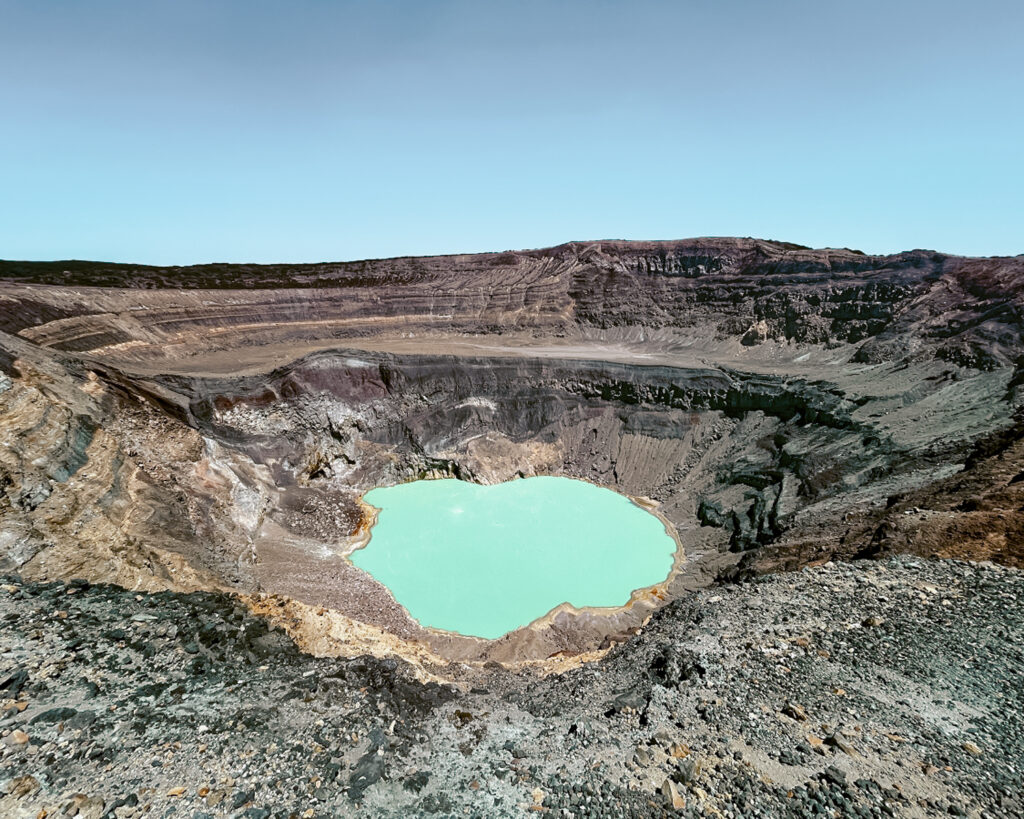 Santa Ana, El Salvador is an off the beaten path destination that is a wonderful blend of rich history, vibrant culture, and stunning natural beauty. Nestled in the coffee-growing region of El Salvador, Santa Ana is not a common city you would find on a traveler's bucket list. 
El Salvador has been notorious for gang violence in the past, however, in recent years the government has called for mass arrests throughout the country reducing the crime rate significantly. Now, El Salvador has reached its lowest crime rate in the past 30 years and has become a safer destination for its rising tourism industry.
Located in the tropics, El Salvador has a rainy season and a dry season. The best time to visit El Salvador is during the peak dry season, from December to March. This is when the weather is warm and there is less chance of downpours. However, this does mean higher crowds and higher prices. For lower prices, lower crowds, and still pleasant weather, consider traveling to El Salvador in the shoulder season in November and April.
El Salvador has only one international airport located right outside the country's capital city San Salvador. The airport is centrally located in the country, making it very convenient to catch shuttles or buses to other cities.
Santa Ana has a variety of experiences for any kind of traveler. For those seeking adventure, a hike to the Santa Ana volcano is a must. The Santa Ana volcano is one of the highest volcanoes in El Salvador and holds a beautiful turquoise crater lake at its summit.
For another thrilling adventure, consider taking a motorbike trip on the Ruta de las Flores. The route takes you through several picturesque towns in El Salvador's coffee region. Be sure to stop at Juayua for the food festival every weekend!
Also check out Salto de Malacatiupan, a hot spring waterfall. The water is heated from the underground thermal activity creating this beautiful phenomenon. Furthermore, a hike on the Las Siete Cascadas trail will lead you through a series of gorgeous waterfalls that you'll be able to swim in.
For all the foodies out there, try pupusas, El Salvador's national dish! Santa Ana is home to several pupuserias, my favorite being Pupuseria La Rumba.
Santa Ana and El Salvador have much more to offer. Check out this 1 week itinerary in El Salvador to gain some travel inspiration. 
Explored by Shreya from Where Is Shreya
Sulawesi, Indonesia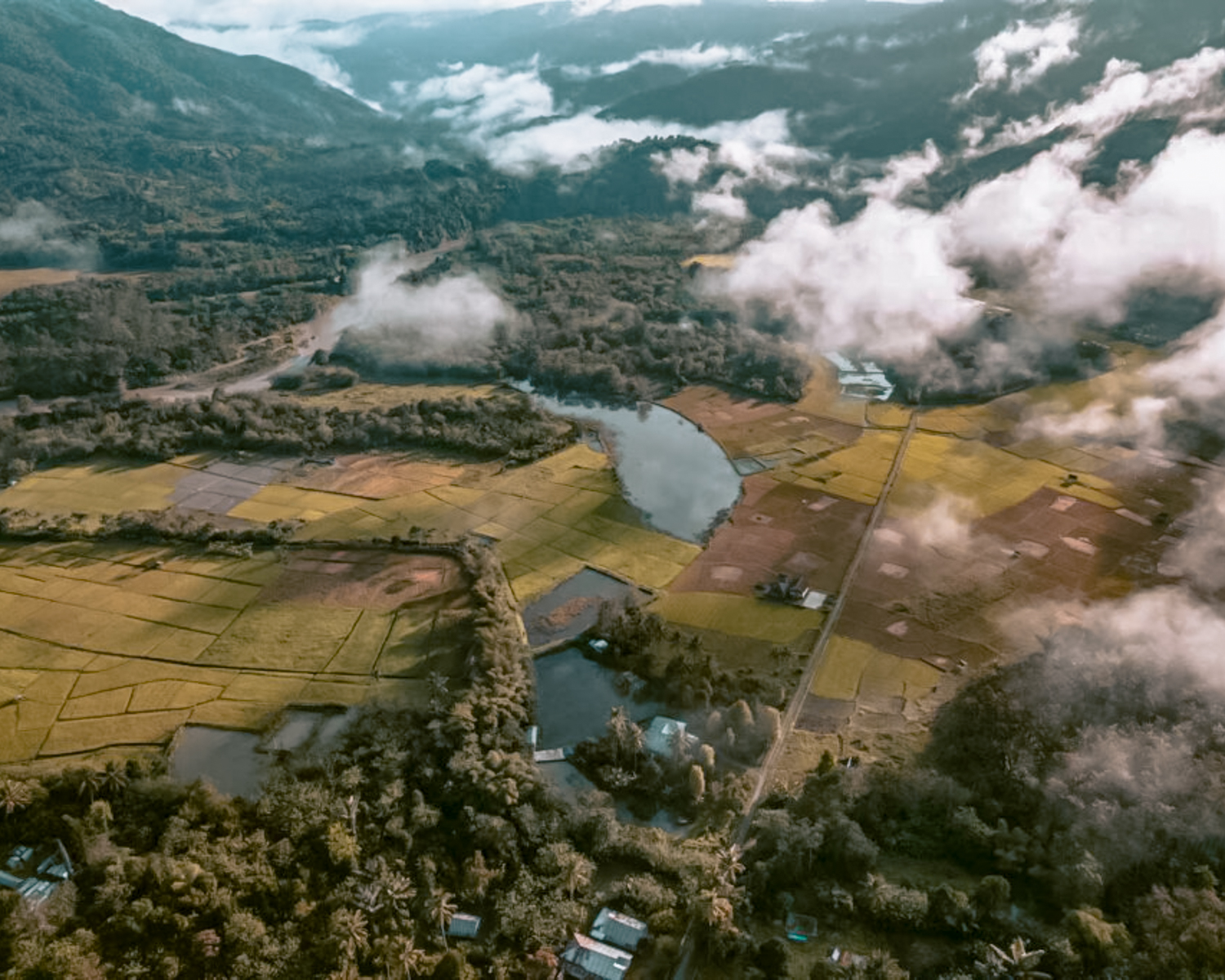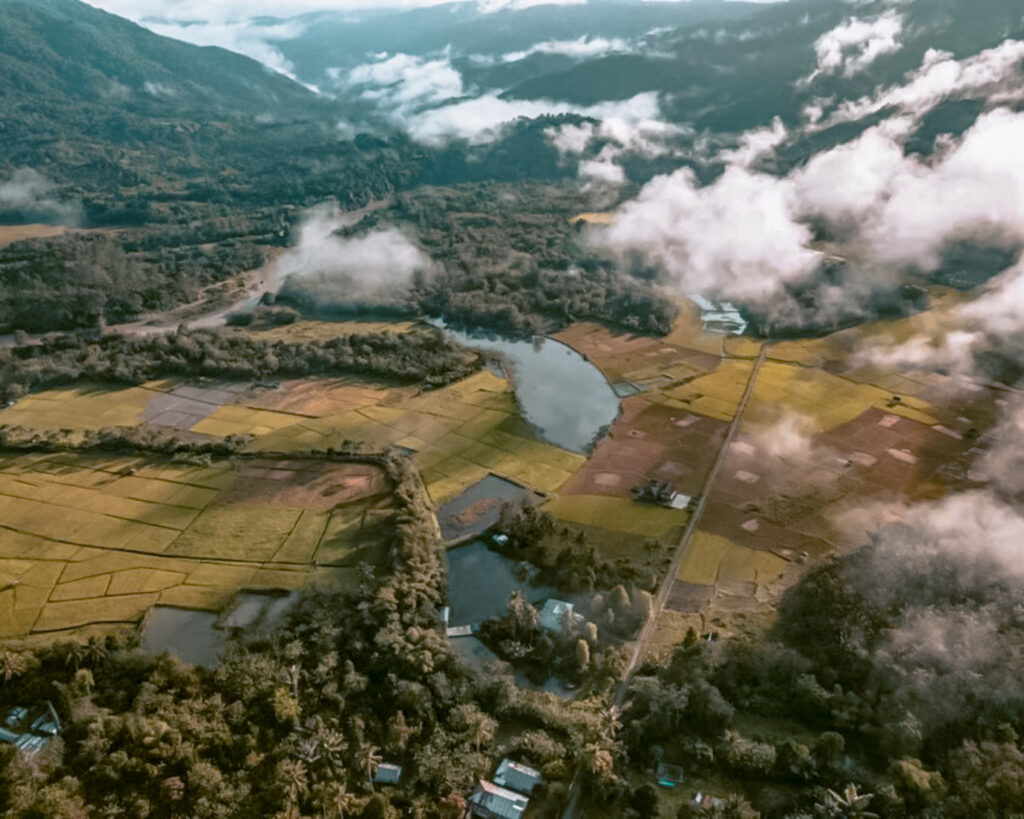 Central Sulawesi is one of the off the beaten path travel destinations in Indonesia, offering many fun and unique cities that often fly under the radar of mainstream tourism. When planning your visit, consider flying into Palu Mutiara Sis Al-Jufri Airport (PLW), the primary gateway to the region. From there, embark on an adventure to discover the unexplored wonders of Central Sulawesi.
The best time to visit this underrated destination is during the dry season, from May to October when the weather is most pleasant for outdoor activities. One of the must-visit cities is Palu, a coastal paradise boasting pristine beaches like Talise and Tanjung Karang. Dive into the crystal-clear waters to explore vibrant coral reefs teeming with marine life or relax on the sandy shores.
For a cultural experience, head to the charming city of Poso, known for its serene lakes, lush forests, and intriguing traditional Megalithic culture. Visit Lake Poso, the third-largest lake in Indonesia, and marvel at its surreal beauty.
Tentena, another hidden gem, is a tranquil lakeside town that offers breathtaking views of Lake Poso. Explore Saluopa Waterfall, relax in the natural hot springs, or dip in the calm waters of Danau Lindu.
In addition, take advantage of the stunning Togean Islands, reachable by boat from Ampana. These remote islands offer a paradise for snorkelers and divers, with vibrant coral gardens and diverse marine life.
Central Sulawesi is also a melting pot of diverse indigenous cultures, with unique traditions, music, and dance performances not to be missed. 
In conclusion, Central Sulawesi is a captivating destination that deserves a spot on your travel bucket list. Its rich culture, natural beauty, and off-the-beaten-path charm promise an unforgettable adventure for those seeking something unique.
Explored by Victoria from Guide Your Travel
Biarritz, France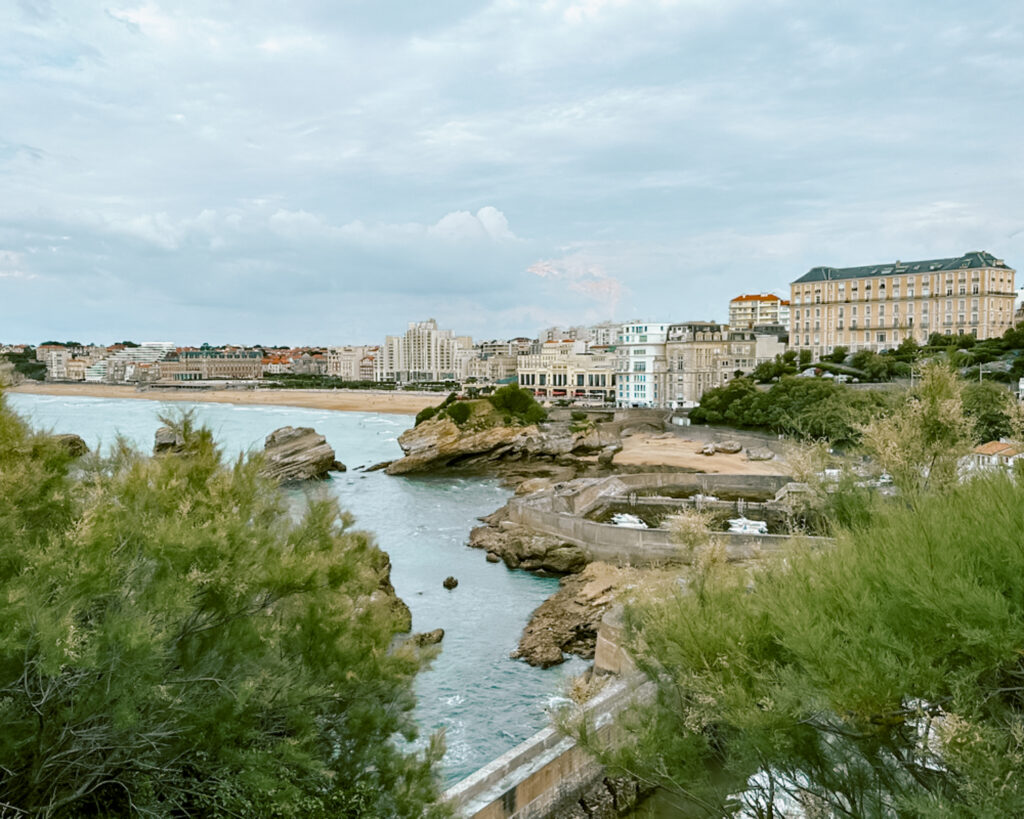 If you're interested in traveling to an off the beaten path destination within France, consider making your way to the coastal city of Biarritz. Located on France's west coast, this charming town is known for its laid-back atmosphere and beautiful beaches. Not to mention, there are plenty of fun activities and places to visit whether you're just passing through or staying in town for a few days.

For instance, one place that everyone should visit is the Phare de Biarritz. The lighthouse was built in the 19th century and is a popular spot for locals and tourists alike to take in some stunning views of the ocean. You'll find lots of benches and a big grassy area if you want to people-watch or have a lovely picnic.
Another must-do while in town is to spend time at Biarritz's beautiful beaches, such as La Grande Plage or Côte des Basques Beach. Both offer long stretches of sand and bright blue waters that are perfect for swimming, boogie boarding, or just soaking up some sun! Or, if you're feeling adventurous and want to partake in one of the most popular local pastimes, consider renting a surfboard!

In terms of the best time to visit, the weather is at its best during the summer months. This is when the average high temperature is mid-70s°F and there are the fewest rainy days per month. And with the town being lesser-known, there is not an unbearable amount of tourists everywhere, even during the peak travel season.

So, if you're ready to plan your next getaway to Biarritz, you can fly into a major international airport like Charles de Gaulle in Paris. Then, you can take a regional train to Biarritz. Alternatively, if you're already in the vicinity, you may be able to fly directly to the regional airport in Biarritz. 
Explored  by Kristin from Global Travel Escapades
Related post: 24 Hours In Paris
Akureyri, Iceland 
Akureyri in Iceland is an important port and a fishing center of the country. But this remote city at the base of a scenic fjord is also an underrated destination to visit in Iceland. Akureyri is the capital of Northern Iceland and a gateway to the region's attractions.
You can reach this of the beaten path travel destination, Akureyri in a few ways. The city has a small international airport but most of its flights are to and from Reykjavik. As an overseas tourist, you will likely fly to Reykjavik-Keflavik Airport when visiting Akureyri. Get ready for a 5-hour drive to the city on the Ring Road. You could also reach Akureyri on a cruise ship from the US, Europe, and even Chile.
Summer is the best time to visit Akureyri since the temperatures are warmer than the rest of the year. There are plenty of outdoor activities: from visiting Botanical Gardens and swimming in geothermal pools to exploring local architectural landmarks and playing golf. But one activity stands out among the rest – whale watching in Akureyri is unrivaled.
It is really a must when visiting the city during the warmer months. While whale watching gets pricey, these tours are more affordable in Akureyri than in Reykjavik and abroad. Book yours in advance to secure a spot. You can customize your experience by choosing between a large whale-watching ship and a small motor boat.
The tours start in Akureyri Harbor and throughout the day. They take about 45 minutes to reach the whale-watching spot at the fjord's mouth. Look out for humpback whales and dolphins. You might even see a whale jumping from the ocean if you are lucky!
Back in the city, you can enjoy local art at the Art Museum or explore the old town. Pick a gastro pub or a restaurant serving local food when you get hungry. This is a perfect way to experience Icelandic cuisine. Or grab a hot dog at Pylsuvagninn á Akureyri if you are traveling on a budget.
Explored by Anastasia from Travel Realist
Related post: One Day In Reykjavik
Maun, Botswana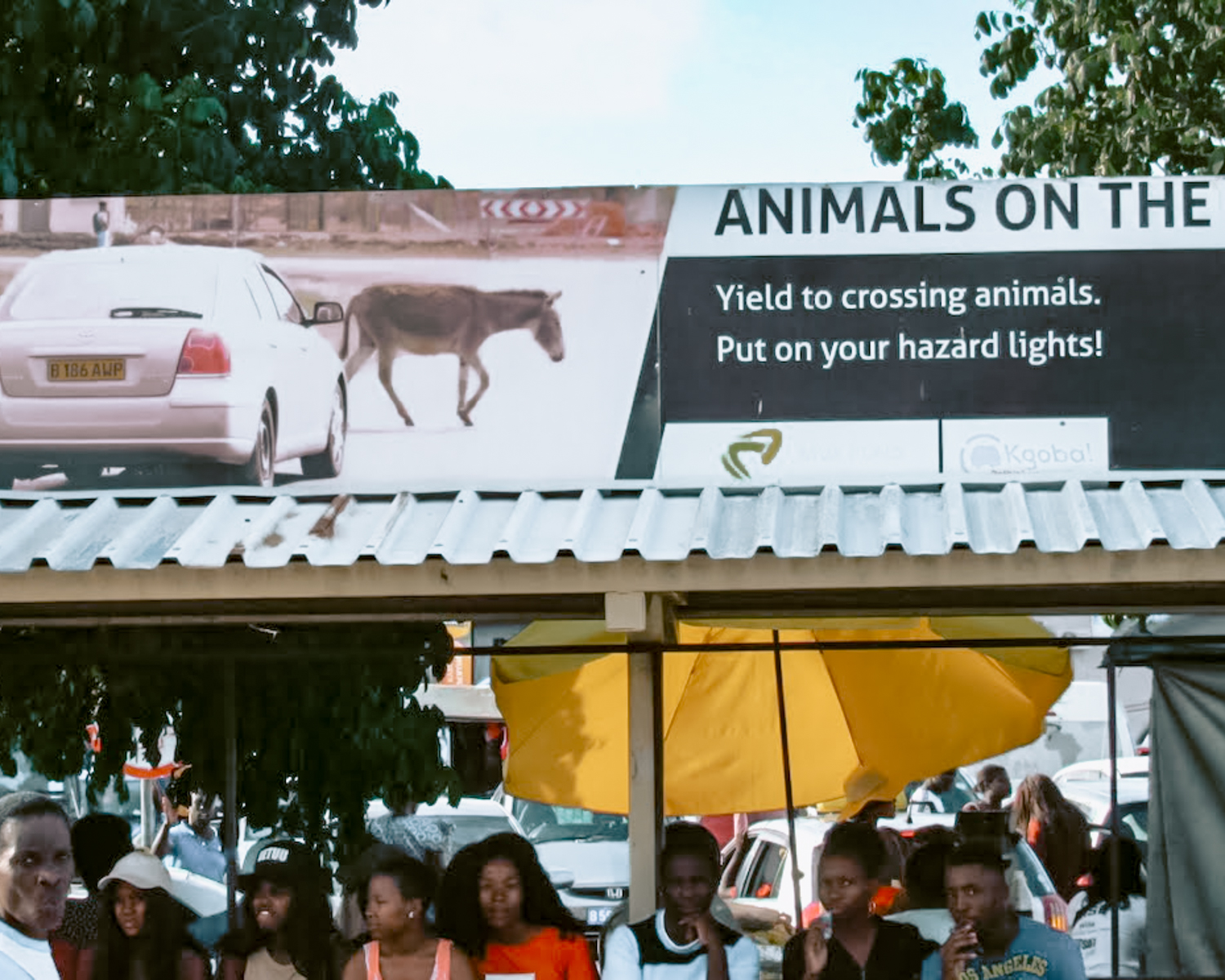 Maun is a large town with a small-town feel. Located on the Thamalakane River in northern Botswana, Maun an off the beaten path travel destination deserving of your visit. 
However, Maun itself is an amazing destination to visit. I've had the pleasure of spending several weeks here, I came to know it as a fun, off-the-beaten-path town that doesn't get the recognition it deserves.
It's generally known strictly as the starting point for safaris in the spectacular Okavango Delta, and there are actually a few good reasons for this. Firstly, it sits at the edge of the Delta. 
It's the perfect spot for those heading off on multi-day safaris to stock up on supplies. Maun has a good selection of necessities and equipment, and several filling stations for fueling up.
Plus, Maun has its own international airport (MUB). It's common for safari-goers to fly in, meet with their guide and group, stock up on water and essentials, and head out. The majority spend one night at most in Maun.
Unfortunately, they're missing the opportunity to get to know Botswana through this irresistible urban center.
What started as a bush outpost has grown into a sizable town with a lot to see. It's an interesting mix of modern buildings, traditional African homes, and middle-of-the-road, concrete houses without amenities like plumbing and electricity. 
You can start exploring Maun with a visit to Nhabe Museum for a glimpse of the history and culture of the area. Then stop at the Okavango Craft Brewery to sample the local beer, made with local ingredients, supporting local farmers. 
Back on Airport Road, you can book a helicopter flight over the Okavango Delta. This flight alone is reason enough to spend some time in Maun.
Maun is also the perfect base for day trips in the area. See the Moremi Game Reserve from the back of a safari vehicle, or glide through the Delta in a traditional mokoro canoe. You can even rent a car and drive to Nxai Pan to see the meerkats.
Maun is a fascinating town with enough to keep you busy for as long as you can stay, and it can't be easier to get to. Just book a flight from wherever you are to Maun International Airport. Aim for May through October, when the weather is at its best!
Explored by Deb from Introvert With Itchy Feet
Shirakawago, Japan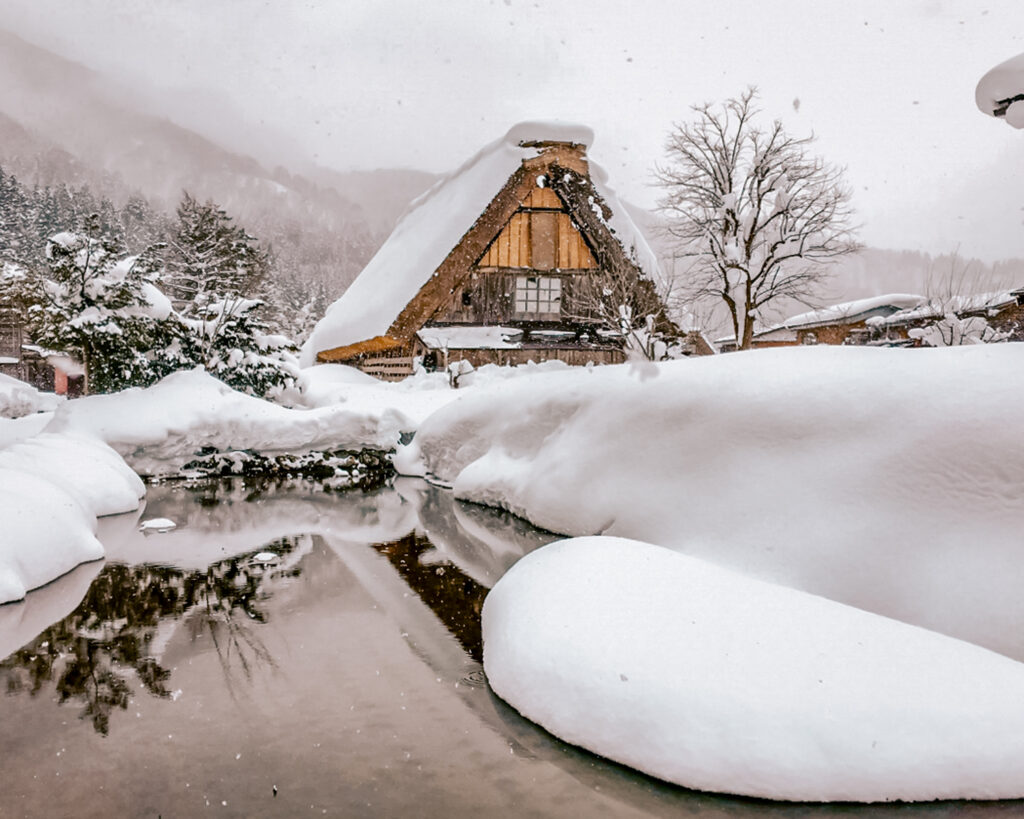 Shirakawago is a UNESCO World Cultural Heritage site located in the Hokuriku region of Japan. This remote town is truly one of the best off the beaten path destinations, even many local Japanese have not visited yet. 
Traditionally, it is a small mountainous farmland tucked in the Japanese Alps. When all crops are harvested, you would imagine farmers would take a long winter vacation. However, the residents of this idyllic remote town get busy in winter to welcome the influx of tourists.
The main draw is its Shirakawago Winter Light-up Festival. The annual winter festival celebrates the UNESCO town's stunning winter landscape. 
Shirakawago village boasts well-preserved Japanese farmhouses from 300 years ago called Gassho-zukuri. The Gassho houses are designed with a thatched roof to prevent the roof from collapsing, even when covered with two meters of snow. Aesthetically, snow-covered farmhouses make Shirakawago look like a fairytale town.
During the festival, all houses are illuminated from 5:30 p.m. to 7:30 p.m. When the sun sets, the entire village goes pitch black. As the light turns up, Shirakawago becomes a magical winter wonderland!
The observation deck is the best spot to see this magical moment. Due to the limited space, only ticket holders are allowed in the viewpoint deck. 
As Shirakawago is a remote mountain village, its infrastructure only allows a limited number of visitors to participate in this festival. Therefore, plan well in advance by purchasing the tickets and booking transportation and accommodations.
From Tokyo, you can take a bullet train (shinkansen) to Kanazawa. Then, take a bus to Shirakawago.  
Another essential thing to remember is to pack appropriate winter gear. The temperature can drop far below zero in this Japanese snow country. 
Explored by Chloe from Chloe's Travelogue
San Luis Obispo, California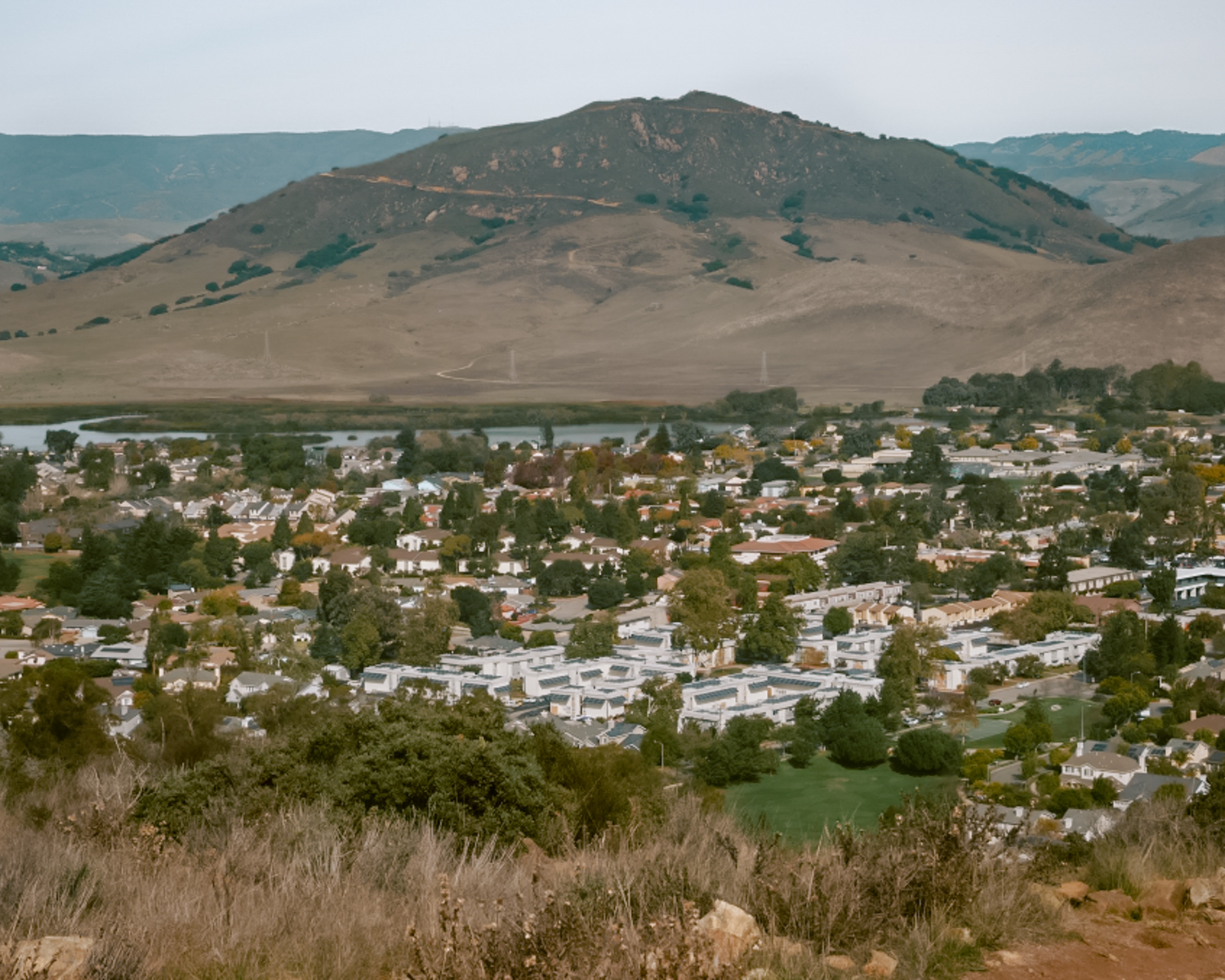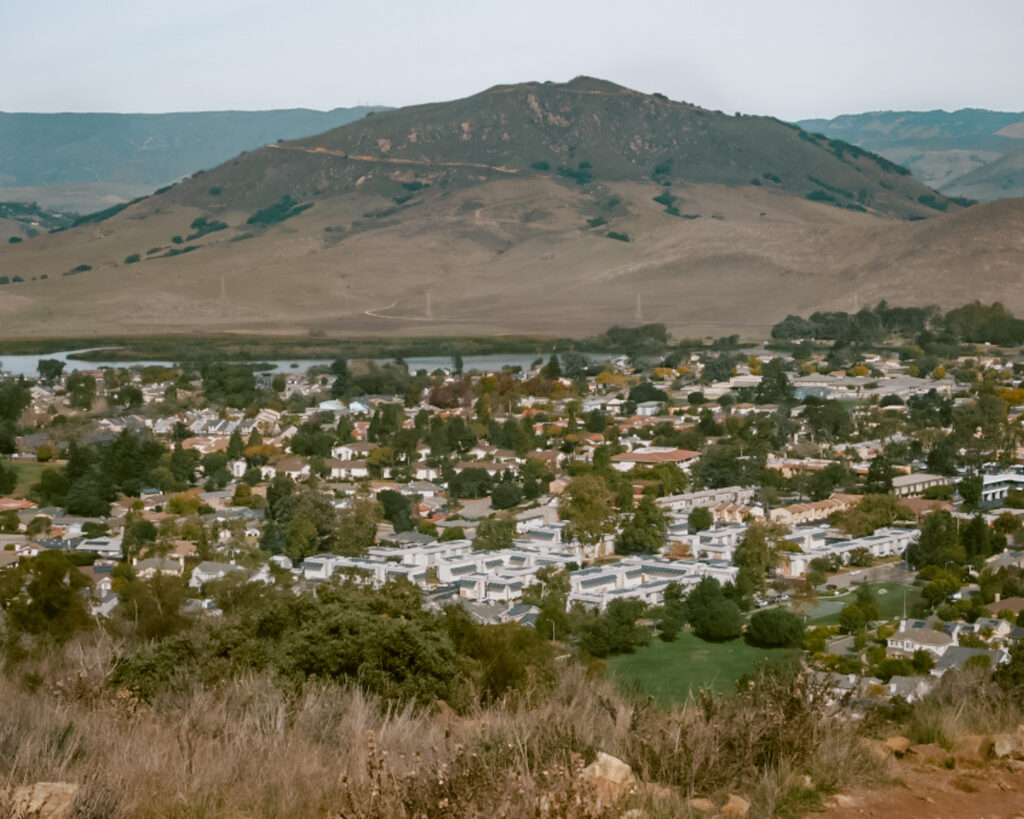 San Luis Obispo in Central California is one of the off the beaten path travel destinations for outdoor lovers with great weather year-round. The city's acronym SLO is apt for the relaxing, unhurried pace that it exudes. It's no wonder that San Luis Obispo was dubbed America's Happiest City on Oprah in 2011.
Nature is the first, but certainly not the only draw, in this underrated gem in the Golden State. The stunning landscape coupled with historic architecture, boutique shopping, delectable food, and drinks makes for an all-around wholesome vacation. Getting there is easy as the city's San Luis Obispo County Regional Airport has direct flights from several hubs not only in California but throughout the US. 
The historic Mission San Luis Obispo de Tolosa in the heart of downtown is the perfect way to start exploring San Luis Obispo's small but mighty town center. There is a daily afternoon docent-led tour where you can learn how the Mission was built in stages over several years since 1772. 
Bubblegum Alley is a quirky attraction nearby with chewed-up gum remains affixed by an estimated two million people. Be sure to check out the vast array of shops especially local boutiques like Ambiance and Fair Trade store HumanKind. 
Weekend festivities begin a little early in SLO with the Thursday Farmers' Market downtown which features everything from fresh produce to baked goods to piping hot meats fresh off the grill. 
San Luis Obispo's restaurant scene runs the entire gamut from handcrafted sandwiches and juicy burgers to sushi and wood-fired pizzas. These are paired with local beers and Central Coast wines that elevate your dining experience. 
Lace up your hiking boots and head to Terrace Hill for an easy climb to enjoy the city view at sunset. Or challenge yourself by climbing one of the higher morros (ancient volcanic plugs) like Bishop Peak and Cerro San Luis. From Laguna Lake to Irish Hills, there is a trail for every type of hiker in this outdoor haven. 
Dive into this three-day San Luis Obispo itinerary for more details on how to spend your time in this beautiful city. 
Explored by Farha from Trips Come True
Related post: California Instagram Captions
Cardiff, Wales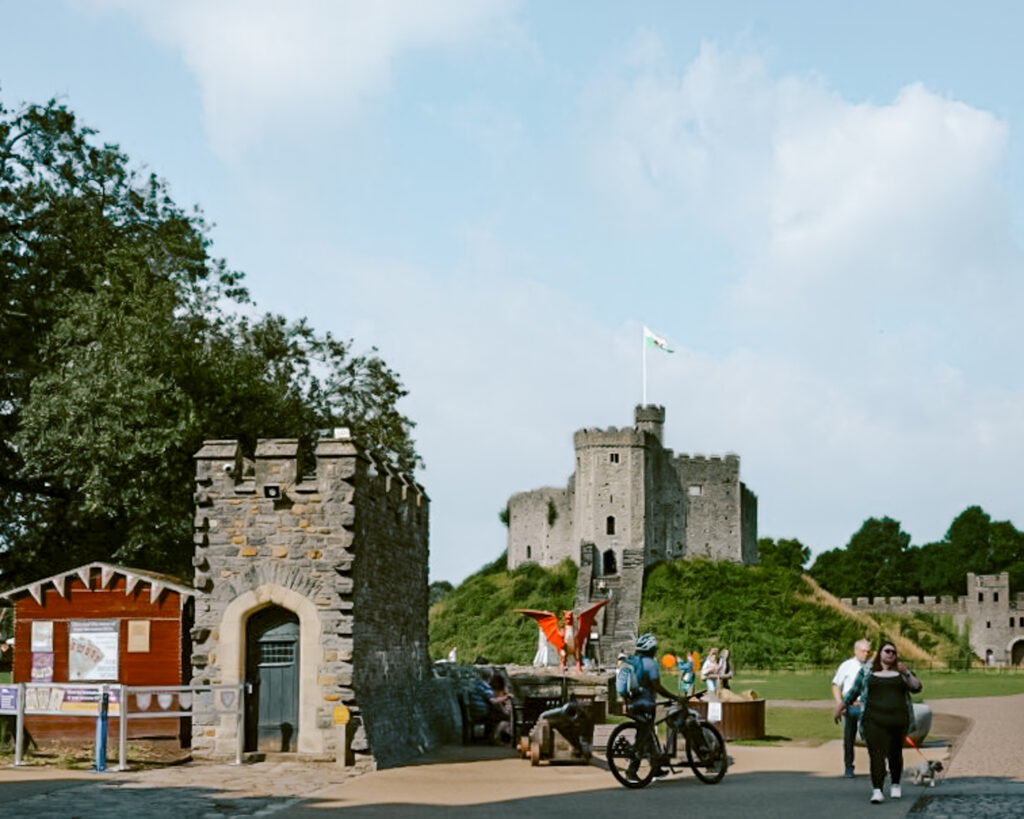 Cardiff is the capital city of Wales and is one of the most off the beaten path cities in Great Britain. Wales has its own language, flag, and national anthem but still uses British pounds as currency. There is an international airport in Cardiff however it is also easy to visit Cardiff from London which means many more flight options.
Cardiff is a beautiful city with Cardiff Castle being the centre point and a must-see on any trip to Cardiff. You can enter the castle through the Black Tower south gate and enjoy the Castle grounds for free but to go into the castle rooms there is a charge. Inside you can see the Clock Tower, the castle house apartments, and the castle walls, we recommend taking a guided tour to get the most out of the experience, there is also a small museum dedicated to Welsh military history.
Cardiff Castle originally belonged to the Bute family but was a gift to the people of Cardiff along with the surrounding parkland in 1947. Bute Park which surrounds Cardiff Castle is huge, the equivalent of 75 football pitches, and is wonderful to visit especially during the summer months when you can see the arboretum in full flower and walk amongst the champion trees or along the River Taff.
You must also visit the Arcades in Cardiff which are small, covered shopping areas dating back to Victorian times where you can find boutique shops and cafes serving delicious Welsh cakes. Welsh cakes are a traditional snack in Wales that are kind of like a scone, but flatter and they usually come in an assortment of flavors from plain to Nutella to coconut to cheese. The best place to find Welsh cakes to take home is inside Cardiff Market where you can find them for as little as 35p each. 
Explored by by Steph from Book It Let's Go!
Sharjah, UAE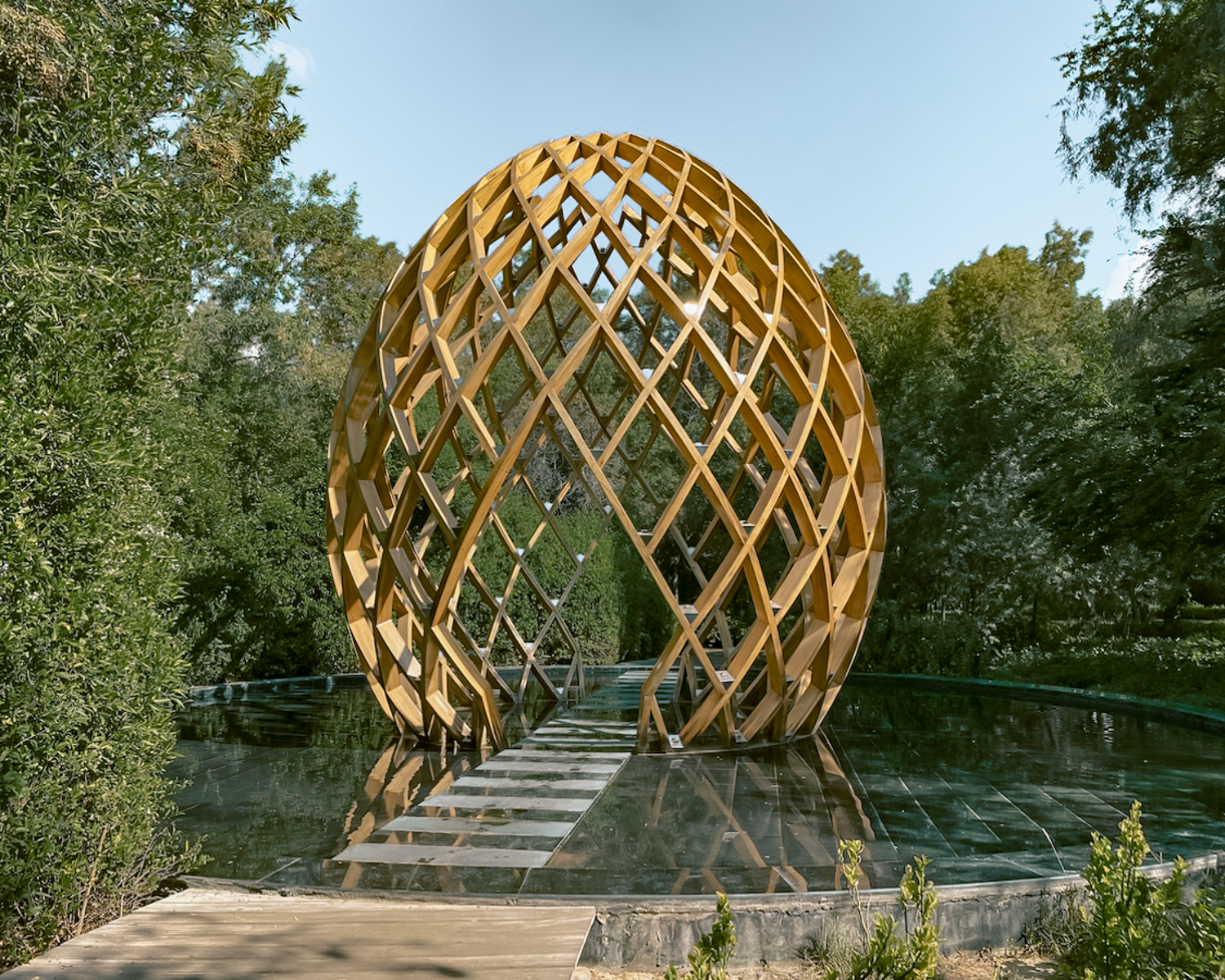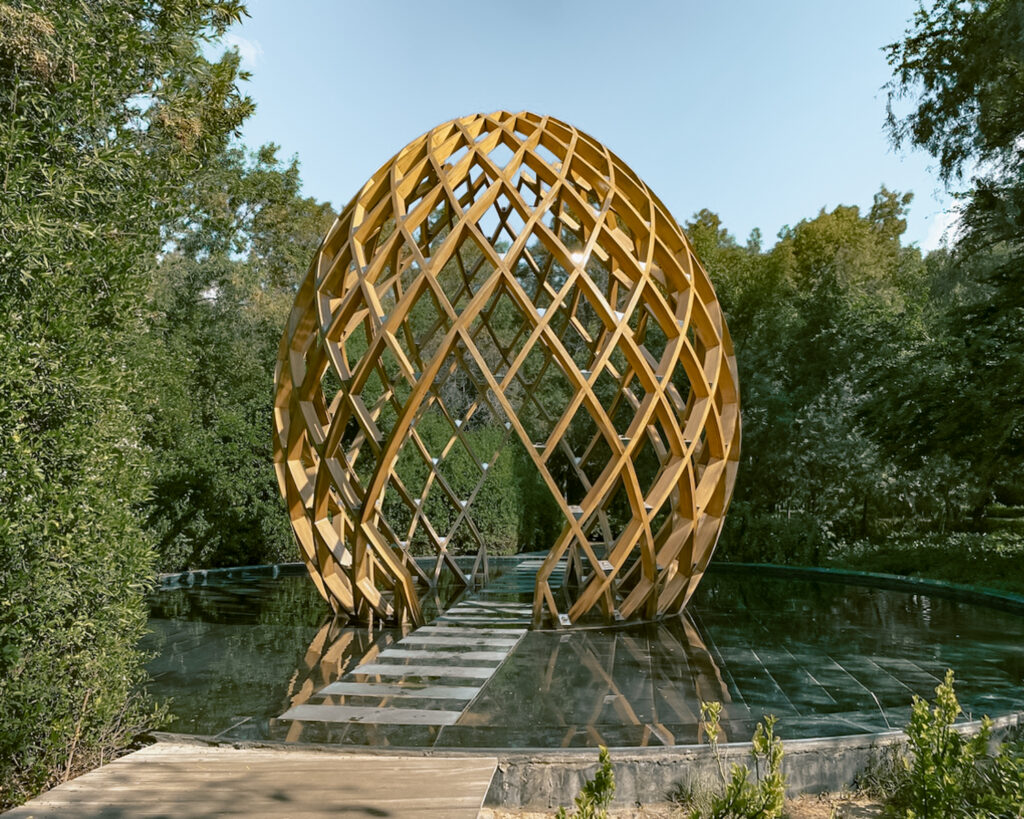 Sharjah is known as the cultural emirate and has several art galleries and spaces to visit and annual festivals, such as the Sharjah Islamic Art Festival and Sharjah Biennial. Travel off the beaten track to Sharjah when traveling to the UAE. 
Learning is high on the list of priorities in the emirate, and you can visit more than 26 museums and learning centers. Several of these are in the Heart of Sharjah right next to the Arts Area but don't miss the Museum of Islamic Civilization on the corniche. 
The Heart of Sharjah is the old part of town, where old merchants' homes have been restored and now house museums, a boutique hotel, the theatre association, and more. You can wander down narrow alleys or visit the old souqs and buy an antique silver dagger or some Arabic perfume for souvenirs during your visit. Occasionally, there are heritage events in the area, too. 
Spend a day walking along Buhairah Corniche with stops on the way. Visit Al Noor Island and Butterfly House and enjoy a blend of stunning architecture and nature. Next, see Al Noor Mosque, followed by lunch at Al Majaz Waterfront, and then take a boat trip around the lake enjoying the skyline of Flag Island, the Ferris Wheel, and Majaz Amphitheatre with the backdrop of shiny modern buildings. 
Family destinations are an essential part of Sharjah life, and as well as the interactive learning centers, you'll find splash parks, children's entertainment, children's festivals, nature reserves, play areas, and a water park.
There are several beaches in Sharjah, all with beautiful white sand. Al Khan is where to go for jet-skiing, Al Heera to enjoy lunch or dinner with a view, and Al Khan for sunbathing. 
These are just a few of the many things to do in the city of Sharjah, but expect to be surprised as it has so much more waiting for you!
To reach Sharjah, the Sharjah Airport is the quickest and easiest to fly to. Alternatively, you can get there by flying into Dubai International Airport, just a few miles away. 
The best time to visit Sharjah is in the winter when the weather is cooler, ideally between November and March. Sharjah Light Festival takes place in February, and if you love art, this is the best time to book your trip. Selected buildings are lit up with light shows and sometimes sound, too. Sharjah has some beautiful Arabic architecture, and it's even more stunning at this time of year. 
Explored by Alison from Glimpses of the UAE
Related posts: Dress Code In Abu Dhabi
Pagosa Springs, Colorado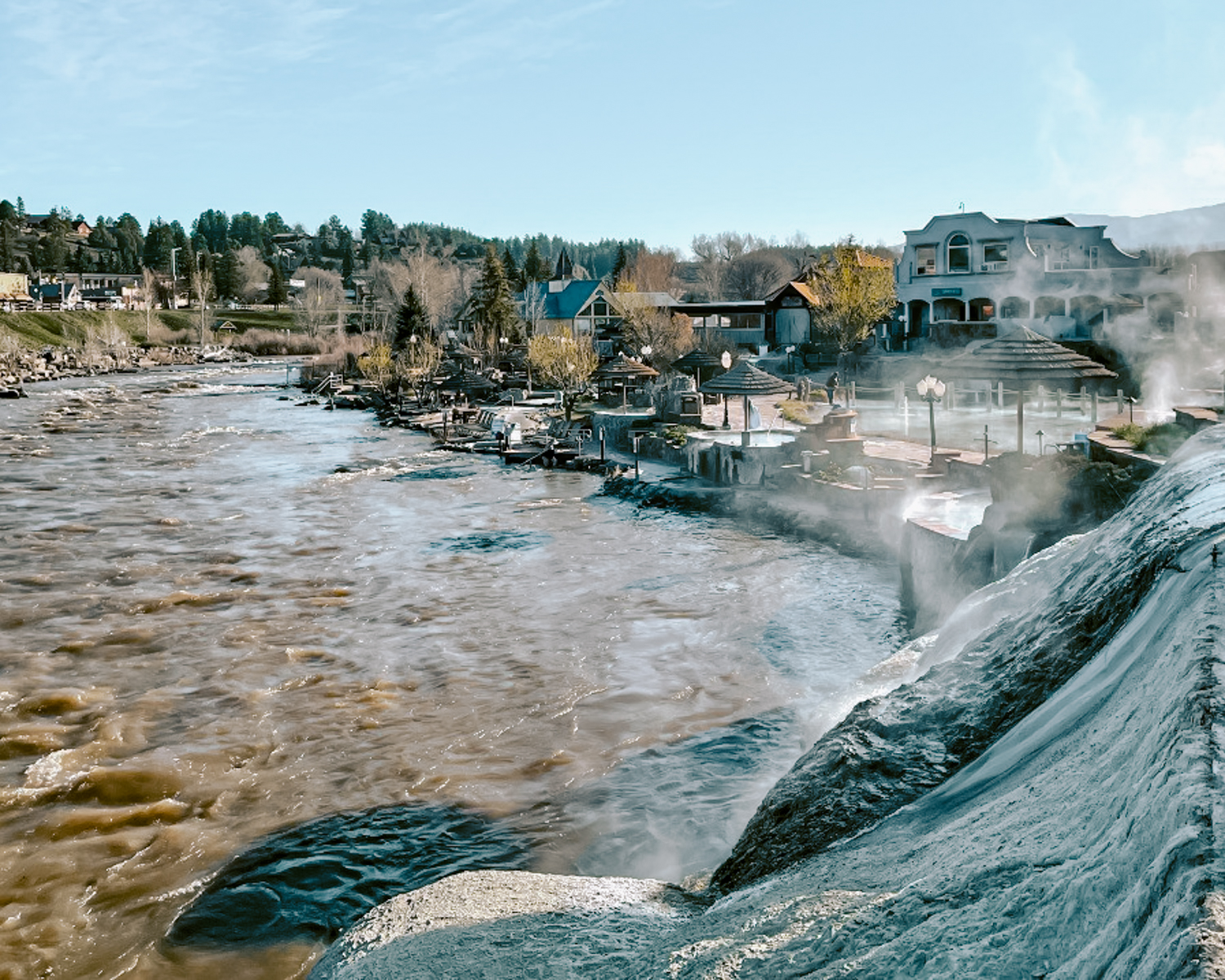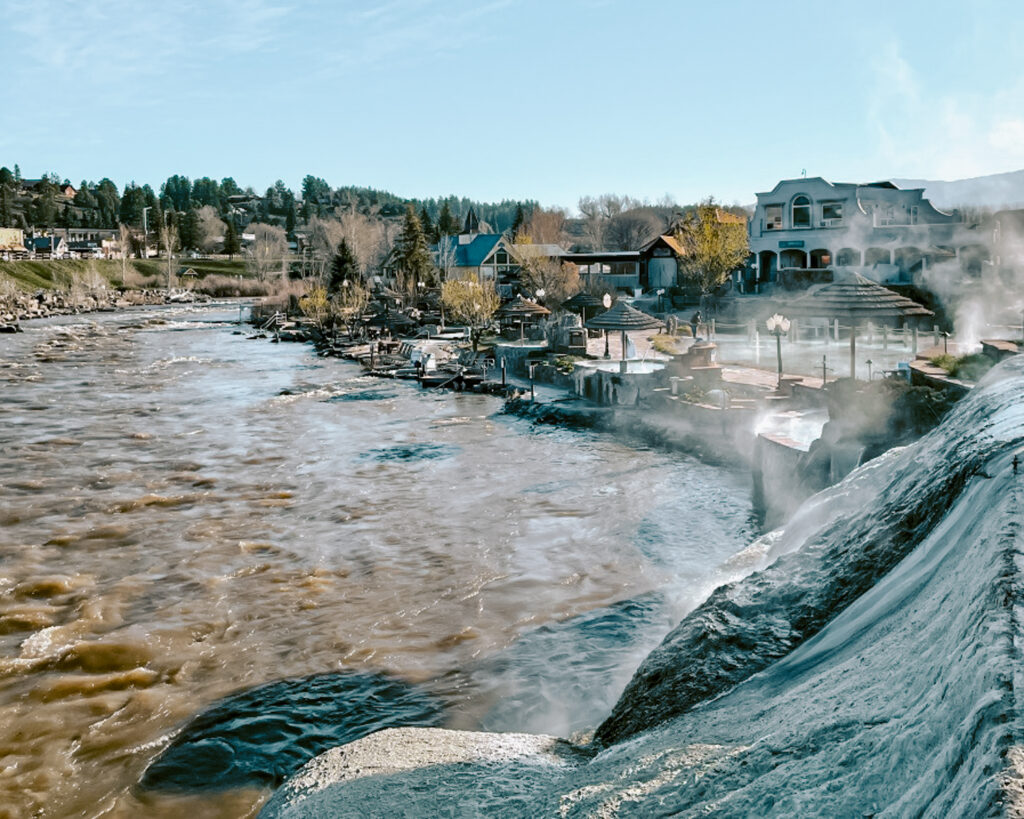 If you are looking for an off the beaten path mountain town for your next vacation, check out Pagosa Springs, CO. Centered around The Springs Resort, Pagosa Springs is small but packed full of adventure. The closest airport is an hour away in Durango, which keeps the tourist crowds small compared to other Colorado mountain towns.
In the summer, you can find endless hiking, mountain biking, and river rafting. Take Piedra Road north of town to get to the San Juan National Forest for a day at the Williams Reservoir or a hike to epic waterfalls and wild hot springs. There are so many fun activities in Pagosa Springs!
If you love the snow, winter brings some of the best snow in the country. You can drive 30 minutes to ski or snowboard at Wolf Creek Ski Area or stay in the valley to enjoy world-class cross-country skiing, sledding, or snowmobiling. The 25 separate hot springs at The Springs Resort is a great way to warm up your bones after a long day in the snow.
Pagosa Springs is a great town even if you don't like action sports. When you aren't relaxing in the hot springs, you can shop in the picturesque downtown, take a stroll along the San Juan River, or enjoy a round of golf at Pagosa Springs Golf Club. Don't miss FABA, a local art gallery with really unique (and affordable) pieces from local artists.
Explored by Taylor from Nomads In Nature
Squamish, British Columbia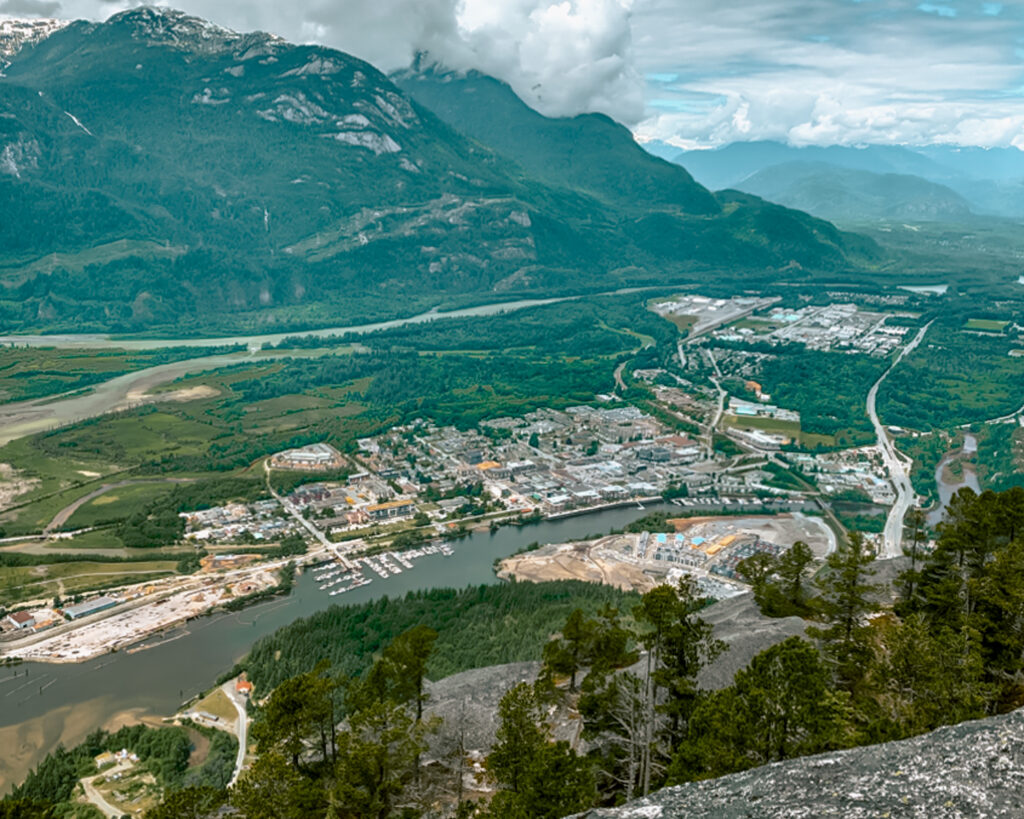 Squamish, BC is known as the outdoor adventure capital of Canada. This small city is sandwiched between towering mountains and the Pacific Ocean halfway between Vancouver, and Whistler. It's an easy 1.5-hour drive from Vancouver International Airport along the incredibly scenic Sea to Sky Highway. 
While Squamish is a year-round destination, summer is the best time to visit for the warmest weather and the least rain. Spring and fall can be great too as the increased rainfall makes the waterfalls thunder. Expect snow between late November and mid-February. 
There are lots of great things to do in Squamish, from hardcore off the beaten path adventures to easy walks. The Sea to Sky Gondola, the town's most popular attraction, will appeal to outdoor lovers of all abilities. The gondola whisks you up the mountainside to an expansive deck with a panoramic view of the mountains and ocean. You can enjoy a meal at the restaurant, stroll along easy trails to viewpoints, or brave a walk across the swaying suspension bridge. Hearty hikers can take difficult trails deep into the backcountry. 
Don't miss Shannon Falls, located right next to the Sea to Sky Gondola. It's one of the tallest waterfalls in BC. The five-minute walk to the viewing platform involves a small hill, but it's doable for people of all abilities. 
You will find another of Squamish's main attractions nearby too: the towering Stawamus Chief Mountain. The sheer cliffs on the front side are world-famous amongst rock climbers while hikers can tackle the steep and challenging trail through the forest on the back side. 
Lots more hiking trails wind through the hills around town, heading to secluded lakes and picturesque peaks. Many are located in the spectacular Garibaldi Provincial Park, renowned for its huge glacial lake and awe-inspiring mountain setting. 
Squamish is also popular with mountain bikers, with hundreds of kilometers of trails crisscrossing the hills. And Kite surfers leap and spin on the waves just offshore.
After you've worked up an appetite, enjoy the strong craft beer culture. The first brewery, Howe Sound Brewing, opened downtown in 1996. Since then several others have popped up around town. Locals love the wood-fired pizza and cabin vibe atmosphere at Backcountry Brewing. If beer isn't your thing, try the incredible doughnuts and coffee at Fox and Oak. They have brioche, cake, and vegan options in tons of innovative flavors. 
Explored by Taryn from Happiest Outdoors
Da Nang, Vietnam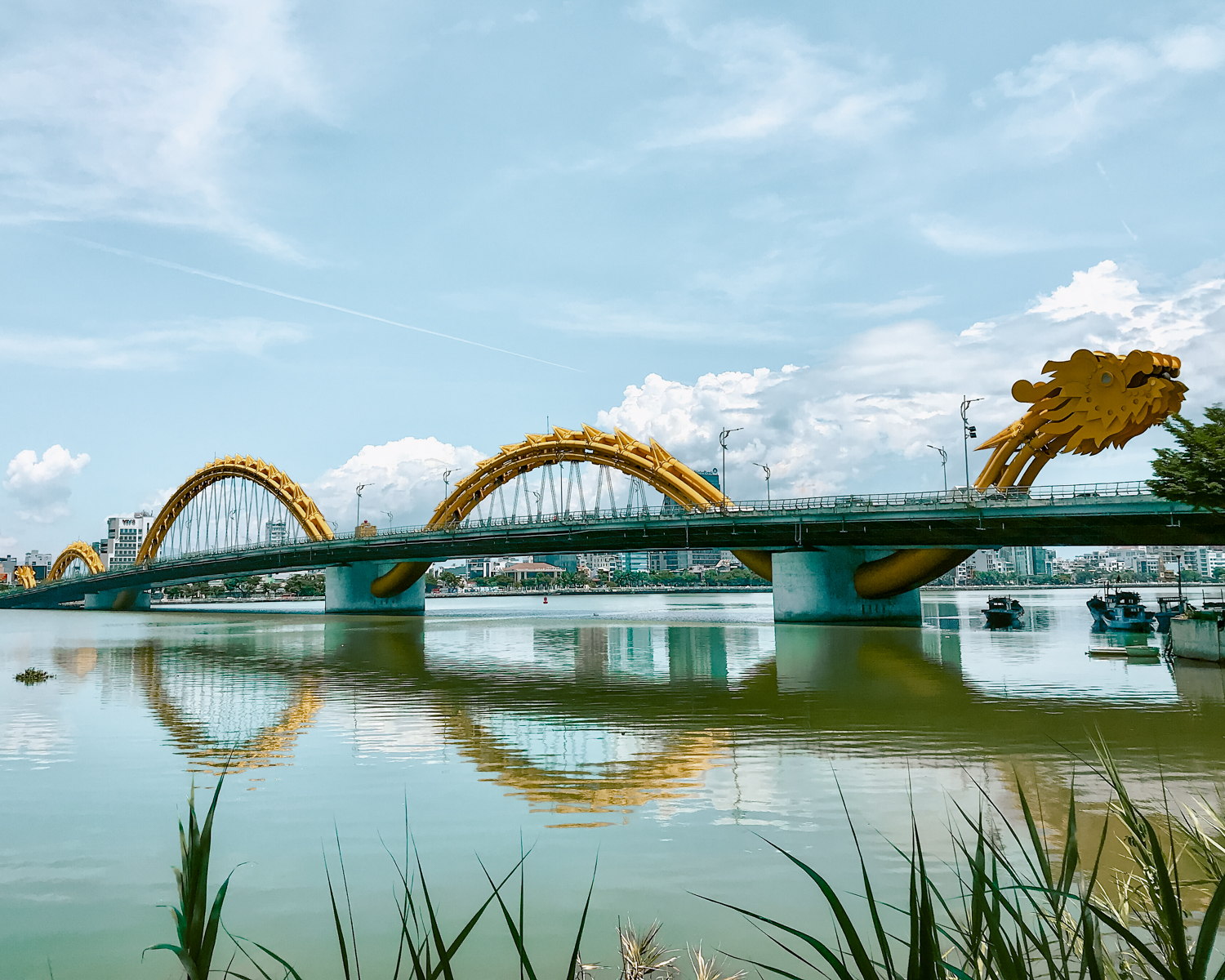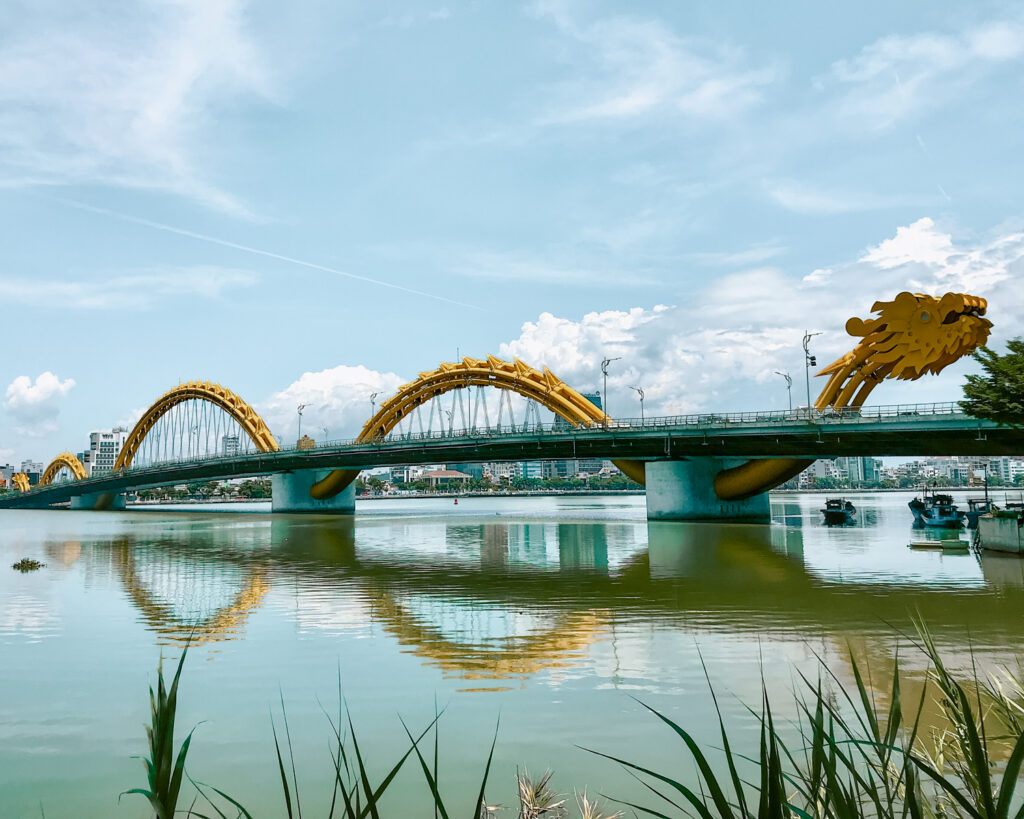 Visiting Da Nang, a city in central Vietnam, offers an exciting and unique off the beaten path experience. With incredible beaches, mountains to explore, fire-breathing dragon bridges and a food lovers paradise this is a must-see destination!
Da Nang International Airport serves as a convenient hub for flights arriving from various Asian destinations, making it an ideal choice for your arrival.
The best time of year to visit is from June to August, when the weather is hot and sunny and dry. Perfect beach weather.
There are so many things to see and do in Da Nang that are a great addition to your bucket list.
One unique experience is seeing the Dragon Bridge Show, a masterpiece of engineering that comes alive every weekend at 9 p.m., breathing fire and water into the night sky. Stand on the ground near the head and not on the bridge if you don't want to get completely soaked with water!
For nature lovers, a stroll through the lush and vibrant Son Tra Nature Reserve is an absolute must. This walk allows you to enjoy the calmness of the forest while viewing the 67-meter tall Lady Buddha statue and the beautiful Buddhist Pagoda. Both are nestled within the greenery of the Son Tra Peninsula and offer a perfect blend of spirituality, natural beauty, and stunning views over Da Nang.
If you want more of a physical challenge, consider climbing up the Marble Mountains. Located to the south of Da Nang, these iconic limestone formations are not only a unique sight to behold but also an opportunity to learn about how they were used in the Vietnam War as a field hospital and spy base.
For those who love underwater adventures, Cham Island is where you need to go. Just a short boat ride from the mainland, here you can delve into the vibrant marine life through snorkeling and scuba diving.
If you're looking to add a touch of romance to your journey, experience the timeless tradition of attaching a love lock to a bridge, sealing your everlasting love with your sweetheart. This love bridge is only a short stroll from the Dragon Bridge so making a night out with your loved one would be perfect.
And before you leave, don't miss watching the sunrise over the pristine sands of My Khe Beach. It will be a memory that will warm your heart for years to come.
Explored by Kaitlyn from Carry On Only 
Busan, Korea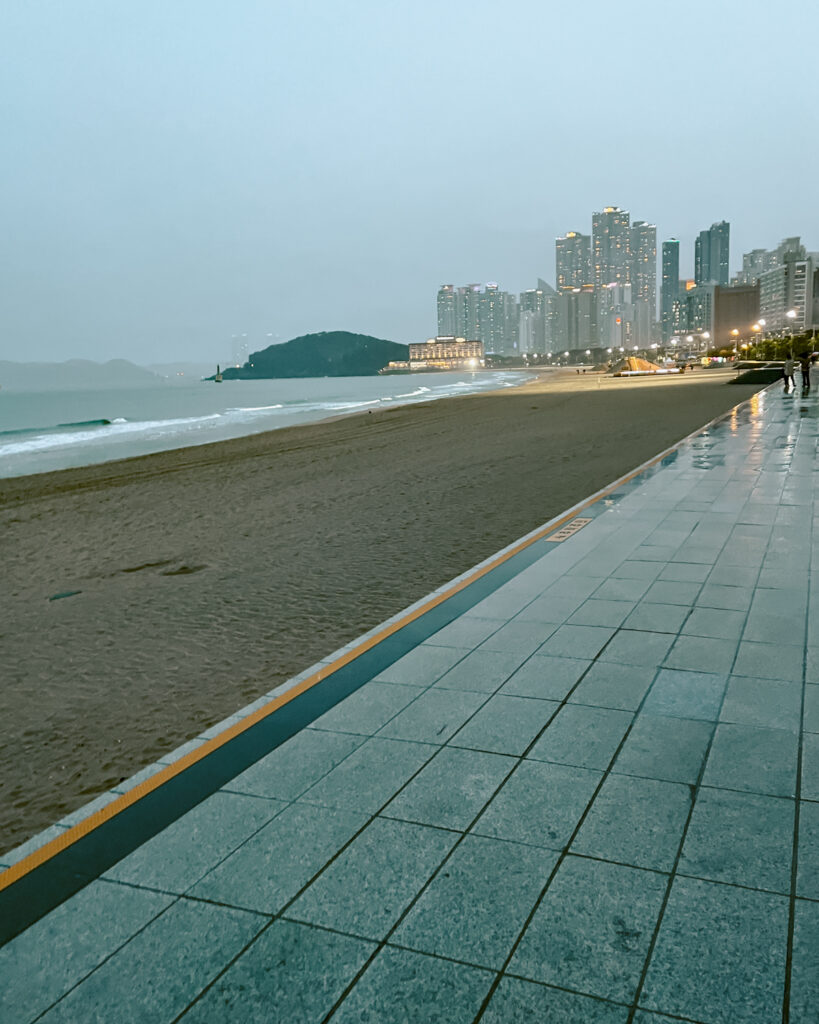 If you're planning a trip to Korea, and can't decide on your South Korean itinerary, Busan is an off the beaten path travel destination worth visiting! Most people just see Seoul, which is a great city. However, for a glimpse of real traditional Korean life (in a city), Busan beats Seoul hands down! Whilst many aspects of traditional Korean life are slowly disappearing from Seoul, such as pojongmacha (the orange street food tents that you see in K-dramas), you can still find them in Busan.
You can fly into Incheon International Airport in Seoul, then take a 2.5-hour KTX train ride down to Korea's second-largest city. It's so close, you could even do it as a short day trip from Seoul! Alternatively, Busan also has its own international airport, Gimhae, but not every airline will have a direct flight to Gimhae.
The best time to visit Korea is generally in autumn when the weather is pleasant and the beautiful fall foliage is out. Summer is typically very hot and very humid, so not very pleasant, and not a great time to visit Korea. However, Busan has many beautiful beaches, including Korea's most famous Haeundae Beach, so spending a summer in Busan can be pretty fun! There'll be buskers along Haeundae Beach, where you can listen to free live performances, and watch fireworks in the evening!
If you're not one for the beach, Busan also has other fantastic attractions, such as Gamcheon Culture Village, Korea's largest jjimjjibang (traditional Korean bathhouse), Korea's most beautiful temple (Haedong Yonggungsa, which is set by the sea), and Jeonpo Cafe Street, which was featured in the New York Times in 2017, as one of the best places to visit. You can also take the famous Blue Line Sky Capsule, a train in the sky, which offers fantastic views of the coastline.
And, if you finish seeing everything there is in Busan, you can even take a ferry over to Japan: Busan is actually closer to Japan than it is to Seoul!
Explored by Zhen from A Love Letter To Asia
Esch-sur-Sûre, Luxembourg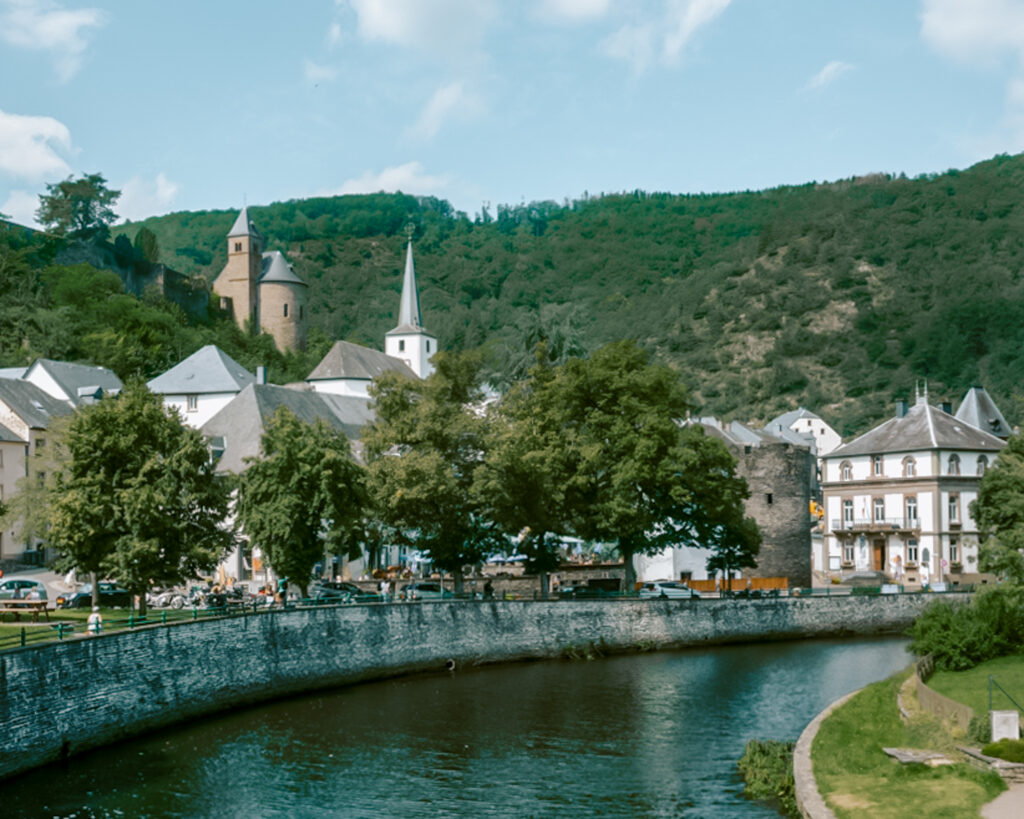 Esch-sur-Sûre is a picturesque town cradled within a bend of the Sure River, encircled by rolling hills and lush forests. It's located in the heart of Luxembourg is a beautiful off the beaten path travel destination to add to your list. Esch-sur-Sûre is a place where time seems to slow down, and where you can immerse yourself in history and nature. This is an opportunity to escape the ordinary, to discover a European gem tucked away from the tourist crowds. 
You can begin your adventure begins at Luxembourg Airport. From there, a scenic drive or public transportation will transport you to the tranquil town of Esch-sur-Sûre. Driving takes about 50 minutes and public transportation up to 1 hour and 45 minutes. Hop on a bus from the airport to the Luxembourg train station, then take a train to Ettelbruck. Here you can take a bus to Esch-sur-Sûre. Public transport is free in Luxembourg.
From late spring to early fall, spanning from May to September is the best time to visit. During this period, nature blooms, and the weather is ideal for exploring the town's natural beauty and attractions.
The best things to do in Esch-sur-Sûre include strolling through the narrow medieval streets of the town. Climb to the Castle, a medieval ruin at the top of a rocky hill in the center of town. This castle beckons you to step back in time and offers sweeping panoramic vistas of the town and its stunning surroundings.
Esch-sur-Sûre is also a great destination for hikers, as many hiking trails can be found in the green hills around the town. For example, hiking Circular Walk Esch-sur-Sûre I is highly recommended. This trail will take you first to a viewpoint with a great view of the dam and the Lac de Haute-Sûre. Then it takes you around through the dense forests, and green hills to the other side of the town. Here you'll find one of the best viewpoints that will let you capture the beauty of Esch-sur-Sûre. 
Other things to do include kayaking on the Sûre River, enjoying a picnic in one of the green parks, and going swimming in the nearby Lac Esch-sur-Sûre. If you'd like to know more about the history and the culture of this area, it's recommended to visit Musée de la Draperie (Textile Museum). All in all, Esch-sur-Sûre is a gorgeous place to visit. 
Explored by Jacoba from Travel With Co
Quy Nhon City, Vietnam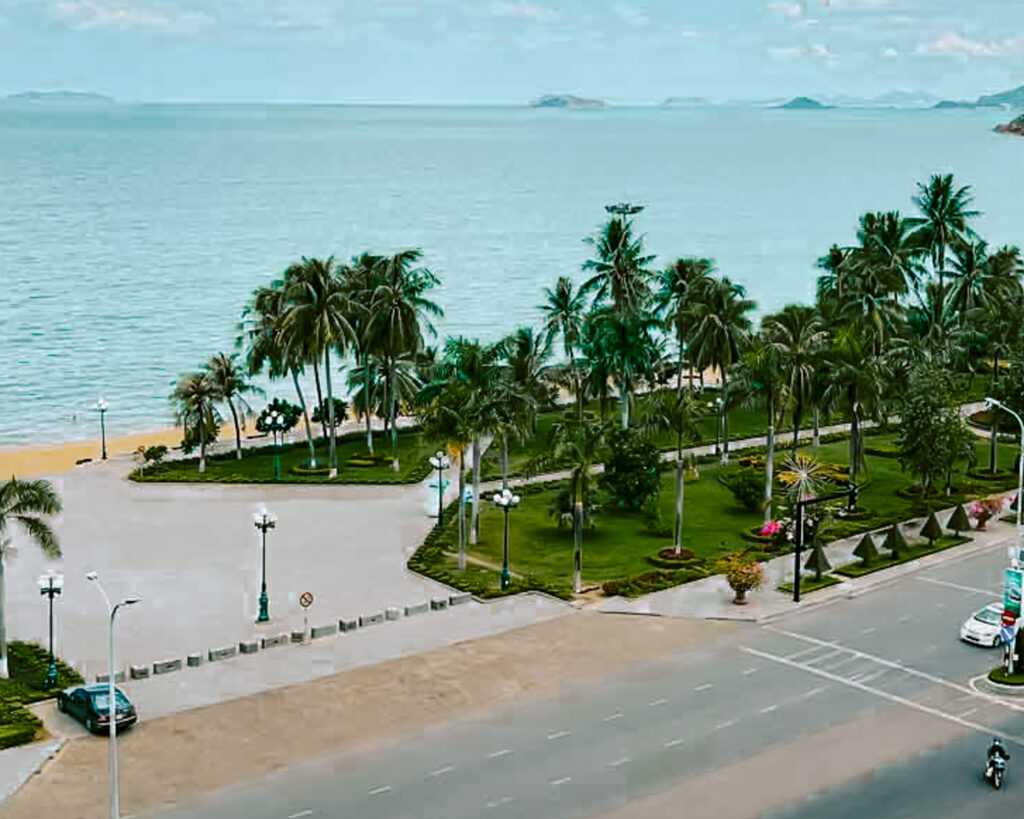 Quy Nhon City in Binh Dinh Province is another place to travel off the beaten track. It is an underrated tourist destination in Vietnam, especially when compared to internationally renowned places such as Hanoi, Ho Chi Minh City, Hoi An, and Ha Long Bay. The city has a small local airport, and several domestic airlines operate flights to and from major cities, including Hanoi, Ho Chi Minh City, and Da Nang.
Quy Nhơn boasts beautiful beaches, clear waters, and scenic coastal landscapes that have not undergone the heavy commercialization seen in some popular Vietnamese tourist destinations. As a result, the city has started to attract more domestic tourists in recent years. However, it is still relatively unknown internationally.
Outdoor lovers can head to Ky Co Beach for blue waters, soft sand, colorful coral reefs, and water sports activities. Eo Gio, a coastal area known for its interesting rock formations, is very picturesque. As the city is surrounded by mountains, you will also find quite a few hiking opportunities.
For history enthusiasts, the area used to be the center of the ancient Champa civilization. Visiting Champa towers, relics from that era is one of the best things to do in Quy Nhon. Constructed around the 11th-12th century, these structures allow visitors to admire intricate carvings and delve into the region's rich history.
Don't miss out on trying local delicacies, such as sizzling crepes, fish cake noodle soups, and various seafood dishes. The city is often praised for the affordability and freshness of its seafood.
Located in the Central region of Vietnam, Quy Nhon has a tropical monsoon climate with a dry season from February to September and a rainy season from October to January. The dry season is generally the best time to visit, especially when the weather is more suitable for outdoor activities. If you are interested in more off-the-beaten-path destinations in Vietnam, definitely consider Quy Nhon.
Explored by Sophie from Delightful Travel Notes
Arles, France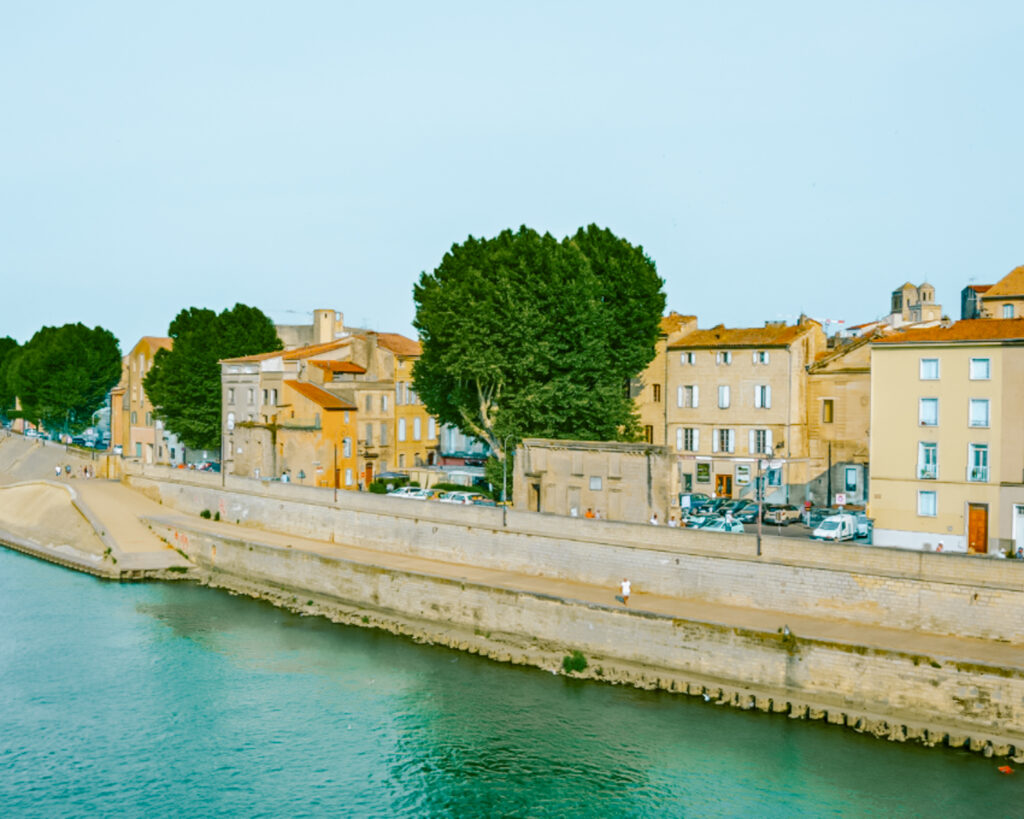 When you are thinking about traveling to France, you might first think of Paris or one of the famous wine regions.  However, consider going off the beaten path to the city of Arles, located along the Rhône River in the Provence Region in southern France.  As a visitor to Arles, you will marvel at the history of the area, along with a fully intact Roman Amphitheatre, and the countryside that inspired Vincent Van Gogh.
In the first century AD, Arles became part of the Roman Empire under Julius Caesar and, with its location along the Rhône that flows into the Mediterranean, a major commercial port and shipyard.  You can visit and explore the Roman architecture and monuments, such as the Theatre Antique – built in the 1st century – and the nearby Amphitheatre – built in 90 AD.  Both are now UNESCO World Heritage Sites and are still in use for cultural events, concerts, plays, and bullfights.  
Arles also has a rich artistic history, attracting the likes of Paul Gaughin, Pablo Picasso, and Vincent Van Gogh.  In 1888, Van Gogh came to Arles and spent over a year in the area.  He produced over 200 paintings, including "Starry Night Over the Rhône", "The Night Café", and several versions of "Sunflowers".  You can discover more about the city and its impact on Van Gogh by following any number of Van Gogh walking tours and visiting the locations that inspired his paintings.
The Gare d'Arles is the local train station and you can travel from Paris (via the TGV in under 4 hours) as well as from Lyon, Marseilles, and Avignon.  The closest international airport is Nimes, located approximately 15 miles to the NW.

Arles is wonderful to visit from late March to October.  Springtime, especially around Easter, has the first bullfight of the season.  If you are an animal lover, it may be better to skip the Feria d'Arles, which also occurs in September. 
Summer brings out more crowds, as the city hosts an international photography festival known as Les Rencontres d'Arles, which has occurred since 1970, and is peak time to visit nearby lavender fields. Autumn and the grape harvest is a wonderful time as you will still find warm weather and fewer crowds.  
From its history as part of the Roman Empire to its landscapes being captured by Van Gogh, Arles, France belongs on your list of underrated cities not to be missed. 
Explored by Audra from The Nerd Traveler
Balapatiya, Sri Lanka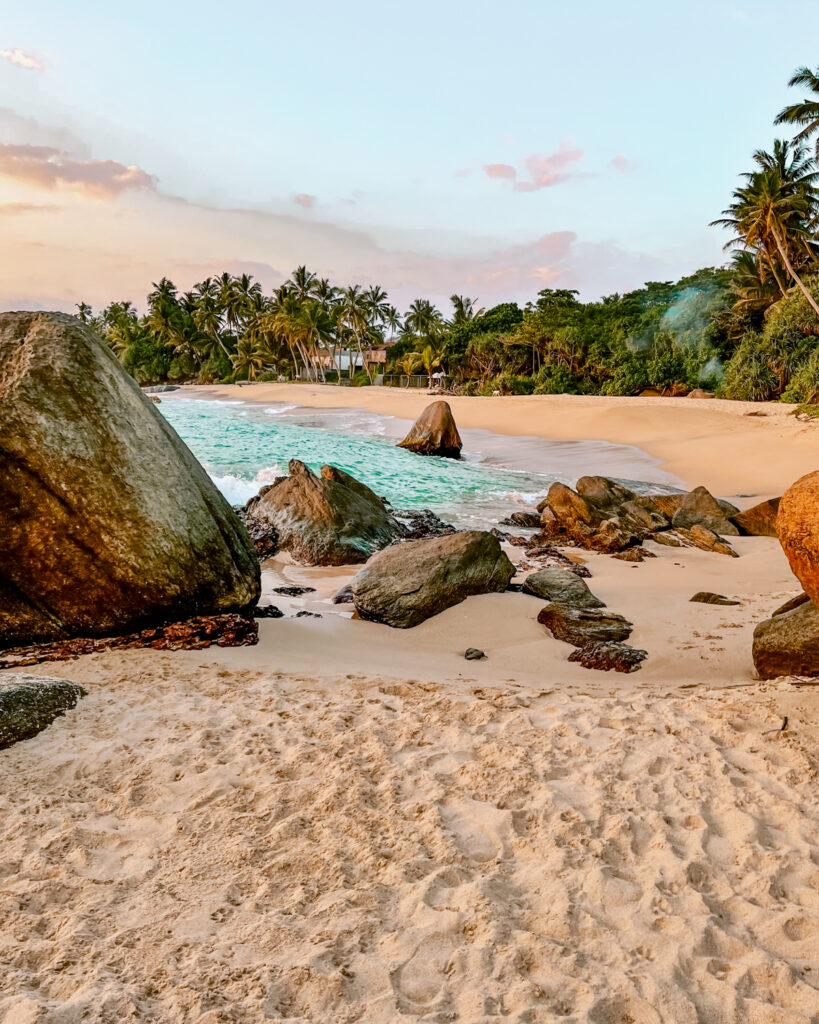 Sri Lanka is a fabulous off the beaten path travel destination and is considered the pearl of the Indian Ocean. However, it's fair to say most tourists follow the same road to the same spots whilst visiting the tropical haven. 
Sri Lanka tends to attract many surfing enthusiasts, particularly to the beaches on the southwest coast. However, those beaches that don't have the 'perfect' surfing wave are often overlooked and left for explorers and locals to enjoy all to themselves. 
Some of those beaches lie between Colombo and Hikkadiwa which is one of the first popular surf breaks in the south. 
A nice spot to head for is Balapaitya which has some incredible hidden beaches that aren't even named! 
These beaches have giant boulders which look somewhat similar to some of the famous beaches of the Seychelles. The area also has super soft sand which attracts turtles laying their eggs. 
The best time to see the beaches and stroll along is close to sunset. Picture coconut trees galore, crashing waves, golden sand, colorful fishermen's boats, and beautiful rocks in the water!
On occasion, locals can be seen climbing up the coconut trees and cutting down the produce! They often use the rocks to smash the coconuts apart to access the thirst-quenching coconut water and eat the delicious coconut flesh. 
The beaches are not all in Balapaitya, there is also a river network that runs deep into the jungle and local tour guides use small boats to take tourists on a trip to see the wildlife beneath the mangroves. Sometimes the trip includes a cinnamon farm and temple visit. 
There is plenty more to discover within the regions including Galle Fort, Geoffrey Bawa's home, many temples, and of course traditional villages. 
Colombo is the nearest airport and generally the season for the South West of Sri Lanka is from November through March. 
Explored by Karen from Travel Mad Mum
Ljubljana, Slovenia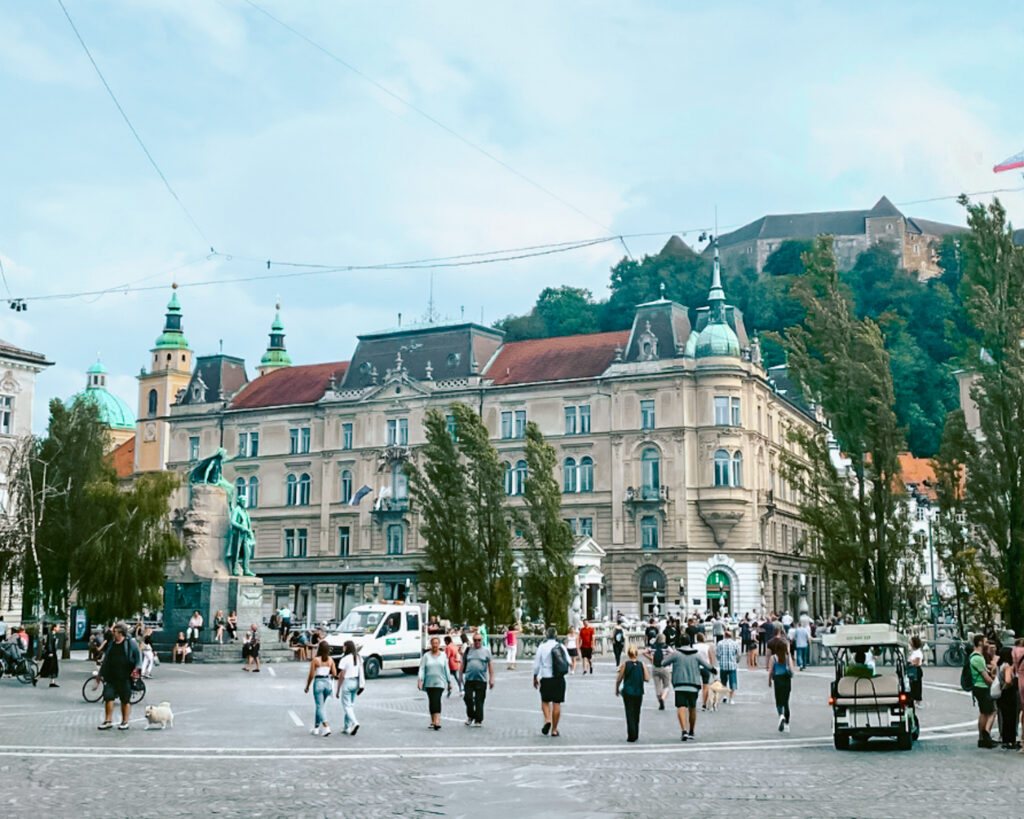 Ljubljana, the capital of Slovenia, is a far underrated off the beaten path travel destination. This small city offers a rich array of historical landmarks and contemporary attractions for visitors. The food scene is quite good, too. Slovenia is also known for being one of the safest countries for travelers. Additionally, travel is much more affordable to this capital city than many others in Europe.
One of the city's main sites is Ljubljana Castle, a medieval fortress atop Castle Hill, which now contains museums, exhibitions, and a viewing tower, providing panoramic vistas of the city.
Preseren Square, located in the heart of the city, features the iconic Triple Bridge, which has three walkways over the river. Ljubljana Cathedral, formally known as St. Nicholas's Cathedral, is an impressive example of Gothic architecture right in the middle of town. Take a walking tour to learn more about these sights and the rich history of the city.
Tivoli Park, which is over 5 kilometers, is Ljubljana's largest green space. It offers walking and biking trails, and botanical gardens, as it's a peaceful retreat inside the city.
Ljubljana's culinary scene is diverse, with numerous restaurants, cafes, and markets offering traditional Slovenian dishes such as potica, a nut-filled pastry. This is a must-try. The Central Market is a hub for fresh produce, local products, and a vibrant atmosphere. Try a food tour while you're visiting.
The city's commitment to sustainability and environmental consciousness is evident in its pedestrian-friendly streets, bicycle-friendly infrastructure, and efforts to promote green spaces, making Ljubljana a progressive and environmentally conscious destination for travelers. There are no cars in the main city center, where the three bridges are.
April to August is the best time to visit Ljubljana for the best weather. You can find better rates in April and May before the summer rush.
Fly into Ljubljana airport or take a train from a neighboring traveled city, like Zagreb, Croatia, or Salzburg, Austria.
Explored by Eleanor from Elevate Your Escapes
Évora, Portugal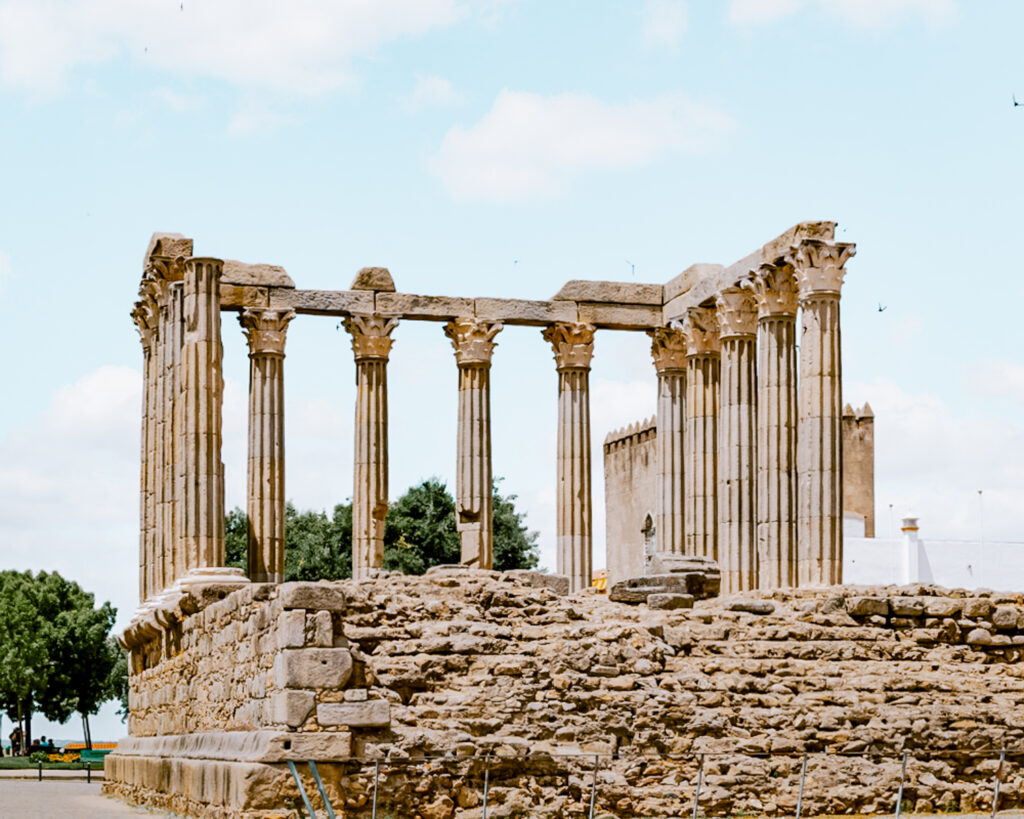 When thinking of off the beaten path travel destinations, Évora is a city that should definitely be considered. Located in Portugal, you often expect white sandy beaches and a vacation atmosphere, and while Évora is not located on the beach, this city has so much more to offer.
Évora has an extensive history that dates back to the Roman era. During the 16th century, the Kings of Portugal decided to serve their residence here. Because of this, Evora was declared a world heritage site and is now one of the best-underrated destinations to visit on any Portugal itinerary!
The best way to travel around the city is by foot. The streets are lined with gorgeous houses, and by walking around, you get to see the intricate details of Évora up close.
There are so many things to do in Évora. Start your day by visiting the iconic Roman Temple of Évora, seeing the Roman baths, and stopping by the incredible Cathedral of Évora.
There are a handful of museums to learn more about the history of Évora. The Museum of Evora is the most popular and has over 20,000 artifacts to discover. Plus, it only costs 3 EUR to enter.
Make sure to also stop by the romantic gardens in the Palace of D. Manuel and the famous cathedral spire located in the city center. You also won't want to miss the Chapel of Bones. There are also many restaurants in the city center that are worth trying. Enjoy both authentic and European cuisine at Botequim da Mouraria. 
Évora is best visited in the spring as the weather will be comfortable enough to walk around in. Temperatures usually remain around 71°F. Additionally, if you want to avoid the crowds, you could consider booking a trip in the fall. The temperatures will be cooler, usually between 54°F and 70°F. Just remember to also pack an extra layer or two, as Portugal does experience rainfall during this time.
The most popular airport is the Lisboa Airport (LIS). For a more quiet airport, you can choose the Beja Airpot (BYJ).
Explored by Sam from Find Love And Travel
Related post: Day Trips From Porto
Nuwara Eliya, Sri Lanka
Nestled in the Hill Country of Sri Lanka lies Nuwara Eliya, a quaint village surrounded by rolling hills and tea plantations. It's known as "Little England" thanks to its colonial-style buildings and unique architecture.
Nuwara Eliya often sits in the shadows of the more popular places in Sri Lanka such as Ella or Kandy. But it's a worthy place to visit if you want to get off the beaten path and enjoy a more authentic experience.
The town lies at 1889 m above sea level and is considerably colder than most of the country. This cooler temperature provides optimal conditions for tea plantations and no visit to Nuwara Eliya is complete without visiting one of them.
The two most popular are Blue Field Tea Estate and Pedro Tea Factory which both offer guided tours where you can learn more about the tea-making process. 
Nuwara Eliya is also home to the gorgeous Ramboda Falls which is 1 hour's drive from town. Here you can take a short walk to the base of the towering waterfall. 
If the weather is gloomy (which is common), The Grand Hotel serves up a delicious high tea or you can wander around the streets and visit the iconic Post Office or Gregory Lake.
The weather in Nuwara Eliya is known to be unpredictable so it's best to come prepared with warm clothes. But January to April provides the highest chance of little to no rain. 
There are no airports near Nuwara Eliya. To get there, you'll need to fly into Colombo International Airport and take a bus to Kandy. From here, hop on the famous Kandy to Ella train and get off at the Nanu Oya Railway Station which is a 10 km drive from Nuwara Eliya.
Explored by Carryn from Torn Tackies Travel Blog
Off The Beaten Track Travel Destinations Conclusion
These 33 off the beaten path travel places are all unique and will create a memorable experience in these lesser-known destinations. Hope you have an idea of where you want to plan your next destination after reading these off the beaten path destinations.
Like this post on off the beaten path travel places? Share it with others or pin it for later!