Looking for things to do in Antigua, Guatemala? This city is full of ancient history and many different adventures that will make your trip one for the books. Antigua, Guatemala attractions vary from hiking a volcano and learning Spanish to visiting cathedrals and eating pepián, among many others. 
Antigua has a perfect activity for each guest. Want to learn more about things to do in Antigua, Guatemala? Keep on reading!
This article may contain affiliate / compensated links. For full information, please see our disclosure here.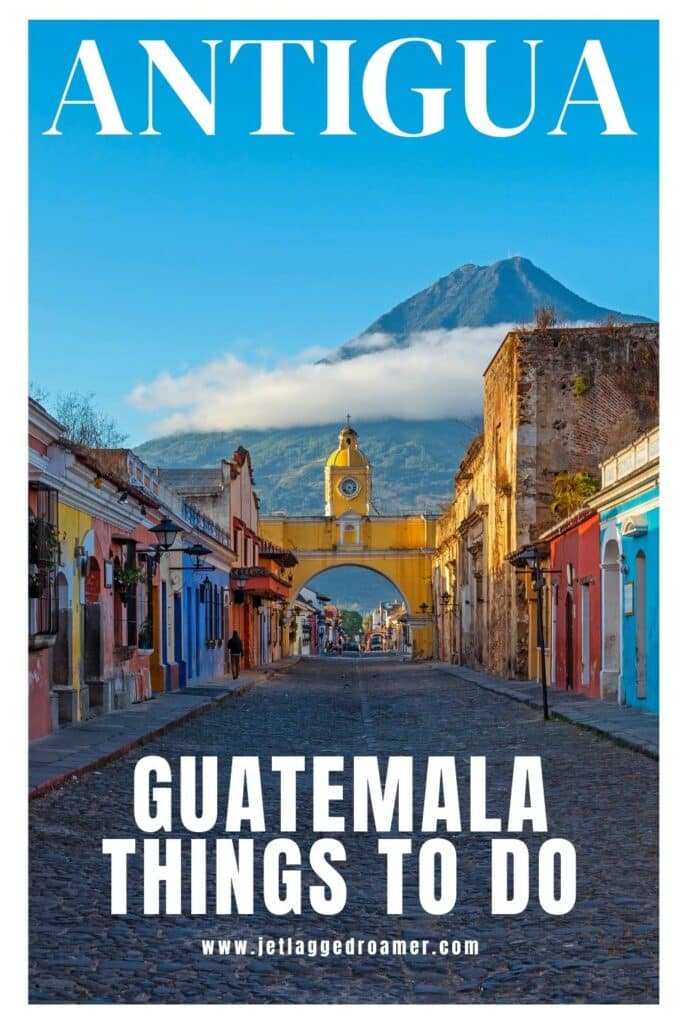 Related posts:
About Antigua Guatemala's History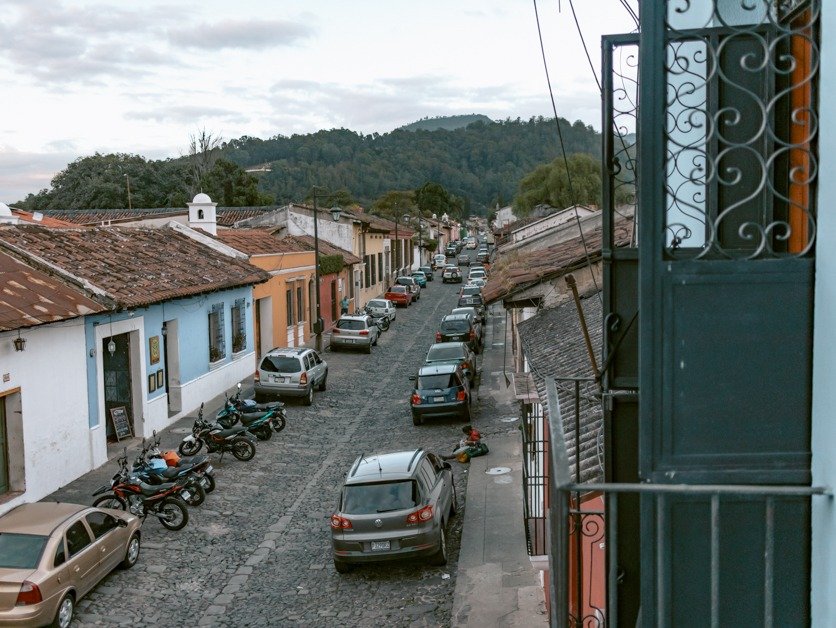 Before we begin discussing the things to do in Antigua Guatemala it's important to know a little bit about the history. Antigua,  Guatemala was founded back in the 16th century and it is now commonly referred to as just Antigua or la Antigua.
This designated  UNESCO World Heritage site is known for its stunning Spanish-influenced architecture, ruins, colonial churches, and more. Antigua, Guatemala served as the religious, educational, economic, and political center for the entire region in their time. 
Antigua's population tremendously decreased after the 18th century due to many moving away from bad weather conditions and frequent earthquakes. While in the 1990s the city's condition came back to normal, they could never regain their peak number of around 60,000 inhabitants.
Local hotels follow the city's unique architecture with a touch of modern gadgets that combine perfectly in a harmonized and peaceful environment you must see for yourself.
What's more, Guatemala's weather and composition make it very rare for visitors, like when they find out they can hike a real active volcano, allowing this city to become a World Heritage Site that many visitors head over every year.
Guatemala is a country rich in traditions, and Antigua doesn't get behind. If you want to experience true Guatemalan culture you should definitely visit the city during any festivity or traditional celebrations. The Guatemalan people are extremely kind and fond of teaching visitors their culture and lifestyle, so please always talk to and treat them with respect when showing them their lifestyle.
Things To Do In Antigua, Guatemala
All right, enough chitchat. Let's move on and discuss the different and fun things to do in Antigua, Guatemala that will make your trip unforgettable.
Visit Altamira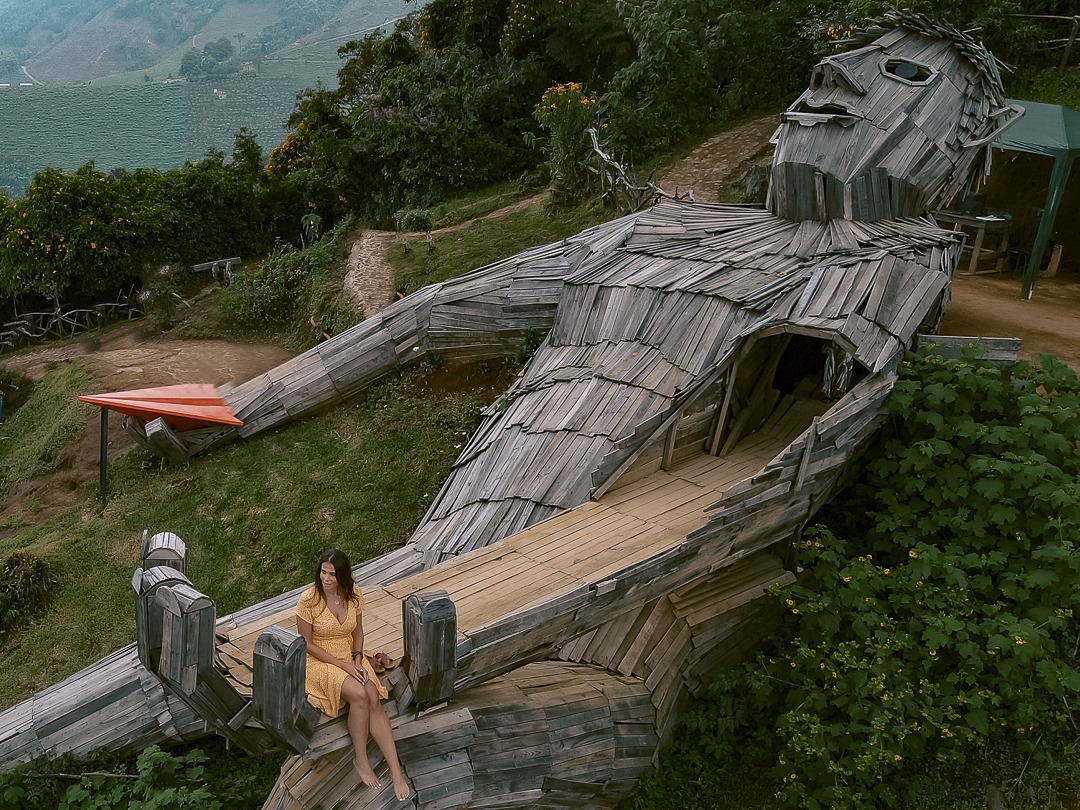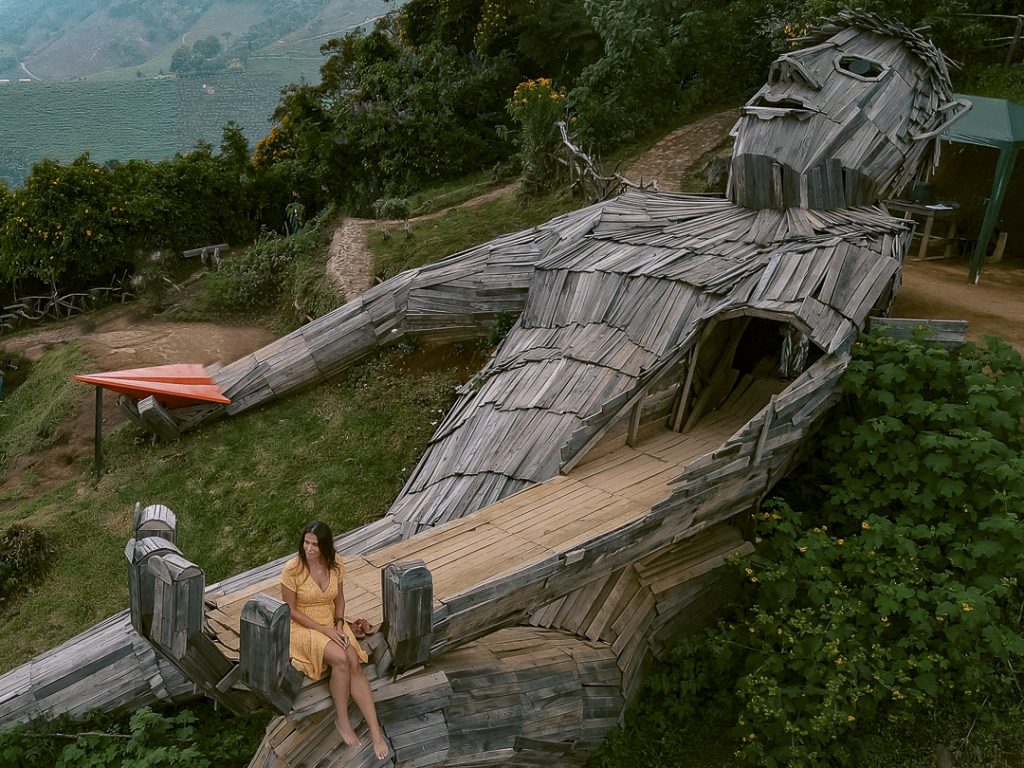 Nature parks are one of the most beautiful places to visit in Antigua, Guatemala with Altamira as the number one spot on the list. It is surrounded by beautiful mountain forests and great views over the valley and counts as the perfect activity to do while staying in the city.
Watch Volcano Fuego Erupt
Many tours allow you to see the Fuego volcano erupt, during the day, you can see the ashes from the eruption and at night you can enjoy the red lava safely from other parts of the complex.
Take A Tour Of The Ruins
For those attracted to more casual activities, going on a ruins tour is ideal to get to know this ancient city and take a look at the incredible architecture.
Places to visit in Antigua, Guatemala includes the ruins of the Church of Santo Domingo, San Jeronimo Convent, and the San Jeronimo Convent, just to name a few. Most of these tours are self-guided so feel free to do them at any time.
The city features many places to visit on your own as well as with a professional guide that can lead you through paths while explaining the site's historical importance, which is great for those who want to explore alone or with their families but also has opportunities to engage in a brief history class as they hike a mountain.
RELATED POST: Tasty Places To Eat In Antigua
Hike A Volcano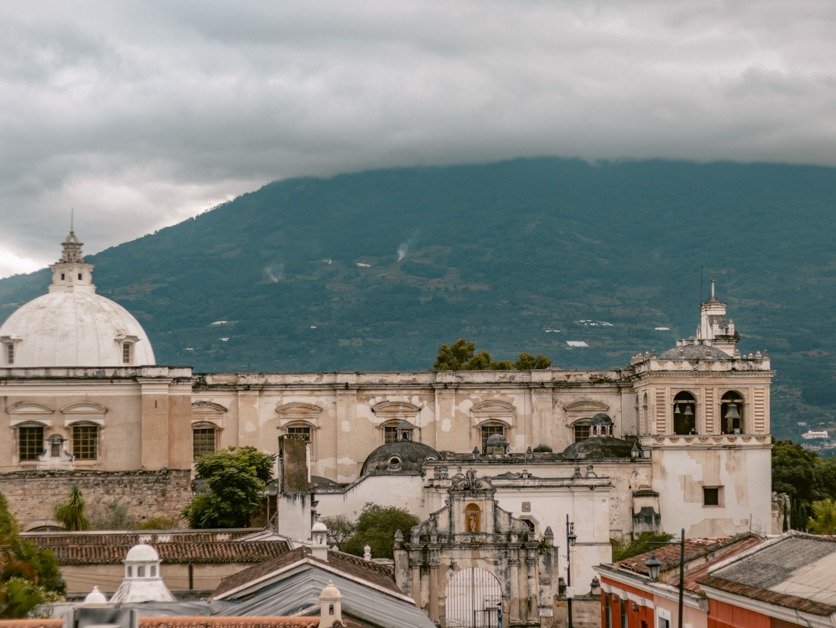 Overnight volcano hiking trips are very popular in Guatemala, where you can watch the sunset on top of the enormous volcanic mountain and experience an out-of-this-world moment.
Volcano hikes are one of the most memorable things to do in Antigua, Guatemala and you can book your tour here.
Tour The Caoba Farms
Food should be a major participant in your "Things to do in Guatemala" list.
Caoba Farms is a group of farms located in Antigua with a mission to serve local markets and provide visitors with incredible tours and a farm-to-the-table restaurant. 
Go Do Some Handicraft Shopping
After enjoying some of the Antigua, Guatemala attractions you can head downtown to do handicraft shopping and find stunning treasures made by hand.
You can experience Guatemala's tradition and culture through the different handicrafts and textiles displayed and feel the energy of this ancient city. 
Visit Arco de Santa Catalina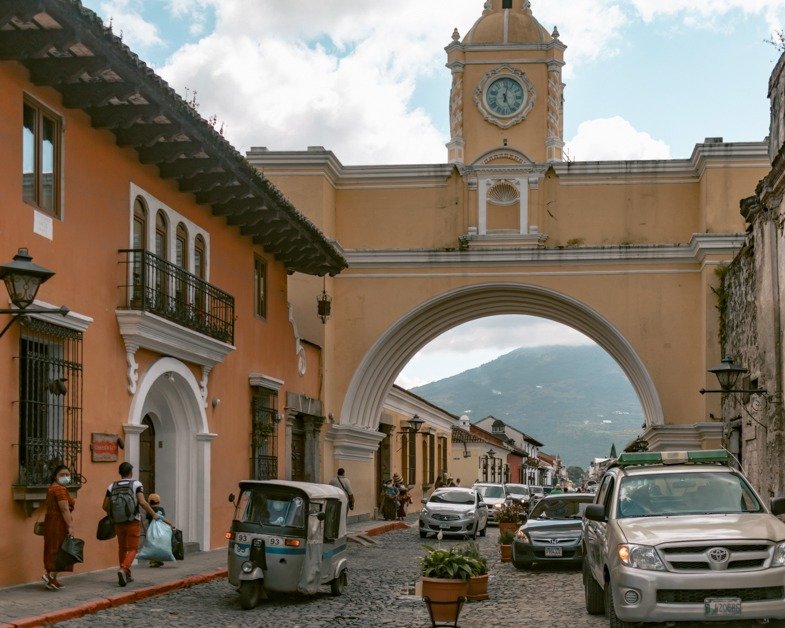 Antigua, Guatemala activities are one-of-a-kind opportunities to discover this ancient city's role in history as well as get to know other cultures and traditions.
If you want to feel like you just traveled back in time, then you should visit Arco de Santa Catalina, a monumental arch built as a passageway between the monastery and the adjoining school. Surrounded by stunning green and vibrant trees, this place is one of the most recognizable spots in Antigua. 
Learn To Make Chocolate
Sweet-toothed visitors will be thrilled to make chocolate from scratch at the ChocoMuseo, where they cover every step from bean to bar and give tourists a wonderful and unique experience.
Guatemala's chocolate stands among the world's most famous and delicious chocolates thanks to their ancient recipes and elaboration.
Visit Cerro de la Cruz
A mountain tour to visit Cerro de la Cruz is another highly recommended activity to watch the city from above and engage in a moderate-intensity workout at some point in your trip. 
RELATED POST: How To Get From Guatemala City To Antigua
Grab a Coffee At Bocetos Café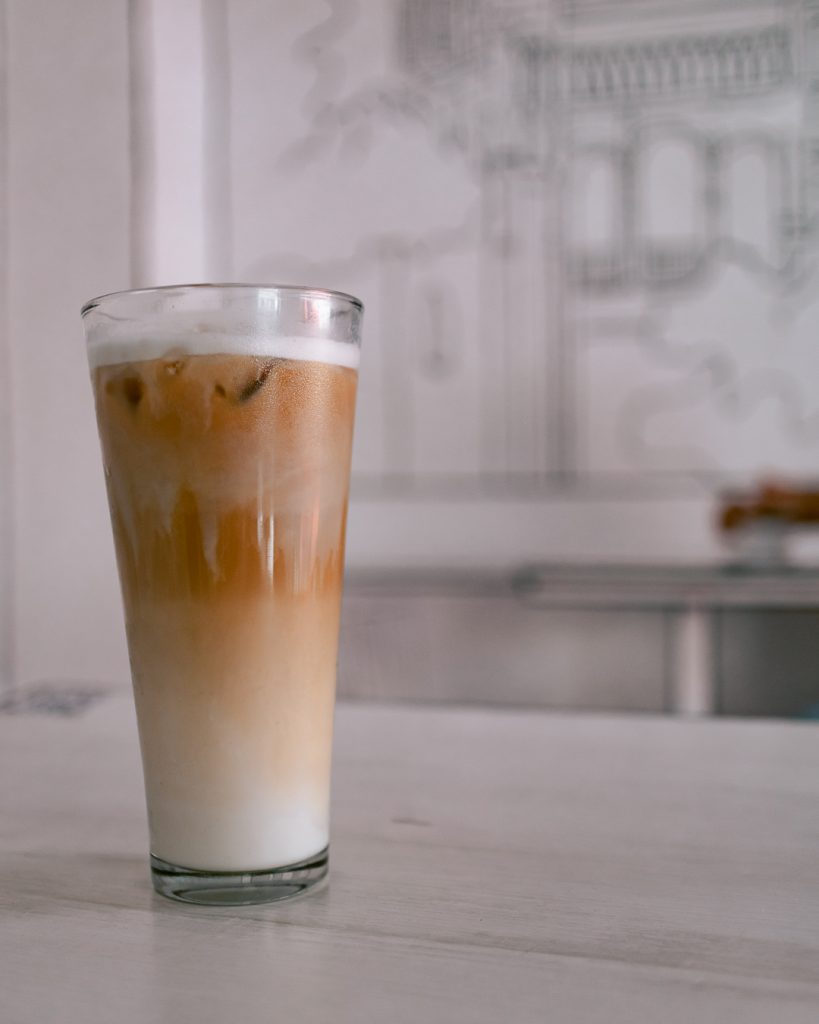 But if we talk about the most unique and truly never-seen place in Guatemala we have to mention Bocetos Café for sure.
This traditional coffee shop is made as a living sketch, full of drawings and blueprint-like walls and decorations where visitors can enjoy tasty food while admiring the place's incredible visual composition.
Hike Corazón de Agua Trail
But if we talk about one activity you must not miss in Antigua it has to be hiking the Corazón de Agua trail, where you can engage in a 4.7-kilometer loop trail that features a river.
Not only you can explore Antigua's stunning land views but also their prehistorical water compositions that make beautiful peaceful sounds ideal for those who want to disconnect from the world for a few hours.
Learn To Dance Salsa 
Following the traditional and ancient path of the city's culture, there are many places you can go to learn Salsa and feel the Latino rhythm in your veins.
Gaze At The Volcanos At Cafe Sky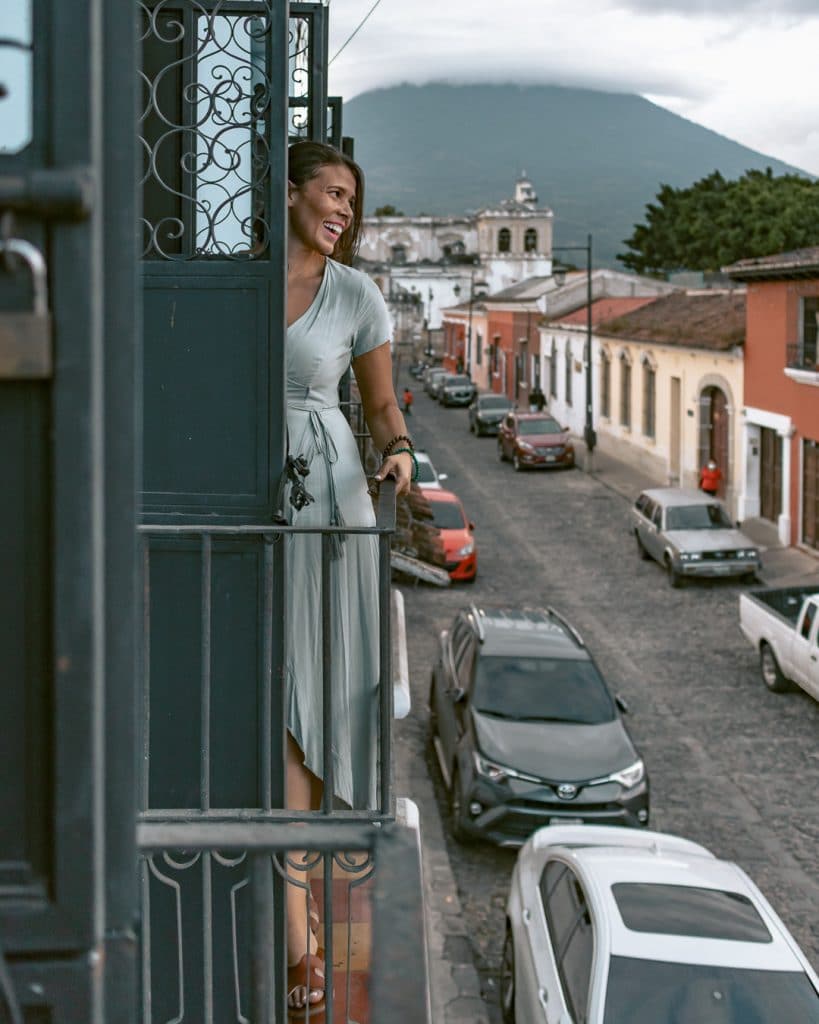 Surely after any of those highly active workouts, you'd want to grab a bite to eat and a cocktail, and what better way to do that than heading to a café? Cafe Sky is a very popular place in Antigua where they serve elaborate dishes as well as traditional meals and sweet treats. 
This rooftop cafe also offers one incredible view of Antigua, Guatemala, and the volcanos from above.
Chow Down On Pepián
Speaking of food, you can't leave Guatemala without eating Pepián. This traditional meaty and spicy stew is Guatemala's most known dish and can be found in street food carts, home kitchens, and diners, basically everywhere. 
For the tastiest pepián I suggest dining at the Porta Hotel. They are known to have some of the most delicious traditional Guatemalan cuisine.
RELATED POST: Tasty Places To Eat In Antigua
Learn Guatemalan Cuisine With A  Cooking Class
Want to take a step further in your Guatemalan cuisine experience? Take a cooking class and learn how to make that and many more meals from scratch while being taught by locals and surrounded by generations of knowledge and culture.
Guatemala's dishes are one of the most diverse and traditionally-made foods that follow generations of families that make it the same way they were taught, creating an impressive and respectable thing to experience.
Visit Iglesia de la Merced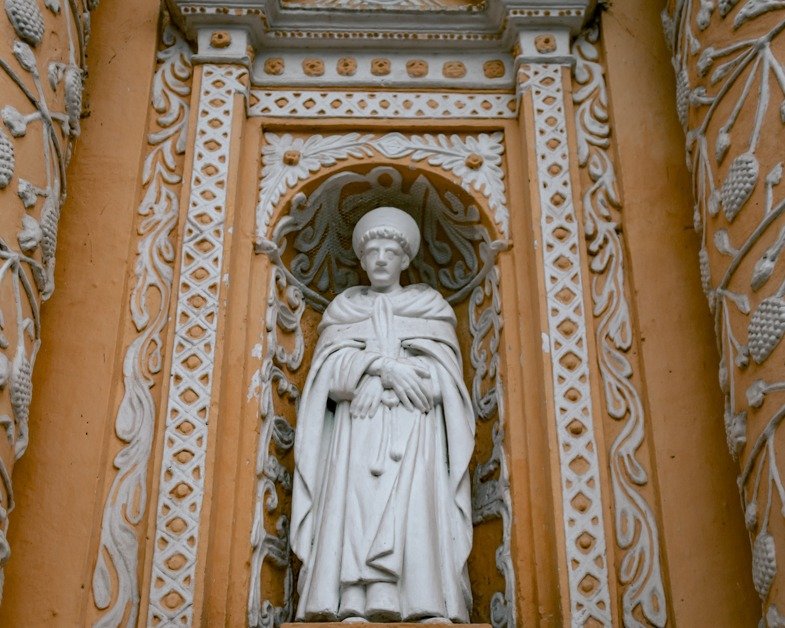 As stated many times in the article, Antigua is an ancient place that features a world of history that goes back to the colonizer's era; taking a trip to visit Iglesia de la Merced, a baroque-styled church, will transport you back in time and make you feel like not even a day has gone by for this place.
The most impressive thing about these churches is their intact composition, where if you think about it, it has been the same since hundreds of years ago. How crazy is that?
Be sure to walk around outside of Iglesia de la Merced, which has a small square where live music is played along with street vendors selling local cuisine.
Take A Tour Of A Coffee Farm
Coffee lovers will be excited to know that they can take a tour of a coffee farm and watch the entire process as well as enjoy a small cup at the end, all with locally sourced ingredients.  
Shop At The Mercado
And speaking about locally sourced ingredients, visitors must shop at Mercado, where Antigua's finest and freshly grabbed foods and ingredients are sold at very affordable prices. 
You can help the community by shopping locally. Since the 1850s, coffee has been Guatemala's principal economic product that assembled their economy and around that time and later on, it became the country of Central America with the most coffee production in the region. 
Further, Guatemala is placed 10th in the world production of coffee. How cool is that?
RELATED POST: 8 Antigua, Guatemala Photo Spots
Take A Stroll Around Parque Central
Another must-see tour takes place in Parque Central, located in the historical center district of Guatemala and it is considered the best place to start a tour to get to know the city. 
Learn To Speak Spanish
Thanks to Antigua's excellent tour guides and activities, you can learn Spanish in a minute and enjoy a life-long skill that will allow you to communicate with locals and enjoy the culture from another perspective. 
Visit The Chocolate Museum
If you're lucky and spend some time walking you might end up visiting a chocolate museum and trying a traditional piece full of history and ancient elaboration recipes.
Get Lost Walking The Cobblestone Streets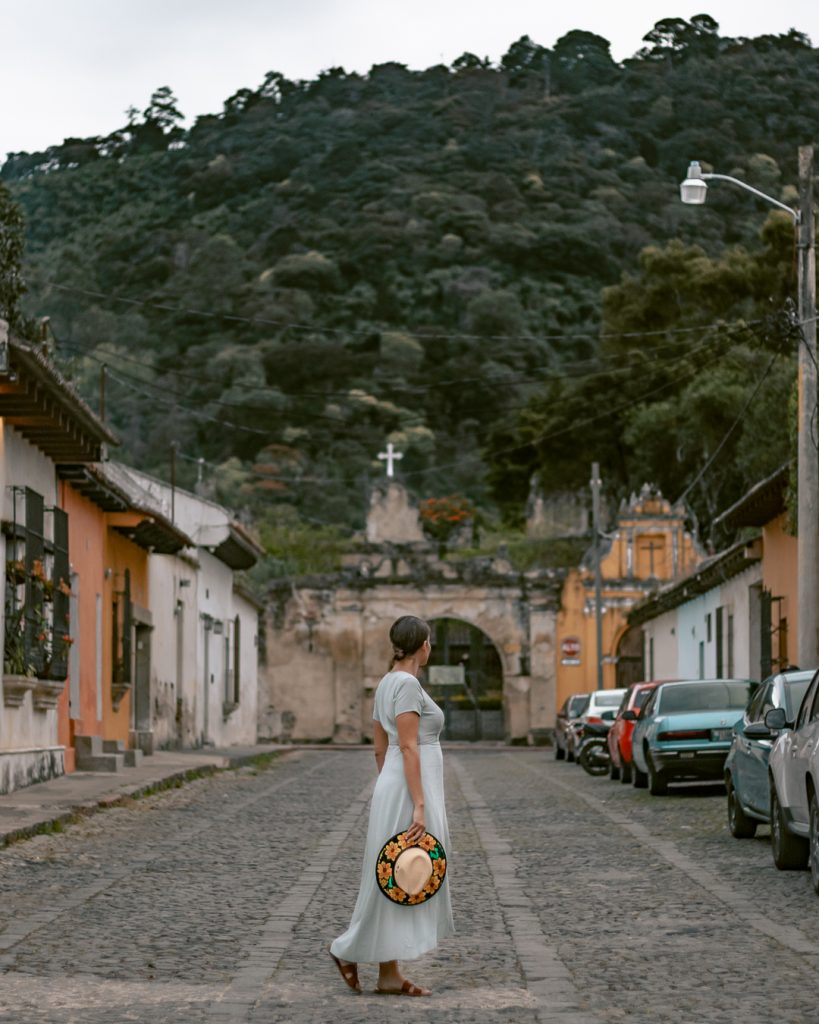 After learning some Spanish words you should definitely get lost walking the picturesque cobblestone streets and enjoy the magnificent view of the city and colorful buildings. 
Nibble On The Cuisine With A Food Tour
Food tours are one of the most fun things to do in Antigua, Guatemala that you have to try out. Traditional dishes full of stunning tastes and many, many spices all come together in the center of Guatemala. 
Chicken Pepián, Pupusas, Empanadas, and more can be enjoyed at any of these incredible food spots to taste Guatemala's traditional dishes. 
RELATED POST: Tasty Places To Eat In Antigua
Book One Of The Walking Tours
Another excellent attraction is walking tours, where you can take an in-depth sight at this city's most beautiful buildings and learn their history presented by expert tour guides that go around the city visiting the most popular spots.
Take A Trip ToCatedral de San Jose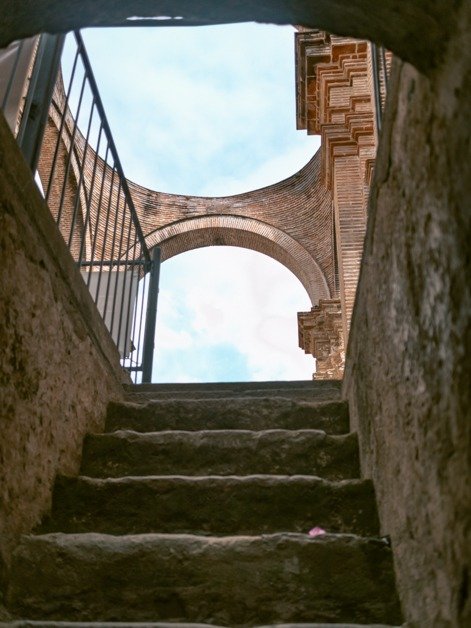 After your Antigua, Guatemala activities, you can dance your way to the Cathedral de San Jose and take a look at the church's stunning composition and history, where many visitors from every part of the globe come to pray and be around ancient catholic traditions.
This church used to be the largest in all of Central America; however, in 1773 the building was severely damaged following the massive earthquake in Guatemala.
RELATED POST: How To Get From Guatemala City To Antigua
Hotel Casa Santo Domingo
After a very intensive day of activities, you must be tired, and for that, you should head to Hotel Casa Santo Domingo to engage in a well-deserved spa session to later visit their on-site museum to keep learning about Guatemala's history and place in the world. 
Further, the hotel can host weddings as well, so if you're planning your trip for your special event you definitely have to check out Hotel Casa Santo Domingo and ask for information about this to make your ceremony a one-of-a-kind celebration!
Now that you have plenty of things to do in Antigua, Guatemala it is time to look for the best time to go, good places to stay in the city, and how to get to Antigua.
Best Time To Visit Antigua, Guatemala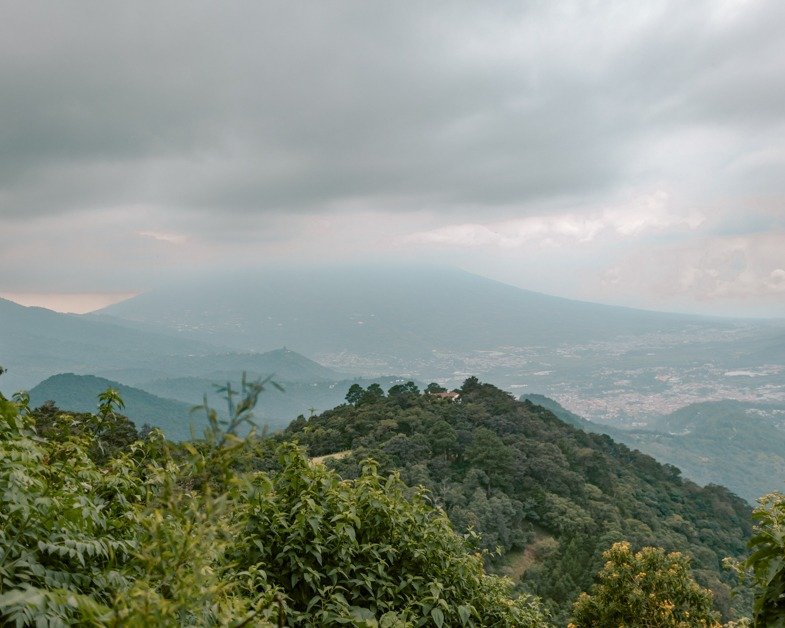 Guatemala is a tropical country with distinctive wet and dry seasons but it generally maintains good weather all year round, and that's why the country gained its nickname "land of eternal spring". 
The recommended time to visit Guatemala is during the dry season (from November to April) but the country has an incredible weather spectrum that allows it to be visited all year round without much trouble. 
Even from May to October, which is considered the wet season, the rain only lasts a couple of hours and it generally appears late in the afternoon, so outside activities are only rescheduled for later but never canceled.
The only thing to keep in mind when visiting Antigua during the wet season is trekking or hiking activities due to the muddy conditions that complicate things a bit.
Precaution is always advisable even in the dry season but if heading over to the country between May and October checking things twice is highly advisable.
Where To Stay In Antigua, Guatemala
There are many popular places to stay in while visiting Antigua that combines culture and tradition with abroad touches, to make every guest feel welcome and at home. Here are the best hotels that you must visit:
Hotel Museo Spa Casa Santo Domingo
Ideal for those who want to spend a little more in comfort and time resting. This hotel is filled with rustic-chic guest rooms that award the hotel a 5-star service.
It is located just 10 minutes away from the center of Antigua and features ancient architecture styles combined with colonial pieces. Further, the museum inside is well-known in the city so you can enjoy two national treasures at once!
El Convento Boutique Hotel
This hotel allows visitors to step back in time and feel like they were living hundreds of years ago thanks to this place's authentic and historic decoration and furniture placement. The rooms follow the same theme while featuring modern touches that people love. Nearby you can have a clear and stunning sight of the city's volcanoes.
RELATED POST: 8 Antigua, Guatemala Photo Spots
Porta Hotel Antigua
Another luxury place that combines traditional looks with present-day touches, all while located in the center of a magnificent outdoor pool. From this hotel, you can also see volcanoes and other impressive mountains and green area spots of Antigua.
Whichever hotel, resort, hostel, residence, or place you choose to spend your stay in Guatemala will allow you to enjoy the city's hidden gems and wonderful activities without trouble. 
You should pick a place based on your personal preferences and budget of course. I use booking.com to find the best hotels for wherever I am going. I highly recommend the hotels listed above; however, if they are not within your budget you can use the map I have included below. 
How To Get To Antigua From Guatemala City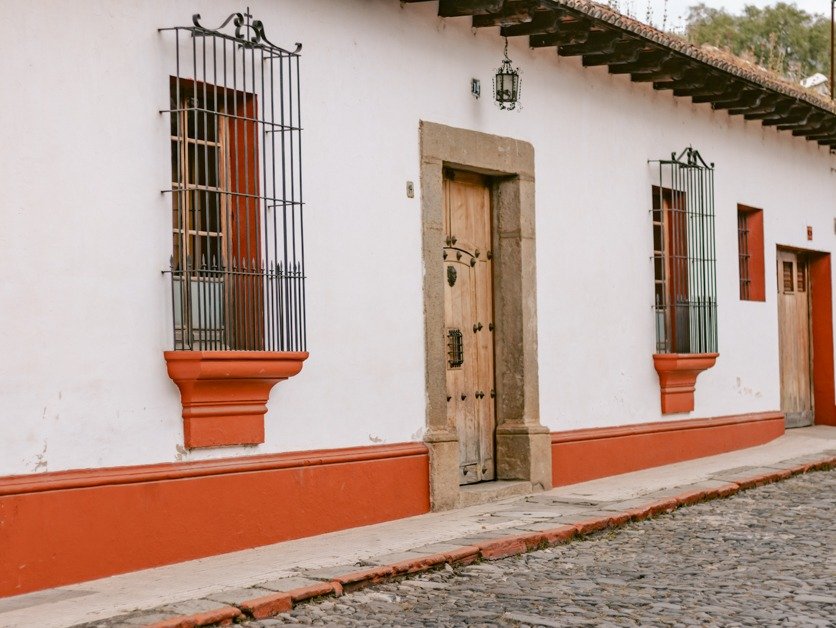 Antigua has located about 40km from Guatemala City Airport which leaves visitors with a few options to choose from Uber, airport taxi, booking a private driver, or using public transport. 
For the short distance, you can get to the city in around 45 minutes on a good day, but if you happen to hit traffic it could take you up to several hours.
Taking an Uber or an airport taxi is great if you don't want to share space with strangers for several hours, but bear in mind that it could get expensive. On the other hand, public transport is the cheapest way to get to Antigua but not many people recommend it due to safety reasons. 
I highly recommend booking a private shuttle with Guate Go to reach Antigua. They arrived for pickup on time daringly visit and it was nice to have my own space. Shuttle cost was less than $60-USD one way for two people. 
Antigua is considered a safe city but many tourists have had unpleasant encounters when leaving the airport to travel there. Precautions should always be taken when visiting another country but it is recommended to keep an eye out a bit more when leaving the airport until you are in Antigua.
RELATED POST: How To Get From Guatemala City To Antigua
Final Thoughts On Things To Do In Antigua, Guatemala
Antigua is a stunning city filled with thousands of years of history that feature baroque-inspired churches and buildings as well as incredibly tasty traditional dishes. 
There are many activities you can do in Antigua, Guatemala that will make this trip one for the books for sure, and you should try some of the ones mentioned above. Leave a comment below on which of the things to do in Antigua, Guatemala piqued your interest the most! 
Don't forget to check out my post on the best Antigua, Guatemala photo spots, how to get from Guatemala City to Antigua, and where to eat in Antigua, Guatemala.
Other nearby places to visit while there: 
Like this post on top things to do in Antigua, Guatemala? Share it with others or pin it for later!