Antigua is a little city in Guatemala surrounded by volcanoes, nature, and wildlife. It is a splendid destination more people should know about, which offers tourists many incredible attractions, top-class architecture as well as incredible movie-like landscapes and vistas that are like a dream.
Getting to Antigua from Guatemala City is not hard or incredibly expensive, but there are several different ways to complete the task.
From public transportation, airport taxis, private drivers and buses, as well as shuttles, this article covers everything you need to know about arriving in Antigua. Furthermore, useful insight about the different routes available and what type of roads Guatemala has, for those who like a traditional rental car trip.
In addition to this, reference prices and people's opinions (locals and tourists) about these following transportation services so you can take a look at the whole picture and decide for yourself the best one, according to your preferences, budget and time available. Family options are also included for those planning a little trip with their relatives, who need bigger transport and can take advantage of bulk offers.
So now let's discover the different ways to get from Guatemala City to Antigua with detailed insight about prices, availability, and other tourist's opinion.
This article may contain affiliate / compensated links. For full information, please see our disclosure here.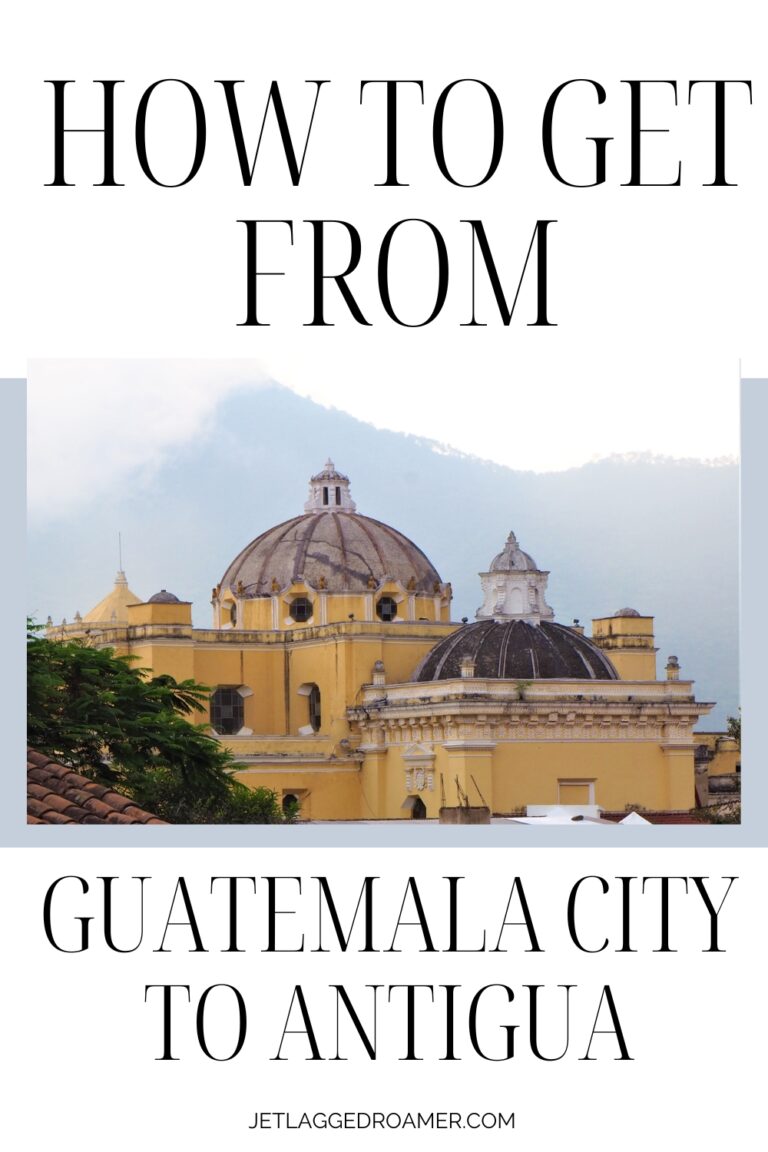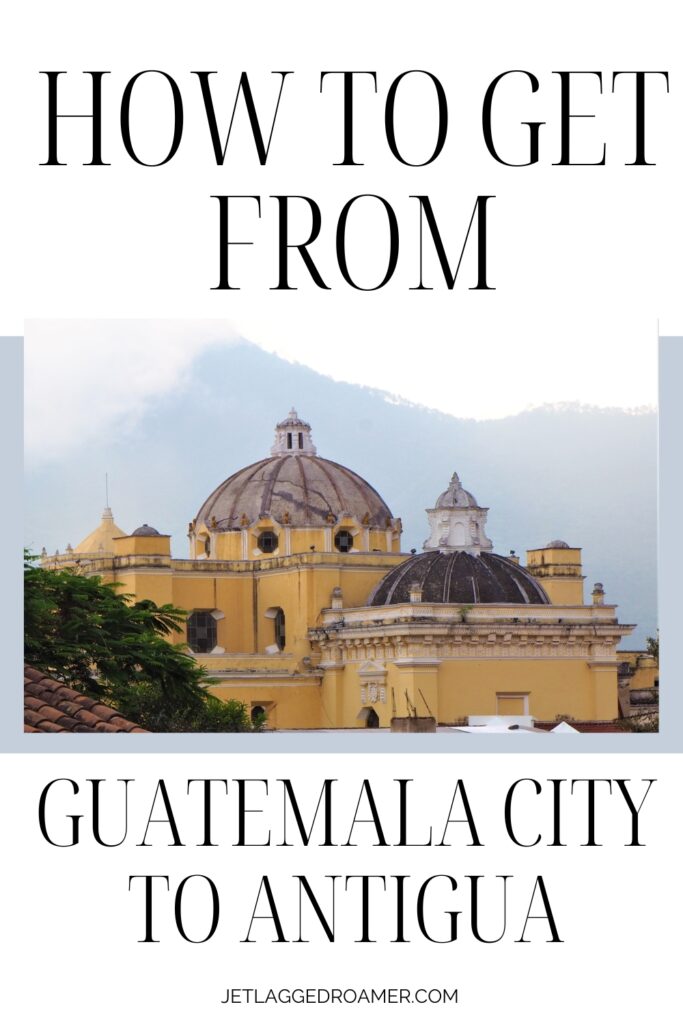 Looking for more inspiration for Central America? Check out these posts:
Is Guatemala City Worth Visiting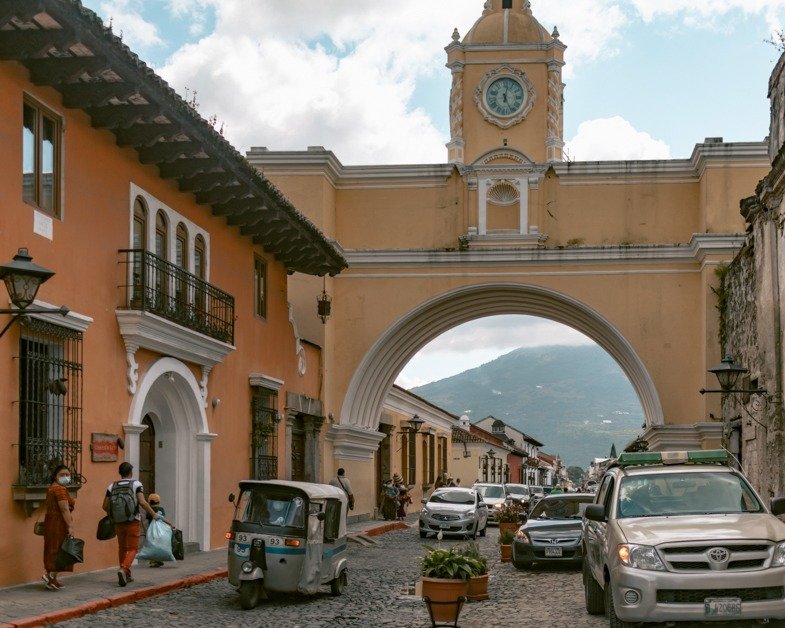 Guatemala City is a very beautiful place, with a unique charm and many hidden gems that will blow your mind, but despite its sightseeing beauty, Guatemala is described as dangerous by many locals and tourists. The country's economic situation and the lack of jobs available turned the city into a not very secure tourist destination unless you're visiting accompanied by a guide. It is recommended to go straight to a hotel after your arrival at the airport. 
It is a crowded city in comparison to other places but there are some chill spots too for those who want to spend a relaxing vacation; it also has incredible tourist attractions out in nature, so you can get a good walk and fresh air while touring this beautiful place. Apart from this,
Guatemala's situation should not be approached with extreme fear but with caution, as well as certain means of transport explained below.
Distance From Guatemala City To Antigua
The distance from Guatemala City to Antigua is about 25 miles (40km) which can be translated to roughly an hour and a quarter, depending on the traffic and route chosen. Traditionally, there are three main routes tourists can choose to get from Guatemala City to Antigua:
Pan-American Highway/CA-1 and RN-10 (National Route -10): This is the fastest route which consists of approximately 25 miles (40km) in a time-space of an hour and a quarter.
San Cristóbal City Main Boulevard, Pan-American Highway/CA-1 y RN-10: This route takes about the same time as the previous one mentioned and might vary on traffic.
CA-9 (known as the Atlantic Route): This last one has a distance of about 21 miles (35km) but it is the slowest of the three, with an average time-space of an hour and a half, again depending always on the traffic and other factors.
Main Options To Get To Antigua From Guatemala City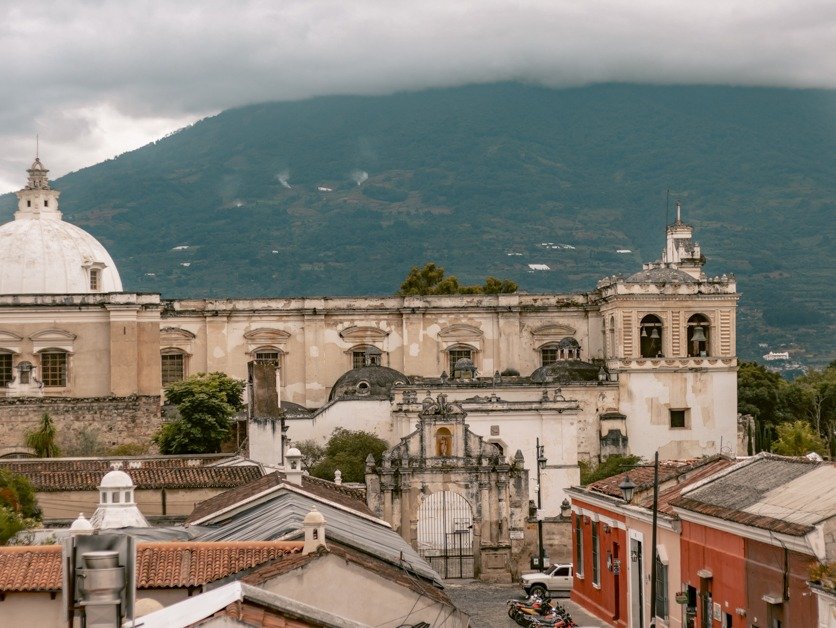 There are five main different options to get from Guatemala City to Antigua: rental car, taxi/Uber, bus, public bus (commonly referred to as Chicken bus), and shuttle. If you want to travel from Guatemala City to Antigua the following breakdown of each of the different transport options will come in handy.
Rental car: This option is great for those who want to travel independently to Antigua and also to the various places such as restaurants and attractions there. The duration of the trip can take about an hour, and a good thing to consider is the state of the roads, which are not in the best conditions according to both travelers and locals. 
It is recommended to make a reservation with a car rental company beforehand to make sure there is one available. There are many affordable options available if you set apart some time and search a few.
Taxi/Uber: If you don't want to commit to a rental car, or you couldn't find any available, a taxi or Uber is a great choice as well. Whether you're already staying somewhere in Guatemala City or want to go from Guatemala City Airport To Antigua, this option is suitable for anybody. 
The duration of the trip usually lasts an hour, depending on traffic, and prices start at $35, which vary depending on the hour chosen (peak hour rises prices) and the number of cars on the highway too.
Bus: Private buses are available to get from Guatemala City to Antigua, offered by a small selection of companies, whose trips last about two hours for a beginner price of $20. This one is great if you want spacious transport and if you're not in a rush to get to Antigua.
Public bus.: Guatemala City offers public transportation to get to Antigua which typically takes about an hour, and it is the most affordable (less than $2), but only recommended to those who can speak a bit of Spanish and that do not have many suitcases or valuables. The main bus terminal is about 20 minutes away (3 miles) from the Guatemala City airport La Aurora International Airport. 
Shuttle: The last means of transport is a shuttle from Guatemala City to Antigua, which is great for those who want to feel more comfortable or safe in a private bus but want to keep their schedule flexible. 
Shuttles have various departure times and are usually not very strict if you miss your time and you want to hop on the next bus. Prices vary depending on the company but you can expect to pay at least $40 per person.
How To Get From Guatemala City To Antigua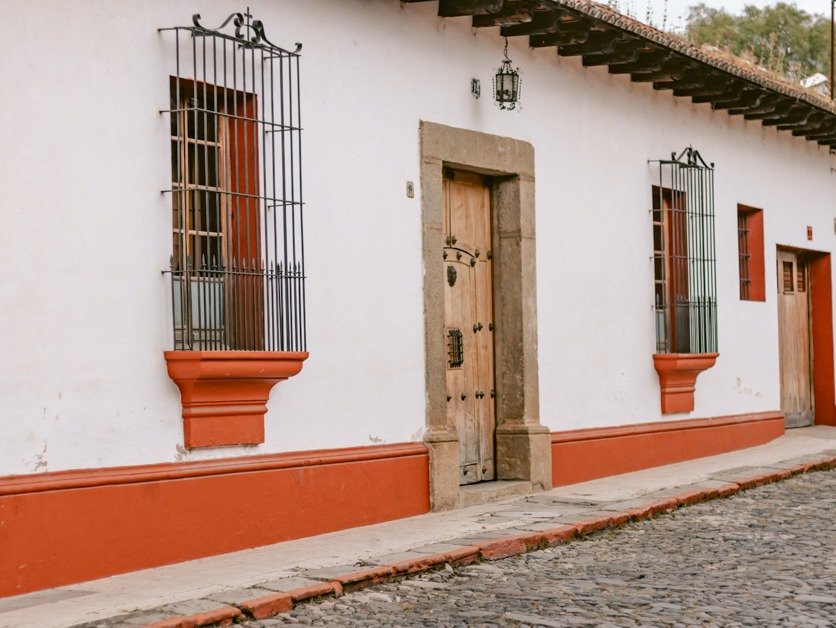 Getting from Guatemala City to Antigua doesn't take much time, in fact, in under three hours you can be peacefully touring the beautiful Antigua streets the same day you arrive in Guatemala. But, a thing good to consider is something extremely basic that happens everywhere in the world: traffic.
An hour-only trip in rush hour can extend into three in a second, so although the Guatemala City-Antigua road is very optimistic and generally brief, it is recommended to plan how you'll get there and reserve time just in case your trip gets altered by traffic.
If you want to know in detail the best ways to travel from Guatemala City to Antigua, which can be used to get from Antigua to Guatemala City too, the list below will share some light on the topic.
La Aurora International Airport Official Taxi
La Aurora International Airport offers taxi services on their premises, just like most airports do, and there are usually many available thus they are exclusively for the airport itself. They have a flat rate and can tell you how much it will cost to get you to Antigua (the standard rate is $35 but it can be modified without warning any time, so make sure to consult before hopping on one).
Taking An Uber From Guatemala City Airport To Antigua
If no taxi is available, getting from Guatemala City Airport to Antigua can be achieved with the help of Uber, which is very likely that you'll find one despite your arrival time or day. The price starts at $30, similar to taxis, and can vary depending on traffic, demand, and other factors.
Reserve A Shuttle From Guatemala City To Antigua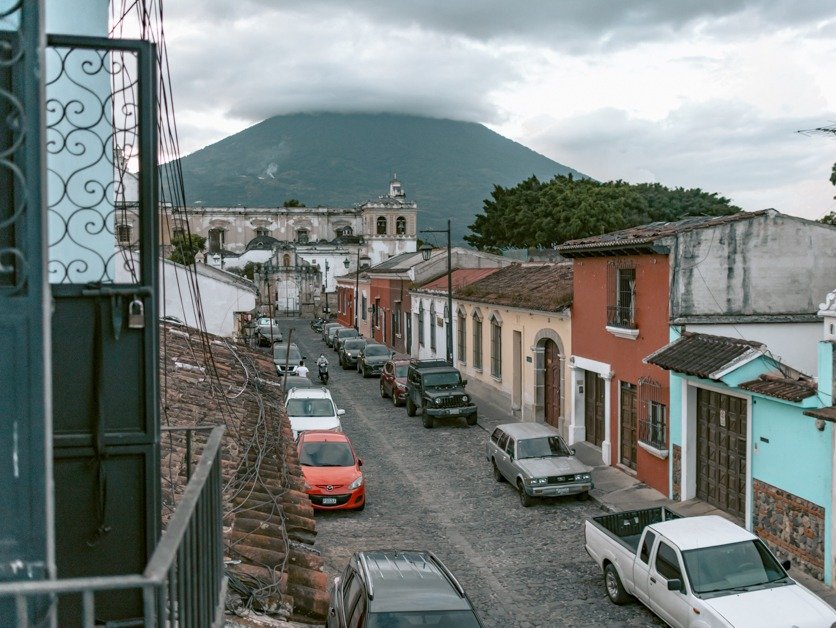 A shuttle from Guatemala City to Antigua can be reserved online before your arrival, which is great for those who want to have everything secured and planned out properly to avoid any schedule change or risk of unavailability (rare, but it can happen). 
Many websites offer online reservations and often have special offers for two or more tickets (if you're planning a family trip to Antigua make sure to keep an eye out for this!).
I highly recommend booking a private shuttle. Prior to my visit to Antigua, I reserved a private shuttle online with GuateGo to take me from Guatemala City to Antigua. The company arrived on time to pick me up from the airport and I avoided waiting for the select availability with the shared public shuttle. 
Take A Shared Public Shuttle From Guatemala City To Antigua
The difference between this transport and the one just mentioned is that some shuttles can be reserved privately, meaning that a whole family can make a reservation for a whole shuttle, whereas this one allows people to share one, whether they know each other or not (like sharing a cab with a stranger). You still get the benefit of getting to Antigua in a safer transport and you don't spend much money. 
You can book your shuttle and departure times right here.
Arrange A Third Party Private Shuttle
If you want to get a whole shuttle for you and your family this point is specifically for that. Many websites offer options for shuttle reservation companies that have different seat quantities and you can choose the one that suits you best. Whether you are a family of 4 or 12, there's a third-party private shuttle out there tailor-made for you.
Rent A Car To Transport From Guatemala City To Antigua
Renting a car is perhaps the most common and recommendable for those who want to travel by themselves and tour Antigua in their own time. It is advisable to search for popular rental car companies before arriving in Antigua, check their reputation and reviews, and contact them to make sure you bring the right documents and permits. You can also pre-book a rental from the airport.
You should also have in mind that the roads from Guatemala City to Antigua are in not the best conditions, so make sure to drive carefully and have a clear conversation about the car insurance and breaking/damaging fees. 
Hop-On A Chicken Bus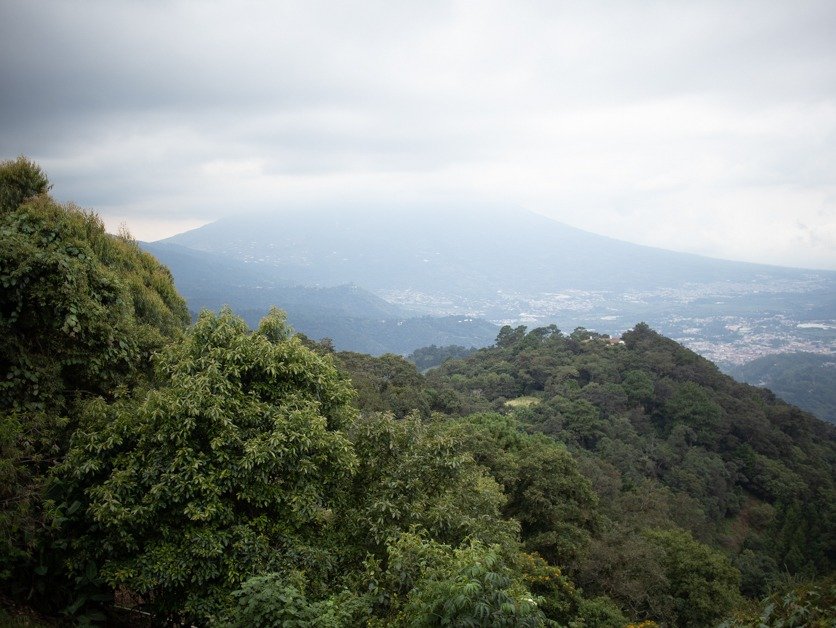 A chicken bus is a name given to the local bus, by the citizens of Guatemala City. Is perhaps the most affordable option, which takes almost the same amount of time as other transports but is typically "left" to those who speak some Spanish and don't travel with valuables or loads of suitcases, though this is still a traditional bus like others around the world. 
Guatemala City is known not to be safe, and many have advised tourists not to hop on a chicken bus to avoid any possible worst-case scenario or misunderstanding, especially if you don't know a single word of Spanish. 
Chicken buses are only available in the city center, which is why it is not recommended you take one.
Hire A Private Driver
Some companies offer private driver services that are the same as ordering an Uber but before your arrival, as well as with more background information for those that want to check their reputation or get more info about accidents, policies, and insurance.
If you look up "private drivers from Guatemala City to Antigua" you can easily get across the most well-known companies and get in contact with them to discuss your needs, arrival date, and other details. You can book a private drive directly with Viator right here.
Guatemala City To Antigua Conclusion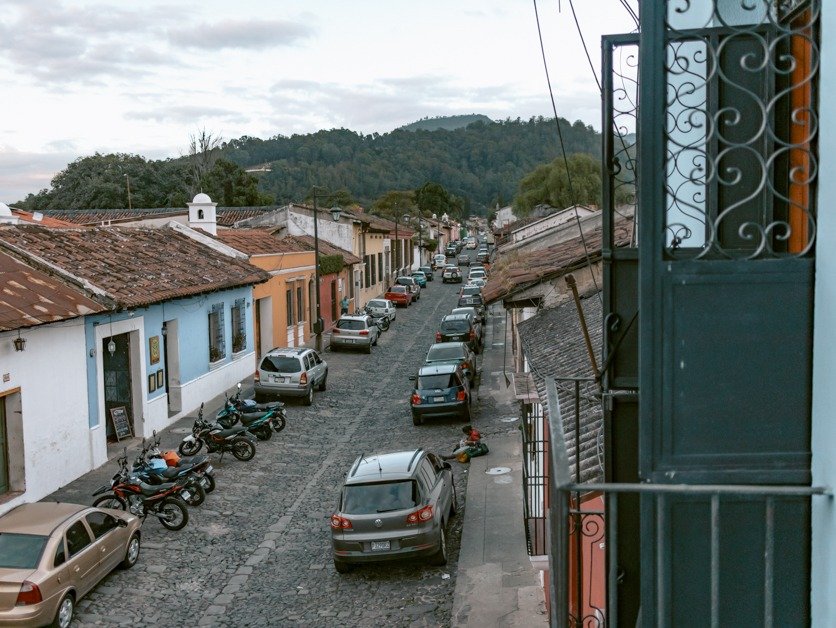 Antigua is a wonderful place to visit, with incredible landscapes, architecture, and a loving community that welcomes tourists with open arms. It is an affordable destination that doesn't take long to get from Guatemala City, as it has different options of transport with various prices, durations, regulations, and availability.
Each means of transport explained in this article showcases how diverse and optimal tourism Antigua and Guatemala City are. Most of them can be reserved online before arrival, which is a great tool for those who want to have everything arranged in advance.  
Whatever transport you choose, remember it is only a small part of your Antigua trip so don't get discouraged if the one you were looking for is not available or outside of your budget. Another great thing about Guatemala City and Antigua is their big catalog of companies and options to contact, which is always recommended and sometimes the best choice to get a hold of special offers or discounts. Don't forget to search for some time, if possible, but there's always going to be a taxi, Uber, or public bus available for you to hop on.
Related posts: 
Like this post on the best ways to get from Guatemala City to Antigua? Share it with others or pin it for later!