Iceland is known for its untouched landscapes and Scandinavian culture. However, besides Reykjavik and Ring Road, there are numerous charming small towns in Iceland worth visiting. These must-see gems offer a glimpse into the country's rich history and close-knit communities. 
Reconsider just spending time in Reykjavik during your visit to Iceland. Despite Reykjavik being the largest city, these quaint towns scattered across the island provide an authentic and intimate experience of Icelandic life.
This article may contain affiliate / compensated links. For full information, please see our disclosure here.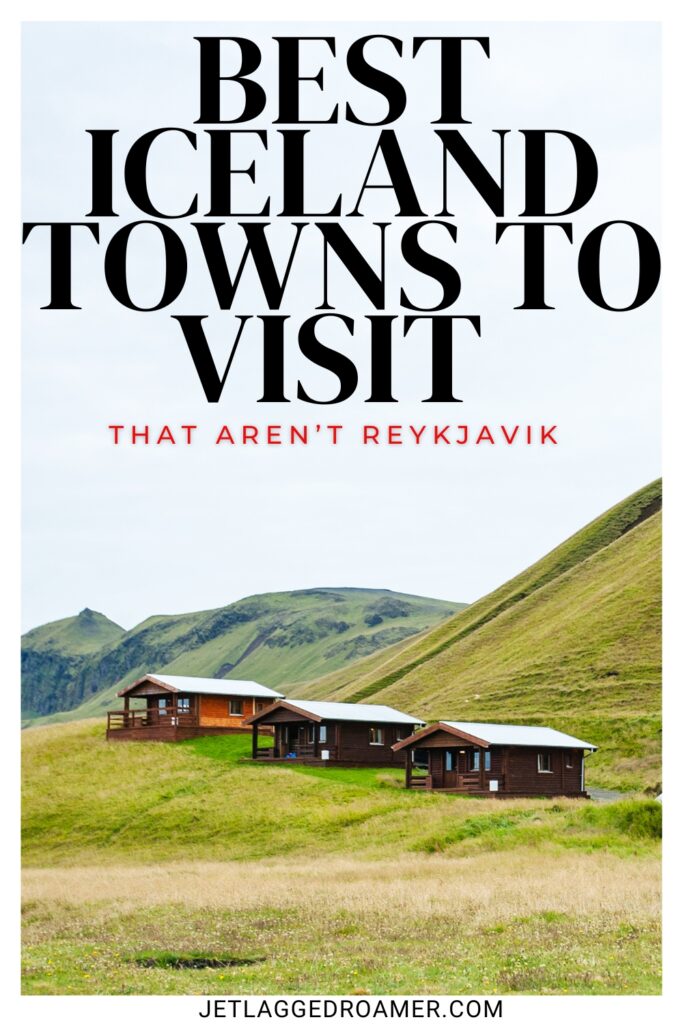 Heading to Iceland? You may find these other posts helpful for your planning: 
Small Towns In Iceland
Let's dive into some epic road trips to some of the best small towns in Iceland worth visiting.
Ísafjörður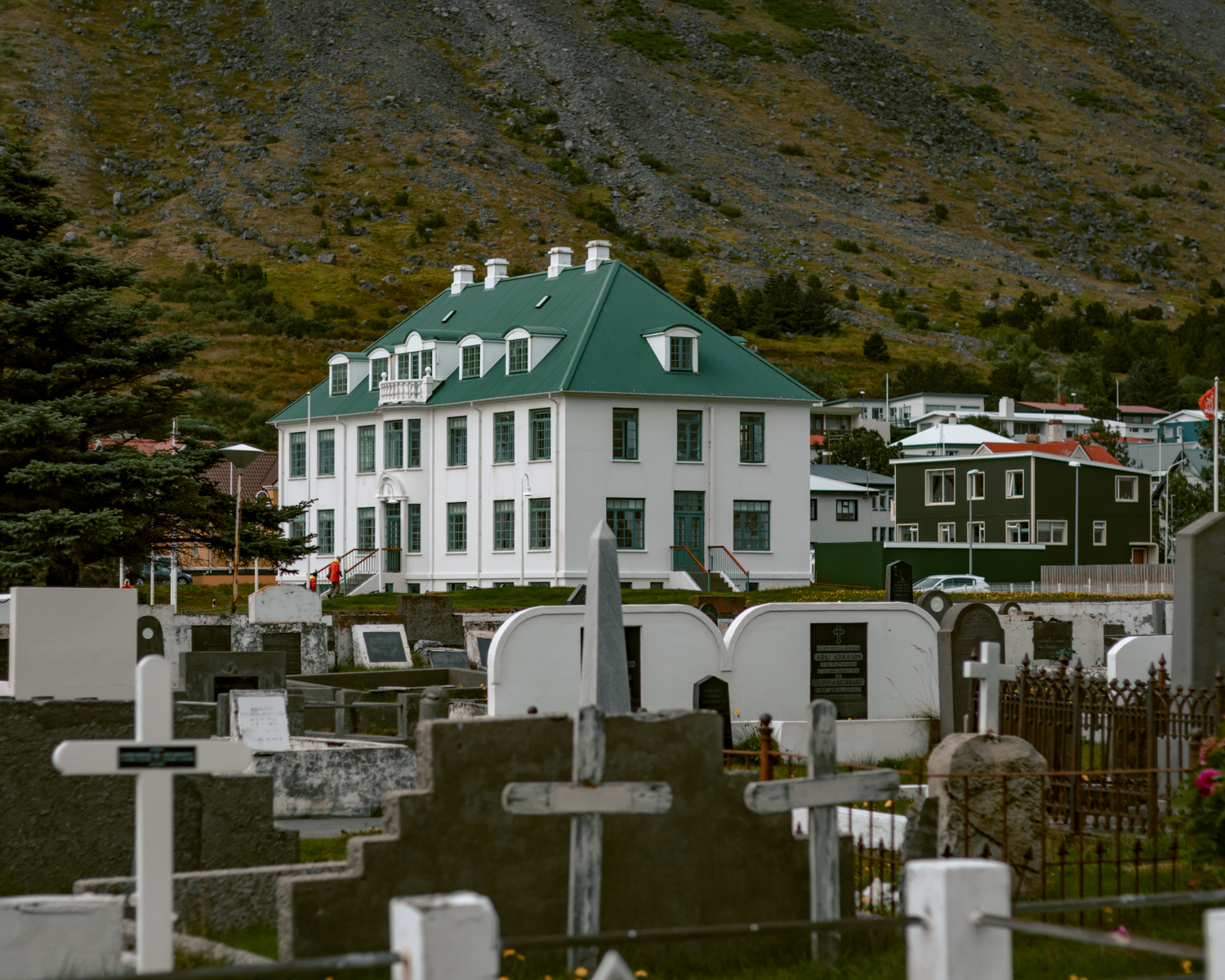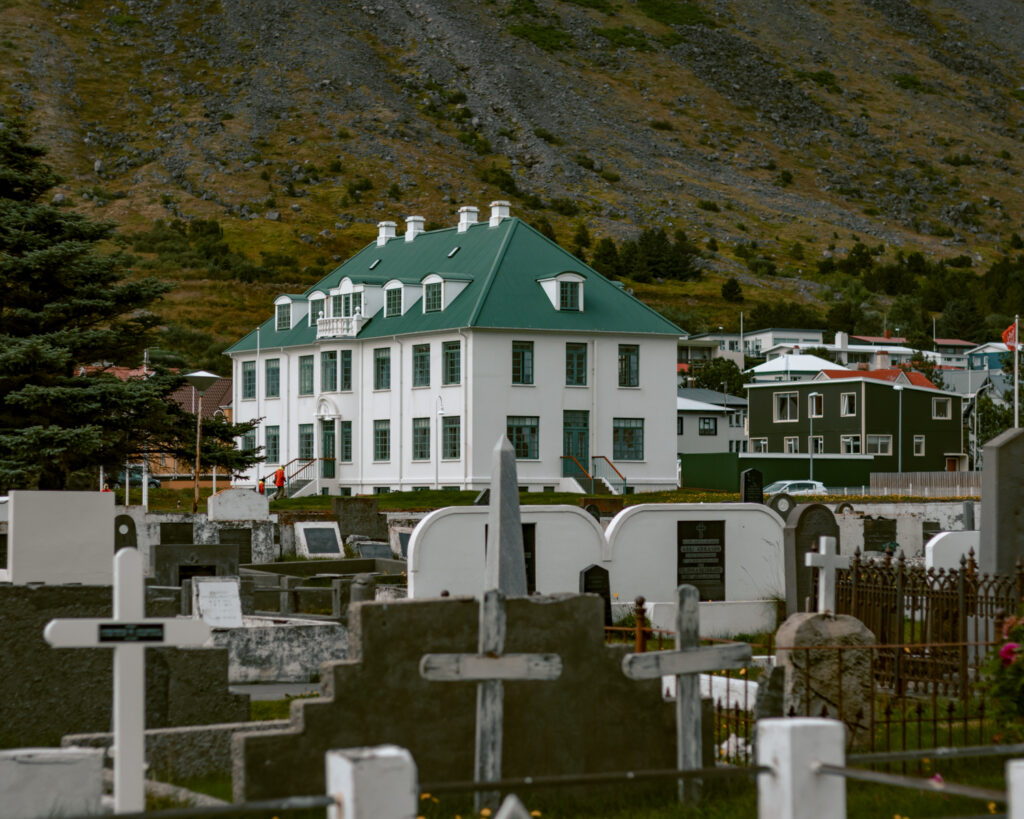 Tucked within the natural and green landscapes of the Westfjords is one of the best small towns in Iceland to visit, Ísafjörður. This gem offers a one-of-a-kind Icelandic experience, combining rich cultural heritage with breathtaking beauty.
When in the Westfjord be sure to embrace the cultural history at the Westfjords Heritage Museum. A unique museum housed in historical buildings showcases artifacts and exhibits providing insight into life in Westfjords over the years.
What makes Ísafjörður one of the best small towns in Iceland is its location. Being on the coast makes it an ideal spot for whale watching. Be sure to book a boat tour to witness these amazing creatures in their natural habitat. It's a one-of-a-kind marine adventure to your Icelandic experience.
For those who are avid hikers take a hike in Ísafjörður and surround yourself with the mountains and fjords. Whether you're an experienced hiker or just looking for a leisurely stroll you can expect to discover some breathtaking views.
While in Ísafjörður be sure to chase some waterfalls by taking a scenic drive or hike. Immerse yourself in the soothing sounds and mesmerizing beauty of Iceland's cascading waterfalls.
The best and most common way to reach Ísafjörður is by flying into Ísafjörður Airport, which connects to Reykjavik. Alternatively, you can opt for a scenic road trip, driving through the Westfjords. Be sure to check road conditions, especially in the winter, so plan accordingly.
If staying overnight reserve a room in the heart of Ísafjörður, Hotel Isafjordur Horn. This charming hotel is near to the town's attractions. 
When you develop an appetite after exploring  Ísafjörður, grab a meal and get a taste of Icelandic cuisine at Húsið. Húsið is a popular restaurant known for its fresh, locally sourced ingredients. Their diverse menu has the essence of Icelandic flavors. Whether you're craving seafood or traditional Icelandic dishes.
Vik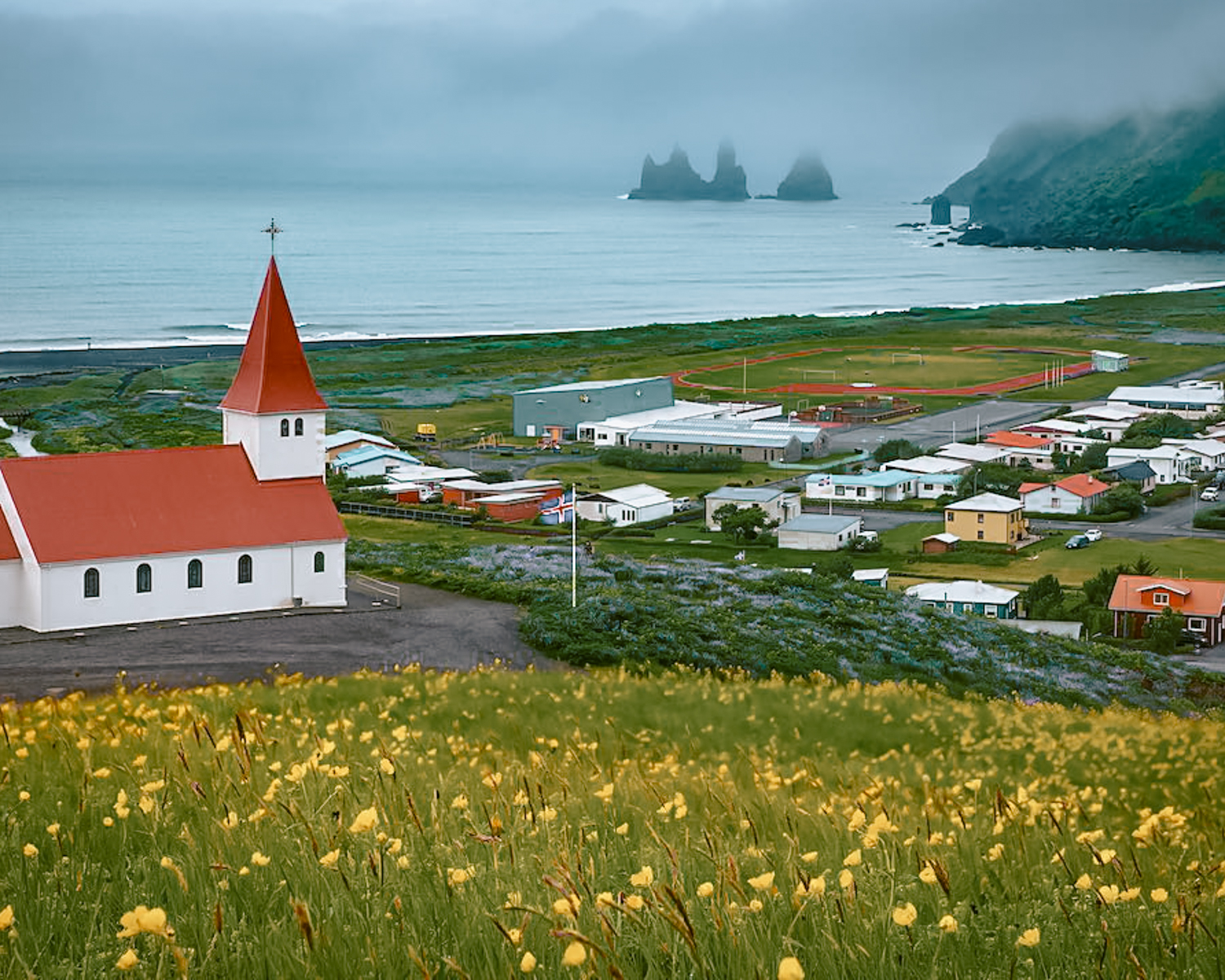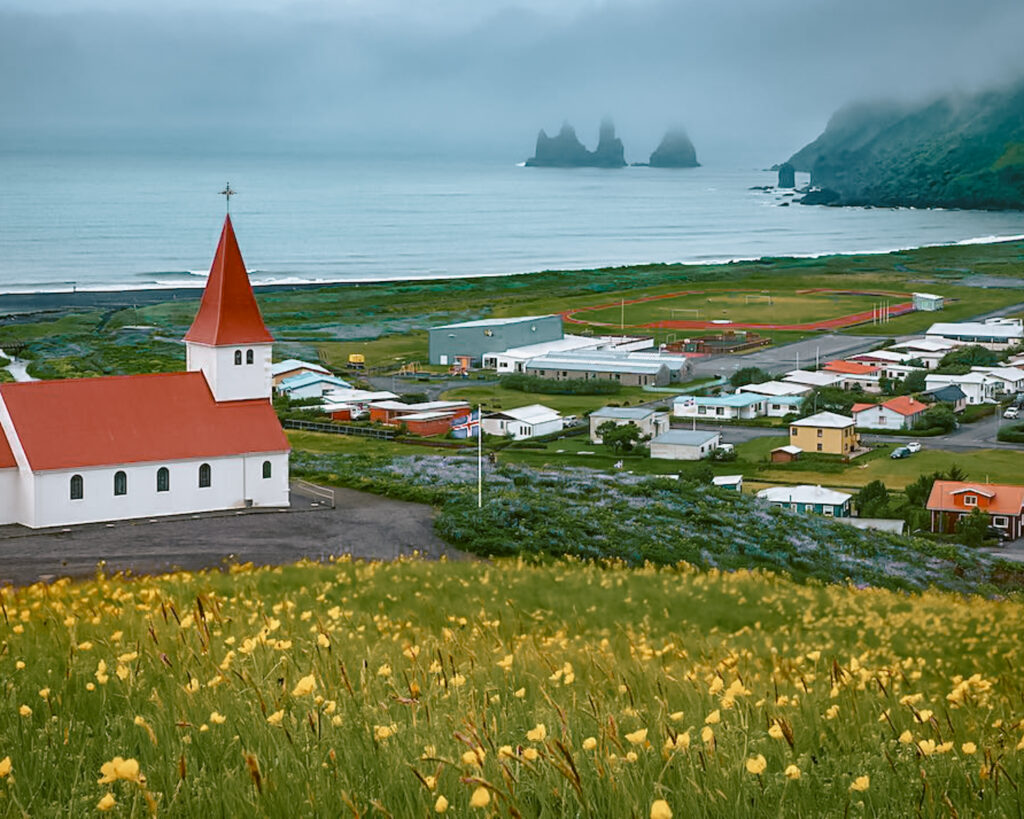 If you're looking for one of the best small towns in Iceland then you can't beat Vik. After all, Vik is a tiny village on the southern coast of Iceland. It is well-located near the Mýrdalsjökull glacier covering the Katla volcano.
To visit, rent a car and drive from Reykjavik to Vik in around 2.5 hours. You could also catch a bus that departs from the capital once daily in the summer. The journey will take around 4 hours and tickets cost around $50.00 per person. 
Vik is well worth a visit and is considered one of the best things to do in Iceland. This small town in Iceland is a peaceful area and is home to a wide variety of outdoor adventures. Some fun activities include guided glacier hikes, kayaking through the lagoon of the glacier, snowmobiling around Katla volcano, and year-round ice cave visits.
Additionally, this Iceland town has dynamic natural landscapes around Vik making it a perfect place for photographers and anyone who wants to do a bit of bird watching. To see some resident puffins then be sure to head to the cliffs of Reynisfjall mountain since this is where they live. 
Alternatively, you could take photos of the Reyniskirkja wooden church from 1929. You can stroll along the black stones that line Reynisfjara beach as well. Also, check out the Reynisdrangar offshore rock formations or visit the Dyrhólaey peninsula as part of a fun day trip. 
However, you cannot leave Vik without ordering some delicious Icelandic cuisine from Restaurant Suður-Vík. Menu highlights include seafood soup, baked brie, and lamb. However, you could always stop by Halldórskaffi instead for a delicious beer and some Arctic Char with potatoes and salad on the side. 
Finally, relax for the evening inside a room at Hótel Kría. It's a fantastic, 3-star hotel that features stunning, modern rooms that come fully equipped with flat-screen TVs, tea/coffeemakers, and more. Guests can also enjoy a breakfast buffet and can even see the Northern Lights from time to time.
Explored by Victoria of Iceland Trippers
Related post: Iceland Captions
Seydisfjordur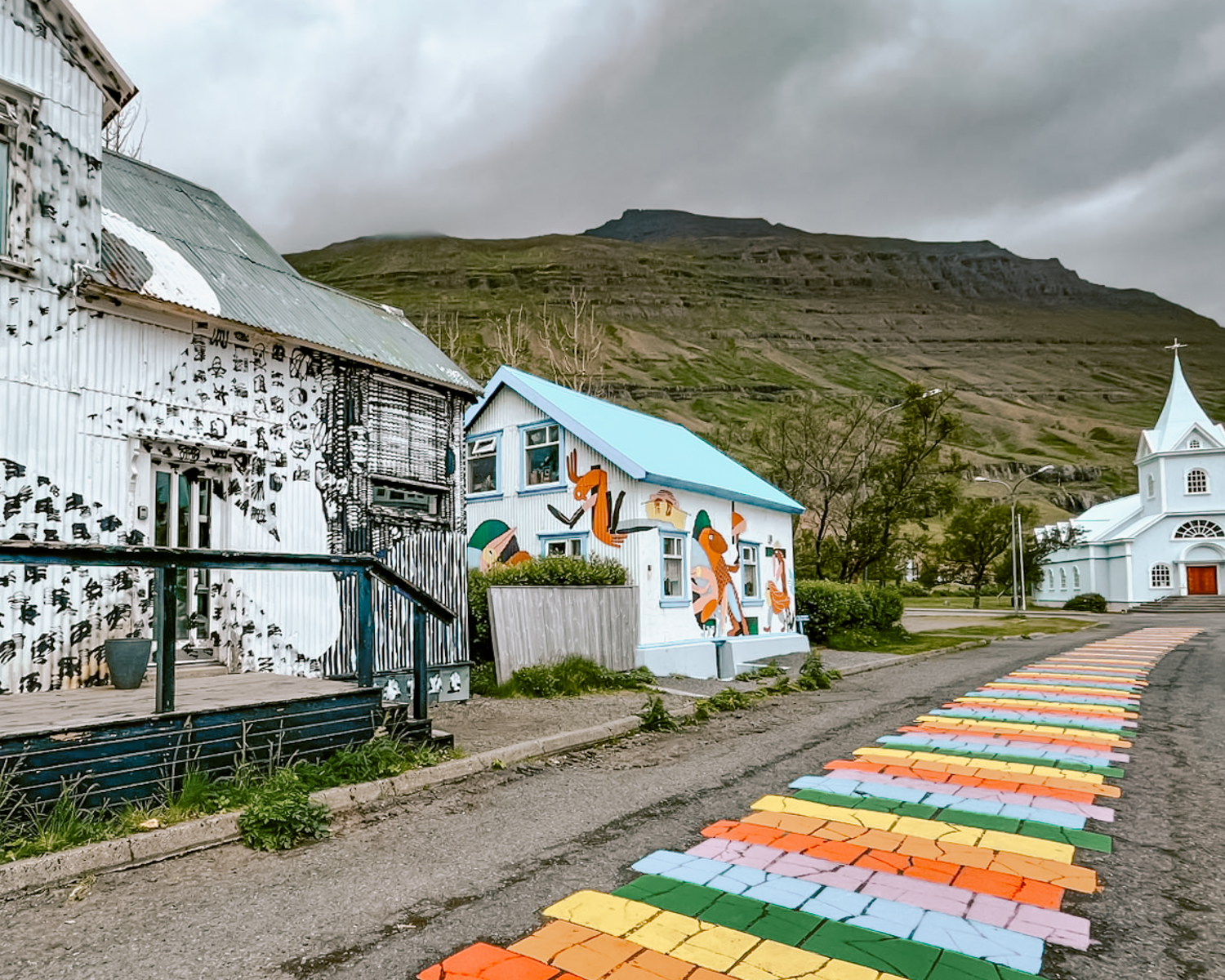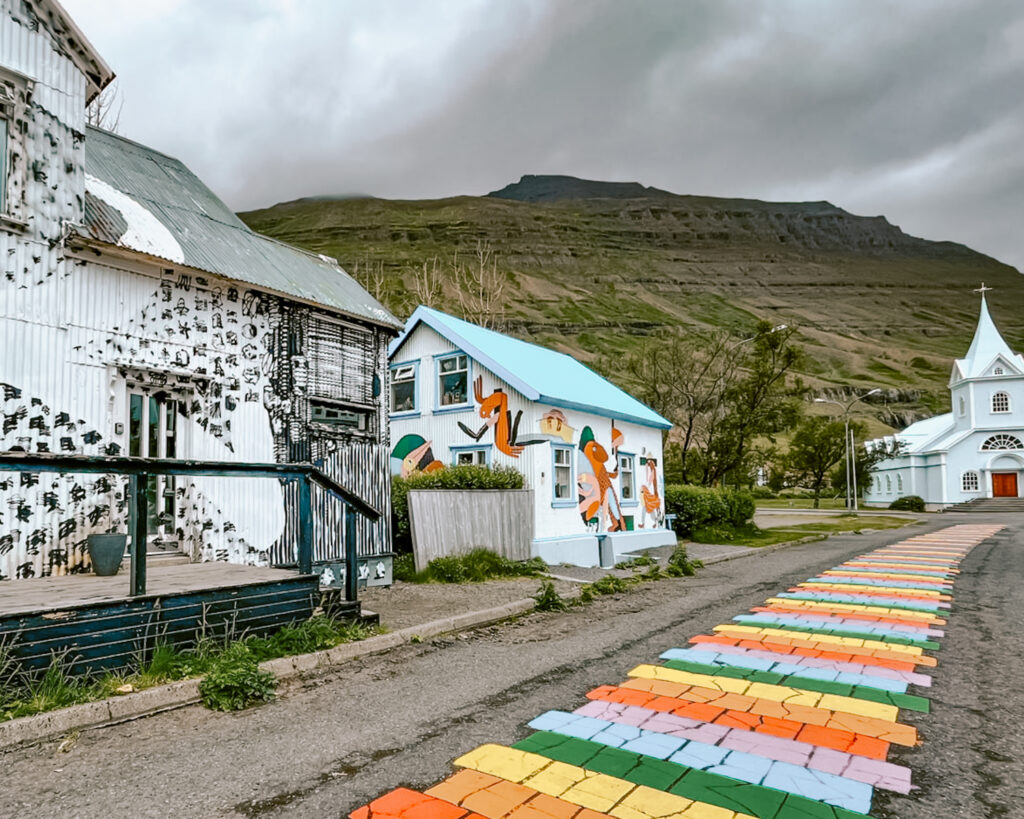 Seydisfjordur is a charming town located in the eastern region of Iceland. This town is at the innermost point of the fjord by the same name. This charming town looks and feels different from the rest of Iceland. 
You can reach Seydisfjordur by following this Iceland ring road itinerary, which you will drive across mountain passes from Egilsstadir. The self-drive option over the Fjarðarheiði mountain pass is the best way to reach this small town in Iceland.  The pass takes you through beautiful scenery and waterfalls. Even if you don't spend a night in this town, the drive is worth a detour just to cross the mountain pass with the snow-capped mountains.
One of the iconic spots to discover in this small town in Iceland is the Blue Church. As you walk up the multicolored path towards the church you will find homes splashed with street art. The contrast of the rainbow with Blue Church makes it one of the most photogenic spots in Seydisfjordur. At the corner of this street, have a lovely lunch at El Grillo Bar, a cute cafe.
Another different site to check out in Seydisfjordur is the Sound Domes located up on the mountainside. You have to trek up a bit from the road to reach this. This is an art installation by the German artist Lukas Kahne. It has 5 interconnected domes (that look like igloos) and each dome resonates with a tonne in the Icelandic music tradition of five-tone harmony.
Be sure when driving on the way to this town to stop and admire the beautiful waterfall Gufufoss. Unlike the famous waterfalls on the south coast that are buzzing with tourists, you can have Gufufoss to yourself.
You can stay overnight in Seydisfjordur at one of their guesthouses, studio apartments, or hotels. Consider staying at the Seydisfjördur Guesthouse with views over the fjords. This cozy guesthouse has Wifi and you can choose between private or shared bathrooms.
Explored by Shewta  of Zest In A Tote
Kirkjubæjarklaustur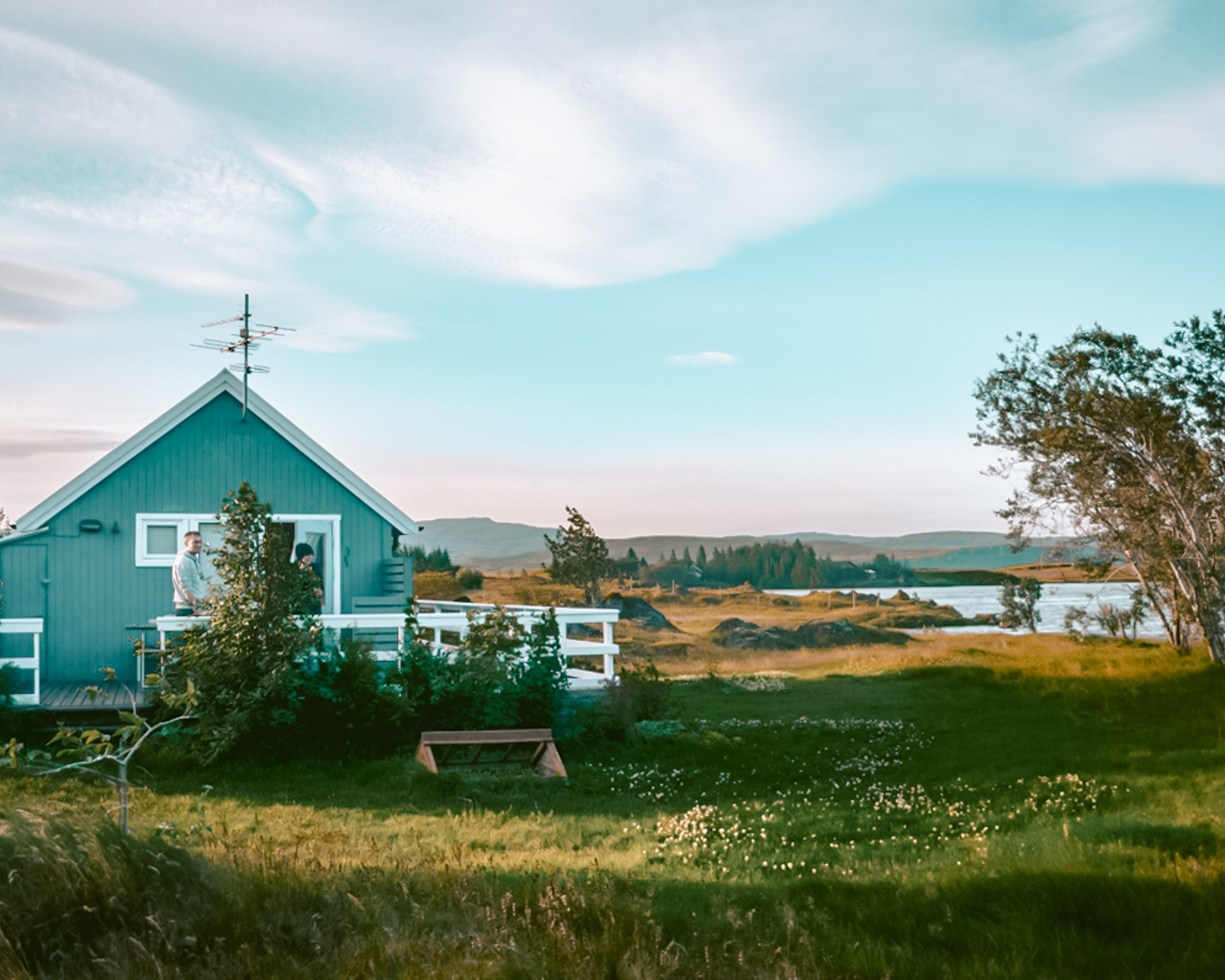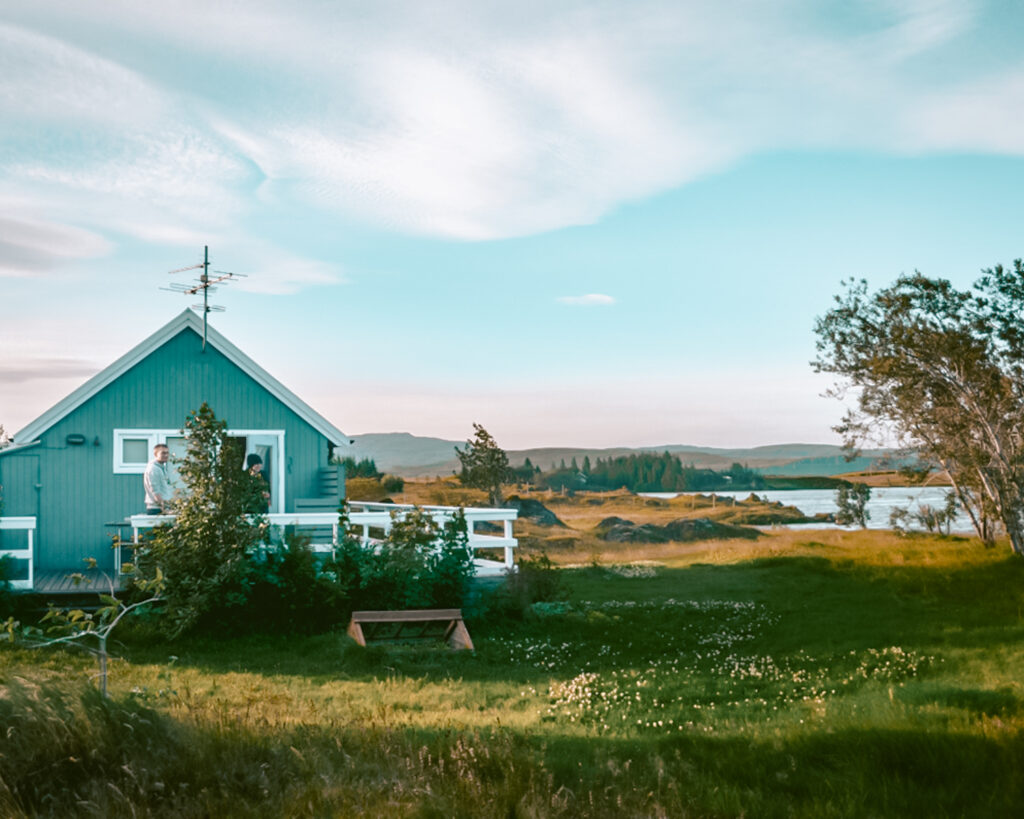 As you embark on an Icelandic adventure, a place worth staying a few nights is the small town of Kirkjubæjarklaustur. This tranquil village, mostly bypassed by the main tourist crowds, offers an intimate setting where you can experience Icelandic day-to-day small-town life. In addition to that, Klaustur, as locals call it, is also strategically located for visiting some of the most popular attractions in Iceland!
The best way to reach Kirkjubæjarklaustur is by car. It is located on the Ring Road in the southeast of the country. Coming from Reykjavik, you can explore the east with its black coastline and many waterfalls before arriving in Kirkjubæjarklaustur. Car rentals are available at Keflavik International Airport or Reykjavik, giving you the freedom to explore at your own pace.
Klaustur is home to three types of accommodations, cozy bed and breakfasts, one upscale hotel, and a few typical Icelandic cabins. For a genuinely Icelandic stay, consider staying at one of the cabins, which all offer stunning views of the nearby lake. You can find the cabins on Airbnb.
Kirkjubæjarklaustur is the perfect base for amazing day trips in the broader area. It is close to the Lakagiga Craters, Vatnajökull National Park, the Landmannalaugar hiking trails in the scenic Fjallabak Nature Reserve, Jökulsárlón Glacier Lagoon and Skaftafell Nature Reserve.
Only a few kilometers from the village itself lies the spectacular Fjaorárgljúfur canyon. A short walk east of Kirkjubæjarlaustur will also take you to the fascinating "Church Floor", an 80 square meter flat of basalt columns, shaped and formed naturally by the tide and glacial melts. The Sisters Rocks and Sisters Waterfalls are two other attractions located in the village itself.
Systrakaffi is the place in town if you are looking for a bite to eat but the cabins in Klauster come with a kitchen so you can also go grocery shopping in the small supermarket in the center of town and cook your own meals.
Note that Klauster is tiny, it only has around 200 inhabitants! However, credit cards are widely accepted, so there's no need to carry a lot of cash. Having some Icelandic krona can be useful though.
Explored by Annelies from Travelers & Dreamers
You may enjoy: One Day In Reykjavik
Akureyri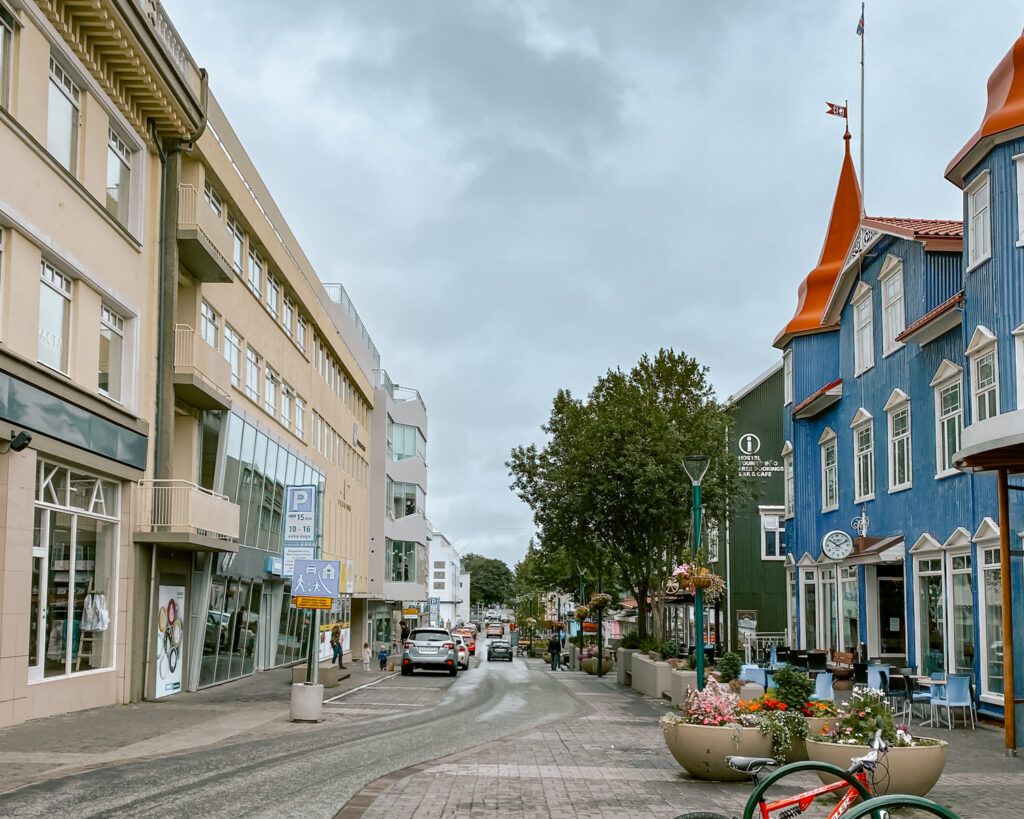 If you want to see some of the more northern destinations in Iceland, Akureyri should definitely be on your list. This location is accessible by multiple daily flights from Reykjavik or if you are doing a full circle drive, you can easily reach there on the Ring Road.  The city sits at the base of the Eyjafjordur Fjord so the scenery in this area is absolutely stunning. It also is a nice base for numerous activities in the area.
One of the most popular excursions to take in this area is whale watching. Eyjafjordur Fjord is an amazing place to see a variety of whales including humpback, bottlenose, and mink whales which have been known to frequent this location. There is nothing quite like seeing these majestic creatures up close and personal in their own environment. There are several different options including rib boats or the more traditional whale-watching ships to choose from.
Another wonderful spot to visit is the Akureyri Botanical Garden. Being this far north you wouldn't expect there to be a garden with many flowers, but this is a lovely location full of thriving plants and flowers that have adapted to the cooler weather. In fact, it is one of the most northern gardens in the world. It is managed by volunteers who also use the location to conduct scientific tests and see which plants can survive in Arctic weather. It is free to enter and open from June to September.
A perfect central location to stay is the Hotel Kea. It is easy walking distance to everything including shopping, dining, and popular activities. The rooms are comfortable, and they offer a substantial breakfast to start your day.
Located on the water is a great restaurant called Strikid. This location gives you fantastic views and has a great vibe with beautifully presented meals. The dishes are varied and made with fresh, local ingredients. A perfect way to end your day of touring in Akureyri.
This is one of the small towns in Iceland that has a fantastic base for exploring the wilder side of Iceland.
Submitted by Kim of Explore Your Bucket List
Reykjahlíð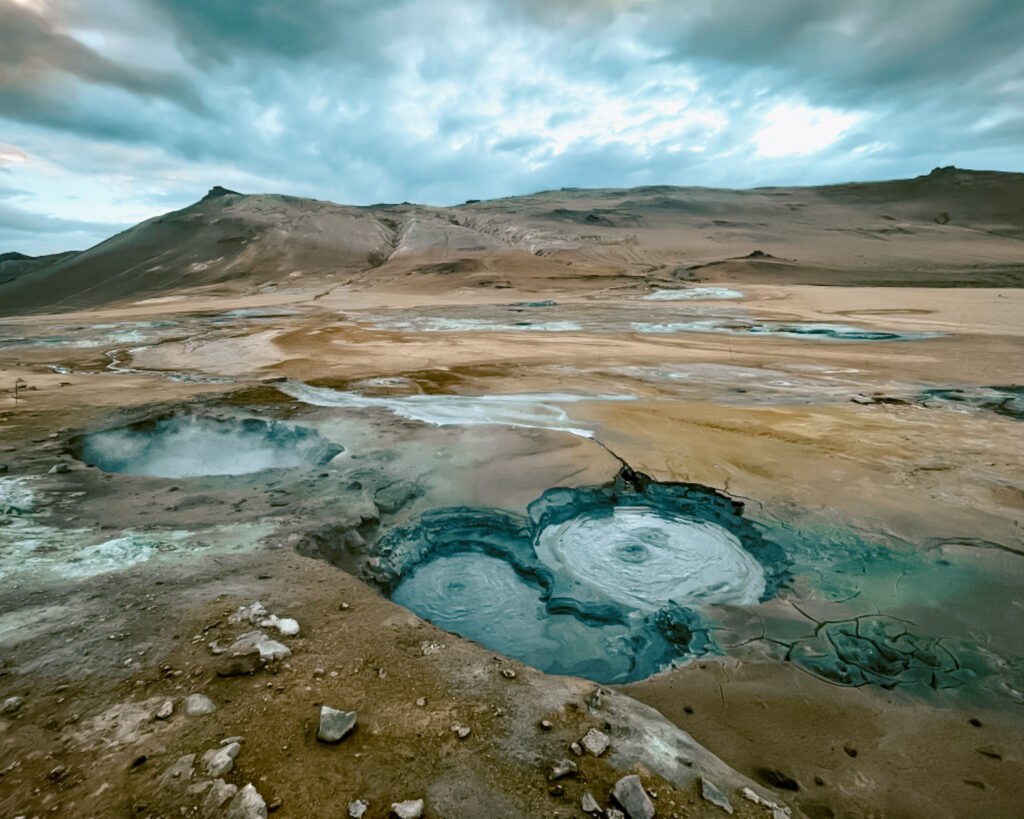 When it comes to the best small towns in Iceland, Reykjahlíð is worth a mention.
Reykjahlíð is located in the north of Iceland and is the perfect base for exploring the region.
You can reach Reykjahlíð directly from Iceland's main road 1, making it an ideal stopover if you plan a longer road trip in Iceland.
Located next to Lake Mývatn, Reykjahlíð was formed as a result of volcanic activity and is home to a rich variety of flora and fauna. Additionally, there are many other popular and unique Icelandic attractions within a short drive. Hiking enthusiasts can climb the Hverfjall volcano, at the top of which you can see a volcanic crater.
A similar, but perhaps even more spectacular formation is the nearby Krafla volcano, which has a bright blue-water volcanic crater lake at the top.
Another must-see in the area is the Hverir. Hverir is a geothermal site known for its pools of bubbling and sulfur gases. If you prefer to relax, try the Mývatn Nature Baths, a thermal spa similar to the Blue Lagoon.
If you plan to stay in Reykjahlíð, you will find the best hotels and guesthouses around Lake Mývatn. Highly recommended among these are Fosshótel Mývatn, a three-star hotel, or Vogafjós Farm Resort, which is a private guesthouse.
While in Reykjahlíð, it is also worth trying the local food. The best place to do this is at the previously recommended Vogafjós Farm Resort restaurant, or you can have delicious fish and chips at Fish and Chips Lake Mývatn.
Another thing to keep in mind when visiting Reykjahlíð is that the weather is windy quite often, so be prepared for cold windy weather, even in summer.
All in all, Reykjahlíð and the surrounding area is a very interesting place along the Icelandic Ring Road, where you can see truly breathtaking natural formations that are not or more difficult to see in other parts of Iceland. So don't miss a visit if you are in northern Iceland.
Explored by Adrienn of Traveltipzone
Related post: Reykjavik Airport Transfers
Djupivogur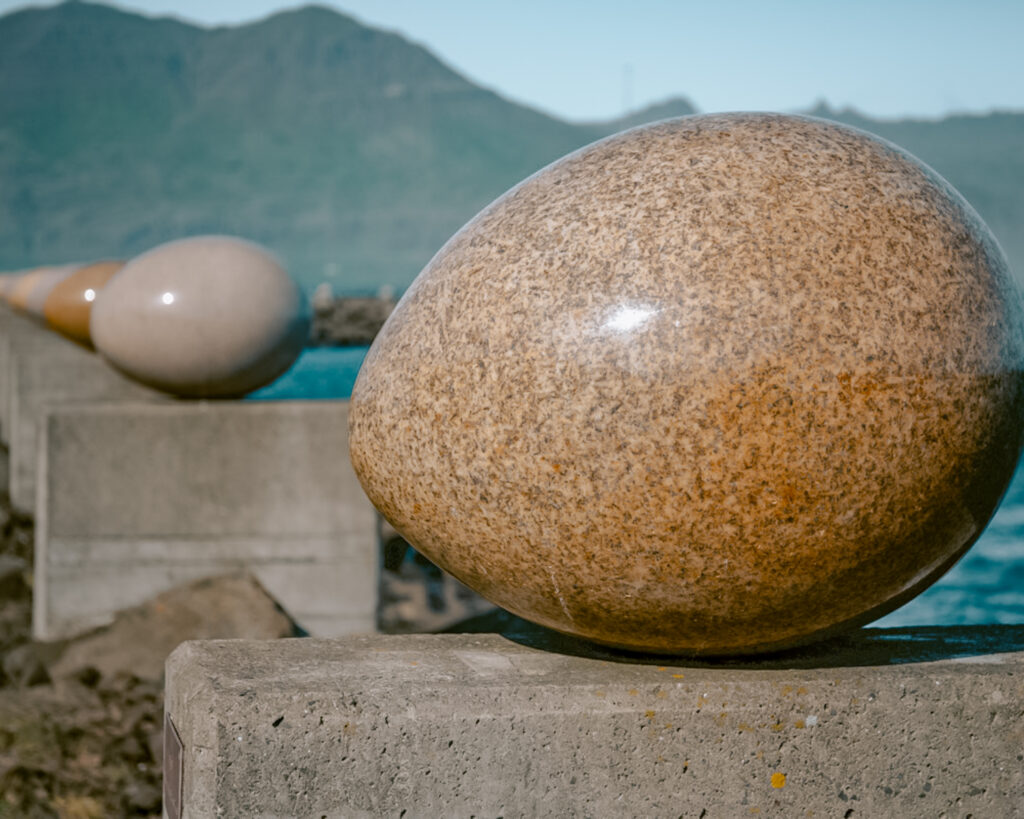 Located in the far corner of East Fjords, Djúpivogur is a small coastal village that is unique, with a much older history than many places.  In 1589 it was a small Danish post and has grown from there over time.
Djúpivogur is worth visiting as it has a calm tranquillity and far fewer crowds than some of the other villages in the East Fjords.  The area is surrounded by high mountains that drop down to the fjords with the road snaking along the coastline.
Accessing Djúpivogur is part of the adventure. If you're driving, follow the Ring Road (Route 1), east from Höfn.  The village is 100km from Höfn and 550km from Reykjavík.  The drive is at least 7 hours from Reykjavík and very few tours head this far east.   While the main Ring Road doesn't pass through the village it is just a few miles away.
Accommodation in Djúpivogur is limited although there are several cottages and chalets available along the coast from the village. Hótel Framtíð is in the village and has views out across the fjord.
One of the main attractions in Djúpivogur is the harbor area.  This has Langabúð on the harbor side.  This building is made of wood and was built in 1790.  It is the oldest building in the village and now has a small café and maritime museum.
A little further along the coast on the edge of the village are the Eggs of Merry Bay. This is an outdoor art installation by Sigurður Guðmundsson featuring oversized eggs representing local bird species.  These huge granite eggs are all to scale and line the edge of the harbor.
As well as being a good place to stay, Hótel Framtíð has a beautiful restaurant serving local food.  For something less formal then Langabúðhas local cakes and good coffee.
Djúpivogur is one of the small towns in Iceland that is very isolated. During the winter months, the strong winds and snow storms can cut the village off.  As with anywhere in Iceland, the weather forecast should be checked, but always ensure that if you can get to Djúpivogur you will be able to leave again.
Explored by Suzanne of  Meandering Wild
Husavik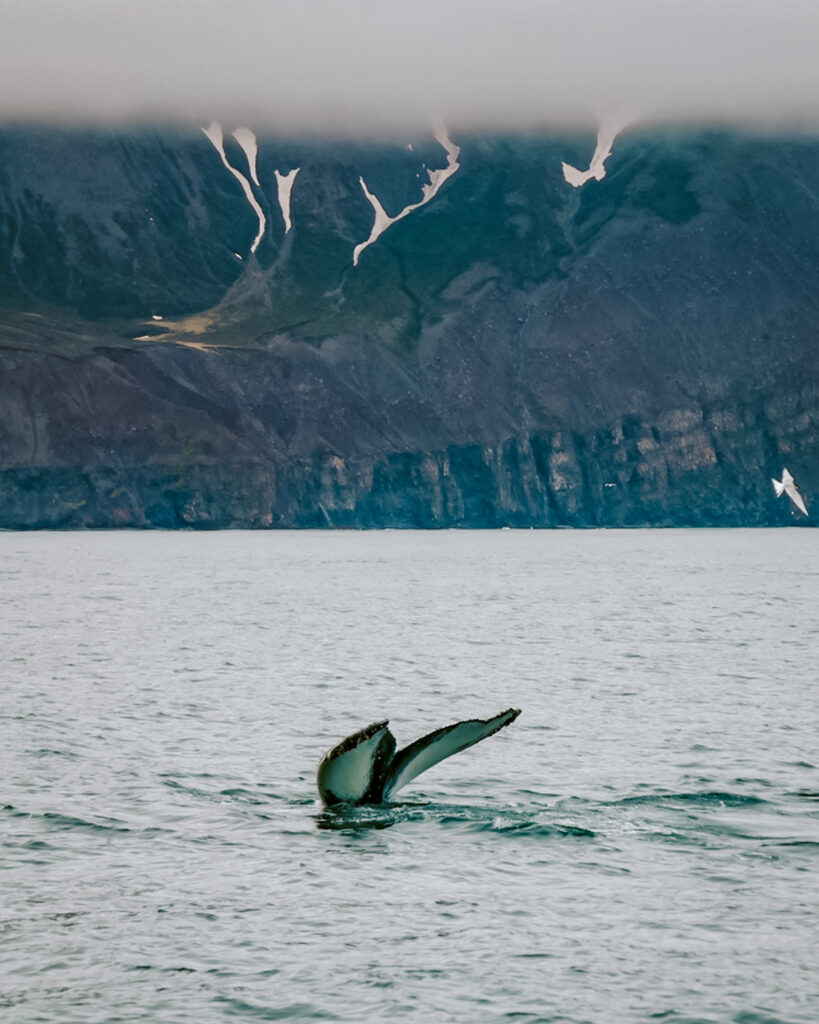 If you're looking to escape the crowds and experience a peaceful traditional Icelandic town, then Husavik could be the answer. Situated in the north of Iceland, this sleepy town is often overshadowed by the nearby Akureyri, but Husavik is well worth a visit. Known for its geothermal baths with panoramic ocean views and abundant marine life, Husavik has so much to offer. 
The town is home to just over 2,000 people and was recently put on the map when it was featured in the Netflix film 'Eurovision Song Contest: The Story of Fire Saga'. Despite its recent fame, this quiet and peaceful town is a great spot to get off the beaten path and experience the traditional side of Iceland. 
Many people visit Husavik for its marine life as well as the chance to see puffins in their thousands during the breeding season (April to August). The town lies on the shores of Skjálfandi Bay, which is also known as 'Shaky Bay' because of its many earthquakes. The bay is known to be home to over twenty species of whales and dolphins, including the largest animal in the world – the Blue Whale. In fact, Husavik is nicknamed the 'Whale Watching Capital of Europe'. This makes whale watching in Husavik the most popular activity, with options to go out on traditional sailing boats or smaller RIB boats. Consider booking your tour in advance here.
For those looking to relax, another popular activity in Husavik is to relax in the GeoSea Geothermal Sea Baths. The baths boast some incredible views of the North Atlantic Ocean, with an infinity pool over the bay. It's even sometimes possible to see whales while relaxing in the spa. 
Despite its recent claim to fame, Husavik is still a small town with only a few guesthouses, hotels, and food options. One of the best restaurants to try in Husavik is Gamli Baukur which offers a range of food including dishes with freshly caught Icelandic fish. For accommodation options, Fosshotel has a hotel in Husavik. There are also some traditional guesthouses including the Arbol Guesthouse. 
Husavik is a remote town in the north of Iceland, about 470km from Reykjavik. You'll need to hire a car to get there, but a visit to Husavik can easily be done as part of a trip around the full Ring Road. Husavik is only an hour's drive from Akureyri, and just under an hour from Myvatn. One thing to note is as it's very far north, it can get very, very cold in Husavik. If you're planning to go whale watching, make sure you have plenty of layers. 
Explored by Emily of Journey By Backpack
Related post: Road Trip Captions For Instagram
Hveragerði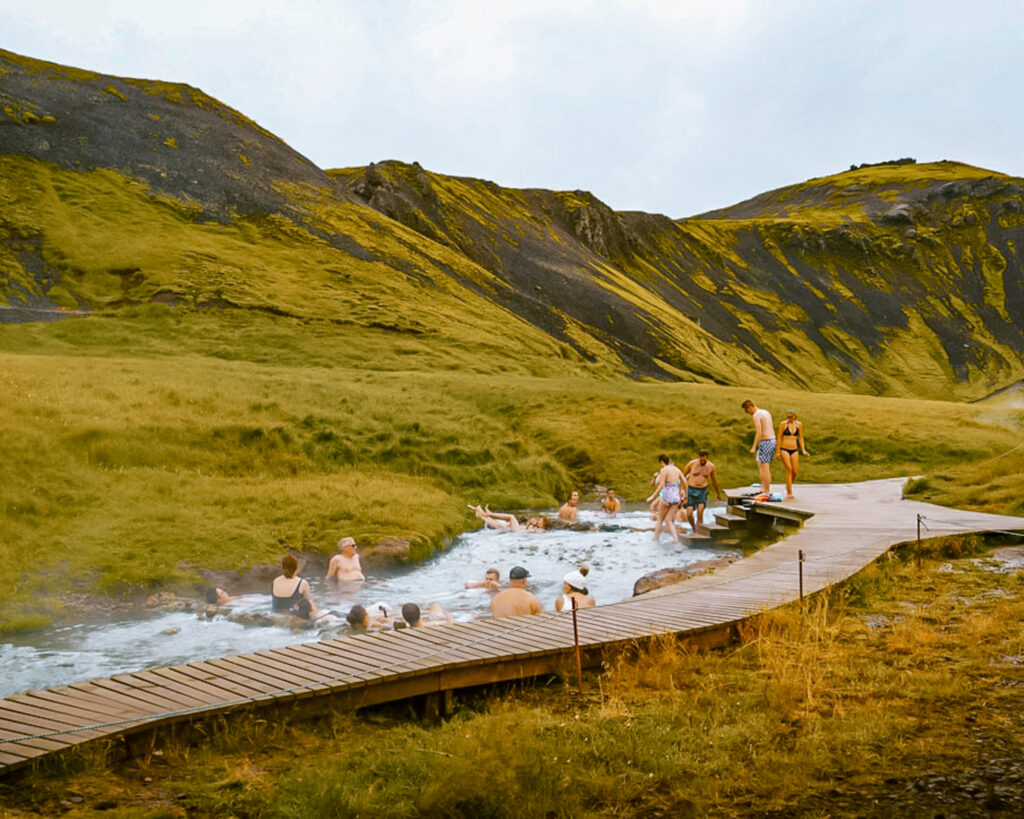 Hveragerði is a tiny town in the southwest of Iceland, about 40 minutes southeast of Reykjavik or an hour and 45 minutes northwest of Vik along the Ring Road. The town is known for being built on top of a highly geothermal area and, accordingly, is home to many hot springs and greenhouses, which are heated year-round by this geothermal energy.
The town is likely most famous for the Reykjadalur Hot Springs, a thermal portion of a river that's perfect for soaking and relaxing in. The only way to reach these springs is to hike up a 6 km trail into the impossibly green Icelandic mountains, past rushing waterfalls, boiling hot pots, and adorably weathered Icelandic sheep. Consider wearing your swimsuit under your hiking clothes—while there are wooden modesty screens once you get to the hot springs, they don't provide much privacy to change!  
To enjoy another aspect of the town's connection to geothermal energy, pop into one of its many greenhouses, like Flóra Garðyrkjustöð or Garðplöntusalan Borg, both of which have an impressive variety of colorful plants and flowers year-round. 
To enjoy a totally different aspect of the town's volcanic energy, head to Ölverk Pizza & Brewery, which offers wood-fired pizza with unique toppings (get some Icelandic dulse seaweed on top of yours!) and craft beer, brewed using geothermal energy! For something a bit more upscale, consider going to Matkrain, which leans into Iceland's Scandinavian roots and serves up inventive takes on Danish cuisine. 
True to Hveragerði's culture, the Greenhouse Hotel is a quirky hotel, mixing hip furnishings with plenty of nods to the town's stunning natural beauty, like its huge windows overlooking the surrounding mountains and springs. There's even a food hall, with eight different vendors, located right inside the hotel, if you're feeling peckish after exploring the town.
Explored by Jess of Uprooted Traveler 
Selfoss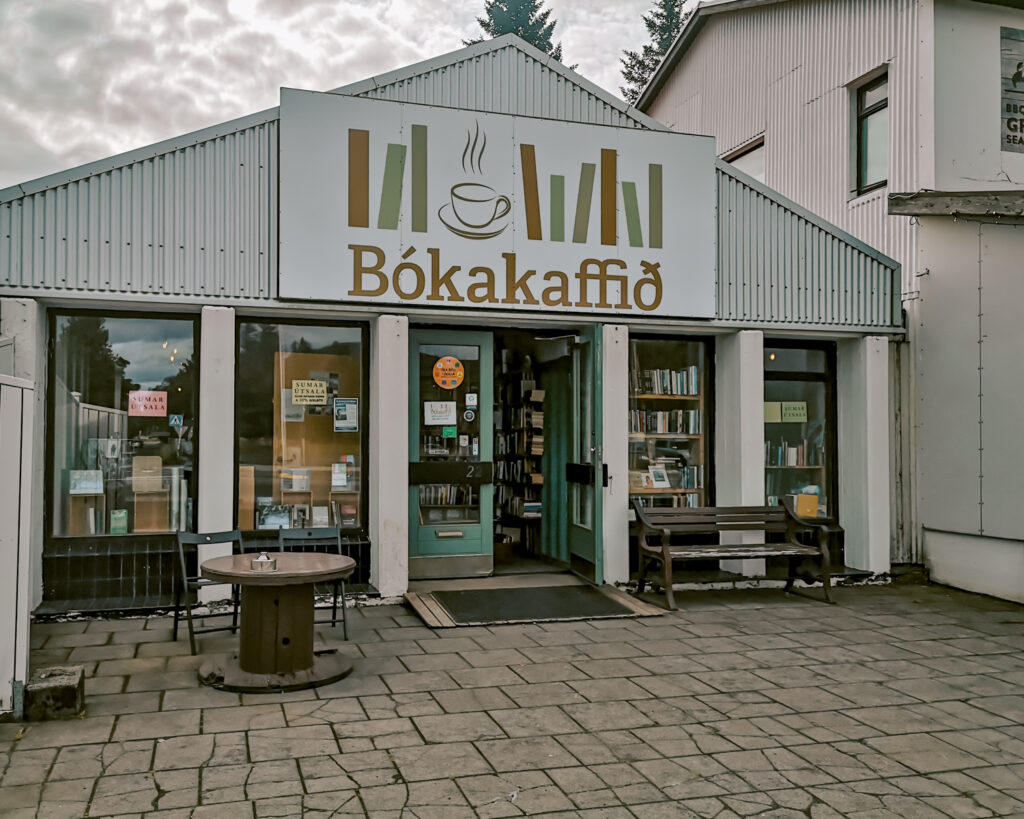 Selfoss is a town in southern Iceland right along Route 1, also known as the Ring Road. It's about 1 hour east of Reykjavik, which makes it a likely place to stop along the way if you're doing an Icelandic road trip.
There are a few worthwhile things to do in Selfoss which makes it one of the best small towns in Iceland to spend a day or two. 
Visit Kerid Crater, which is just a short 15-minute drive north of Selfoss. Kerid Crater is the remains of a volcano which erupted 6,000 years ago. You can spend about an hour here walking a full circle of the crater, admiring the red sand and blue water. You can take the stairs right down to the water's edge. 
Once you're back in the town of Selfoss, visit the Skyrland Museum which is dedicated to education about Iceland's famous yogurt – skyr. You can learn all about Iceland's dairy industry through interactive exhibits and even sample some house-made skyr during your visit.
While you're in Selfoss, make a stop at Bokakaffi, which is a bookstore and cafe. There are books in both English and Icelandic, as well as hot drinks and pastries sold on-site. You can read a book while enjoying a hot drink. This makes for a cozy and relaxing afternoon. especially if you're in Iceland during any of the winter months.
The best way to get to Selfoss is to drive along the Ring Road from Reykjavik, it is highly accessible from this route.
Explored by Kristen of Tiny Footsepts Travel
More Iceland Posts:
Enjoyed these small towns in Iceland? Share it with others or pin it for later!