Looking for some snowflake Instagram captions for the winter season? Here you can capture your photos with these 100+ snowflake captions, cold weather captions, and snowflake quotes for Instagram. 
Grab your coziest blanket and hot cocoa before reading these winter-ful snowflake Instagram captions. 
This article may contain affiliate / compensated links. For full information, please see our disclosure here.
You may enjoy these other related posts:
Snowflake Instagram Captions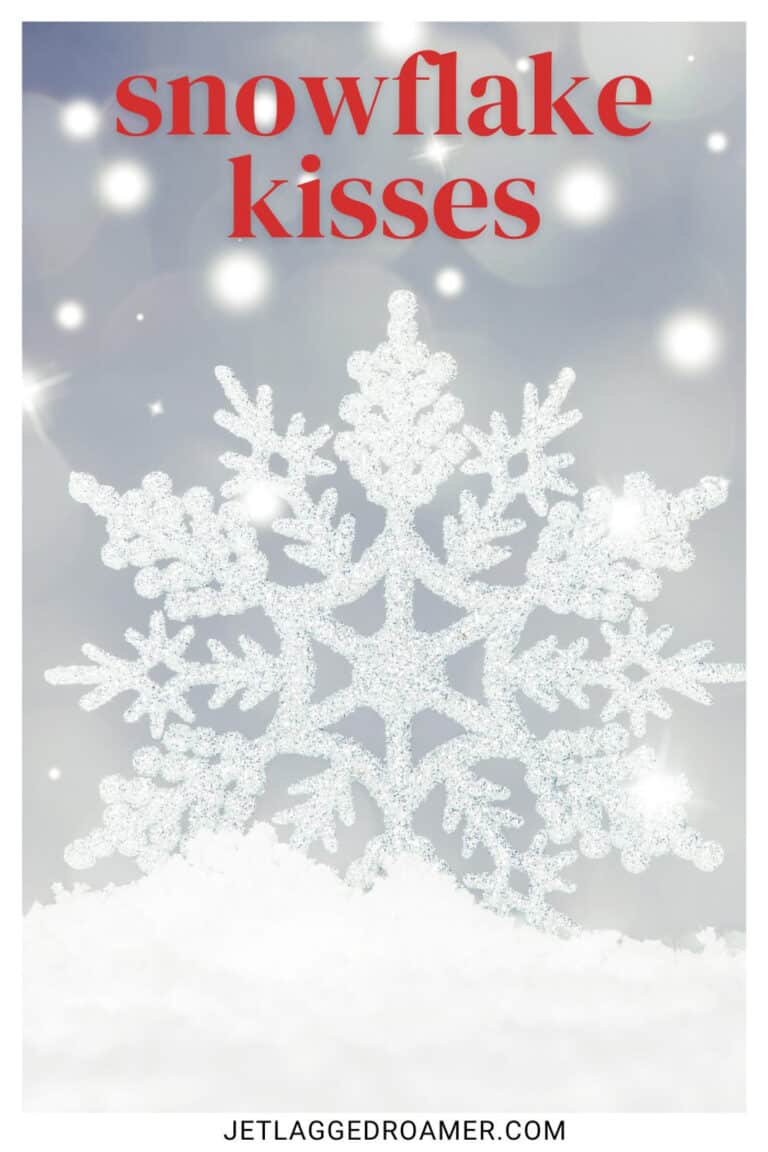 Let's get started with these perfect snowflake Instagram captions for your photos. 
A snowflake is winter's version of a butterfly.
We're all like snowflakes, all different in our own beautiful way. 
If kisses were snowflakes, I'd send you a blizzard.
I love snowflakes!
Catch a snowflake on my tongue. 
What a fluffy snowflake. 
You're unique as a snowflake. 
Snowflakes are all different, just like you. 
Let's dance with the snowflakes under the stars. 
The snowflakes are here!
Snowflakes keep fallin' on my head!
The snowflakes are calling, and we must go outside. 
Catching snowflakes.
Let's count snowflakes. 
Related post: Fall Instagram Captions
Cute Snowflake Captions
Here are some cute snowflake captions to use for your Instagram photos. 
There's nothing better than a snow day with you. 
My snow angel. 
I love you snow much. 
Keep calm and wait for snowflakes. 
Snow much fun! 
It's a winter-ful life.
Hey there snowflake!
Catching snowflakes. 
'Tis the season to sparkle.
I heart snowflakes. 
Snowflakes = magic. 
#snowflakes
Peace, love, and snowflakes.  
If kisses were snowflakes, I'd send you a blizzard.
Snowflake kisses. 
Flake it til' you make it. 
Cue the snowflakes to begin. 
Turning snowflakes into snow cones. 
Best Snowflake Instagram Captions
I found these to be some of the best snowflake Instagram captions. 
Keep calm, enjoy the snowflakes. 
Snowflakes > fall leaves.
Nothing is quite as beautiful like a snowflake. 
When life gives you snowflakes, enjoy the moment. 
Snowflakes are magical. 
Snowflakes are reminders of how beautiful our world is. 
The world is beautiful when you're surrounded by snowflakes. 
Snowflakes make me happy. 
P.S. I love you snowflakes. 
Breathing snowflakes. 
Good friends are like snowflakes—all different and all beautiful.
You may enjoy: Pumpkin Patch Captions For Instagram
Cold Weather Captions 
Here are some cold weather captions to use on your Instagram. 
Here for the snow. 
Freeze the day.
It's never too cold for a walk.
If you need me, I'll be inside until April.
First we walk, then we snuggle. 
Cold hands, warm heart, can't lose.
The temperature can only go up from here.
I can't get out of bed on days when the temperature is less than my age. 
It's colder than my soul outside. '
Tis the season to be freezin'. 
This weather is snow joke.
Our hands may be cold, but at least our hearts are warm.
Just chilling. 
Snow boots and ice and nothing is nice.
The forecast is un-brrr-lieveable.
Funny Winter Captions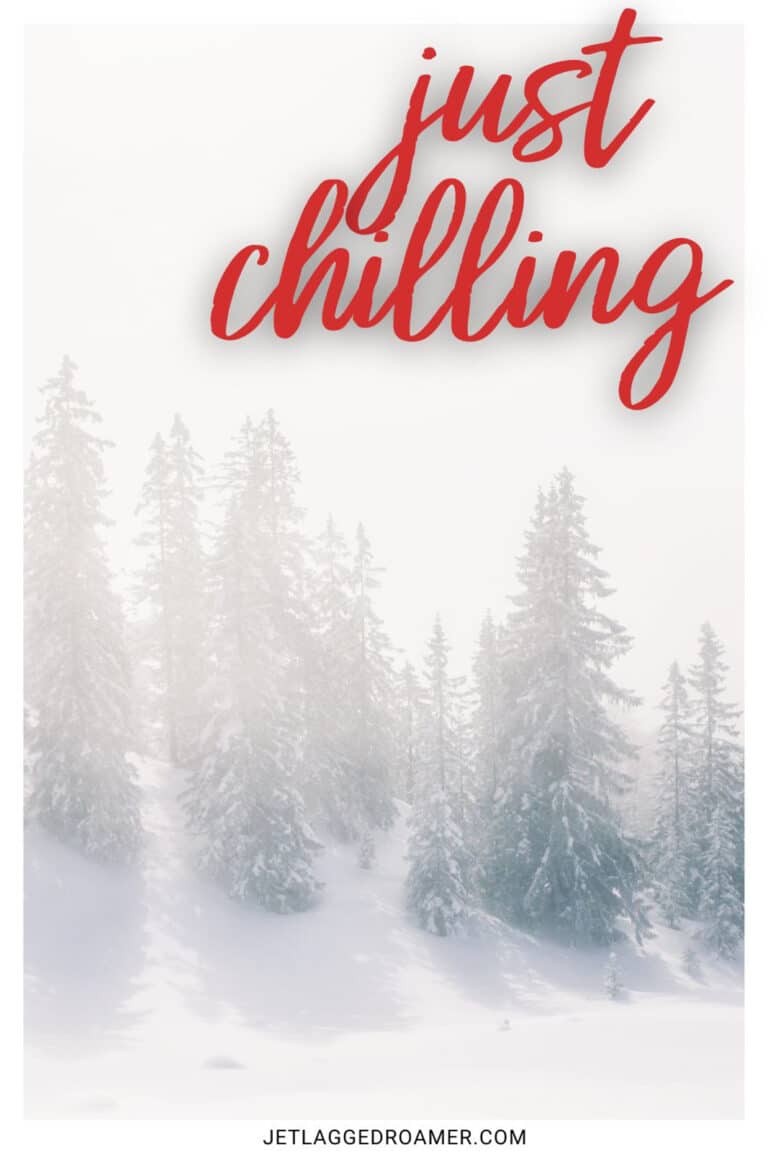 Nothing like a good laugh. Use these funny winter captions for you Instagram photos.
Hibernation mode: On. 
Wake me up when it's summer. 
Every day I'm shovelin'.  
I'm up to snow good.
Love at frost sight.
I only have ice for you. 
It was love at frost sight.
Someone is walking on thin ice.
Dreaming of iced coffee weather … 
Hot chocolate is like a hug from the inside.
I've used so many tissues, it's snot funny.
There's snowplace like home.
I'm giving winter the cold shoulder. 
Walking in a winter pun-derland.
Snow angles > shoveling snow. 
The snowflakes have arrived. 
Winter Activity Captions
Playing in the snow is always fun. Here are some winter activity captions when you're building a snowman or snow angels. 
My favorite outdoor activity is the short walk back inside.  
When it snows you have two choices: shovel or make snow angels. 
When life gives you snow, make snow angels. 
Do you want to build a snowman?
Related post: Star Captions For Instagram
Snowflake Quotes For Instagram  
Love quotes? Use these beautiful snowflake quotes for Instagram. 
"No two snowflakes are alike." – Wilson Bentley 
"We are not living in eternity. We have only this moment, sparkling like a star in our hand and melting like a snowflake." -Francis Bacon
"No snowflake ever falls in the wrong place." – Zen Proverb
"Remember, our souls are like snowflakes, all different and beautiful." – Unknown
"In life, no two days are the same for me. It's like a snowflake." – Bethenny Frankel
"Silently, like thoughts that come and go, the snowflakes fall, each one a gem." – William Hamilton Gibson 
"Snowflakes are snow angels blowing kisses from heaven." – Unknown
"Snowflakes are pretty patterns etched in water's dreams". – Anthony T. Hincks
"Snowflakes are one of nature's most fragile things, but just look what they can do when they stick together". – Vesta M. Kelly
"Nature is full of genius, full of the divinity; so that not a snowflake escapes its fashioning hand." – Henry David Thoreau
"Every snowflake is unique, yet they are each perfect." – Donald L Hicks
"Like snowflakes, the human pattern is never cast twice." – Alice Childress
"Everyone of you has a health that is unique and totally different from everybody else. Completely! Because we… are all like snowflakes." – Lewis Black
"With every falling flake, a unique spark of interest falls from heaven." – Percy Miller
"Didn't I realize that each of us is a sacred, unique snowflake of special unique specialness?" – Chuck Palahniuk 
"Breathin' in snowflakes."-"The A Team" by Ed Sheeran 
"Even the strongest blizzards start with a single snowflake."-Sara Raasch
"Catching snowflakes on your tongue brings you back to childhood." – Laynni Locke
"Her touch was as soft as a snowflake falling onto my skin." – Jennifer Estep
"A flame may love a snowflake, but they can never be together without each harming the other." – Chris Colfer
"Every avalanche begins with the movement of a single snowflake, and my hope is to move a snowflake."– Thomas Frey
"I wish I could press snowflakes in a book like flowers". – James Schuyler
"Your kisses are snowflakes: each one is unique. They land on me, before they melt away and leave me cold." – Joseph Gordon-Levitt
"Love is like a snowflake, it can come to you in any shape or size, and from any direction." – Jennifer LeBlanc
"The present never ages. Each moment is like a snowflake, unique, unspoiled, unrepeatable, and can be appreciated in its surprisingness." – Gail Sheehy
Snowflake Instagram Captions Final Thoughts
Sadly, we have come to an end with these snowflake Instagram captions.  Let me know in the comments below which of these snowflake captions, cold weather captions, and snowflake quotes for Instagram. 
Love quotes and captions? Check out these other posts for your Instagram:
Like these snowflake Instagram captions? Share it with others or pin it for later!