Gonna be stranded during a layover in Zurich with little time to spare? Luckily,  the Zurich Airport offers a lot of amenities to ensure your stopover is somewhat pleasant. But, if you have time, go breath in some fresh Swiss air! This Zurich layover guide includes all the details of what you need to know before leaving the airport and the top 5 things to do in Zurich during your short time. 
Don't forget to use these Zurich Instagram captions for your trip!
This article may contain affiliate / compensated links. For full information, please see our disclosure here.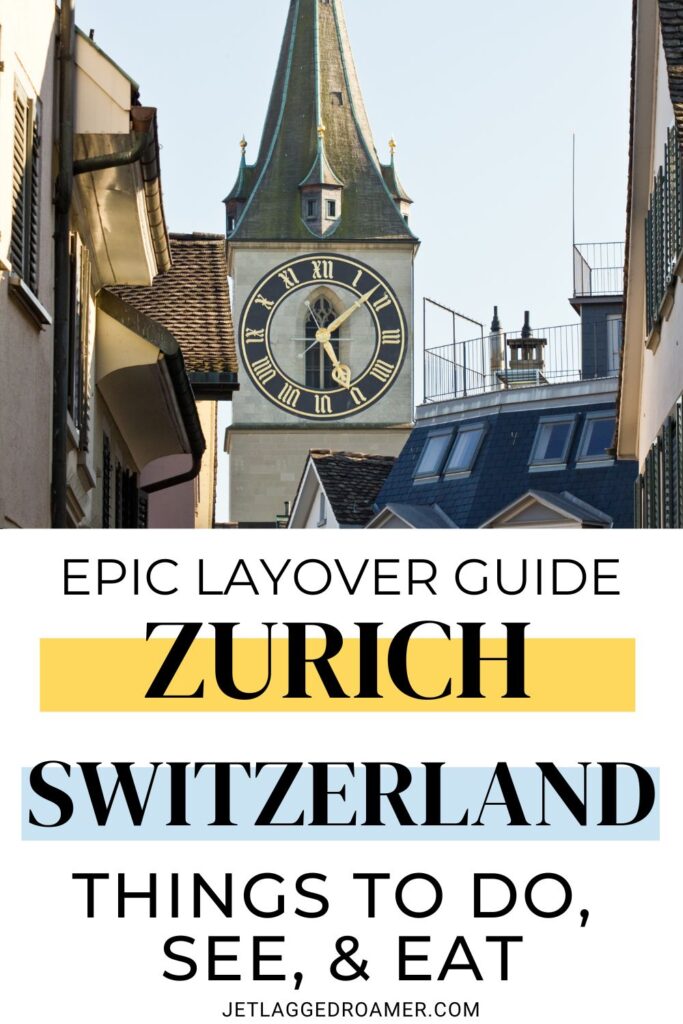 Enjoy quick trips in European cities? Check out these other related posts:
Zurich Layover Guide For A Quick Trip
You may wonder if it's worth leaving the Zurich airport during a layover. If you have 5 hours then there's plenty of time to leave and explore the city. Follow this Zurich layover guide and you will be able to see the best of this bustling city during your short time.
Visa Requirements For Zurich
Transit visas are not necessary to enter Switzerland if you are a citizen of the United States, Canada, Australia, New Zealand, Israel, Singapore, Europe's Schengen Region, the European Union, or the  European Free Trade Association. 
If your country wasn't listed above, you can check out Switzerland's visa requirements for your country before your layover.  
Money Used In Zurich
Switzerland uses the Swiss franc (CHF) and no matter the length of your layover, make sure you pack enough colorful francs in your wallet. Switzerland is ranked one of the most expensive cities in the entire world. The cost of food and activities is pretty pricey.
Money can be exchanged at the airport when you arrive. For information regarding the kiosk terminal locations and opening hours, you can click here for details.
Debit and credit cards are widely accepted and can be used at most places during your Zurich stopover.
Flughafen Zurich Airport
Zurich Airport is the main hub and largest international airport in Switzerland. During your layover in Zurich, consider the time it will take to exit, and can take up to 45-minutes to get through customs. Tourists go through an additional security check when leaving.
What To Do With Your Luggage During A Layover In Zurich
If you happen to be toting around carry-on luggage, there are storage lockers available at the airport and available on levels 1 and 01. 
This is not inside the building you landed. You will need to walk outside of the airport to the building across the street.
The locker price varies on the size of the locker you choose. They come in small, medium, and large sizes.  Prices range from CHF6-CHF9 (~6-9 USD) for the first 12 hours, which should be enough time for a layover in Zurich. You can only pay with CHF or Euro coins, bills are not accepted- lockers are available to use every day 24/7. 
Flughafen Zurich Airport lockers are a little tricky to figure out and it took me a while to figure out how to use them. Let me spare you the frustration and tell you.
Place your carry-on in the locker needed then type in your locker number on the screen before inserting your coins. When payment is complete you will receive a ticket which is your key to open the locker when you return.
Tickets are single-use only, so if you forget something in your bag, you will have to fork over some money to lock your luggage! When you return to scan your ticket at the locker where you left your luggage.  
How To Get Around Zurich For A Layover
Metro

The quickest and easiest way to reach Zurich's city center is its train network. You can reach the city center from Zurich airport in 10- minutes.  Tickets can be purchased at the ticket machines located in Arrival 1 and 2 or can also buy tickets at the SBB ticket counters. Opening hours are from 6:15 AM-10:30 PM. 
If you take the train during your layover in Zurich, I highly recommend purchasing a ZurichCARD for CHF20 ( 21.60-USD) it is good for up to 24 hours. This will be more than enough time for your quick Zurich stopover. The ZurchCARD is cheaper than purchasing one-way tickets. The train will take you directly to Zurich HB Station, which is the exit to arrive in all the action for your Zurich layover.

Taxi
Another comfortable option to reach the city center is by taxi, if traffic conditions are well, it should 15 minutes to reach Zurich's city center. Just beware that Zurich is known to have one of the highest prices per km in Europe. Catching a cab to the city center maybe be quick, but it will cost you around CHF42-63 (42-64 USD) one way.
What To See During A Layover Zurich
Some of the important details are out of the way, let's get started with our Zurich layover guide.
1| Rejuvenate With A Cappuccino
More than likely you arrived in Zurich early morning, Cafe Schurter is the perfect cafe to get a caffeine fix before you start your busy day.
Cafe Schurter is located near the HB station and the border of Old Town. Locals, delicious pastries, steaming hot cappuccinos,  and chummy baristas fill the inside of this cozy cafe. Pair your coffee with traditional Swiss pastries such as hüppen or savory quiche. 
2| Stroll Colorful Zurich Old Town
Take a left outside of Cafe Schurter and walk down to Zurich's Old Town, a colorful famous historical site established in 1893. Along the scenic and bustling cobblestone streets is a plethora of shopping, cafes, and bars.
Old Town runs alongside of some the main attractions in Zurich, and you may end up taking some additional stops on the way. After shopping and walking perch yourself at an outdoor cafe, order a frothy beer, and people-watch in the center.  
3| Chow Down On Some Fondue
What better way to satiate that growling tummy after walking Old Town than with Swiss fondue? One place with some delicious cheese recommended by a local was Swiss Chuchi. It was the first fondue parlor in Old Town. Swiss Chuchi's fondue is out of this world! 
Per the server's recommendation, I ordered the truffle fondue, which comes with bread for dipping and requested potatoes on the side. My mouth is still drooling with the gooey and salty deliciousness of this fondue. Don't rush this meal, enjoy every bite, you planning a trip back just to eat here again.
4| Explore Limmat River
Limmat River lies in the heart of Zurich's city center and is a perfect spot to wander around the river bank and cross over the many bridges. It makes for a great stroll since the scenery is Zurich's stunning architecture. 
One of the many bridges has locks on the gate, you can leave your mark so take a small lock with you. Walking the Limmat River was one of my favorite things to do in Zurich, and super relaxing! 
5| Stroll Bahnhofstrasse
Not to far off from all the attractions is Bahnhofstrasse. Since it's near the train station it's perfect for your last stop before ending your layover in Zurich.
Bahnhofstrasse is Zurich's main downtown street and one of the most expensive streets in the world. High-end stores, tearooms, restaurants, and department stores are found on this side of the city. Stop at one of the many cafes and grab a glass of wine before jumping back on the plane. 
If time permits take a 10-minute walk from Bahnhofstrasse to catch a glimpse of Lake Zurich. 
Zurich Layover Guide: Conclusion
Hope you find this Zurich layover guide helpful for your quick visit. With my step-by-step guide on how to use Google Maps, you can mark all these places to see in this Zurich layover guide to have them at your fingertips for your trip. Have fun!
If you enjoy stepping out of the airport during layovers, check out these other posts:
Like this Zurich Layover Guide? Share it with others or pin it for later!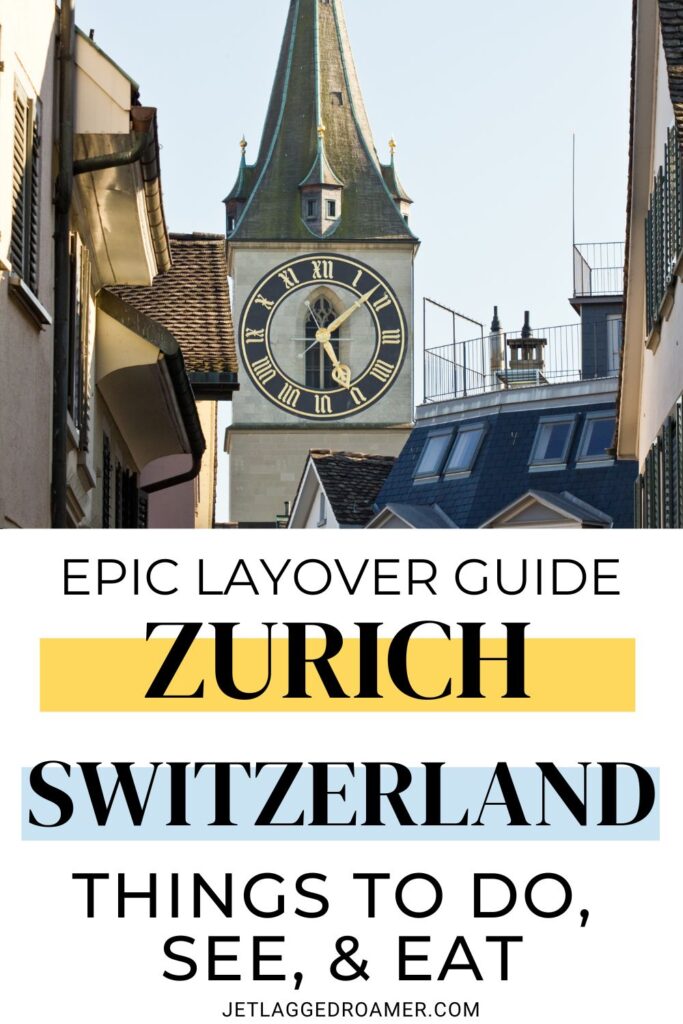 Jetlagged Roamer is a participant in the Amazon Services LLC Associates Program, an affiliate advertising program designed to provide a means for sites to earn advertising fees by advertising and linking to amazon.com, amazon.co.uk, amazon.ca. Amazon and the Amazon logo are trademarks of Amazon.com, Inc. or its affiliates.