Key West offers a charm like no other city in the United States. It's notorious for stunning sunsets, white sandy beaches paired with crystal clear waters, historic attractions, and roosters roaming freely. There is an endless list of things to do in Key West during your visit.
Since you're thinking about heading to this small town soon, this guide has all the best Key West attractions for one fabulous trip!
This article may contain affiliate / compensated links. For full information, please see our disclosure here.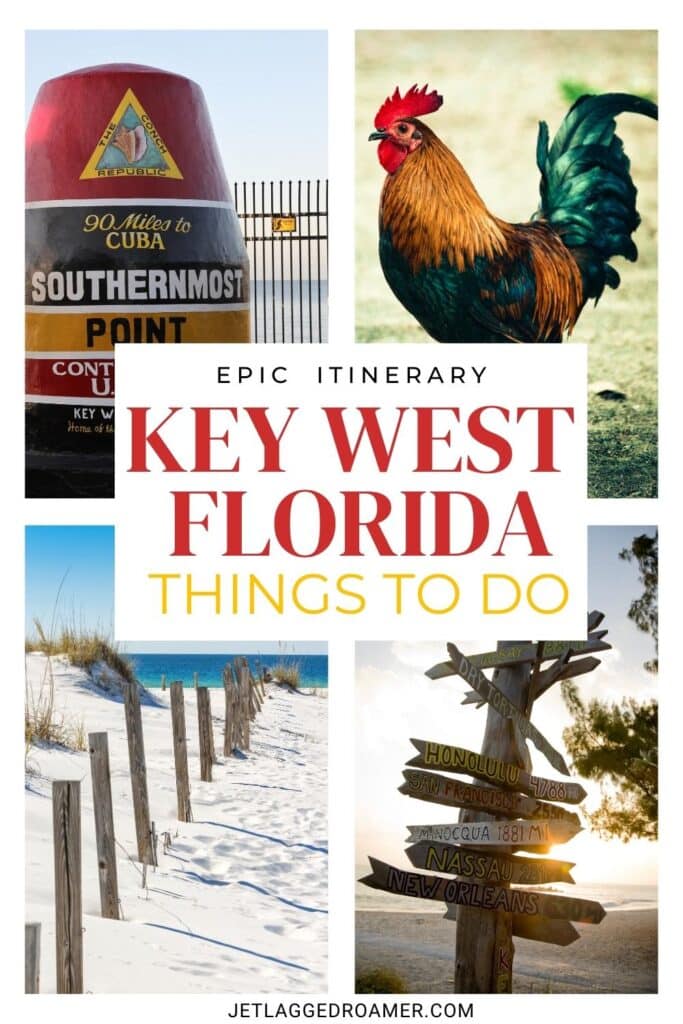 Related posts for more epic Florida adventures:
Epic Things To Do In Key West
Take A Long Stroll On Duval Street
Duval Street is the busiest street and where all the commotion is found in Key West. You will find your way to Duval Street frequently during your visit. 
This bustling road is the perfect spot to shop, eat, and drink with the locals and other tourists. 
If you are looking for some late-night action this is where to go. Duval has several bars and nightclubs that make bar hopping really exciting. 
Explore Key West By Bicycle
One of the best things to do in Key West is exploring the island on a bicycle. It's one spectacular way to explore this quaint town. 
Cycling around the island makes it super easy to park and hop on and off for places you will see along your route. You will quickly see parking by car is nonexistent in Key West. 
More than likely you will grab a seat at one of the open-aired bars and order a frothy cocktail to cool off from the sun. 
Bicycle rentals are fairly cheap and they make it easy to explore the island. Get further details on costs here. 
Sip On Margaritas At Margaritaville
Margaritaville is splashed with island fare and one lively joint to grab a refreshing libation. This famous landmark on Duval is a must-do in Key West during your trip. 
500 Duval St, Key West, FL, Phone: (305) 292-1435
Hours: Everyday 11 AM-9:30 PM
Stroll Key West's Historic Seaport And Harbor
Taking a walk along the Historic Seaport and Harbor is awesome for Key West sightseeing. There are also many exceptional eateries and shops making this harbor deserving of your visit.
If you're looking for free things to do in Key West you will find this to be one amusing stop!
201 William St, Key West, FL, Phone: (305) 809-3790
Hours: Open 24/7
Sip Champagne While Watching The Sunset On A Boat
All aboard! One of my favorite things to do in Key West is watching a killer sunset on a catamaran champagne sunset sail. 
Most of these excursions offer complimentary champagne, beer, wine, and sangria to sip while cruising and inhaling the sea breeze. Get details about booking a catamaran excursion right here. 
Surround Yourself In Beauty At Audubhon House And Tropical Gardens
For a magical experience take a quick tour of this 1840  historic home the Audubhon House and Tropical Gardens. This nursery is an acre of tropical foliage with other gems such as orchids and bromeliads. 
Visits begin with a quick intro regarding the history of the home and after guests are free to view the gardens at their own leisure. 
Admission to enter is $14 for adults, children 6-12 years $5, and kids under 6 are free. 
205 Whitehead St, Key West, FL, Phone: (305) 294-2116
Hours: Everyday 9:30 AM-4:15 PM
Surround Yourself With Butterflies At Key West Butterfly And Nature Conservatory
At the conservatory, you can walk amongst a variety of tropical plants, birds, and hundreds of butterflies inside the greenhouse. 
The Butterfly and Nature Conservatory is one of the many fun things to do in Key West with kids. Adults enjoy this place as well!
General admission to enter the Butterfly House is $12 for adults, children 4-12 years $8.50, and children under 4 are free. 
1316 Duval St, Key West, FL, Phone: (305) 296-2988
Hours: Everyday 9 AM-5:30 PM
Get Out On The Water And Play
For those who are adventurous catch a thrill with the many water sports available in Key West! 
From parasailing, jet skiing, snorkeling, fishing, kayaking, or paddle boarding Key West has a variety of water spots that will satisfy any water lover. 
For those who prefer to stay out of the sea, you may want to opt for dolphin watching, glass bottom boat tour, or coasting on a Schooner.
Prior to your visit, I recommended booking your excursions or tours in advance- especially during the season. Key West's water sports are very popular and do tend to fairly book quickly.
See A Large Tank At Florida Keys Eco-Discovery Center
View an assortment of tropical fish from around the Keys at the Florida Keys Eco-Discovery Center. 
If you love looking at exotic fish and corals up close then you will enjoy their 2500-gallon tank. 
For those traveling with children, the Eco-Discovery Center is one of the things to do in Key West with kids. Get an educational experience while having fun with interactive exhibits about marine life in the Keys.  
The Eco-Discovery Center doesn't cost anything. This is one of the many free things to do in Key West!
35 E Quay Rd, Key West, FL, Phone: (305) 809-4750
Hours: Tuesday to Saturday 9 AM-4 PM
Take A Picture At The Southermost Point
No trip to Key West would be complete without a picture of the Southernmost Point. This large concrete buoy is one of the most famous Key West tourist attractions in the city and the furthest point of the town. 
Just so you know, expect to be greeted with a long line upon arrival for your photo op. Although this staple may not be as thrilling as expected in person it really is a must-see during your trip. 
Whitehead St &, South St, Key West, FL 
Hours: Open 24/7
Take A Ride On The Conch Tour Train
Hop on the world-famous Conch Tour Train to see the city from another viewpoint. Since 1958 this train has been keeping visitors entertained. 
The train will whisk you around to all the top attractions in Key West in 90 minutes. Consider it a quick way to catch a glimpse of all the things to do in Key West. 
See something interesting? You can jump off and explore the site and catch another train when finished. Get more details and rates right here!
303 Front St, Key West, FL, Phone: (305) 294-5161
Hours: Everyday 10:15 AM-4:45 PM
Sunbathe On One Of The Beaches In Key West
Spend a day at one of the beaches in Key West. Although Smathers and Higgs Beach are the most popular, catch some sun rays at Fort Zachary Taylor's State Park instead. In my opinion, it has the best beach in Key West. 
More marine life exists off this beach and it is perfect for a quieter crowd. Fort Zachary Taylor also has concession stands, picnic tables, grills, chair rentals, and public restrooms which will make your beach experience a little more comfortable.
Since it is a State Park it does cost to enter. Admission is $6 per vehicle (2-8 occupants), $2.50 for pedestrians and bicyclists, and motorcycles $4.50.  
601 Howard England Way, Key West, FL, Phone: (850) 245-2157
Hours: Everyday 8 AM-Sundown
READ MORE: Fun Things To Do In Fort Lauderdale & Complete Naples Travel Guide
Dive Deep At The Key West Aquarium
Although the Key West Aquarium may be small, it packs a lot of excitement to keep you busy for a couple of hours out of your day. 
If you're wondering about fun things to do in Key West with kids this place is perfect for little ones. Kids and adults can enjoy viewing and feeding the sharks in the open tank. Children also love the interactive exhibits and performances throughout the day. 
Purchase tickets for the Key West Sea Aquarium here. 
1 Whitehead St, Key West, FL, Phone: (305) 296-2051
Hours: Everyday 10 AM-4:30 PM
Get Cultured At Fort Zachary Taylor Historic State Park
Fort Zachary Taylor Historic State Park is a historic landmark located on the southern tip of Key West, Florida. 
Besides the beautiful beach at the park, you can view the red-brick corridors of the civil war fort. Catch stunning views of the coastline at the top of the fort, take a picture with the cannons, or explore the gun ports. 
Park admission is $6 per vehicle (2-8 occupants), $2.50 for pedestrians and bicyclists, and motorcycles $4.50.  
601 Howard England Way, Key West, FL, Phone: (850) 245-2157
Hours: Everyday 8 AM-5 PM
Get Educated At The Key West Shipwreck Museum
If you're looking for more things to do in Key West with kids, the Shipwreck Museum is an awesome place.  
Inside consists of 2 floors holding genuine artifacts dating back from 1985. Everything was redeemed from ships that crashed around the Florida Keys. 
Get your tickets in advance for Shipwreck Museum right here.
1 Whitehead St, Key West, FL, Phone: (305) 292-8990
Hours: Everyday 10 AM-4:30 PM
See Treasures At Mel Fisher Maritime Museum
At the Mel Fisher Maritime Museum you can find a collection of 17th-century artifacts from shipwrecks. Maritime is also the only museum you can actually touch the treasures from the galleons. 
Cost to enter for adults is $16 and for children (6-12) $7. 
200 Greene St, Key West, FL, Phone: (305) 294-2633
Hours: Tuesday to Saturday 10 AM-4 PM. Closed Sunday & Monday
Dine With Roosters At Blue Heaven
Blue Heaven is an iconic restaurant amongst the locals and serves the best food in Key West. The menu is a fusion of Florida-Caribbean cuisine. Indoor and outdoor seating is available, but I do suggest dining in the courtyard area. 
Outside has roosters roaming about and live acoustic music to serenade you while eating. Sure makes for one entertaining meal. 
No matter how stuffed your tummy may be, don't forget to order their signature Mile High Key Lime Pie. It is absolutely delicious!
729 Thomas St, Key West, FL, Phone: (305) 296-8666
Hours: Everyday 8 AM-2 PM, 5 PM-9:30 PM
Vist The Harry S. Truman Little White House
For history buffs, the Harry S. Truman Little White House is a must-see during your visit to the Florida Keys! Former president Truman made this charming home his winter escape in 1946.
It is such an educational experience and a great way to learn more about American history. 
If you prefer to purchase your tickets in advance you can do so here.
111 Front Street, Key West, Florida, Phone: 305-294-9911
Hours: Everyday 10 AM-3:30 PM
Indulge Yourself With A Slice Of Key Lime Pie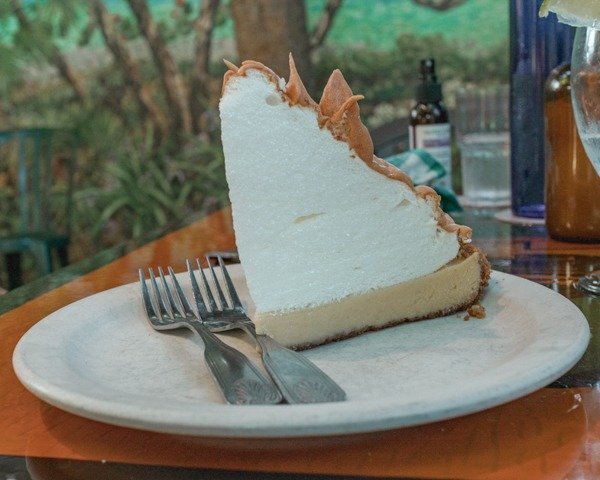 This infamous custard pie mixed with the juice of Key limes can be found on every corner in  Key West. It is the signature dessert here and for those with a sweet tooth, it is not to be missed!
Most restaurants in Key West claim to serve the best Key Lime pie. So I suggest you try as many as you can while there and be the judge!
Take A Day Trip To Dry Tortugas National Park
If staying in Key West for a while, take a quick trip to the Dry Tortugas National Park. This park is 70 miles west of the island situated in the Gulf of Mexico. 
Dry Tortugas is notable for pristine white sand beaches, vibrant turquoise waters, pirate legends, and its untouched beauty.  
For those who love history, Fort Jefferson is the main highlight on the island and is known to be the largest brick building in the Americas. 
Expect a trip here to pretty much consume your whole day. A boat or seaplane is the only way to arrive on the island. For more information regarding packages and reservations for a trip, you can click here. 
Tour Ernest Hemingway Home And Museum
One of the top things to do in Key West is take a tour of the most famed American writer's house. Ernest Hemingway called Key West his home in 1931 and once you visit you will understand why. 
The Ernest Hemingway Home is nestled around lush tropical gardens which is a sight to see. Not only is it beautiful to tour you learn about the famous author's life and where he received his inspiration. 
What makes this place one of the unique things to do in Key West are the 40- polydactyl (6-toed) cats wandering the property. 
Touring the house costs $14 USD. 
907 Whitehead Street, Key West, Florida, Phone: (305)-294-1136
Hours: Everyday 9 AM-5 PM
Chow Down On The Catch Of The Day
B.O.'s Fish Wagon may not have an appetizing exterior, but if you are looking for some super fresh seafood look no further.
Menu is based on the catch of the day and is served fried or grilled. Chow down on their delicious fried shrimp sandwich paired with their homemade fries. 
Many roosters and chickens walk freely inside so don't be alarmed. They mind their own business. 
801 Caroline St, Key West, FL, Phone: (305) 294-9272
Hours: Everyday 11 AM-9:30 PM
Sip On Cocktails Naked At A Rooftop Bar
Sip on a cocktail at a clothing-optional rooftop bar Garden of Eden. This is something I haven't done personally, but I have heard it is one of the places to visit in Key West. To be honest I am not exactly comfortable exposing my birthday suit to strangers. 
224 Duval St, Key West, FL, Phone: (305) 296-4565
Celebrate A Sunset At Mallory Square
Celebrate a sunset in Mallory Square, it is one of the free things to do in Key West. This historic waterfront is the perfect spot to watch a memorable horizon light. Hundreds of tourists and locals flock to this side of the island to watch the sunset and clap when the sun hides. 
Mallory Square has numerous stores, restaurants, museums, and street performances which is one of the many things to do in Key West during the day. But, don't forget to head back to catch one of the most stunning sunsets all over Florida. 
400 Wall St, Key West, Florida, Phone:(305) 809-3700
Hours: 24/7
READ MORE: Top Places To Eat In Miami & Best Hotels To Stay In Miami Beach
How To Get To Key West
You can reach Key West by land, sea, or air. If you're not sure which route to reach the Key, consider the cost and duration of your visit to make the best selection. 
By Land
Car
You can reach Key West by driving and it is one exciting road trip. The Overseas Highway connects the Straits of Florida making it one of the most picturesque drives in the United States.
By car, you will go through all the keys and over the bridges with endless views of turquoise waters. If traffic permits, driving from Miami will take you a little over 3 hours. If leaving or arriving on the weekend, your driving time can double. 
Shuttle
Taking a shuttle is another way to reach Key West from Miami. The shuttle is inexpensive and effortless since someone is doing the leg work of driving. Have your camera ready for the scenic drive there. For information on pricing and availability click here to find out more details.
By Sea
Ferry
Taking a ferry is another affordable option to reach Key West. Fort Myers and Marco Island are the only cities in Florida that have vessels to take you to the southern key. Unless you plan on visiting one of the cities or live nearby a ferry may not be the best option. 
To find out more details on pricing and departures click here.
Cruise
Cruises to Key West are available from Miami's port. Just keep in mind your stay will be limited, and more than likely you will make other stops to the Bahamas or Mexico.
By Air
Reaching Key West by plane is one of the quickest but more expensive options.  There are five airlines that operate daily flights to Key West International. You can book with American, Silver Airways, United, Southern Airways Express, or Delta. Depending on where you are departing from expect a layover through Atlanta, Miami, or other airports here in Florida. 
Google Flights is great for searching for amazing deals. 
When To Visit Key West
Being the Southernmost tip of Florida, Key West has a tropical climate year-round. You can always expect sunny weather and clear blue skies. 
Being a local, I avoid this part of the state during June through November when it is sweltering outside. These months are considered low season and hotel prices will be cheaper. Hurricane season is around this time so you may experience heavy rain some days. Don't stress too much about it though, the showers only take up about an hour of the day. 
For a tad bit cooler weather if heat isn't your forte, I suggest visiting between December and mid-April. You are more than likely to get a reprieve from the heat, but since it is peak season expect hotel prices to be more expensive. 
During March you might want to reconsider visiting unless you don't mind Spring Breakers accompanying you during your trip. Bars will be overcrowded and there may be some unruly behaviors. 
Where To Stay In Key West
There are plenty of hotels in Key West to appease every traveler. If you're looking to stay in a luxurious resort, a cozy bed, and breakfast, or a budget-friendly option you will find it easy to find a room within your price range. 
To book a hotel in Key West I find using booking.com to be a smooth and quick process. 
TIP: If you plan on catching up on some zzz's, avoid booking near the western side of Duval Street where it tends to be a little noisier.
How To Get Around Key West
Due to Key West's small size, you can reach where you need to go fairly quickly. Depending on where you are staying, some places are within walking distance. But, even though the island may be tiny, you do need some wheels to reach a few places you want to go. 
By Car
Getting around Key West by car is the quickest way to get around. If you plan on renting a car just know parking is extremely limited. Avoid searching for a parking spot and opt for an Uber. 
By Bicyle
My favorite and funniest way to get around Key West is by bicycle. What better way to explore this charming town and get in a workout too? To find out more about pricing and deals click here!
By Scooter Or Electric Car
Another way to get around the island is by renting a scooter or electric car. Just don't forget you still have to deal with the headache of parking if you choose an electric car. Click here for more details regarding rental costs.
Tings To Do In Key West, Florida Conclusion
 Hopefully, this read gave you plenty of ideas for things to do in Key West. As a Miami local I visit this gem frequently to escape the city noise. Key West is the perfect place for one awesome laid-back trip. Have fun, be safe, and don't forget to enjoy yourself!
Why not visit some other places in Florida while here? Check out these related posts:
Like this pin about things to do in Key West? Share it with others or pin it for later!