Traveling solo may have its perks, but when you're with a friend it can leave you with everlasting memories that are priceless. So if you're getting ready for a travel adventure or strolling down memory lane with the bestie, I have compiled a list of best friend travel quotes to share with your BFF.
This article may contain affiliate / compensated links. For full information, please see our disclosure here.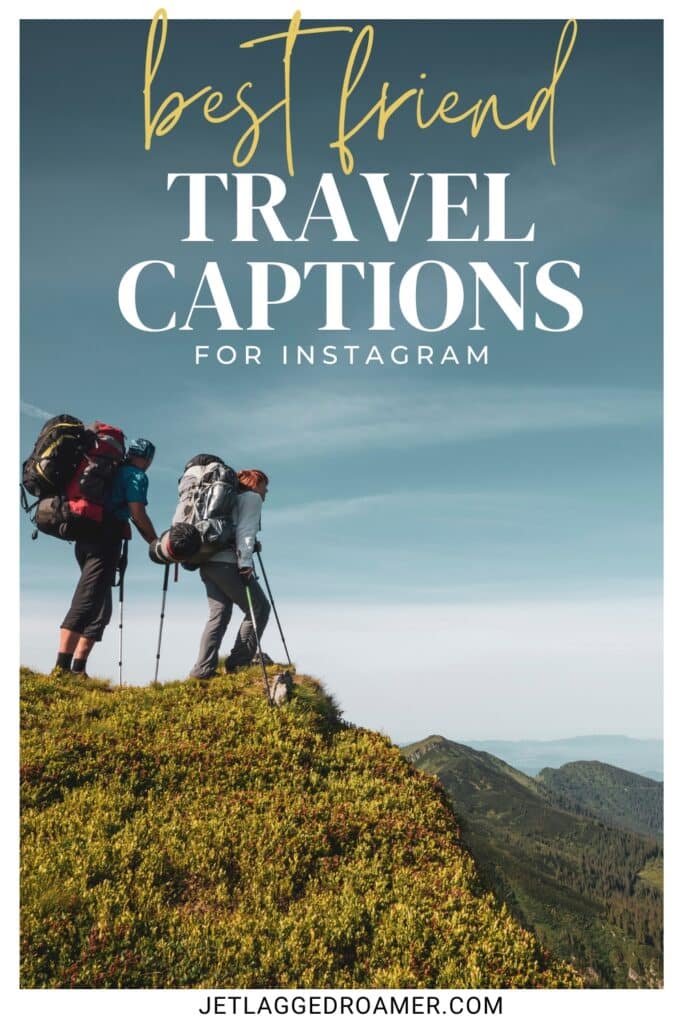 Other quotes related posts:
Best Friend Travel Quotes
Time to grab your BFF and share these friend travel quotes. Be prepared to laugh, cry, and reminisce on all the exciting adventures you had together!
Inspirational Best Friend Travel Quotes
1|"There is an unspoken bond you create with the friends you travel with." – Kristen Sarah
2|"Good friends follow you anywhere." – Winnie the Pooh
 3|"Don't walk in front of me; I may not follow. Don't walk behind me; I may not lead. Just walk beside me and be my friend." – Albert Camus
4|"Having a best friend is like having your own little corner of the world to escape to." – Unknown
5|"True friendship comes when the silence between two people is comfortable." – David Tyson
6|"Lots of people want to ride with you in the limo, but what you want is someone who will take the bus with you when the limo breaks down." – Oprah Winfrey
7| "Friends that travel together, stay together."- Unknown 
8| "You can pack for every occasion, but a good friend will always be the best thing you could bring!"- Unknown 
9|"True friends never apart maybe in distance never in heart." – Helen Keller
10| "We are all travelers in the wilderness of the world & the best we can find in our travels is an honest friend." – Robert Louis Stevenson 
11|"Life was meant for good friends and great adventures." – Unknown 
12| "Travel is better with friends." – Unknown
 13|"It Doesn't Matter Where You're Going, It's Who You Have Beside You."- Unknown 
14|"Good company in a journey makes the way seem shorter." — Izaak Walton
15| "Will you come travel with me? Shall we stick by each other as long as we live?" — Walt Whitman
16| "Walking with a friend in the dark is better than walking alone in the light." – Helen Keller  "Friendship isn't about being inseparable…it's being separated and knowing nothing will change." -Unknown
17| "Some souls just understand each other upon meeting" – N.R Hart
18|"A true friend is someone who thinks that you are a good egg even though he knows that you are slightly cracked."– Bernard Meltzer
19| "To the world you may be just one person, but to one person you may be the world."– Brandi Snyder
20| "Traveling in the company of those we love is home in motion." — Leigh Hunt 
21|"You travel faster alone, but farther together." — Michael Benanav
 22| "Nothing makes the earth seem so spacious as to have friends at a distance; they make the latitudes and longitudes."- Henry David Thoreau 
23|"I get a friend to travel with me… I need somebody to bring me back to who I am. It's hard to be alone." – Leonardo DiCaprio 
24|"People Don't Take Trips, Trips Take People."– John Steinbeck
25|"The real test of friendship is can you literally do nothing with the other person? Can you enjoy those moments of life that are utterly simple?"– Eugene Kennedy 
26|"It is not the destination where you end up but the mishaps and memories you create along the way!"– Penelope Riley 
27|"When traveling life's journey, it's good to have a friend's hand to hold on to." – Unknown
28| "The best things in life are the people we love, the places we've been, and the memories we've made along the way." – Unknown 
29|"I want to travel the world with you."- Unknown
30| "I would like to travel the world with you twice. Once, to see the world. Twice to see the way you see the world."- Unknown
31| "Surround yourself with people who make you hungry for life, touch your heart, and nourish your soul." – Unknown
32|"Friends are as companions on a journey, who ought to aid each other to persevere in the road to a happier life." — Pythagoras
33|"The most beautiful things in life are not things. They're people and places, memories, and pictures. They're feelings and moments, and smiles and laughter." — Unknown 
34|"We live in a wonderful world that is full of beauty, charm and adventure. There is no end to the adventures we can have if only we seek them with our eyes open." – Jawaharlal Nehru
34| "I want to travel the world with you."- Unknown
35| "Home is not where you are from, it is where you belong. Some of us travel the whole world to find it. Others, find it in a person." – Beau Taplin 
36|"Life is either a daring adventure or nothing."– Helen Keller 
37|"The more I traveled, the more I realized fear makes strangers of people who should be friends."- Unknown
Related Post: Funny Travel Quotes
Funny Friend Travel Quotes
Alright, so after reading those mushy friend travel quotes  you can put the Kleenex away. It is time for a laugh. Here are some funny quotes about traveling with friends. More than likely if have had your adventures with your 'partner in crime' you can relate to these best friend travel quotes. 
38| "Sometimes all you need is a great friend and a tank of gas." – Thelma and Louise
39| "A good friend listens to your adventures. Your best friend makes them with you." – Unknown
40|"There is nothing like puking with somebody to make you into old friends." – Sylvia Plath
41|"A good friend listens to your adventures. Your best friend makes them with you."-Unknown 
42| "Life is about doing things that don't suck with people who don't suck."-Unknown 
43|"Everyone needs this friend that calls and says, "Get dressed, we're going on an adventure."- Unknown 
44|"You and me, we are more than friends. We are like a small travel gang!"- Unknown 
45| "I have found out that there ain't no surer way to find out whether you like people or hate them than to travel with them." – Mark Twain  
46|"Never go on trips with anyone you do not love." – Ernest Hemingway
 47|"Only the people you don't know well enough seem normal. Every person you know well enough is odd, weird and different. This is called friendship!" – Unknown 
48|"Friends, sun, sand and sea. That sounds like a summer to me."- Unknown
49| "The fastest way to make a friend for life is to travel with a stranger." – Unknown 
50|"As Soon As I Saw You, I Knew A Grand Adventure Was About To Happen."-Winnie The Pooh 
51|"We've been friends for so long I can't remember which one of us is the bad influence."-Unknown
52|"Let's find some beautiful place to get lost together."- Unknown
53|"There Is A Whole World Out There. Pack Your Backpack, Your Best Friend And Go."- Unknown
54| "Sharing adventures means enjoying them 100% more."- Unknown 
55|"Sometimes me think, "What is friend?' Then me say, 'Friend is someone to share the last cookie with." -Cookie Monster
56|"Some people go to priests. Others to poetry. I to my friends." —Virginia Woolfe "
57|"Best friend: the one you can only get mad at for a short period, because you have important stuff to tell them."- Unknown
58|"If you want to go fast go alone. If you want to go far go together." – African Proverb
59| "Each friend represents a world in us, a world possibly not born until they arrive." – Anais Nin
60|"When you get lost in a really strange place, nothing is more comforting than finding your friend whom you trust and can show the way." – Toba Beta
61|"Let's travel together, and get lost in beautiful places." — Unknown 
62|"As with any journey, who you travel with can be more important than your destination." — Gossip Girl 
63|"I wanna travel the world with you, go to every country, every city, take pictures, and be happy." — Unknown
64| "A friend knows the song in my heart and sings it to me when my memory fails."– Donna Roberts 
65|"Oh darling, let's be adventurers."-Unknown
66|"Tis the privilege of friendship to talk nonsense, and to have her nonsense respected."– Charles Lamb 
67| "Mighty proud I am that I am able to have a spare bed for my friends."— Samuel Pepys
68|"Good times and crazy friends make the best memories" – Unknown 
69|"Friends make the world go 'round" – World Wild Hearts
70|"In the end, what you do isn't going to be nearly as interesting or important as who you do it with."–  John Green 
71|"Tell me with whom you travel, and I'll tell you who you are."- German Proverb
72|" A daring adventure with your best friends might be just what the doctor ordered."- Unknown
73|"Life by the water is always better, especially with a few good friends in tow."– Unknown 
74|"No road is long with good company."– Turkish proverb 
75|"Our goal is to run out of pages in our passports."- Unknown 
76|"I want to travel the world with you, go to every country, every city, take pictures and be happy."- Unknown
77|"The best way to form a song bond with someone is to travel with them."- Unknown
78| "I would gladly live out of a suitcase if it meant I could see the world with you."-Unknown 
79|"Let's go on an adventure. I'll make some sandwiches and a flask of tea, we'll get out walking boots on and get lost somewhere." – Unknown
80|"When traveling with someone, take large doses of patience and tolerance with your morning coffee." – Helen Hayes 
81|"You keep me safe, I'll keep you wild."- Unknown
82| "The tans will fade but the memories will last forever"- Unknown
83| "There are no strangers in this world, only friends I haven't met yet."- Unknown
84|"Good friends are like stars. You don't always see them, but you know they are there."-Unknown
85|"Be careful whom you make memories with. Those things can last a lifetime." – Ugo Eze
86|"Travel has a way of removing the gaps in your friendship timeline."- Unknown
87| "Travel only with thy equals or thy betters; if there are none, travel alone." –The Dhammapada
88| "You never really travel alone, the world is full of friends waiting to know you"- Unknown 
89|"Friends are like walls, sometimes you lean on them and sometimes it's good just knowing they're there."- Unknown 
90| "You cannot do epic s**t with basic people."- Unknown
91| "Don't make friends who are comfortable to be with. Make friends who will force you to lever yourself up."-Thomas J. Watson
Best Friend Travel Quotes Conclusion
I really enjoyed writing this post and collecting a list of best friend travel quotes. It brought back memories of epic trips I have taken with my gals. Please comment below and tell me which one of these friend travel quotes was your favorite. And, please share any friend travel quotes you may have. 
Love travel quotes and want more? Check out my other posts with quotes you will enjoy.
Need inspiration on where to travel next with the bestie? Watch these travel movies that will spark both of your wanderlust!
Like this post on top Friend Travel Quotes? Share it with others or pin it for later.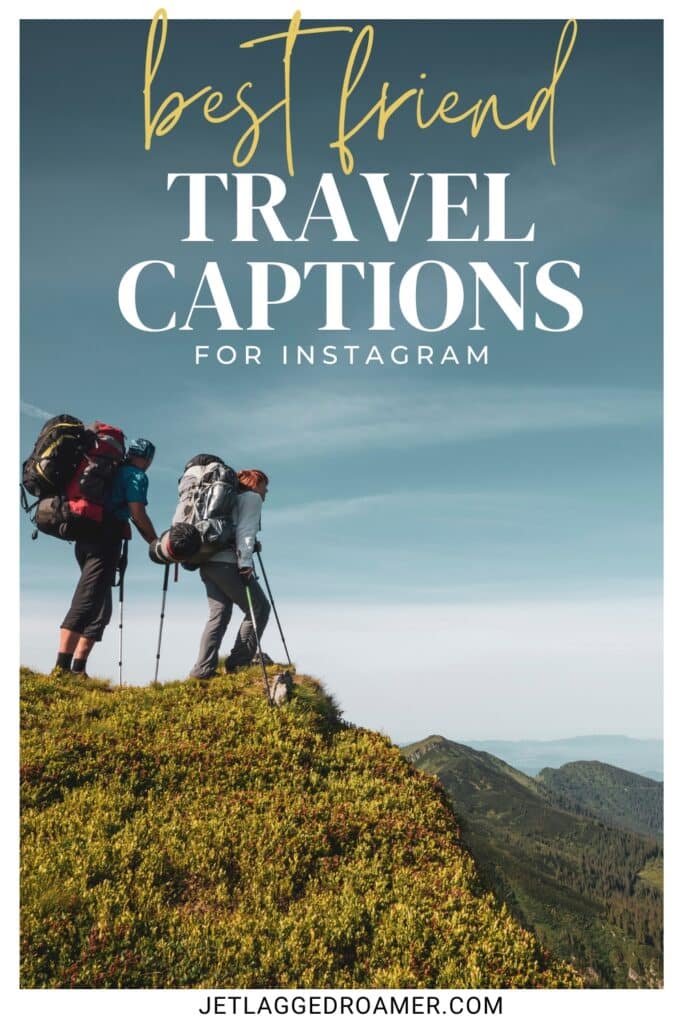 ​HELP: I was unsuccessful in finding the author of some of these funny travel quotes. Please leave me a comment or send me a message if you know who the author is so I'm able to give them credit.