Looking for some rooftop captions? Well, you come to the right spot. Here I have 127 rooftop Instagram captions, rooftop puns, and rooftop quotes. 
Whether you're watching a sunset from a rooftop in Havana, Panama City, Miami, or Antigua, this curated list of rooftop captions is bound to capture those views! 
Without further ado, let's being with these top rooftop Instagram captions. 
This article may contain affiliate / compensated links. For full information, please see our disclosure here.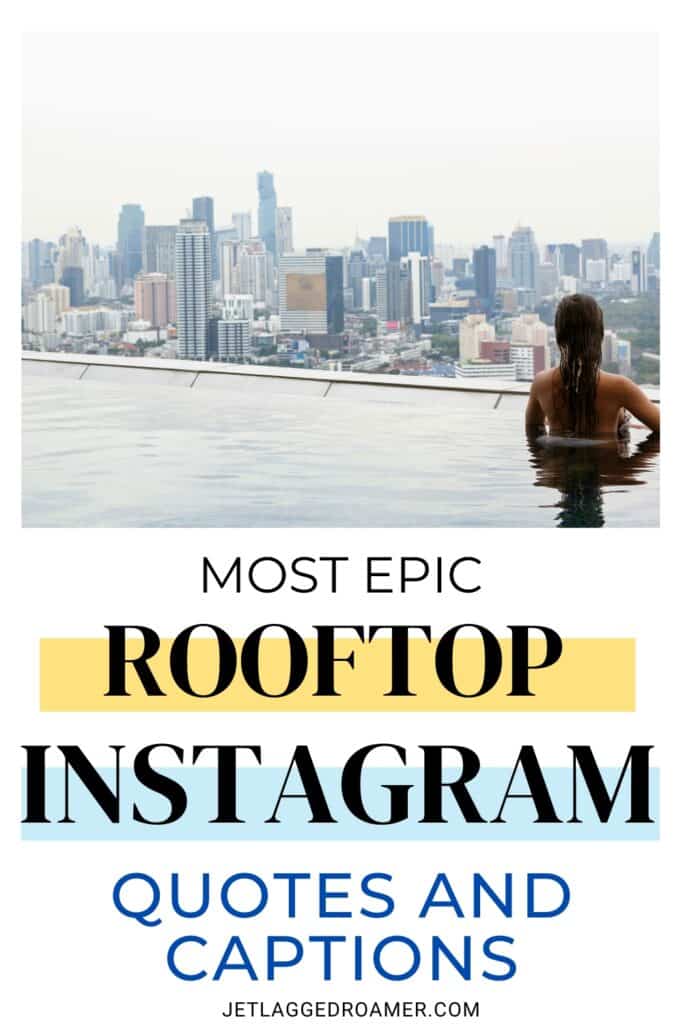 Related posts:
Scroll-Stopping Rooftop Captions
When the views leave you speechless these rooftop captions, rooftop quotes, and rooftop puns will give you the words you need.
Cute Rooftop Captions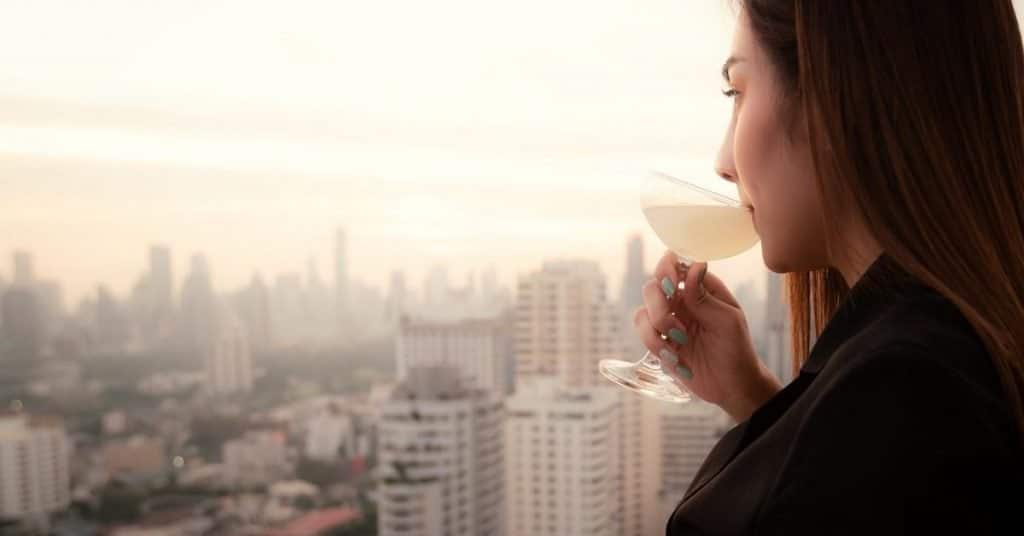 1. It's summer. Let's climb to the roof. 
2. I just need more views like this.
3. The climb may be tough, but the view from the top is always better. 
4. Don't look back, unless it's a good view. 
5. Take me to the top of the city. 
6. Meet me on the rooftop.
7. Dear rooftop views, I think about you all the time.
8. Current mood: Taking this summer to new heights.
9. Life is much easier when you just chill out. 
10. Leave the drama down there. Let's party up here. 
11. Don't be surprised if I never come down. 
12. If you're looking for me, I'll be here all summer. 
13. My attempt at Wanderlust. 
14. Where else you find such lighting?
Short  Rooftop Captions 
15. Girls just wanna have sun. 
16. This belongs to everyone. So enjoy the view. 
17. I choose the view over you.  
18. Sky above, earth below. 
19. This view is pure magic.
20. More rooftops, less worries. 
21. This is my happy place.
22. The natural filter. 
23. Rooftop vibes. 
24. Rooftop mode: ON.
25. Staying here forever. 
26. Alexa, play Golden Hour.
27. The sky and I. 
28. Adventure awaits.
29. Life isn't perfect, but this view is. 
30. Taking life to new heights. 
31. Straight to the top. 
32. For those first few eye contacts. 
33. High in the sky. 
Inspirational Rooftop Captions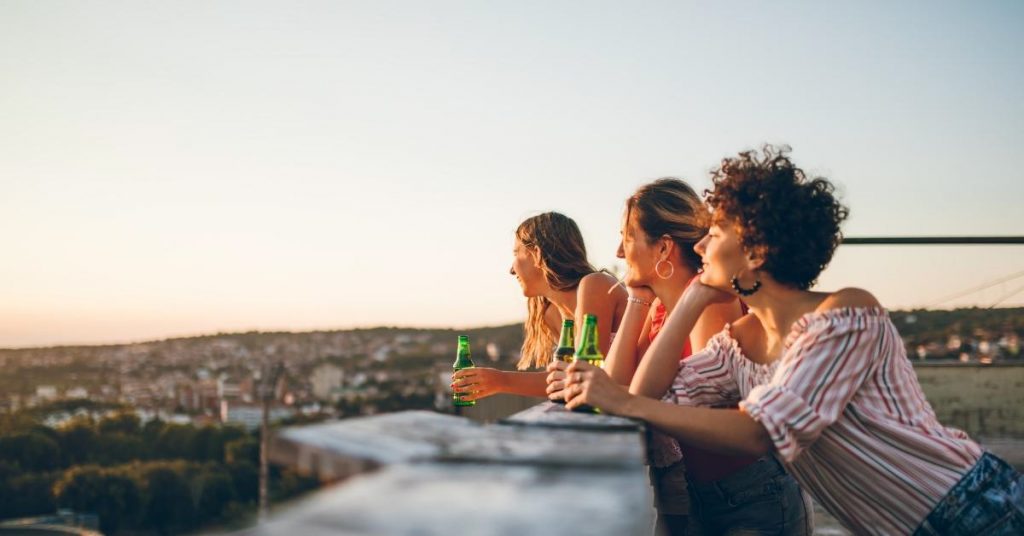 34. Let's sit on a rooftop at 2 a.m. and talk about life. 
35. My favorite way to rise above the BS? Rooftops. 
36. Life is short. Stay awake for it.
37. This city belongs to everyone. So enjoy the view. 
38. You don't need magic to disappear, all you need is a rooftop.
39. Don't look down…. unless you are looking at the view. 
40. You can never spend too many nights on the rooftop. 
41. Sitting on the edge is the most dangerous task you'll ever think about. 
42. If you've got something to say, say it from the rooftops. 
43. All of a sudden my problems seem to look smaller from up here. 
44. My favorite way to rise above the haters? Rooftops.
45. The climb may be tough, but the view from the top is always better. 
Beautiful Rooftop Captions
46. Up here, nothing else matters, except the stars. 
47. Stay close to people who feel like sunlight.  
48. Up here, my troubles seem to fly away. 
49. There is something magical about rooftop views.
50. I wanna sit on a rooftop with someone at 3 am just looking at the stars. 
51. Sometimes, all you need is a change in scenery. 
52. The most beautiful thing under the sun is being under the sun. 
53. The only place with the right and wrong direction right in front of your eyes. 
Rooftop Quotes For Instagram Captions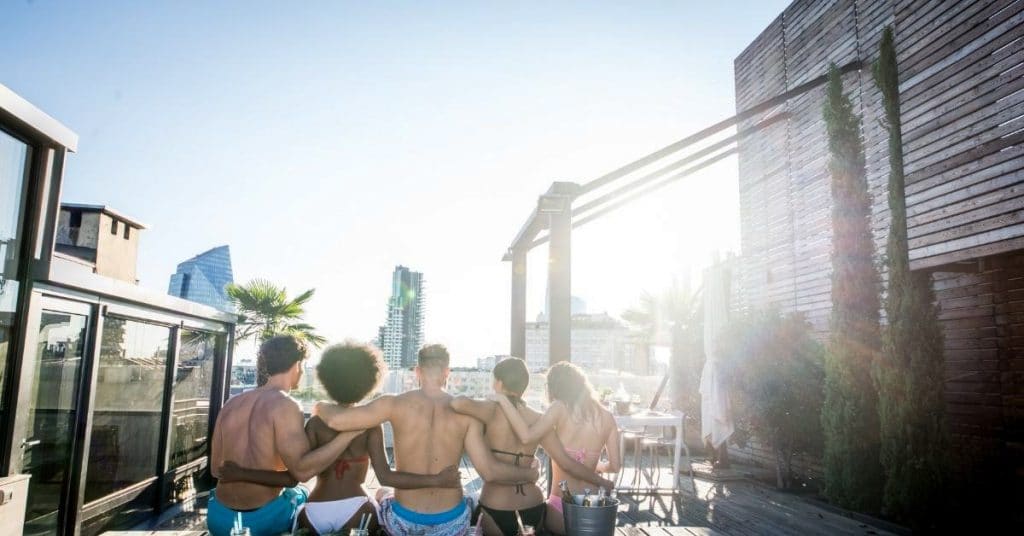 54. "Mine was the twilight and the morning. Mine was a world of rooftops and love songs." — Roman Payne  "
55. The most profound discoveries are often in plain view, you just need to know where to look for them." ― Steven Magee 
56. "City of stars, are you shining just for me?" — La La Land
57. "I'm gonna soak up the sun." — Sheryl Crow, "Soak Up The Sun
58.  "Life is truly made of small moments like this" – Above and Beyond 
59. "Find your voice, shout it from the rooftops, and keep doing it until the people that are looking for you find you." – Dan Harmon 
60.  "Views" – Drake
61. "If you want to change yourself, you have to change your point of view." — Nina Hrusa
62. "Sunsets are proof that no matter what happens, every day can end beautifully." — Kristen Butler 
63. "They will see us waving from such great heights." — The Postal Service, "Such Great Heights"
64. "I love views that make me realize most of my problems aren't that big of a deal." — Anthony Gucciardi
Funny Rooftop Captions & Rooftop Puns
65. Life is short, that's why I'm on my second glass of wine.
66. Don't worry, beer happy. 
67. Raising the roof up here. 
68. When in need of an escape, the rooftop awaits.
69. Rooftop bars are my favorite. 
70. Money can't buy happiness, but it can buy drinks on a rooftop. 
71. Pretty fly for a mai tai. 
72. Born to rum. 
73. From another point of view.
74. Life is better from above. 
75. Rooftop state of mind.
76. Life is short, spend more time on the rooftops. 
77. Mojito mo'fun. 
78. Hello my old friend Happy Hour, it seems we meet again.
79. High everyone!  
80. Soup of the day: Tequila. 
Rooftop Captions For Instagram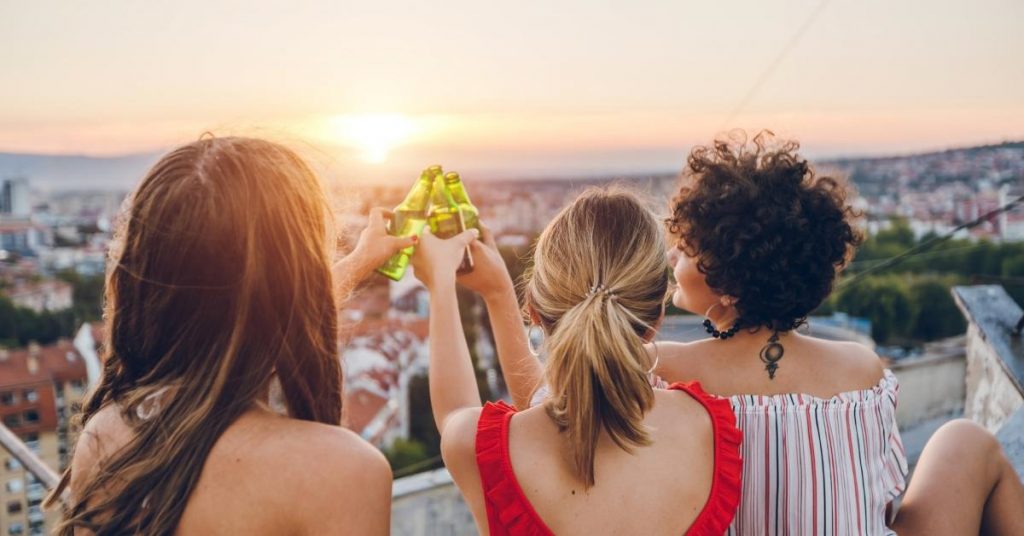 81. With views like these, who needs enemies? 
82. Came for the party, stayed for the view. 
83. Work hard so that you can enjoy the view.  
84. Are the stars shining just for me? 
85. That happy place you long for. 
86. Sit back and enjoy the view. 
87. Nothing but endless drinks and city views. 
88. There is no place like the rooftop.
89. I am never leaving this rooftop.
90. If the question involves a rooftop, my answer is yes. 
91. Summer nights and city lights. 
92. To be in contact with the world without being in contact with the world. 
Rooftop Instagram Captions 
93. What were you saying? I got lost in the view.
95. If it's up, then it's up, then it's up, then it's stuck. 
96. The breathing ground for many romances. 
97. Paradise doesn't have to be tropical.  
98. The on the go photo studio. 
99. The best days end on a rooftop. 
100. Rooftops are always a good idea. 
101. The stars shine brighter from the rooftops.
102. What happens on the rooftop, stays on the rooftop.
103. If you need me, I'll be busy enjoying these views.  
104. Couldn't make it to the beach, so this rooftop party had to do.
Balcony Captions For Instagram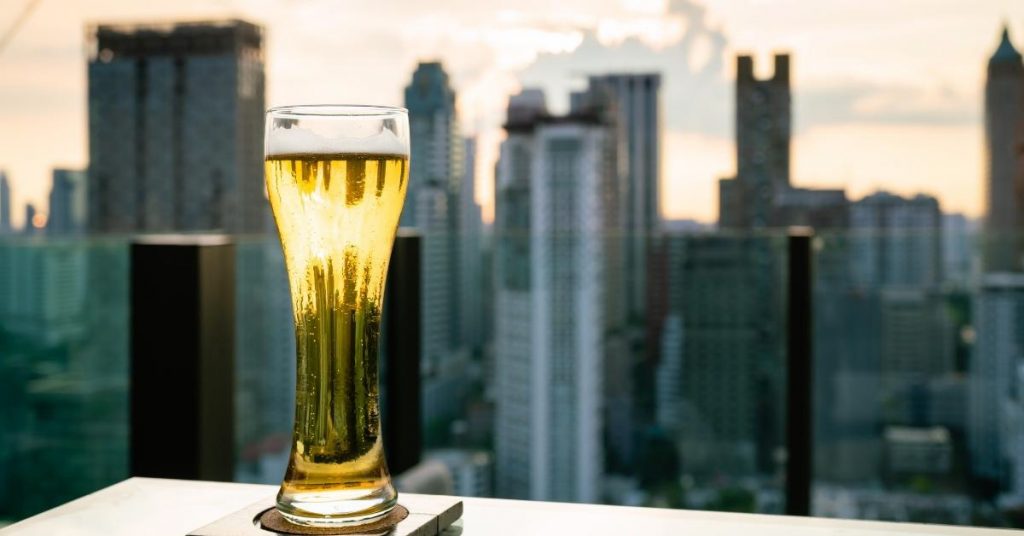 105. Who doesn't want to sit on the balcony and just keep staring forever? 
106. When in need of a background, the balcony never fails. 
107. The sun sets more beautifully from the balcony. 
108. The weather is never unpleasant on the balcony. 
109. The moon always looks closer and brighter when I see it from my balcony. 
110. A balcony's tale is always heard but never noticed. 
111. Your personal and personalized mind palace. 
112. A balcony holds numerous stories. 
113. The thin line between creativity and insanity. 
114. Even the air whispers in a balcony. 
115. Wi-fi might be weak but the connection will always be strong. 
116. A bed lover sleeps while a balcony lover peeps. 
117. People should really start saying 'your balcony or mine?'
118. The view from my balcony is my portrait of the city. 
119. A balcony is a bridge a person of sound mind doesn't cross. 
120. Cry me a river? Nah. Build me a balcony. 
121. The unofficial workspace. 
122. Sit and observe for everyone has a story to tell. 
123. Your place to embrace. 
124. Your bridge to another world. 
125. A book and a balcony with a view is all we need to get lost. 
126. When in need of an escape, the balcony awaits. 
127. Balconies are for dreamers. 
Rooftop Captions & Rooftop Puns Conclusion
I hope you enjoyed these rooftop captions. Sitting on a rooftop overlooking a city can leave some of the most memorable experiences. There is a rooftop caption, rooftop pun, and rooftop quote for any photo. So tell me in the comments below which rooftop caption was your favorite? 
Inspired by quotes and captions? Check out these other related posts: 
Like this post on rooftop captions? Share it with others or pin it for later!