Looking for some awesome Hawaii captions for Instagram? This tropical island's lush mountains, pristine beaches, and laid-back vibes can leave you pretty speechless. With my list of over 120 Hawaiian captions, Hawaii puns, and Hawaii quotes you are bound to find the right words to capture your Instagrammable moment. 
Without further ado, let us get started with these Instagram captions for Hawaii. 
This article may contain affiliate / compensated links. For full information, please see our disclosure here.
Related posts for your trip to Hawaii:
Hawaii Captions For Instagram 
From spotting sea turtles, chasing waterfalls, surfing waves, and getting sunkissed at the beaches. Get inspiration and capture the best adventures with this Kauai itinerary and Oahu travel guide. Don't forget to use these Hawaii captions to capture your time in the state of rainbows and sunshine.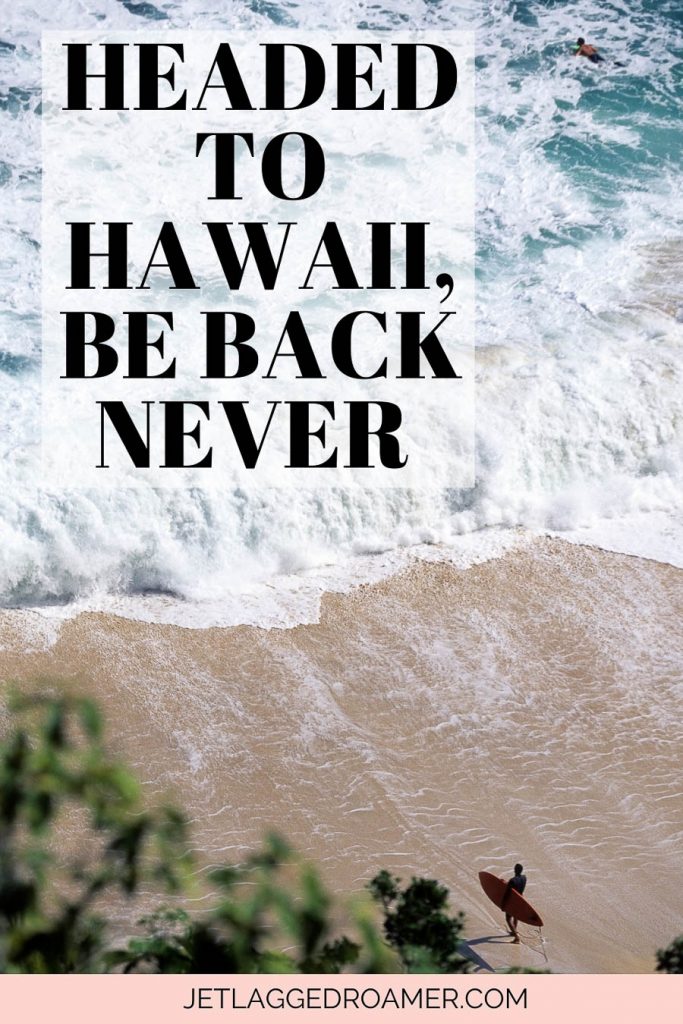 Headed to Hawaii, be back never. 
 Eventually, I want to move to Hawaii and chill forever.
 I left my heart in Hawaii. 
 If found, please return to Hawaii.
 Hawaii made the mouth of her soul water.
 You can't buy happiness, but you can buy a ticket to Hawaii and that's pretty much the same thing. 
The history of Hawaii may be seen as the story of arrivals.
Cute Hawaii Captions For Instagram
Somewhere over the rainbow.
I left my heart in Hawaii. 
Hawaii is my therapy.  
Hawaii is calling, and I must go. 
Leis, alohas, and Hawaii days. 
Salt in the air and sand in my hair, Hawaii is the place to be.
Follow me to Hawaii. 
A pineapple a day keeps the doctor away. 
Just checked Hawaii off my bucket list.
Hawaii Puns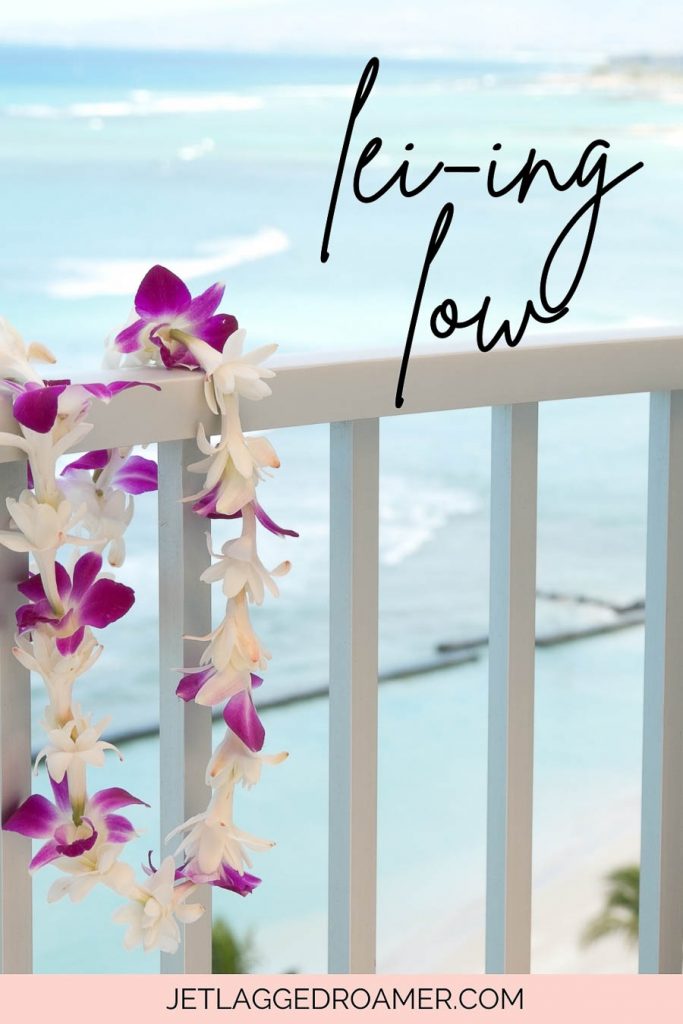 Lei-ing low.
Ohau doin?
Waikiki, do you love me? 
I can't wait to Maui you.
Alo-hot. 
Lei'd back.
Make lava not war.
Here today, gone to Maui.
Don't go chasing Rainbow Falls.
Hana nice day!
Where in Hawaii do you want to go? Can you be more Pacific?
Diamond Head is a girl's best friend.
 I'm gonna mahalo at you in a bit.
See ya' lei-ter!
Aloha, is it me you're looking for?
Instagram Captions For Hawaii 
There's no problem so big that a trip to Hawaii can't solve. 
A bad day in Hawaii is better than a good day anywhere else. 
Surf days and Hawaiian leis. 
Hawaii is always a good idea.
 I can't keep calm, I'm going to Hawaii! 
Hawaii: where it really is all rainbows & sunshine. 
Alexa, bring me back to Hawaii.
Short Hawaii Quotes 
"Hawaii is a paradise born of fire."-Rand McNally
 "Beating the drums for Hawaii is not hard to do – the place just grows on you."-James MacArthur 
"For me, the magic of Hawaii comes from the stillness, the sea, the stars."-Joanne Harris 
"Hawaii is paradise. It sounds cheesy to say it, but there's music in the air there."-Bruno Mars 
"Even the sweetness of a freshly cut pineapple from Hawaii is a sermon."-J. A. Medders
Short Hawaii Captions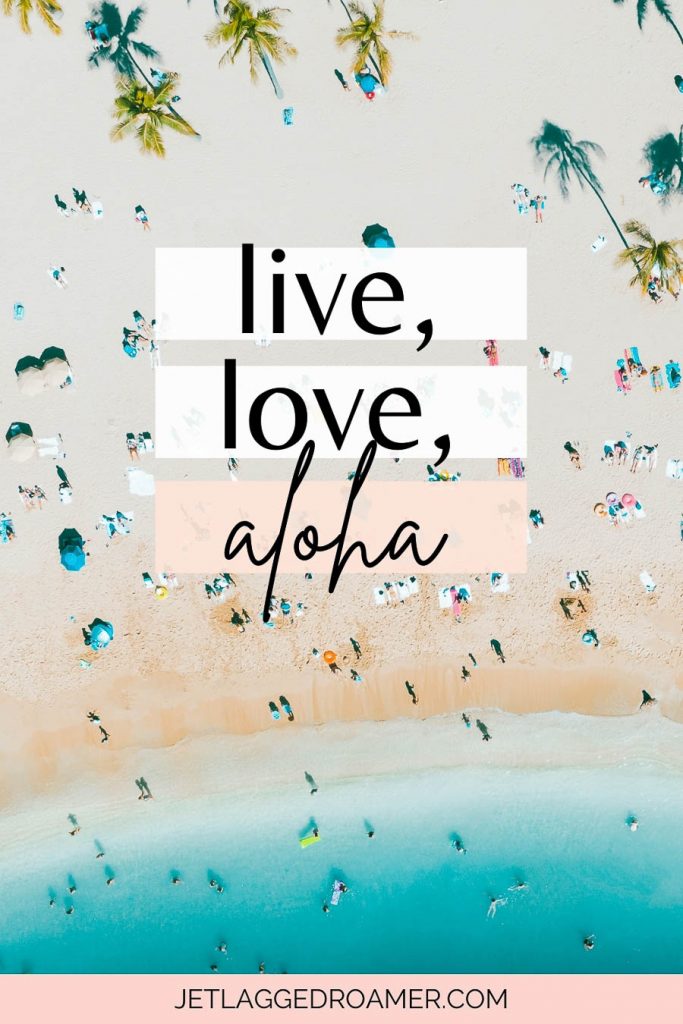 Live, love, Aloha.
 If found, please return to Hawaii. 
Keep calm and surf on. 
No rain, no rainbows.
The only remedy for snow is Hawaii.
 I'd rather be in Hawaii.
Inspirational Hawaii Captions For Instagram
"Whether a visitor or kama'aina (resident), the beauty of the Hawaiian Islands inspires the heart and mind." – Unknown 
"Hawaii is like an isolated jewel set in the vastness of the Pacific Ocean. And like facets of a gem, the islands have their own unique qualities. Travelers who take the time to look beyond their obvious beauty will discover a chain of islands that is at once lush and stark, modern and ancient, simple and exotic". -Rita Ariyoshi 
"Everywhere I went in the wild corners of Hawaii, I found that the biology was as astonishing as the beauty. The landscapes have value beyond the enchantment of a waterfall or the surreal drama of an expanse of slick rock with bits of green life taking hold. Exploring these islands intrigues the mind and stirs the imagination, for nature in Hawaii is at her most inventive and extravagant best." –Cynthia Russ Ramsay
Hawaiian Captions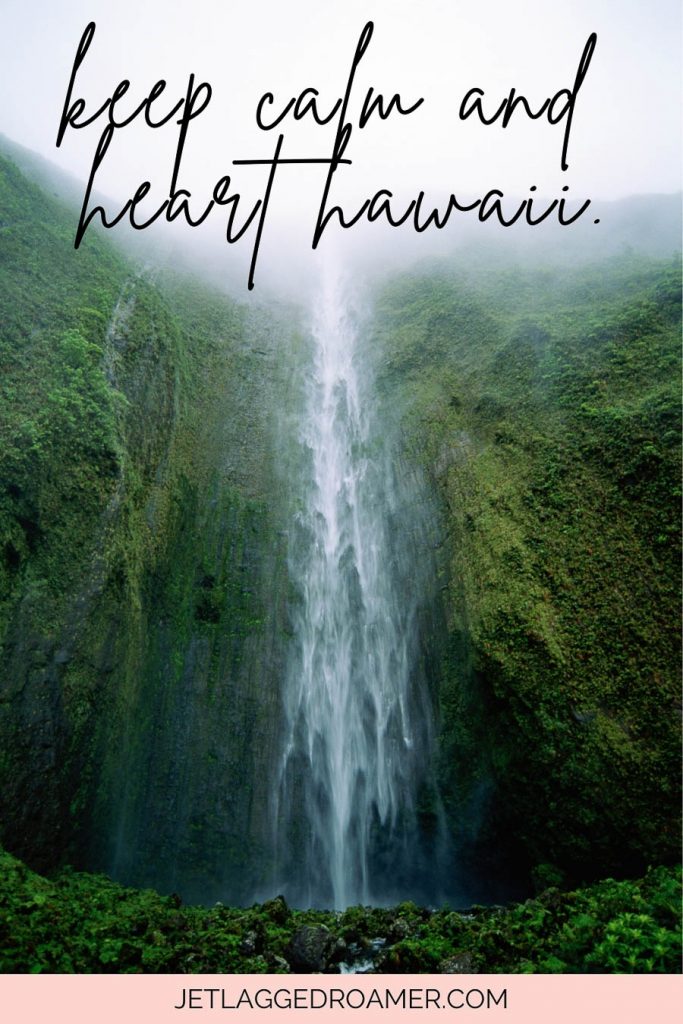 Keep calm and heart Hawaii.
You can never have too much Hawaii.
Maholo: thanks, gratitude.  
Hawaiian food is so good, it can make your stomach smile.
 I'd rather have Hawaiian seashells than snowflakes. 
Flowers in my hair, Hawaii in the air. 
You know you're from Hawaii when you buy food from strangers in a white van.
Hawaii Quotes For Instagram 
"Hawaii is the land of everyday rainbows."– Anon
 "Hawaii is absolutely beautiful."– Rachelle Lefevre
"For me the magic of Hawaii comes from the stillness, the sea, the stars." – Joanne Harris 
"Hawaii is the island of big dreams for both islanders and guests. Those dreams born in paradise can indeed come true."– Sharon Linnea 
"Hawaii is the only place I know where they lay flowers on you while you are alive."– Will Rogers
 "My best vacation memory is getting barreled at the beach in Hawaii." – Troy Polamalu 
"I love to surf. Hawaii has some of the best waves in the world and the most consistent as well. That's always fun."–  Brendon Urie 
"For me personally, snorkeling in a cove in Hawaii, floating along, and looking at all the animals and the colors – I mean, that's pretty peaceful." – Stephen Hillenburg 
"Eventually, I want to move to Hawaii and chill forever. "Riley -Keough
Quotes About Hawaii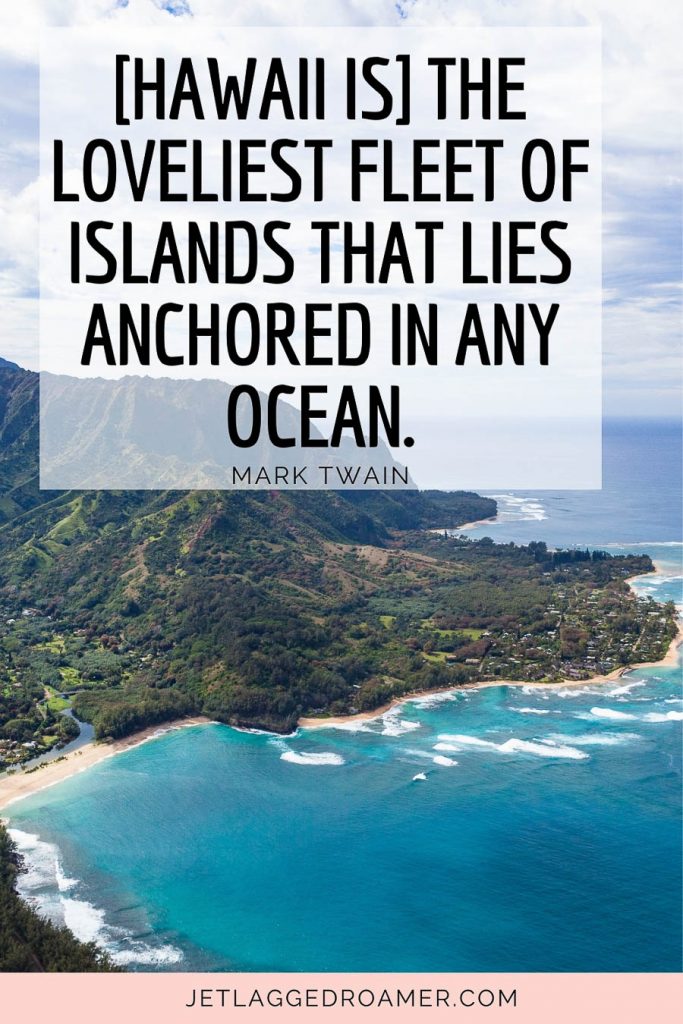 "[Hawaii is] the loveliest fleet of islands that lies anchored in any ocean."- Mark Twain
 "The history of Hawaii may be seen as a story of arrivals." -Susanna Moore 
"The only good thing about leaving Hawaii is that you really appreciate it when you return."-John Richard Stephens
 "Being in Hawaii, it's almost impossible not to be fit, I think."-Henry Ian Cusick 
 "Hawaii is still the single most frequent fantasy destination, not because of political stability or conveniences, but because Hawaii seduces the imagination. It's the perfect postcard – no props, no fillers."-Robert Wintner 
"Hawaii is the island of big dreams for both islanders and guests. Those dreams born in paradise can indeed come true."-Sharon Linnea
 "I can't even speak Hawaiian, but if you go there and listen to a Hawaiian song, you get captured because it's so beautiful like the melody is just gorgeous and you know Bob Marley is on the radio every single day. It's very reggae-influenced down there. Basically, you haven't been to paradise if you haven't been to Hawaii."     – Bruno Mars 
"If you look at a map, you see that Hawaii is in the middle of nowhere. It's 17 hours of straight flying from London. It's very far away, and sometimes you feel as if you're on another planet. But I like that. Also, that's ideal for writing."– Paul Theroux
Hawaii Love Quotes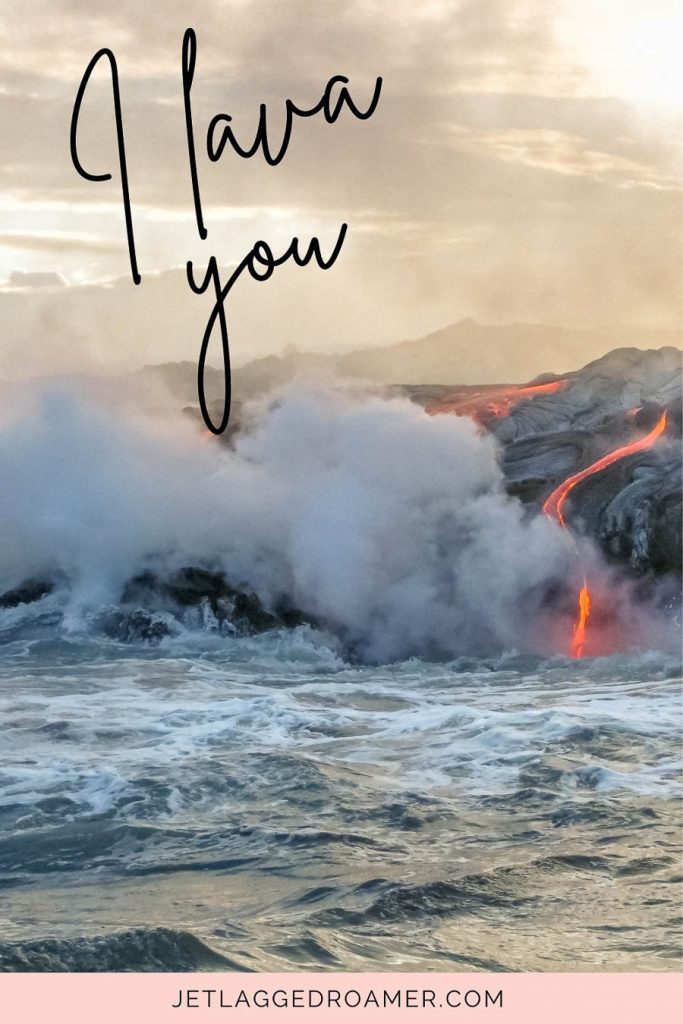 I lava you.
Just Maui'd. 
Mermaid for each other.
I'm coco-nuts about you. 
You're the pineapple of my eye.
 It's always sunshine and rainbows with you.
Lava's all you need.
Hawaiian Sayings & Blessings
The growth of love is the essence within the soul.- ʻO ka ulu ʻana o ke aloha ka mea nui i loko o ka ʻuhane.
A heart as big as a house- He 'opu halau
There is life in a kind reply. -Ua ola no i ka pane a ke aloha.
May our love last forever. – E hoomau maua kealoha.
Distance is ignored by love. / 'A 'ohe loa i ka hana a ke aloha.
May there Always be Warmth in your Hale (House), Fish in your Net, and Aloha in your Heart.-I mau ka pumehana ma kou Hale (Hale), iʻa i loko o kāu ʻupena, a me Aloha i kou puʻuwai.
Hawaiian Proverbs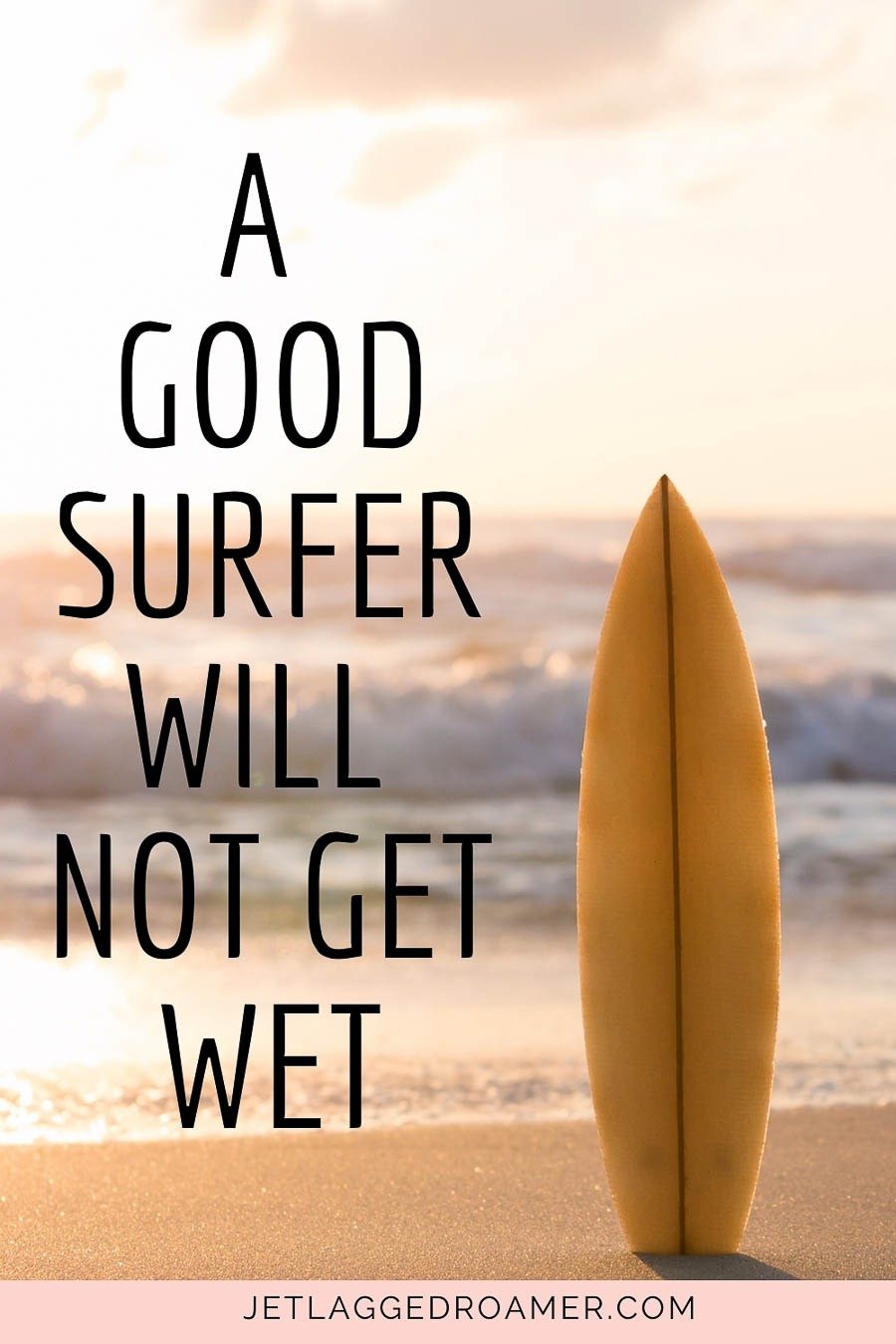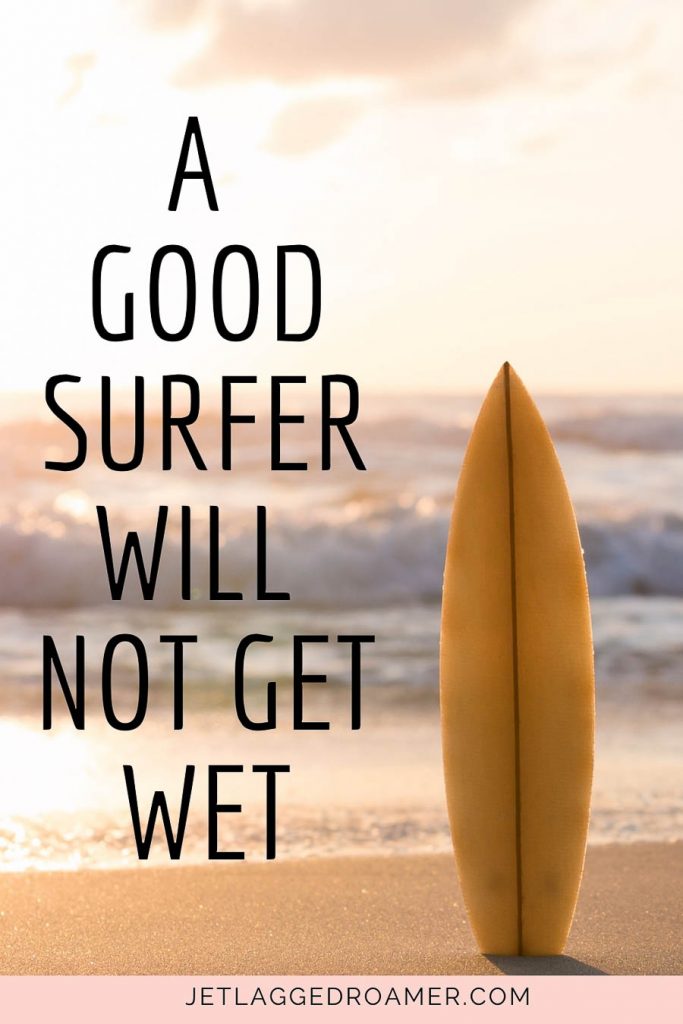 A good surfer will not get wet.-ʻAʻole pulu kahi heʻenalu maikaʻi.
 Live your life while the sun is still shining. -Oi kau ka lau, e hana I ola honua.
 After all, Hawaii is the best land. – O Hawaii no ka aina maikai.
Love all you see including yourself. -Kahuna nui hale kealohalani makua.
A full sail helped him to arrive.- Ua kōkua kahi holo piha iā ia e hōʻea.
A bad one breaks his board-Haki ka mea maikaʻi ʻole i kāna papa
Always make every person, place or condition better than you left it. -E hele me ka pu'olo.
A humble person walks carefully so as not to hurt others. -Ku'ia kahele aka na'au ha'aha'a.
Joy is in the voice of love. -He 'olina leo ka ke aloha.
Love gives life within. -Ua ola loko i ke aloha.
 Be one in love. -I ho'okahi kahi ke aloha.
When love is given, love should be returned, anger gives no life. -Aloha mai no, aloha aku; o ka huhu ka mea e ola `ole ai.
Aloha Quotes On Hawaii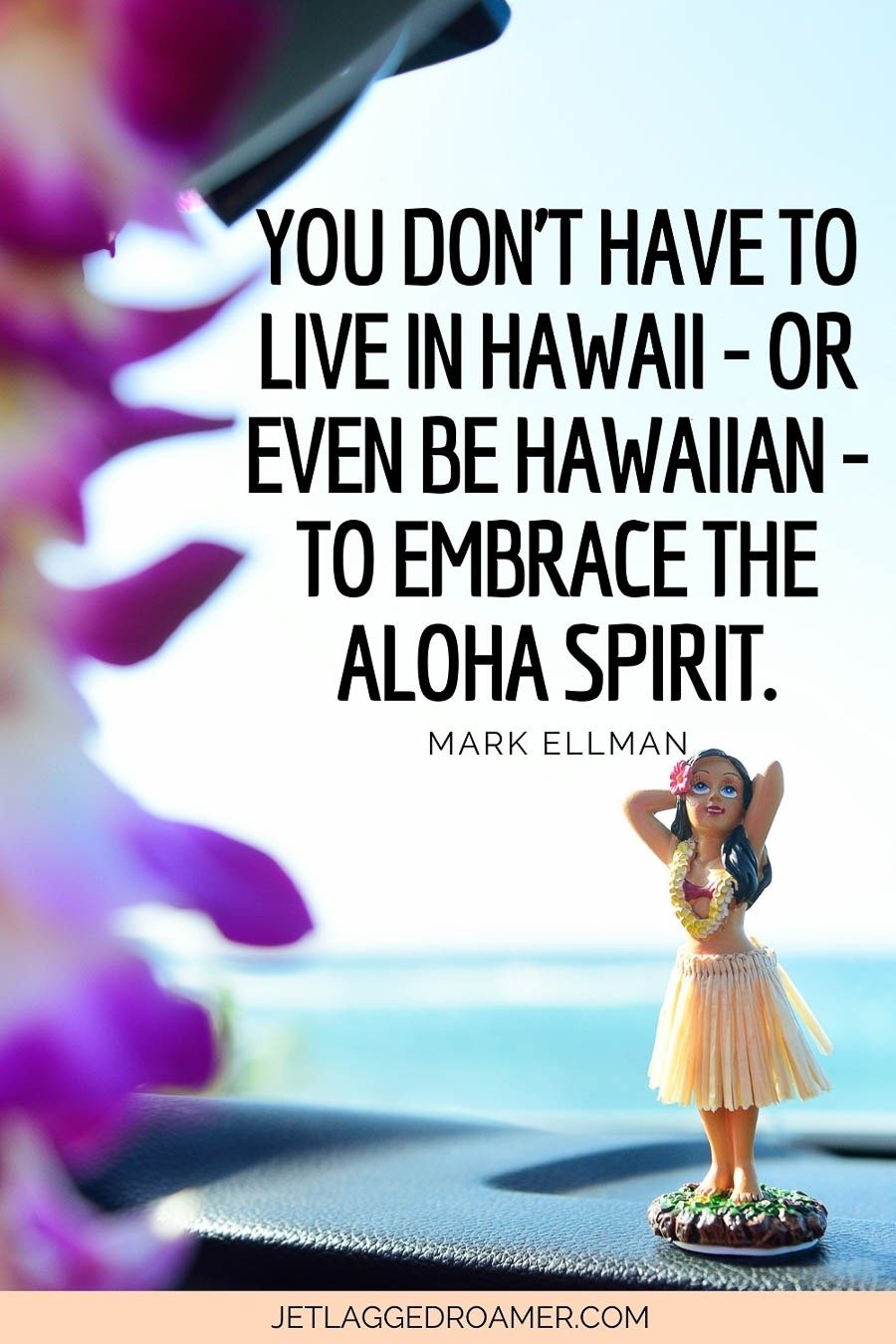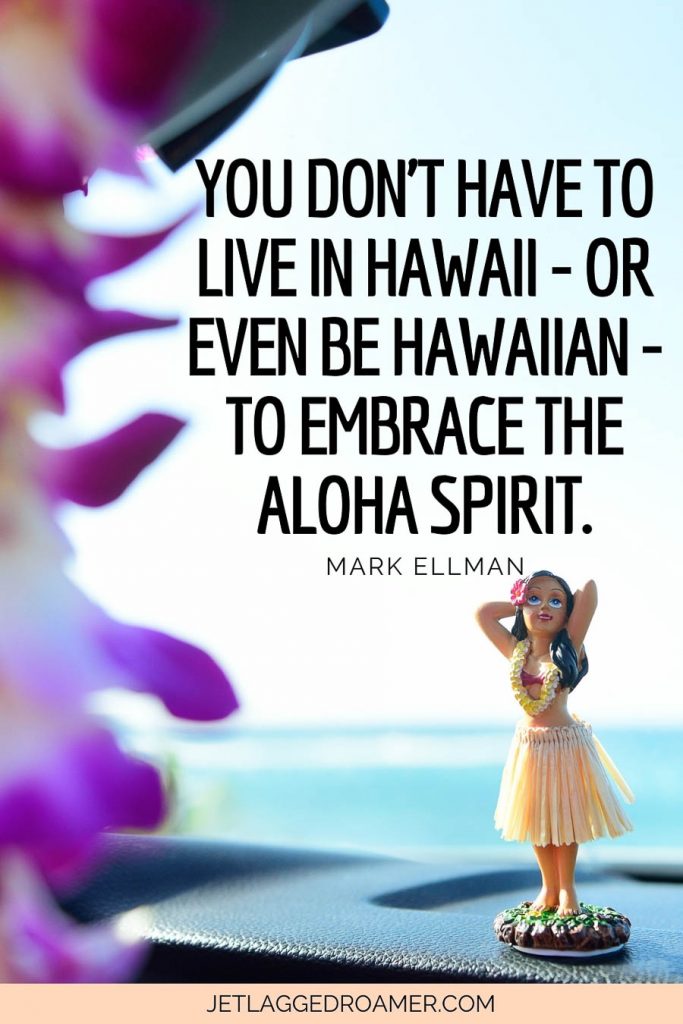 "You don't have to live in Hawaii – or even be Hawaiian – to embrace the Aloha Spirit."- Mark Ellman 
"Be the Aloha you wish to see in the world."-Unknown
"That greeting is Aloha – love, I love you, my love to you. Good day – what is it more than an impersonal remark about the weather? How do you do – it is personal in a merely casual interrogative sort of way. But Aloha! It is a positive affirmation of the warmth of one's own heart-giving. My love to you! I love you! Aloha!"-Jack London 
"Be the Aloha you wish to see in the world."- Unknown
"Aloha is the unconditional desire to promote the true good of other people in a friendly spirit out of a sense of kinship."-Abraham Akaka
 "I love you" -Aloha Au Ia 'Oe
"You had me at Aloha."- Unknown
 "May there always be Tradewinds behind you, Rainbows above you, and Aloha all around you." – Kauai Blessing
Quotes From Hawaii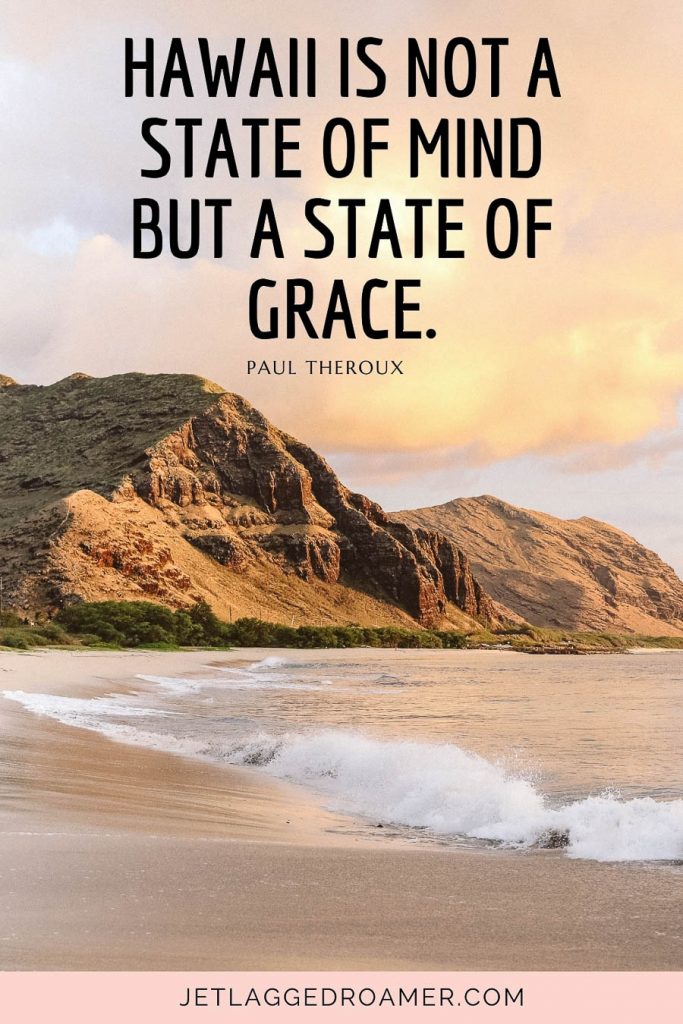 "Hawaii is not a state of mind but a state of grace."-Paul Theroux 
"Hawaii is a paradise – and I can never cease proclaiming it. But I must append one word of qualification: Hawaii is a paradise for the well-to-do." -Jack London
 "Hawaiian music is the roots of the Hawaiian people. It tells the history of where we came from. Not having Hawaiian music in my life would be like losing half of my body – because Hawaiian music helps me be a better person."-Kevin Brown
 "I thought my book was done, then we went to Hawaii and the whole last chapter happened." – Mariel Hemingway
Hawaiian Quotes 
"No one has family in Hawaii. Everyone is family in Hawaii."-Richie Norton
"Hawaii is the only place in the 50 states where you can see the stars of the entire northern and southern hemispheres."-John Richard Stephens 
"Nature is where it all begins for the Hawaiians. In fact, they call themselves keiki o ka 'aina, the "children of the land."-M. J. Harden 
 "In Hawaii, we have something called ho'oponopono, where people come together to resolve crises and restore peace and balance."-Duane Chapman
 "Growing up here in Hawaii, I loved swimming, surfing and having fun in this paradise we are lucky to call home. But I gradually realized that I was actually happiest when I was doing things for other people, doing things to protect our water, oceans and beaches."– Tulsi Gabbard 
Ohana means family. Family means no one gets left behind or forgotten. – Stitch, Lilo & Stitch
Quotes On Hawaii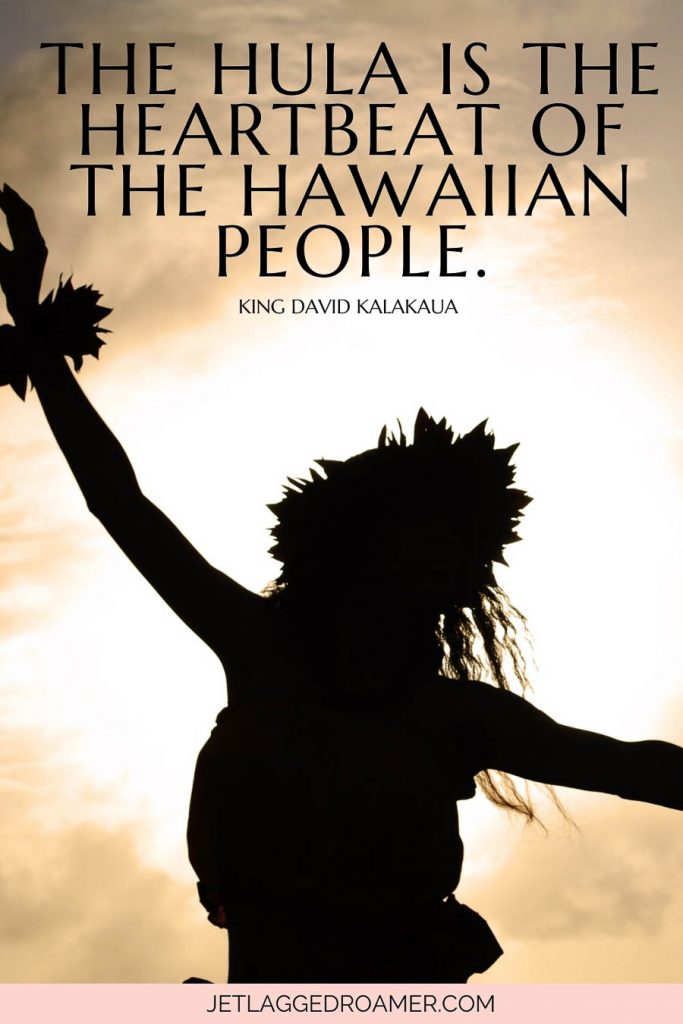 "The hula is the heartbeat of the Hawaiian people."-King David Kalakaua
"I believe Hawaii is the most precious jewel in the world."-Don Ho 
"Coming to Hawaii is like going from black and white to color." -John Richard Stephens 
"Incredible as it might seem, Hawaii is like a gigantic raft, drifting slowly with the centuries.-Terence Barrow 
"The Hawaiian people have been from time immemorial lovers of poetry and music and have been apt in improvising historic poems, songs of love, and chants of worship." Lydia Kamekeha Liliuokalani
 "I grew up in a musical family; the majority of my growing up was done in Hawaii. It's what we do. You sing, you dance, you play ukulele and you drink."– Dwayne Johnson 
 "Most of what Hawaii has to offer is no secret. Pipeline is probably the most famous wave in the world."– Kelly Slater
"What I know of Hawaii is from watching the 'Brady Bunch' shows from the seventies." -Michael Bastian
Hashtags To Use In Hawaii Captions For Instagram
Hawaii Instagram Captions
#hawaiilife #hawaiistagram #hawaiian #hawaii #hilife #hawaiiunchained #hawaiitag #luckywelivehawaii #honolulu #instahawaii #glimpseofhawaii #lethawaiihappen #nakedhawaii #aloha #808 #explorehawaii #hawaiinei #venturehawaii #hawaiiliving #alohaoutdoors #alohabones #hawaiishoots #alohahuffpost #rightoushawaii #unrealhawaii #livealoha #bigislandhawaii #hawaiianislands #hawaiian
Oahu, Hawaii Captions For Instagram
#oahu #oahuhawaii #waikiki #honolulu #alamoana #waikikibeach #ig_oahu #northshore #haleiwa
Maui, Hawaii Instagram Captions
#wailea #kaanapali #kihei #snorklife #roadtohana #mauilife #mauinokaoi #maui
Kauai, Hawaii Captions For Instagram
#kauai #kauailife #kauaiaswhy
120+ Hawaii Captions & Hawaiian Quotes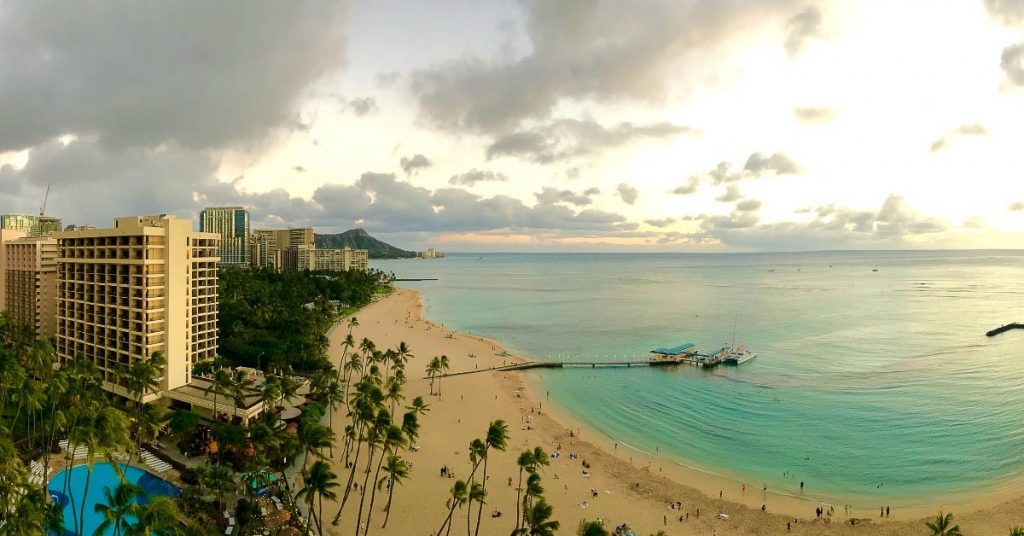 Now we have come to an end for the top Hawaii quotes. I hope you enjoyed this curated list of Hawaii captions for Instagram I have put together. Let me know in the comments below what your favorite Instagram captions for Hawaii were. 
If you're visiting Hawaii, check out these related posts for your visit:
On the hunt for more Instagram captions? Check out my other posts for more. 
Like this post on Hawaii captions? Share it with others or pin it for later in your Hawaii travel board!